Lucques (West Hollywood, CA)
Lucques
8474 Melrose Ave, West Hollywood, CA 90069
323.655.6277
www.lucques.com
Sat 07/24/2010, 08:40p-11:25p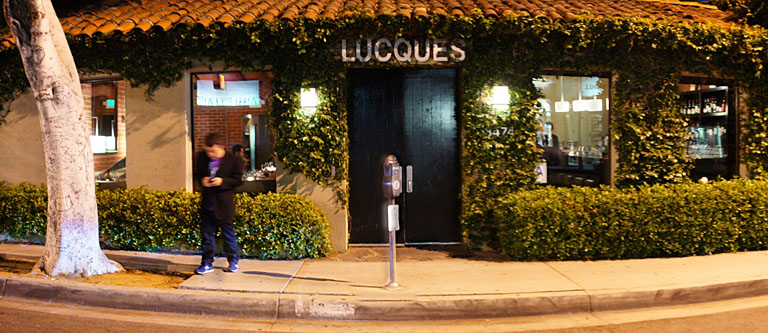 I'm not sure that I'm ready to call Lucques an institution quite yet, but Suzanne Goin's seminal LA eatery is certainly headed toward that direction.
After working for Todd English at Olives and Mark Peel at Campanile, Goin started the restaurant in 1998 with business partner-
cum
-sommelier Caroline Styne. Lucques became wildly successful, thus paving the way for Goin's growing culinary empire, which now spans Lucques,
AOC
, The Hungry Cat (with husband David Lentz), and Tavern. I'd been meaning to pay this LA icon a visit for some time, and an invitation from
kevinEats
reader Collier (who'd organized the recent
WP24
dinner) provided a perfect opportunity to do so.


Lucques is situated in the former carriage house of silent film star Harold Lloyd, redone to Goin's specifications by designer Barbara Barry. The goal was a sort of understated elegance, as evident in the space's brick walls, exposed trusses, flagstone floors, and inviting fireplace. One side of the room is home to a tiny 10-seater bar, which was, in fact, the inspiration behind Goin's wine bar,
AOC
. The most coveted seats, though, are out back, in the covered, ivy-enveloped garden patio.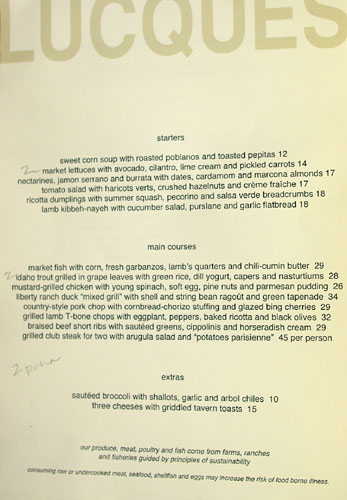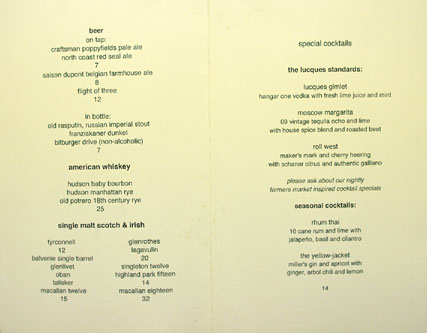 Above, we see Lucques' seasonal, sustainable, Cal-Med menu, as well as the restaurant's drink selections. Click for larger versions.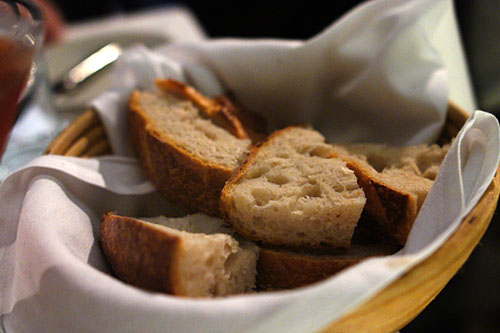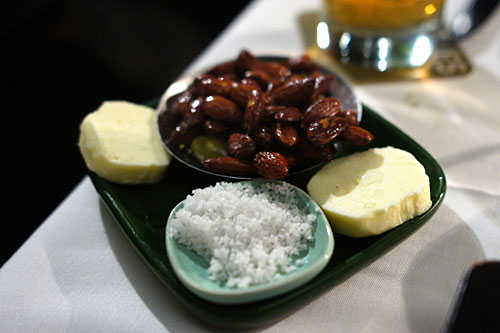 Bread was merely acceptable, but did come in a coiled
bannelon
basket. More intriguing were the olive oil-toasted almonds, eponymous Lucques olives, butter, and fleur de sel.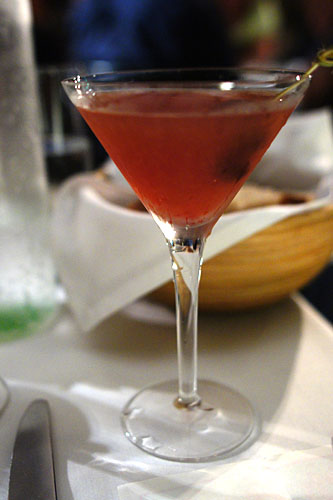 This was going to be a cocktail sort of night--I could feel it--so I began with the Roll West [$14], with Maker's Mark, cherry Heering, Schaner Farm citrus, and Galliano. The drink at first was shamelessly sweet, but its body was hot with the essence of the bourbon, moderated by overarching tones of citrus and herbs.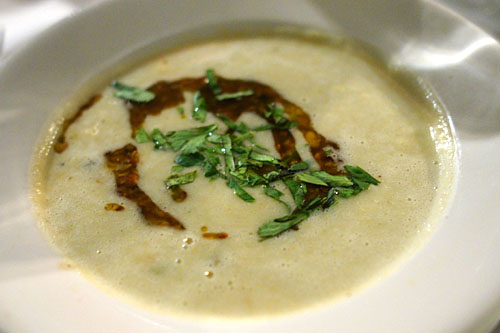 sweet corn soup [$12.00]
| with roasted poblanos and toasted pepitas
The meal began with a pleasant surprise. I'm not a soup kinda guy, but this one managed to turn me, at least for a night. Reading the menu, I was concerned that the dish would be overly sweet due to the corn. However, though its quintessence was forcefully and succinctly conveyed, the nutty pepitas, in concert with the tangy cilantro and heat of the poblanos, managed to successfully moderate it, allowing a stunningly beautiful amalgam of flavors to coalesce.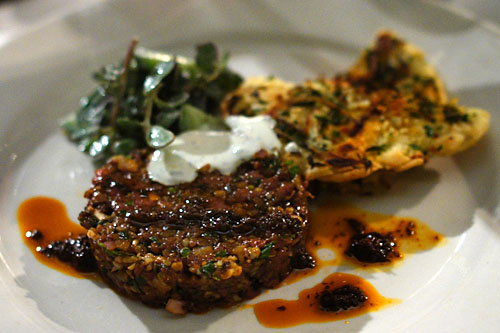 lamb kibbeh-nayah [$18.00]
| with cucumber salad, purslane and garlic flatbread
Kibbeh
refers to a minced meat dish popular in the Middle East, with
kibbeh nayeh
being a raw version, akin to a tartar. I loved the rich, deep flavors of the lamb here, and how it was so deftly complemented by the zing of cucumber and the cool, creamy yogurt. The flatbread, meanwhile, served as a moderating base for the whole interaction. Very nice.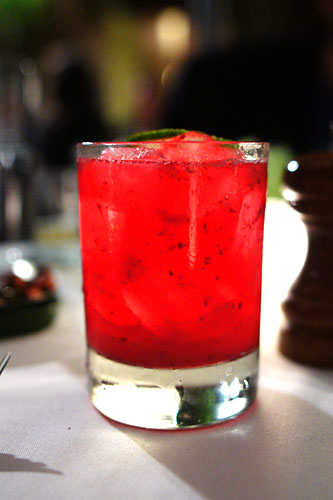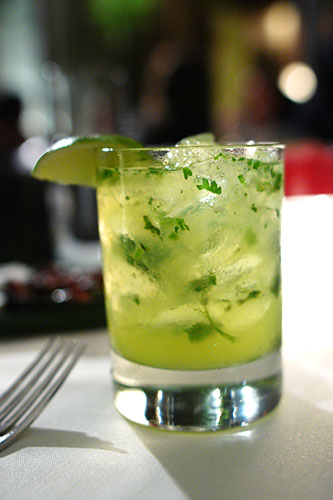 The second round of drinks afforded me the opportunity to try the Moscow Margarita [$14], a great blend of beet-y sweetness and heat comprised of 2009 Tequila Ocho, lime, house spice blend, and yes, roasted beet. I also had the Rhum Thai [$14], with 10 Cane rum, lime, jalapeño, basil, and cilantro; this one demonstrated a great mishmash of sweet, herbal, and spicy flavors that I rather enjoyed as well.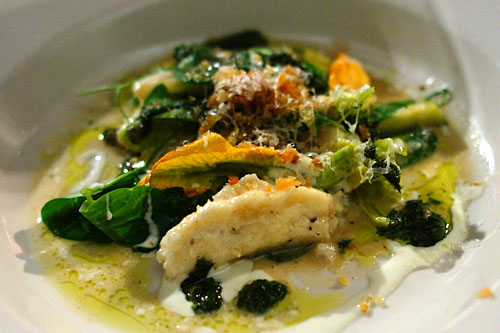 ricotta dumplings [$18.00]
| with summer squash, pecorino and salsa verde breadcrumbs
Dumplings arrived irregularly shaped, but tasty. Delightfully creamy with a mild tang, they were deftly accented by the salty pecorino and the refreshing savor of summer squash. Particularly enjoyable were the breadcrumbs, which added a fantastic textural element to the dish.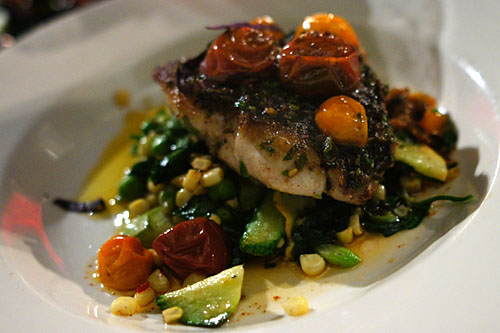 market fish [$29.00]
| with corn, fresh garbanzos, lamb's quarters and chili-cumin butter
The market fish was sea bass, as well as my favorite dish of the meal. It was spot on texturally, with a flaky, firm, yet supple consistency paired with a fantastically crisp skin that just begged to be eaten. The bass' savory, succulent flavors were perfectly matched by the bright, bold smack of the included vegetable medley, and I loved the hint of heat courtesy of the chili-cumin.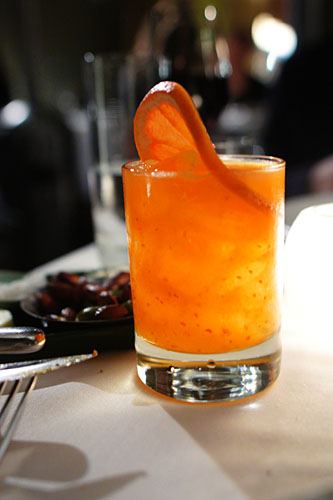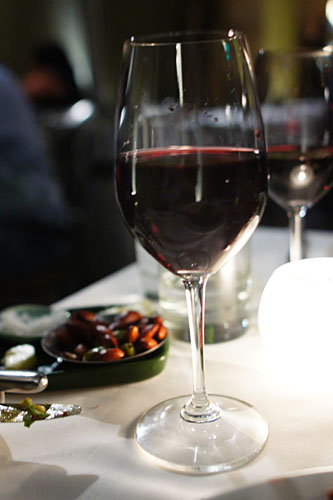 Lucques features a periodically changing special cocktail, and on this occasion, it was the so-called Mississippi Mustang [$14], with Maker's Mark, nectarine purée, bitters, turmeric, coriander, and simple syrup. This was a thick, viscous concoction, with a strong, almost cloying sweetness on the attack, which was then balanced by the heady relish of whisky--quite lovely. For my final drink, I did succumb to the allure of wine, and thus ordered up a glass of the 2008 Melville Pinot Noir Estate [$11.50], from California's Central Coast. Think bold berry flavors, oak, and vanilla, with a strong peppery finish.
mustard-grilled chicken [$26.00]
| with young spinach, soft egg, pine nuts and parmesan pudding
Chicken oft gets overlooked on restaurant menus, but dishes such as this show that the bird can be just as big and as bold as its red-fleshed brethren. It showed off deep, dark flavors of chicken, beautifully countervailed by the sheer, runny lusciousness of the egg, while the bitter greens and zesty mustard aptly offset the bird's heft. Finishing things off here was the gorgeous nuttiness and crunch imparted by the pine nuts.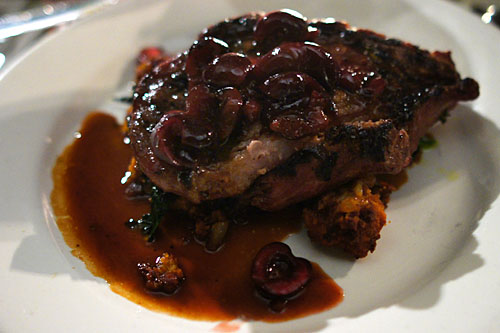 country-style pork chop [$29.00]
| with cornbread-chorizo stuffing and glazed bing cherries
The pork turned out to be my least favorite course of the night. I found parts of the pig to be a bit tough in texture, and while the porcine relish that I expected was there, it was somewhat overshadowed by the cherries and cornbread stuffing. I also would've liked more spice from the chorizo.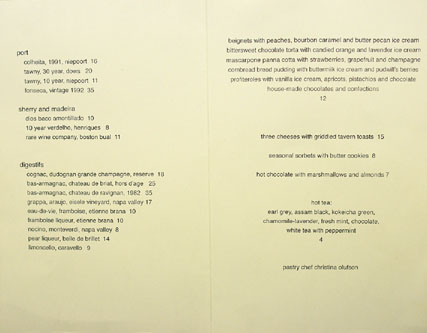 Dessert comes to us courtesy of Pastry Chef Christina Olufson. Click for a larger version.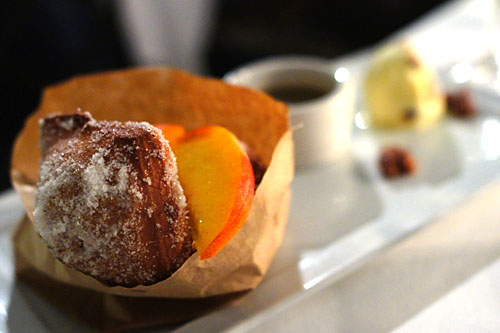 beignets [$12.00]
| with peaches, bourbon caramel and butter pecan ice cream
Beignets were delivered piping hot and filled with luxurious, creamy, buttery goodness. They were tempered somewhat by the light, refreshing zing of peach, while the bourbon caramel added distinct boozy tinge to things. The strongest accoutrement, clearly, though, was the ice cream, with its slightly nutty relish that complemented the pastry superbly.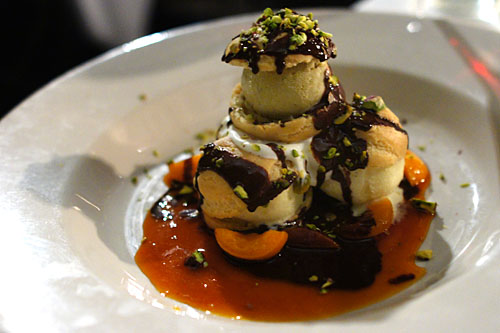 profiteroles [$12.00]
| with vanilla ice cream, apricots, pistachios and chocolate
As good as the beignets were, I liked the profiteroles even more. Stuffed with ice cream, the globules of puff pastry were fantastic on their own, but even better when paired with the nutty bits of pistachio and fruity, tangy slices of apricot. Immensely satisfying.
A restaurant from the City's native daughter, Lucques is quintessential LA, having served up rustic, unfussy, yet sophisticated "comfort food" to hungry Angelenos for over a decade. It's classic, timeless even, but still manages to give diners a breath of fresh air at each meal. In a city forever chasing the latest fad, Lucques is exactly what we need.