Bistro LQ (Los Angeles, CA)
Bistro LQ
8009 Beverly Blvd, Los Angeles, CA 90048
323.951.1088
www.bistrolq.com
Tue 06/08/2010, 07:30p-11:30p

When I first got into this whole food blogging game back in '06, I remember hearing rave reviews of Bistro K, where Chef Laurent Quenioux was rocking the culinary establishment of South Pas with his groundbreaking, game-philic, modern French-eclectic cuisine. I never made it out to Bistro K, sadly, but I do remember hearing about its closure in 2007. When Quenioux debuted Bistro LQ in 2009, he once again captured my attention. LQ had always been near the top of my "to-eat" list, but some for reason, the restaurant always got lost in the shuffle, and I never made it out...until now. Joining me was Jin, author of
Love Me...Hate Me...Feed Me...
and Director of Events for volunteer organization
Project by Project
. Chef Quenioux will be participating this year in PbP's
Plate by Plate
Annual Tasting Benefit.
A brief biography of Laurent Quenioux
: Born in Sologne, France (an area well known for its preponderance of game), the Chef grew up hunting rabbit, duck, and the like with his father, and cooking the resultant bounty at his mother's side. Not surprisingly, Quenioux eventually decided to pursue a career in the kitchen after completing his primary education. Like many great chefs, he worked in pastry early on in his career, at the legendary Maxim's in Paris. The Chef also apprenticed in Southern France, cooking in Nice at the Hôtel Négresco's Michelin-starred Le Chantecler restaurant under Jacques Maximin; interestingly,
Patina
patron Joachim Splichal worked here at the same time. Quenioux then moved on to Louis Outhier's two-star L'Oasis in La Napoule, where he was again joined by Splichal, as well as by
Jean-Georges Vongerichten
.
He and Splichal were subsequently sent to Los Angeles to open David Murdock's
Regency Club
in Westwood. Quenioux decided to stay in LA, and in 1983, took an Executive Chef position at The Betsy (1001 N Vermont). He stayed here for about a year before departing, joining forces with his old compatriot Joachim to open the widely-celebrated Cal-Nouvelle eatery Seventh Street Bistro in Downtown's Fine Arts Building in 1984 (Traci Des Jardins got her start here). Splichal, however, would leave the partnership within a year to venture out on his own, eventually establishing the
Patina
group several years later. The Bistro, despite its popularity, suffered greatly when 7th Street was closed due to the construction of the Metro Rail Red Line; this, combined with high rents and a weak economy, forced the restaurant's shutter in June 1992. In search of a spot for a new restaurant on the Westside (tentatively named "Ivory"), Quenioux put in a failed bid for 730 La Cienega, the former location of the venerable L'Ermitage restaurant (once Drai's, now home to
Koi
).
In an interesting turn of events, the Chef eventually found employment as the Food and Beverage Director-
cum
-Executive Chef for Dodgers Stadium. A Chef of Quenioux's pedigree, however, needs his own place, so he left the Dodgers in 1999. He returned to his roots and popped up in South Pasadena, debuting Bistro K at the site of a former mortuary (and brothel) in 2002. Though Bistro K garnered its share of accolades, Quenioux sold the business in April 2007; the new owners floundered, however, and the eatery closed the following year. A chef without a restaurant, Quenioux consulted and made occasional guest appearances at Stéphane Beaucamp's
Vermont Restaurant
, as well as at Mario Boustani's now-defunct Z Mario in Irvine. Then, he had plans to make return to Downtown with his Bistro 1100 concept (on the ground floor of
1100 Wilshire
), but that idea ultimately fell through (once again, due to high DTLA rents). Thus, in July 2009, Quenioux opened Bistro LQ (taking over the old Mimosa space) in the Fairfax district, which, according to the Chef, is basically Bistro 1100 in different clothes.

Herve Daridan
(
Bloom
, Pastis,
Chic
) was responsible for transforming Mimosa's space into something suitable for conveying Quenioux's culinary vision. The room is sparse, spare, awash in subtle, simple tones of white, beige, and black--a minimalist aesthetic that focuses attention squarely on the food (well, that and the colorful pop art adorning the walls). The servers' red Converse sneaks add a touch of color and whimsy to boot. There's seating for 50 inside, room for 20 in the patio, as well as an eight-seater Chef's table.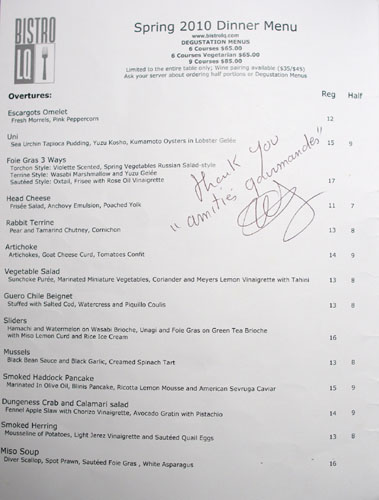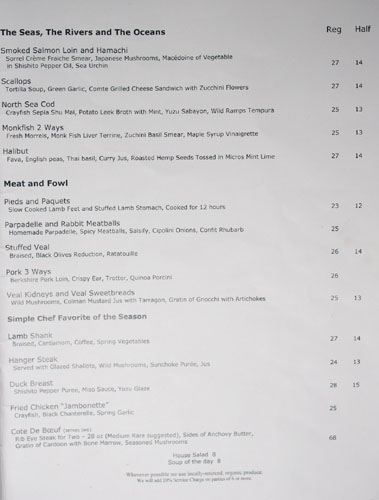 What I love the most about LQ's varied menu is the availability of half portions (a holdover from his 7th Street Bistro days), which, of course, makes it easy to try out as many dishes of possible. Six- and nine-course tasting menus are on offer, but it's understandable that you might be tempted to create your own. That's what we initially thought, but the Chef decided to present to us a spontaneous degustation, on top of some of the dishes we ordered (we were charged $85 per person). Given Quenioux's famed love of game, one may wonder why there's nary a partridge in sight on the
carte
. The explanation is that game is a seasonal specialty, and is typically available only in the winter months. Click for larger versions.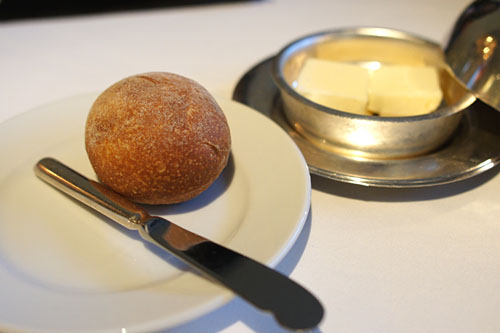 Paired with a nicely saccharine butter, the sole bread on offer consisted of a ciabatta loaf.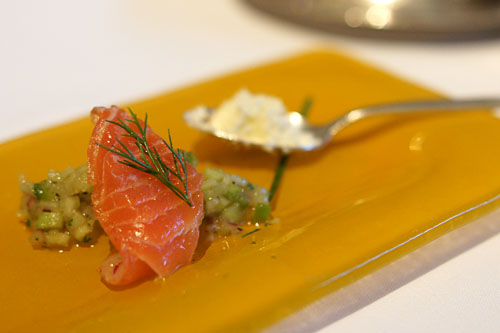 Amuse Bouche: Smoked Salmon
| Olive Oil Powder, Celery Salsa
Our dinner began with smoked salmon, a popular choice for amuse bouches. The olive oil here really did add a certain substantialness to the dish that I rather enjoyed, and I also appreciated its interplay with the light vegetal zestiness of the celery. A nice bite to start the meal!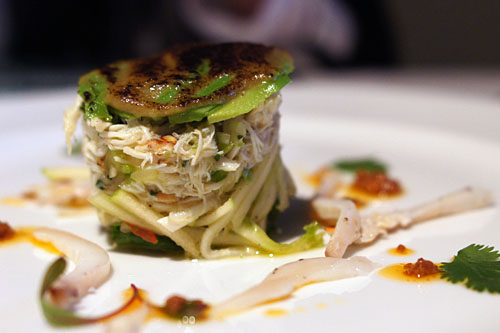 Dungeness Crab and Calamari Salad [$9.00]
| Fennel Apple Slaw with Chorizo Vinaigrette, Avocado Gratin with Pistachio
I'm generally not huge on salads, but of course, I'll make an exception when the headlining ingredient is crab. Indeed, the crustacean was the star of the course, showing off a supple yet firm texture backed by a fantastic briny smack. The crab was especially gratifying when taken with the creamy heft of the charred avocado, while the matchsticks of apple gave the dish a satisfying crunch and subtle sweetness that really enhanced the crab's natural savor. Overall, a light, bright dish with clean, crisp flavors, perfect for summer snacking.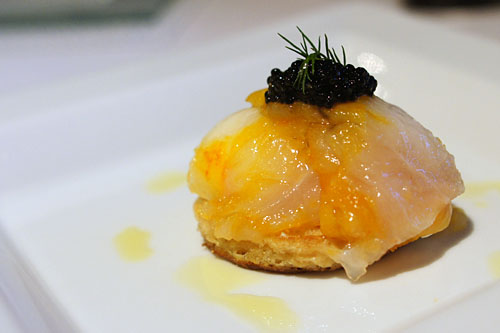 Smoked Haddock Pancake [$9.00]
| Marinated In Olive Oil, Blinis Pancake, Ricotta Lemon Mousse and American Sevruga Caviar
I don't even remember the last time that I had haddock; a search on my site yields no results, which is a shame, as I rather enjoyed the fish. The taste at first was delightfully smoky actually, and this subsequently yielded to the sharp salty,
lingering
sting of the Sevruga, moderated by the cool ricotta mousse and hearty blini. Classic flavors here, but with a twist.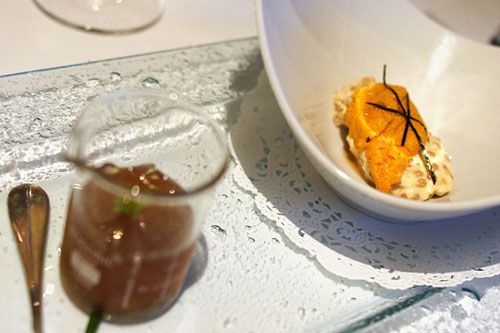 Uni [$9.00]
| Sea Urchin Tapioca Pudding, Yuzu Kosho, Kumamoto Oysters in Lobster Gelée
We have here an absolutely fascinating presentation of sea urchin. The tapioca did a great job in augmenting the uni's natural sugariness, and the pearls also provided a playful textural counterpoint. The gelée, on the other hand, was rather profoundly imbued with the essence of lobster, and aided by the oysters, it emphasized the urchin's briny character. Two sides of the same coin, in effect. Interestingly, I didn't get much in terms of the
yuzukosho
(a condiment comprised of yuzu, chili, and salt), normally a very prominent ingredient.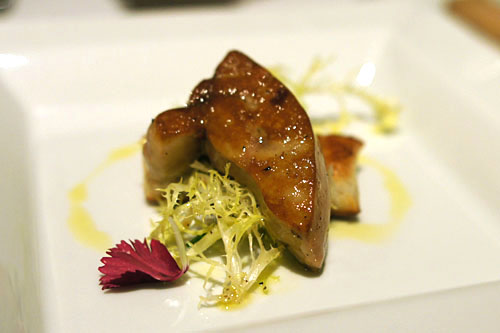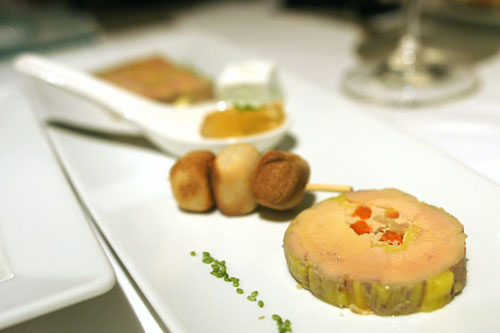 Foie Gras 3 Ways [$17.00]
| Torchon: Violette Scented, Spring Vegetables Russian salad / Terrine: Wasabi Marshmallow and Yuzu Gelée / Sautéed: Oxtail, Frisée with Rose Oil Vinaigrette
I began with the seared style, which, surprisingly, turned out to be my favorite of the troika. It was paired with oxtail, and the interaction between these two heavyweights was perfect. They balanced each other out so beautifully, all under the overarching levity of the frisée--very good. The torchon was next, and it displayed floral, delicate flavors of foie, aptly balanced by the "Russian salad." The earl grey-bergamot "rolls", meanwhile, provided a fascinating sugariness that tied the preparation together. And finally, my dear old friend terrine. This one really showed off the unbridled nature of foie gras--its sweetness, its intensity--all balanced by a bit of salt; the included wasabi marshmallow and yuzu gelée were artful, but unneeded accoutrements: the foie stands alone.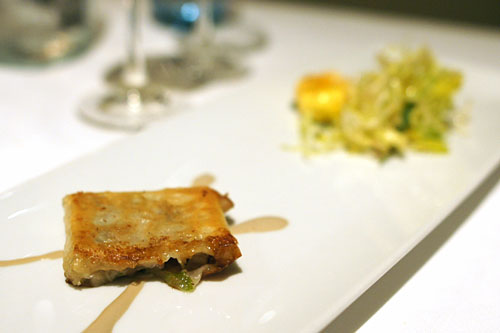 Head Cheese [$7.00]
| Frisée Salad, Anchovy Emulsion, Poached Yolk
The head cheese (which, by the way, isn't a cheese at all, but rather an amalgam of animal head flesh and gelatinous binder), surprisingly, was rather mild in savor, and thus the anchovy was critical in giving the dish its lip-smacking saltiness. This all was tempered somewhat by the combination of creamy, luscious egg yolk and light frisée, which, as we've learned from the omnipresent
salade lyonnaise
, is always a winning combination.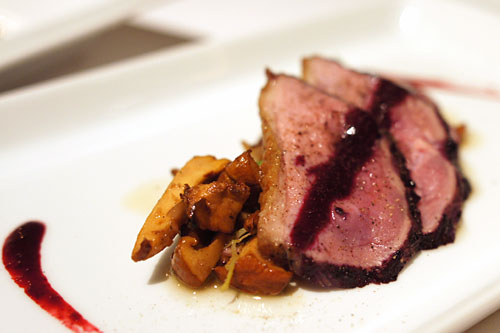 Duck Breast
| Wild Mushroom, Cassis Sauce
Next up was a shockingly conventional, but nevertheless delicious, presentation of duck. I was rather afraid that the bird would be overwhelmed by the cassis dressing, but actually, it was superbly restrained in sweetness. It played extremely well with the duck's inherently savory nature, which was further bolstered by the use of mushrooms. Nice.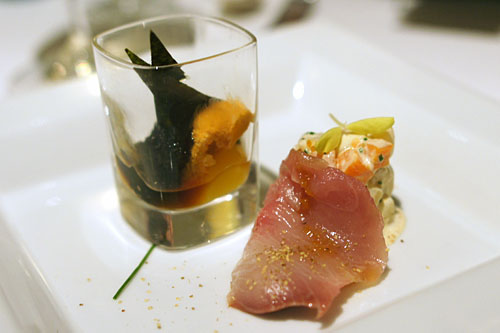 Hamachi
| Root Vegetables with Yuzu, Quail Egg, Uni, Caviar
The right-hand side of the plate held a lovely cut of hamachi, which really was quite flavorful and even a bit fishy, much more than I expected from yellowtail. I particularly enjoyed it with the root veggies, which comprised a creamy, comparatively mild counterpoint to the sashimi. The other half of the dish, however, was a bit of a mystery. As you might expect, with nori, uni, and caviar all at once, things got quite briny, though the lusciousness of the egg did help take off some of the edge. I didn't quite "get" the linkage between the two parts of the dish, though.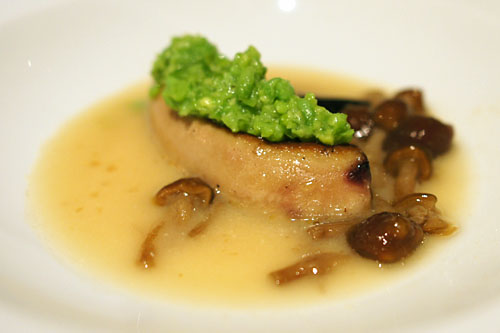 Seared Foie Gras
| Sweet Peas, Beef Gelée, Nameko Mushroom Broth
Here we enjoyed another very strong preparation of hot foie gras. Intense in liver-y sapor at first, the foie was deftly mitigated by the peas, which lent an enveloping vegetalness to the entire dish that was absolutely key for me. I did, however, find the gelatinous nature of the nameko mushrooms rather disconcerting.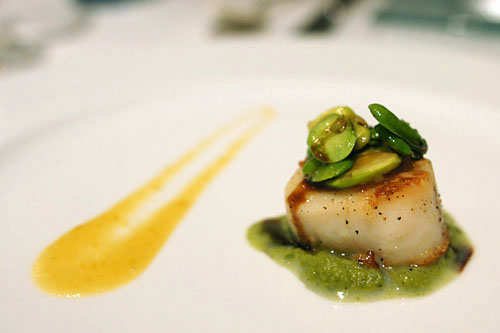 Scallop
| Fava, Shishito Purée, Balsamic, Mirabelle Coulis
A singular scallop, splendidly seared, yet subtly saccharine, augmented by the great earthy flavor of fava and the sweet-hot relish of shishito. Finishing things off was a lingering sugariness imparted by the balsamic. I could've used another.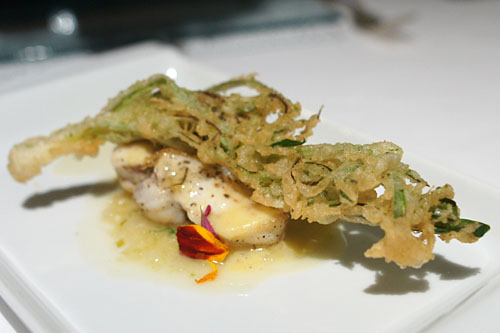 Monkfish
| Ramp Tempura, Potato Leek Broth
Monkfish showed off its characteristically firm, spongy consistency here, along with a muted flavor that was dutifully, and deliberately amplified by the essence of potato and leek. I adored the ramp tempura, with its pronounced, onion-y flavor and wonderfully crisp exterior--a near polar opposite of the fish.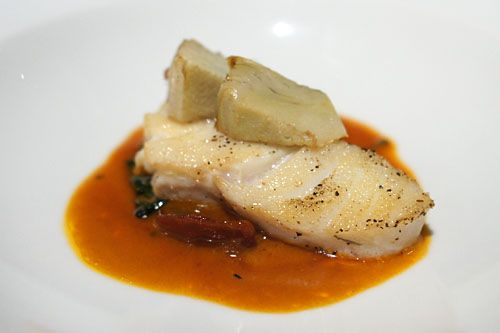 Cod
| Chorizo Nage, Artichoke
I was rather concerned here that the chorizo would totally drown out the flavor of the cod. Rather, it was surprisingly delicate, more sweet-hot than overtly spicy, and went adroitly with the relatively subdued flavor of the fish. I could've done without the artichoke, though.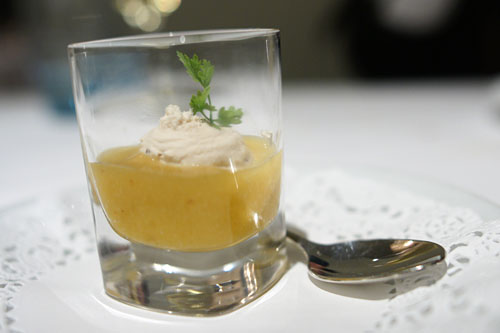 Intermezzo: Huckleberry Mousse
| Foie Gras Chantilly
And now for a bit of a departure from the savories before the two meat courses: The mousse possessed an immense, viscous, almost cloying sugariness that would've been overwhelming had it not been for the countervailing effect of the foie gras on the finish. Positively lovely.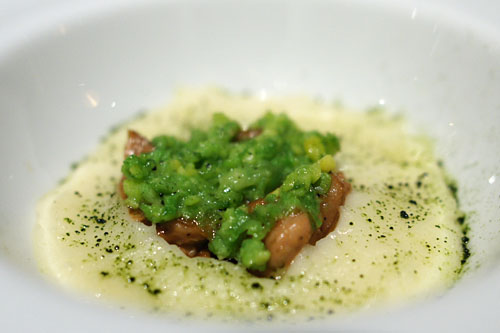 Veal Sweetbreads
| Potato Coulis, Comté, Peas
Sweetbreads, naturally, can be a very commanding main ingredient, so I really appreciated how the potato here served as a sort of moderating basis, a stage on which the sweetbreads could, in concert with the peas--
and what peas
--really shine. I've never had them done quite like this before.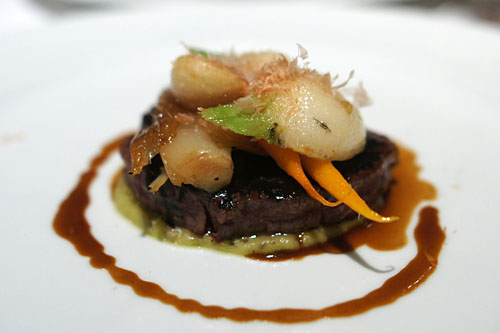 Hanger Steak
| Black Sesame, Shishito Purée, Root Vegetables, Bonito, Miso
The steak was prepared to such a tender consistency that mastication was largely optional. Even more striking, however, was the meat's sesame crust--upon tasting the course, I immediately thought of the Chinese dish
tan yuan
! As fascinating as the use of sesame was, it was perhaps a bit much, as I would've preferred a more apparent beefiness to go along with the rustic preparations of vegetables.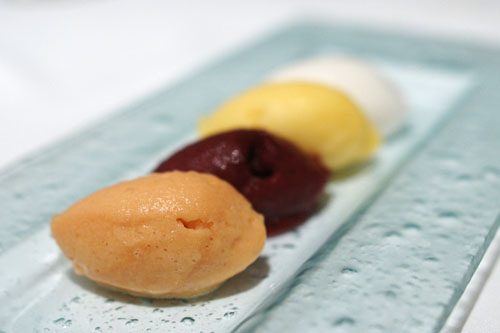 Pre-Dessert: Sorbet Quartet
| Guava, Cassis, Passion Fruit, Lychee
A foursome of sorbets--all very bold, very robust, very effective in conveying the quintessence of their fruit flavors--served to cleanse our palates in preparation for dessert.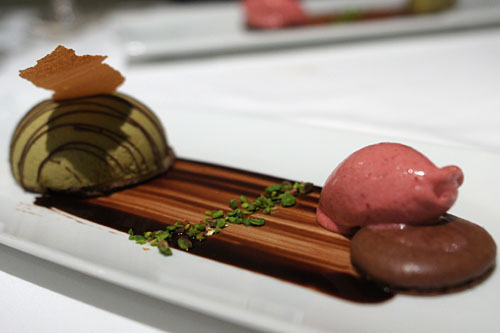 Pistachio Mousse
| Cherry Sorbet, Chocolate Macaron
I'm a sucker for pistachio, and here, the nut lent a subtle bit of saltiness to the mousse that was undoubtedly crucial in balancing out the unabashedly saccharine nature of the cherry sorbet.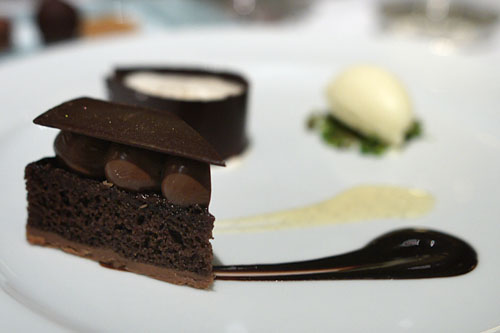 Gianduja Cake
| Rhum Crème Anglaise, Butterscotch Tapioca, White Chocolate Ice Cream
I attacked this course from left to right. First off, the use of hazelnut in the gianduja made for a chocolate cake that was a pleasant departure from the norm; I appreciated its fabulously moist body and restrained sweetness. The tapioca, meanwhile, was the most interesting element on the plate, with a cool, mild flavor backed by the sheer decadence of butterscotch. And finally, we end with white chocolate ice cream. It's hard to go wrong with that, especially when it's paired with more of that
delightful
pistachio.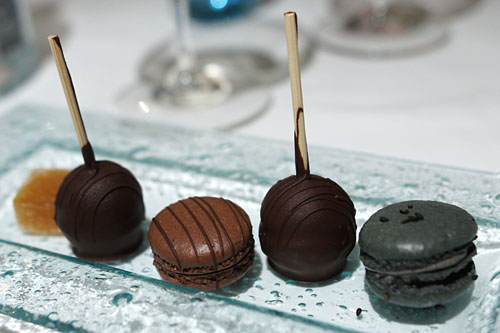 Mignardises
To close: housemade macarons (chocolate and black sesame), chocolate lollipops, and a
pâte de fruits
.
Coming into Bistro LQ, I expected my palate to be challenged, my taste buds taken for a spin. In that regard, Quenioux delivered, and certainly, then, the restaurant easily rises above its mere "bistro" moniker. The cuisine is smart, sophisticated, whimsical, and sometimes downright weird; it is, according to the Chef, "an orgy derived from the alchemy of the flavors and the senses," and for that, I am thankful. This is some of the most ambitious, adventurous, audacious food that the City has to offer; LQ is simply too alluring for me not to return.