Grace (Los Angeles, CA) [2]
Grace
7360 Beverly Blvd, Los Angeles, CA 90036
323.934.4400
www.gracerestaurant.com
Sat 06/19/2010, 07:00p-10:10p

My last visit to
Grace
was a bit of a letdown, but I'd always wanted to return and give Neal Fraser's contemporary American eatery another shot (hell, it's one of Mayor Antonio Villaraigosa's favorite restaurants, if that means anything). Grace is, of course, closing and moving to Downtown, so the final night of service at its location on Beverly gave me the perfect opportunity to revisit. Joining me were Austin of
Living to Eat
, Darin of
Darin Dines
(along with friend Diana), and Mike of
Right Way to Eat
(who, contrary to popular belief, is still alive and eating).
About the Chef
: Born to an actress mother and musician father, Fraser himself took on acting as well, but wound up leaving the profession at age 10 after walking of out a John Cassavetes production. He began cooking professionally when he was 20, working the line at Eureka Brewery & Restaurant, one of Wolfgang Puck's earliest ventures. Following his stint there, Fraser enrolled at the Culinary Institute of America in the autumn of 1990. While at the CIA, the Chef externed under Thomas Keller at the Checker's Hotel in Downtown Los Angeles, and also cooked weekends with David Burke over at the Park Avenue Café in Manhattan. After graduation, Fraser returned to LA and went to work at
Spago
; however, he hated his time there, and left the venerable spot after only three weeks. The Chef transitioned to
Joachim Splichal's
Pinot Bistro, then to Hans Rockenwagner's Rox.
Then, in 1995, Fraser partnered with a little known restaurateur named Steven Arroyo to open up Boxer at 7615 Beverly, located just a stone's throw away from Grace. The Chef achieved considerable success at Boxer, but would sell his stake in the business just three years later. Arroyo, of course, eventually converted the space to Cobras & Matadors, and went on to open a slew of restaurants, including the vaunted
Church & State
, helmed at first by Grace's former Chef de Cuisine, Greg Bernhardt. Fraser then landed an Executive Chef position at Rix in Santa Monica, and continued to garner accolades with his eclectic tasting menus, including a controversial all-hemp degustation (his Sous was a pothead) and an "Homage to
Jean-Georges
," where he recreated a JG meal
sans
recipes. In the fall of 1999, the Chef moved yet again, this time to Jimmy's in Beverly Hills, but the restaurant shuttered soon after his arrival.
Fraser spend the early 2000's catering and raising funds for Grace (he partnered with industry veterans Richard Drapkin and Brooks Townsend; actress Connie Britton is also an investor), which debuted in late February 2003 to considerable fanfare. Two weeks later, Fraser married his longtime girlfriend Amy Knoll, who currently helps run the front-of-the-house. 2006 saw the Chef compete and emerge victorious in
Iron Chef America
, trouncing Cat Cora in "Battle Pork," but he would achieve an even bigger accomplishment in '06: launching his casual all-day cafe concept BLD in the former Cafe Capo space. In mid 2007, Fraser started consulting on the menu for the revamp of Cole's Downtown, then appeared on Daniel Boulud's television show
After Hours with Daniel
(Daniel was the site of Fraser's most memorable meal) in December that year.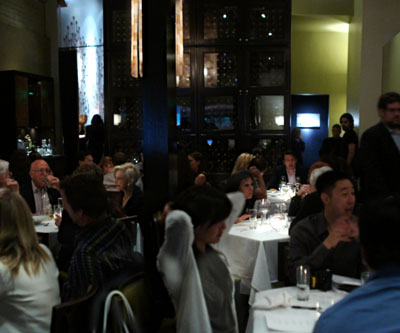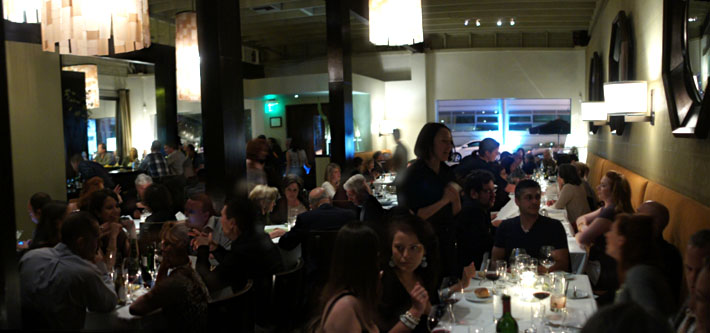 Grace occupies the space formerly held by Muse, and was transformed to suit Fraser's vision by designer Michael Berman. The room seats up to 120 and has a warm, residential feel to it, a perfect arena in which to enjoy Fraser's haute-meets-comfort cuisine.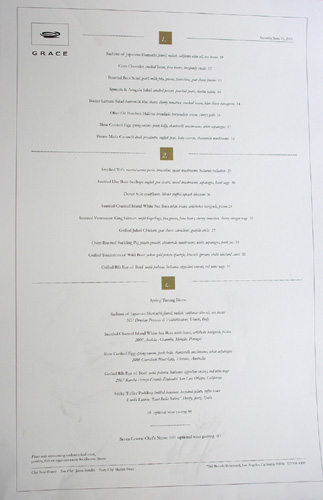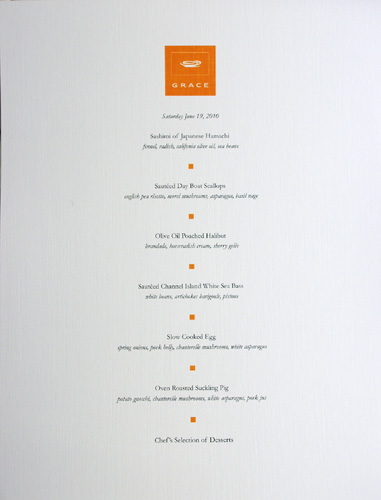 Grace's menu changes periodically, though there are a few standbys, such as the "Grilled Tenderloin of Wild Boar," which has been on the
carte
since
Virbila's 2-star review
back in 2003 (she didn't care for it, by the way). We, naturally, gravitated toward the tasting menus. There's a five-courser at $65, but we all went for the seven-course Chef's Menu, priced at $100, plus $60 for Wine Director Eduardo Porto Carreiro's pairings. Click for larger versions.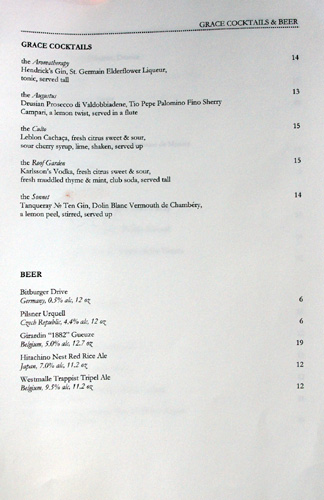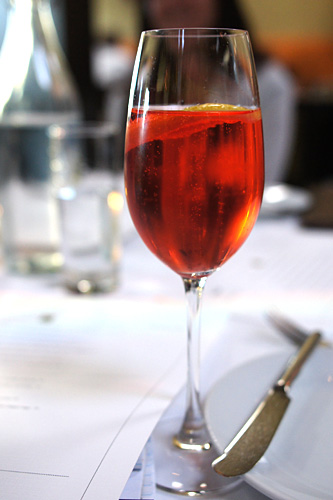 The bar features a small, rotating selection of signature cocktails (click for a larger version), and I went with the Augustus [$13], comprised of Drusian Prosecco di Valdobbiadene, Tio Pepe Palomino Fino Sherry, Campari, and a lemon twist. The Prosecco formed an effervescent base to the cocktail, with added depth and complexity courtesy of the Tio Pepe. The key, though, was the Campari and its bitter, herbal essence, which lent an overarching astringency to the drink that really served as a jolt to the palate.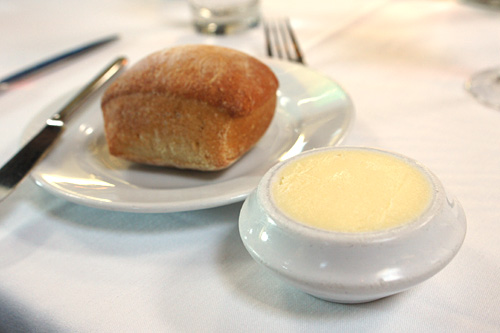 Paired with a lovely butter, the ciabatta-esque loaf served as the sole bread offering.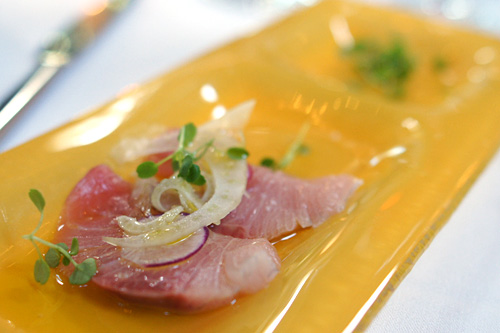 1: Sashimi of Japanese Hamachi
| fennel, radish, california olive oil, sea beans
NV Brut Rosé, Roederer Estate, Anderson Valley, California
One thing that I've always found peculiar at Grace is the lack of an amuse bouche (typically a
de rigueur
flourish at fine dining establishments); thus, we'll jump right into the first course. Eaten alone, the fish was prototypical yellowtail, with a soft, slightly fatty flesh and clean, yet somewhat oily essence. What I really enjoyed, though, was the acerbic tang of radish and fennel, which formed a great counterpoint to the relatively hefty hamachi, as well as the depth of flavor imparted by the olive oil. Finishing things off was a great tinge of sea salt on the close.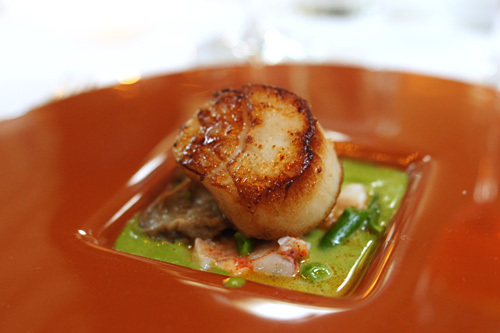 2: Sautéed Day Boat Scallop
| english pea risotto, morel mushrooms, asparagus, basil nage
2006 Chardonnay "Acero," Marimar Estate Family, Russian River Valley, California
Following was one of the best scallops that I've had in a while. I loved its firm, yet supple consistency--a perfect combination of raw and cooked textures--as well as its delightfully caramelized exterior and delicate flavor. The use of morels gave the dish a substantial, heady earthiness, but the best part was the interaction between the scallop and its bright, verdant, vegetal asparagus- and basil-infused broth. Interestingly, the only element I didn't quite care for here was the lobster, which seemed totally redundant, and rather overcooked to boot.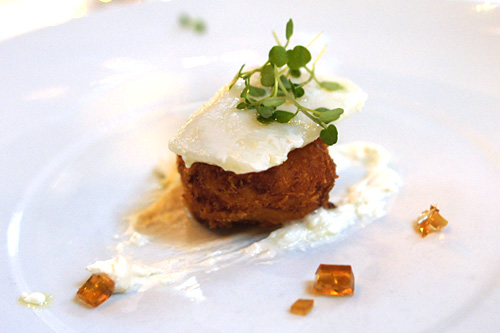 3: Olive Oil Poached Halibut
| brandade, horseradish cream, sherry gelée
2007 Gewürztraminer "Estival," Viñedo de los Vientos, Atlantida, Uruguay
Given that I'm somewhat of a salt cod slut, I was quite excited about the brandade in this course. The fluffy cod fritter, not the halibut, was the real star of the show here, with a tremendously briny flavor that went surprisingly well with the more subdued nature of the halibut. The whole amalgam was perked up properly by the prick of piquancy provided by the sherry, which worked beautifully with the saltiness of the fish.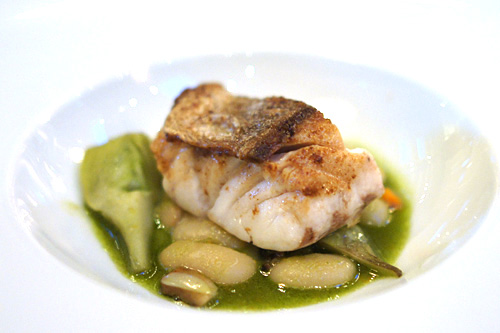 4: Sautéed Channel Island White Sea Bass
| white beans, artichokes barigoule, pistou
2007 Alvarinho, Aveleda, Monção, Portugal
Here we have another very strong presentation of fish, this time a white sea bass. The bass itself was actually quite delectable, a tender, flaky filet with a piercing savoriness, augmented by the fish's fantastically crisp, salty skin. I also appreciated the sea bass' interplay with the pistou (basil, garlic, olive oil), as well as the gravity contributed by the white beans. The artichoke, however, wasn't necessary for me.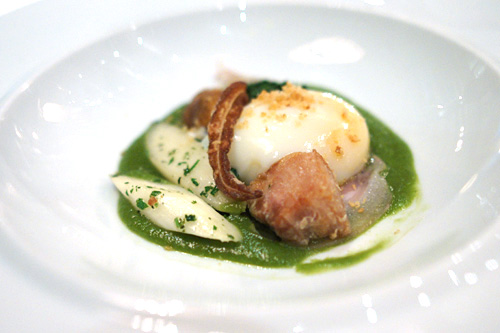 5: Slow Cooked Egg
| spring onions, pork belly, chanterelle mushrooms, white asparagus
2008 Zweigelt, Umathum, Burgenland, Austria
It's hard to go wrong with slow cooked egg, and this certainly was no exception to the rule. It really lent a luscious, all-encompassing creaminess to the dish that did wonders in emphasizing the saltiness of the crispy pork belly and bacon, while adding to the earthy heft of the chanterelles. The onions and asparagus, thus, were absolutely key in tempering the power of the dish. Very nice.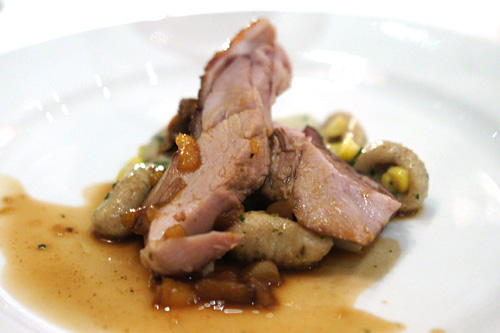 6: Oven Roasted Suckling Pig
| potato gnocchi, chanterelle mushrooms, white asparagus, pork jus
2007 Zinfandel "Dry Farmed," Rancho Arroyo Grande, San Luis Obispo, California
Our final savory of the evening was a surprisingly rustic preparation of pig. I found the meat enchantingly tender, succulent, with a robust "pork-y" sapor and a wonderfully crisp skin, and I quite appreciated how the asparagus, in concert with the corn succotash, moderated the ponderosity of the pork. I wasn't nearly as keen on the gnocchi, though.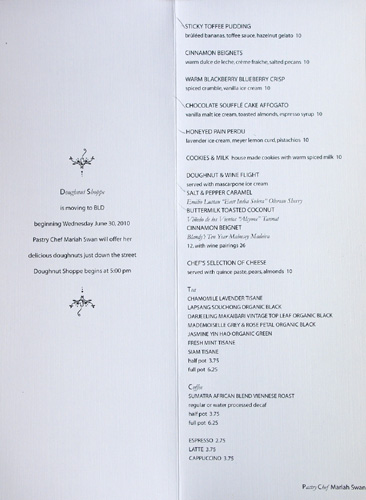 Above, we see Grace's dessert menu (click for a larger version), which has always had a sort of "homey" vibe to it. It all started with opening Pastry Chef Elizabeth Belkind, a Le Cordon Bleu/CSCA and Campanile alum, who, faced with a glut of strawberries, created the first jam-filled doughnuts for the restaurant. Belkind left Grace in 2006 to open a place with Reservoir's Gloria Felix (who'd worked at Grace early on in 2003); however, that partnership fell apart when Felix went on to star in Gordon Ramsay's
Hell's Kitchen
TV series. Belkind is currently heading up
Cake Monkey Bakery
(their
Li'l Merri's
are superb), a role that she took up in 2007.
The demand for doughnuts did not wane after Belkind's departure, and her successor, Robert Tarlow (Boule,
Sona
, Lucques), took things to the next level when he instituted a weekly doughnut night. Tarlow eventually left Grace in early 2008, replaced by Mariah Swan, the current Pastry Chef. A UC Berkeley alum, Swan decided after graduation that her heart belonged in the kitchen, and soon enrolled at the California School of Culinary Arts in Pasadena. She landed a gig as Assistant Pastry Chef at the departed Hollywood & Vine Diner before moving on to a baking position at Axe in Venice. Swan started at Grace in 2004, and, having worked under both Belkind and Tarlow, was well-positioned to take over the lead pastry role upon the latter Chef's departure.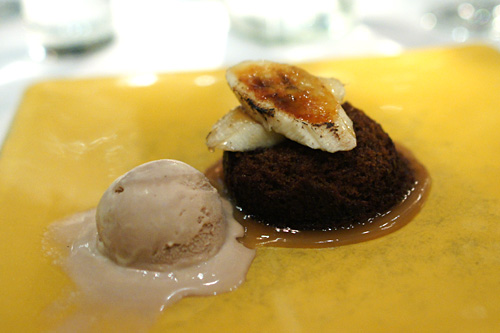 7a: Sticky Toffee Pudding
| brûléed bananas, toffee sauce, hazelnut gelato
2001 Semillon "The Straw Man," Sine Qua Non Mr. K, Central Coast, California
Interestingly, instead of the entire table getting the same dessert, we were instead given a selection of five of Swan's creations to share. The pudding was nice enough, and sort of reminded me of a boozy chocolate cake. The toffee definitely enhanced the richness of the dessert, and the bananas were a fitting complement as well.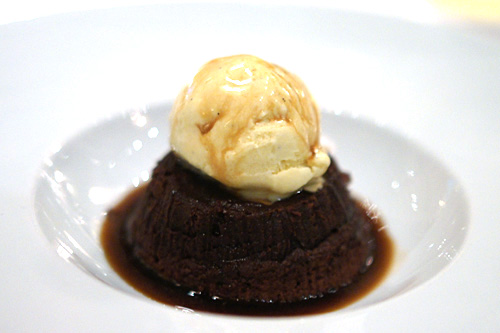 7b: Chocolate Soufflé Cake Affogato
| vanilla malt ice cream, toasted almonds, espresso syrup
2001 Semillon "The Straw Man," Sine Qua Non Mr. K, Central Coast, California
The soufflé was more interesting, as it had an espresso syrup that I found quite becoming, complementing the heavy flavors of the cake nicely. I didn't get much in terms of almonds, though I did appreciate the tempering effect of the ice cream.
7c: Honeyed Pain Perdu
| lavender ice cream, meyer lemon curd, pistachios
2001 Semillon "The Straw Man," Sine Qua Non Mr. K, Central Coast, California
This was actually my least favorite of the desserts, though certainly, I didn't mind eating it. The pain perdu, by itself, had a subtle, slightly savory sweetness to it with an almost banana-esque flair, and I also liked the pistachio crumbles. However, the lemon curd was too strong for my tastes, and rather overwhelmed the rest of the dish.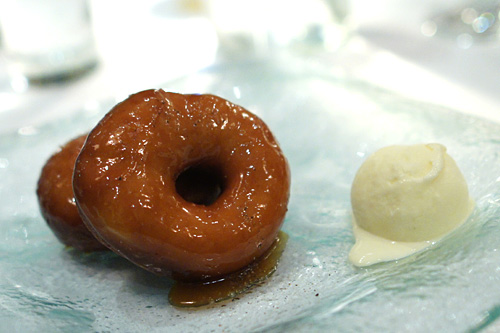 7d: Salt & Pepper Caramel Doughnut
| mascarpone ice cream
2001 Semillon "The Straw Man," Sine Qua Non Mr. K, Central Coast, California
DTAB
had warned me that the doughnuts didn't live up to their former glory, so I was a bit wary going in. Fortunately, I'm happy to report that Grace's signature desserts did not disappoint. The S&P variety demonstrated plenty of sticky caramel character, but I was intrigued, and pleased, by the bit of savoriness that I tasted, especially on the finish.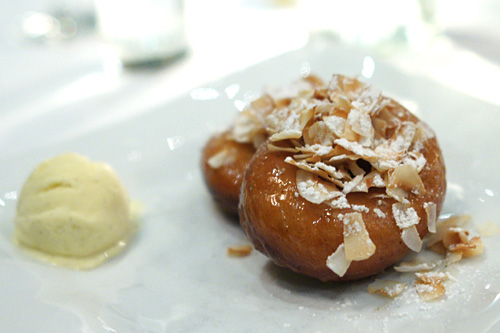 7e: Buttermilk Toasted Coconut Doughnut
| mascarpone ice cream
2001 Semillon "The Straw Man," Sine Qua Non Mr. K, Central Coast, California
As much as I enjoyed the previous doughnuts, I liked these even more. The buttermilk lent an amazing flavor to the dessert, and the use of coconut gave things an almost nutty character, while adding some textural variation as well. In fact, the entire assemblage reminded me a bit of a Danish butter cookie! Loved the mascarpone ice cream too (and I'm glad to see Swan using spheres of it instead of the hackneyed quenelle shape).
All things considered, this was pretty damn good meal--Grace, consider yourself redeemed. The food this time around seemed much more robust, confident, gutsy. It was sophisticated, polished, yet approachable and familiar--exactly what it should be.
So what's next for Fraser and company? Well, Grace will be resurrected in Downtown at the corner of 2nd and Main, inside the rectory building of the old Vibiana Cathedral, with an estimated opening date of sometime in the first half of 2011. Interestingly, this isn't the first time Fraser's considered DTLA: way back in 2007, he was slated to open a "hybrid" between Grace and BLD there. In any case, this space at 7360 Beverly has been taken over by
Rivera's
John Sedlar, who plans to open up a down-market version of his eponymous restaurant here. In the mean time, Grace's team is still available for catering gigs, if you're so inclined, and apparently, another BLD will be opening in Pasadena (at the corner of Holly and Raymond) sometime this year.