Magnum Crew at Pal Cabron (Los Angeles, CA)
Magnum at Pal Cabron
3337 1/2 W 8th St, Los Angeles, CA 90005
323.798.4648
www.lascabronas.com
Wed 02/16/2011, 07:30p-12:15a

Jaded Angelenos may bemoan the advent of yet
another
pop-up restaurant, but when said pop-up involves former
Bastide
chef
Joseph Mahon
along with infamous "wine pimp"
David Haskell
, you can't help but be somewhat intrigued. Ever since Mahon
parted ways
with Bastide last December, he's been hanging around with Haskell, and the two were just itching to work on a project with each other. The end result of the collabo was the unfortunately-named
Magnum Crew
, which first popped up at K-Town's Biergarten December 13th and 14th last year.
This latest iteration brings the Magnum Crew to Cemitas y Clayudas Pal Cabron, also situated in Koreatown. The location at 3337
and a half
West 8th was formerly the home of the original
Guelaguetza
, but was transformed to its current state by Bricia and Fernando Lopez in October last year. This Pal Cabron, of course, follows the mold of the original, which opened in Huntington Park back in 2009 (also taking the place of a Guelaguetza, but which has since shuttered). Look for Magnum to pop-up next time at lounge-y Indian eatery
Nirvana
in Beverly Hills.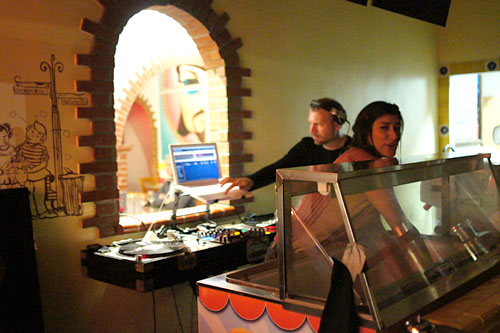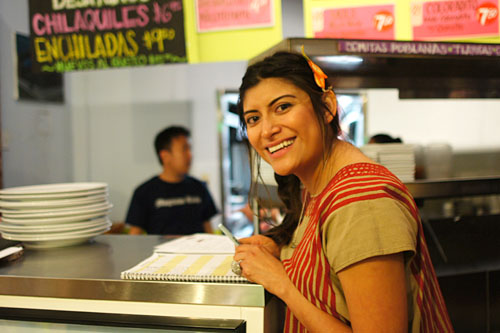 Since we arrived early for our reservation, Pal Cabron's lovely
Bricia Lopez
took us next door to
NaturaBar
, where she graciously doled out samples of her Oaxacan ice cream. Flavors include standbys vanilla and strawberry, but also Oaxacan chocolate, coconut-pineapple,
tuna
(prickly pear, not the fish), and an inimitably savory burnt milk.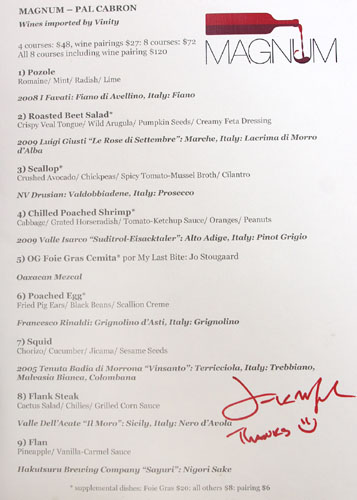 The base menu for tonight offered up four courses, priced at $48, plus $27 for wine pairing. In addition, extra courses were available at $8 each, or one could go whole hog and enjoy all courses and all wine for $120, plus $20 extra for foie gras (which we did, natch). Click for a larger version.
Assisting Mahon in the kitchen this evening were
Lemon Moon
Executive Chef Jonathan Moulton and future
Ink
chefs
AJ Ramirez
and
Klein Debow
, not to mention expediter
Sam Kim
.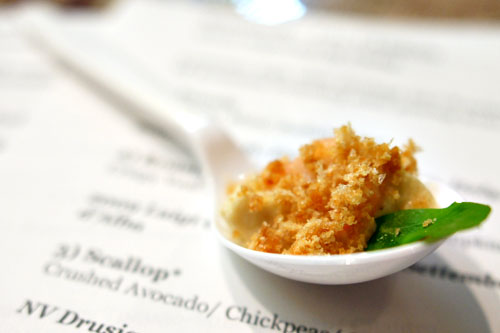 Amuse Bouche: Poached Shrimp
| Onion-Apple Custard/ Chicharrones
Our amuses did arrive on plastic spoons, but fortunately that didn't distract us from the flavors at play. I was first struck by the savory smack of the
chicharrones
(fried pork rind), then enjoyed the subtly tangy relish of the custard and how it paired with the shrimp. Just a lovely mélange of tastes and textures, and I appreciated how the shrimp firmly remained the star of the show here.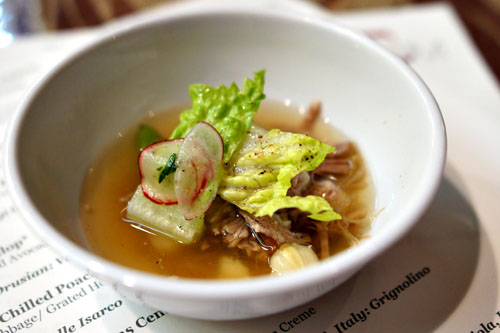 1: Pozole
| Romaine/ Mint/ Radish/ Lime
2008 I Favati: Fiano di Avellino, Italy: Fiano
Pozole
refers to a type of Mexican soup, dating back hundreds of years, traditionally made with limewater-soaked and hulled maize, pork, and various spices. The potage showed off a hearty, umami-tinged nose, and upon tasting it, I loved its rich, bold flavors. The pork, tender and teeming with porcine sapor, was the focal point for me, and I really enjoyed the balance provided by the lettuce and mint especially. The corn, meanwhile, grounded the dish, and served to impart some textural play to things. Interestingly, upon consuming the
pozole
with our paired wine, we noted a distinct, almost blue cheese-like funkiness on the finish, which Haskell tried to liken to an "unrefined milkshake." Very nice; I wanted a bigger bowl.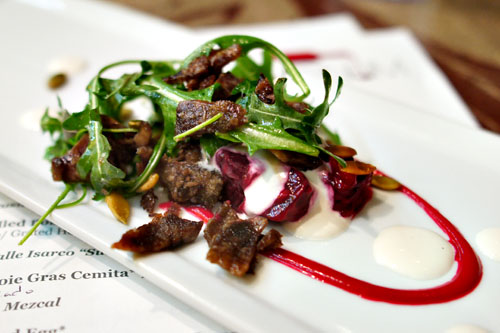 2: Roasted Beet Salad
| Crispy Veal Tongue/ Wild Arugula/ Pumpkin Seeds/ Creamy Feta Dressing
2009 Luigi Giusti "Le Rose di Settembre": Marche, Italy: Lacrima di Morro d'Alba
I'm no fan of beets, so I wasn't exactly looking forward to this course. Fortunately though, the liberal application of crunchy, salty veal tongue helped to temper the sweetness of the root veggie, and I enjoyed the countervailing flavors of the bitter arugula and luxurious feta. Even better were the
pepitas
, which lent a light smokiness to the dish, as well as a pleasing crunch. The wine pairing here was fairly dry, but with a slight strawberry tinge, and was meant to complement the flavor of the beets. The effect Haskell described when taken with the feta was one of "strawberries 'n' cream."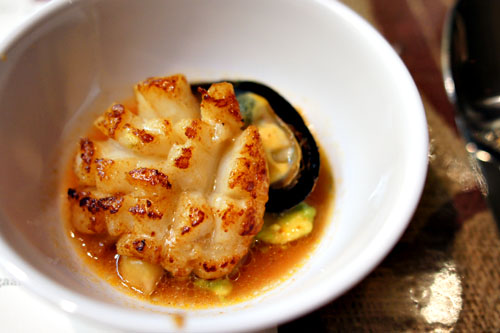 3: Scallop
| Crushed Avocado/ Chickpeas/ Spicy Tomato-Mussel Broth/ Cilantro
NV Drusian: Valdobbiadene, Italy: Prosecco
Scallop arrived perfectly cooked, and I couldn't help but take a whiff of the bivalve's intensely saline, salty aroma. Biting in, I adored the scallop's creamy, subtly rare consistency and strong ocean-y savor. The mollusc's inherent brine was enhanced several fold by the mussel, yet moderated by the creaminess of the avocado and tempered by the earthy chickpeas, all under the overarching tanginess of the dish's tomato-based broth. The wine pairing here was arguably Haskell's best of the evening. The Prosecco had an almost non-existent finish when drunk alone, but the dry sparkler did a great job in linking up with the fat in the dish to form a long, creamy back palate.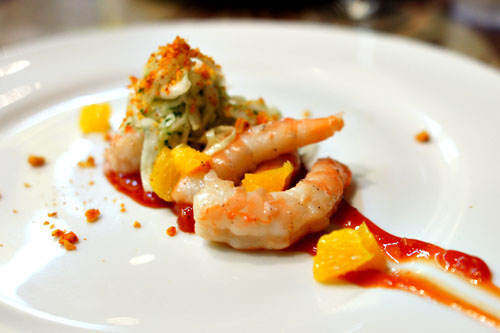 4: Chilled Poached Shrimp
| Cabbage/ Grated Horseradish/ Tomato-Ketchup Sauce/ Oranges/ Peanuts
2009 Valle Isarco "Suditrol-Eisacktaler": Alto Adige, Italy: Pinot Grigio
You could almost think of this as the best shrimp cocktail that you've ever had. I quite enjoyed the snappy consistency and mild flavor of the shrimp, and how they were perked up beautifully by the application of that spicy "cocktail sauce." Meanwhile, the lettuce formed a great temper to the dish, and I loved the nutty accent of peanut, as well as its crunch. Haskell stated that the combination of dry fruit and spice in the wine would bring out the fruitiness of the course. However, I actually felt that the wine's alcoholic notes were highlighted when consumed with the shrimp.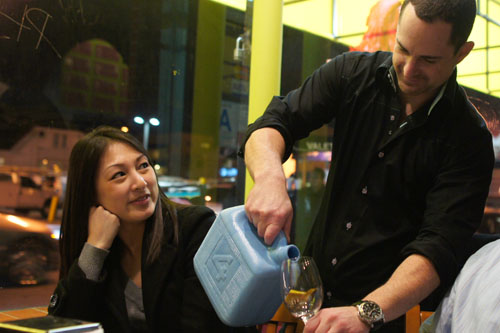 Haskell pouring us some of "Bricia's Private Reserve" Oaxacan mezcal.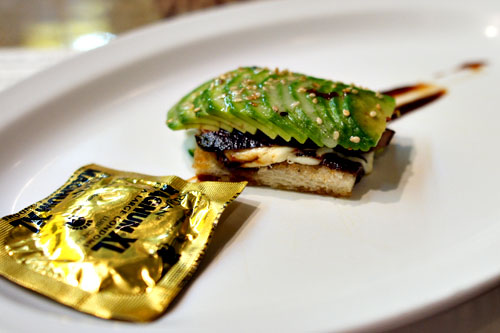 5: OG Foie Gras Cemita
por My Last Bite: Jo Stougaard
Oaxacan Mezcal
Pal Cabron's namesake
cemita
is a sort of Mexican sandwich, oft associated with the city of Puebla. Though they're usually filled with beef or pork, Mahon's version used foie gras, layered with cheese, avocado, chipotle, and toast on the bottom. It was actually a very well-balanced preparation of foie, as the power of the avocado did a fantastic job in moderating the heft of the liver, all under overtones of sweet smokiness from the chipotle sauce. The pairing of mezcal was an interesting one, with the smoky essence of the liquor playing with the chipotle to form a "barbeque"-like character.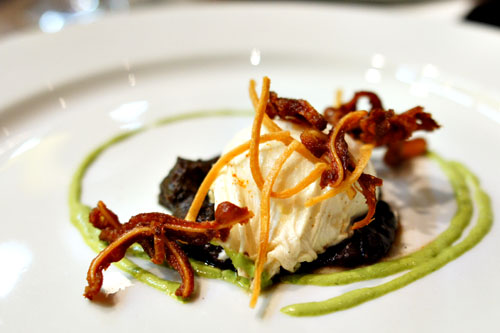 6: Poached Egg
| Fried Pig Ears/ Black Beans/ Scallion Creme
Francesco Rinaldi: Grignolino d'Asti, Italy: Grignolino
Poached egg and pig ear--it's hard to go too wrong with these ingredients. Indeed, the gorgeously runny egg stole the show here, and was deftly moderated by the earthy black beans, while the
orejas
added crispy bits of saltiness to the fray. My only complaint was that the ears were a touch
too
crunchy. As for the wine, I found the Rinaldi rather thin and watery at first, but the food definitely helped to give it more body and weight.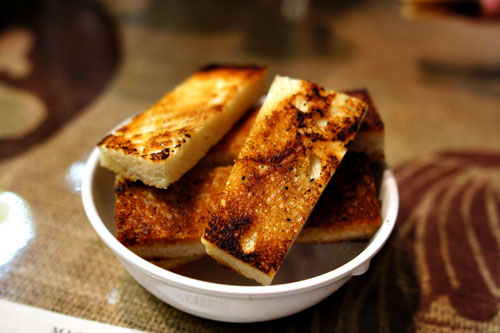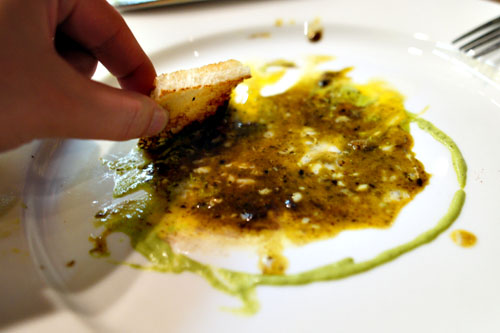 I wanted some bread to sop up the hot mess of egg yolk that was left on my plate, so we were brought out some more of that delightful
cemita
toast.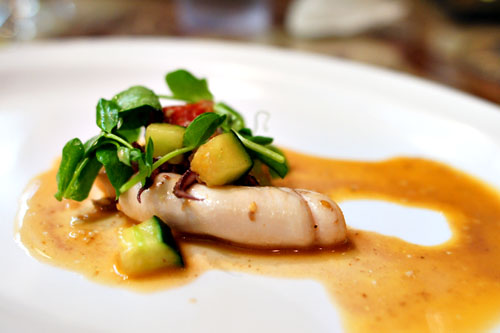 7: Squid
| Chorizo/ Cucumber/ Jicama/ Sesame Seeds
2005 Tenuta Badia di Morrona "Vinsanto": Terricciola, Italy: Trebbiano, Malvasia Bianca, Colombana
Squid was absolutely delectable, with a lovely snap and brine leading to the savory spice of its chorizo stuffing, all countered by the refreshing lightness of cucumber and jicama. I was reminded of a preparation of squid that I'd had recently at
Lukshon
. Concerning the
vin santo
(an Italian dessert wine), Haskell was going for a "McGriddles"-like flavor combination here with the chorizo, but I didn't quite get it.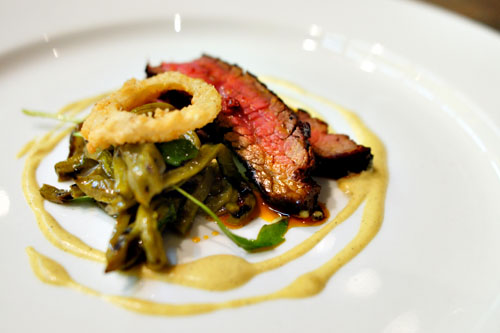 8: Flank Steak
| Cactus Salad/ Chilies/ Grilled Corn Sauce
Valle Dell'Acate "Il Moro": Sicily, Italy: Nero d'Avola
Our last savory course brought us Mahon's flank steak, a cut that's popularly used in fajitas (which, by the way, isn't a true Mexican dish). In any case, I quite enjoyed the beef. It was tender enough, with a lovely char and slight bit of smoke. It went beautifully with the restrained tartness of the
nopales
, as well as the crisp onion ring, but I found the corn sauce a touch sweet.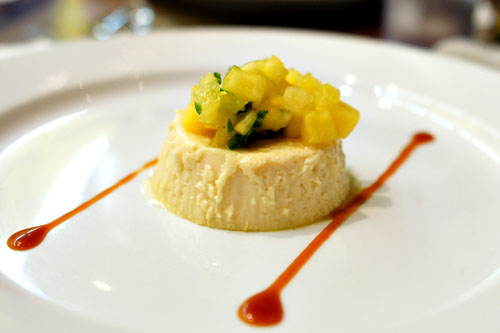 9: Flan
| Pineapple/ Vanilla-Caramel Sauce
Hakutsuru Brewing Company "Sayuri": Nigori Sake
We finished with flan, with the dessert showing off its prototypical sweetness, augmented by pineapple and nicely accented by the tangy bits of mint. Haskell paired a
nigori
(unfiltered) sake with the course, and its sweet, floral flavors were meant to complement the pineapple, completing the "milkshake" theme mentioned earlier.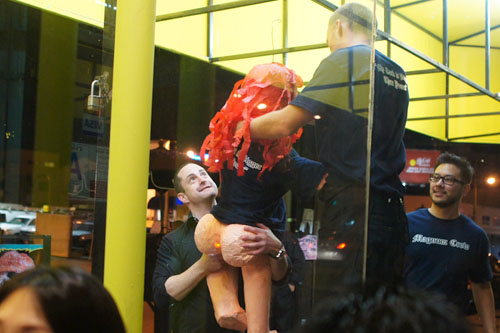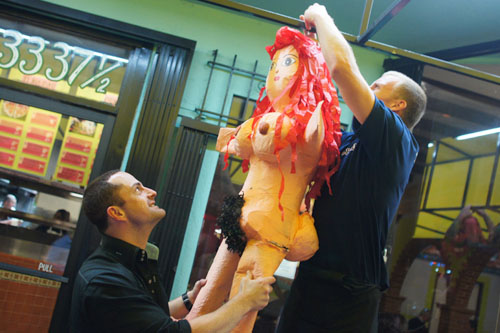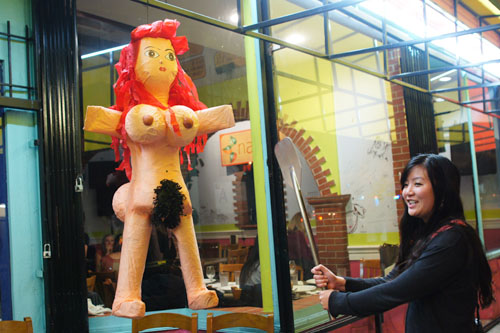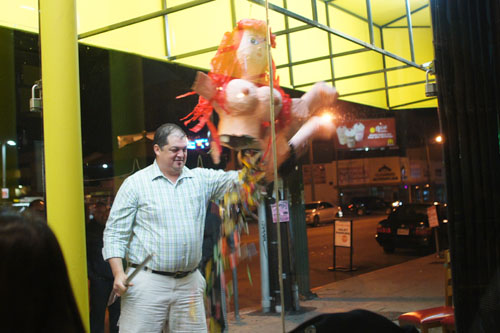 Towards the end of the meal, Haskell and company decided to undress the somewhat misogynist piñata out in front of the restaurant, and several of us had a whack at it. However, it was none other than Jalisco native Chuy Nomas of
Arandas Importers
(distributors of
Real de Mexico
tequila) that finally busted her open.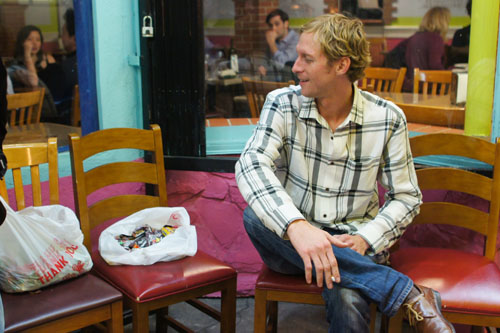 Seen here guarding the bounty is Clay Stranger of Dos Conejo Imports, who's currently in the process of securing the rights to bring a number of Mexican mezcals into the US.
I'm not sure how long these dinners will continue, but rumor is that all this pop-up hullabaloo is preparation for Haskell's upcoming restaurant, tentatively titled Magnum-DH. Quite frankly, it's about time he got back in the game. We all remember him working at the likes of Vertical, STK, and Bin 8945 (he was managing partner), but his résumé is legit, including stints at Aubergine in Newport Beach, Aquavit and Le Cirque in New York, and Guy Savoy in Paris. In any case, if the
cooking gangster
is in the kitchen, and it certainly seems like he would be, then things are looking up for
Magnum
.