The Bruery Provisions (Orange, CA)
The Bruery Provisions
143 N Glassell St, Orange, CA 92866
714.997.2337
www.brueryprovisions.com
Tue 01/25/2011, 06:15p-07:15p

Started in 2007 by one Patrick
Rue
(hence the name),
The Bruery
has quickly established itself as a major player in the California microbrew scene. The Bruery Provisions, meanwhile, originally served as an adjunct to the Placentia brewery, focusing on the sale of homebrew wares. However, the shop eventually closed, only to be reborn in Old Towne Orange in September last year. Intended to appeal to a wider audience, Provisions now focuses its energies on education and retail sales of beer, wine, cheese, and other gourmet products. At any given time, 30 beers and eight wines are on tap, and a number of beer, wine, cheese, and charcuterie tasting flights are available in Provisions' tasting room (pictured above).
I'd been curious about Bruery Provisions for a few months now, and a special tasting event organized by OC food blogger
Marian the Foodie
gave me the perfect excuse to pay them a visit. For the very reasonable price of $10, we were provided a flight of five Bruery beers, paired with a trio of appropriate cheeses (and one killer toffee). After a short introduction by Marian, it was time to get started: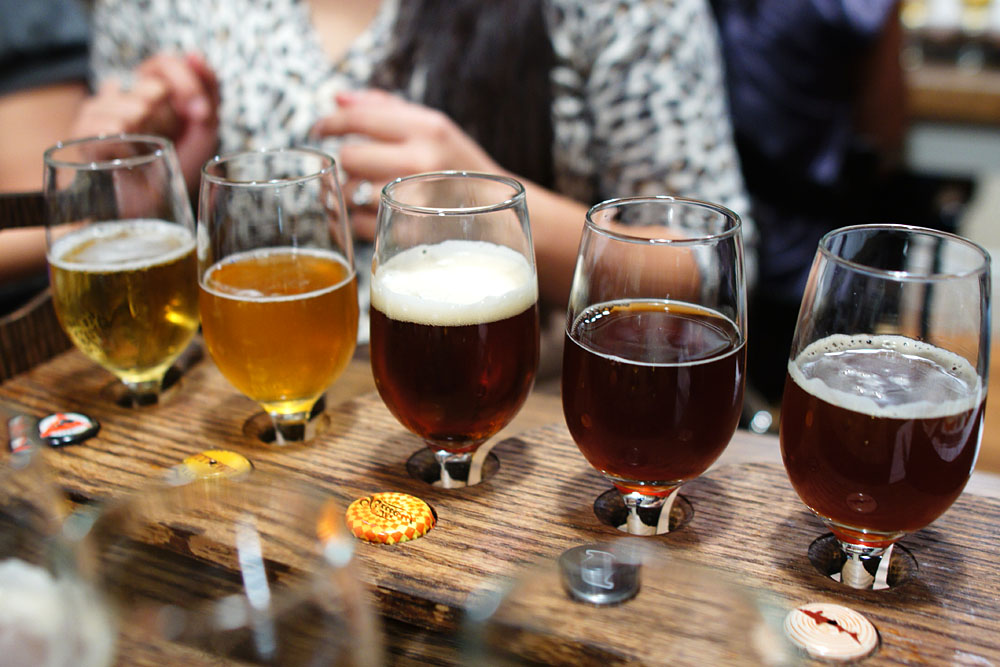 Our flight of five Bruery beers, beautifully presented and tasted left to right:
Orchard White: Belgian-style witbier. This hazy, straw yellow wheat ale is spiced with coriander, citrus peel and lavender added to the boil and whirlpool. A spicy, fruity yeast strain is used to add complexity, and rolled oats are added for a silky texture. 5.7% ABV. This was intensely grassy and herbaceous on the nose. The flavor, meanwhile, was surprisingly restrained at first, with the essence of the coriander and lavender creeping up later and then subsiding.
Saison De Lente: Our Spring Saison is light blonde in color with a fresh hoppiness and a wild and rustic Brettanomyces character. Lighter in color and alcohol than our Saison Rue, yet equally complex in its own way. Perfect for warmer weather and Spring celebrations. 6.5% ABV. A light, refreshing brew, with subtle notes of citrus and clove-y spice bound by a medium hoppiness.
Loakal Red: The first beer we've ever brewed with California ale yeast (rather than our usual Belgian strain), Loakal Red is a blend of two versions of the same red ale; one aged for about a month in NEW American oak barrels and the other dry-hopped. An OC only beer for The Bruery! 6.9% ABV. Not unusual for the red ale style, with an apparent, citric hop character balanced by a nice toasty malt sweetness, all under subtle overtones of oak.
Rugbrød: Julebryg-style strong brown ale. We took our inspiration for this beer from the traditional Danish dark, whole-grain rye bread. Instead of the caraway flavor found in American-style rye bread, the Danes allow the spicy, slightly bitter character of the rye to shine through. We do the same with this robust ale, adding bready, nutty malts with a hint of roast to complement. And don't worry, we can't pronounce it either. 8% ABV. Upon tasting, my first thought was "liquid bread!" Think earthy/sour/spicy flavors of rye, and not much hoppiness, all accented by a sweet-ish touch of malt.
Old Richland: Old Richland - Our spin on a barley wine and by "our spin" we mean incredibly hoppy. Dry hopped with Simcoe, Centennial and Sterling hops this American-style barley wine exhibits piney and citrusy flavors that shine through the dark, caramelly malt backbone. Some may think of it as more of a double IPA than a barley wine, we just think it's delicious. 9% ABV. Loads of green pine flavors on the nose, which grow and linger on the palate, where they're joined by delicious amounts of citrus hop. A decent amount of caramel malt to balance things out.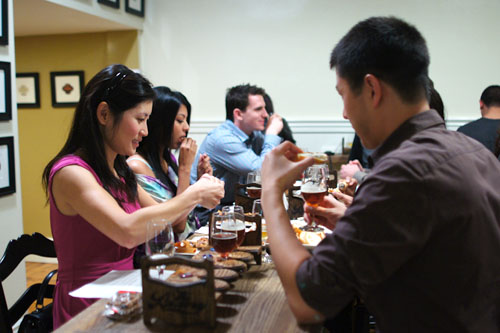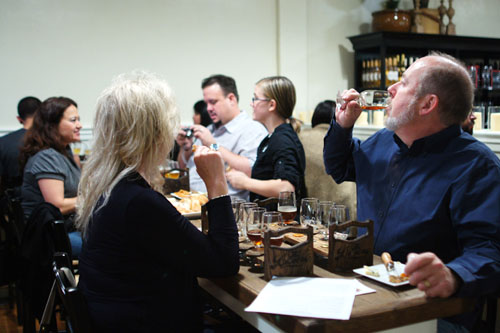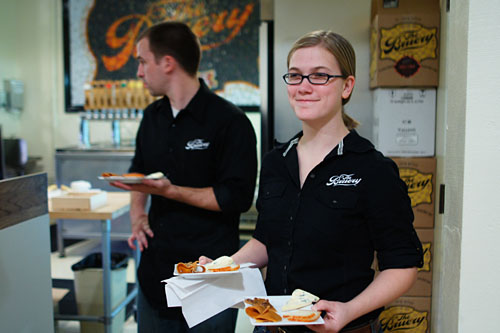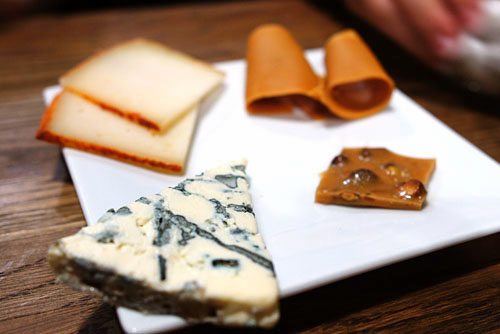 And now for the cheese:
Ibores: This delicious goat cheese from Spain has been rubbed with olive oil and paprika creating a unique and spicy cheese that we've paired with Orchard White and Saison De Lente. I found the Ibores very mild and approachable overall, with just a touch of spiciness. A killer complement to the Orchard White!
St. Agur: A lusciously creamy bleu cheese choc full of wonderful citrus and grassy notes. We've paired this with Saison De Lente and Loakal Red. A superb blue, creamy and very refined with a fantastic sweetness; my favorite cheese of the trio. I loved how it took the bite off of the Saison, while accenting the Loakal's inherent flavor.
Geitost: Geitost is a caramel lovers' dream cheese! This Scandinavian goat cheese is made by caramelizing the whey to give this cheese its caramel color and flavor. It's a perfect match for Rugbrod and Old Richland. Now this was interesting. The cheese showed off a dense, palate-coating consistency with a very apparent caramel character. It heightened the smokiness of the Rugbrod, while accenting the green flavors of the Old Richland.
Pop Candy Pistachio Fire: We make this spicy butter crunch with Fiddyment Farms' amazing Fiddy Fire Pistachios. You mildly taste FF's own chile blend in the candy with every bite, and then the perfectly seasoned nuts themselves surprise you with a fun kick of heat and the end. Devilishly good with Old Richland. And now for something completely different, Marian had brought along some toffee for us to pair. The candy was delightful, demonstrating a wonderfully nutty sweetness tinged by a bit of lingering spice. It actually did a great job in tempering the pine-y nature of the Old Richland.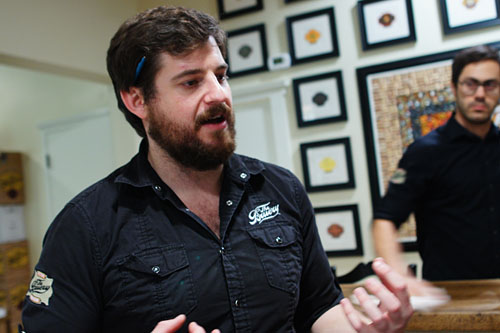 This was my first time pairing
beer
with cheese, and it was definitely a fun experience. The beers, of course, were unique and delicious in their own right, but it was perhaps even more interesting to see how their flavors were enhanced, tempered, and complemented by the paired cheeses. Thanks again to
Marian
for setting up the event!