Lukshon (Culver City, CA)
Lukshon
3239 Helms Ave, Culver City, CA 90034
310.202.6808
www.lukshon.com
Fri 02/04/2011, 06:45p-09:20p

It's a small (foodie) world. Regular readers may recall the
Molecular Menu dinner at AnQi
from a while back. Well AnQi's previous "molecular chef," Jacob Kear, happened to read that particular post, and ended up emailing me as a result. It turns out that he's now co-Chef de Cuisine at Lukshon,
Father's Office
mogul Sang Yoon's new temple of Southeast Asian cookery situated in the Helm's Bakery Building. Prior to Lukshon and AnQi, the Tarzana, CA-born, Japanese-raised Chef cooked at the Michelin-starred Tapas Molecular Bar at Tokyo's Mandarin Oriental hotel. He also served a stint in Korea, and worked for four years at the Ritz Carlton in Laguna Niguel.
Under Yoon's oversight, Kear commands the kitchen with fellow CdC Johnny Yoo. Yoo, for his part, graduated from the Le Cordon Bleu program at Pasadena's CSCA in 2003. Following, he cooked at a number of noted Southern California restaurants, including Koi,
Sona
,
Melisse
,
Ortolan
, the Restaurant at the Getty Center, Anisette, and
Drago Centro
before joining Yoon's team last year.
Lukshon, apparently, was the place to be this evening. Other notable diners present included Twitter power couple
Christine
&
Julian
, Darin of
Darin Dines
,
Beer Belly
founder
Jimmy Han
,
Scoops Westside
owner Matt Kang (a.k.a.
Mattatouille
) with
Matt Kim
, Ryan of
Epicuryan
, Sam of
Bites For Me
, and I could've sworn I even saw
Govind Armstrong
up in here.

Penned by Ana Henton of
MASS Architecture and Design
(who also did Corkbar and Breadbar), the space features contrasting swaths of stainless steel and wood, anchored by a gleaming white open kitchen (replete with Chef's Counter, where we were sitting, natch), glass communal table, and 12-seater bar with state-of-the-art wine-dispensing system. Additional seating is also available on an outdoor patio at the front of the restaurant.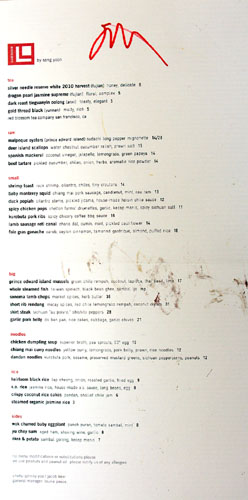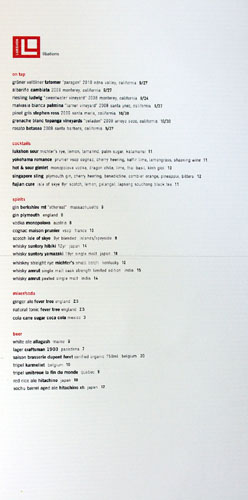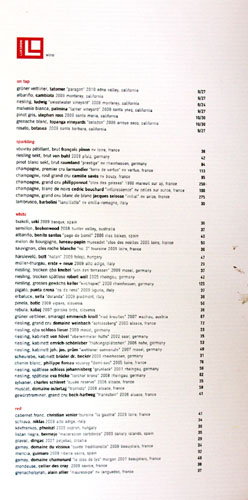 Divided neatly into six self-explanatory sections, Lukshon's menu is fairly diverse, drawing from the varied culinary traditions of Southeast Asia. Complementing the food is a small selection of craft beers, spirits, and wine, along with tea and a handful of Asian-y cocktails. Click for larger versions.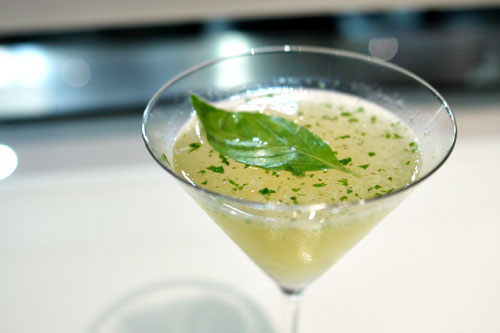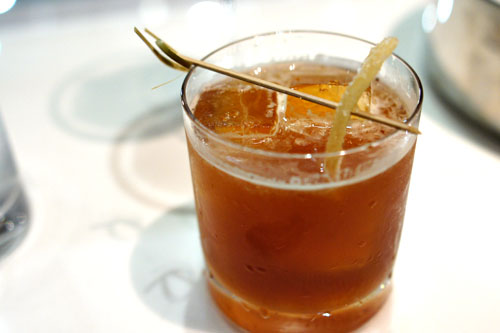 hot & sour gimlet [$10.00]
| monopolova vodka, dragon chile, lime, thai basil, kinh gioi
fujian cure [$11.00]
| isle of skye 8yr scotch, lemon, galangal, lapsang souchong black tea
Speaking of those cocktails, we began with a twosome. A gimlet is a cocktail traditionally composed of vodka or gin and lime juice, but Lukshon's version adds in a trio of Asian greenery, giving the drink a spicy, herbaceous character to counter the fresh, sweet 'n' sour flavor of the libation--quite nice. The Fujian Cure, meanwhile, was more intriguing, featuring a marked citrus tinge (from the lemon and galangal) intermingled with the weight of the Scotch, all under overarching tones of smoke, courtesy of the
lapsang souchong
tea. Loved the bit of candied ginger here as well.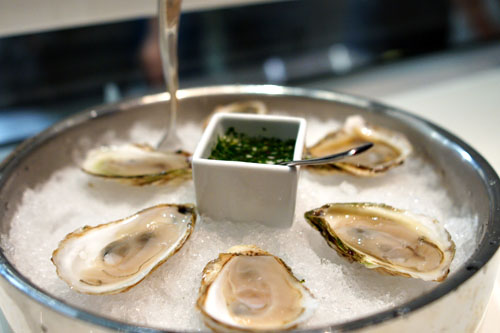 malpeque oysters (prince edward island) [$14.00]
| sudachi long pepper mignonette
Oysters from Canada's Malpeque Bay were surprisingly mild in flavor, delicate and clean, with a slight bitterness. The paired mignonette, brightened by the application of spicy long pepper and tangy sudachi, thus, was a necessary accompaniment.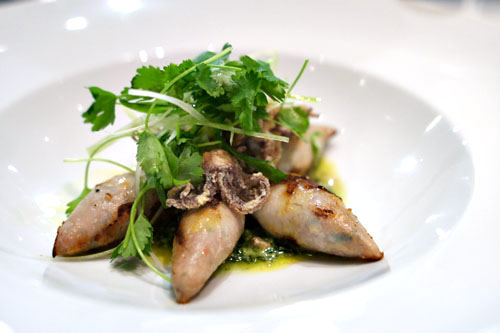 baby monterey squid [$13.00]
| chiang mai pork sausage, candlenut, mint, rau ram
Squid arrived stuffed with Chiang Mai sausage, an amazing pairing that gave the cephalopods a juicy "pop" upon mastication. The sausage's intensely meaty, savory, slightly spicy, slightly herbaceous flavor played perfectly with the mild sweetness of the squid, and I absolutely adored the countering astringency of the Vietnamese coriander. The little bits of fried legs were a bonus. My favorite course of the evening, and easily one of the best preparations of squid that I've ever had.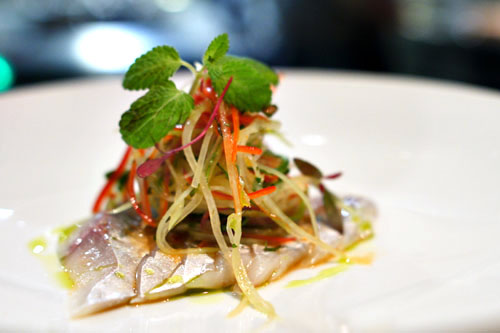 spanish mackerel [$14.00]
| coconut vinegar, jalapeño, lemongrass, green papaya
Following the squid was another tremendous course. Mackerel was tasty alone, deftly showing off its characteristic oily brine. However, the fish just went beautifully with its simultaneously sweet and spicy accoutrements, resulting a faultless mélange of tastes and textures. I especially appreciated the crunch of the green papaya. Interestingly, we were reminded somewhat of Ludo's excellent "Hamachi, Vietnamese Style" dish from the last
LudoBites
iteration.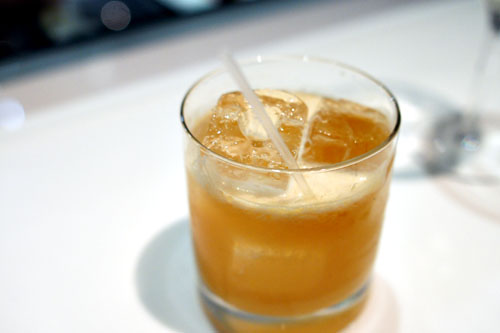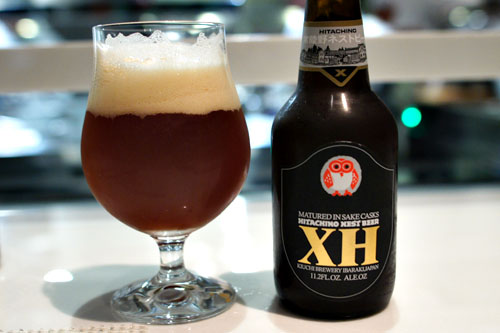 lukshon sour [$11.00]
| michter's rye, lemon, tamarind, palm sugar, kalamansi
sochu barrel aged ale hitachino xh japan [$12.00]
Our next round of drinks brought us the Lukshon Sour, a surprisingly restrained commixture of sweet, sour, and boozy flavors that went down
really
easy. We also ordered a beer, the Hitachino Nest Extra High (XH). It was my first time having the brew, a Belgian-style dark ale, and I was thoroughly impressed. I loved its marked citrus-y tartness and malty caramel sweetness, all finished with a bit of funkiness from the sake barrel aging.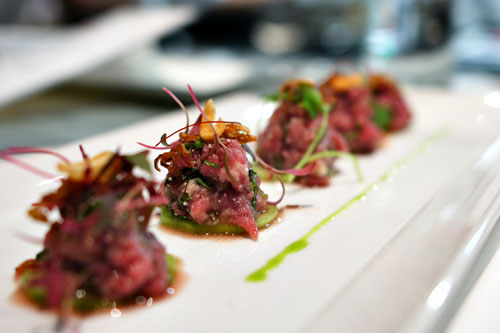 beef tartare [$14.00]
| pickled cucumber, chiles, onion, herbs, aromatic rice powder
Beef tartar can often be somewhat tepid, but Lukshon's version definitely amped things up. I really enjoyed how the pickles, chiles, and other piquant components of the dish lifted and accentuated the beef, while still preserving the meat as the star of the show.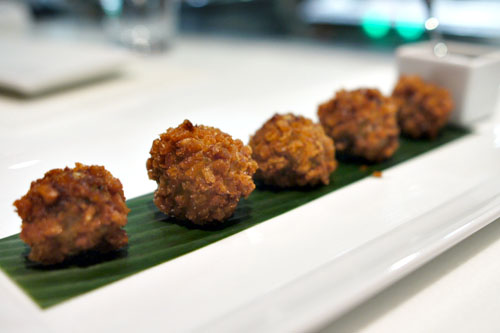 shrimp toast [$14.00]
| rock shrimp, cilantro, chiles, tiny croutons
Shrimp toast was the best version of the dish that I've had, beating out
WP24
's already strong preparation. Toast and shrimp were blended into a crisp, delicious amalgamation that was still somewhat creamy on the inside, and which skillfully showed off the inherent essence of the shrimp. At the same time, the inclusion of chile and coriander served to balance the dish. Delectable alone, and similarly so when consumed with the included "sweet 'n' sour" sauce.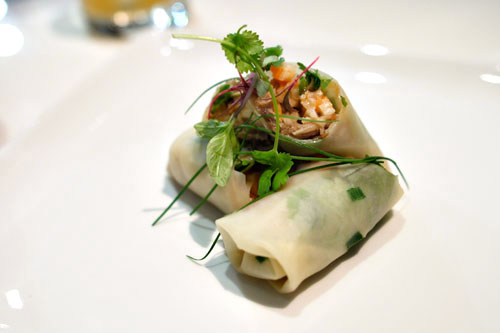 duck popiah [$12.00]
| cilantro stems, pickled jicama, house-made hoisin chile sauce
Popiah
refers to a sort of Fujian-style spring roll. The duck arrived tender and sweetly flavored, nicely accented by the bright bits of pickled jicama, while the dark, heady sapor of the homemade hoisin wrapped everything together. Tasty enough, but I really wanted to have more of a duck-y character to the dish.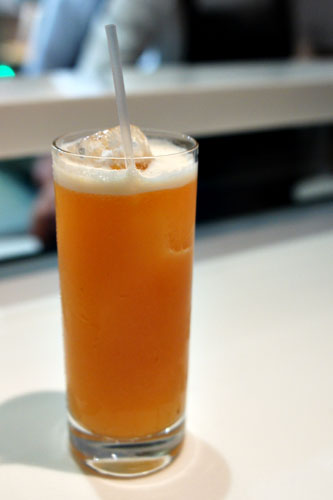 singapore sling [$12.00]
| plymouth gin, cherry heering, benedictine, combier orange, pineapple, bitters
The Singapore Sling was a fairly traditional preparation, showing off a sweet, tropical fruit flavor counterbalancing the power of the gin, with just a touch of complexity from the bitters and Bénédictine.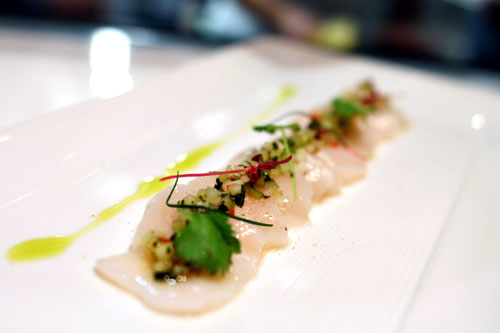 deer island scallops [$15.00]
| water chestnut cucumber relish, prawn salt
Scallops from Maine's Deer Isle were light, mild, and clean tasting, with a subtle sweet brine that linked up nicely with the tang of the paired cucumber relish, while the water chestnuts added an enjoyable crunch to the course.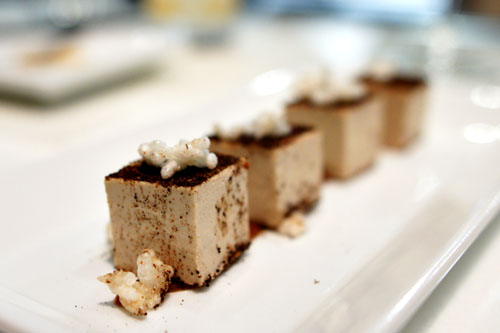 foie gras ganache [$16.00]
| carob, ceylon cinnamon, tamarind gastrique, almond, puffed rice
I swear, when I popped one of these cubes into my mouth, I thought of breakfast cereal. Really though, the sweet spice of the carob-cinnamon-tamarind trifecta played beautifully with the foie gras, making for a delectably sweet experience at first, with the heady flavor of the liver creeping up on you near the finish.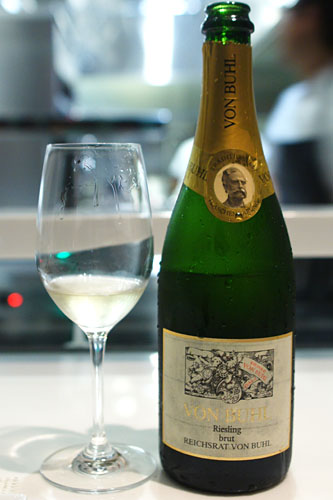 riesling sekt, brut von buhl 2008 pfalz, germany [$42.00]
Moving on to the
wein
now, we popped a bottle of the 2008 Reichsrat Von Buhl Riesling Sekt Brut. This was a dry sparkler made from the Riesling grape. Think crisp, light, acidic flavors, with lovely hints of apple and a bracing touch of minerality. Very nice to cut through some of the heavier courses to follow.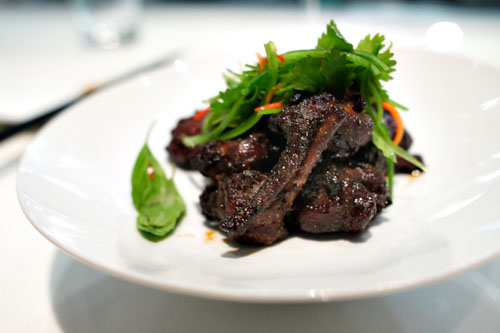 spicy chicken pops [$11.00]
| shelton farms' drumettes, garlic, kecap manis, spicy sichuan salt
Chicken "lollipops" were tender and still juicy, awash with the dark, sweet and savory smack of
kecap manis
(Indonesian soy sauce) and perked up by the creeping zing of Sichuan salt. It was actually a tad overwhelming for me, and thus, the greenery here was absolutely key, nicely moderating the heavy flavors of the bird.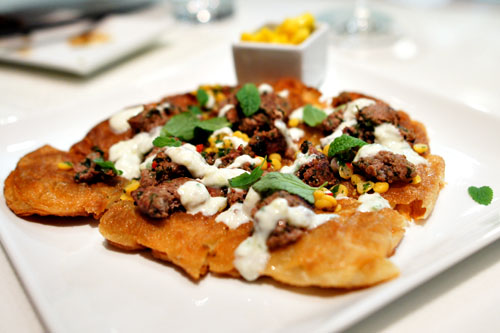 lamb sausage roti canai [$14.00]
| chana dal, cumin, mint, pickled cauliflower
One of my favorite courses was the
roti canai
, a Malaysian-style flatbread. The
roti
had a superb texture, dense and firm, but with a delightful flakiness. It served as a fitting base for the delectable bits of lamb, which were beautifully tempered by the use of the mint, while the cauliflower pickles acted as a piquant counterpoint to the entire dish.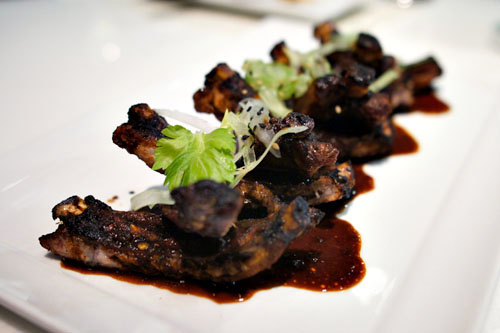 kurobuta pork ribs [$16.00]
| spicy chicory coffee bbq sauce
I'm generally not a huge fan of BBQ ribs, but quite enjoyed these. The meat itself was suitably tender, almost falling-off-the-bone, but with just enough bite and a pleasant amount of char. I usually find various barbeque sauces overly saccharine, so I appreciated the spicy, slightly bitter flavor of the dressing used here.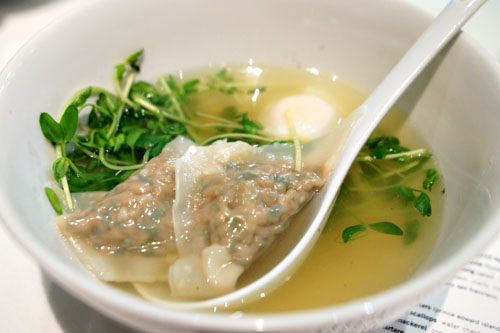 chicken dumpling soup [$10.00]
| superior broth, pea sprouts, 63° egg
Superior broth (traditionally made with chicken and
Jinhua
ham) was clean, refined, teeming with plenty of umami flavor and augmented with the additional luxury of a 63° egg (which we broke apart and mixed). The dumplings themselves, meanwhile, were quite savory, with a lovely herbaceousness and a touch of peppery goodness to boot. The combination of soup and dumplings was rather satisfying to eat, and I definitely enjoyed the countervailing lightness of the pea sprouts.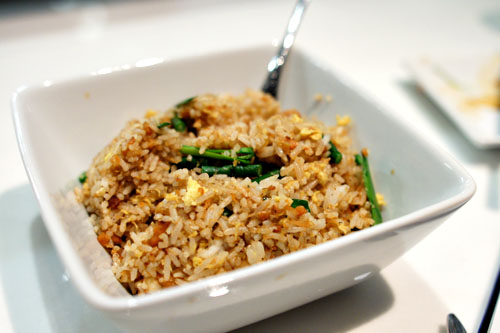 x.o. rice [$9.00]
| jasmine rice, house-made x.o. sauce, long beans, egg
The X.O. fried rice was one of the stronger preparations that I've had. XO sauce is a spicy, savory sauce made from various types of seafood and aromatics, and as a result, it gave the rice an intensely fragrant, deep
xian wei
that I really enjoyed. The long beans, meanwhile, did an admirable job in balancing the dish.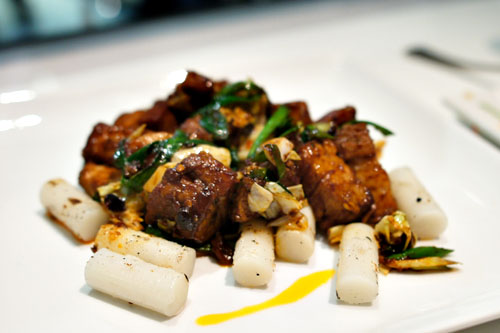 garlic pork belly [$21.00]
| do ban jian, rice cakes, cabbage, garlic chives
Next up was one of the better versions of pork belly that I've had in recent memory. The meat was expectedly fatty, but fortunately not overwhelmingly so, with a good fat-to-lean ratio. The heat of the
doubanjiang
(fermented bean paste) really did an excellent job in moderating the heft of the pork, and I definitely liked the comparatively bright flavors of the chives and cabbage, while the rice cakes helped to ground the dish.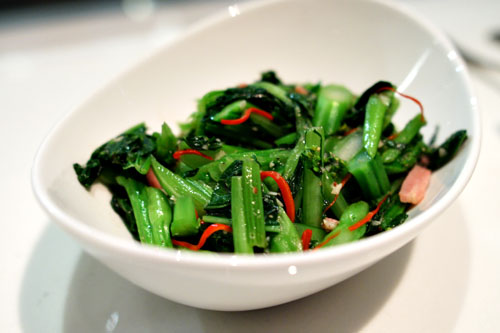 yu choy sum [$8.00]
| aged ham, shoxing wine, garlic
Yu choy sum
was slightly crunchy, with a refreshingly bitter flavor mitigated in part by the saltiness of the included ham.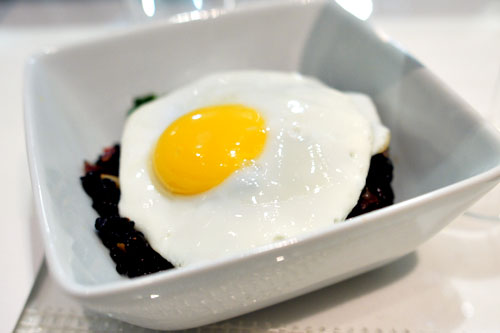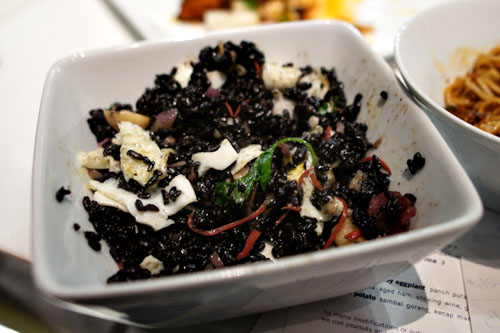 heirloom black rice [$9.00]
| lap cheong, onion, roasted garlic, fried egg
Black rice (also known as forbidden rice) formed the base for our penultimate course. It went swimmingly with the savory essence of the
lap cheong
(Chinese sausage), and I loved the inclusion of fried egg. Quite satisfying.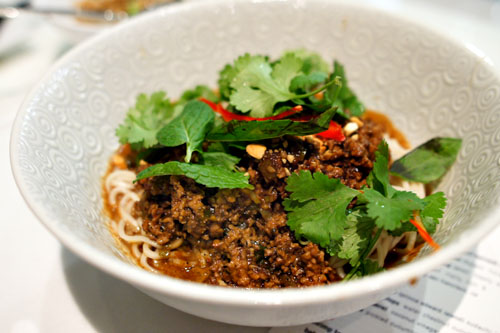 dandan noodles [$12.00]
| kurobuta pork, sesame, preserved mustard greens, sichuan peppercorns, peanuts
What we have here is
dan dan mein
, a classic Sichuan dish of pork and mustard greens in a spicy Sichuanese pepper sauce, served over noodles. You may want to save this one for last given the
mala
numbing effect of the Sichuan peppercorn. My sense of taste was dulled for quite a while after consuming the dish.
Pain and pleasure
, folks.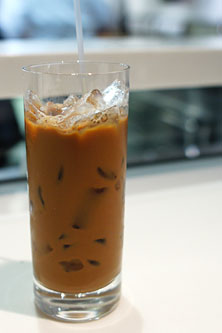 Vietnamese coffee is available in hot and iced preparations, both priced at $5. I'm not much of a coffee drinker, but enjoyed both.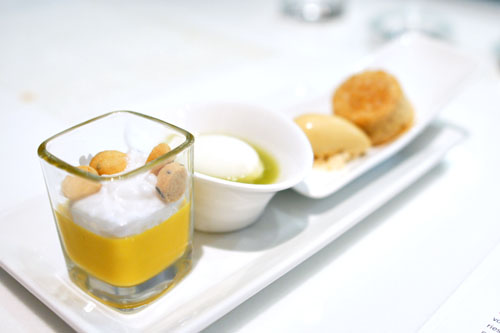 Perhaps taking a cue from Chinese restaurants, dessert at Lukshon is complementary, though I really wish that each person could get a sampling of all three items (desserts are currently allocated one per diner, making sharing somewhat awkward). Starting from the front, we have:
Mango panna cotta with coconut tapioca and black sesame shortbread, showing off a strong mango sweetness counteracted by the relative mildness of tapioca, while the shortbread added a nice touch of crunchiness to the fray
Kiwi soup with jasmine, pineapple, and Beijing yogurt (nai lao), my favorite of the trio, with a refreshing tartness balanced by the creaminess of yogurt
Banana cake with pine nut streusel, salted palm sugar, and caramel ice cream, with the decadence of the ice cream playing nicely with the comparative austerity of the cake, all underscored by the crunchy bits of streusel
I was a tad bit wary coming into this dinner, but Lukshon exceeded my expectations with flying colors. Dishes were bold, lustily-flavored, and though not necessarily 100% authentic, true to the quintessence of their Southeast Asian roots. I liked everything I ate, and discounting a couple minor nits, every dish was at least solid, with a number of true standouts to boot. Lukshon is a great addition to the neighborhood, and I suspect that Sang will do very well with the place.