Alex (Las Vegas, NV)
Alex
3131 Las Vegas Blvd S, Las Vegas, NV 89109
702.770.3463
www.wynnlasvegas.com/#dining/alex/
Sat 01/15/2011, 08:00p-12:00a

Well this was an unexpected development.
Ever since Alessandro Stratta's eponymous Alex opened its doors at the Wynn five years ago, I'd been yearning to go. However, things--
Robuchon
and
Savoy
namely--just kept getting in the way. I would vow that my next trip to Vegas would include Alex, but the restaurant continued to elude me, until now. What drove me here, unfortunately, was Alex's closing. I found out about the shutter on January 6th, and by the next day, had already organized a visit to sample Stratta's French Riviera fare for one last time, on the final night of service no less (the trip was an excuse to hit up the new
"é" by José Andrés
as well).
About the Chef
: Stratta was born in 1964 in Marquette, Wisconsin to an Italian father and French mother, resulting in a blend of cultural traditions that would profoundly shape the future chef's cooking. Stratta traveled extensively as a child, and soon developed an undying interest in cooking. He attended San Francisco's California Culinary Academy, and during this time, worked in pastry at the City's Stanford Court Hotel, under noted Pastry Chef Jim Dodge. After graduating in 1983, Stratta moved to Monaco, where he secured a position at the Hotel de Paris, cooking at Alain Ducasse's famed Le Louis XV. Ducasse served as the Chef's mentor, and much of Stratta's cooking is based on what he learned there. After a two year stint in Monaco, Stratta returned to the States in 1988 to work for Daniel Boulud at the legendary Le Cirque. However, Stratta soon left New York for Scottsdale, Arizona, where he was tapped as opening Chef de Cuisine for Mary Elaine's at the Phoenician. In 1994, Stratta was named one of "America's Ten Best New Chefs" by
Food & Wine
magazine, and 1998 saw the Chef win a James Beard Award for "Best Chef Southwest."
He left Mary Elaine's in 1998 at the request of Steve Wynn, who wanted Stratta to serve as Executive Chef of Renoir at the Mirage. Renoir opened in July 1999 to considerable acclaim, quickly setting the standard for fine dining in Sin City for years to come. In 2002, Stratta joined the cast of the failed
Iron Chef USA
(not to be confused with the much more successful
Iron Chef America
), where he played the role of Iron Chef Italian, the "Italian Scallion." Interestingly, his first and only television appearance consisted of a victory over Aquavit's Marcus Samuelsson. Stratta stayed at Renoir until its closing in 2004, but followed Steve Wynn to Wynn, becoming Executive Chef of the hotel's flagship Alex restaurant in 2005. 2007 brought us Corsa Cucina & Bar (later renamed Stratta), a far more casual dining concept highlighting the Chef's Italian roots. Word is that this restaurant will remain open despite Alex's demise.

Descend down the grand entry staircase to the main dining room, and you'll be struck by the luxuriousness of the place. Even amid the glitz and glamour of Las Vegas, Alex remains uncompromisingly sumptuous, undeniably lavish, a jewel box draped in wide swaths of earthy crimson, gilded by scintillating shades of gold and silver. This is the prototypical
fancy
restaurant, and proudly so.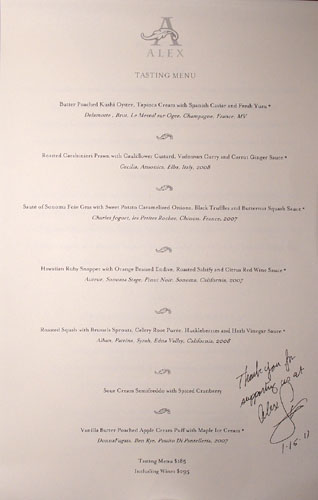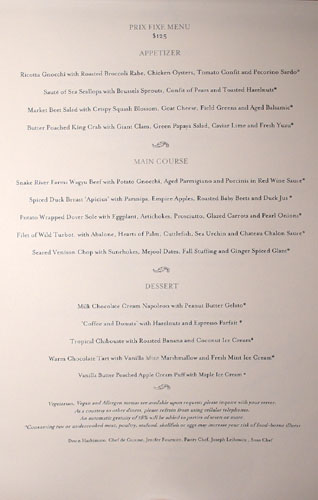 Executed by Chef de Cuisine Devin Hashimoto and Sous Chef Joseph Leibowitz, Alex's menu is largely French-inspired, with healthy doses of Italian as well for good measure. Desserts, meanwhile, are the charge of Washington native Jenifer Fournier (who also handles the sweet stuff at Stratta). Three-course prix fixe ($110) and tasting menu ($185) options are available and we, of course, went with the latter, replete with an optional $110 wine pairing by Sommelier Paolo Barbieri. Click for larger versions.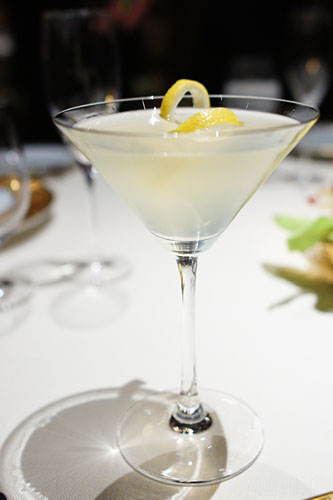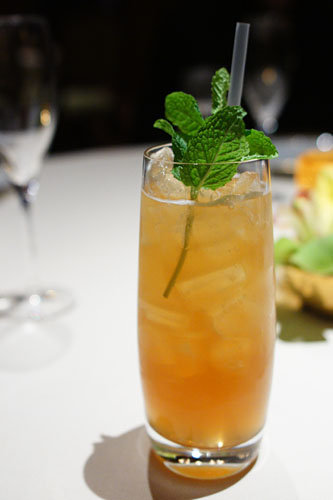 Pear Martini [$15.00]
| Absolut Pears, Apple Juice, Fresh Lemon Juice, Rock Candy Syrup
The Centurian [$40.00]
| Hennessy XO Cognac, Grand Marnier 100, Ginger Ale, Fresh Lemon Juice
A couple of cocktail to commence. Our server recommended the Pear Martini, a rather trite concept, but perfectly executed, showing off a mouth-watering pear sweetness, deftly meshed with the puckering zest of lemon and the weight of vodka. The Centurian, meanwhile, managed to take the title of the most expensive cocktail that I've ever had. It was, in essence, a particularly luxurious Sidecar, with a great interplay of citrus and alcoholic notes, all under overarching flavors of orange--nice.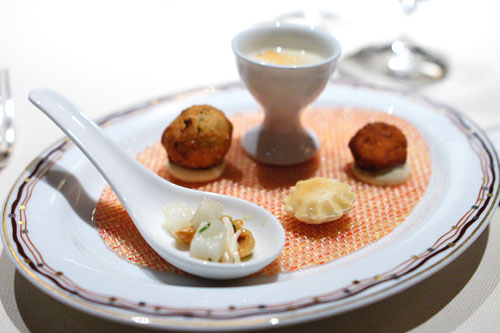 Canapés
A quintet of little bites was soon brought before us. They were (clockwise from bottom):
A salad of shimeji mushroom, fresh in flavor with a nutty finish;
A hearty meatball of tempura'd lobster, served with a tangy yuzu aioli;
A delectable warm potato-leek soup with Parmesan crisp, which gave the potage a fantastically cheesy finish and crunchy texture;
A wild mushroom arancini--basically an Italian-style rice ball--teeming with the earthy flavor of mushroom; and
A play on "cheese and crackers" made with Gruyère: think of a gougère, with a luscious bit of cheesiness paired with a delightfully crisp shell.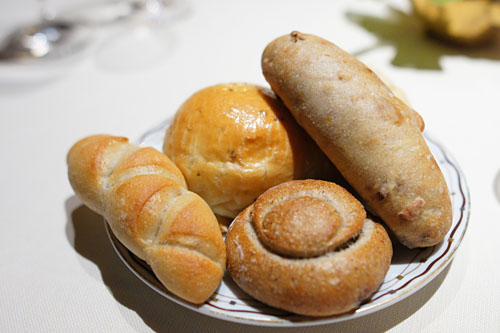 Five varieties of bread were on offer tonight: country white, black pepper brioche, cheese and walnut, buckwheat with sundried cherry, and ciabatta (hidden behind).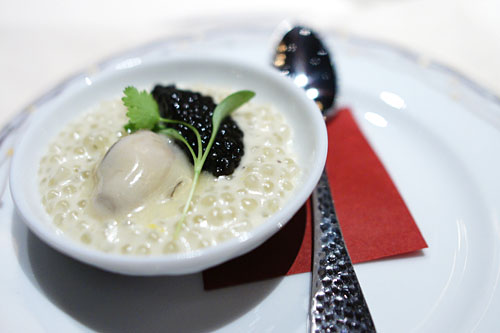 1: Butter Poached Kushi Oyster, Tapioca Cream with Spanish Caviar and Fresh Yuzu
Delamotte, Brut, Le Mesnil sur Oger, Champagne, France, MV
Obviously, the first thing that came to mind when this plate was placed in front of me was "
Oysters and Pearls
," arguably the most iconic dish in Modern American cooking today. In any case, I loved the soft brine of the Kushi here, and how it was faultlessly augmented by the sharp salt of the caviar, while the tapioca, aided by citric overtones of yuzu, tempered and balanced the dish. It was a perfect course, and perhaps the best preparation of cooked oyster that I've ever had, even surpassing Thomas Keller's legendary creation for me.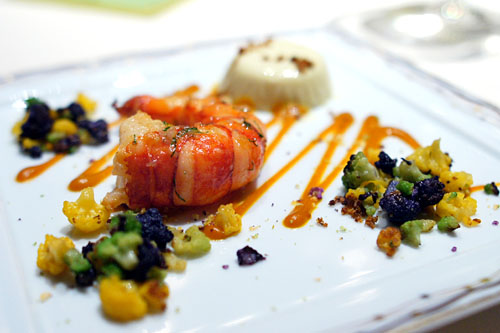 2: Roasted Carabinieri Prawn with Cauliflower Custard, Vadouvan Curry and Carrot Ginger Sauce
Cecilia, Ansonica, Elba, Italy 2008
Prawn was perhaps a touch overdone, but still demonstrated a snappy, meaty consistency and sweet brine. I was concerned that the vadouvan would be overwhelming, but it was surprisingly restrained here, adding just a touch of curry essence to things. Meanwhile, I also enjoyed the countervailing flavors imparted by the charred bits of cauliflower and broccoli, but the cauliflower custard seemed a bit redundant.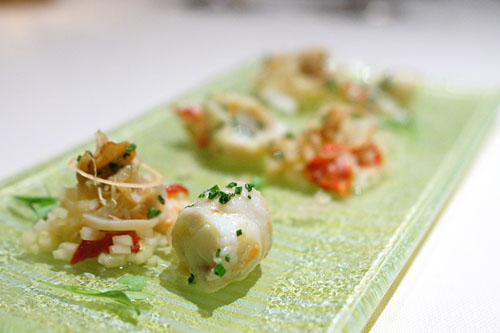 Butter Poached King Crab with Giant Clam, Green Papaya Salad, Caviar Lime and Fresh Yuzu [$35.00]
I enjoyed the crab alone, and appreciated the citric prick of lime and yuzu, but neither it nor the giant clam were particularly distinctive. The seafood really needed to be the stars of the show here, but they were overshadowed by the other elements on the plate. The dish just didn't come together for me.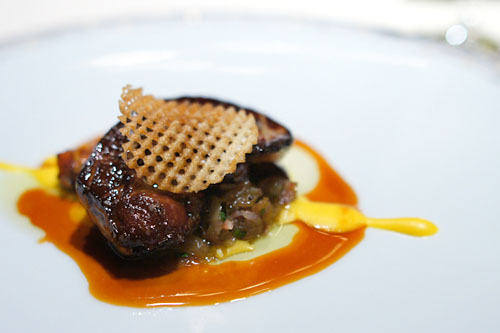 3: Sauté of Sonoma Foie Gras with Sweet Potato Caramelized Onions, Black Truffles and Butternut Squash Sauce
Charles Joguet, les Petites Roches, Chinon, France, 2007
I was dreading this dish. Sweet potato, caramelized onions,
butternut squash
? This was a recipe for disaster, an accident of sickly sweet foie gras just waiting to happen. I was thus floored when I discovered that I actually enjoyed the dish. The liver arrived beautifully cooked, with a subtle foie flavor and bitter char that did a great job in standing up to the saccharine components on the plate. Loved the crisp "potato chip" as well.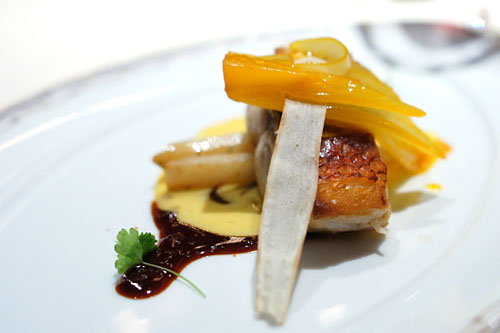 4: Hawaiian Ruby Snapper with Orange Braised Endive, Roasted Salsify and Citrus Red Wine Sauce
Auteur, Sonoma Stage, Pinot Noir, Sonoma, California, 2007
Taken alone, the ruby snapper, or onaga, was superb: mild in savor, tender, with a fantastically crisp skin. However, the orange-scented endive was far too powerful for me, obliterating the delicate nature of the fish. I did, however, like the roasted salsify, with its firm texture and heady flavor.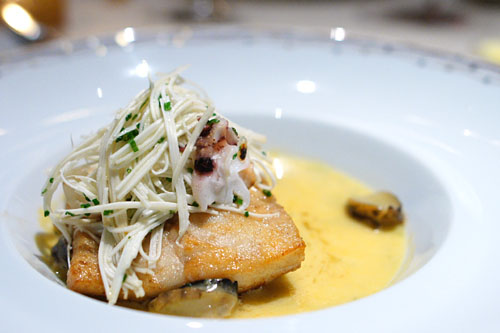 Filet of Wild Turbot, with Abalone, Hearts of Palm, Cuttlefish, Sea Urchin and Chateau Chalon Sauce [$70.00]
Turbot was firm, flavorful, and fabulous, becoming even better when consumed with the ocean-y relish of the abalone and cuttlefish. Kicking things up another notch was the Chateau Chalon-sea urchin sauce, with its sweet, rich, wine-tinged flavor, while the strips of heart of palm served to lighten the dish.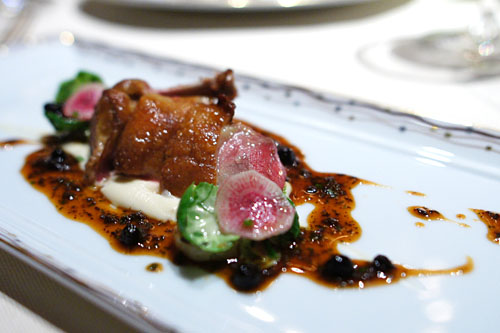 5: Roasted Squab with Brussels Sprouts, Celery Root Purée, Huckleberries and Herb Vinegar Sauce
Alban, Patrina, Syrah, Edna Valley, California, 2008
I'm a sucker for squab, and the version here was stupendous. The bird arrived cooked to a delightfully rare consistency, with a wonderfully savory flavor and enchantingly crisp skin. The squab's heft was deftly countered by the celeriac and Brussels sprouts especially, and thankfully, the sweetness of huckleberry was thoughtfully subdued.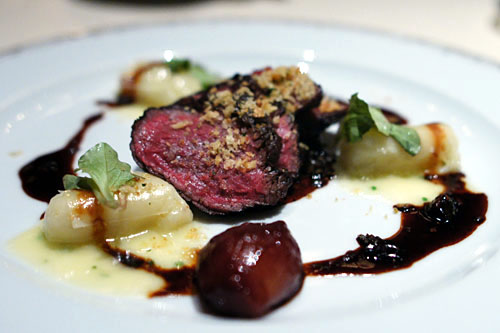 Snake River Farms Wagyu Beef with Potato Gnocchi, Aged Parmigiano and Porcinis in Red Wine Sauce [$70.00]
Sadly, our last savory course of the night was a letdown. The beef simply lacked the richness, the fat, the succulence, the
luxuriousness
that I expected--I simply don't know how the kitchen managed to make the wagyu so bland, so forgettable, so unimpressive. I did, however, enjoy the hearty gnocchi.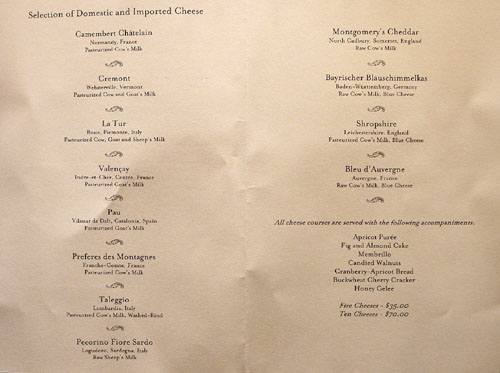 At this point, we were asked if we wanted a cheese course, and naturally, the answer was a resounding "yes." Click for a larger version.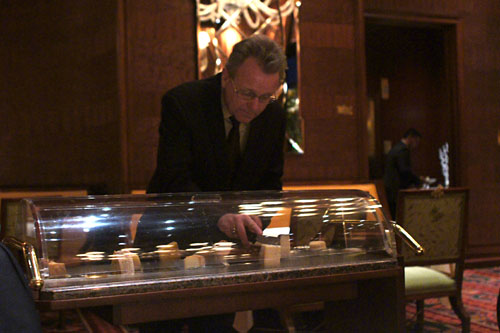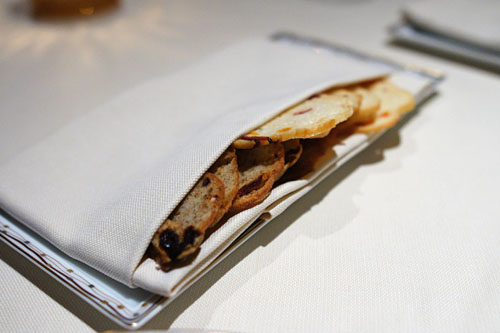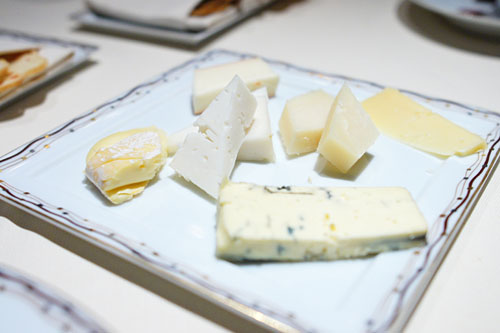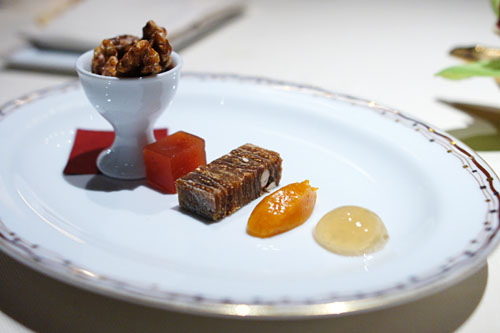 Selection of Domestic and Imported Cheese [$35.00]
Alex's cheese cart was fairly modest, though certainly, I thoroughly enjoyed its contents:
Camembert Châtelain, Normandy, France, Pasteurized Cow's Milk - Soft, gooey, luscious, salty, everything that you'd expect from a good Camembert--delish.
Pau, Vilassar de Dalt, Catalonia, Spain, Pasteurized Goat's Milk - Mild, semi-soft, a bit nutty, with a great lactic tang, it reminded me of Pau Gasol.
Preferes de Montagnes, Franche-Comte, France, Pasteurized Cow's Milk - Gritty, dry, nutty, and particularly good with the honey.
Montgomery's Cheddar, North Cadbury, Somerset, England, Raw Cow's Milk - Nutty, sharp, waxy, and classic--perhaps the best cheddar that I've ever had.
Taleggio, Lombardia, Italy, Pasteurized Cow's Milk, Washed-Rind - Soft, nutty, herbaceous, and very, very nice.
Bayrischer Blauschimmelkas, Baden-Württemberg, Germany, Raw Cow's Milk, Blue Cheese - A comparatively mild blue, teeming with lovely mushroom notes. Immensely enjoyable.
Accompanying the fromage were: Apricot Purée, Fig and Almond Cake, Membrillo, Candied Walnuts, Honey Gelee, Cranberry-Apricot Bread, and Buckwheat Cherry Cracker.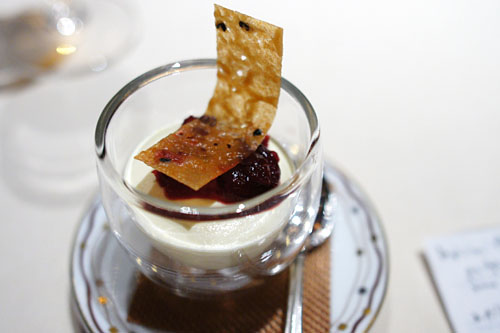 6: Sour Cream Semifreddo with Spiced Cranberry
Pre-dessert consisted of a citrus semifreddo with cranberries. I really appreciated the richness of the tangy cream, and how that played with the sweet, saccharine, almost floral character of the spiced berry.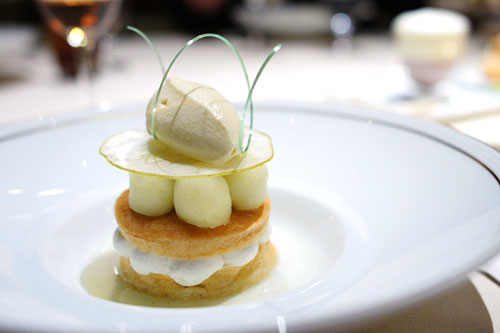 7: Vanilla Butter Poached Apple Cream Puff with Maple Ice Cream
DonnaFugata, Ben Rye, Passito Di Pantelleria, 2007
Think of this as a cream puff-apple tart hybrid and you'll get an idea of what it was like. The cream puff portion, was, as expected, heavenly, and went beautifully with the sugary weight of the maple ice cream. The apple, meanwhile, did a great job in lightening the dish.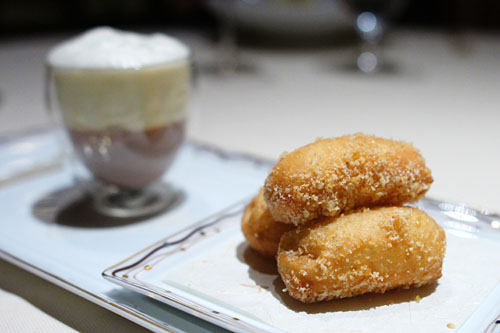 'Coffee and Donuts' with Hazelnuts and Espresso Parfait [$20.00]
Stratta pays homage to Thomas Keller again here with his interpretation of TK's famed "
Coffee and Doughnuts
." It wasn't quite as successful as Keller's version, but was quite tasty nonetheless. What struck me the most was the slight saltiness from the donuts.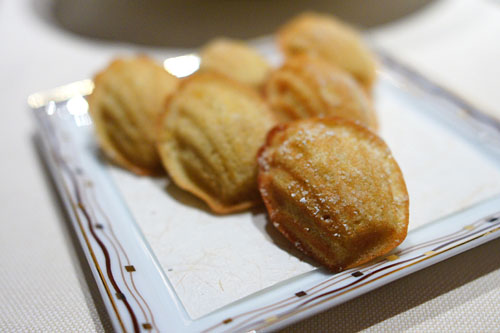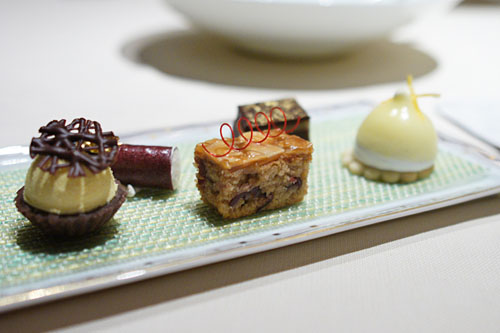 To close out the evening, we were provided a plate of brown butter madeleines and various mignardises: lemon meringue, chocolate-orange brownie, cranberry-almond cake, strawberry and crème fraiche roll, tiramisu.
We were able to enjoy a solid meal at Alex, but there were a couple of misfires that marred the experience. But even despite those missteps, Alex simply lacked the gusto of a
Guy Savoy
, the whimsy of a
Pierre Gagnaire
, or the sheer opulence of a
Joël Robuchon
. Nevertheless, I'm saddened by the restaurant's closure, which represents a blow to fine dining, and to Las Vegas in general. Alex, you'll be missed.