Aburiya Toranoko (Los Angeles, CA)
Aburiya Toranoko
243 S San Pedro St, Los Angeles, CA 90012
213.621.9500
www.toranokola.com
Mon 01/24/2011, 08:00p-11:35p

Without a doubt,
Lazy Ox Canteen
was one of the most acclaimed additions to the Downtown dining scene within the past year or so. The man behind Lazy Ox is one Michael Hide Cardenas, head of
Innovative Dining Group
. Over the years, IDG has introduced Angelenos to such "hip" places as Sushi Roku, BOA, Robata Bar, Katana, and Delphine, so it's nice to see that Cardenas is now focusing more on the food than the scene. Cardenas' latest project is Aburiya Toranoko (
grill house of the tiger
--yes, we're still technically in the year of the tiger), a foray into the world of Japanese izakaya cuisine (he himself is half-Japanese, and used to work as a teppan chef) formed in partnership with auto parts mogul Eugene Inose, head of
Pro-Motion Distributing
. The restaurant officially opens on January 26th, but I was invited to a complementary pre-opening preview on Monday (following a grand opening party on Sunday, which I did not attend).
Cardenas once served as the GM of
Matsuhisa
, so it's no surprise that Toranoko is helmed by a couple Nobu protégés. The Executive Chef/Partner is Hisaharu Kawabe, a 15-year veteran of the Matsuhisa empire. He's aided by Kitchen Chef Manuel Taku Sugawara and "Sushi Sous Chef" Koji-san. The General Manager is another Nobu-ite, Mikio "Tommy" Tomioka, while Kurtis Wells (ex-
Hatfield's
) takes charge of the beverages. Overall, the staff aims to instill a Lazy Ox-esque vibe to the place: casual, no frills, affordable, and non-sceney (unless you consider hipster a scene).

Toranoko sits literally right next door to Lazy Ox. The space maintains a similar atmosphere, with an über-long communal table, leather banquets on one wall (beneath a huge Murakami-inspired mural on brick, painted by graffiti artist Prime), a bar along another, and the sushi station in the back. Total capacity is around 100.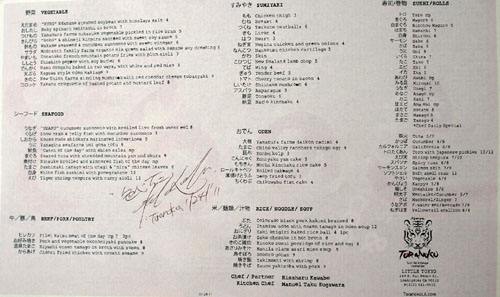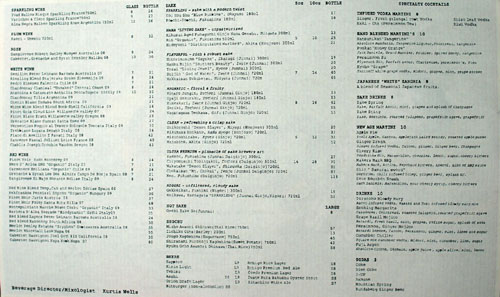 The izakaya menu is vast, broken down into seven distinct sections. There's something for everyone here, from your California Roll- and edamame-eaters to the more adventurous types who prefer fermented squid guts (
shiokara
), pig's feet (
tonsoku
), or stewed beef tripe (
motsu nikomi
). To imbibe, we're talking about plenty of sake, wine (red/white/sparkling/plum), beer, and Japanese-y type cocktails. Click for larger versions.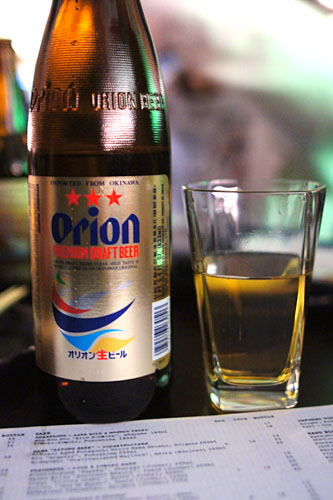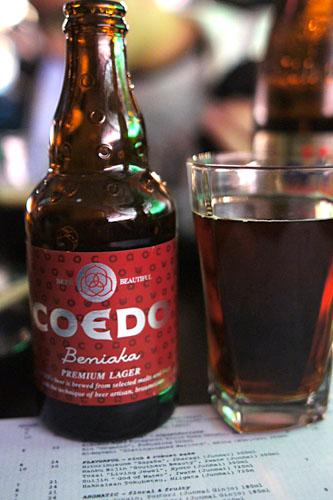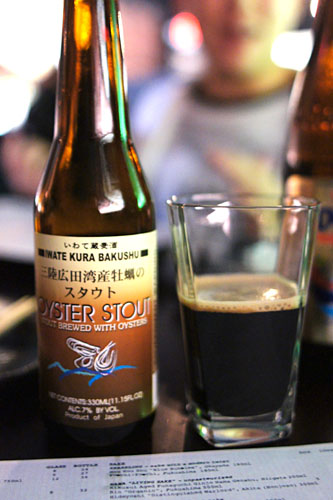 We chose to start with some
biru
: the Orion Draft Lager [$9], sort of an archetypal Japanese rice lager; the Coedo Premium Lager [$8], a
happoshu
made from sweet potatoes; and Iwate Kura Bakushu Oyster Stout [$8], the most interesting of the bunch, with prototypical stout flavors of chocolate and coffee, finished with an intriguing tang (oyster?) on the close.
White fish sashimi with pomegranate [$12.00]
The meal got off to a strong start with a superb presentation of sashimi. The whitefish's fresh, delicate flavor played well with the sweetness of the pomegranate seeds, and I appreciated the slight astringent component contributed from the greens. What was even better, though, was the dish's subtle bit of creeping heat.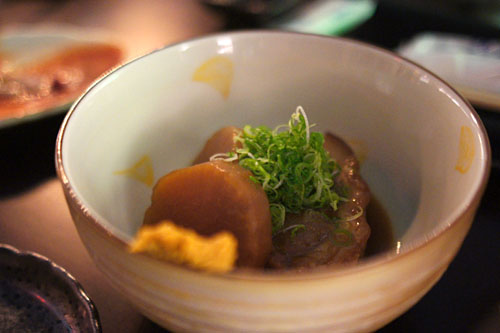 Colorado black pork kakuni braised [$8.00]
Kakuni
refers to a dish of braised pork belly, similar in nature to a Chinese
hong shao ro
. As expected, you had rich, dark, sweet, and umami-tinged flavors paired with a melt-in-your-mouth tender consistency. Disks of daikon, meanwhile, came prepared in a similar manner, while the smudge of mustard and topping of scallion helped temper the substantial weight of the meat.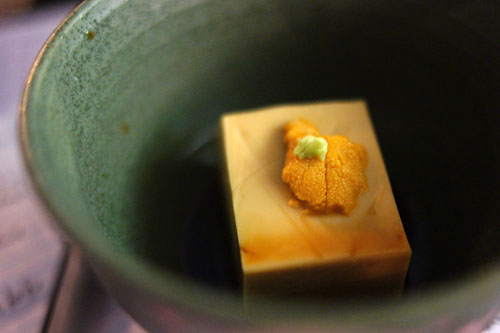 Yanagita seafarms uni goma tofu [$8.00]
Goma dofu
is a dish that I first tasted at
Urasawa
, and basically consists of a mix of water, sesame paste, and kudzu powder. The tofu was mild and dense, with soft overtones of sesame finished by subtle hints of uni and soy. One of my dining companions even described this as "like a poem," though I wanted a more forceful presence from the sea urchin.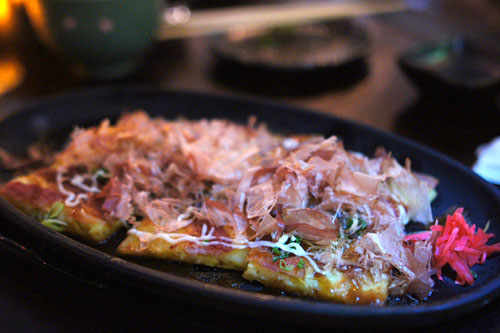 Pork and vegetable okonomiyaki pancake [$8.00]
Okonomiyaki
arrived in a tasty, textbook preparation, a fitting version of the ubiquitous "Japanese pancake" teeming with sweet, savory, and smoky flavors. A multifaceted affair, deftly balanced by the inclusion of
beni shoga
pickle.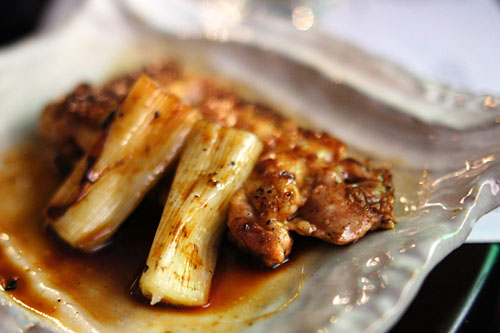 Negima chicken and green onions [$4.00]
Negima
specifically refers to a yakitori dish made with chicken and
negi
(leek). The bird here was soft, rich, and heavily flavored, an amalgam of sweet and soy flavors to pair with the leek.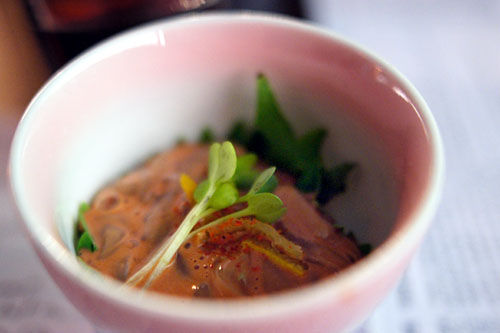 House made shiokara marinated intestines [$5.00]
Shiokara
is a delicacy made from fermented seafood internals, and not surprisingly, it was one of the more adventurous dishes of the night. As you'd expect, the
shiokara
was very salty, very briny, with a strong lingering fishiness. I believe the version here at Toranoko was made from
ika
, so it had a somewhat chewy texture typical of the squid.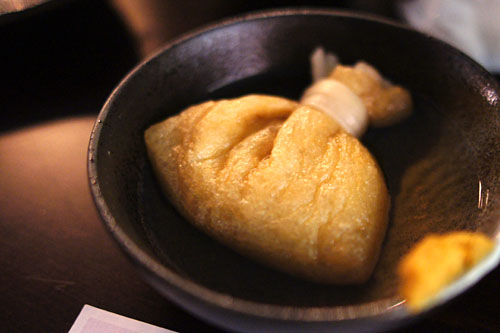 Mochi kinchaku rice cake [$5.00]
Next up was a mochi glutinous rice cake enrobed with a deep-fried soybean curd sheet. The mochi itself had almost no taste, and thus most of the flavor here came from the tofu essence of its wrapper.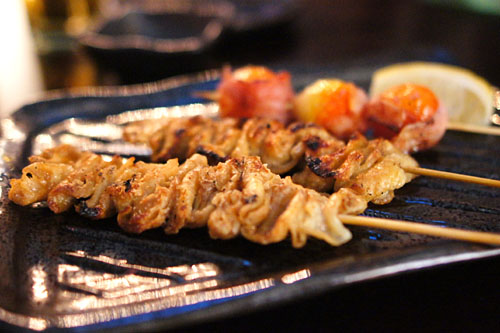 Skin [$3.00]
Chicken skin, or
torikawa
, was next. Crisp and savory, with a slight bitter char, just like you'd expect.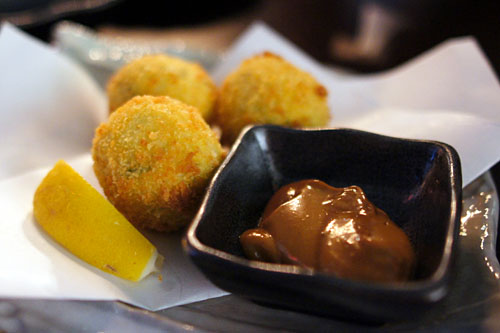 Takana croquette of mashed potato and mustard leaf [$8.00]
Korokke
(croquettes) of mashed potato were tasty, with a very pure, mild potato flavor nicely complemented by the heavy savor of its accompanying dipping sauce.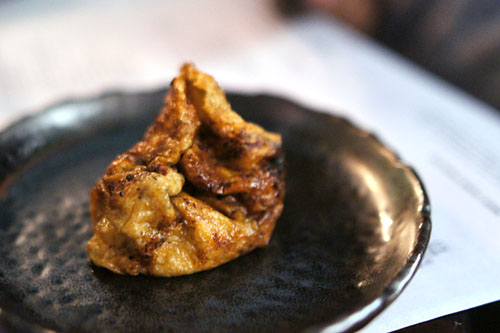 Natto kinchaku [$4.00]
Natto
is a dish of fermented soybean, and was, for me, easily the most challenging dish of the evening. This was actually my first time having
natto
, and I wasn't a huge fan, finding the flavor extremely pungent, way stronger than any cheese I've had, and quite unlike anything else that I've ever eaten. Definitely an acquired taste.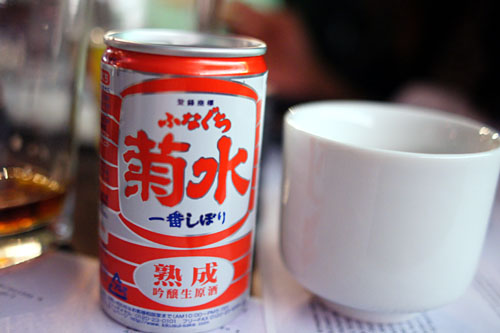 Sake out of a can, now this was a first for me. The Kikusui Aged Funaguchi Ginjo Nama Genshu [$13] is a one-year aged
namazake genshu
, or unpasteurized, undiluted sake. It actually wasn't bad, a viscous, sweet, eminently drinkable sake perfect for quaffing.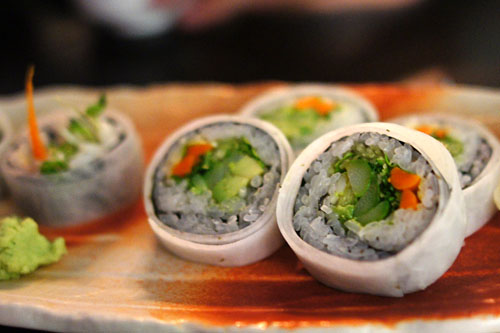 Vegetable [$8.00]
Vegetable rolls were appropriately light and bright, with the crisp flavor of the veggies playing nicely with the seaweed. Nice crunch here, too.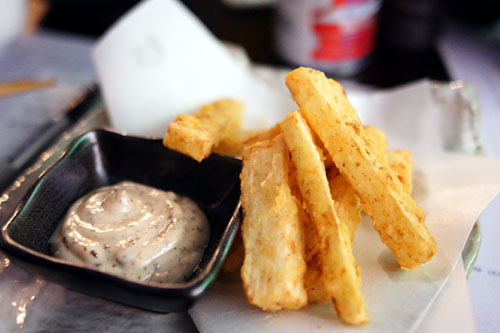 Toranoko french mountain potato fries with plum aioli [$7.00]
Here were some
frites
made from
yamaimo
, or Japanese mountain yam. The fries yielded an intriguing texture--slightly crunchy, gritty, and mucilaginous all at the same time. They didn't have much flavor of their own, so the included aioli was a necessary accoutrement.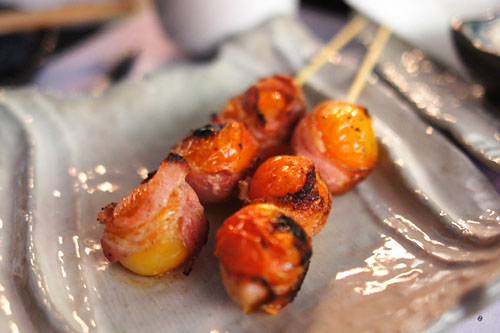 Cherry tomato in bacon [$4.00]
Tomato and bacon, grilled--hard to go wrong here. Indeed, I quite liked the globules, with their sweet, juicy succulence paired with the sharp saltiness of bacon. Yum.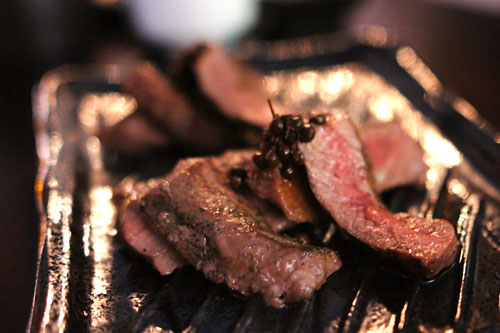 Tender beef [$5.00]
Tender beef, ironically, could've been more tender. I also wanted more seasoning, more kick, more
beefiness
from the dish, though I did like the bit of overarching citric tang.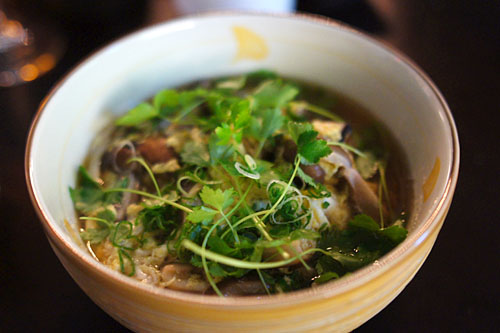 Kinoko zosui porridge of rice and egg [$8.00]
Zosui
is basically a rice soup, prepared here with egg and
kinoko
(mushroom). It was arguably my favorite course of the night, a hearty, heartwarming concoction of mild rice and earthy, savory mushroom, heightened by the tang of the included greenery. This was something that I could just eat a whole big bowl of.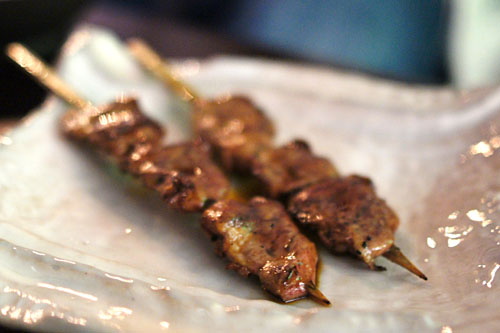 Heart [$3.00]
Hatsu
, or chicken heart yakitori was up next. The meat was appropriately flavorsome, with a snappy, slightly chewy consistency to boot.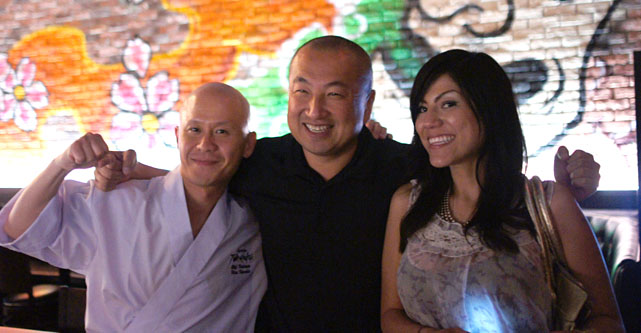 Chef/Partner Hisa Kawabe, General Manager Tommy Tomioka,
Josie Mora
.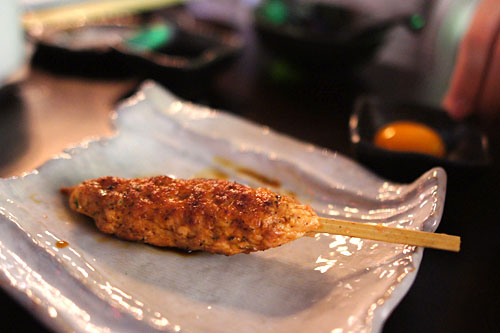 Tsukune meatballs [$6.00]
Tsukune
is a yakitori skewer of ground chicken. The flavors here were particularly deep and heady, and the bird went wonderfully with its accompaniment of raw egg yolk.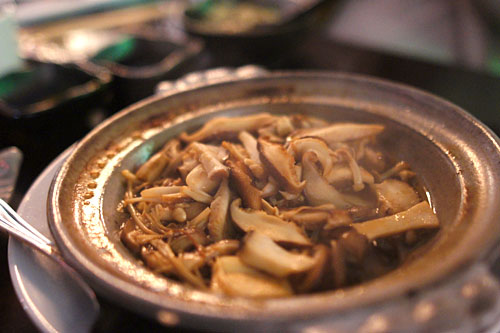 New Union farms sizzling mushroom with red cheddar cheese tobanyaki [$9.00]
It's been
years since
I've had a mushroom tobanyaki, so I particularly relished this dish. The shrooms--oysters, enokis, and shiitakes--were unabashedly decadent, dripping with buttery goodness, yet still showing off characteristic mushroom flavor.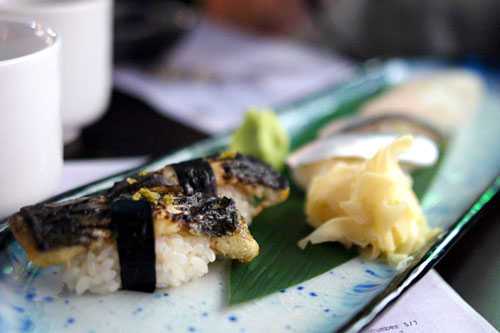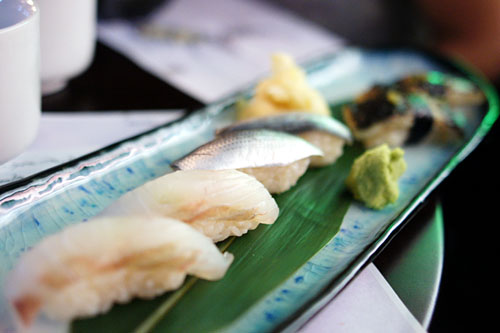 Live freshwater eel [$13.00]
Kohada [$8.00]
Shiromi [$6.00]
Sushi time! We ordered the day's specials,
unagi
(eel) and
kohada
(gizzard shad), as well as the
shiromi
, or whitefish (fluke on this night). The eel was the standout of the trio. It was perhaps the most unique presentation of the fish that I've ever had, with a pure, exquisite flavor unadorned by the application of the typical sweet sauce. I also appreciated its crisp, delicate skin and subtle yuzu notes. The shad, meanwhile, was archetypical of the style, with a firm flesh and delightfully fishy essence. Finally, we had the
hirame
, very soft in texture, with a mild flavor--quite nice.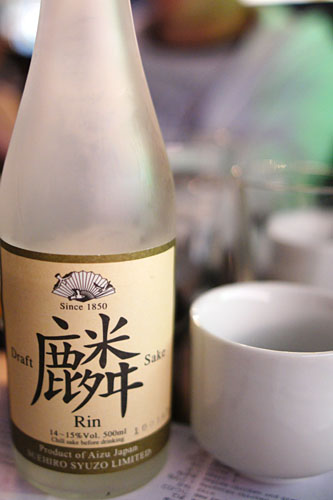 Our final libation of the evening was the Rin "Organic" sake from Fukushima [$25]. This was a more balanced sake compared to the Kikusui above, with more acidic and alcoholic notes to complement the sake's rice-y sweetness.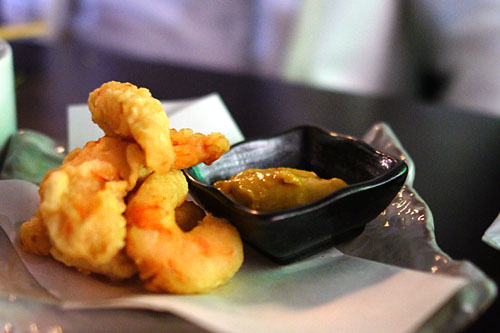 Tiger shrimp tempura with curry aioli [$12.00]
Shrimp, unfortunately, arrived overcooked, making for a tough, rather than supple, consistency that I took issue with. I did, however, enjoy the paired curry aioli.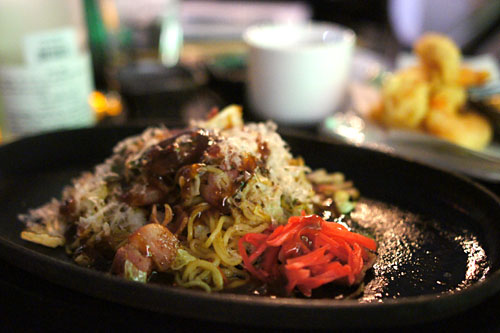 Sauce yakisoba with pork [$9.00]
Here was
sosu yakisoba
, or the Japanese riff on Chinese chow mein. I enjoyed the noodles and pork, but found the topping of yakisoba sauce too saccharine for my tastes. The
beni shoga
pickles, though, did do a nice job in countervailing some of that sweetness.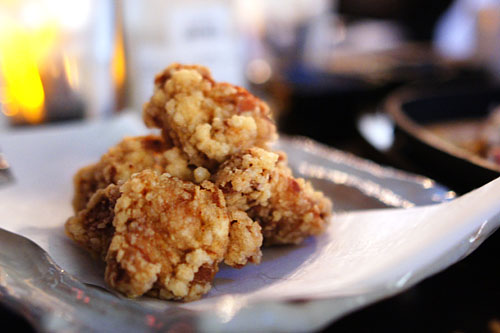 Jidori fried chicken with oroshi sesame [$9.00]
Karaage
of Jidori chicken was expectedly delicious. I found the bird tender, succulent, and laced with hearty umami-tinged flavor. I could've eaten an entire bucket.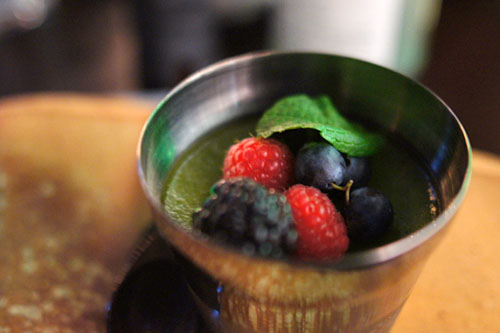 Green tea pudding [$6.00]
Our sole dessert consisted of a green tea pudding topped with various berries. I rather enjoyed it, finding the slightly astringent nature of the green tea a fitting complement to the sweetness of the fruit. A nice way to cap off the evening.
Based on this early preview, it looks like Toranoko is off to an encouraging start. The place has a cool-casual vibe, a promising menu, and some lovely flavors to work with: deep, lusty, and rustic--down home Japanese. As for what's next for Cardenas, apparently he's still working on two more restaurant projects for LA, including a tapas-focused Spanish concept with BLVD's former chef,
Perfecto Rocher
. Keep an eye out for those in the coming months.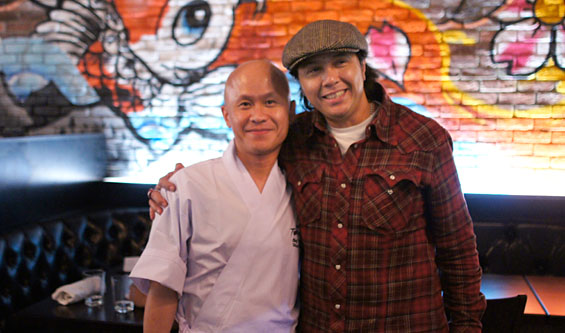 Hisaharu Kawabe, Michael Cardenas