Molecular Menu at AnQi (Costa Mesa, CA)
Molecular Menu at AnQi
3333 S Bristol St, Costa Mesa, CA 92626
714.557.5679
www.anqibistro.com
Sat 01/29/2011, 07:00p-01:10a

I don't know how it happened, but one day, I stumbled across Gayot's list of the
Top 10 Molecular Gastronomy Restaurants in the US
. It was a curious selection of places. The usual suspects--
Alinea
,
Moto
, wd~50--were all there, as were some restaurants that I wouldn't necessarily consider molecular, notably
The French Laundry
and
Providence
. There were also some serious omissions in the form of Minibar,
Saam
, Schwa, and
Table 21
. However, the most striking entry in the list was Costa Mesa's AnQi. AnQi is the OC outpost of the famed Crustacean in Beverly Hills, and interestingly enough, features a completely separate "molecular menu" apart from its typical Euro-Asian fusion fare. This discovery, in conjunction with a mention by
Epicuryan
and a rave review by
The Foodie Traveler
, quickly made AnQi a must try for me.
A brief history of the An family
: The story began in 1971, when family matriarch Diana An visited San Francisco and purchased a small 20-seat diner, naming it Thang Long ("ascending dragon," the former name of Hanoi). Her son Danny, daughter Helene, and granddaughters Hannah, Elizabeth, and Monique fled Saigon in 1975 following the Vietnam War, eventually settling in the Bay Area. The An family was considered royalty back in Vietnam, and as a result, Helene had spent much of her youth entertaining, learning the recipes of her family's Chinese, French, and Vietnamese chefs. Helene soon took over the kitchens at Thang Long, and introduced San Francisco to its first taste of Vietnamese cuisine. It was here where the famous Garlic Noodles and Roasted Garlic Crab first made their appearance, prepared, to protect their recipes, in a "Secret Kitchen" off limits to everyone except family members. Thang Long became an instant success for the An family, and launched a restaurant empire.
The original Nob Hill Crustacean debuted in 1991 under the watch of daughter Monique, becoming San Francisco's first Vietnamese fusion restaurant. 1997 saw the opening of Crustacean Beverly Hills, which quickly established itself as a hot spot for the celebrity set. Meanwhile, the youngest An daughter Catherine launched An Catering in 2006, which has since become a mainstay of the Hollywood crowd. Building upon the success of their business, the An women soon launched a line of food products (sauces and frozen apps), as well as a selection of home decor items (which included a $142 pair of chopsticks). Spearheaded by Elizabeth An, AnQi debuted in December 2009 at South Coast Plaza, while June 2010 brought us Catherine An's Tiato (named after Vietnamese perilla, Helene's favorite ingredient), a casual eatery-
cum
-market located in Santa Monica.

Getting back to AnQi
, the molecular menu here isn't available to normal diners. Rather, it's treated as a private party--with a private dining room (shown above), separate servers, and dedicated kitchen staff--and must be planned weeks in advance. A party of eight is required at a minimum, and a contract, replete with a $500 cancellation fee, must be signed. In charge of the kitchen is a young chef by the name of Ryan Carson. A Southern California native, Carson began his culinary career at age 14, toiling as a dishwasher for Disney. He eventually made his way to the Robert Mondavi Food and Wine Center in Costa Mesa, then relocated to San Francisco to attend the California Culinary Academy.
Following his stint there, Carson worked at a number of noted Bay Area establishments, including Gary Danko, Jardinière, and
Aqua
. The Chef then moved back down to SoCal, finding work at
Napa Rose
. It was here where Carson met chef Michael Rossi and his brother, pastry chef David Rossi, and in 2006, the trio would take over the kitchens at OC Pavilion's ill-fated Ambrosia. Following the departure of Michael in late 2009, Carson stepped up to the role of head chef, and imbued the restaurant's classic French fare with surprisingly molecular flourishes. Once Ambrosia shuttered, Carson and David Rossi found a new home at AnQi (replacing outgoing chef Jacob Kear, who's now at Lukshon), where they're now free to wow the palates of OC's denizens with their progressive cookery.

The night's menu: 16 courses priced at $160. Note that wine pairings are available for an additional $80, $120, or $200; we chose the first option. Click for a larger version.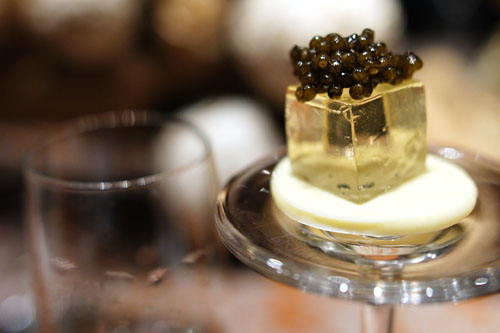 1: Champagne & Caviar
| nicolas feuillatte champagne gelee, american sturgeon caviar, white chocolate fizzy
Champagne and caviar, a classic beginning to a meal, reimagined. Popping the cuboid into my mouth, I first noted the intense brine of the caviar, which then gave way to the soft, supple flavor of the gelée. Finishing things off was the chocolate "fizzy," which contributed an effervescence to the dish that simulated the bubbles in bubbly. A fitting way to start the night--just make sure to thoroughly chew everything together!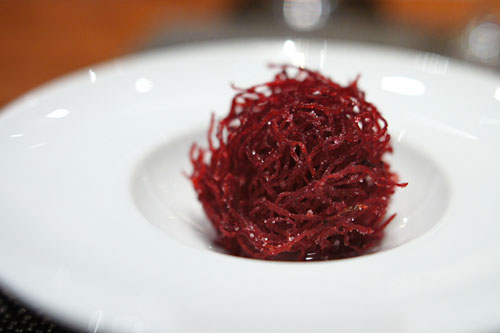 2: AnQi Beet
| sweet & sour salt
Itsas Mendi, Txakoli
Looking at this next course, which is, by the way, modeled after the twisty AnQi logo, I was instantly reminded of the "Beet Jewelry" that I had not too long ago at
José Andrés' "é"
in Las Vegas. The eating experience, however, was markedly different. The version here broke apart instantly upon mastication, and showed off an interplay of sweet, sour, and salty flavors that was only subtly beet-y on the close.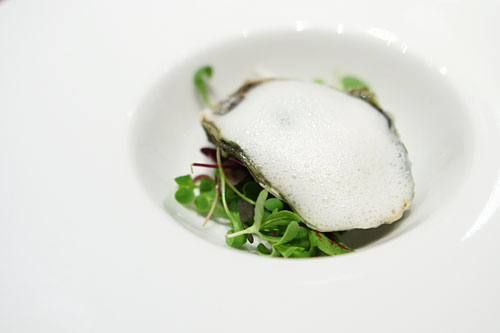 3: Kumamoto Oyster
| soy mignonette, yuzu lemonade 'cloud', citrus pop rocks
Itsas Mendi, Txakoli
A very strong presentation of oyster. I appreciated how the inherent brine of the oyster played with the subtle sugariness of the soy-mirin combination, while the yuzu added a touch of citric tang to the fray. Perhaps my favorite part of the dish was the lingering fizziness imparted by the pop rocks on the sweetish finish.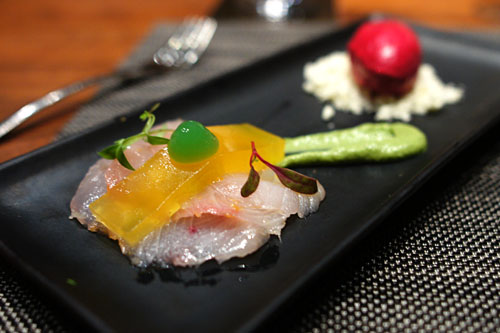 4: Hiramasa Crudo
| avocado silk, sweet & sour tangerine veil, jalapeno-cucumber emulsion, frozen beet
Itsas Mendi, Txakoli
Next up was Carson's signature course, the first truly "molecular" dish that he created. I first tasted the fish (yellowtail amberjack) alone, which I found fresh, mild, supple in consistency, with a nicely briny finish. The hiramasa managed to pair beautifully with pretty much everything on the plate, and I especially liked the slight bit of spice imparted by the jalapeño fluid gel, the piquancy of the yuzu salt, as well as the savoriness of the avocado. Despite all the components here, I appreciated the fact that the fish was still the star of the dish.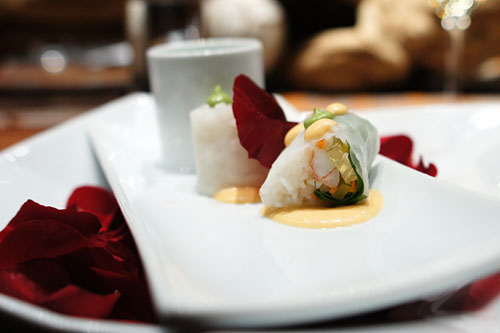 5: Lobster Summer Roll
| compressed mango, vietnamese herbs, elderflower gelee, pickled rose petal
Itsas Mendi, Txakoli
There were definitely some
Achatz
-esque aromatics coming into play here. We were each provided a cup of hot water, which we subsequently poured into a bowl containing rose petals. I really enjoyed how the floral essence of the petals linked up to the dill and
tiato
in the rolls, as well as the spice contributed by the chili-rose emulsion dipping sauce. The pickled rose petal, meanwhile, served as a sort of palate cleanser in between pieces. Overall, there were lovely, light, bright flavors here; I just wish that the lobster (Maine, sous vide) was more apparent.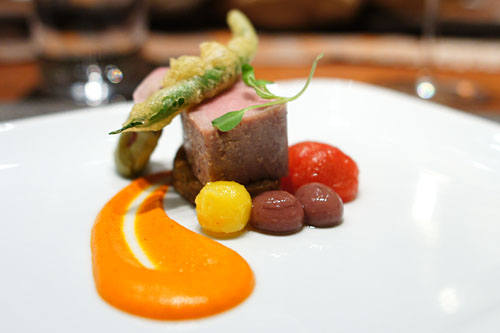 6: Ahi Tuna Nicoise
| white anchovy romesco, crispy haricot vert, 64*C quail egg, olive 'gushers'
Summerland Viognier
Here was Carson's deconstructed Niçoise salad, which traditionally comprises tomato, potato, green beans, hard-boiled egg, tuna, olives, and anchovy. All of the aforementioned components were presented here in new ways, and the overall effect really did recall the essence of a classical Niçoise. I especially appreciated the tuna, which, despite being fully cooked, had a rich, heady flavor that was beautifully accented by the hearty salt of the duck fat fried potato. The piquancy of the olive spherifications was also tremendous, as was the mesquite smokiness of the tomato. Everything just came together gorgeously.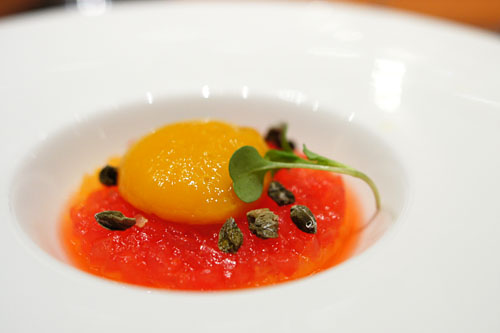 7: "Looks Like Tartare"
| compressed watermelon, mango 'egg yolk', dehydrated capers
Summerland Viognier
Upon seeing this course, I immediately recalled
Michael Voltaggio
's "Japanese Tomato Tartare." This dish, however, was actually completely different. I found it almost dessert-like, with a sweet, slightly herbaceous nature deftly offset by the tangy capers and pepperiness of the microgreens.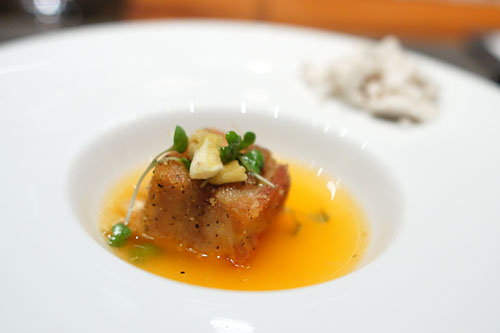 8: Kurabota Pork Belly
| kimchi consommé, freeze dried banana, wasabi peanut butter powder, yuzu-truffle
Summerland Viognier
This was supposed to be a riff on salt & pepper pork, but with the added complexity of banana thrown into the mix. The sweetness of the fruit actually went surprisingly well with the heavy, hearty character of the pork (just wish it were a touch more tender), and I loved the countervailing zestiness provided by the kimchi liquid. The nut butter, meanwhile, added an interesting close to the dish, but wasn't absolutely necessary for me.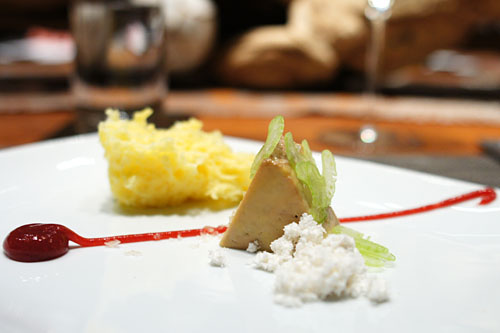 9: Foie Gras Torchon
| cherry-yuzu gel, 'instant' ginger-pineapple brioche, bacon dust, chinese celery
Summerland Viognier
Regular readers will know that I'm no fan of celery, but even I will admit that here, the vegetable worked absolutely perfectly--it was simply superb in balancing out the sheer lusciousness of the foie gras. At the same time, the bacon powder contributed an intense saltiness to the dish that I adored, while the brioche (à la
Andrés
or
Voltaggio
) did a great job in tempering the dish. Really appreciated the sweetness imparted by the cherry-yuzu gel as well. Just a great mélange of tastes and textures.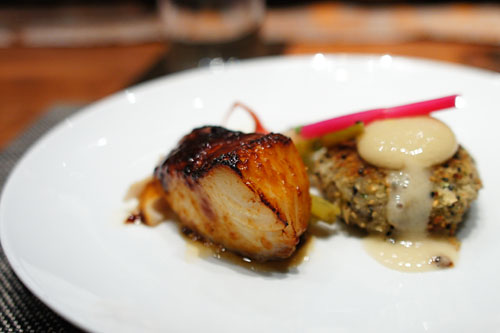 10: Misoyaki Black Cod
| furikake rice cake, pickled garden vegetables, encapsulated foie gras miso soup
Foxen Santa Maria Pinot Noir
By this point, we've all seen Nobu
Matsuhisa
's famed black cod with miso dish, which has become a mainstay on the menus of seemingly ever Japanese-y restaurant around. Thus, it wasn't surprising that I was quite wary of this dish. My fears were unfounded, however, as Carson managed to turn out the best version of the cod that I'd ever tasted. The fish itself was firm, flaky, just sweet enough, and went wonderfully with the tangy pickles and paired umami-tinged furikake "risotto" cake, which was itself heightened by the application of a foie gras-infused miso soup spherification (made from the leftovers from the previous course). This was definitely an elevated version of an otherwise clichéd dish. As one of my dining companions put it: "I wanna just suck the whole thing."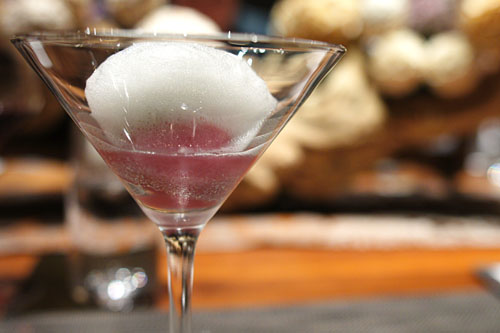 Intermezzo
Our intermezzo course consisted of a Concord grape sorbet with thyme jelly and lemonade foam. This was a light, airy admixture that showed off just a touch of salt to go along with the sugar.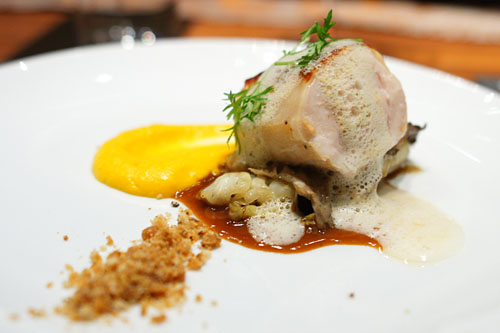 11: Jidori Chicken Roulade
| himalayan black truffles, oyster mushrooms, ginger, chinese mustard jus, hazelnut brittle
Foxen Santa Maria Pinot Noir
Chicken arrived sous vide'd with truffle butter, and was suitably tender, succulent, and drenched in buttery, truffle-y goodness. I had no problem consuming the bird by itself, but I did really appreciate the pairing of cabbage and mushroom with the dish. I wasn't quite as keen on the butternut squash, however, which took on an almost curry-like character that I felt was a bit too strong for the chicken.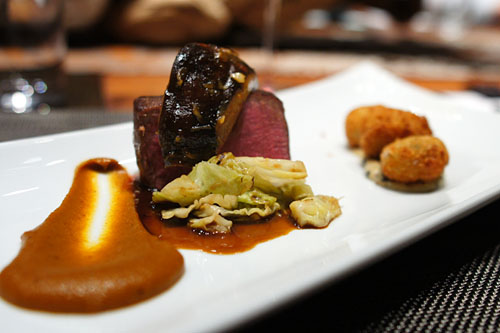 12: Filet Mignon Confit
| burnt carrot, shiitake mushroom demi-glaze, savoy cabbage, wasabi 'tater tots'
Hall Cabernet Sauvignon
Filet mignon was cooked sous vide with butter and thyme, then seared. The beef had a pleasant, toothsome texture, but I wanted a touch more seasoning on it. Meanwhile, I quite liked the dark, earthy flavors imparted by the shiitake, and loved how the savoy cabbage countered the gravity of the meat. Finally we have the "tater tots," which were actually wasabi-infused gnocchi breaded and deep-fried--tasty as expected.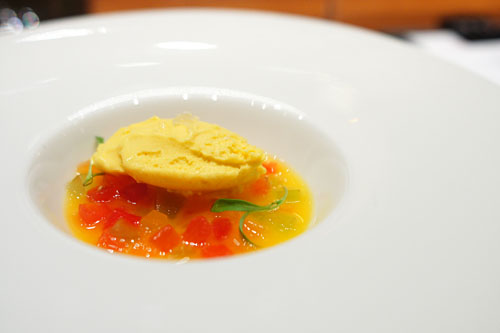 13: Heirloom Melon Gazpacho
| compressed heirloom melons, orange 'soup', yuzu salted mango sherbet
Chateau de Malle Sauternes
Time for dessert, courtesy of AnQi Pastry Chef David Rossi. Our first item was a light, fruity melon soup, deftly accented by a touch of salt from the sherbet. Lovely zestiness from the greenery as well.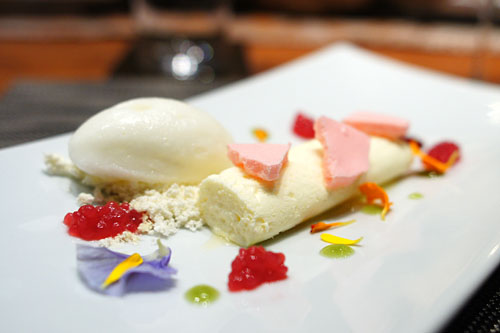 14: Elderflower Parfait
| pink rose meringue, flowering thyme gel, pomegranate 'caviar', jasmine frozen yogurt
Chateau de Malle Sauternes
During the meal, I described our next dessert as "like eating a flower." The elderflower semifreddo itself had a strong lactic tang that was expertly complemented by floral essence of the rose meringue and superb jasmine froyo, while the pomegranate spheres provided pricks of tangy sweetness. Nice.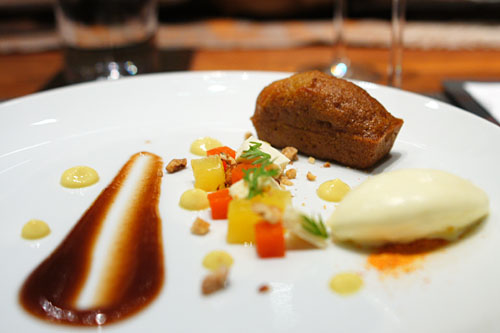 15: "Not Your Average" Carrot Cake
| raisin coulis, curry crème anglaise, saffron meringue, cream cheese ice cream
Smith Woodhouse 'Madalena' Vintage Port
This was, without a doubt, one of the best carrot cakes I've ever had. The cake itself was nothing to sneeze at, and quite tasty even on its own with a cinnamon-y spiciness. However, the crux of the dish was clearly the wonderful cream cheese ice cream, and the raisin coulis was tremendous as well, adding a superb grape-y sugariness to the dessert. Add in the candied walnuts, pineapple, et cetera, and you're left with a perfectly reimagined carrot cake.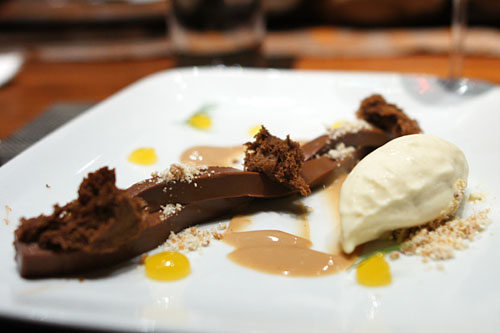 16: Chocolate Twist
| hazelnut praline, star anise-orange gel, popcorn ice cream
Smith Woodhouse 'Madalena' Vintage Port
We closed with a dish featuring flexible chocolate ganache, a technique first developed by Alex Stupak over at
Alinea
. Rossi's interpretation was wonderfully complemented by more of that 30-second microwave brioche, and the combination of popcorn ice cream, popcorn powder, and hazelnut praline made for a nicely balanced dessert.
Well color me impressed. I was a bit skeptical when I came in, but Carson and Rossi are
on point
with their flavors. They've managed to give us avant garde techniques and presentations without veering too far off into the realms of the overly esoteric or cerebral--it's just "molecular enough," to speak. I do not hesitate in calling this the best meal that I've had in Orange County, and if you can get a group together,
just go
.