Orris (Los Angeles, CA)
Orris Restaurant
2006 Sawtelle Blvd, Los Angeles, CA 90025
310.268.2212
www.orrisrestaurant.com
Fri 01/28/2011, 06:45p-09:20p

Set in a stretch of Sawtelle dominated by Japanese businesses, Orris (named after the root of an iris plant) is Chef Hideo Yamashiro's Franco-Japanese small plates concept that he launched in 2004. Shiro, of course, was one of the first chefs in LA to blend influences from both Japanese and French culinary traditions, and I'd initially visited Orris in 2005, shortly after it'd opened. This was during my pre-blogging years, so details are hazy, but I remember the meal fondly. Given that it'd been at least
five years
since I last ate here, I was long overdue for a revisit. A dinner with an old college roommate of mine (whom I went to
Alinea
with) provided the perfect opportunity.
About the Chef
: Shiro was born in Okinawa, where he grew up keenly interested in food and cooking. Like many Japanese chefs, Yamashiro began his culinary career as a dishwasher, at age 17. He eventually moved on to the actual cooking of food, and became trained in European cuisine, French fare in particular. The Chef eventually moved Stateside, taking up a job at Benihana of all places. He then landed a gig at the legendary Ma Maison, working under an up-and-coming chef named Wolfgang Puck. Yamashiro also toqued at Puck's Chinois, where he first cooked his famed catfish, and worked with Patrick Jamon at Santa Monica's Les Anges as well. In 1984, Shiro became head chef at Cafe Jacoulet in Pasadena, but would leave in 1986 to open his first restaurant,
Shiro
in South Pasadena. The eponymous eatery was a smash success, allowing Yamashiro to travel extensively around the globe. Inspired by his travels, he opened Orris in 2004 as a testament to the small plates concept of eating.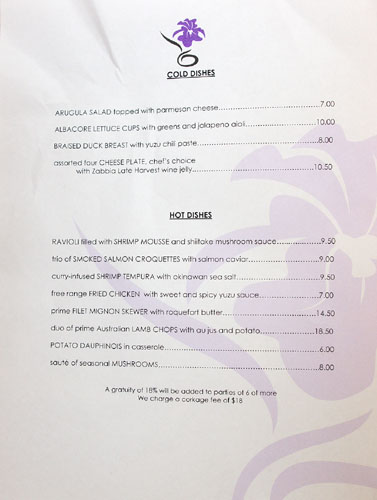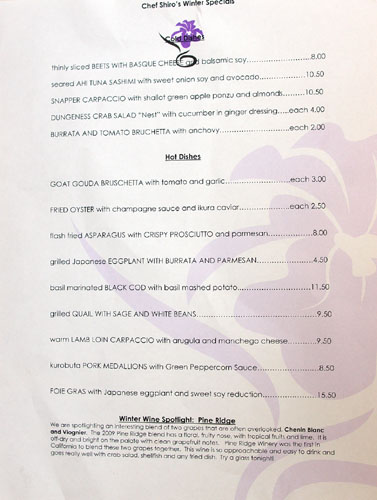 Orris' menu comprises a standard
carte
of favorites, as well as a changing seasonal selection of dishes. Note that Shiro doesn't like to refer to his Cal-Euro-Asian small plates as tapas, but "little dishes." Click for larger versions.
flash fried ASPARAGUS with CRISPY PROSCIUTTO and parmesan [$8.00]
We began with one of Orris' better known dishes. Thick stalks of asparagus showed off the vegetable's green astringency beautifully, and were deftly complemented by the weight of the paired Parmesan. At the same time, I appreciated the sharp saltiness imparted by the prosciutto, as well as their superb crunch.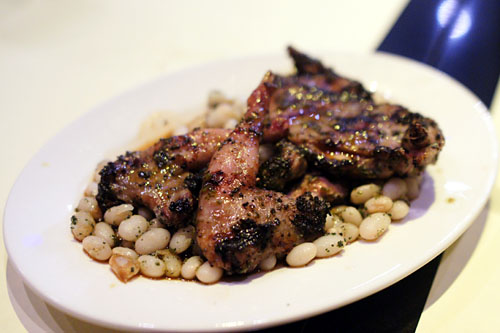 grilled QUAIL WITH SAGE AND WHITE BEANS [$9.50]
Quail was stupendous, one of the best preparations that I've had in a while in fact. The bird arrived tender, succulent, and bursting with a deep, heady flavor that was irresistible. The beans, meanwhile, did an admirable job in grounding the dish.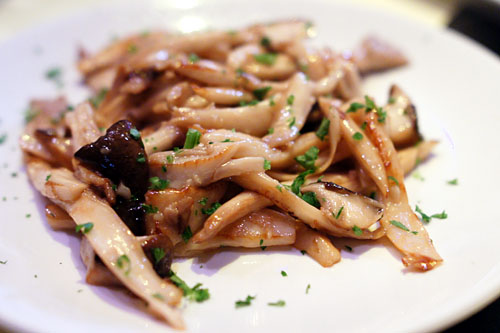 sauté of seasonal MUSHROOMS [$8.00]
Mushrooms arrived perfectly sautéed, with an undeniably enjoyable, slightly spongy consistency and a buttery, yet still earthy flavor. Absolutely lovely.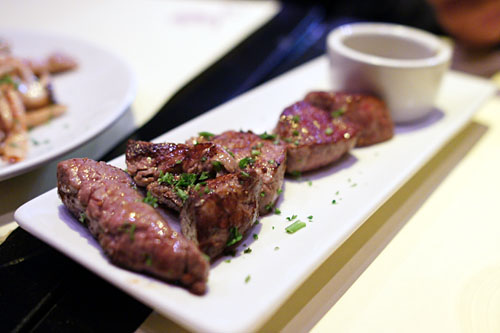 prime FILET MIGNON SKEWER with roquefort butter [$14.50]
Juicy and teeming with a restrained beefiness, filet mignon showed off a tenderness befitting its name. The meat was certainly enjoyable by itself, though I did appreciate the luscious, tangy, salty accoutrement of blue cheese butter.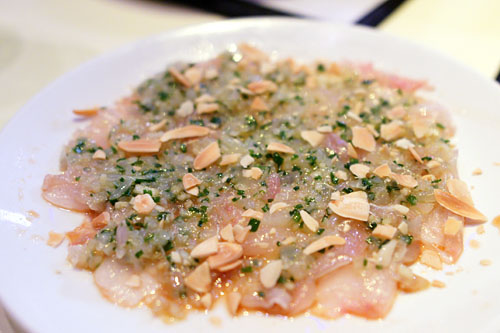 SNAPPER CARPACCIO with shallot green apple ponzu and almonds [$10.50]
Snapper carpaccio was a standout for me. The fish itself was commendable, and I enjoyed the sharp tang of the apple ponzu, but the crux of the course was clearly the almonds, which added an overarching nuttiness to things that made the dish for me. Just a great mélange of flavors--one of the best, most creative carpaccios that I've had.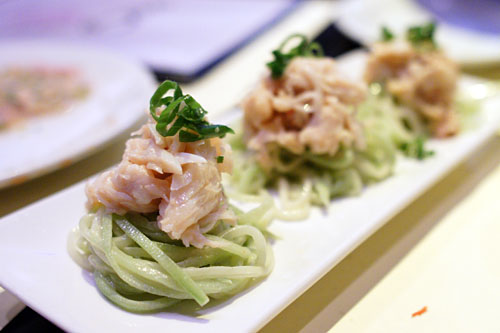 DUNGENESS CRAB SALAD "Nest" with cucumber in ginger dressing [$4.00]
Crab salad, unfortunately, was a bit of a letdown. The crab was certainly serviceable, but was marred by errant bits of shell. Meanwhile, the cucumber was rather one-note, making for a somewhat stilted eating experience.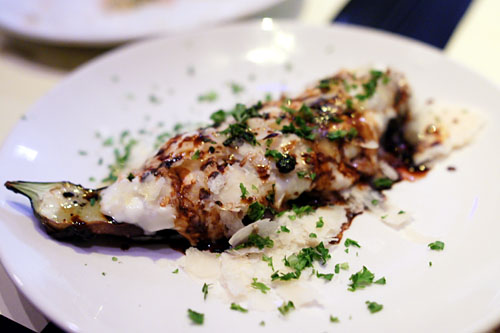 grilled Japanese EGGPLANT WITH BURRATA AND PARMESAN [$4.50]
I'm generally not a huge fan of eggplant, but this was definitely one of the tastier preparations that I've eaten in a while. The slight bitterness of the eggplant was present, but expertly countered by the combined luxuriousness of the two cheeses. You could almost think of this as a sort of reimagined eggplant parmigiana.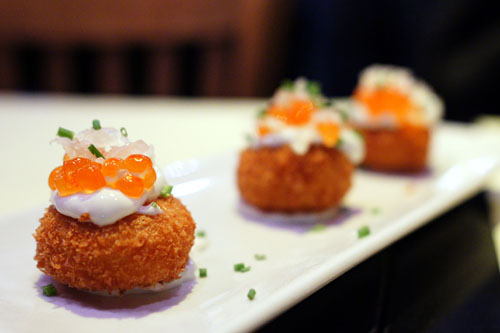 trio of SMOKED SALMON CROQUETTES with salmon caviar [$9.00]
Croquettes were tasty little bites. The mash-up of potato and salmon definitely tempered the essence of the fish, while the salmon roe added a definite brininess to the fray.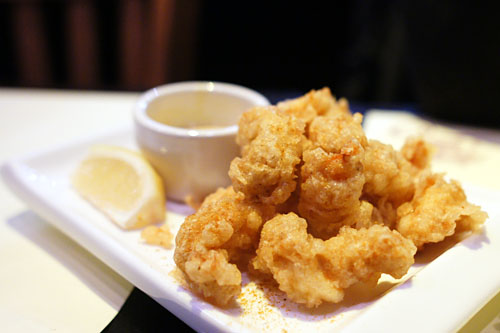 curry-infused SHRIMP TEMPURA with okinawan sea salt [$9.50]
Tempura can often be disappointing, but this version most certainly was not. The shrimp were perfectly cooked--crispy on the outside, but still supple inside. I thoroughly enjoyed the subtle flavor imparted by Orris' housemade curry, and appreciated how it didn't completely overwhelm the shrimp's inherent character.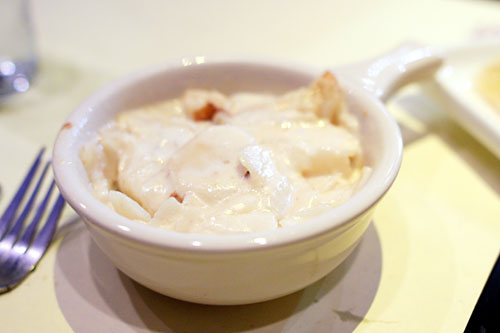 POTATO DAUPHINOIS in casserole [$6.00]
What we have here is basically an
au gratin
preparation of potatoes, named after the Dauphiné region of France. As expected, the dish was a joy to eat, the mild essence of potato beautifully paired with the sheer lusciousness of cream and butter.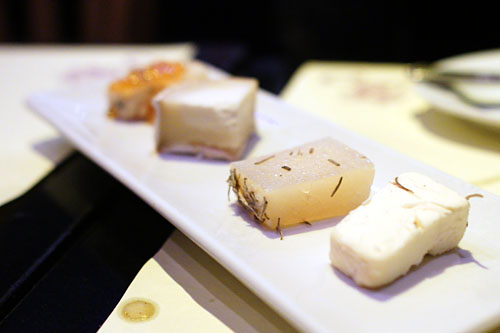 assorted four CHEESE PLATE, chef's choice with Zabbia Late Harvest wine jelly [$10.50]
Chef Yamashiro is a noted fan of cheese, and his selection of fromage was a testament to such. Unfortunately, I didn't get the names or descriptions of the cheeses, but all four were a treat, demonstrating a great combination of salty, sweet, and herbaceous flavors in a study of contrasting tastes and textures.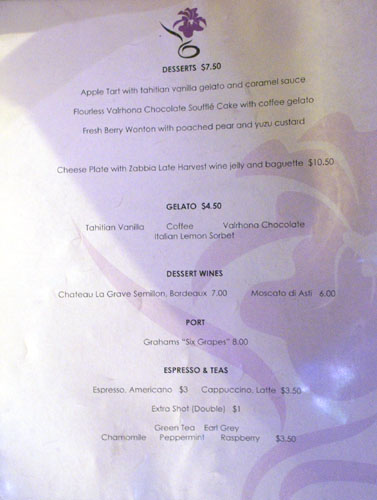 Of course, we saved room for the sweet stuff. Click for a larger version.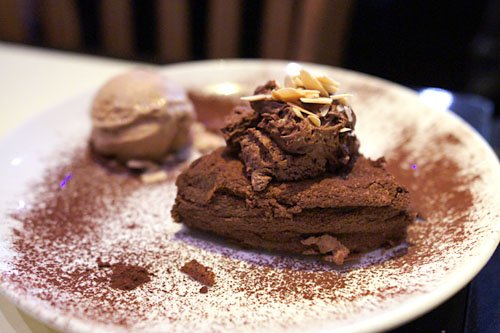 Flourless Valrhona Chocolate Soufflé Cake with coffee gelato [$7.50]
Sadly, Orris' desserts aren't nearly as creative as the savories. I found the chocolate cake rather pedestrian--tasty enough, but somewhat tired.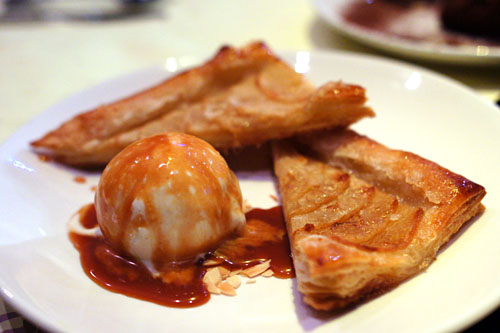 Apple Tart with tahitian vanilla gelato and caramel sauce [$7.50]
The apple tart, fortunately, was a huge step up from the cake. The pastry itself had a lovely texture, dense yet supple, with a nice layering of crisp apple slices. The vanilla gelato, meanwhile, was an expected, but effective accompaniment.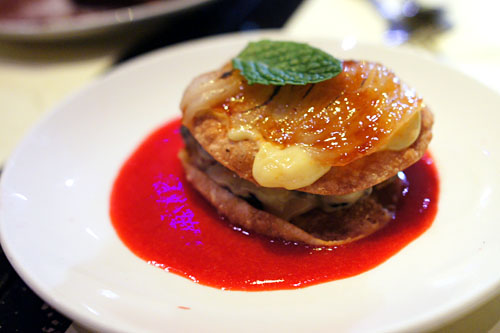 Fresh Berry Wonton with poached pear and yuzu custard [$7.50]
We ended with Shiro's signature dessert, a holdover from his original restaurant. I wasn't in love with it, finding the yuzu a bit too sour. It just didn't come together for me.
I was a bit wary going into this meal (especially given my subpar experience at Shiro), but I can safely say that Orris exceeded my expectations. Save for a few missteps and some trite desserts, preparations were totally on point--just complex enough--with great, bold flavors and the perfect amount of fusion-y spin. Hopefully it won't be five years until my next visit!