Atelier Crenn (San Francisco, CA)
Atelier Crenn
3127 Fillmore St, San Francisco, CA 94123
415.440.0460
www.ateliercrenn.com
Fri 08/26/2011, 06:45p-10:30p

Since my last NorCal food trip back in April last year, a number of new, exciting restaurants have really established themselves in the Bay Area. One of these is Dominique Crenn's eponymous Atelier Crenn, an "artist's workshop" or sorts named after her father's Atelier Papa Crenn in Brittany, France. In addition to being a politician, dad also dabbled as a painter, so here at her own
atelier
, the Chef presents her take on contemporary French fare--interpreted through the lens of food as art.
About the Chef
: Born to a French mother and Moroccan father, but later adopted, Dominique Crenn spent her childhood in Versailles, France, and developed a keen interest in gastronomy at an early age. During her teenage years, she traveled throughout Europe, absorbing the tastes and techniques of each culinary tradition she encountered. In 1985, Crenn earned a Baccalauréat in Economics from Cours Charlemagne in Paris, and later attended the Academy of International Commerce of Paris, graduating with a Bachelor's in International Business. In 1988, she moved to San Francisco to cook, first landing a job on the line at the defunct Gypsy Cafe. After two years there, she transitioned to Jeremiah Tower's legendary Stars, working under Mark Franz. In 1993, Crenn relocated to Park Grill at the Park Hyatt, and a year later, became Executive Sous at 2223 Restaurant. The Chef then took on a position at the longstanding Campton Place in 1995, and in 1996, she assumed her first Executive Chef role at Yoyo Bistro at the Miyako Hotel.
She took a detour at this point, and moved to La Bruschetta at the Intercontinental Hotel in Jakarta to become Indonesia's first female Executive Chef. However, her stint there was cut short due to the political upheaval following the 1997 Asian financial crisis and subsequent ouster of President Suharto. Returning to Southern California, Crenn became the Executive Chef-slash-Food & Beverage Director at the Manhattan Country Club in Manhattan Beach, a position she would retain for a long eight years. She returned with a vengeance in April 2007, opening up her first restaurant, the short-lived Abode (their
web site
is still up, eerily) in Santa Monica, with partners Kelly Gleason and Anastasia Israel. Despite some positive press, Abode never really caught on, and she left the place in
October
, replaced by her CdC Cyril Kabaoglu; the restaurant would close for good in
April
the following year.
SoCal, I suppose, wasn't ready for Crenn, and she ended up moving back up to SF, securing a gig as the Exec Chef at Luce at The Intercontinental. Here, however, she thrived, earning a Michelin star two years in a row and winning the coveted Chef of the Year title from
Esquire
magazine in 2008. During this time, the Chef also competed on Season 2 of
The Next Iron Chef
, and would also defeat Michael Symon in "Battle Yogurt" on
Iron Chef America
. The itch to have her own place remained, though, and in January of this year, she partnered with Michele Astorian and launched Atelier Crenn in the former PlumpJack Cafe (which shuttered in February 2009) space in the Marina. Initially, the Chef was supposed to stay on at Luce as a consultant, but due to the stresses of running the Atelier, she left that position at the end of March. Meanwhile, joining her at Atelier Crenn are Chef de Cuisine Benjamin Martinkovic and Chef Patissier Juan Contreras (an LA transplant who lists stints at
Alinea
in Chicago and
De Librije
in Holland--both Michelin three-stars--on his résumé).


Atelier Crenn's 40-seat main dining room was penned by Denmark native Nancy Nielsen, and indeed, the space evokes a cozy, contemporary, but also very European feel. Naturally, Papa Crenn's artwork adorns the walls. We, however, were seated in the new Garden Room out back, which adds an additional 20 seats to the restaurant.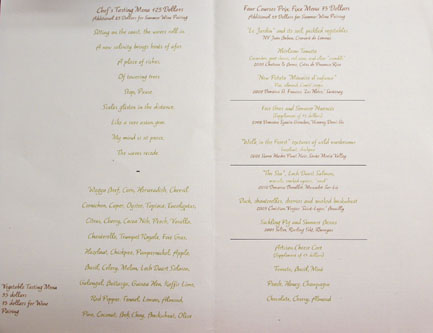 Atelier Crenn's globally-influenced modern French menu changes seasonally, and places a strong emphasis on Bay Area-sourced ingredients. In fact, over 60% of the menu comes from Scrivner Hoppe-Glosser's small
Gouge Eye farm
up near Sacramento. Dinner options here include an 11-course Chef's Tasting Menu at $125 plus $85 for wine pairings from Sommelier William G. Brajnikoff, a Vegetable Tasting Menu at $95 plus $75, and a four-course Prix Fixe at $75 plus $55. We obviously went with the Tasting, supplemented by a quartet of dishes from the Prix Fixe. Interestingly, Chef Crenn is known to compose a poem before writing the menu (the lines of which I've included next to their corresponding courses below), hence the restaurant's byline of "Poetic Culinaria." Click for larger versions.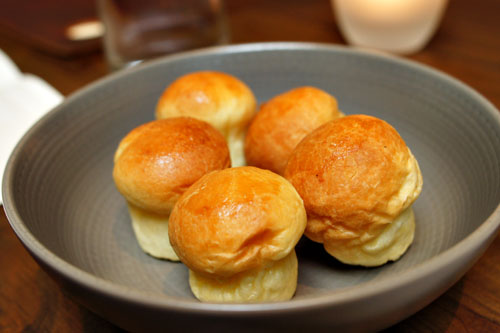 In lieu of a typical bread service, we were instead provided a plate of mini brioches, a throwback to the bread that Chef Crenn enjoyed during her childhood. The
pain
was exactly what it should be: buttery and fluffy, with a very subtle sugariness that we found slightly reminiscent of Chinese-style bread.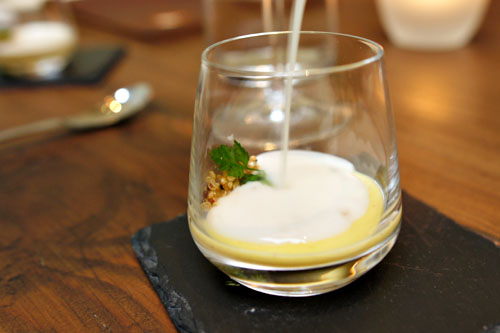 Amuse Bouche 1: Summer Corn Coconut
Our first amuse bouche brought us a summer corn custard with crispy quinoa, topped with coconut milk and coconut water. The corn and coconut blended beautifully, making for a faultless interplay of sweetness that paired wonderfully with the savory crunch of the grains. Finishing things up was a lovely herbaceousness from the Thai basil and cilantro.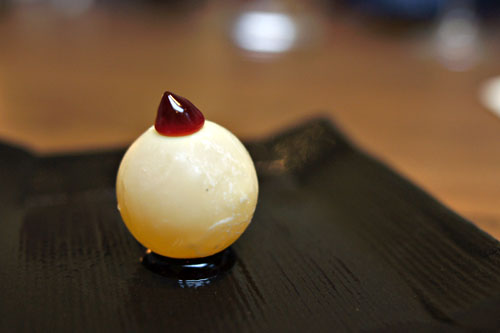 Amuse Bouche 2: Kir Breton
Amuse #2 was Crenn's take on the Kir Breton cocktail, featuring apple cider (which the Brittany region is known for) encased in white chocolate and topped with a cassis gelée. The sphere burst instantly upon mastication, coating my palate with loads of sweet
cidre
that paired perfectly with the chocolate. Absolutely delightful.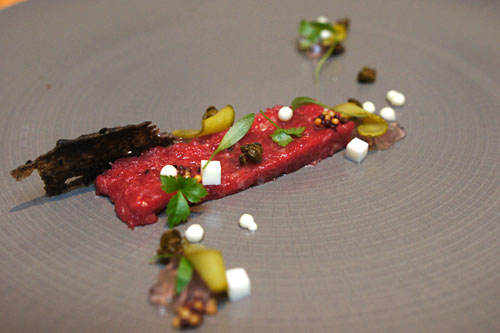 1: "Ocean and Land"
| Wagyu Beef, Smoked Sturgeon [Sitting on the coast, the waves roll in]
NV Jean Babou, Cremant de Limoux
Our first proper course brought us the Chef's riff on beef tartar, made with scrapped wagyu flank steak, sesame seeds, olive oil, S&P, horseradish custard cubes, smoked sturgeon pearls, crisp capers, onion gelée, braised mustard seeds, and sesame seed cracker. The tanginess of the capers, mustard, and horseradish balanced the meaty savor of the beef nicely, and I appreciated the smoky complexity contributed by the sturgeon. At the same time, the earthy essence of the sesame was a welcomed addition, and I adored the hint of heat on the finish. Think classic flavors, but redefined and refined.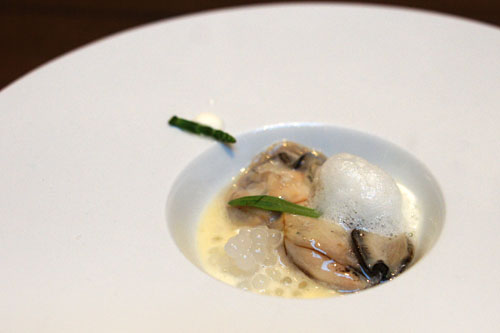 2: Oyster "Japonaise"
[A new salinity brings hints of afar]
2008 Domaine Vocoret et Fils, 1er Cru Chablis
A Kusshi oyster came poached in sake, and accompanied by beurre blanc, crispy tapioca, lemon foam, crème fraiche, and seaweed. A pure, focused brine was present on the attack, and lingered on the midpalate, where it was joined by the richness of the various other ingredients as well as a marked tanginess from the lemon. Nicely integrated, with the oyster still the hero in the dish.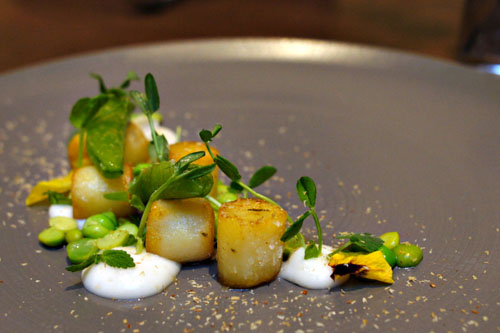 Supplement: New Potato "Mémoire d'enfance"
| Pea, almond, Comté crisps
Our first supplemental course was inspired by Crenn's childhood memories of spending time at her grandmother's potato farm. We had here confit-seared fingerling cooked in its own soil, joined by
pommes purée
, pea shoots, olive oil-seared peas, shaved almonds, and licorice-mint. The potato was fantastic, with a profound savoriness that reminded me of Tater Tots! At the same time, I loved the bright, green flavors contributed by the peas, while the licorice and mint lent an overarching piquancy to the dish. Very nice.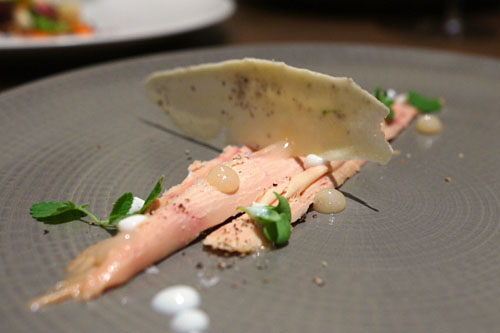 3: Foie Gras "Log"
[A place of riches,]
2008 Domaine Sylvain-Gaudron, Vouvray Demi-Sec
Foie gras arrived cold, but don't dare call it a terrine or pâté. Rather, it was cooked sous vide, melted, then frozen and shaved to "bark" form. Accoutrements included a roasted pear purée, vanilla pudding, Thai basil, and a coconut tuile. The end result was gorgeous, one of the best preparations of foie that I've had in fact--delicate, yet weighty in savor, with a perfectly paired, subtle sweetness and salty finish. Loved the countervailing notes of the greenery as well. In a world overrun by sticky sweet preparations of foie, this was pure
finesse
.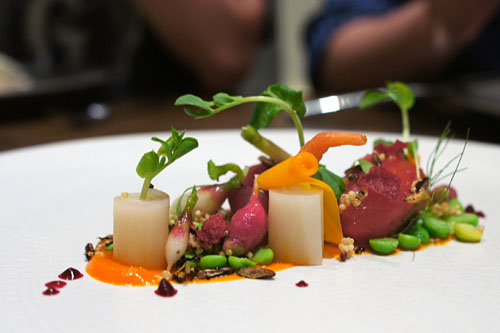 Supplement: "Le Jardin" and its soil, pickled vegetables
"Le Jardin" brought us a troika of carrot, beet, and turnip, all pickled, along with carrot purée, peas, toasted wild rice, tomato, and pea shoots. This all made for a very cohesive dish, with the sweet, tangy veggies all playing together wonderfully, both in terms of taste and texture--I found the crunch of the rice particularly enjoyable. While many of these
gargouillou
-inspired dishes fall short, Crenn's definitely delivered.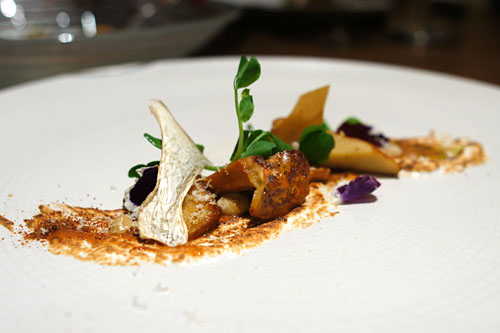 4: "Walk in the Forest"
| Textures of mushrooms, pine, hazelnut [Of towering trees]
2007 Sierra Madre Vineyards Pinot Noir, Santa Maria Valley
Looking at this dish, I couldn't help but be reminded of
Craig Thorton
's "wandering the forest" dish. We're talking about a meringue of Douglas pine, lobster mushrooms, king trumpets, sorrel oil, hazelnut, pea shoots, and dehydrated 'shrooms, all coming together in an amalgam of earthy, umami-soaked flavors balanced with a noticeable tempering sweetness from the meringue. A table favorite, one that deftly evoked a sense of time and place.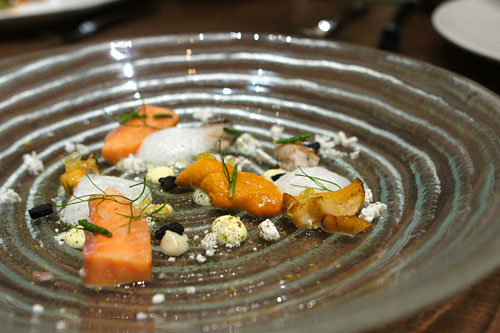 Supplement: "The Sea", Loch Duart Salmon
| mussels, smoked oysters, "sand"
"The Sea" featured a bounty of salmon, uni, seared abalone, and smoked oyster, all accompanied by saffron-potato
rouille
, dehydrated lemon-sesame seed-anchovy "sand," lemon foam, sea beans, and fennel pollen. The salmon was ridiculously tender, breaking apart almost instantly, and showed off a stupendous salinity that paired beautifully with the rest of the seafood. I loved how each item was distinct, yet joined together by an overarching sweet brine and heightened by the various other ingredients at play. A masterful course.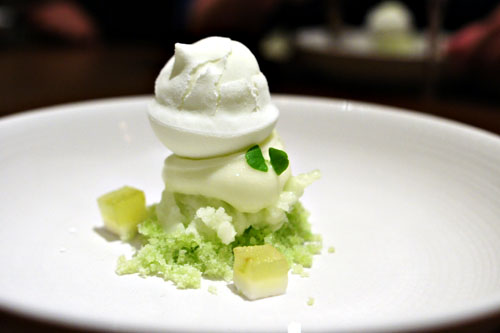 5: Apple, Celery, Melon
[Stop, Pause.]
A palate cleanser featured bold, in-your-face flavors of celery. As bracing as the celery was, it was deftly moderated by the sweetness of melon and fennel, making for a rather cohesive intermezzo that did a great job in perking up the palate.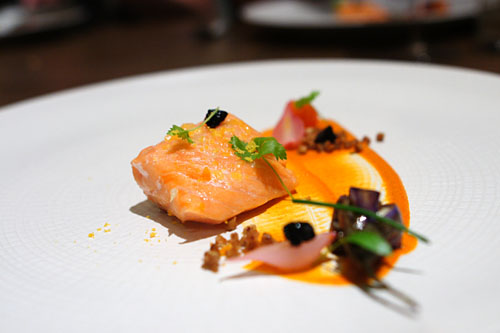 6: Salmon "Basquaise"
[Scales glisten in the distance,]
2009 Christian Vergier 'Saint Lager,' Brouilly
Given the strength of the salmon in "The Sea," I was expecting a lot from this sockeye, and it did not disappoint with its tender, saline goodness. The fish was paired with a red pepper coulis, buckwheat couscous, eggplant, red pearl onion, and bottarga. I loved how the roe augmented the essence of the salmon, while the eggplant and onion provided a superbly piquant counter to the lusciousness of the fish. And let's not forget about the cous cous, when lent a fantastic textural contrast to the dish. Easily one of the best salmon dishes I've had in a long time.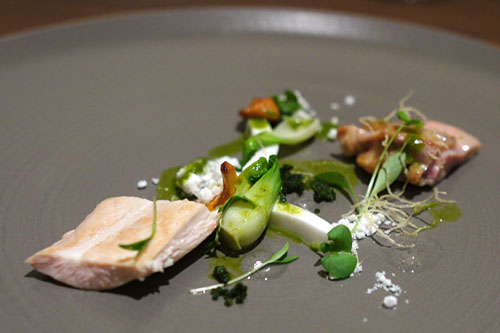 7: Guinea Hen "Thailandaise"
[Like a rare asain gem.]
2007 Solter Sekt, Riesling Brut, Rheingau
Our final savory course of the evening brought us a sous vide-then-seared guinea hen, served with bok choy, coconut pudding, dehydrated coconut milk, chanterelles, cilantro, Thai basil, lemon peel, and crispy ginger. The bird was clearly the star of the show here, showing off its true colors nicely. At the same time though, its accoutrements provided a zesty, tangy counterpoint that really completed the dish, conveying a Thailand-inflected tang that tied everything together. My concern was that one of my pieces of hen was drier than I would've liked (though the other was spot on).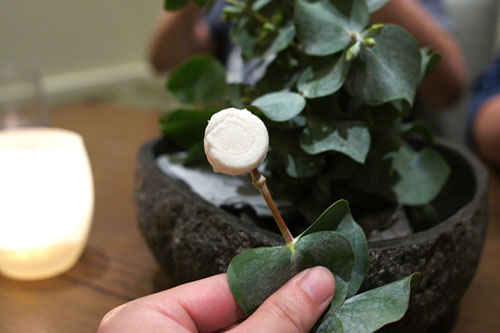 Pre-Dessert: Eucalyptus
Before dessert proper, we enjoyed "lollipops" of eucalyptus, lemon, and honey, meant to evoke the sensation of driving through the eucalyptus groves toward the City. They were wonderful, with a bracingly refreshing, herbaceous, almost minty relish that paired beautifully with the sweetness of honey.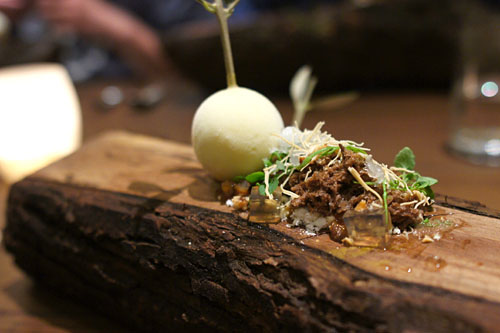 8: "Olives"
| Fennel, Lemon, Almond [My mind is at peace,]
2006 Von Hovel, Riesling Auslese, Mosel
It was now Pastry Chef Juan Contreras' time to shine, and he shone in a big way here! A globe of olive and EVOO ice cream (meant to represent an olive on a branch) was joined by black olive cake, almond nougatine, lemon ice, and fennel jam. I loved how the essence of olive was so deftly incorporated into the dessert--so subtle and refined, yet always present. It matched the tartness of the citrus and sweetness of the jam wonderfully, making for just a perfectly conceived, faultlessly executed dessert, one of the best I've had,
ever
.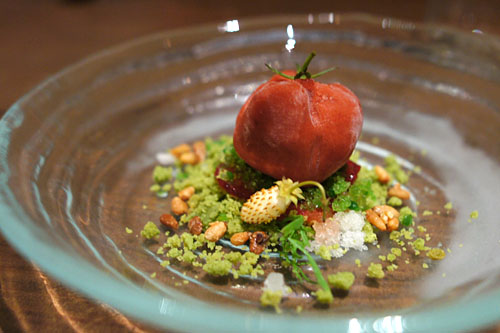 Supplement: Tomato, Basil, Mint
Though our supplemental dessert didn't quite reach the stratospheric levels of "Olives," it was nonetheless quite amazing. We had here a basil ice cream, wrapped in a strawberry- and tomato water-based skin, accompanied by basil cake and tomato granita. It was the Pastry Chef's take on the classic pairing of strawberry and basil, and the reconstruction was delectable. The basil paired perfectly with the sugary berry as expected, and I adored the nutty, savory finish provided by the caramelized pine nuts.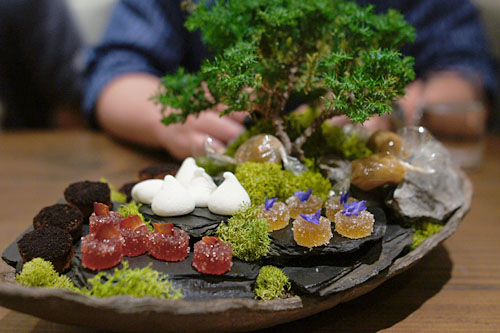 9: Mignardises
[The waves recede.]
Contreras didn't let up yet, rounding out the meal with the most jaw-dropping presentation of mignardises that I'd ever seen.
Pâtes de fruit
of cedarwood and strawberry-coriander (think Fruit Roll-Up!), tangy kalamansi marshmallows, chewy, smoky nougatines with cocoa, and salted caramels were presented in a Douglas fir bonsai tree "forest" grown by Crenn herself. This was joined by stone blocks holding milk chocolate ganache with crispy chocolate, white chocolates with sweet orange oil, and beautifully bitter, 72% Venezuelan dark chocolate chips laced with gold.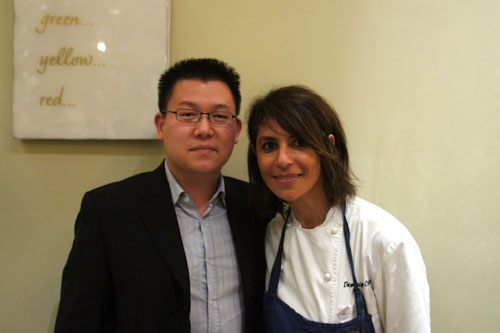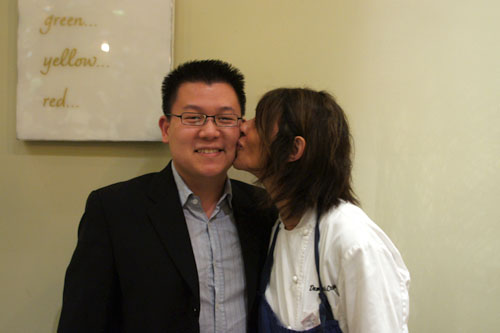 At the end of the meal, Chef Crenn came out to speak with us, resulting in the first time that I'd ever been kissed by the Chef. Judging by my resulting smile though, I wasn't exactly complaining.
When the menu lists courses named "Walk in the Forest" and "The Sea," you know you're in for something high-concept. And indeed, much of the food here at this "experimental" eatery is meant for reflection, rumination--an attempt at translating the Chef's artistic vision to the plate. Visual impact is always a factor, but doesn't take precedence to the detriment of flavor, making for a whimsical, provocative, and most importantly,
delicious
balance that I found utterly satisfying. Service, coordinated by Daniel Urrutia, meanwhile, was completely on point as well, and I appreciated how all staff members--including the cooks--participated in service. Everything just came together in stellar fashion, and when the next Michelin Red Guide debuts, I predict stars. Crenn should be commended for her efforts at her very own
atelier
, and in fact, I think I may have found a new favorite restaurant in the City.