Koi Palace (Daly City, CA)
Koi Palace Restaurant
365 Gellert Blvd, Daly City, CA 94015
650.992.9000
www.koipalace.com
Sun 08/28/2011, 10:45a-12:15p
Regular readers will know that I'm not huge into dim sum. I guess I just hadn't had good experiences with it (ironic, given that I'm Chinese), so I was hoping to change that viewpoint at Koi Palace, which is, according to many, the best dim sum in California. It's supposedly
Jonathan Gold
's favorite Cantonese in the country, and the place has been on Michael Bauer's "
Top 100 Restaurants
" list every year since 2003. Koi Palace was opened in 1996 at Serramonte Plaza by General Manager Willy Ng and Chef Kam-Chiu Leung, and ever since then, the restaurant's been a go-to choice for elaborate multi-course banquets and fresh seafood, in addition to the dim sum. The success of Koi Palace has allowed Ng and company to open up another location at Thunder Valley Casino, as well as Koi Garden and Just Koi (a casual noodle house) at the new Ulferts Center in Dublin.

The cavernous dining room features over 400 seats, yet there's
still
a substantial wait.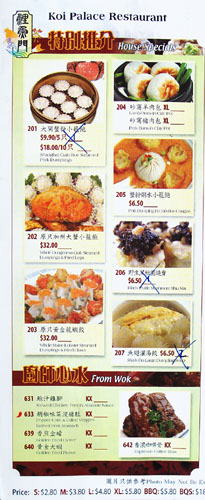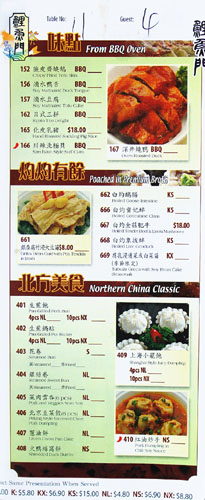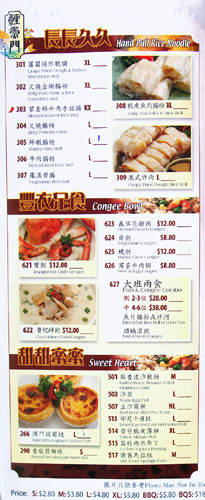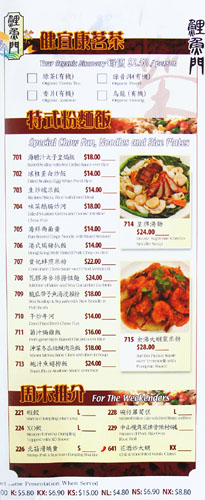 Koi Palace's menu is ginormous, listing several hundred dishes. The dim sum selection, fortunately, is a bit more tractable, and mostly made-to-order, featuring all the classics, as well as some more unique, ambitious items. Click for larger versions.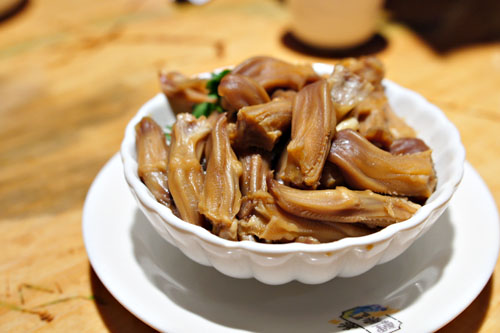 Soy Marinated Duck Tongue [$5.80]
We kicked things off with duck tongue, which I found snappy in consistency, crispy even, and which one of my dining companions even compared to pig ear in texture. Flavor-wise, think sweet and umami-soaked. Not bad, though I wouldn't necessarily order it again.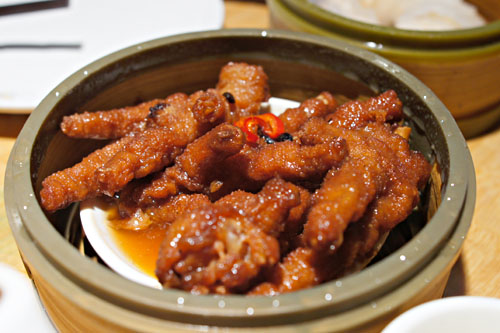 Steamed Chicken Claws with Black Bean Sauce [$3.80]
Chicken feet, meanwhile, were expectedly gelatinous and crunchy, with a sweet savoriness to boot. For those of you who haven't tried "phoenix claws" before, it's actually pretty non-offensive once you get past the appearance.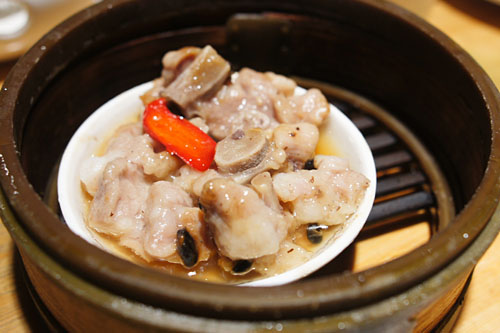 Pork Ribs in Black Bean Sauce [$2.80]
Pork ribs were delightful, tender and flavorful, with a lovely piquancy from the black bean.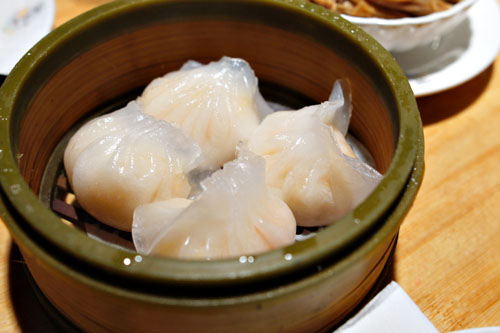 Shrimp Dumpling (Har Gow) [$4.80]
Xia jiao
is one of the most popular types of dim sum, and here it did not disappoint. The shrimp was cooked through, but still snappy and satisfying in consistency, and very flavorful, working well with its thin, slightly gelatinous wrapper.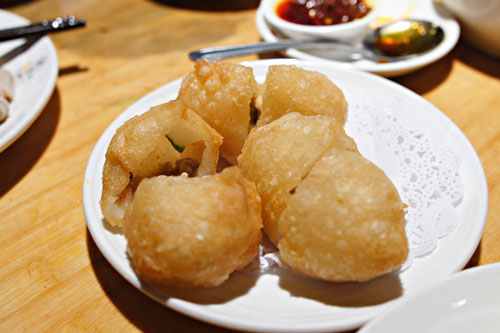 Glutinous Dumpling with Diced Pork [$2.80]
The
haam sui gaau
, or salt water dumpling, was arguably my favorite course of the meal. Basically, they're deep-fried rice flour dumplings filled with pork and veggies, and I loved the keen interplay between the sweet and savory flavors here, as well as the thick, sticky consistency of the wrapper.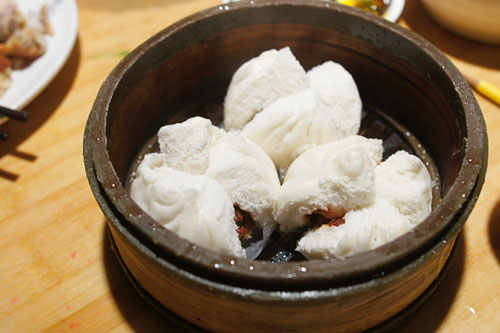 Steamed BBQ Pork Bun [$2.80]
The dim sum staple of
cha siu bao
was up next. This was a textbook preparation of the dish, with a keen sweet savoriness from the barbecued pork that was deftly tempered by the subtle flavors of the fluffy steamed bun.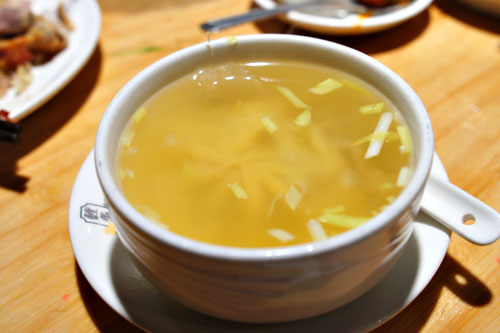 Shark Fin Large Dumpling Soup [$6.50]
The broth here showed off a profound depth of flavor that I found marvelously intoxicating, and was perfectly set off by the application of the accompanying vinegar. It went superbly with the pork dumpling, while the shark fin added an interesting textural component. Another favorite.
Steamed Shrimp Dumpling Topped with XO Sauce [$4.80]
As good as the standard
har gow
was, this version was even better. The dumpling's topping of XO sauce and dried scallop added a fantastically heady, umami-soaked smack to the dish that heightened the shrimp's inherent flavor beautifully. Yet another highlight of the meal.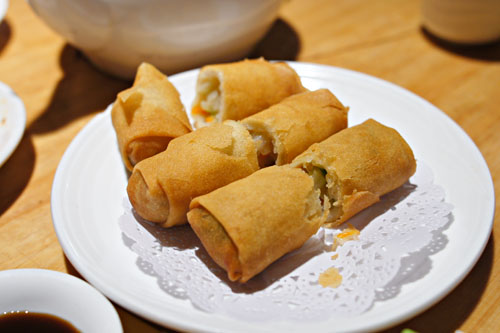 Vegetarian Spring Roll [$2.80]
The spring roll, however, was fairly pedestrian, with flavors that were slightly piquant, but somewhat muddled. Nice crispness on the wrapper, though.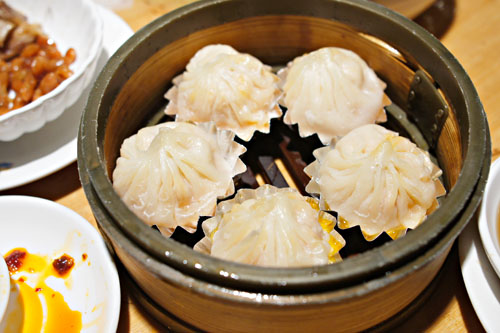 Shanghai Crab Roe Steamed Pork Dumplings [$9.90]
Xiaolongbao
, meanwhile, was elevated by the application of crab roe, making it another of my favorites. I loved the tangy burst of flavor experienced upon mastication, and how the salinity of the crab served to offset the weight of the pork.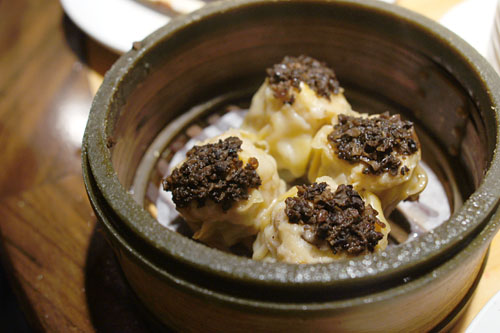 Black Truffle Mushroom Siu Mai [$6.50]
Shumai
was quite nice as well, a classic presentation deftly conveying the essence of pork. The truffle, however, wasn't all that apaprent, making itself known only on the finish.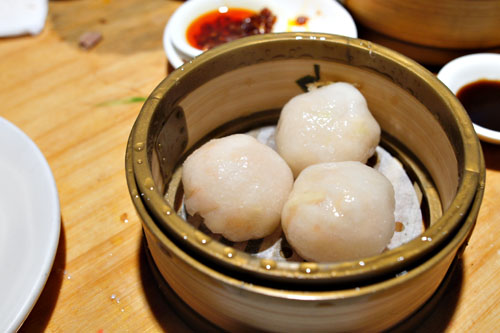 Sea Scallop Dumpling [$3.80]
Here was yet another version of the
xia jiao
, this one tarted up by the utilization of scallop in addition to the shrimp, which resulted in additional complexity and sweetness, as well as a more supple consistency.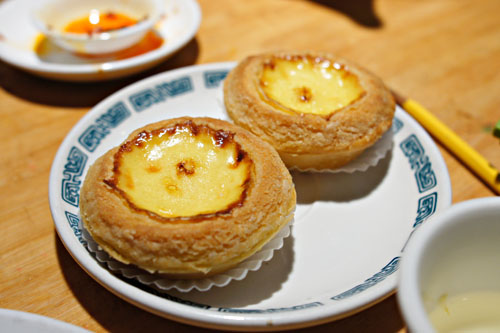 Baked Portuguese Custard Tart [$4.80]
In lieu of the standard
dan tat
, we had these Portuguese egg tarts, derived from the traditional dish of
pastel de nata
. As mentioned by a commenter below, the differences lies in the more pie-like consistency of the crust, as well as the more caramelized nature of the custard. In any case, these were delicious, showing off an eggy sweetness that paired adroitly with the crisp, flaky pastry.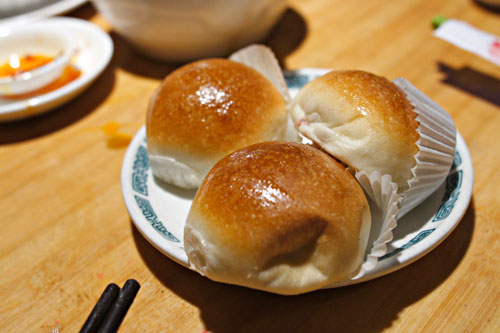 Crusty Baked BBQ Pork Bun [$3.80]
Here was the baked version of the classic
cha siu bao
above. The meat here was pretty much identical, but the crusty texture of the bun was a nice change of pace.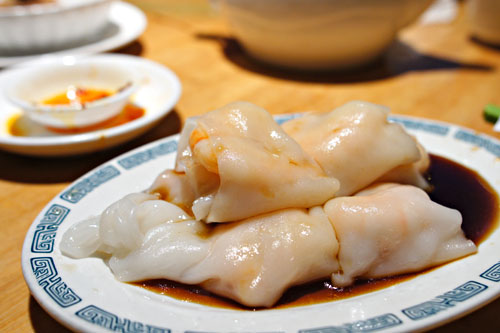 Shrimp Rice Roll [$4.80]
We closed things out with the classic dim sum dish of
cheong fan
. The shrimp, unfortunately, was a touch overcooked, but tasty nevertheless, with a slight sweetness that paired well with the surprisingly light rice noodle roll.
I do not hesitate in calling this the best dim sum experience that I've had, though admittedly, I don't
yum cha
all that often in the first place. Given the strength of this meal though, perhaps I should start. Here in SoCal, the places to go seem to be Elite, Empress Harbor, Empress Pavilion, King Hua, Ocean Star, and Sea Harbour, to name a few--any other suggestions?