Saison (San Francisco, CA)
Saison Restaurant
2124 Folsom St, San Francisco, CA 94110
415.828.7990
www.saisonsf.com
Sat 08/27/2011, 07:30p-11:30p

Following a thoroughly enjoyable meal at
Atelier Crenn
the previous night, we headed off to Joshua Skenes' Saison for the second dinner of our Bay Area food trip. Located in San Francisco's Mission District, tucked away behind the well-regarded
Stable Cafe
, Saison represents the Chef's first solo project, a foray into his own style of French-inflected California cuisine. Saison, of course, is French for "season," and indeed, Skenes and company are deeply committed to bringing forth the best of seasonal, locally-sourced, and hand-foraged produce; the restaurant even has its own biodynamic garden.
About the Chef
: Skenes' first job in the industry was as a dishwasher at a local restaurant in his hometown of Jacksonville, FL. He was 15 at the time, and has worked at restaurants ever since. After high school, he went to Boston to study art, but cooking beckoned, and Skenes soon found himself enrolled at the French Culinary Institute in New York. He excelled at the FCI, and during his time there, he even managed to work a full-time position in the kitchens of the legendary
Jean-Georges Vongerichten
. After graduating in 2001, Skenes moved back to Boston, first taking up a job at Scott Herbert's Troquet before heading over to Ambrosia, where he worked under Anthony Ambrose. He left the restaurant in September 2003 and traveled to the Left Coast, landing an Executive Chef gig at the longstanding Chez TJ in Mountain View. The Chef's cooking there was, according to his own words, "experimental," but he managed to impress the likes of
Michael Mina
, who lured him away in 2005 (Skenes was subsequently replaced by
Meadowood
's Christopher Kostow).
Skenes relocated to Southern California to open up Mina's
Stonehill Tavern
at The St. Regis in Dana Point. After getting the restaurant going, the Chef moved back up north in 2006 to work on plans for his own place under the Mina Group umbrella. However, the project ultimately fell through, and he began consulting. He also traveled to Asia, and left amazed by the quality of and commitment to food that he witnessed there. After Skenes returned, he started working on plans for Saison, set in a former carriage house-turned-event space. Debuting in summer 2009, Saison initially operated as a sort of pop-up, serving dinner one night a week on Sundays. Due to overwhelming success however, Skenes expanded to three nights, then five in June 2010 after an extensive remodel (which, I hear, included a coveted Molteni stove).

The dining room, with its rustic charm, is about what you'd expect from a former stable.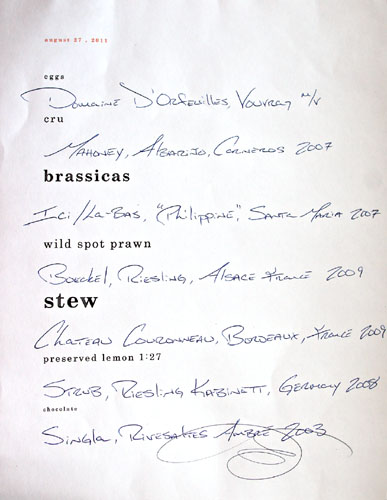 Saison serves up one $148 menu each night, with wine pairings from Sommelier Mark Bright (a fellow Mina alum: Stonehill Tavern, Nob Hill, Sea Blue, Arcadia, Michael Mina, Aqua) tacking on an extra $98. There's also a Chef's Table option, which has no set price nor number of courses. The menu is customizable, and tonight we enjoyed a 10-course degustation with wine, priced at $198+$98 a head. Click for a larger version.

The view from the aforementioned Chef's Table. The kitchen is surprisingly quiet, but also uncompromisingly meticulous, with cooks Jordan Wong and Travis Cook doing a great job in keeping us company (their station was located immediately in front of our table).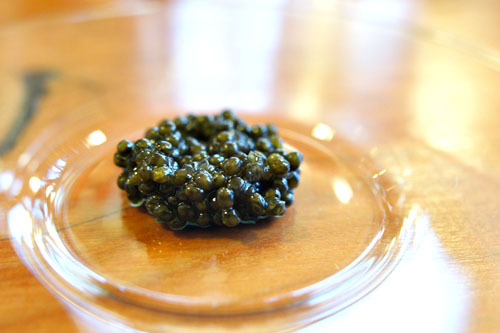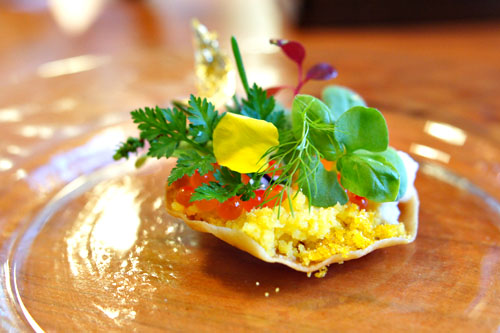 1: eggs
Domaine d'Orfeuilles, Vouvray NV
Our meal began with a bevy of eggs. Wild osetra, smoked in-house, arrived unadorned on a plate. It was minimalist but superb, one of the best servings of caviar that I'd ever had, with a fantastic salty smack accented by a beautiful hint of smoke. As good as that was, the accompanying flatbread was even better,
arguably my best bite of the year in fact
. It featured smoked crème fraiche, trout roe, bottarga, shad roe, foraged amaranth and chervil, buckwheat, and gold flake. Beautifully integrated, perfectly balanced, and wonderfully complex, the dish showed off a refreshing interplay of briny and vegetal notes, deftly accented by the tempering crunch of the flatbread.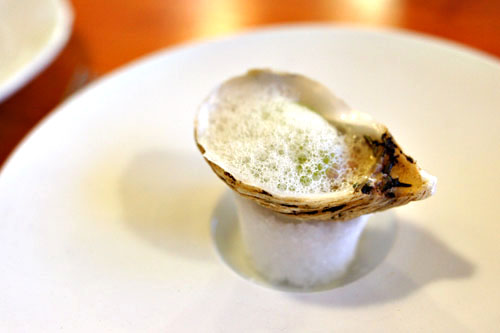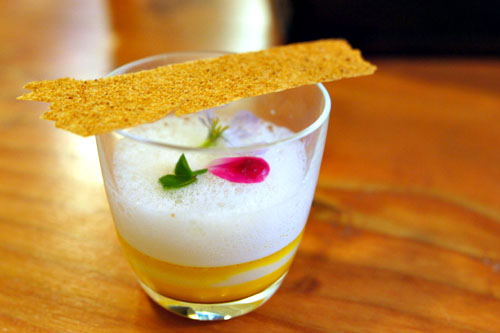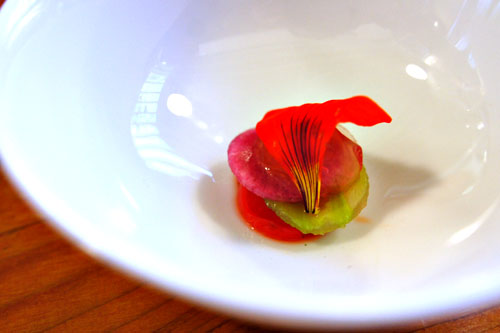 Up next was a trio of canapés. A singular Kusshi oyster was joined by olive oil and a lemon verbena foam, resulting in a robust, creamy, lingering brine balanced by a citrus-y tinge from the verbena. A cup containing parsnip purée, carrot, poached egg, and parsnip chip was next. This was a heavy, hearty potage, with a nice crispness from the chip and a deft weightiness from the egg, though the whole amalgam was a bit sweet for me. Perhaps my favorite of the threesome was the stack of daikon, cherry belle, and watermelon radishes, finished with nasturtium honey and pig butter. It had a delightfully bright, bitter relish finished with a sugary touch of honey.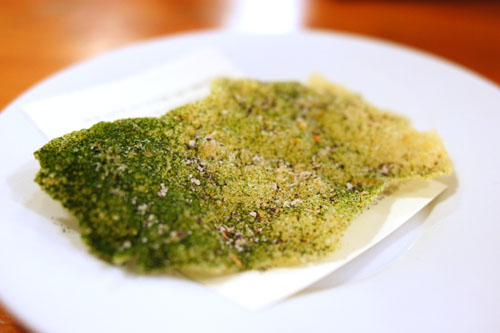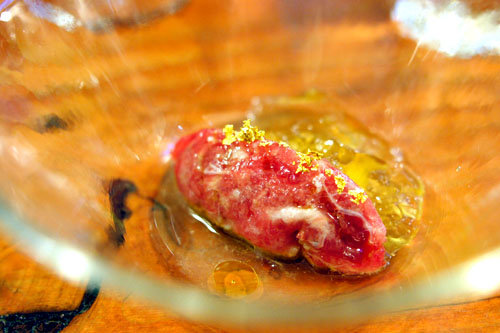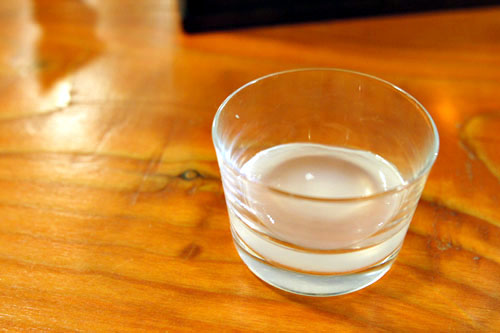 2: cru
Mahoney, Albariño, Carneros 2007
Bluefin tuna was scrapped using a scallop shell, mixed with the fish's own fat cooked on embers, then paired with olive oil, gold flake, and bone-soy gelée. It was tremendous, quite possibly the best raw tuna that I'd ever had, with a perfect salinity augmented by the weight of the sinew. A cup of gelatinous kindai tuna spinal jelly, meanwhile, was surprisingly mild in its brine, and a rice cracker with shrimp and perilla was ridiculous, with a great umami-rich twang tempered by a herbaceous twist from the perilla. I wanted a whole bag!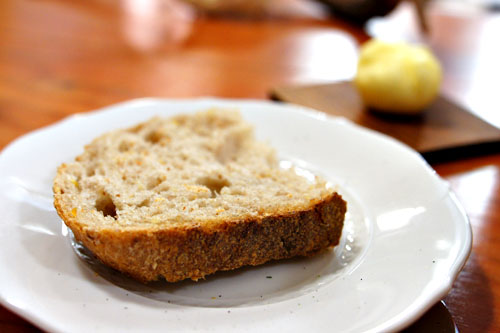 A fantastic
pain au levain
came from the legendary Berkeley-based
Acme Bread Company
, and was accompanied by a house-churned butter laced with gray salt.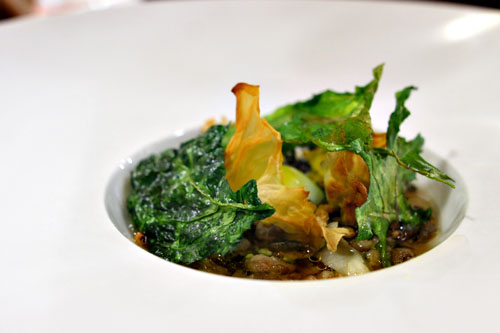 3: brassicas
Ici/La-Bas, "Philippine", Santa Maria 2007
Our next course paid homage to the genus
Brassica
, which contains cabbage, cauliflower, and broccoli, among other species. A variety of the veggies arrived cooked on the restaurant's open hearth, dehydrated, or poached in a bonito bouillon, and was paired with toasted grain, poached quail egg, sea lettuce, and finished with a five-kelp and three-fish broth. I loved the mélange of bitter, vegetal flavors here, as well as the disparate textures at play. At the same time, the egg added an overarching lusciousness to the dish that, along with the umami-rich flavor of the broth, tied everything together. Very nice.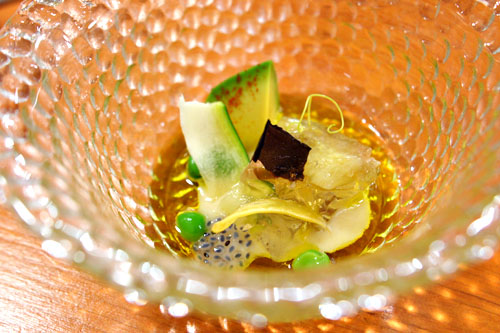 A celebration of the season's best produce, here we had a bowl of corn pudding, okra, fava bean, zucchini, squash, basil-tomato aspic, avocado, salt, eggplant chip, and basil seeds. It was wondrous, with delectably bright, summer-y flavors that were beautifully integrated, while the avocado added a creamy bit of gravity to the fray. I quite enjoyed the additional bit of crisp savoriness from the eggplant chip as well.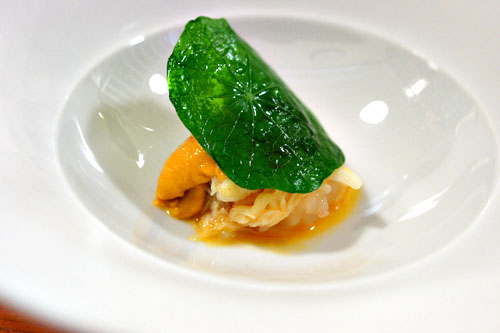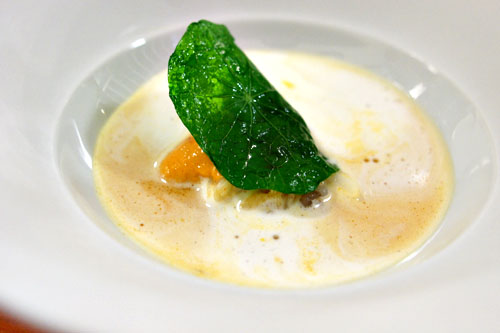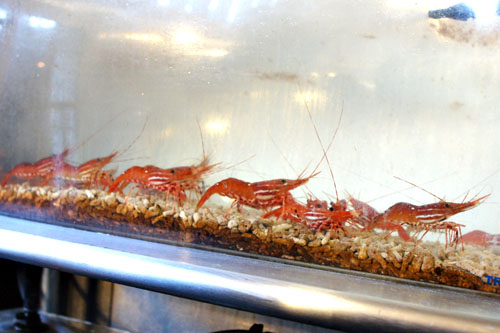 4: wild spot prawn
Boeckel, Riesling, Alsace, France 2009
Ever since we arrived, we were eyeing the tank of spot prawns situated behind our seats, and now we finally got a chance to dig in. The Monterey prawns were cooked in sea water, making for a pure, briny-sweet eating experience that really showed off the inherent nature of the crustacean. Along with the prawn came a mound of lobster tail, Dungeness crab, Santa Barbara uni, and Meyer lemon cream, finished with an orange-basil-tarragon broth. It was superb alone, conveying a saccharine salinity that I adored, while also playing beautifully with the prawn as well.
5: stew
Chateau Couronneau, Bordeaux, France 2009
Our last savory course of the evening brought us a non-traditional rabbit stew. A rabbit mousse arrived wrapped in kale, and was joined by a rabbit confit and silky smooth foie gras. Foraged flowers, leeks, and peas completed the dish. The rabbit was lovely, flavorful, and delicate, and worked wonderfully with the bright, astringent flavors of the veggies. I especially enjoyed the tanginess of the leeks and the verdant crunch of those peas. Impressive.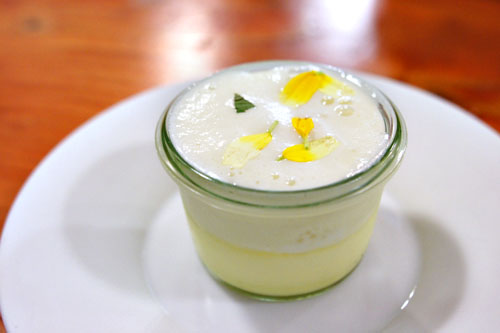 6: preserved lemon 1:27
Strub, Riesling Kabinett, Germany 2008
Our first dessert brought forth lemon that had been preserved exactly seven months ago (on 1/27). It arrived in candied, custard, gelée, and sorbet forms and was joined by chrysanthemum foam and flowers. I loved the multiple ways that the lemon was presented, and how the fruit's tart, sour smack was moderated by the herb-y tang of the chrysanthemum. I often find lemon desserts overly tart, blunt even, but this had
finesse
in droves.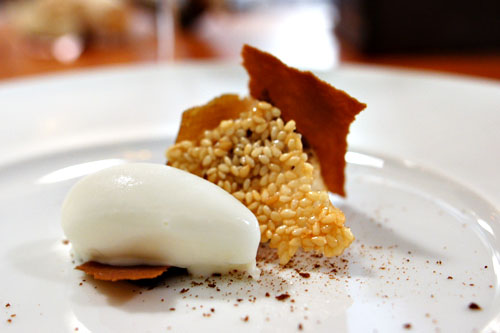 7: chocolate
Singla, Rivesaltes Ambré 2008
Following was a dessert comprising caramel, white chocolate, rice sorbet, and a sesame chip. I appreciated how the sugary, caramel-y sweetness of the dish was so deftly tempered by the relative austerity of that sorbet, while the sesame contributed a great earthy nuttiness to the mix. Nice!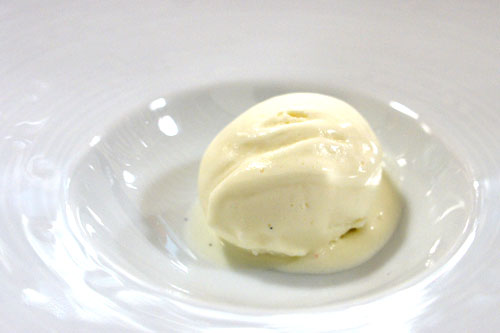 Rounding things out was a single scoop of popcorn ice cream. It was gorgeously buttery and gloriously sugary, one of the best servings of ice cream that I've ever eaten. I wanted a whole pint to myself!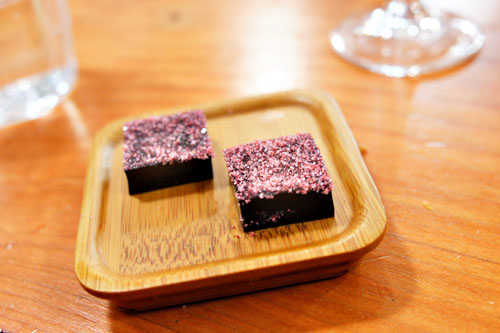 Tasting these raspberry
paté de fruits
was not unlike eating jam straight out of the jar.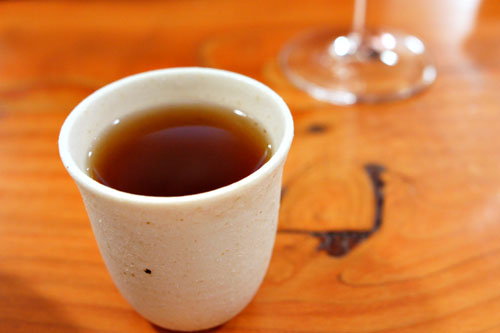 Roasted tea, à la
Urasawa
, to end the meal.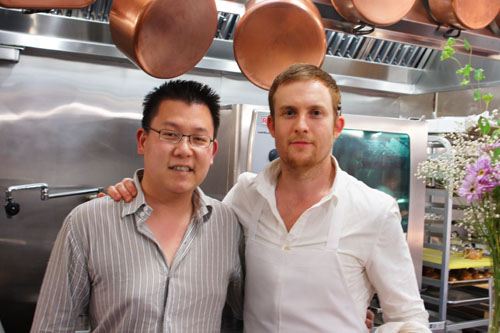 With Chef Joshua Skenes.
Another stellar dinner from San Francisco, and easily one of my top meals of the year. I loved how Skenes was able to so faithfully present the inherent character of his ingredients. Flavors were focused, brilliant, robust, and true to life, simple in some regards, yet wonderfully complex at the same time. The quality of his raw ingredients was proudly on display here, as was the kitchen's skill in taking that produce and improving upon it. A job well done for Skenes and company--I predict another star from Michelin in next year's Red Guide.