Ikko (Costa Mesa, CA)
Ikko Sushi Restaurant
735 Baker St, Costa Mesa, CA 92626
714.556.7822
www.yelp.com/biz/ikko-costa-mesa (restaurant has no web site)
Fri 07/15/2011, 08:45p-10:50p

This past weekend, Angelenos braced themselves for the wrath of Carmageddon, which turned out to be not such a big deal--more of a Carmaheaven actually. Nevertheless, we didn't want to risk braving Carpocalyptic traffic conditions, so we limited our dining options to within the Orange Curtain. After making our way down a shortlist of potential eateries, we settled on Ikko, a well-regarded Japanese "fusion"
kappo
in Costa Mesa, located behind
The CAMP
in quite possibly the world's dimmest strip mall. Ikko is the brainchild of Chef/Owner Ikko Kobayashi, who opened up the place about eight years ago with his wife Masako (who also manages the restaurant).

On the inside, you'll find a cozy space replete with a 10-seater sushi bar and a sextet of tables.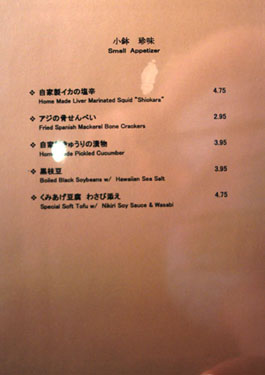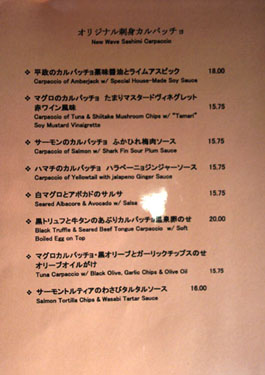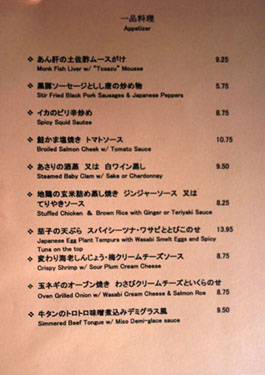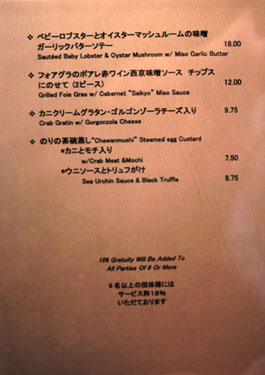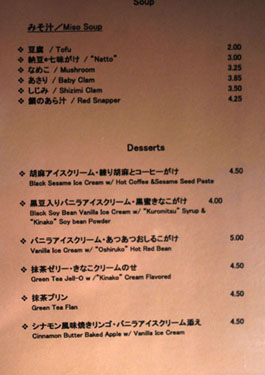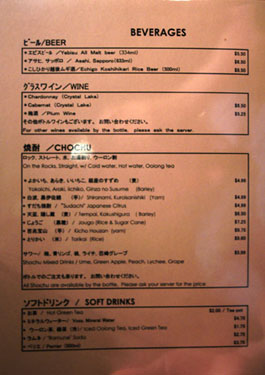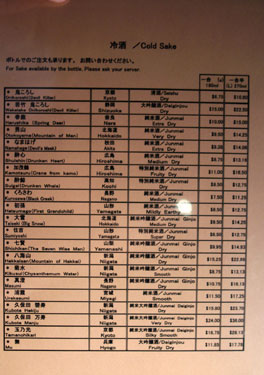 Ikko's menu is surprisingly vast, and features a large selection of interesting dishes, many of which showcase Ikko-san's facility with Western ingredients. Click for larger versions.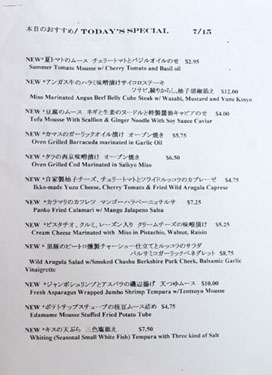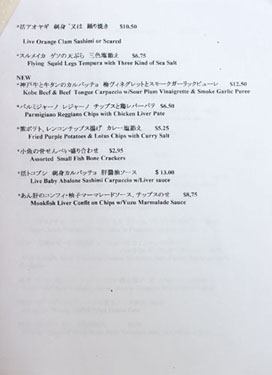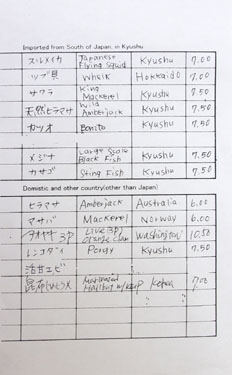 To best convey Ikko's "free form" cuisine, the restaurant offers up
omakase
at $60, $80, and $100 price points, and of course, we went with the third option. However, if you'd like to go à la carte, I'd recommend focusing your energies on the daily-changing list of seasonal specials, which includes a number of interesting sushi selections. Click for larger versions.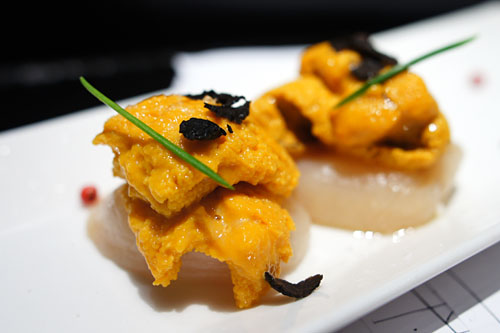 1: Scallop, Sea Urchin, Black Truffle
We kicked things off with Ikko's suitably luxurious "signature" starter: a couple dollops of uni, set atop a disk of
hotate
sashimi, all garnished with a few shaves of black truffle and a sprinkle of pink peppercorn. This was a great way to start the meal. I loved the heady, pungent attack of the truffle, and how that interacted with the sweet, creamy lusciousness of the urchin and scallop combination. Meanwhile, the peppercorn left a lovely, lingering spice that I absolutely adored.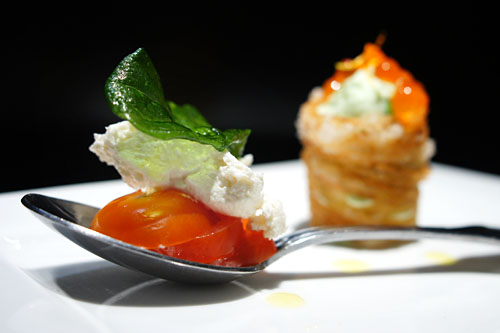 2a: Ikko-made Yuzu Cheese, Cherry Tomato & Fried Wild Arugula Caprese
Next up was a riff on the classic
insalata Caprese
, one that substituted yuzu cheese for mozzarella. This made for a delightful tanginess on the palate, which was deftly balanced by the juicy sweetness of the tomato, while the arugula added a touch of astringency to things.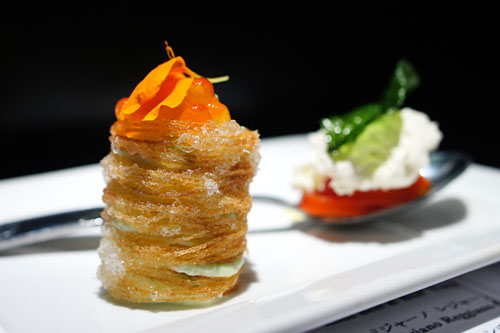 2b: Edamame Mousse Stuffed Fried Potato Tube
Along with the reimagined Caprese salad came one of my favorite things of the night. I loved how the essence of edamame was so expertly captured in the light, fluffy mousse, replete with bits of soybean thrown in for extra textural variation. At the same time, the key was the potato, which contributed a perfect countervailing saltiness and crunch to the dish. I didn't get too much from the ikura though.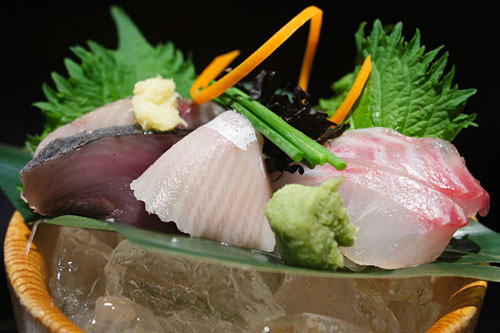 3: Sashimi Selection
Ikko's presentation of sashimi recalled that of a less over-the-top
Urasawa
. From right to left:
Porgy - I started with the Kyushu-sourced porgy, otherwise known as madai, which had an expectedly snapper-like character: tender and delicate, with a flavor that was really brought out by the application of soy sauce.
Yellowtail - Hamachi was fatty as it typically is, with a rich flavor beautifully moderated by the sprigs of chive.
Bonito - Also hailing from Kyushu was the katsuo, which had a simply fantastic mouthfeel. Its flavor was quite strong as well, and thus went marvelously with a dab of ginger.
King Mackerel - I closed with the king mackerel, which some refer to as sawara. It was surprisingly mild for mackerel, and had a nicely supple texture that made for wonderful eating.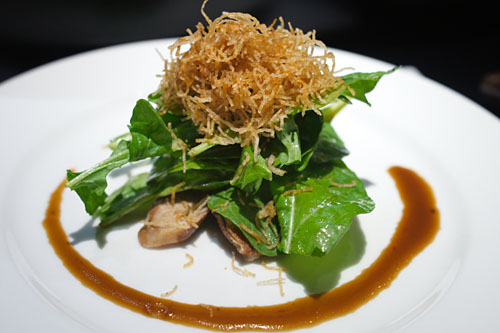 4: Wild Arugula Salad w/ Smoked Chashu Berkshire Pork Cheek, Balsamic Garlic Vinaigrette
Pork was surprisingly tender, with a great smoky sweetness that recalled the essence of cold BBQ. The meat was deftly augmented in flavor by the paired balsamic dressing, and I appreciated how the arugula served to temper the dish. I really enjoyed the crunchy bits on top, too.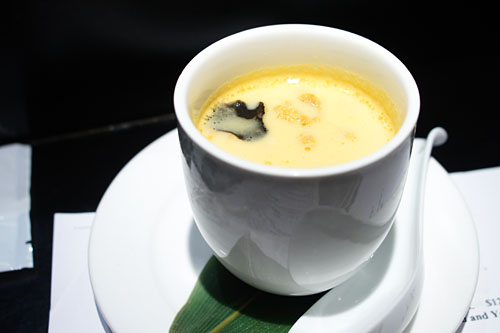 5: "Chawanmushi" Steamed Egg Custard, Sea Urchin Sauce & Black Truffle
Of all the
chawanmushi
that I've had over the years, this was arguably the most decadent. The course showed off an intense, aromatic nose of uni, and the combination of the urchin and egg custard worked flawlessly in concert with the earthy relish of truffles. An über-luxurious interpretation of a classic dish.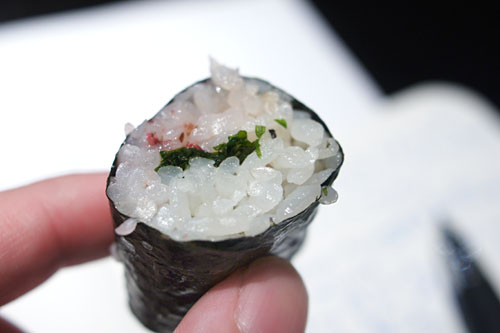 Sour Plum Paste and Shiso Roll
At this point, one of Ikko's regular customers, who was sitting next to us, offered us pieces of his ume and shiso maki roll. This was a tangy, piquant bite that served as an effective palate cleanser of sorts.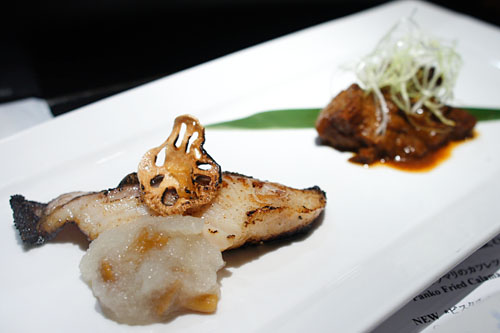 6a: Oven Grilled Cod Marinated in Saikyo Miso
Cod, not surprisingly, was fatty, oily, and unabashedly rich, with a nicely flaky consistency to boot. Its fishy flavor definitely made itself known, and was adroitly moderated by the subtle sweetness of the cod's
saikyo miso
marinade.
6b: Simmered Beef Tongue w/ Miso Demi-glace sauce
Next up was Ikko's tongue, which was quite unlike any other that I've ever had. It was thoroughly tender, in the same vein as braised beef, and conveyed a marked bovine sapor tinged with just a bit of sweetness. Upon tasting this course, I was instantly reminded of Chinese-style
hong shao rou
!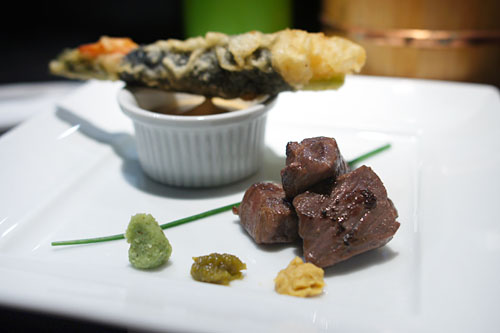 7a: Miso Marinated Angus Beef Belly Cube Steak w/ Wasabi, Mustard and Yuzu Kosyo
Cubes of Angus, unfortunately, were a bit too overdone for me, muting some of the beef's inherent flavor, and were also chewier than I would've liked. They certainly weren't bad, however, and went especially well with a dab of
yuzukosho
.
7b: Fresh Asparagus Wrapped Jumbo Shrimp Tempura w/ Tentsuyu Mousse
A tempura of asparagus and shrimp, on the other hand, was superb. I appreciated how the shrimp were cooked though, yet still retained a pleasing consistency. At the same time, the crustacean's natural sweetness was expertly balanced by the crisp bits of asparagus, and the whole amalgamation was tied together by the crunchy tempura batter. In addition, I loved how the Chef creatively rendered the traditional
tentsuyu
dipping sauce in mousse form.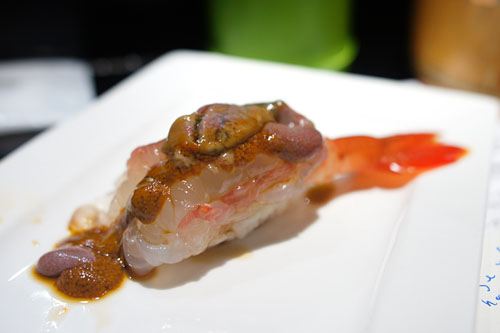 8: Sweet Shrimp
Our parade of sushi began with one of my favorites, sweet shrimp. The
amaebi
were dispatched right before our eyes, and showed off a perfectly fresh, snappy consistency. The use of innards and roe as a topping, meanwhile, heightened the shrimp's inherent brine.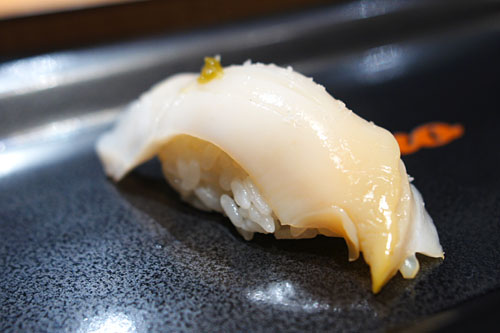 9: Whelk
From Hokkaido came whelk, a type of edible sea snail that you don't see offered in sushi form all too often. That's a shame though, because it was rather tasty, with a crunchy yet yielding consistency and a flavor that was both sweet and saline.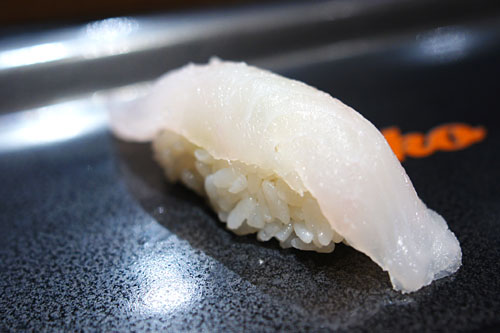 10: Sting Fish
Now here was a new one for me: stingfish, or scorpion fish, from Kyushu. Known in Japanese as
kasago
, it possessed a slightly chewy texture, along with a mild flavor that was adeptly set off by a sprinkle of sea salt.
11: Seared Toro
Seared toro was a just-about-perfect example of the style: virtually melt-in-your-mouth, with a profound richness and considerable depth of flavor that left me wanting more.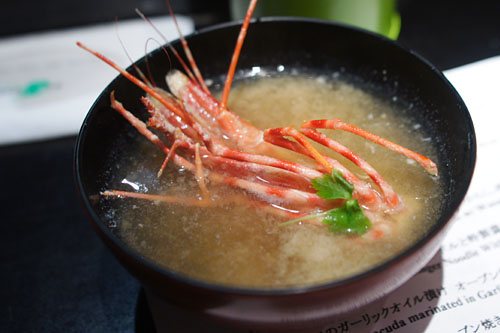 12: Miso Soup with Shrimp Head
The heads from the aforementioned sweet shrimp were made into soup, the ocean-y flavors of the
amaebi
playing wonderfully off the umami-rich essence of miso.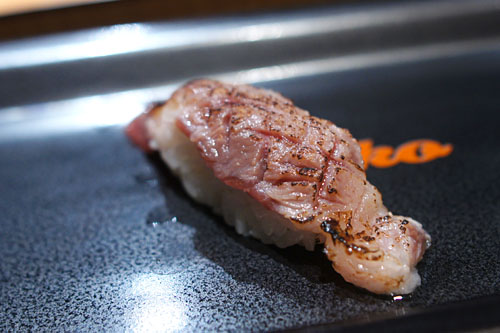 13: Iberico Pork
Another first for me,
pork
sushi! And not just any pork, but
butaniku
made from famed
ibérico
hogs. As expected, the meat was suitably sumptuous, a great mix of fatty and savory flavors tinged with a subtle smokiness from the char. Very nice--I'd like to see this at more places.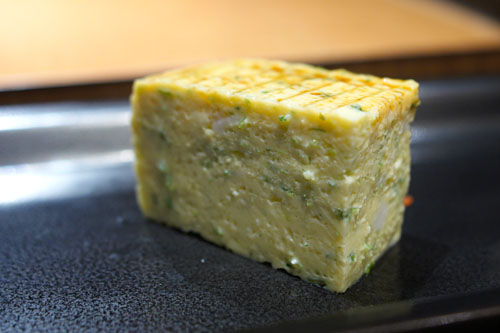 14: Tamago
We concluded the savory portion of the meal with the traditional closer of
tamagoyaki
. Ikko's interpretation was light on sweetness, with a nice bit of vegetal tanginess from the inclusion of scallion.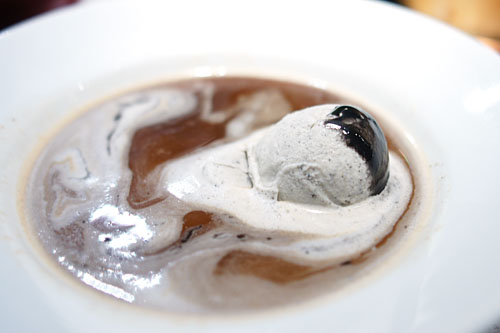 15a: Black Sesame Ice Cream w/ Hot Coffee & Sesame Seed Paste
For dessert, you get to pick from Ikko's standard menu, and naturally, we couldn't pass up on black sesame ice cream. I really enjoyed the ice cream's pure, sugary
kuro goma
flavor, and adored how that played against the bitterness of the coffee. Great temperature contrast too.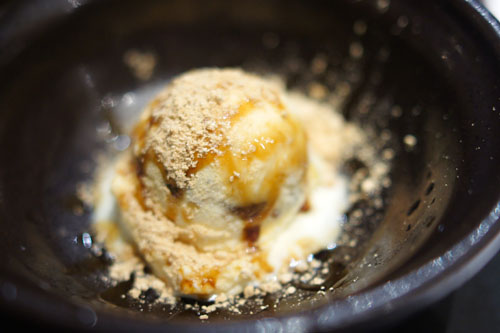 15b: Black Soy Bean Vanilla Ice Cream w/ "Kuromitsu" Syrup & "Kinako" Soy Bean Powder
As good as the previous dessert was, I liked this one even better. The ice cream itself was delicious, but was amped up by its saccharine topping of
kuromitsu
"black honey," a type of sugar syrup. Simultaneously, the
kinako
soybean flour added a certain nuttiness to the dish that did a great job in integrating everything.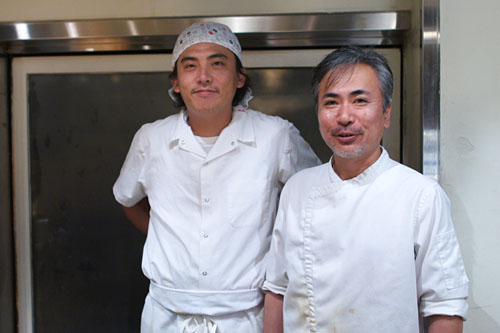 Our
itamae
Take-san, along with chef/owner Ikko-san.
I came in to Ikko expecting some good sushi, but came out with one of the most satisfying Japanese experiences that I've had in a while. It was great to see the Chef's "freestyle" take on traditional cuisine, and it'd be a huge disserve to deem Ikko a mere sushi restaurant. Indeed, rather than calling Ikko the best sushi in OC (which many have done), I'd posit that it just might be the best Japanese
overall
in the county. If you're looking to visit, I'd perhaps consider waiting until the fall for matsutake mushroom season--I hear Ikko-san makes a killer
dobin mushi
with it.