OC Fair Hamburger Chowdown & Giveaway (Costa Mesa, CA)
OC Fair Hamburger Chowdown & Giveaway
88 Fair Dr, Costa Mesa, CA 92626
714.708.1500
www.ocfair.com
Thu 07/21/2011, 05:30p-07:20p
[UPDATE 2011-07-29: And we have a weiner--thanks to all the participants! I had to disqualify 11 entries (EpicuriousTravels, angiesun, Victor Nguyen, Anonymous{co.apel}, eric, tiffanie, Jennifer Park, OftheSeven, CP, T-Bone, Steve) for not really conveying a "why" and 3 entries (Galen, Andrew, Eileen) for not providing contact info. Of the responses left, I really had a difficult time choosing a winner. I narrowed it down to a few finalists (Raymond Lew, Sam C., Bryan, Joanna Park, JamesP, Clara Lee), but after nearly an hour of deliberation, JamesP reigned supreme for really putting forth a good explanation as to why he wanted those lobster rolls. Everyone else, there's more to come in terms of giveaways: I'll be giving out two *VIP* tickets (worth $250 each!) to this year's Plate by Plate tasting, so check back soon!]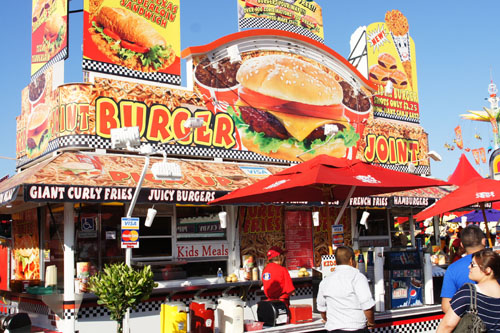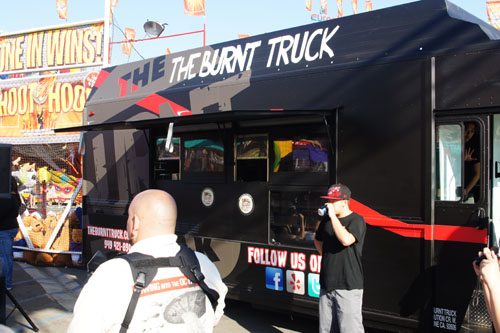 Yes, it's sad but true. I'd never been to the fair before. Thus, to make up for my deprived (depraved?) childhood, I quickly jumped on the chance to participate in the Orange County Fair as a food challenge judge. The Fair runs this year from July 15th to August 14th, and features the theme of "Let's Eat!" Fitting for the theme are the first-ever Fair Food vs. Food Truck Chowdowns, in which local food trucks square off against established fair concession stands every Thursday.
My particular throwdown pitted the likes of the
Burnt Truck
against the Burger Joint stand in a Hamburger Chowdown--
two burgers enter, one burger leaves
, and all that. Future Chowdowns include:
7/28 at 6:00p: Deep-Fried Dessert Chowdown featuring Chicken Charlie vs. The OC Food Truck
8/04 at 5:30p: Fried Potato Chowdown featuring Tasti Chips vs. Tornado Potato
8/11 at 5:30p: Bacon Chowdown featuring Chocolate-Covered Bacon vs. Bacon Mania
If that's not enough, non-competing food trucks will be lined up at the fairgrounds ready to serve as well. Trucks scheduled to appear include:
Chunk-n-Chip
,
Dogzilla
,
Dos Chinos
,
The Greasy Wiener
,
Grill 'Em All
,
The Grilled Cheese Truck
,
India Jones Chow Truck
,
Lobsta Truck
,
Ludo Truck
,
Piaggio on Wheels
,
Seabirds
,
Shrimp Pimp
,
SlapFish
, and
White Rabbit
.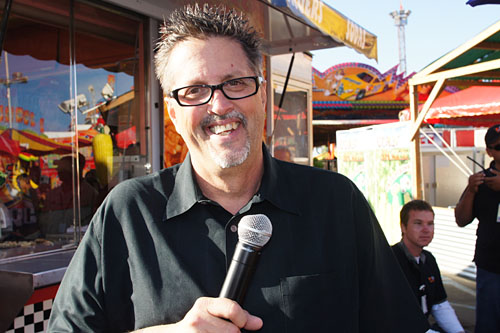 Hosting these battles is none other than the ever-ebullient Dan Iehl. Dan and his wife Jane run
Gourmet Food Trucks LLC
, a company that focuses on social media management for food trucks.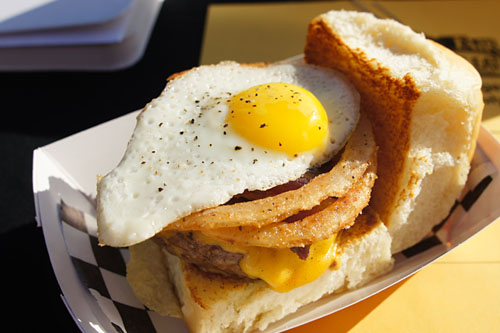 Our first contender was
The Burnt Truck
, a local gourmet slider purveyor helmed by chef-owners Paul Cao and Phi Nguyen, as well as partner Minh Pham. The team submitted their Western burger, made with Angus beef, American cheese, TBT BBQ sauce, crispy bacon, and crispy onion strings, all topped with a fried quail egg. It was a lip-smacking combination, with a fantastic juiciness and lusciousness from the beef-cheese pairing, along with an additional bit of saltiness from the bacon. At the same time, I appreciated the textural component of the onion strings, while the BBQ sauce added a smart amount of sugariness to the mix. I liked the inclusion of the runny egg, but did feel that its contribution was somewhat muted here. In the end, a lovely slider, which interestingly enough, reminded me of Carl's Jr's Western Bacon Cheeseburger!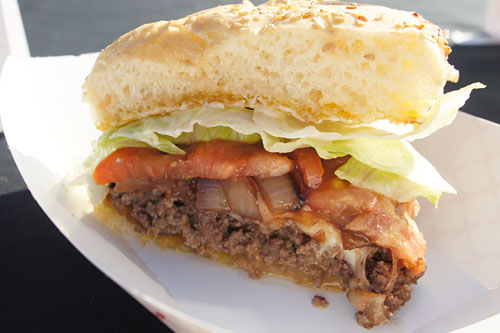 Up next was 13-year fair veteran Dominic Palmieri, who operates the likes of Candy Factory, Enzo's Pizzeria, Squeezers Lemonade, Corn Shack, and of course, Burger Joint. In the grand tradition of fair food, Burger Joint's Belly Buster Burger is appropriately ginormous. We're talking 13-inch bun, 10 slices of cheese, eight slices of tomato, 30 slices of pickle, and half a head of lettuce, all weighing
four pounds
(sounds like a challenge for
Christine
). Not surprisingly, it was a messier, less refined affair vis-à-vis its competition. The patty itself was tender, and suitably succulent, with a nice offsetting lightness from the onion and lettuce. However, the burger also possessed an almost strawberry-esque sweetness to it, which I found a bit disconcerting.

With the two vying burgers firmly down our gullets, we anxiously awaited the verdict...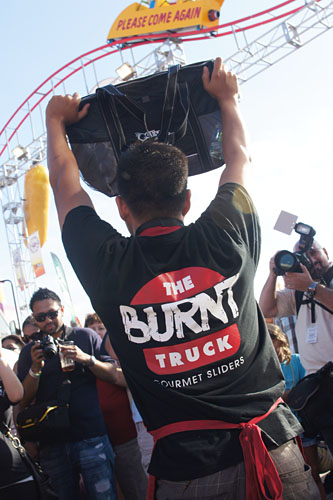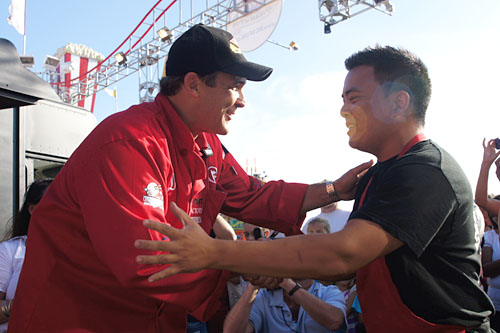 ...
The Burnt Truck
reigns supreme! The loss proved jarring for Palmieri, who had, just a day earlier, used his Belly Buster to snag the Best Single Item award at the Concessionaires Cup's, an annual event in which various fair food vendors compete amongst themselves. He was gracious in defeat though, and made sure to congratulate Chef Cao.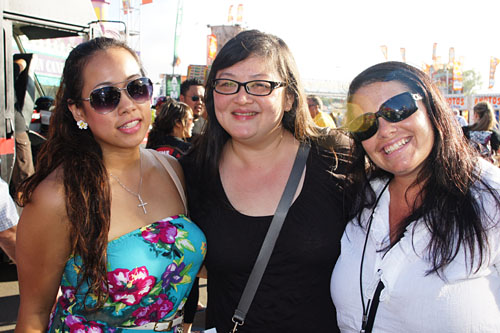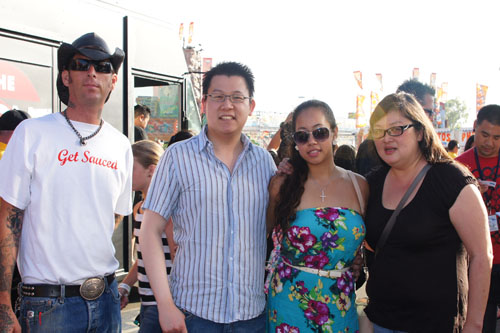 My fellow judges: chef/caterer Phil Knoke of
OC Rock 'n Roll Chef
; restaurant social media & marketing consultant Marian Bacol-Uba of
Marian the Foodie
; and food writer Anita Lau of
Mad Hungry Woman
, along with event organizer Robin Wachner, Communications Director for the OC Fair & Event Center (who selected me as a judge).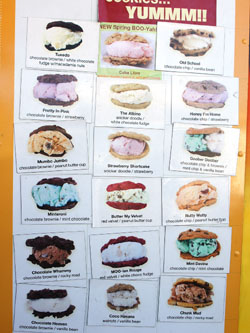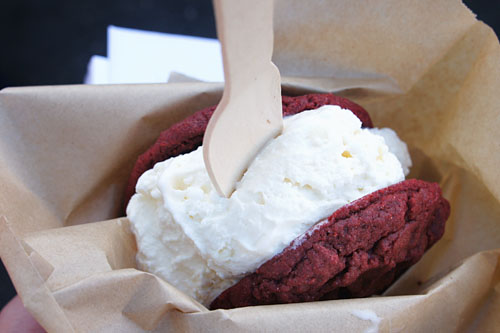 With our bellies full of burger, we were craving dessert, and headed over to the
Chunk-n-Chip Cookies
truck to sample some of founder Claudia Gonzalez's ice cream sandwiches. I ended up going with the "Moo-lan Rouge," which showed off a great interplay between its warm, crumbly red velvet cookie and white chocolate fudge (loved the textural contrast of the chips in the ice cream). Yum!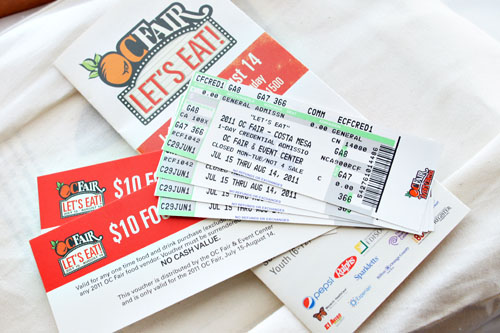 Ticket Giveaway!

The OC Fair runs all the way through August 14th, so there's still plenty of time to attend. To make that easier, I'm giving away a four-pack of tickets along with two $10 food vouchers, a $64 value in total! And yes, pictured to the left are the actual tickets that you'll receive.

To win, just leave a comment telling us which culinary delight you'll be looking forward to the most at the Fair, and why. Crave those massive turkey legs? Sure! Or are you going to be one of the many in line for The Grilled Cheese Truck? No problem.

So simple, but be sure to leave your name and contact information. Entries must be received by the end of Thursday, July 28th, and I'll announce a winner Friday. Good luck!