Restaurant Komasa (Los Angeles, CA)
Sushi Komasa
351 E 2nd St, Los Angeles, CA 90012
213.680.1792
www.yelp.com/biz/restaurant-komasa-los-angeles (restaurant has no web site)
Sat 07/23/2011, 07:15p-08:15p

Emboldened by my recent visit to
Hama Sushi
, I decided to hit up Restaurant Komasa, which happens to be located just two doors down. Komasa is helmed by Hokkaido native Minoru Motoyama, while his wife Setsuko helps run the front-of-the-house. The Chef boasts over 40 years of experience in the sushi trade, the last 20 of which have been right here in Little Tokyo. Interestingly, his older brother Masa runs Oomasa restaurant, also located in Japanese Village Plaza;
ko
means "small" in Japanese, hence the moniker
Ko
masa for the little brother.

Komasa is an appropriate name indeed, as the restaurant is pretty cramped inside. The space is dominated by a 10-seater sushi bar, while there are also about a half-dozen tables to round things out.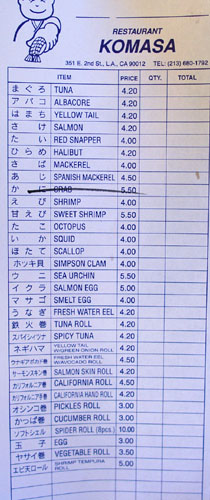 As was the case with
Hama
, Komasa's menu only includes the usual suspects, and there's no
omakase
option either. There is, however, a separate selection of non-sushi dishes, though we were strictly here for the
nigiri
. Click for a larger version.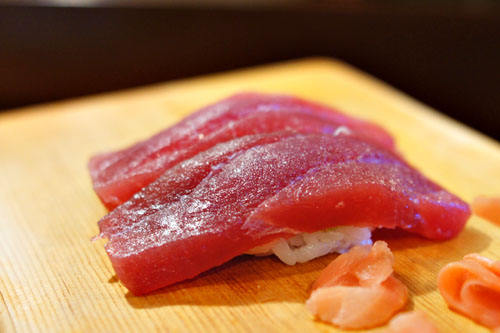 Tuna [$4.20]
We kicked things off with a textbook tuna: silky, dense, and delicious. A promising start to the meal.
Salmon [$4.20]
Salmon was also quite nice, with a luscious, luxurious mouth feel. To quote
Linda Richman
:
like buttah
.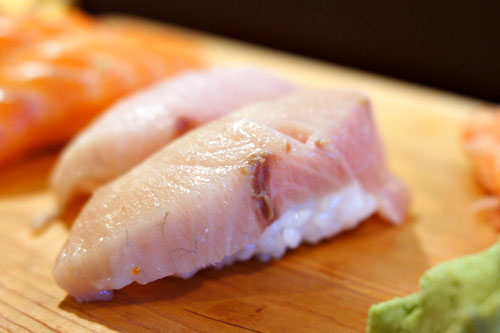 Yellow Tail [$4.20]
Hamachi was prototypically fatty, with a palate-coating consistency and a rich flavor that was deftly offset by the application of wasabi.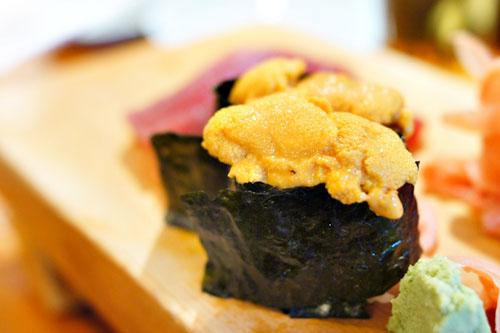 Sea Urchin [$5.50]
Uni's a must-order, and Komasa's version was creamy and mild, with a lovely bit of tempering flavor from its nori wrapper.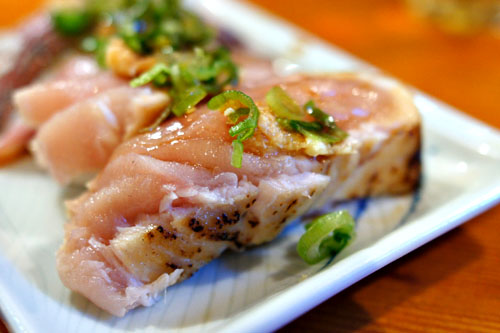 Albacore [$4.20]
As is the case at most sushi places, albacore came slightly cooked. The light sear actually served to heighten the fish's flavor, and I appreciated the moderating effect from its tangy ponzu dressing.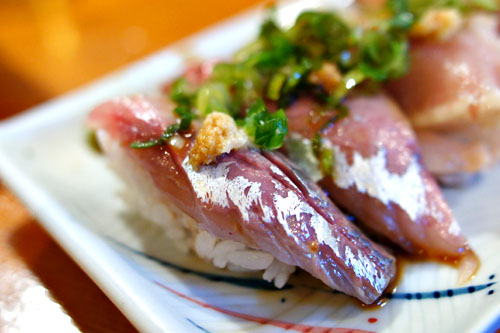 Spanish Mackerel [$4.50]
Aji is consistently one of my favorites when it comes to
nigiri
, and tonight it was no exception. The mackerel was delicate, yet distinct, with a great countervailing piquancy from the ginger and scallion.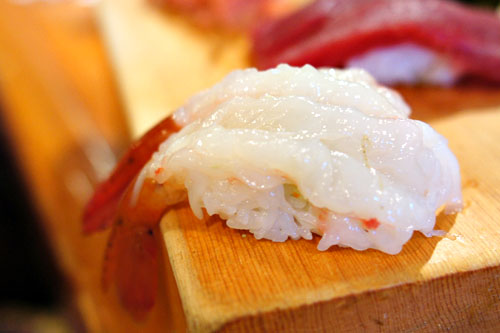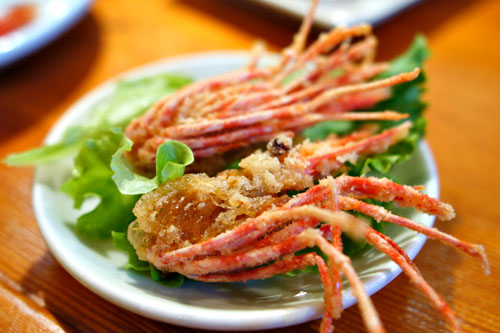 Sweet Shrimp [$5.50]
Of course, we just had to try out the amaebi, and it was pretty much what I was looking for: subtle and creamy, with a creeping wasabi burn. The deep-friend heads, naturally, were delectable as always.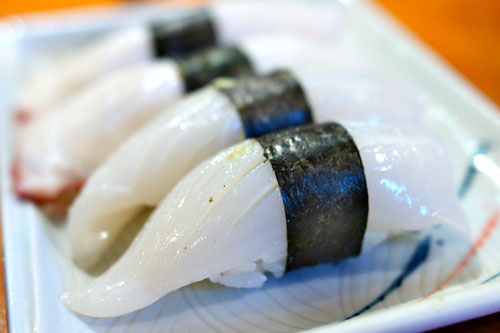 Squid [$4.00]
Squid, meanwhile, was also quite good, managing to be simultaneously crisp yet creamy, with a mild sweetness countered by a touch of wasabi.
Octopus [$4.00]
I usually don't order octopus sushi, but I'm glad I did here. It was one of the better versions that I've had, showing off a tender, but snappy consistency and a long, lingering salinity.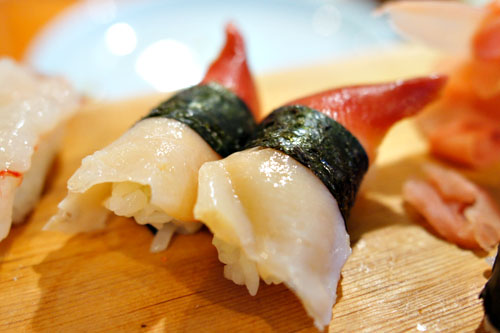 Simpson Clam [$4.00]
When I saw "Simpson Clam" on the menu, something that I'd never encountered before, I knew that I just had to try it out. Initially, I thought that this might be
aoyagi
or even
akagai
, due to the "tongue." Well, it turns out that
Simpson
is a misnomer; upon doing some research, I discovered that what we have here is the
Thompson Stimpson
clam, more commonly known as surf clam, or
hokkigai
in Japanese. In any case, the clam was pretty non-threatening, with a supple, almost spongy consistency and a subtly saline sapor.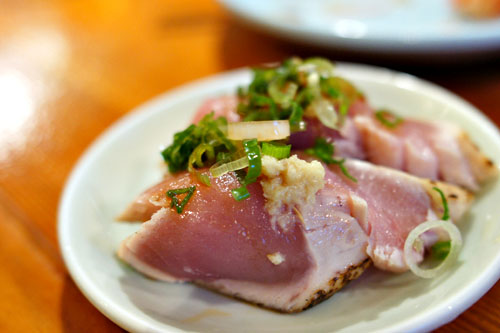 Albacore [$4.20]
Another round of
binnaga
, somewhat creamier than the last.
Halibut [$4.20]
Halibut was expectedly light. Its accoutrements of scallion, ponzu, and
momiji oroshi
added some more complexity to the dish, but I found them rather overwhelming, masking the inherent nature of the fish.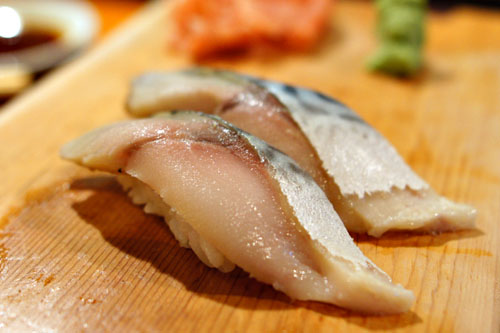 Mackerel [$4.00]
I generally enjoy fishy fish, and mackerel is notoriously so, but this was a bit more than I'd even expected. I would've liked something to balance out the somewhat intense brine here.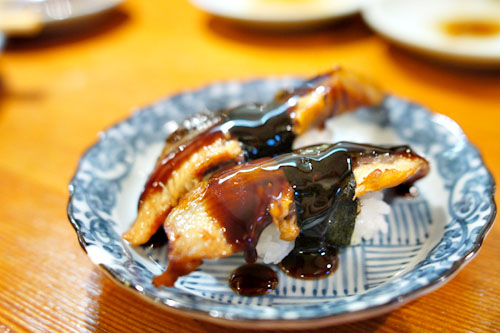 Fresh Water Eel [$4.20]
A summertime delicacy in Japan, unagi was rather tasty--rich and luxurious in consistency, with a nice sweetness from the sauce that managed to complement, but not dominate, the fish.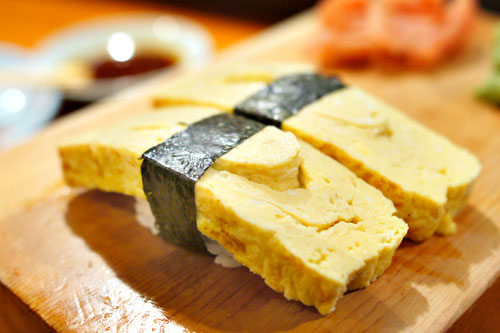 Egg [$3.00]
We ended the evening with the traditional closer of
tamagoyaki
. Komasa's conveyed a nuanced sweetness, with a fitting umami goodness from the nori.
Food-wise, things were very solid at Komasa, and at around $40 per person, it was a reasonable value as well. I'd place it at about the same level as
Hama
next door. My concerns, however, stem from the restaurant's
modus operandi
. Firstly, there was pretty much no interaction at all with the
itamae
, with all communication going through our waitress. More troubling was the pacing, or lack thereof.
Our first seven courses came out in under two minutes
. That is a ridiculous velocity, one that left us trying to stuff sushi into our maws as fast as possible. In the end, Komasa's got some good eats, but the rather harried eating experience will give me some pause about coming back.