Gjelina (Los Angeles, CA)
Gjelina Restaurant
1429 Abbot Kinney Blvd, Los Angeles, CA 90291
310.450.1429
www.gjelina.com
Wed 07/20/2011, 09:00p-12:00a

"Rude employees and owners, Inconsistent food, Stuck up wealthy hipster westsiders, and an ego chef."
See, comments like that about Gjelina concern me. Yet, I heeded them not, and ventured over to Chef Travis Lett's "quintessential" Venice eatery on Wednesday. I'd actually been interested in trying out the place ever since it opened in 2008, but such negative commentary had steered me away until now.
About the Chef
: Lett hails from the wealthy enclave of Chatham, New Jersey, the son of late investment banker-turned-venture capitalist Austin Lett Jr, co founder of
Bollinger, Wells, Lett & Co
. His mother Lyla instilled the future chef with an interest in food at an early age, and Lett decided to seriously pursue cooking in 1998, after experiencing a life-changing meal at Mario Batali's seminal Italian eatery Babbo. Lett enrolled at the University of Colorado at Boulder to pursue an art degree, and during this time, also started cooking professionally. After leaving school, he relocated to Southern California in 2003 and took up a position at Tengu, a trendy Japanese venture in Westwood that shuttered this February.
Following, Lett moved to NineThirty at the W, working under Kelly Courtney before taking on the Exec Chef role himself. Some may recall that
Ludovic Lefebvre
was once slated to run the kitchens here, but ended up at
Bastide
instead. In any case, he lasted six months, then became a private chef, cooking for Hollywood producer Joel Silver. Then by sheer coincidence, Lett met Fran Camaj, an Albanian real estate investor who had purchased 1429 Abbot Kinney through his firm, ADC Development, in 2004. Lett was initially hired as a consultant, but soon became chef/partner of the new venture, named after Camaj's mother. The duo joined forces with GM/partner Robert Schwan (from the nearby Wabi-Sabi, where
Ricardo Zarate
once helmed the stoves), and opened Gjelina in July 2008.
The restaurant was packed from nearly day one, and due to that overwhelming success, Lett planned to open a second restaurant in the unused upstairs space at Gjelina. This new project was supposed to be vegetable-centric, though not
vegetarian
(sounds a lot like
Ubuntu
), but never took off due to complaints from neighbors; up until recently, the space was available for private events. Then, rumors of a possible pizza project began to circulate, rumors that would reach full boil when Lett and company took over the building next door, formerly home to furniture store
French 50s 60s
, in April 2010. Team Gjelina made headlines once again in January this year, when they bought out another property at 1305 Abbot Kinney, but don't expect this
communal dining
-focused eatery to open by its stated summer deadline.
Back at Gjelina, things haven't been going terribly smoothly lately. After petitioning for an increase in allowed seats from 60 to 100 (apparently they had been illicitly seating the latter number for years), the restaurant was slapped with an "order to comply" from the Department of Building and Safety to reduce capacity. To add further insult to injury, the
Venice Stakeholders Association
, which had been battling the increase, is also up in arms over the proposed place at 1305, arguing about the feasibility of the parking situation. And finally, let's not forget about last month's Gordon Ramsay/Victoria Beckham
brouhaha
, in which a pregnant Posh was denied in having her trout salad served with dressing on the side (
#firstworldproblems
).
There is some good news though. GTA (Gjelina Take Away, not Grand Theft Auto) just opened next door to Gjelina last month, and features homemade breads, meats, pasta, and of course, pizza, all ready to be mobilized. Finally, there's Lett's long-awaited Hollywood project, located at 6445 Hollywood Blvd, the former site of the unfortunately-named and recently-shuttered
Kung Pao Kitty
(which, amazingly, still has a
Myspace
page). This time though, the Chef is ditching his Gjelina crew and teaming up with a new partner. We'll wait and see what happens, but don't hold your breath.

Inside the Studio Peel and
Modern Arc
penned interior, things are sort of what you'd expect given the locale: reclaimed brick floors, reclaimed oak ceilings, reclaimed pot rack dangled with Edison bulbs. One wall is dominated by a long banquette, while the requisite communal tables and a bar take up center stage. There's also a small, eclectic patio dining area out back, replete with fire pit and a peek-a-boo view into the kitchen. All that adds up to a space that's perhaps perfect for the concept, but also really, really, ridiculously
loud
at times (not to mention painfully dim in places).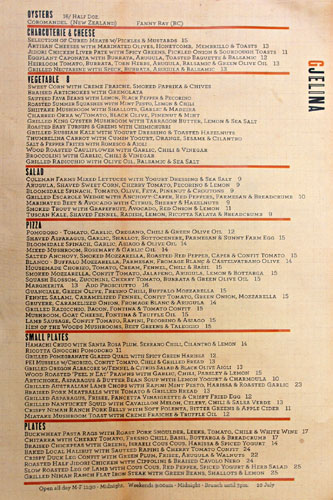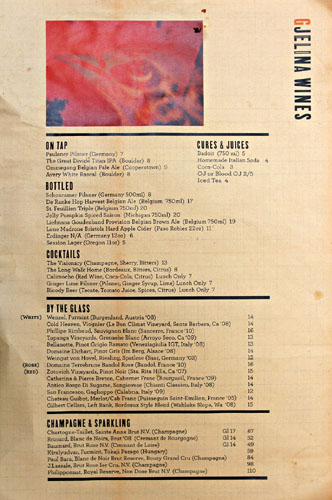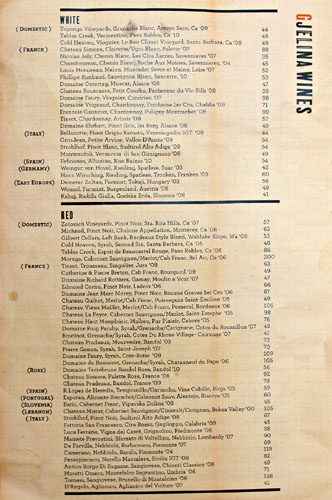 As far as Gjelina's menu is concerned, it's uncomfortably long, and much like the Chef's golden manes, could use a crop. The sheer number of thin-crust pizzas on offer from the wood-burning oven is especially harrowing. As for the tipple, you won't find any of the hard stuff here, but there
is
a respectable list of craft beers and interesting wines. Click for larger versions.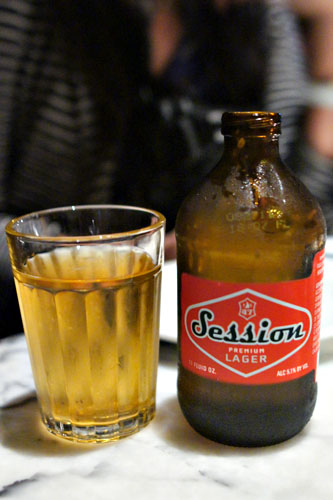 I was in a beer mood, so I went with Full Sail's Session Lager [$5], out of Hood River, Oregon. Designed in the style of a pre-Prohibition era American lager, it was a crisp, subtly hoppy, easy-drinking beer with a bit more "all-malt" character than your typical lager.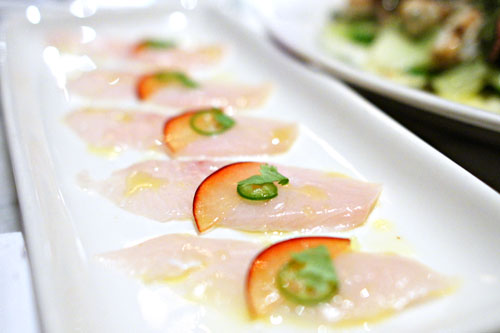 Hamachi Crudo with Santa Rosa Plum, Serrano Chili, Cilantro & Lemon [$14.00]
Crudo was a light, refreshing start to the meal. The yellowtail showed off its prototypical heft, which was deftly tempered by the zestiness of the citrus. At the same time, the serrano lent an overarching heat to the hamachi that really completed the dish for me. Nice lingering spice on the finish, too. My only complaint was that I wanted the fish to be a bit cooler and less room temperature.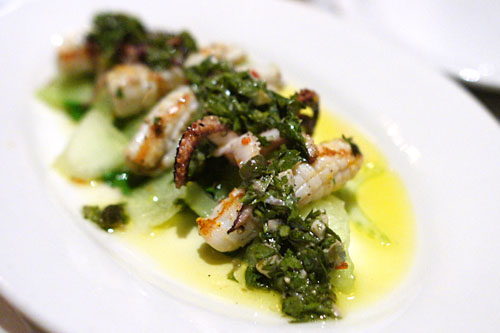 Grilled Nantucket Squid with Cavaillon Melon, Celery, Chili & Salsa Verde [$13.00]
Squid is a must-order for me usually, and I wasn't left wanting here. I found the meat tender and toothsome, with a delightful tanginess from the salsa that countered the cephalopod's inherent brine beautifully. The melon and celery, meanwhile, did a great job in moderating the dish.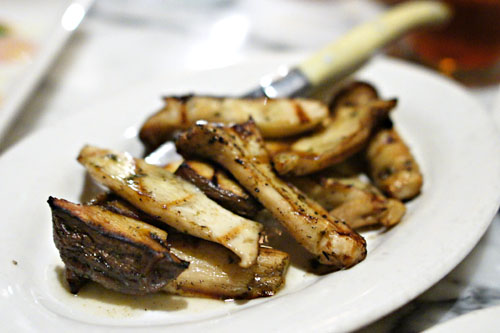 Grilled King Oyster Mushroom with Tarragon Butter, Lemon & Sea Salt [$8.00]
Eringi
isn't something that you see on menus too often, but came recommended by our server. I appreciated the mushroom's chewy, snappy, dense consistency, and how its inherent umami goodness was brought out by the application of butter. The lemon and salt, meanwhile, served to balance out the weight of the dish.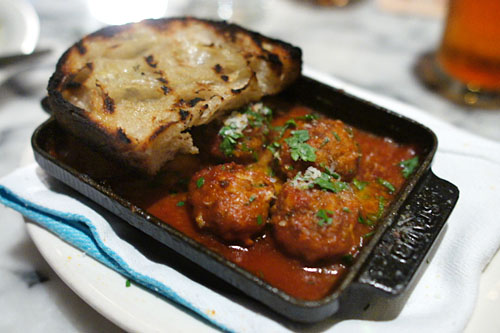 Braised Pork Meatballs with Tomato & Grilled Bread [$13.00]
You can't go too wrong with meatballs, and this was no exception to the rule. They were textbook in flavor, and showed off a supple, coarse consistency that I enjoyed. Very nice when accompanied by a touch of tangy tomato sauce.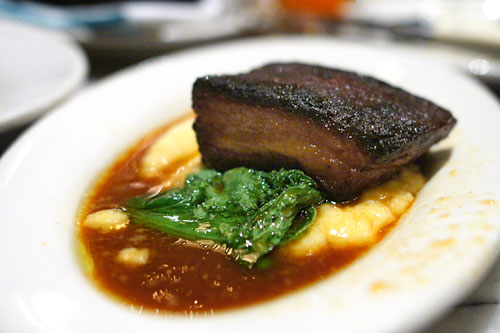 Crispy Niman Ranch Pork Belly with Soft Polenta, Bitter Greens & Apple Cider [$11.00]
Of course, we just
had
to try the pork belly. I was concerned that the meat would be overwhelming, but rather, it conveyed the perfect ratio of lean to fat, with a lovely crisp char to boot. The apple cider also wasn't overly sweet, which I appreciated, and the polenta did an admirable job in grounding the dish. The key here, though, were the greens, which lent a sharp prick of astringency to things that just countered the pork perfectly.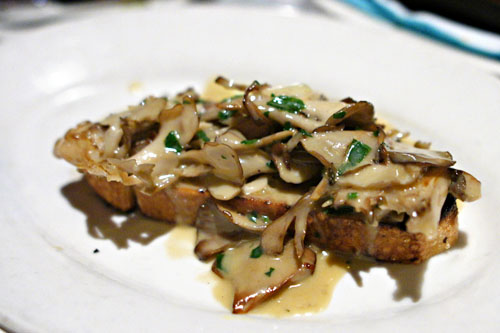 Maitake Mushroom Toast with Creme Fraiche & Truffle Oil [$12.00]
Hen-of-the-woods mushroom was rather delectable, with its savory, earthy essence nicely paired with the creaminess of the crème fraiche, all while the toast served as a fitting stage on which the various ingredients really did sing. Quite nice, and thanks to the use of crème fraiche, the dish was even slightly reminiscent of Beef Stroganoff!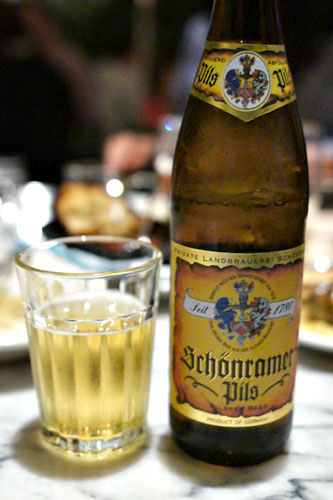 With the Session gone, I ordered up a half-liter of the Schonramer Pilsner [$8], from Schönram, Germany. A nice hoppy bitterness on this one, with just enough herbaceousness and citrus flair to keep things interesting.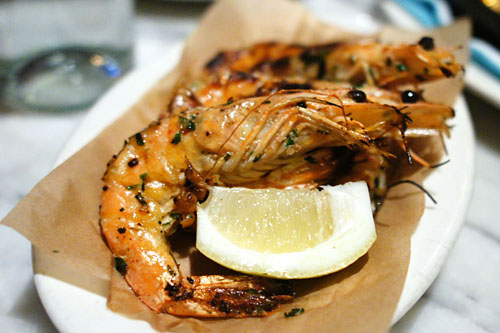 Wood Roasted 'Peel n Eat' Prawns with Garlic, Chili, Parsley & Lemon [$15.00]
Prawns were one of the highlights of the meal for me. They were cooked spot on, and showed off a tender, yet creamy consistency that I adored, along with a sweet, lingering salinity with just a touch of offsetting bitter char. Very nice--try 'em with the skin on for some extra crunch and flavor.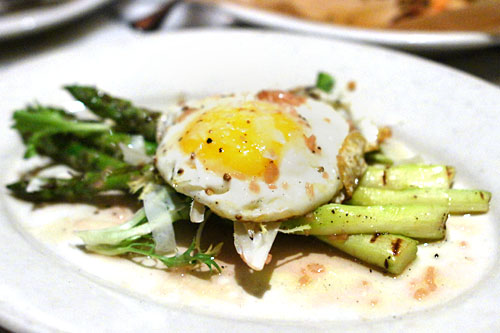 Grilled Asparagus, Frisee, Pancetta Vinaigrette & Crispy Fried Egg [$12.00]
Asparagus, bacon, and fried egg--it's pretty much impossible to mess up
too
badly with those ingredients. Lett certainly did not. The veggies were delish, conveying a delightfully crisp, green astringency that paired marvelously with the lusciousness of that egg. At the same time, the pancetta added a great overtone of saltiness to the mix.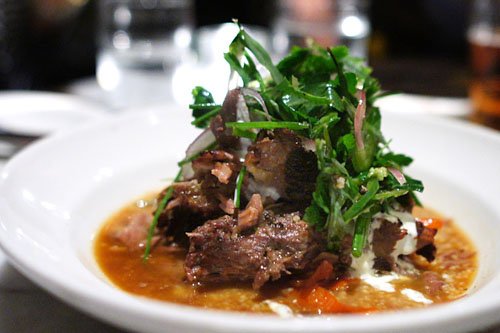 Slow Roasted Leg of Lamb with Cous Cous, Red Pepper, Spiced Yogurt & Herb Salad [$25.00]
The lamb here was nicely tender, but my quibble was that the meat was too dry, lacking in the succulence that I was looking for. What a shame, because the flavors at play were quite wonderful. I loved how the pepper moderated the dark, ovine sapors of the meat, and how the cous cous worked to underpin the dish. The best thing, though, was that herb salad, which did just a superb job in balancing the gravity of the course.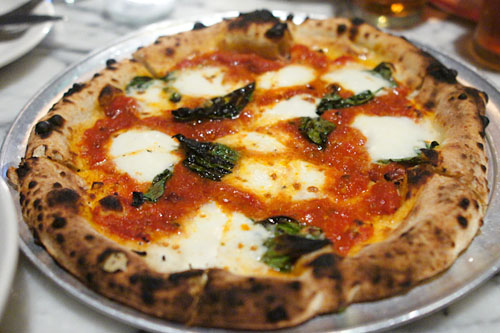 Margherita [$13.00]
Pizza time. Gjelina has taken a lot of flak for its pizzas, so I approached them with some trepidation. Really though, there was nothing to be worried about. This was a textbook margherita, with a balanced interplay of classic tangy tomato, cheese, and basil flavors, with a slight touch of bitterness from the thin crust. It sort of reminded me of the version that I'd had recently at
Sotto
.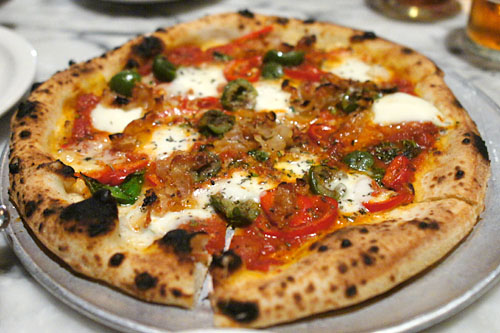 Guanciale, Green Olive, Fresno Chili, Buffalo Mozzarella [$15.00]
For our second pizza, we were craving some meat, so we opted for this guanciale-topped example. The
mozzarella di bufala
formed a fitting base to the pizza, but the star of the show was, of course, the pork jowl. It brought forth an unabashedly salty, porcine relish that played gorgeously off of the piquant flavors of olive and chili. Great lingering spice on this one too.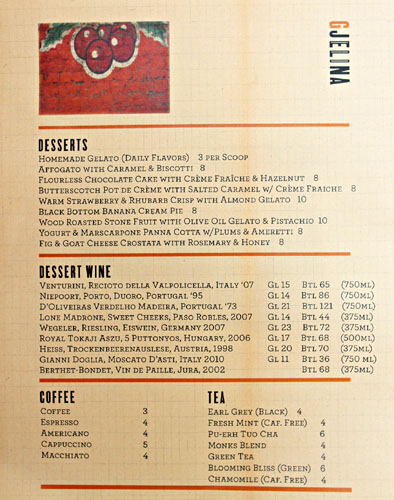 Like the rest of the menu, desserts don't stray too far from the norm either. Click for a larger version.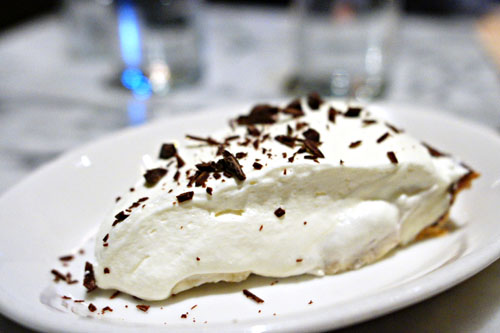 Black Bottom Banana Cream Pie [$8.00]
I'm not usually a huge pie guy, but this was yummy. I thoroughly reveled in the pie's light, airy, almost ethereal consistency, while its whispers of banana flavor worked wonders with the more in-your-face sweetness of chocolate. Rounding things out was a great textural contrast from the pie's base. I do not hesitate in calling this the best banana cream pie that I've ever had.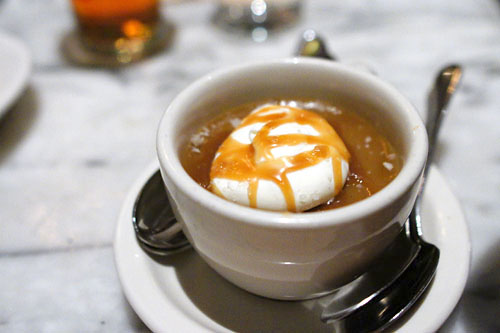 Butterscotch Pot de Crème with Salted Caramel w/ Crème Fraiche [$8.00]
Given Chef Lett's admiration for Mario Batali, perhaps it shouldn't be surprising that Gjelina's signature dessert is a salted butterscotch pudding much in the same vein as
Mozza
's famed
budino
. As expected, the positively decadent, dense, sugary cream was duly countervailed by the salt here, while the crème fraiche served to lighten the dessert. Very nice, though I'd still give the edge to
Wood & Vine
's version.
Somewhat surprisingly, Gjelina was not a disappointment. Given all the mixed reviews surrounding the place, I half-expected the food to be tepid, the wait staff to be insolent. Instead, the service was on-point, and the dishes almost universally tasty. The plates that came out were seemingly simple in nature, but well-executed for the most part, with flavors that were rustic and robust. The restaurant suits the neighborhood near perfectly, and now I understand why, after three years, the place is still a
bitch
to get in to.