Petrossian (West Hollywood, CA)
Petrossian
321 N Robertson Blvd, West Hollywood, CA 90048
310.271.6300
www.petrossian.com/boutique.html
Mon 02/15/2010, 06:40p-11:30p

The story of Petrossian caviar goes back nearly a century, back to two Armenian brothers, Melkoum and Mouchegh Petrossian. Born on the Iranian side of the Caspian but raised on the Russian side, the Petrossian brothers immigrated to Paris during the Bolshevik Revolution of 1917. During the Roaring Twenties, the Petrossians took advantage of the influx of Russian natives to introduce caviar, little known at the time, to the French people. The roe quickly caught on, and since then, Petrossian, with its privileged ties to Russian fisheries, has remained one of the top caviar distributors in the world.
The company is now run by Armen Petrossian, Mouchegh's son, and has since expanded its offerings to include foie gras, smoked salmon, and chocolates, amongst other gourmet items. Petrossian also operates restaurants in New York, Las Vegas (at the Bellagio), and right here in West Hollywood. Formerly an outpost of caviar merchant Aristoff (which Petrossian acquired), Petrossian WeHo opened up as a retail shop in 2001. The place stayed under the radar for years, before closing for four months and reopening as the Petrossian Paris Boutique & Café in July 2009, this time with a full-fledged cafe, serving brunch, lunch, and dinner.
To helm the new restaurant, Petrossian tapped French native Benjamin Bailly. Hailing from Valenciennes in the Nord department of northeastern France, Bailly knew that he was destined to become a chef by the age of 14. After graduating from Lycée Hotelier Sainte-Jeanne D'arc in the commune of Aulnoye-Aymeries, the Chef eventually moved to London to work at the Sheraton Park Tower. In 2004, Bailly relocated to Saint-Tropez to cook at Alain Ducasse's Spoon at the Hotel Byblos. The next year, he transitioned to Restaurant de Joël Robuchon at Monaco's Hotel Metropole, working as a
commis
. Following a year-long stint there, Bailly moved to Paris, serving in an almost "corporate" capacity with Robuchon. During this period, he worked as a
chef de partie
at the Paris outpost of L'Atelier de Joël Robuchon, but also helped open up other Robuchon restaurants around the globe.
Eventually, Bailly transferred to Las Vegas, where he toqued at
Joël Robuchon at the Mansion
(in fact, he cooked for me during my
January 2008 visit
there--small world!) before becoming a Sous Chef at
L'Atelier
. In 2009, Bailly was lured to Los Angeles, where he served a brief tenure under Christophe Émé at
Ortolan
. Interestingly, it was here where Bailly would meet Michael Cherney, who regular readers may remember as the culinary student who invited me to dinner at
Bistro 31
; Cherney currently serves as a
poissonnier
at
L'Atelier Las Vegas
. In May 2009, Bailly joined the Petrossian team as Executive Chef.
Perhaps (probably) because of Bailly, Petrossian has been getting an inordinate amount of press over the past months, with seemingly every food blogger worth his or her salt taking a crack at the place. Given all the publicity, I figured that it was finally time for me to give the place a shot. However, since the praises of Bailly's Black Truffle "Mac 'n' Cheese" and Napoléon Tartare have been sung countless times, I yearned for something special, something that hadn't been done before. Thus, I inquired about a custom menu, to show off the full extent of Bailly's abilities, unhampered by the constraints of Petrossian corporate--the Chef was more than happy to oblige. He even agreed to come in on a Monday (due to scheduling constraints, it was the only day I could come), normally one of his days off!


The old Petrossian underwent a significant remodel at the hands of designer David Davis of Studio Davis, with the room shown in the first photo transformed from office space to a retail/dining area, replete with a tall communal table and display cases for the company's luxurious wares. The second room, a more formal affair, sports black leather banquettes, black-and-white Tinseltown photos, and
galucha
-covered walls.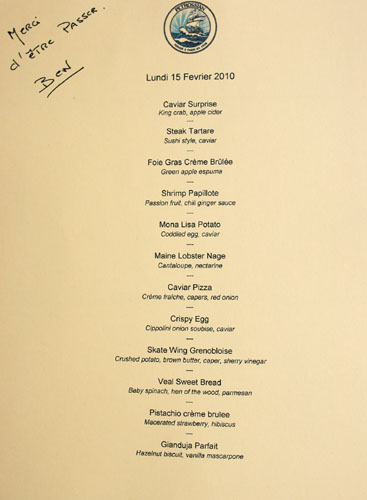 As mentioned above, I wanted to experience a departure from the norm at Petrossian, so a custom degustation was in order. I set a $120 per person budget, but other than that, Chef Bailly had carte blanche to come up with whatever he wanted--the resultant 12-course feast, comprised of typical menu items, new twists on standard dishes, and completely novel preparations, is shown above. Click for a larger version.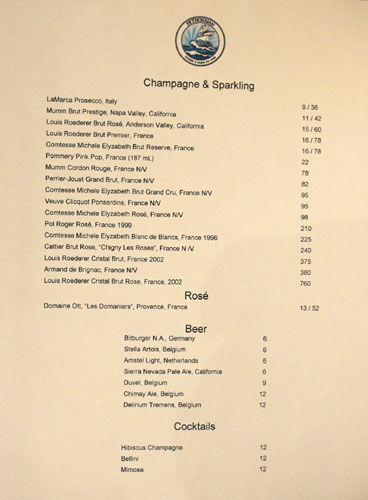 Petrossian offers a small selection of wine, and a smattering of beer. Apparently, they're working on getting a liquor license as well (martini with caviar-stuffed olive anyone?). Click for larger versions.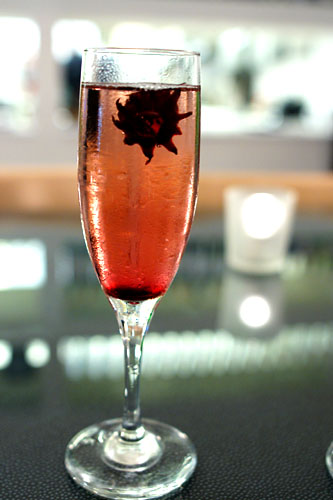 Upon being seated, we were quickly provided complementary glasses of Hibiscus Champagne [$12]. The sugariness of the hibiscus formed a fitting counter to the otherwise dry bubbly, while the flower itself tasted not unlike a Fruit Roll-Up!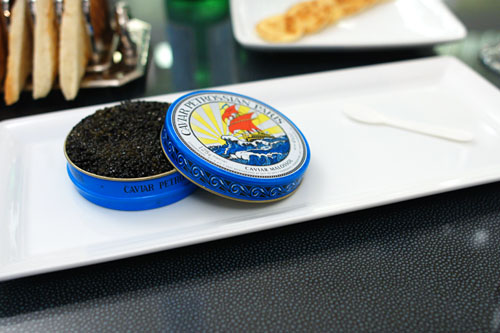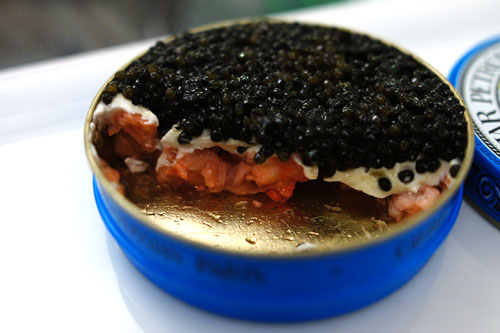 1: Caviar Surprise
| King crab, apple cider
We began with a decadent, seemingly
Robuchon
-inspired dish: crab in apple gelée, crème fraiche, and a generous portion of
Transmontanus Classic Caviar
, all layered in a Petrossian tin and served with blinis and brioche. I first tried a bite of the tiny ebony globules alone. Sourced from Sterling Caviar in Northern California, the white sturgeon roe was distinctly briny, yet subtle--very nice. I then broke through the stratum of eggs with the provided mother of pearl spoon, making sure to get a firm dollop of all three layers. I loved the interplay between the sweetness of the crab and cider, the salty roe, and the cool, mild crème fraiche. A mélange of classic flavors, but perfectly executed--this compared very favorably to Robuchon's version.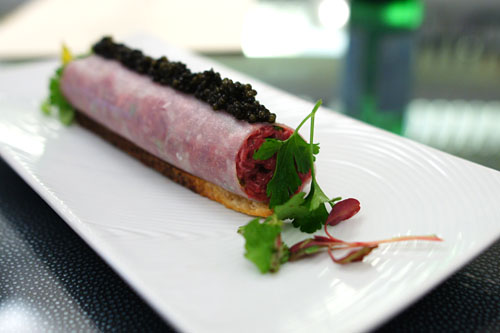 2: Steak Tartare
| Sushi style, caviar
One of the most celebrated dishes at Petrossian is the Napoléon Tartare, composed of alternating layers of caviar and beef. For this very special dinner, Bailly turned to his love of sushi to create this
makizushi
-inspired steak tartare, served here wrapped in soy paper, with toasted bread, and topped with more of that fine Transmontanus Classic Caviar. As expected, the beef was suitably tender, and I really appreciated the meat's slight vegetal tang (in fact, I would've liked even more cilantro--it was a superb complement), set off by the delicate brininess of the caviar. This dish was rather difficult to eat, however; smaller pieces would be better.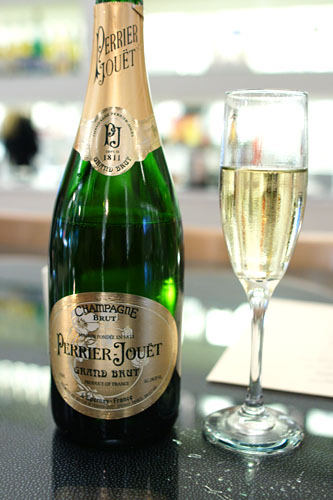 To wash down all this caviar, Champagne was a natural pairing. We went with a bottle of the Perrier-Jouët Grand Brut, France NV [$82], fairly prototypical of the style, but perhaps with a bit more in terms of honey and ginger notes.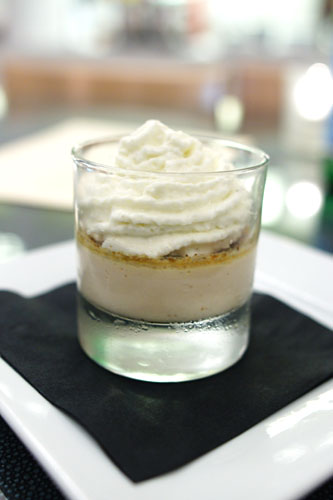 3: Foie Gras Crème Brûlée
| Green apple espuma
Now normally, Bailly serves his foie crème brûlée with an accoutrement of fig marmalade. This time, however, he used a green apple foam instead. This was a fantastic decision. The apple provided a light, gossamer tartness that formed a faultless foil to foie's gravity. To that, the brûlée's caramelized top contributed a delightfully bitter crunchiness, and the whole amalgam was almost dessert-like in character, reminding me somewhat of the foie gras parfait I had at
Per Se
. This was clearly one of the highlights of the meal, and one of the best preparations of foie gras I've ever had, in fact.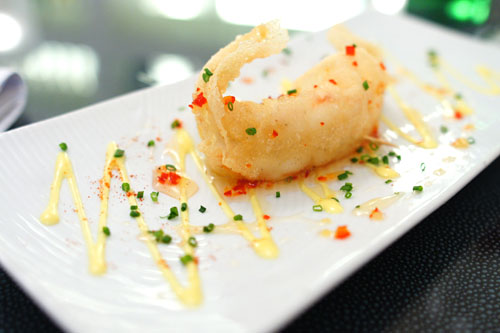 4: Shrimp Papillote
| Passion fruit, chili ginger sauce
Next was a standby from the regular menu, and a favorite of my dining companions. Here, I really appreciated the texture of the shrimp--it was just about perfectly cooked, with a wonderfully snappy, meaty consistency, paired with a subtly sweet sapor. Meanwhile, the included passion fruit and chili added a smattering of saccharine spice into the mix. You can almost think of this as sweet & sour shrimp tempura!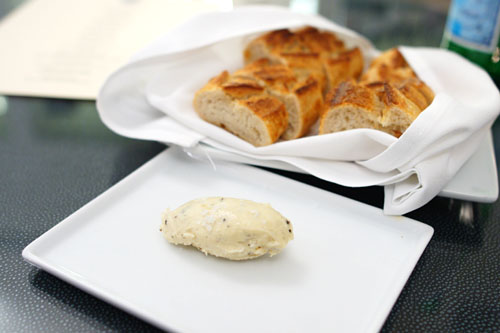 At this point, we were presented with bread and butter--and what a butter! Interleaved with bits of black truffle, it was simply the most intense version that I'd ever tasted. This was the first time where I'd actually taken the bread and butter home with me.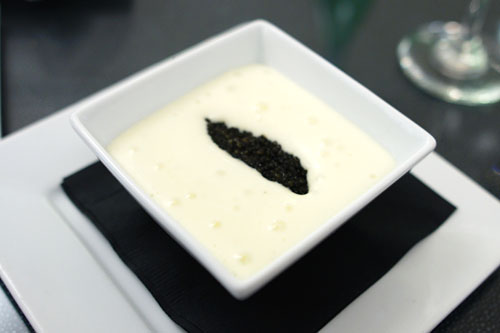 5: Mona Lisa Potato
| Coddled egg, caviar
The "Mona Lisa" here actually refers to the type of potato, which I'd never encountered before. In any case, the potato was transformed into a silky smooth, delicately-flavored potage. Hiding below the surface, however, was a wonderfully runny, gently-cooked egg. Once I broke into it, the yolk spilled out, adding an fantastically immense heft to the dish, a perfect complement to the relative levity of the potato. The caviar, at the same time, punctuated the dish with its piercing saltiness. Gorgeous.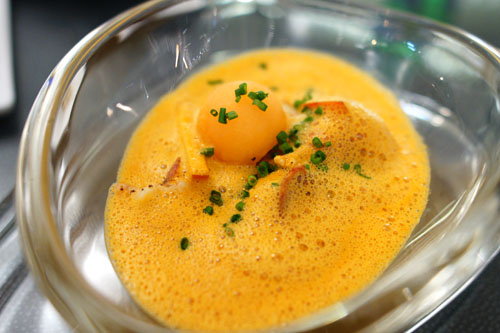 6: Maine Lobster Nage
| Cantaloupe, nectarine
This next gamboge-hued dish consisted of an entire lobster tail, bathed in an almost bisque-like nage, accompanied by fruit. The broth was teeming with the positively heady aroma of lobster, augmented by an opulent, decadent butteriness. The various fruits, meanwhile, acted as a surprisingly good temper to the immense savoriness of the crustacean, and made for a nice temperature contrast to boot. The lobster, though, was a bit overdone for my tastes.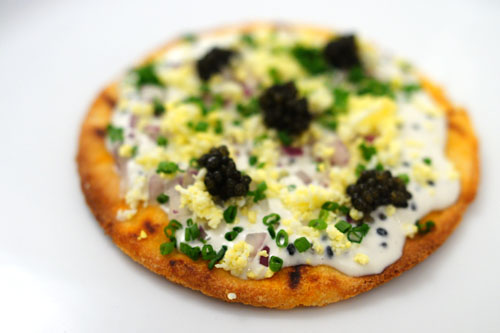 7: Caviar Pizza
| Crème fraîche, capers, red onion
One of the more interesting items on Petrossian's menu is the caviar "pizza," served here in miniature form. The crème fraîche acted as the sauce, tying together all the other toppings. The caviar was quite apparent on the attack, but the finish was all about the tangy red onion. I quite enjoyed the "thin crust!"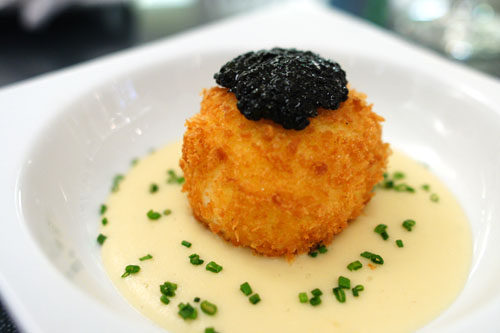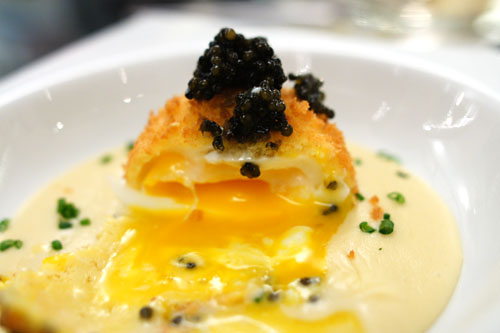 8: Crispy Egg
| Cippolini onion soubise, caviar
The Crispy Egg came in two versions: one using
Pressed Caviar
, and one using the same Transmontanus Classic that we'd be having. The pressed version was much more concentrated in flavor, with a firm, paste-like consistency--I preferred the standard roe. Getting back to the rest of the dish, I adored the luscious, runny egg yolk and its interaction with its crispy, savory,
panko
-esque batter, and how the onion contributed a lingering astringency to the dish. Superb.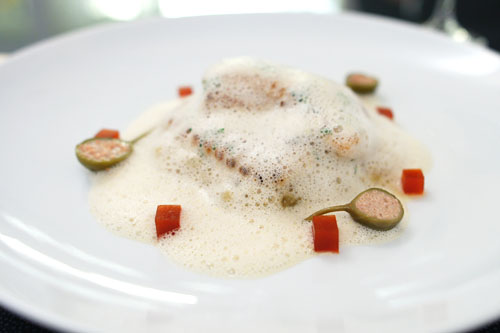 9: Skate Wing Grenobloise
| Crushed potato, brown butter, caper, sherry vinegar
Traditionally,
Grenobloise
refers to a preparation in which
beurre noisette
, capers, lemon, and parsley are used. Bailly's version was delightfully savory, with an absolutely marvelous pepperiness, perked up by the smack of the capers and vinegar gelée. The best part, though, was the fish's ridiculously tender consistency--it literally fell apart on my fork! My only issue was that the brown butter could be a bit overwhelming in certain bites. One of my dining companions even preferred this skate to a version at
Le Bernardin
--I'd agree.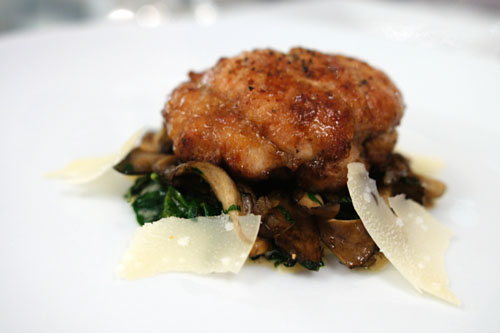 10: Veal Sweet Bread
| Baby spinach, hen of the wood, parmesan
Our last savory course consisted of sautéed throat sweetbreads, complemented with mushrooms, spinach, and Parmigiano-Reggiano. The sweetbreads were beautifully savory at first taste, transitioning to a mild, slightly gamy savor on the close. I loved the use of spinach in moderating the power of the thymus, while the
maitakes
contributed an earthy weight to the dish. My only complaint was that I would've liked a crisper consistency.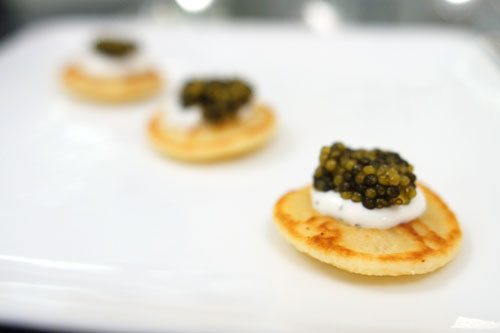 Pre-Dessert: Tsar Imperial Ossetra Caviar
| Crème fraîche, blini
Chef Bailly surprised us with this "pre-dessert" course, comprised of dollops of
Tsar Imperial Ossetra Caviar
, a pricey roe retailing for $208 an ounce. Compared to the other caviar that we had, these tiny beads, awash in beautiful shades of onyx and olive, were much more refined in flavor, with a marked buttery, nutty character that was simply stupendous.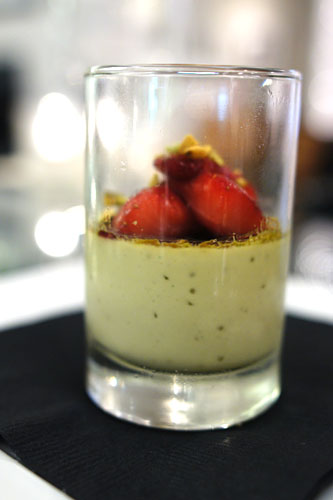 11: Pistachio Crème Brûlée
| Macerated strawberry, hibiscus
The first dessert course was a remarkable crème brûlée, imbued with the ethereal essence of pistachio nut. The sweetness of the hibiscus and strawberry combined with the bitterness of the caramel to form a superb complement to the delectable, beautifully-flavored custard.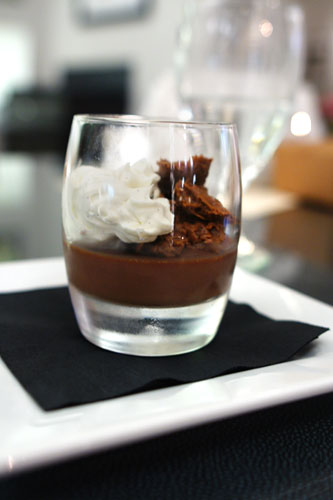 12: Gianduja Parfait
| Hazelnut biscuit, vanilla mascarpone
Gianduja is, of course, a hazelnut-infused preparation of chocolate. Here, it's lip-smackingly sweet-nutty flavor was nicely balanced by the relatively mild mascarpone, while the hazelnut biscuit provided a wonderfully crisp textural element. The whole thing reminded me of a Ferrero Rocher!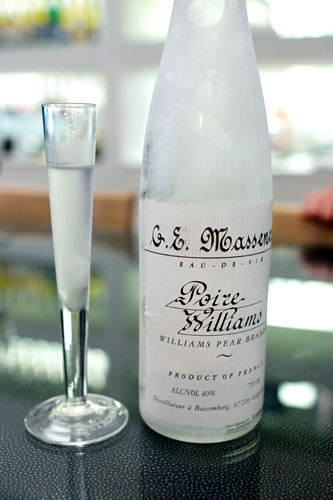 As a digestif, Chef Bailly poured us complementary shots from his personal bottle of G.E. Massenez's Poire Williams, a pear-flavored eau de vie (fruit brandy) from Distillateur à Bassemberg in Alsace. The brandy's nose gave away pure, sweet hints of pear fruit, but on the palate, the eau de vie was suitably hot, yet refreshing, with a long, lingering finish. Nice!

After dinner, we were given a brief tour of Petrossian's rather small kitchen. With only four burners and not too much else, we were told that things can get rather hectic on busy nights. The limitations of the kitchen, unfortunately, also limit what can make it on the menu.
All in all, Bailly crafted a masterful, memorable experience for all of us, in the form of a 12-course extravaganza. The young chef clearly has technique in spades, and a clean, refined but relaxed style. The issue I see is that Bailly is not free to cook what he wants--everything must be scrutinized by headquarters. Famously, the Chef created a small plates menu (probably a wise choice, given the times), only to have the concept nixed. I was able to catch a glimpse of what Bailly is capable of when he's freed from the bondage of his corporate handlers. The higher-ups at Petrossian would be wise to loosen their grip on him and let the Chef do his thing, lest they lose Bailly for good.