Sunny Spot (Los Angeles, CA)
Sunny Spot Restaurant
822 Washington Blvd, Venice, CA 90292
310.448.8884
www.sunnyspotvenice.com
Fri 11/18/2011, 07:00p-11:00p

Someway, somehow, I'd managed to wait almost
an entire year
before making it out to Roy Choi's last venture,
A-Frame
. Given how much I enjoyed that restaurant, however, there was
no way
that I'd be so lackadaisical this time around. And indeed, we ended up with opening night reservations to Sunny Spot,
Papi Chulo
's latest and greatest,
a place where every day is a holiday
, a homage to Caribbean-inspired creations that could be likened to "A-Frame goes on vacation." Helming the kitchens is Beechwood alum Chris Houlihan, while A-Frame's Beth Kellerhalls returns as Pastry Chef.

The former Beechwood building has been transformed by Sean Knibb (who also did A-Frame) into a kitschy, ornate, tropical space, with bold colors, lush textures, and a sense of whimsy--I'm not in love with the vibe, but it'll certainly do. Sunny Spot is divided into three distinct spaces, seating roughly 180 in total: a bouncing Front Room, a more sedate Patio, and the Rum Den (pictured), the most formal environment and the only one to take reservations.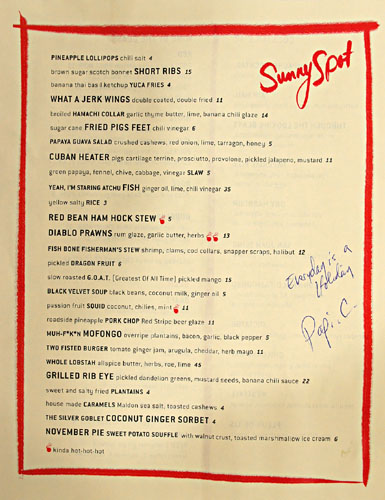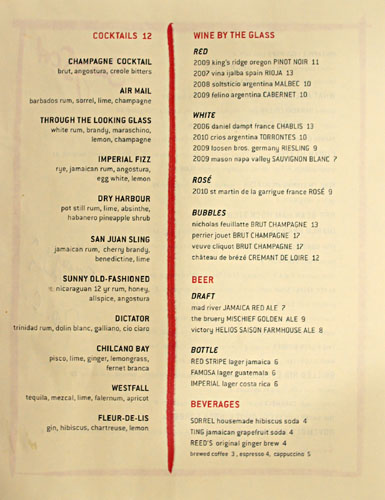 Sunny Spot's menu is surprisingly lengthy, composed, as is the trend these days, of reasonably-priced plates meant for sharing. The food is complement by a focused list of beverages, including cocktails from A-Frame's Brian Butler. Click for larger versions.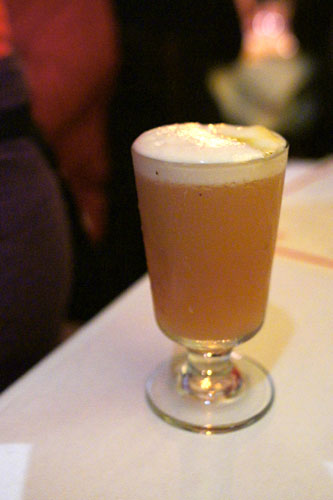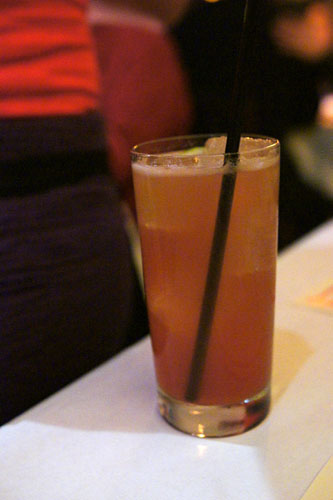 IMPERIAL FIZZ [$12.00]
| rye, jamaican rum, angostura, egg white, lemon
AIR MAIL [$12.00]
| barbados rum, sorrel, lime, champagne
I'm a sucker for frothiness in my cocktails, so I naturally gravitated toward the Imperial Fizz, which showed off a great mix of bittersweet and tangy flavors, while the egg white added some weight and textural play to the drink. The Air Mail was good, though not quite as successful, with loads of tartness from the sorrel and lime, though not much Champagne character.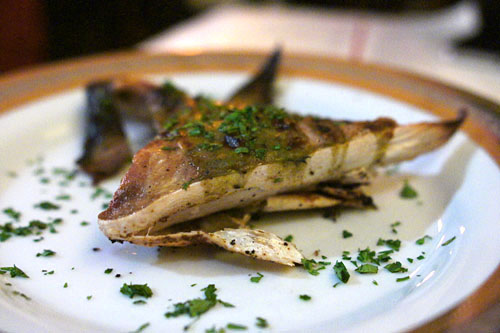 broiled HAMACHI COLLAR garlic thyme butter, lime, banana chili glaze [$14.00]
We kicked things off food-wise with some
hamachi kama
, a super fatty, ridiculously tender cut of fish that was practically oozing oil. It was everything that you'd expect from yellowtail collar, with the added richness of butter. Balancing out all this luxuriousness was the lime and chili glaze, along with a pleasant bit of astringency from the char.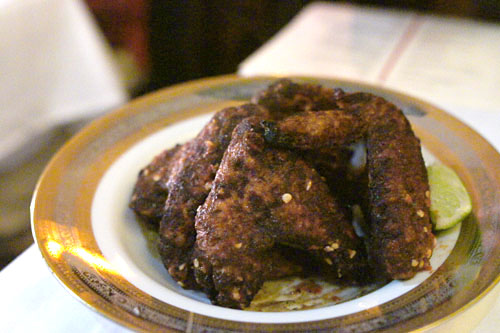 WHAT A JERK WINGS double coasted, double fried [$11.00]
Here, Choi tries to pay tribute to Jamaican jerk chicken. The wings were suitably tender, and still succulent, with a dark, sweet, spicy smack and pricks of lingering heat on the finish.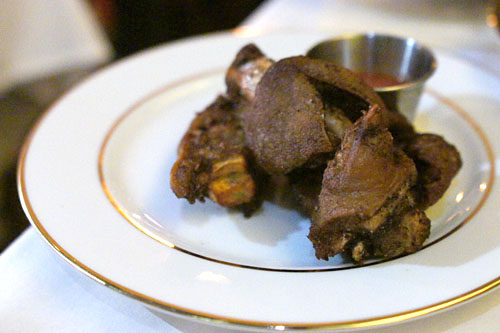 sugar cane FRIED PIGS FEET chili vinegar [$6.00]
If you're a bit queasy about pig's feet, give these a try. They were pretty non-threatening, with a crisp, yet fatty consistency perked up by plenty of chewy bits. The trotters were rich in porcine goodness, with the accompanying chili vinegar adding a much-appreciated touch of piquancy.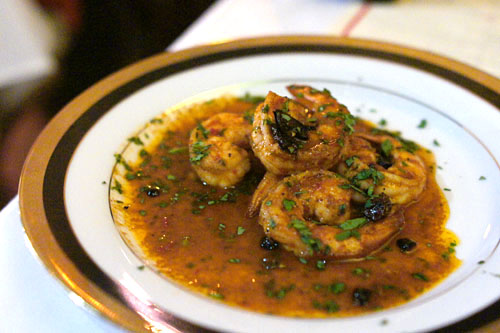 DIABLO PRAWNS rum glaze, garlic butter, herbs [$13.00]
Diablo prawns, unfortunately, were a letdown. I found them overcooked, and the flavors seemed muddled, flat, with the only thing of interest being a sharp spiciness that stuck to my palate.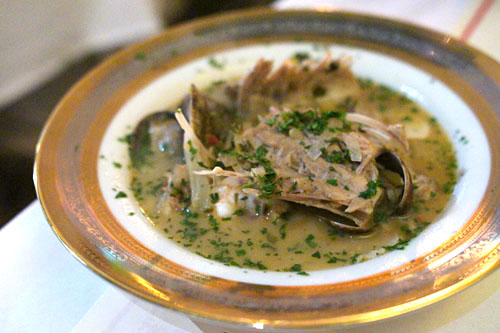 FISH BONE FISHERMAN'S STEW shrimp, clams, cod collars, snapper scraps, halibut [$12.00]
This homely looking stew was easily one of the highlights of the meal. The broth itself possessed an incredible depth of flavor, with loads of fishy, briny notes leading to a perfect amount of heat on the close--I wanted some bread to sop up the remaining liquid! The seafood was also quite commendable, with each item distinct and true to form, making for a rustic and immensely satisfying eating experience.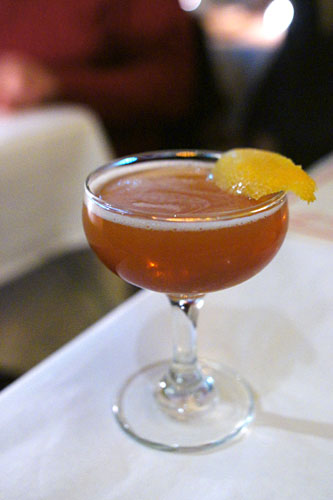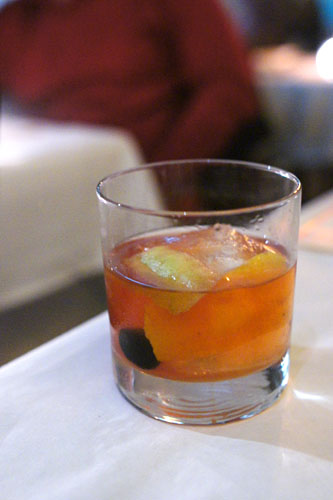 DICTATOR [$12.00]
| trinidad rum, dolin blanc, galliano, cio ciaro
SUNNY OLD-FASHIONED [$12.00]
| nicaraguan 12 yr rum, honey, allspice, angostura
Time for round #2. The Dictator was pretty delicious, with refreshingly bittersweet flavors intermingled with the weight of the rum. The Sunny Old-Fashioned, meanwhile, was a tropical twist on the classic cocktail, with a lovely sugary spiciness that I enjoyed; great use of the honey here.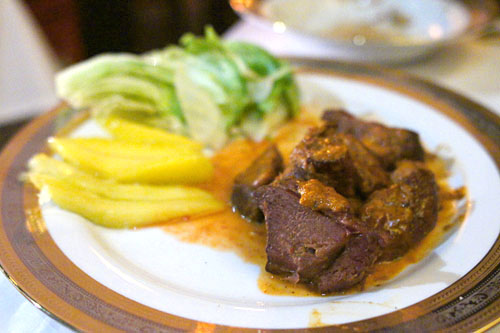 slow roasted G.O.A.T. (Greatest Of All Time) pickled mango [$15.00]
Next up was another stand-out course, and quite possibly my favorite preparation of goat
ever
. The meat was supple and flaky, with a profound, heady savor loaded up with sweet, smoky, and spicy flavors (with no detectable gaminess). It was delectable alone, but I really appreciated its accoutrements of ripe, juicy mango and crisp lettuce. Taking all three elements together was pretty spectacular.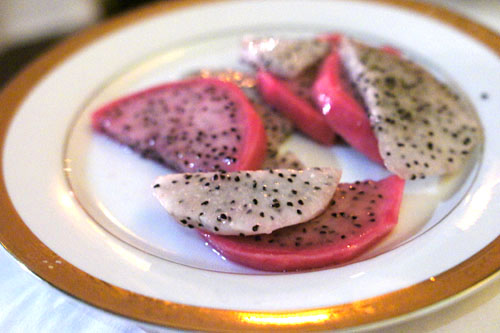 pickled DRAGON FRUIT [$6.00]
In the world of fruits, the dragon fruit is probably the coolest looking one of them all. Also known as a
pitaya
, it displayed a kiwi-esque texture and a mildly saccharine flavor amped up by a marked tartness from the pickling process.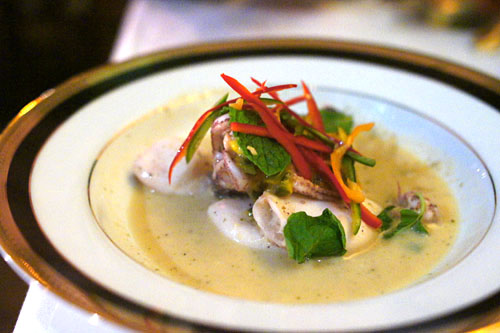 passion fruit SQUID coconut, chilies, mint [$11.00]
Upon taking a bite of this, I was instantly reminded of a similar dish that I'd had recently at
The Slanted Door
. As was the case there, I loved the squid's soft, supple consistency, but found the dish overly sweet. Fortunately, the chilies and mint added some much-needed punch, but I was looking for more of that zing.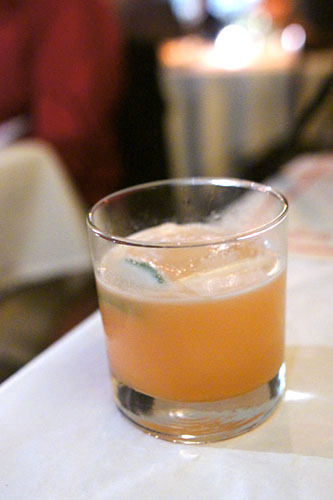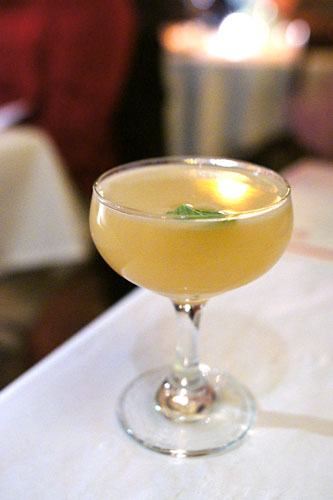 DRY HARBOUR [$12.00]
| pot still rum, lime, absinthe, habanero pineapple shrub
CHILCANO BAY [$12.00]
| pisco, lime, ginger, lemongrass, fernet branca
Time for more booze. I liked the Dry Harbour, with its complex interplay of sweet, then herbaceous, then spicy flavors that really worked for me. The Chilcano Bay was also quite fetching, with an almost savory character and tons of lip-puckering goodness from the combo of ginger and lemongrass.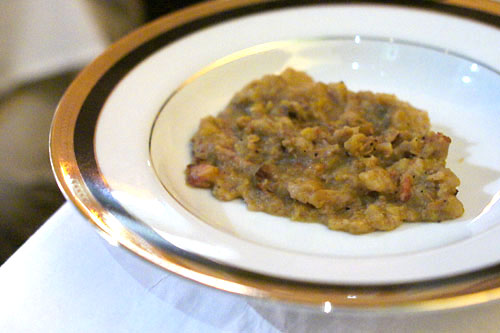 MUH-F*K*N MOFONGO overripe plantains, bacon, garlic, black pepper [$5.00]
This was my first time trying mofongo, which is a Puerto Rican dish of fried plantains. Choi's version wasn't much to look at, but the flavors were there, with subtle hints of sweetness going along with a great, garlicky savoriness and overarching notes of bacon. It was actually quite charming, though I would've liked some more textural variation in the dish.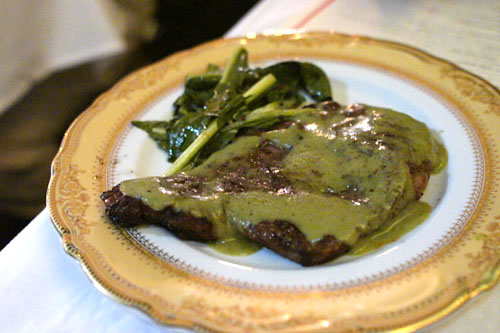 GRILLED RIB EYE pickled dandelion greens, mustard seeds, banana chili sauce [$22.00]
I wasn't thrilled with the ribeye, which I found far too thin, with a rather unsatisfying consistency. The meat was fairly tasty though, with a good bit of bovine relish and a pleasantly charred exterior. The dressing of banana and chili was somewhat disconcerting to me, but did do an admirable job, along with the dandelion salad, in moderating the power of the steak.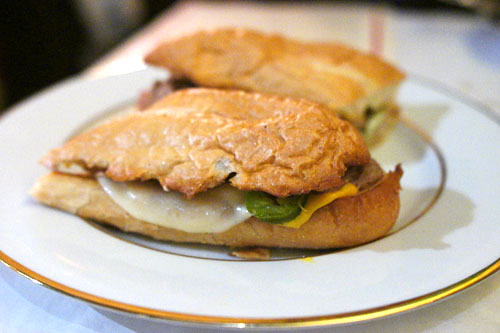 CUBAN HEATER pigs cartilage terrine, prosciutto, provolone, pickled jalapeno, mustard [$11.00]
Here was another one of my favorites: the Chef's take on the classic Cuban sandwich, substituting terrine for roast pork, prosciutto for standard ham, provolone for Swiss, and jalapeños for pickles. The end result was fantastic, a delightful mélange of tastes and textures with the pork taking center stage, augmented by the luscious cheese yet moderated by the zestiness of the pickles and mustard. A must try.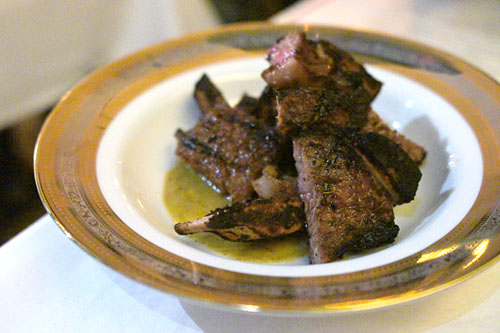 brown sugar scotch bonnet SHORT RIBS [$15.00]
Our final savory course of the night brought us short ribs, which are almost always a good bet. Taste-wise, these were spot on, with a great mix of smoky, savory, spicy, and sweet flavors that showed flashes of
galbi
influence. My only quibble was that I wanted the ribs to be more tender.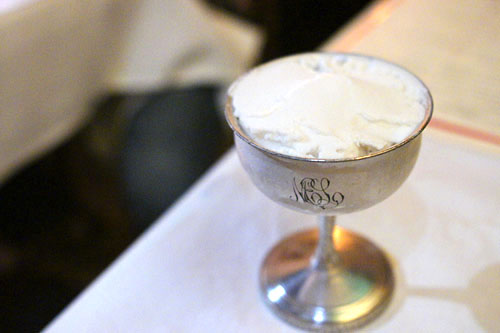 THE SILVER GOBLET COCONUT GINGER SORBET [$4.00]
Time for the sweet stuff: A goblet of coco-ginger sorbet really hit the spot, with a wonderfully smooth, lush, pure coconut flavor accented by just a smidge of ginger spice. I could've eaten a pint!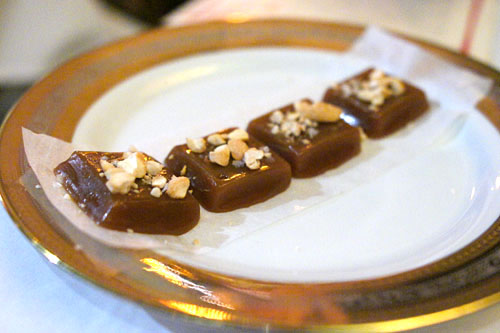 house made CARAMELS Maldon sea salt, toasted cashews [$4.00]
Caramel, salt, and nuts--it's a winning combination to be sure, and did not disappoint us here.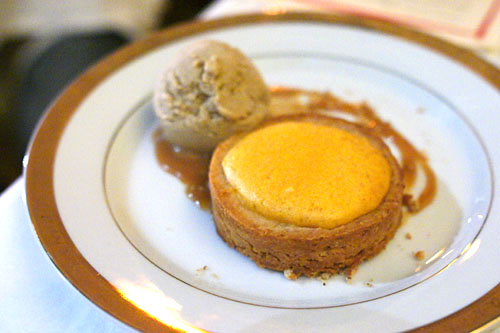 NOVEMBER PIE SWEET POTATO SOUFFLE with walnut crust, toasted marshmallow ice cream [$6.00]
Rounding things out was the soufflé, which managed to be a pleasant surprise. I adored the perfectly flaky crust, and appreciated the restrained sugariness of the sweet potato as well. And that ice cream? Gimme a pint too. Everything just came together wonderfully here.
Overall, we enjoyed a night of mostly good eats, with a few misses here and there. There were some issues, but nothing that can't be fixed, and although the food isn't at the refinement level of
A-Frame
's yet, I'm confident that it'll get there given time. It looks like the hits just keep on coming for Roy Choi.