Cooks Menu (Los Angeles, CA)
Cooks Menu Dinner
11363 Santa Monica Blvd, Los Angeles, CA 90025
www.cooksmenu.org
Sun 11/06/2011, 07:00p-11:10p
The idea behind
Cooks Menu
was created by one
Howard Ko
, a
poissonnier
at Josiah Citrin's acclaimed
Melisse
restaurant. After many a late night, after-service discussion with compatriot Brian Maynard, he envisioned a dinner series that would bring together and showcase rising young cooks, all while providing a unique experience to diners and giving back to the community. With that goal in mind, Ko banded together a number of his peers from several of LA's most well known eateries and launched his concept. The debut dinner was held last Sunday at
Il Grano
, the noted West LA Italian outpost of Salvatore Marino, a former mentor of Ko's.
Breast Cancer Connections
, a non-profit providing support to people affected by breast cancer, was the beneficiary of the event.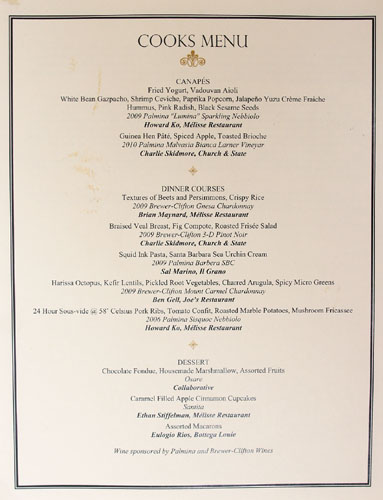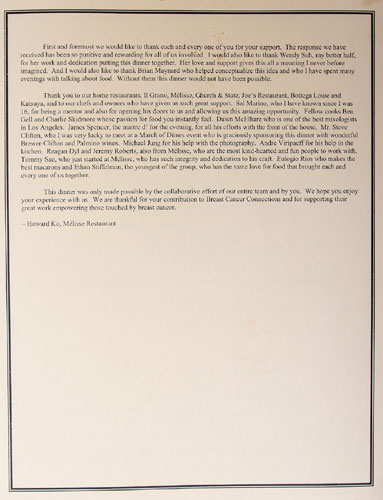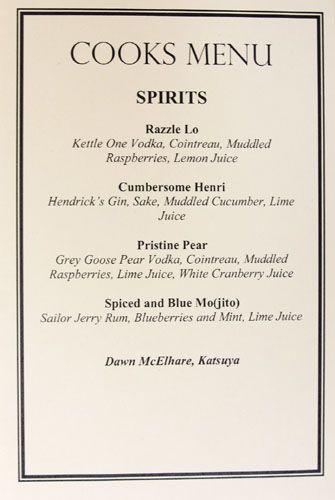 Above we see the menu for the Breast Cancer Connections Benefit Dinner, priced at a reasonable $75 inclusive of wine pairing (though my fee was waived for this inaugural event). In addition, patrons were free to BYOB with no corkage charge, while Katsuya mixologist Dawn McElhare crafted up specialty cocktails. Click for larger versions.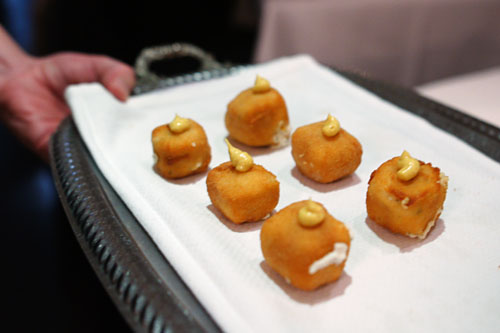 Canapé: Fried Yogurt, Vadouvan Aioli
[Howard Ko, Mélisse Restaurant]
2009 Palmina "Lumica" Sparkling Nebbiolo
Aided by
Mélisse
cooks Reagan Dyl, Jeremy Roberts, and Tommy Sao, Ko started things off by presenting a trio of canapés, the first of which were cuboids of fried yogurt topped with dabs of vadouvan aioli. They were a fun way to begin the meal, showing off slightly sweet, creamy notes at first, joined by overtones of citrus-y, countervailing tartness, with the curry blend kick coming later.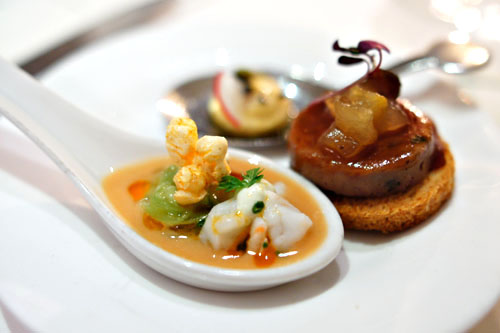 Canapé: White Bean Gazpacho, Shrimp Ceviche, Paprika Popcorn, Jalapeño Yuzu Crème Fraiche
[Howard Ko, Mélisse Restaurant]
Canapé: Hummus, Pink Radish, Black Sesame Seeds
[Howard Ko, Mélisse Restaurant]
Canapé: Guinea Hen Pâté, Spiced Apple, Toasted Brioche
[Charlie Skidmore, Church & State]
2009 Palmina "Lumica" Sparkling Nebbiolo
2010 Palmina Malvasia Bianca Larner Vineyard
The canapés continued with Ko's white bean gazpacho, which was a refreshing, piquant potage laced with paprika spice and grounded by the weight of the white bean. His hummus, meanwhile, was classic in essence, with the added earthiness of black sesame and a touch of levity courtesy of radish. Charlie Skidmore, Sous Chef at
Church & State
(whom we met at
Plate by Plate
), rounded out the quartet of
hors d'oeuvre
with his Guinea hen, a tasty, heavily-flavored pâté artfully moderated by the sweet spice of apple.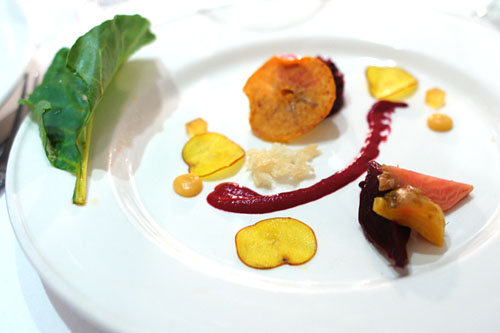 1: Textures of Beets and Persimmons, Crispy Rice
[Brian Maynard, Mélisse Restaurant]
2009 Brewer-Clifton Gnesa Chardonnay
Ko's partner in crime, meat cook Brian Maynard, brought us our first proper course of the evening. Ironically, he used no meat at all, instead choosing to present beets and persimmons, which unfortunately happen to be two of my least favorite ingredients. He did an admirable job though, transmuting them into various forms that accented different tastes, textures, and facets, making for a dish that showcased the inherent character of the persimmon and beet, but in a restrained, refined fashion. I loved the tempering influence of the crispy rice (sort of reminded me of
nurungji
), too.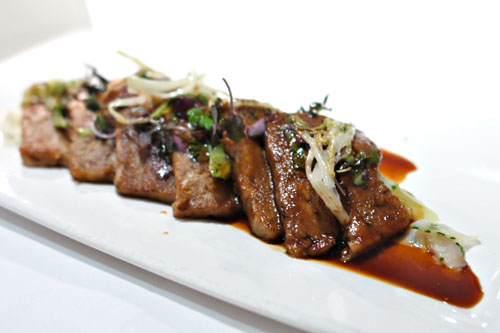 2: Braised Veal Breast, Fig Compote, Roasted Frisée Salad
[Charlie Skidmore, Church & State]
2009 Brewer-Clifton 3-D Pinot Noir
Veal was braised for a long 12 hours, resulting in meat that was so tender that I could barely pick it up with my fork without breakage. Not surprisingly, deep, dark, delicious flavors were at play here, augmented by a subtle sweetness from the fig, but at the same time superbly balanced by the frisée and celery. Very nice.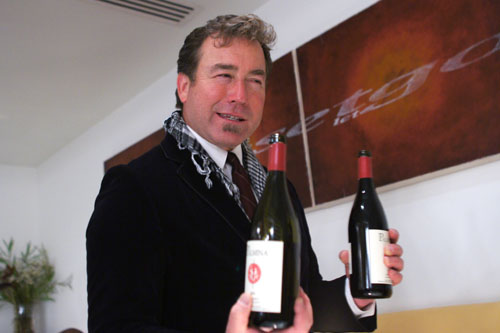 Ko met Steve Clifton at a March of Dimes event, and the man himself was on hand to present wines from both of his labels:
Palmina
and
Brewer-Clifton
. It was an impressive selection to be sure, and I ended up enjoying pretty much every pour.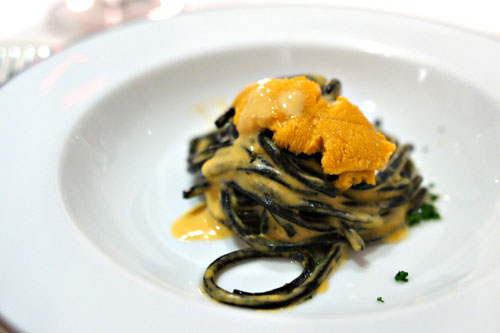 3: Squid Ink Pasta, Santa Barbara Sea Urchin Cream
[Sal Marino, Il Grano]
2009 Palmina Barbera SBC
It's hard to do too poorly with sea urchin and pasta, and surely enough, Marino's course did not disappoint. The noodles were cooked to a proper consistency, and went perfectly with the sweet, luscious salinity of the uni. The dish also had an overarching, almost citrus-y piquancy that I quite enjoyed as well. We saw some tables requested seconds of this, and with good reason.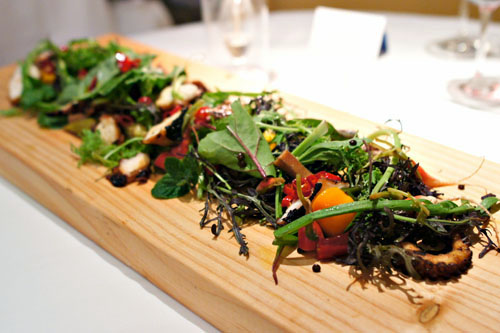 4: Harissa Octopus, Kefir Lentils, Pickled Root Vegetables, Charred Arugula, Spicy Micro Greens
[Ben Gell, Joe's Restaurant]
2009 Brewer-Clifton Mount Carmel Chardonnay
One of the highlights of the dinner was surely the octopus from Ben Gell, a meat cook at
Joe's
. I was rather enamored with the supple consistency achieved, and really appreciated the cephalopod's interplay of sweet flesh and astringent char flavors. Meanwhile, the plethora of veggies on the plate provided bitter, refreshing counterpoints to the weight of the octopus, while the course was finished with a lovely, lingering bit of heat.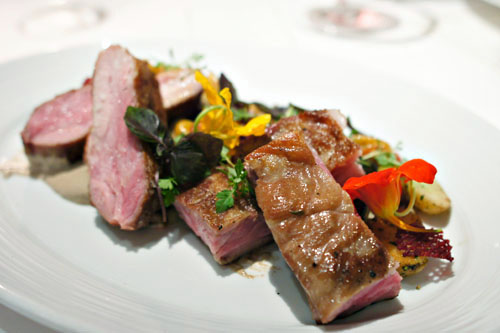 5: 24 Hour Sous-vide @ 58° Celsius Pork Ribs, Tomato Confit, Roasted Marble Potatoes, Mushroom Fricassee
[Howard Ko, Mélisse Restaurant]
2006 Palmina Sisquoc Nebbiolo
Ko once again returned for our meal's
pièce de résistance
. Pork ribs arrived after being sous vide'd for a whopping 24 hours, making for meat that was ridiculously rich, tender, and fatty. It was a veritable orgy of pork-y goodness that was thankfully offset by a mix of beautifully roasted potatoes and creamy mushrooms. Another standout course.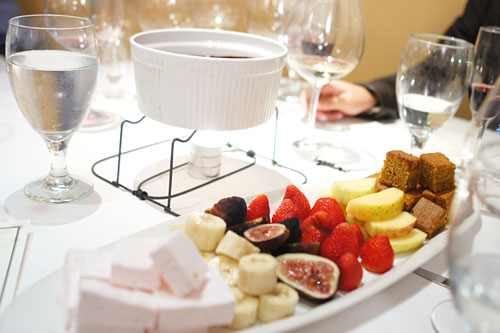 6: Chocolate Fondue, Housemade Marshmallow, Assorted Fruits
[Collaborative]
Oscare
Amazingly, I think this might've been my first time having a bona fide fondue (hey, it's not the 60's anymore!). In any case, we were presented with a elongated plate of various items, accompanied by a deep vessel of molten chocolate. The results were about what you'd expect, with the marshmallow and spiced bread being particularly enjoyable.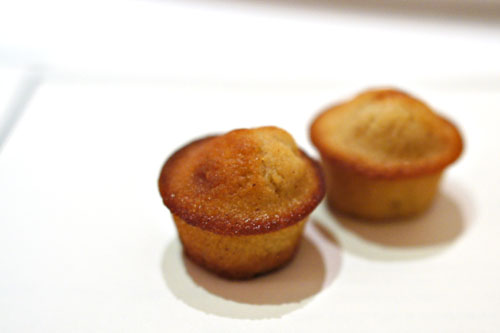 Mignardises: Caramel Filled Apple Cinnamon Cupcakes
[Ethan Stiffelman, Mélisse Restaurant]
Santita
Mini cupcakes were delicious--soft and moist in consistency, with a lipsmacking sugary spice that left me wanting more.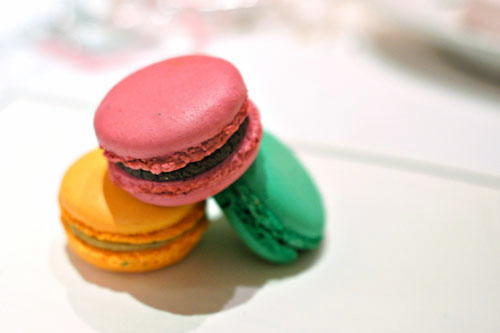 Mignardises: Assorted Macarons
[Eulogio Rios, Bottega Louie]
A troika of macarons from Bottega Louie wrapped up the meal nicely.
I was actually quite impressed by what these young cooks put out this evening, and talking with my fellow diners, the consensus seemed to be that the meal exceeded expectations. These up-and-comers definitely know their way around the kitchen, and it'll be interesting to see how the Cooks Menu series develops in the coming months.