A-Frame (Culver City, CA)
A-Frame Restaurant
12565 Washington Blvd, Los Angeles, CA 90066
310.398.7700
www.aframela.com
Sat 10/29/2011, 06:20p-08:30p

I remember three years ago, when one of my classmates at USC told me about this new thing called
Kogi
. I'd never heard of it before, but according to him, Kogi was a food truck making its rounds across all the clubs in K-Town (I think he'd had it at Le Cercle), serving up Korean-inspired tacos. It seemed like a pretty neat concept to me, and months later, Kogi BBQ would give rise to our current food truck obsession here in LA. Given the smashing success of Kogi, its chef, Roy Choi, has expanded his culinary purview considerably, bringing his trademark cuisine to the Alibi Room, Chego, and most recently, A-Frame, his homage to "modern picnic food."
About the Chef
: The so-called "godfather of the food truck movement" was born in 1970 in Seoul, but was raised in various parts of Los Angeles. His parents owned grocery stores, liquor stores, and restaurants, and Choi spent some of his early years in the kitchens of his family's eateries. However, like many Asian parents, Choi's wanted him to become a lawyer or doctor or something practical with a good salary, and thus, he gave law school a shot, but never graduated. Dejected, he began watching episodes of Emeril Lagasse's Food Network show
Essence of Emeril
, and the series largely reignited his passion for cooking. With this renewed verve, Choi attended the Culinary Institute of America at Hyde Park, and completed his studies there in 1998. In New York, he cooked in the kitchens of Eric Ripert's
Le Bernardin
and Charlie Palmer's Aureole, and also worked stints under Bobby Flay, Susur Lee, and
Iron Chefs
Rokusaburo Michiba and Yutaka Ishinabe in Japan.
Following, Choi started his eight year relationship with the Hilton company, working at an Embassy Suites in Lake Tahoe before becoming Regional Chef for the entire Northern California and Pacific Northwest. The chain eventually brought him to Beverly Hills, where Choi served as the Executive Chef at The Beverly Hilton and its associated Trader Vic's restaurant. He left Hilton to become the opening chef at RockSugar Pan Asian Kitchen, which debuted in June 2008. His tenure at the David Overton (founder of Cheesecake Factory) and Mohan Ismail owned restaurant was brief, however, because Kogi was just a few short months away.
The concept behind Kogi was formed like many other great ideas: drunk and at 4:00AM. It was actually the brainchild not of Roy Choi, but of one Mark Manguera, who'd come to the realization of Kogi after wolfing down some of LA's legendary street tacos. Manguera teamed up with his wife, Caroline Shin, and also brought on board his sister-in-law, the infamous Alice (or
aLLLLLLLLice
) Shin. The next step was luring away Choi from Rock Sugar, and with that done, he secured the help of friends and family to start promoting his nascent food truck. Thus, on November 20, 2008, a culinary empire was born. Thanks to the incredible marketing machine behind Kogi, the truck became an unmitigated success, igniting the current food truck craze that's swept the Southland, and indeed, much of the country.
In response to the unyielding demand for Kogi tacos, Choi set up a brick & mortar outpost in February 2009 at the Alibi Room, a lounge just a stone's throw away from A-Frame. In 2010, Choi launched his rice bowl concept Chego on Overland in Palms, just down the street from
n/naka
, and later that year, he was named one of "America's Best New Chefs" by
Food & Wine
. For A-Frame, Choi partnered up with David Reiss (The Brig, Playa Cantina, and Alibi Room), and the twosome debuted the restaurant on November 4, 2010 to considerable anticipation. The Chef's next project is also in conjunction the Reiss, as Choi will be taking over the kitchens at Reiss' Beechwood,
filling the shoes
of departed chef Jamie Lauren.

Situated right next door to Brendan Collins' gastropub
Waterloo & City
, A-Frame occupies the space of a former IHOP, and takes its name from the structure's unique architecture. The room was revamped by Sean Knibb in his first restaurant project, and features communal seating, meant to encourage sharing. A-Frame seats 47 in the main dining room (pictured), in addition to 8 at the bar, 23 in the patio, and another 14 out front (under those weird hoop skirt lamps).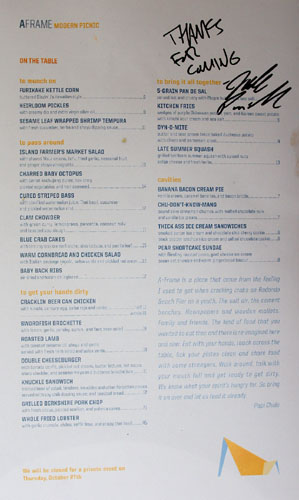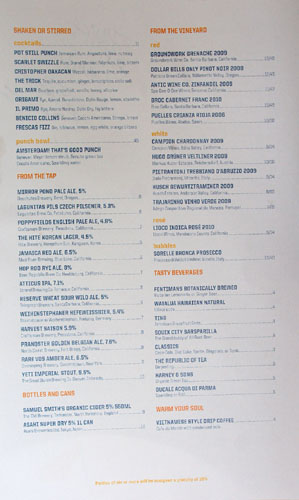 A-Frame's menu presents Choi's version of re-imagined "picnic" food, ostensibly inspired by the beachside cookouts of his youth. "Papi Chulo" wasn't in tonight, but note the signature of Chef de Cuisine Jude Parra-Sickels, a French Culinary Institute graduate who worked under David Chang at Momofuku Ssam Bar and Momofuku Noodle Bar. Click for larger versions.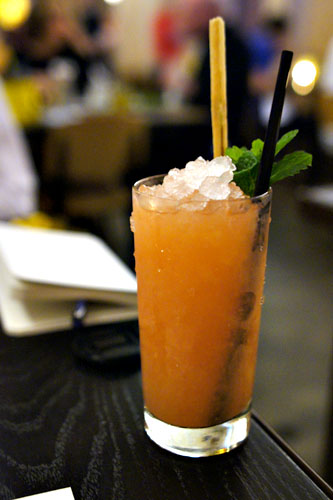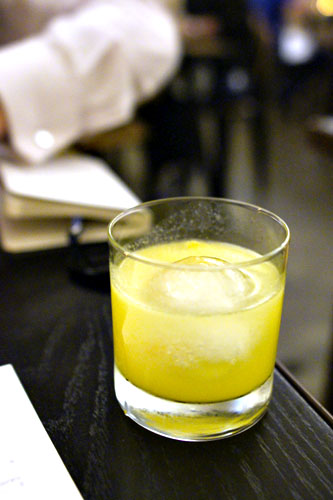 Scarlet Swizzle [$11.00]
| Rum, Grand Marnier, falernum, lime, bitters
Cristopher Oaxacan [$11.00]
| Mezcal, habanero, lime, orange
Naturally, we had to begin with a couple cocktails, courtesy of Bartender Brian Butler, who comes to A-Frame having previously worked at Alibi Room. The Scarlet Swizzle was quite tasty, with juicy undertones of falernum sweetness balanced out by a touch of astringency from the bitters, all over a marked base of rum. The Cristopher Oaxacan, meanwhile,
really
showed of the mezcal, with plenty of woody notes that joined forces with the habanero to produce a smoky-spicy punch of flavors that lingered
long
on the palate, countervailed only slight by hints of citrus here and there.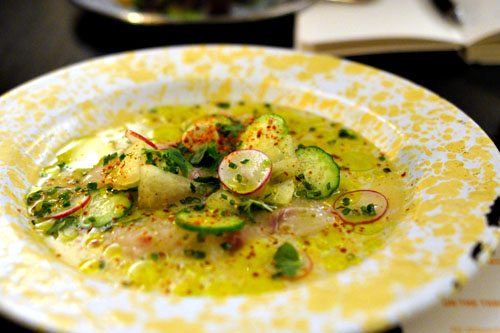 Cured Striped Bass [$12.00]
| with clarified watermelon juice, Thai basil, cucumber, and pickled watermelon rind
Sashimi cuts of bass were mild and light to the bite, perked up by the refreshing zing of cucumber and watermelon, while Thai basil provided a deliciously aromatic component that helped integrate everything together.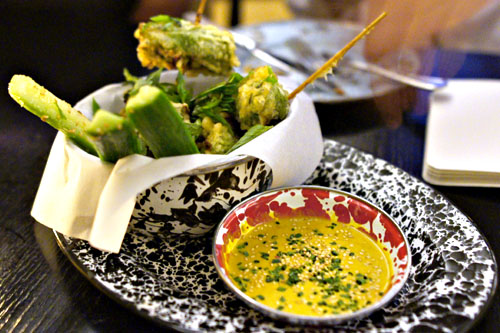 Sesame Leaf Wrapped Shrimp Tempura [$11.00]
| with fresh cucumber, herbs and shoyu dipping sauce
Choi's take on tempura was pretty spectacular. The use of perilla in the shrimp contributed a delightfully minty note that played off the sweet salinity of the crustacean beautifully, and I loved the delicate crunch of the batter. The tempura pieces were delicious alone, but even better when dipped in that wonderfully piquant shoyu sauce--in fact, we even drank up the remaining liquid at the conclusion of the course.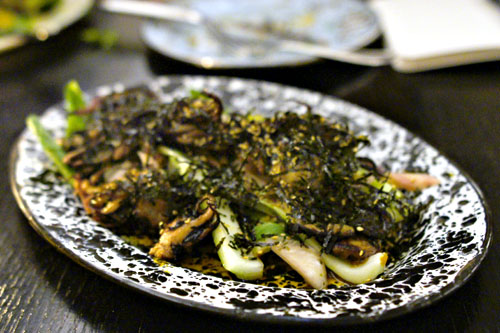 Charred Baby Octopus [$14.00]
| with carrot kochujang puree, bok choy, pickled vegetables and nori seaweed
Octopus was also rather tasty, with a fantastic spiciness from the
gochujang
that paired gorgeously with the light brine of the cephalopod, while the nori contributed subtle hints of umami goodness. The dish was perfectly lightened by the inclusion of bok choy and the other veggies, which also made for some great textural variation. My only quibble was that I would've liked the octopus a touch rarer.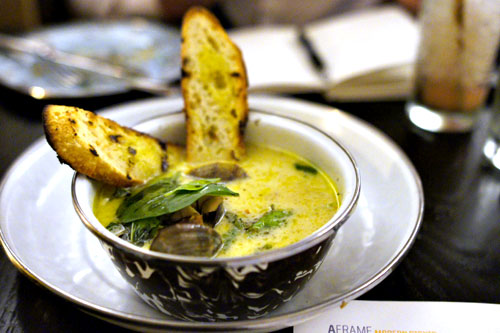 Clam Chowder [$11.00]
| with green curry, lemongrass, pancetta, coconut milk, and toasted sourdough
Clam chowder was one the best I've had, though it certainly wasn't traditional at all. Rather, the broth, with its lemon grass and coconut milk, recalled a Thai style
tom kha
soup, amped up by the incorporation of salty bits of pancetta. The soup formed a wonderful base to the clams, which were supple, plump, and perfectly cooked, and we eagerly supped up the left over liquid at the end.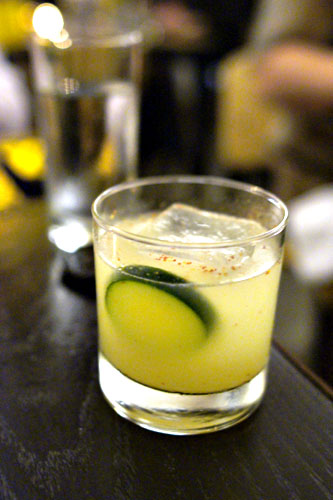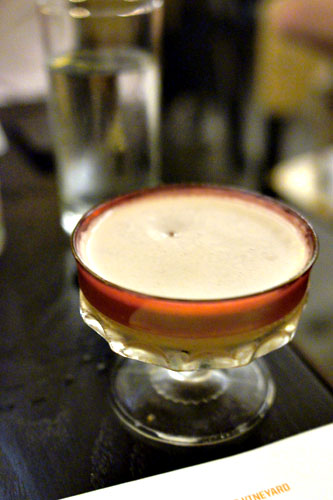 The Trick [$11.00]
| Tequila, cucumber, ginger, lemongrass, chile salt
Del Mar [$11.00]
| Bourbon, grapefruit, vanilla, honey, allspice
Time for more cocktails. The Trick showed off a delectable tanginess from the combination of ginger, lemongrass, and cucumber that countered the weight of the tequila admirably. The Del Mar, on the other hand, recalled a holiday libation, with a lovely sweet spice that interacted perfectly with the drink's boozy base.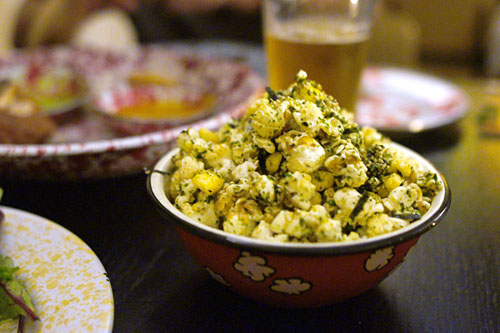 Furikake Kettle Corn [$6.00]
| buttered Blazin' J's Hawaiian style
Furikake
refers to a Japanese condiment of dry bits of nori and other umami-laden ingredients, and here it was put to good use as a topping for kettle corn, playing off the corn's inherent sweet-savory interplay nicely. If you're curious about the Blazin' J's reference, it's a local producer of kettle corn; see their Facebook page
here
.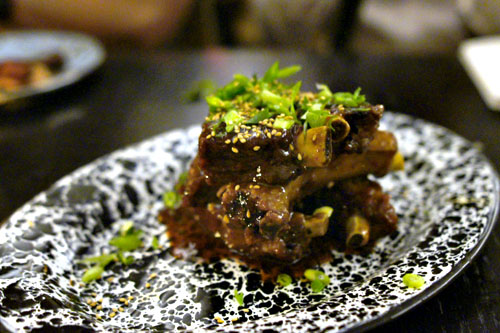 Baby Back Ribs [$12.00]
| air-dried and hoisin-chili glazed
Pork ribs were quite delectable, with profoundly deep, sweet,
xian
flavors laced with just a subtle hint of heat. I really appreciated the crunchy bit of crust on the ribs, and the meat was plenty tender, but I would've liked them juicier and more succulent.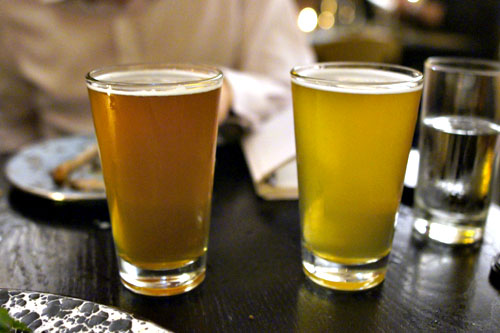 Harvest Saison, 5.9% [$8.00]
| Craftsman Brewery, Pasadena, California
Reserve Wheat Sour Wild Ale, 5% [$9.00]
| Telegraph Brewery, Santa Barbara, California
Switching things up a bit, we opted for beers this round. Up first was Craftsman's Harvest Saison, which actually wasn't very
saison
-like to me, with a restrained spiciness and an interesting banana essence. The Reserve Wheat Sour Wild Ale, on the other hand, conveyed a good amount of tart, lemon-y notes with very little hoppiness; it actually reminded me of an apple cider.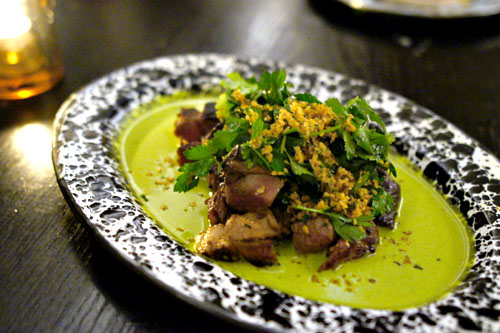 Roasted Lamb [$18.00]
| with toasted sesame oil, shoyu and garlic, served with fresh herb salad and salsa verde
We moved on to the main courses. A roasted leg of lamb was actually quite toothsome, with a definite ovine savor backed by a great touch of Asian-y, umami-rich flair from the sesame and soy. The meat was certainly tasty alone, but I adored the use of herbs and salsa verde here, both of which added a well placed point of levity to the dish.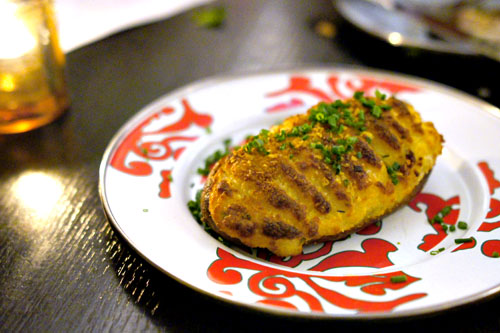 Dyn-O-Mite [$4.00]
| butter and sour cream twice baked duchesse potato, with chives and parmesan crust
Think of this side as a baked potato on drugs! 'Nuff said--I think my favorite part was actually the super crisp skin.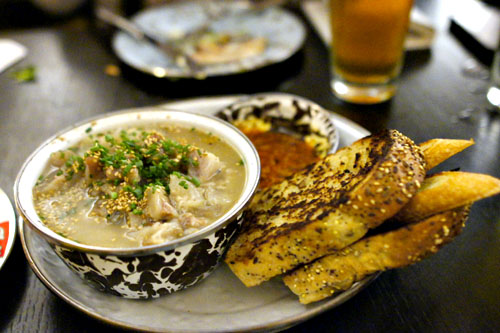 Knuckle Sandwich [$12.00]
| braised bowl of oxtail, tendons, knuckles and other forgotten pieces, served with soy chili dipping sauce, and toasted bread
Our final savory course brought us a bowl of various "forgotten" animal parts, braised tender. Save for the oxtail, which showed off loads of deep, dark flavors, the bits were rather bland. As such, the soy-chili sauce was absolutely key. We poured it into the bowl, and it really did a great job in tying everything together.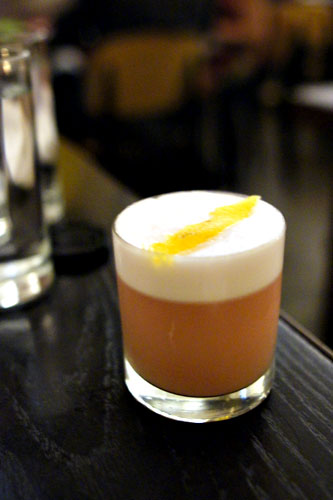 Frescas Fizz [$11.00]
| Gin, hibiscus, lemon, egg white, orange bitters
Waialua Hawaiian Natural [$4.00]
| Lilikoi soda
A final round of drinks with the desserts. The Frescas Fizz had a lovely sugary, citrus-y tang that linked up nicely with the gin, and I really liked the frothiness imparted by the egg white. We also had something non-alcoholic, the Lilikoi soda from Waialua. Though
lilikoi
is actually passion fruit, the soda actually tasted of peach, and I was rather smitten by it.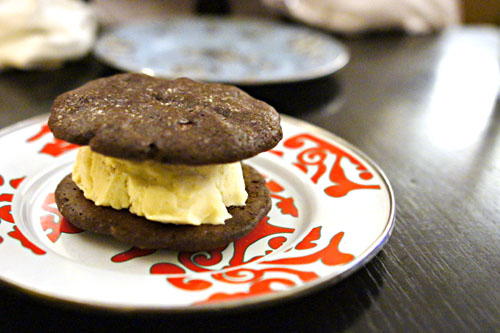 Thick Ass Ice Cream Sandwich [$6.00]
| black pepper szechuan ice cream and salted chocolate cookie
Time for some dessert, which here at A-Frame is the charge of Pastry Chef Beth Kellerhals, a graduate of the French Pastry School who also runs her own company called Double Chin Desserts. The restaurant is known for its thick-ass ice cream sandwiches, so we had to try one. Here, I really enjoyed the peppery tang of the ice cream, which worked well with the saltiness inherent in the cookie. It was a tasty combination indeed, but unfortunately, the cookie got too tough towards the end, which sort of ruined things a bit.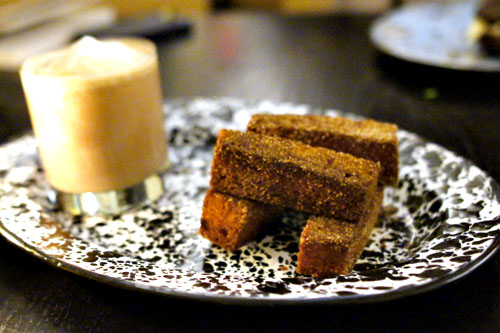 Chu-Don't-Know-Mang [$7.00]
| pound cake cinnamon churros, with malted chocolate milk and vanilla ice cream
Churros were awesome, more substantial and denser than your typical variety, with a completely in-your-face smack of cinnamon-y sweetness. Wonderful alone, they were doubly good when smothered in that gooey mix of ice cream and chocolate milk. Think of this as Choi's version of
Thomas Keller
's famed "Coffee and Doughnuts!"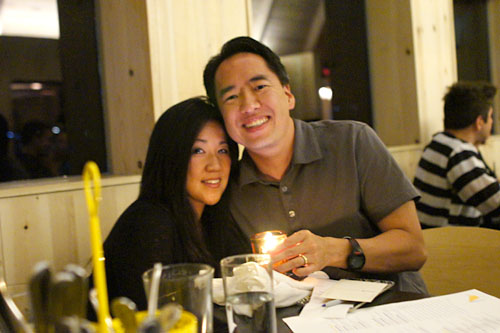 As I mentioned above, the communal seating at A-Frame encourages sharing and conversation between strangers, and we just happened to be seated next to Janice and Chris, a couple from Torrance. They were great dinner company, and we all definitely embraced the ethos here of
sharing is caring
.
Having never really eaten Roy Choi's food before, I was a tad skeptical going into A-Frame. That being said, he delivered in a pretty big way, really fulfilling his promise of refined, modernized picnic food. The cooking here just seems so in touch with LA's current culinary Zeitgeist, with plenty of Asian-esque, familiar-yet-interesting flavor combinations that are easy to get comfortable with. Chef Choi is one to watch, and though Beechwood wasn't really on my radar before, I'll be interested to see what he does with the place in the coming months.