Slanted Door (San Francisco, CA) [2]
The Slanted Door
1 Ferry Bldg, San Francisco, CA 94111
415.861.8032
www.slanteddoor.com
Mon 08/29/2011, 11:30a-12:40p
Over four years ago, I stopped by
The Slanted Door
during a visit to San Francisco, sampled one of their signature spring rolls, and left thoroughly unimpressed. My notion of the restaurant had been negative ever since, but I was finally convinced (a personal recommendation by
Dominique Crenn
certainly helped) to return for lunch on this latest Bay Area trip.
About the Chef
: The Slanted Door is the creation of Chef/Owner
Charles Phan
. Born in Da Lat, Vietnam in 1962, the eldest of five siblings in an ethnically Chinese family, Phan fled the country after the Fall of Saigon in 1975. His family became "boat people," refugees lost at sea who were eventually rescued by a Malaysian ship. They were brought to Singapore, then to a refugee camp in Guam. From there, they moved to San Francisco. It was 1977, and the family settled in the City's Tenderloin district, and later moved to Chinatown. Since his parents both worked, Phan soon began cooking for the entire family. He was influenced by his mother, who incorporated French flair into her Vietnamese cookery, as well as the culinary traditions of the US, his adopted home.
Phan attended Mission High School, and worked odd jobs during his teenage years, including bussing and serving. He subsequently made his way to UC Berkeley (my alma mater), and studied architecture at the request of his father. Phan, however, would drop out during his junior year and move to New York to work for an architectural firm there. He then took over the family garment business, and later secured a job working in sales at a Silicon Valley software company. The thrill of cooking, however, always persisted, and Phan became influenced by the Bay Area food scene, specifically the likes of
Chez Panisse
and Zuni Café. After plans to open a
banh xeo
crêperie in the Tenderloin fell through, Phan started work on The Slanted Door. He enlisted the help of his family, and in November 1995, after a year of renovations, quietly debuted the restaurant in a 3,600sqft space at 584 Valencia Street in The Mission.
Though his menu was modest, he succeeded in serving refined, market-driven Vietnamese fare made from top-notch ingredients,
a revolutionary idea at the time
. The Slanted Door was a hit; the restaurant soon began turning people away in droves, and President Clinton even dined there. At this point, it became clear that expansion was sorely needed. Phan wanted to stay in The Mission though, and thus purchased the Valencia building and, in 2002, moved the restaurant to a temporary space at 100 Brannan Street. This restaurant, thanks to the inclusion of a full bar, was an even bigger hit than the original; thus, even more expansion was needed. Then, in 2003, a huge space in the Ferry Building came up, and Phan grabbed it, subsequently debuting the third iteration of The Slanted Door in April 2004.
This latest restaurant has continued the success of its predecessors, allowing Phan to open up three locations of his
Out the Door
take-out concept. He also commands the casual
Academy Cafe
at the California Academy of Sciences, a joint venture with friend and fellow chef Loretta Keller that bowed in 2008. In January 2009, he opened
Heaven's Dog
, a noodle bar-
cum
-cocktail lounge. Phan comes full circle with his latest venture: Wo Hing General Store,
set in the space of the original Slanted Door
. The restaurant will feature Chinese-inspired street food as executed by Chef Michelle Mah, and is expected to debut in September.

The Slanted Door is a rather large space, seating 150 diners in the main dining room, another 50 or so in the bar/lounge, and yet another 20 in a private dining room. The restaurant was penned by
Olle Lundberg
, and has a sort of nautical, water-y design going on, a fitting theme given its location directly on the Bay.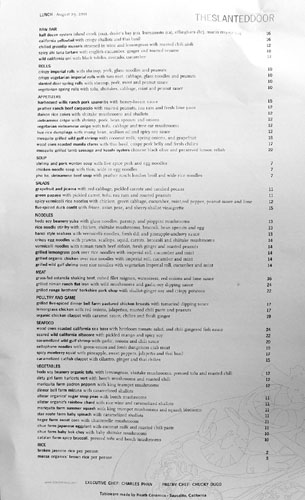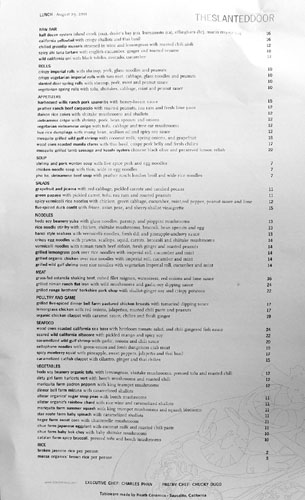 The Slanted Door's menu of Cal-Viet cuisine is on the large side, and could probably use some editing. A respectable selection of beers and teas is also on offer, as is a Riesling-heavy wine list curated by Wine Director Mark Ellenbogen. Click for larger versions.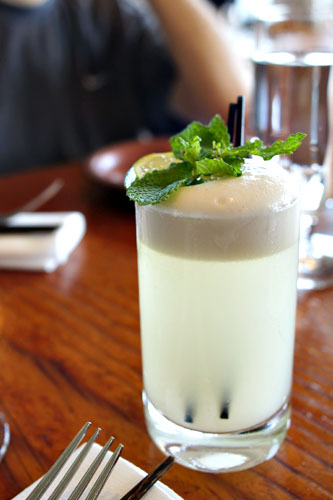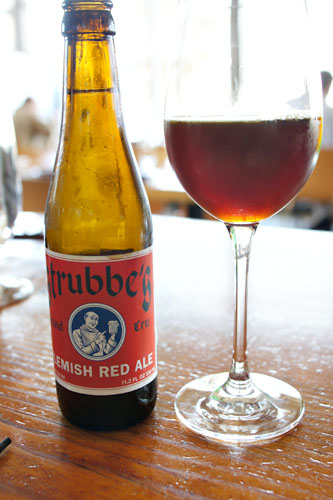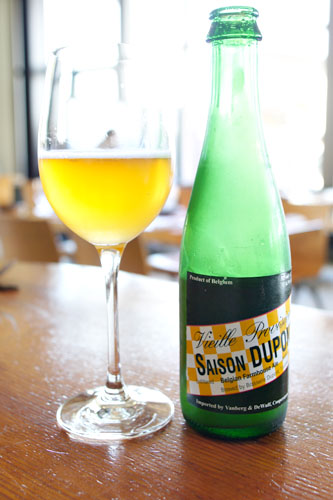 Gin Fizz Tropical [$11.00]
| Plymouth gin, Small Hand Foods orgeat and pineapple gum, lime, egg white, soda water
Strubbe's Flemish Ale [$10.00]
| a sour red ale
Saison Dupont [$10.00]
| belgian farmhouse ale (375 ml)
The Gin Fizz Tropical was a keen riff on the original, with a marked sweetness on the attack playing off the refreshing zestiness of the gin and lime; the egg white, meanwhile, gave the drink a great frothiness. Joining the cocktail were two beers: Brouwerij Strubbe's Flemish Red Ale Grand Cru, a nice change of pace from the Duchesse De Bourgogne that I normally get, and Saison Dupont, a farmhouse standby.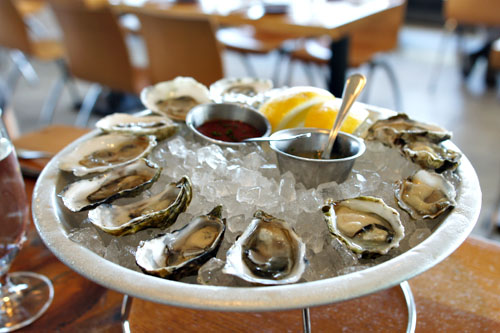 half dozen oysters [$16.00]
| drakes bay (ca), kumamoto (ca), beausoleil (nb)
Oysters are one of my favorite ways to kick off a meal. We had three varieties, and I began with my favorite, the Kumamoto. They were exactly as I expected, with a slight sweetness at first, followed up by a crisp, growing brininess. The Drakes Bays, on the other hand, were much saltier, with overarching notes of melon. Beausoleils, finally, also showed off a marked, creeping salinity, but were more subdued compared to the Drakes.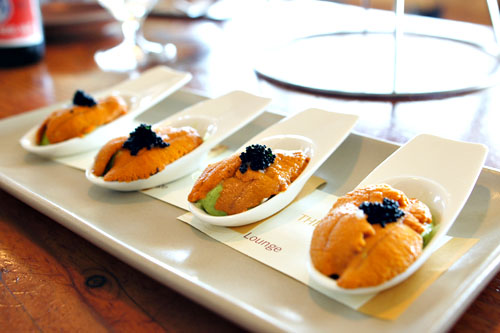 wild california uni [$17.00]
| with black tobiko, avocado, cucumber
Uni's pretty much a must-order for me these days, and these did not disappoint. The lush, inherent sugariness of the urchin paired beautifully with the creaminess of the avocado, while the flying fish roe added a tinge of saltiness to the fray. I appreciated the crunch of the cucumber here as well. Very nice!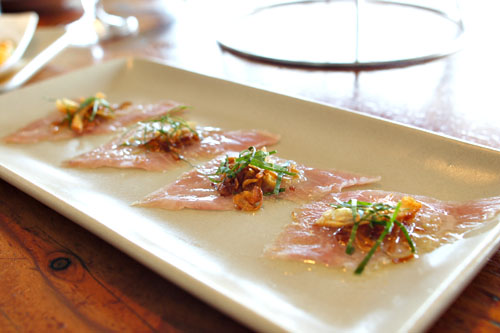 california yellowtail [$16.00]
| with crispy shallots and thai basil
Yellowtail was similarly delicious. The fried shallots contributed a fantastic savoriness that played perfectly with the relatively subtle relish of the fish, and added a lovely crunchiness to boot. At the same time, the Thai basil provided an overarching sweet herbaceousness that lingered long on the palate. Yum.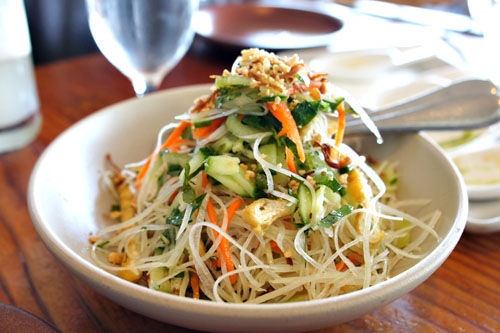 green papaya [$11.00]
| with pickled carrot, tofu, rau ram and toasted peanuts
One of The Slanted Door's signature dishes is the papaya salad, or
goi du du
. I rather enjoyed it, with its bright, sweet, crisp flavors of papaya, carrot, and cucumber working off the nutty crunchy of the peanuts and minty
rau ram
faultlessly. I appreciated the additional weight imparted by the tofu as well. Just a beautifully integrated dish, one that actually reminded me of Jordan Kahn's version over at
Red Medicine
.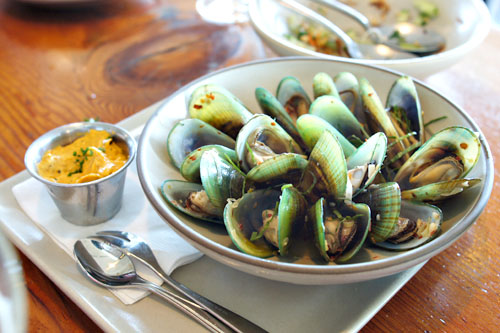 chilled greenlip mussels [$12.00]
| steamed in wine and lemongrass with roasted chili aioli
Mussels were snappy and fresh, with subtle tinges of alcohol and lemongrass to complement the bivalves' natural savor. They were tasty alone, but the addition of the chili aioli really completed the dish, adding creamy touches of heat that really balanced out the mollusk.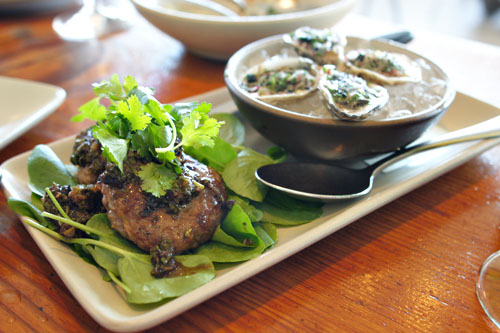 mesquite grilled lamb sausage and kusshi oysters [$22.00]
| chinese black olive and preserved lemon relish
I'm a sucker for sausage, so naturally I just had to order this course. I found the lamb quite delectable, tender and juicy, with a rich, deep flavor nicely countered by the herbaceous tang of its accompanying greenery. The Kusshis, however, were even better, with the bright, crunchy, citrus-y, and subtly spicy nature of the relish playing off the oysters' saline smack flawlessly. My only concern here was that I wasn't sure how these two disparate items were supposed to complement each other.
shrimp and pork wonton soup [$7.00]
| with five spice pork and egg noodles
Here was a solid, though not stellar wonton soup. The meat was as you'd expect, nicely savory, but with somewhat disconcerting flavors courtesy of the five-spice. The noodles were also well-textured and satisfying, but my favorite element here was the use of crispy pork skin, which added a delightful crunchiness to the broth.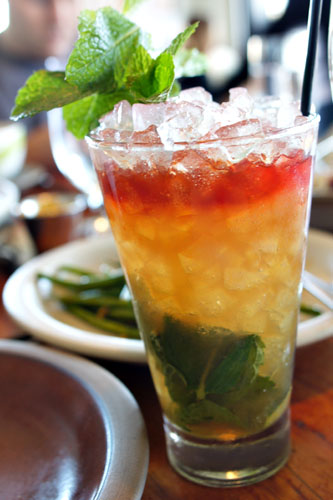 Queen's Park Swizzle [$11.00]
| Pampero Aniversario rum, mint, lime, Angostura and Peychaud's bitters, crushed ice
Here was a take on the classic Rum Swizzle. It was certainly pretty, but I wasn't in love with it, finding the cocktail rather one-dimensional. I would've liked a more complex interaction between the rum, mint, and bitters.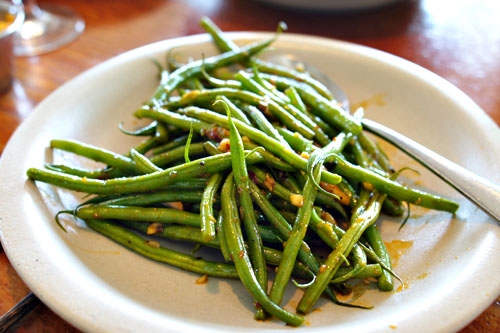 dirty girl farm haricots vert [$12.00]
| with beech mushrooms and roasted chili
It's hard to go too wrong with haricots vert, and this was no exception. The beans were wonderfully crisp, with their bright, green flavors deftly pairing with the heat of the chili and savoriness of the mushrooms.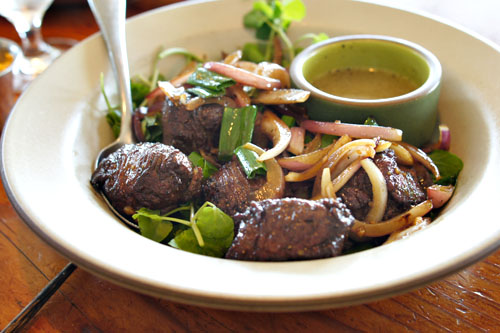 grass-fed estancia shaking beef [$36.00]
| cubed filet mignon, watercress, red onions and lime sauce
What we have here, I'm quite sure, is the world's most expensive
bo luc lac
, one of The Slanted Door's signature dishes. The beef itself showed off prototypical bovine sapors that I found quite satisfying, but the key was the dish's complement of veggies and lime, with their bright, vegetal, acidic flavors that moderated the meat faultlessly. Wonderful over rice. My only complaint (in addition to the price) was that the meat was needed to be rarer, more tender; had that been the case, this would've been just about perfect.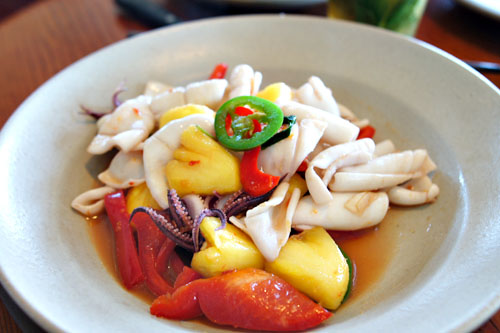 spicy monterey squid [$17.00]
| with pineapple, sweet peppers, jalapeño and thai basil
I'm quite the squid fiend, so this naturally appealed to me. Unfortunately, I was let down. I really liked the texture of the squid here, how it was so tender, so supple, with still a bit of chew. However, the dish lacked punch. I could barely taste the Thai basil and jalapeño, while the peppers were too saccharine. I wasn't sure about the pineapple either.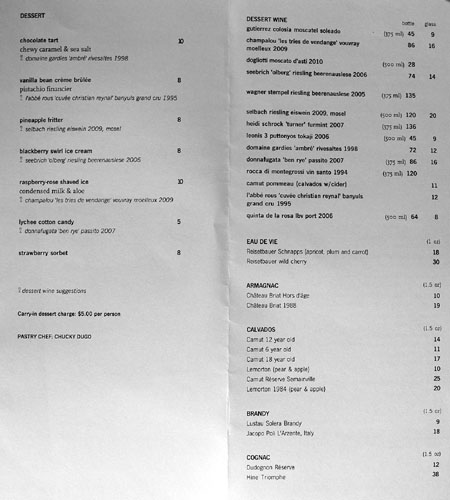 Desserts here are the charge of Pastry Chef (and painter, apparently)
Chucky Dugo
. Click for a larger version.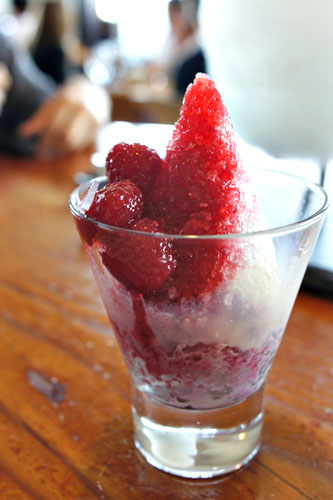 raspberry-rose shaved ice [$10.00]
| condensed milk & aloe
Shaved ice was nice, with a juicy, floral sweetness that adroitly played off the ice and condensed milk. Texture-wise though, I wanted a finer shave; what we had here was a bit too "icy," a bit too coarse.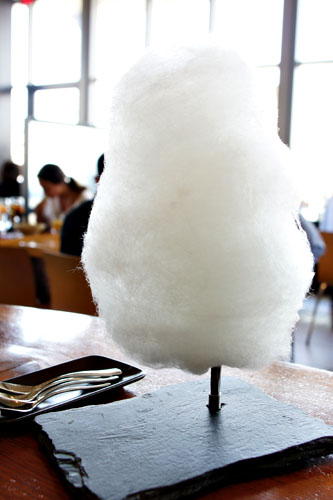 lychee cotton candy [$5.00]
We ended with the best cotton candy that I'd ever tasted. It showed off a perfectly ethereal consistency that dissolved instantly in my mouth, along with a bluntly sugary attack that melted away to the juicy essence of lychee on the finish.
Well color me impressed. This visit was a complete turnaround from my previous one. Flavors were, for the most part, spot on: bold, robust, bright, and most importantly, delicious. I wouldn't call this strictly Vietnamese fare, nor "fusion" either; perhaps Vietnamese-inflected modern Cal-French would be a better moniker? In the end though, I suppose it doesn't really matter as long as the food tastes good.