wd~50 (New York, NY)
wd50 Restaurant
50 Clinton St, New York, NY 10002
212.477.2900
www.wd-50.com
Sun 10/02/2011, 07:00p-09:40p

Named for the Chef's initials and the street number of the restaurant (and serving as a nod to industrial lubricant WD-40), wd~50 is sort of the
grande dame
of avant garde cooking in the US, making Wylie Dufresne one of the country's most noted practitioners of the techniques of
molecular gastronomy
modernist cuisine. WD had been on my dining radar for years now, so I was excited to finally give the place a try.
About the Chef
: Dufresne was born in 1970 in Providence, Rhode Island. His father Dewey Dufresne was himself a chef, one who operated a small group of restaurants under the
Joe's
moniker. The family moved to New York in 1977, and Dufresne eventually went to study philosophy at Colby College in Waterville, Maine, graduating with a Bachelor's degree in 1992. From there, he transitioned to the French Culinary Institute in New York, and after completing his studies, worked at Jean-Georges Vongerichten's first restaurant, JoJo, from 1994 to 1997. He then helped open Vongerichten's flagship
Jean Georges
, working his way up to a Sous Chef position. The Chef relocated to Las Vegas in 1998, becoming Chef de Cuisine at Vongerichten's Prime steakhouse at The Bellagio.
Dufresne left Vegas the following year, and in October 1999, he opened 71 Clinton Fresh Food (where his father Dewey was a partner), a small, spartan 30-seat restaurant that was widely credited with bringing fine dining to Manhattan's Lower East Side. In 2001, he was named one of "America's Best New Chefs" by
Food & Wine
for his work there, but would leave the restaurant later that year, replaced by Jason Neroni (the place would finally shutter for good in March 2006). Dufresne thus began work on wd~50, partnering with his old boss Vongerichten and restaurateur Phil Suarez, and the restaurant debuted on April 9th, 2003, just a few doors down from 71 Clinton. wd~50 quickly established itself as one of the City's most influential eateries, and in 2006, was awarded one Michelin star, a rating that it has retained through 2011. In the kitchen, Dufresne is currently aided by Chef de Cuisine Jon Bignelli (Aquavit, Amuse) and Pastry Chef Malcolm Livingston II (
Per Se
, Le Cirque).

wd~50 occupies the space of a former bodega, which has been transformed into a spare, but warm dining room, anchored by a fireplace in one corner and an open kitchen in the back. Designed by Dewey Dufresne and Louis Mueller, the restaurant seats 67 in the dining room and an additional 7 at the bar. There's also a private dining room-slash-wine cellar downstairs with room for 14.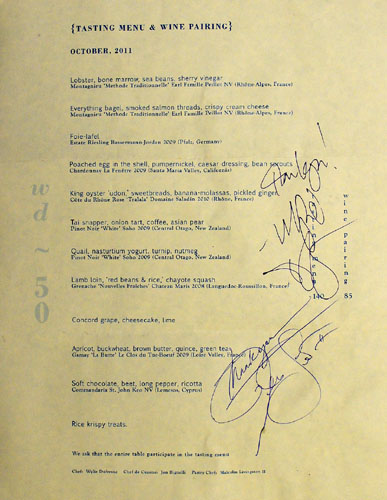 wd~50's menu can be described as New/Modern/Contemporary/Progressive American, influenced by a wide range of cuisines and imbued with a healthy dose of avant garde flair. Diners can order à la carte, or do as I did and opt for the Tasting Menu, priced at $140 plus $85 for wine pairing. Click for a larger version.
Dufresne does away with the traditional bread basket, instead offering up a wooden box of what can be best described as a sesame seed flatbread. It was fantastic, especially in terms of texture--thin enough as to be translucent, with a absolutely delightful crunchiness. Flavor-wise, it was fairly nondescript at first, with the earthy essence of sesame creeping up toward the finish. I finished an entire box by myself.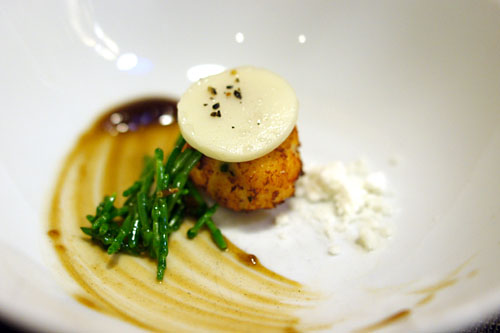 1: Lobster, bone marrow, sea beans, sherry vinegar
Montagnieu 'Methode Traditionnelle' Earl Famille Peillot NV (Rhône-Alpes, France)
Serving as a sort of amuse bouche, chickpea and lobster were melded to fritter form, then paired with bone marrow powder, glasswort, and a Worcestershire-based sauce. The combination of lobster and garbanzo worked well, joining with the marrow to form a certain substantialness that was nicely offset by a marked vinegar-y tang.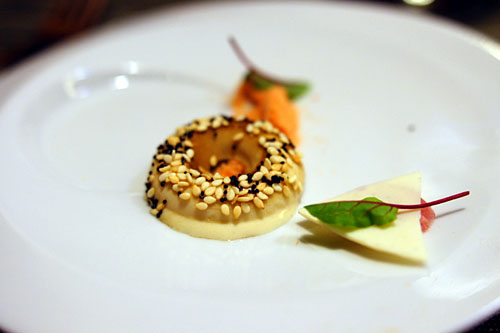 2: Everything bagel, smoked salmon threads, crispy cream cheese
Montagnieu 'Methode Traditionnelle' Earl Famille Peillot NV (Rhône-Alpes, France)
Dufresne's reimagined bagel was up next, composed of salmon threads, pickled red onion, sorrel, crispy cream cheese, and sesame-topped bagel ice cream. In terms of deconstruction, this was certainly successful. Everything just came together wonderfully, making for a course that was spot on in terms of recalling the classic Jewish-American dish of bagel and lox.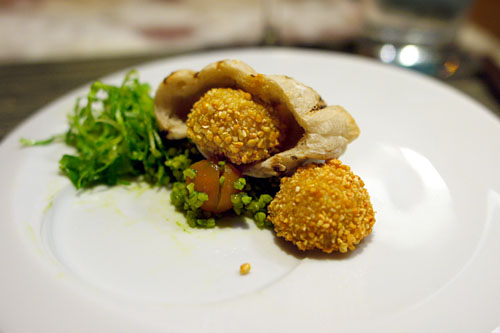 3: Foie-lafel
Estate Riesling Bassermann-Jordan 2009 (Pfalz, Germany)
A falafel, or "crunch patty," is a fried fritter of chickpea (or fava bean), often served in sandwich form. What we had was the Chef's take on the traditional dish, substituting liquid foie gras for garbanzo. This was joined by kimchi tahini (sesame seed paste, a.k.a. "flavor sauce"), tabbouleh, romaine lettuce, and a housemade pita ("pocket bread"). I really appreciated the restrained essence of the foie here, and how it integrated so well with its various accompaniments, with the veggies doing a great job in moderating the heft of the liver. Delicious, and probably tastier than any real falafel that I've had.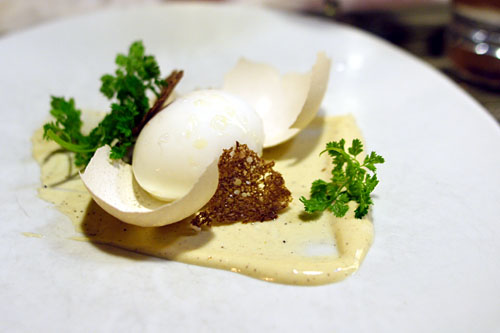 4: Poached egg in the shell, pumpernickel, caesar dressing, bean sprouts
Chardonnay La Fenêtre 2009 (Santa Maria Valley, California)
Chef Dufresne is a noted
egg slut
, and here he pays homage to this favorite ingredient. The most intriguing item on the plate here was that edible "egg shell," actually composed of brown butter and an edible clay called
kaolin
. It didn't do much in terms of flavor, but was great for whimsical effect and adding a certain crunchiness to the dish. What
was
bursting with flavor, though, was a perfectly cooked six-minute egg, all runny and luscious, its gooey richness deftly tempered by the tangy Caesar and refreshing bean sprouts. The pumpernickel, from Moishe's, meanwhile, lent overarching earthy notes that I appreciated as well.
5: King oyster 'udon,' sweetbreads, banana-molasses, pickled ginger
Côte du Rhône Rose 'Tralala' Domaine Saladin 2010 (Rhône, France)
Here, king oyster (
eringi
) mushrooms were transmuted into udon form. I loved the noodles' crispness and snap, as well as their subtly savory flair. The udon paired wonderfully with the heady, perfectly fried sweetbreads, while the arugula and ginger served to counteract the considerably gravity of the course. The most interesting aspect here was actually the banana-molasses, which made for a delicate undercurrent of sweetness that managed to somehow work. Banana chips, meanwhile, added some textural fire to the fray.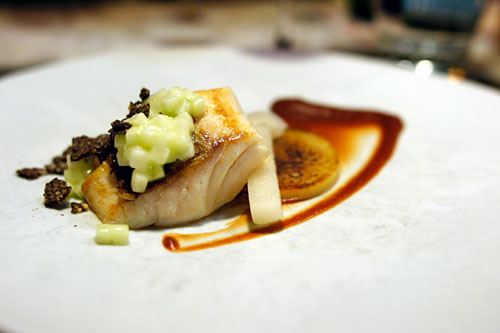 6: Tai snapper, onion tart, coffee, asian pear
Pinot Noir 'White' Soho 2009 (Central Otago, New Zealand)
Red snapper was paired with cucumber, smoked tomato, coffee-cashew crumble, nashi pear, and a brûléed onion. The fish itself arrived expertly cooked--juicy and tender, with a satisfying, saline savor. Unfortunately, the other ingredients at play just seemed discordant to me, with the onion and coffee contributing a disconcerting astringency that threw me off. The tomato also seemed overly domineering.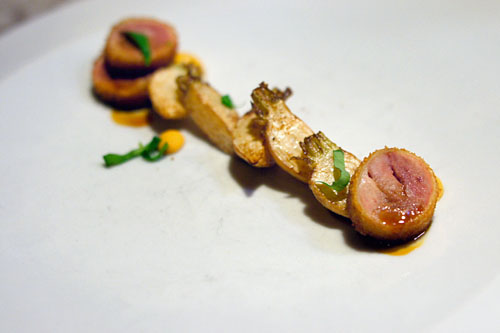 7: Quail, nasturtium yogurt, turnip, nutmeg
Pinot Noir 'White' Soho 2009 (Central Otago, New Zealand)
Quail came presented in roulade form. The bird was succulent, supple, and simply delectable; it easily stood on its own. However, the turnips formed a great balance to the savoriness of the meat, as did the piquant nasturtium. The only problem was that three disks of quail wasn't enough--I wanted more!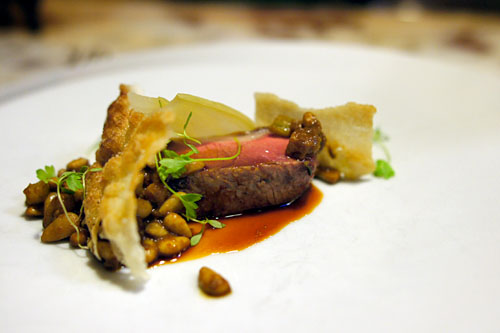 8: Lamb loin, 'red beans & rice,' chayote squash
Grenache 'Nouvelles Fraîches' Chateau Maris 2008 (Languedoc-Roussillon, France)
Our final savory course brought us a perfectly cooked cut of lamb. The meat was thoroughly enjoyable by itself, but I appreciated how it was countervailed by the paired "red beans & rice," which was actually crispy rice chip and mirepoix-cooked pine nuts. Tasty, though I didn't get much from the cayote.
9: Concord grape, cheesecake, lime
Desserts at wd~50 are now the charge of Malcolm Livingston II, who took over the spot vacated by
Alinea
alum Alex Stupak (who went on to open a
taqueria
called Empellon, which makes about as much sense as Jordan Kahn opening up
Red Medicine
). In any case, he started us off with this little pre-dessert. I quite enjoyed the heavy, jammy sugariness of the Concord grape (tastes like Welch's!), which was superbly counterbalanced by the delightful crust of cheesecake and the light tanginess of sour cream and lime.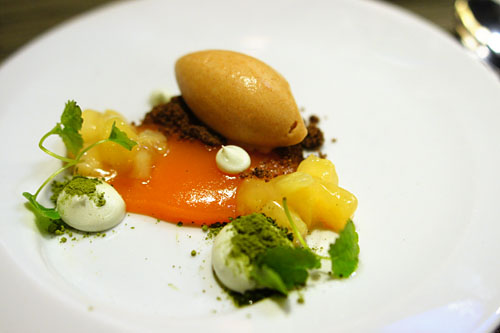 10: Apricot, buckwheat, brown butter, quince, green tea
Gamay 'La Butte' Le Clos du Tue-Boeuf 2009 (Loire Valley, France)
Here, apricot pudding, brown butter ice cream, and quince pieces combined for a multifaceted sweetness that was deftly tempered by the astringency of the green tea powder. Very nice savoriness from the buckwheat streusel as well.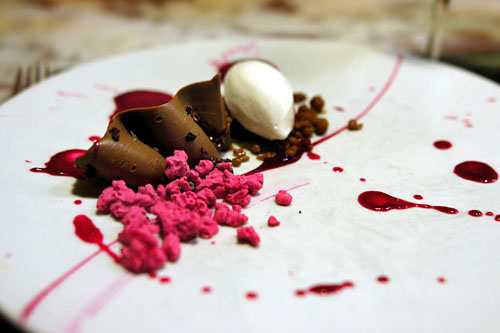 11: Soft chocolate, beet, long pepper, ricotta
Commandaria St. John Keo NV (Lemesos, Cyprus)
Up next was what my server described as the Chef's "Jackson Pollock" dessert, with beet purée dripped and splattered onto the plate in true
action painting
style. The beet was more for visual impact though, as the star of the show here was that fantastic ricotta ice cream, which beautifully played off the chocolate, while the cocoa nibs helped mix things up texturally.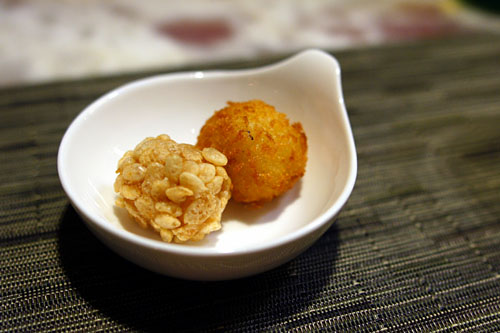 12: Rice krispy treats
To close out the meal: ice cream coated with Rice Krispies and a fried kalamansi rice pudding fritter. Fun and tasty.
People often liken Dufresne to a "mad scientist" of sorts. The descriptor may have been more accurate in the past, but doesn't quite do justice to the Chef today, as there's a definite method to his apparent madness. There's tons of experimentation going on to be sure, but it's directed, and focused, the result of which is food that's undoubtedly intriguing, uncommonly playful, mostly tasty, and strangely comforting. The cooking is avant garde, indeed, but it seems to be somewhat "old school" in that regard as well. Dufresne doesn't delve too much into overly "smart" taste combinations, and a lot of the food recalls flavor permutations that just make sense. He doesn't venture into the hypermodern or the overtly cerebral, instead stepping around the fine line between preciousness and deliciousness, a dance that seems to be working just fine for him.