Short Order (Los Angeles, CA)
Short Order Restaurant
6333 W 3rd St, Los Angeles, CA 90036
323.761.7970
www.shortorderla.com
Thu 11/17/2011, 10:10p-01:40a

Just about the last thing Los Angeles needs is another schmancy burger place, but somehow, Short Order has managed to stand out from the crowd, perhaps due to the fact that the restaurant caps off three decades of collaboration between Nancy Silverton and the late
Amy Pressman
, both of whom got their start in LA working at the iconic
Spago
. For this latest, and last, venture, the two partnered with noted restaurateur Bill Chait (
Rivera
,
Playa
,
Test Kitchen
,
Sotto
,
Picca
), and have installed Christian Page (who decamped from Sarkis Vartanian's Daily Dose) as head of the kitchen. Following Pressman's recent passing, the team at Short Order organized a small pre-opening "block party" at the Farmers Market to benefit Pressman's
Baker's Dozen
Memorial Scholarship.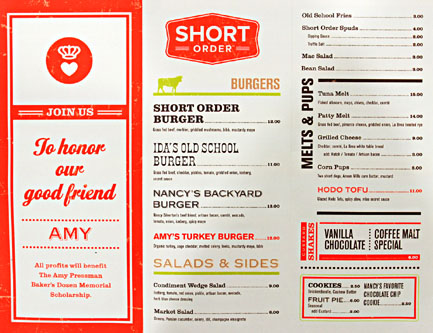 During this event, we enjoyed an abbreviated version of Short Order's regular menu. Click for a larger version.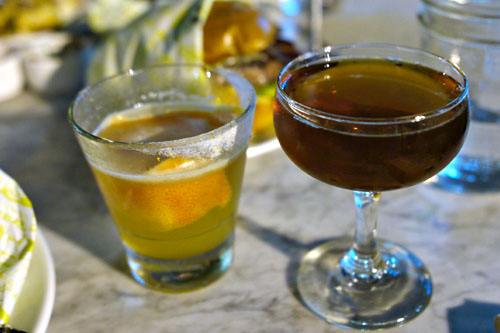 Fist Full of Dollars [$12.00]
| Craft method brandy, Combier, Amaro Montenegro, fresh lemon, cinnamon bark syrup, angostura, spiced castor sugar
Blue collar cocktail [$12.00]
| rye whiskey, cocchi vermouth Di Torino, American maraschino, Amer Picon, lemon twist
Noted barman Julian Cox has been tasked to create Short Order's cocktail list, and we began with two of his creations. First up was the
Blue Collar Cocktail
, a boozy libation with plenty of rye character, but balanced out by the application of simultaneously sugary yet astringent flavors. The
Fist Full of Dollars
, meanwhile, was actually a revised version of a drink previously served at
Test Kitchen
. As was the case before, I rather liked it, with its marked brandy base highlighted by a deft interplay between the bittersweet
amaro
, citrus-y Combier, and spicy castor sugar.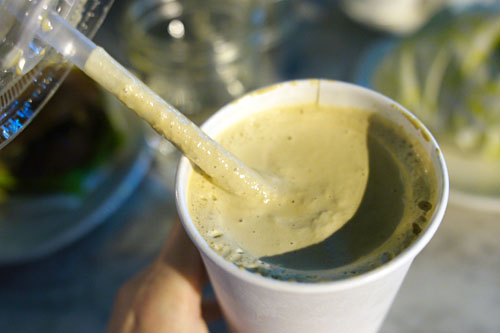 Custard Shake [$6.00]
| Coffee Malt
In addition to the cocktails, we also tried one of Short Order's shakes. Our server recommended the Coffee Malt variation, and it certainly was good, with a restrained coffee essence balanced by just a touch of maltiness.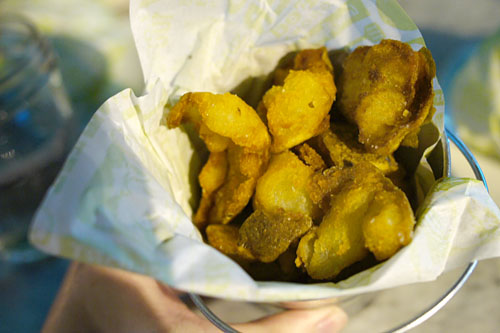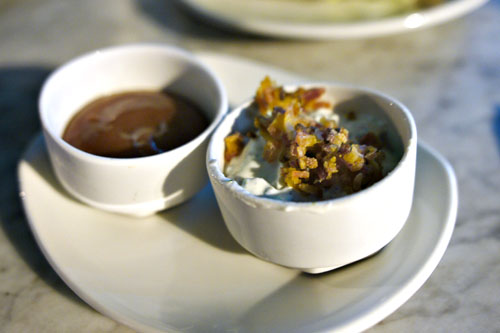 Short Order Spuds [$4.00 + $2.00]
| Dipping Sauce
According to a recent article in the
LA Times
, the team at Short Order is attempting to redefine the classic French fry via their signature "spuds," which are basically torn pieces of baked potato, deep-fried. The spuds were as delicious as you'd expect, with pleasantly starchy interiors encased in a crisp, flavorful crust. They were even better paired with ketchup or a "loaded baked potato dip" of sour cream, bacon(!), chives, parsley, and scallion.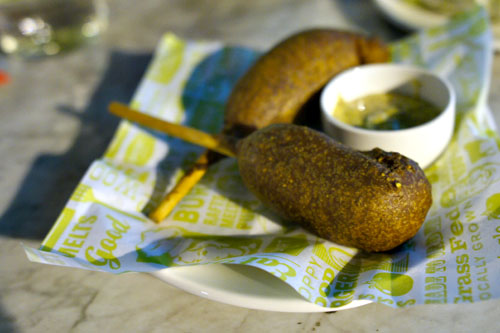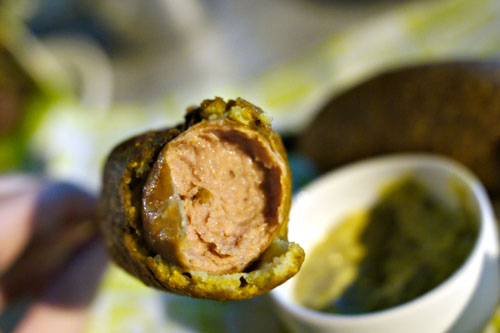 Corn Pups [$8.00]
| Two short dogs, Anson Mills corn batter, mustard
I've
never
been a fan of corn dogs, so I wasn't surprised that these "pups" represented the best version of the dish that I'd ever had. What made them work for me was that the sausage, with its delightfully snappy casing, was clearly the star of the show here. The meat was salty and gratifying, while the batter merely served to accent the dog. Mustard, meanwhile, provided a countervailing tanginess to things that really completed the course.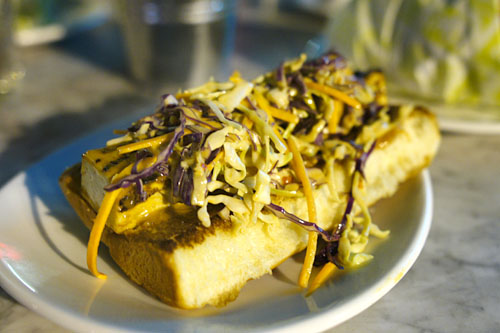 Hodo Tofu [$11.00]
| Glazed Hodo Tofu, spicy slaw, miso secret sauce
Our final starter featured blocks of tofu from producer
Hodo
, cooked to a satisfyingly savory consistency, then covered in shredded veggies, drenched in a peanut-y dressing, and placed over toasted bread. The bean curd itself was actually quite tasty, and I appreciated the levity contributed by the slaw. However, I found the miso-based sauce too strong for my tastes, with some pretty intense sugary and nutty notes that tended to outshine the tofu.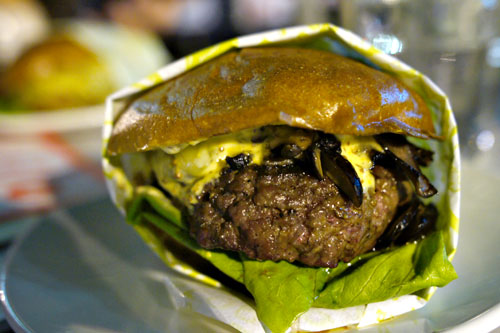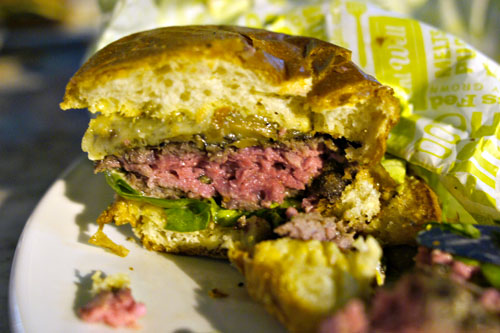 Short Order Burger [$12.00]
| Grass fed beef, morbier, griddled mushrooms, bibb, mustardy mayo
Naturally, we had to try Short Order's eponymous signature burger, and it definitely was no slouch. The patty itself I found to convey a very pure, yet somewhat peppery beefiness, one that went well with the creamy, lush Morbier. The savoriness of the combination was further heightened by the inclusion of mushrooms, while the lettuce and "mustardonnaise" served to tone down the burger.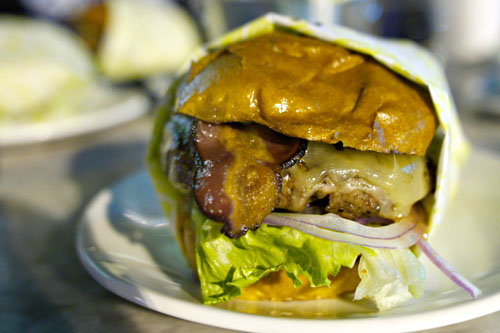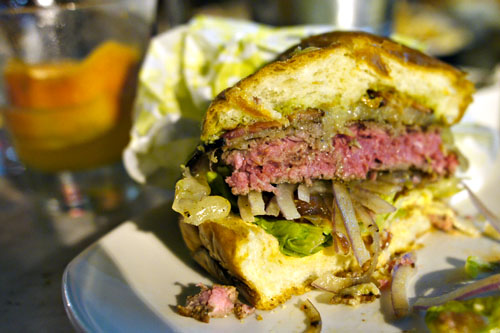 Nancy's Backyard Burger [$13.00]
| Nancy Silverton's beef blend, artisan bacon, comté, avocado, tomato, onion, iceberg, spicy mayo
As good as the Short Order Burger was, I think most of us preferred Nancy's Backyard version better. I found the beef here a bit more monolithic, so the accompaniments were key. Bacon, of course, added a well-placed bit of salt, but really the crux of the burger hinged on the various veggies, their bright, crisp, juicy flavors moderating the meat beautifully, all while the spicy mayo helped tie every element together.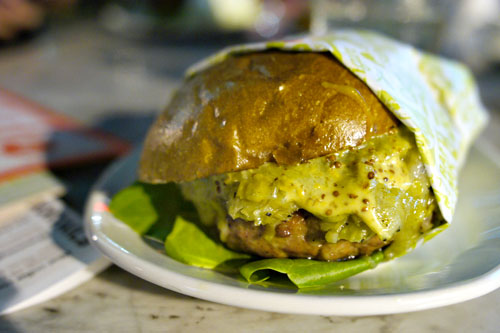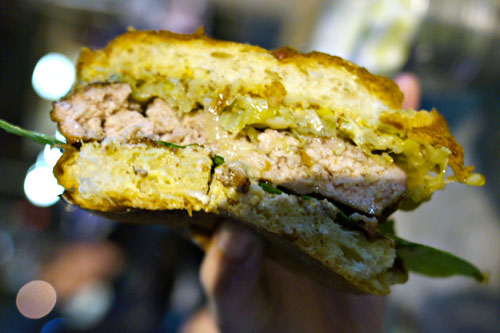 Amy's Turkey Burger [$12.00]
| Organic turkey, sage cheddar, melted celery, leek, mustardy mayo, bibb
I'd never really been a fan of turkey burgers prior to Joseph Mahon's "O.C." at
Burger Parlor
, and Amy's Turkey Burger certainly compared favorably to that revelation. It was arguably my favorite hamburger of the night, in fact; I thoroughly enjoyed the patty's richness and succulence, and how the bird worked along with the cheese to develop some really delicious flavors. What made things even more interesting was the combo of leek and celery, which provided a rather focused bit of piquancy that served as a perfect counterpoint to the meat.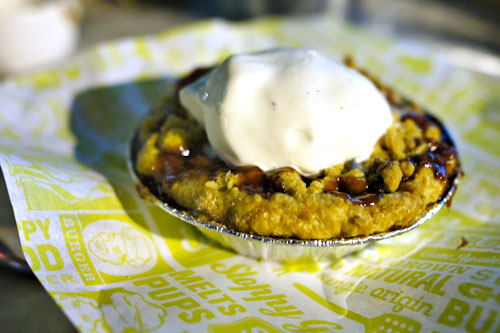 Fruit Pie [$6.00]
| Seasonal
Although we were quite full from all the meat we ingested, we still had to make some room for dessert. Short Order plans to feature a rotating selection of seasonal pies, and this evening we had our choice of squash or raspberry/cranberry. We went with the latter, and were rather pleased with our selection. The pie really did a nice job in showing off the tartness and sweetness of the fruit, and I appreciated the consistency and texture of the crust as well. Vanilla ice cream, of course, was the proverbial
icing on the cake
.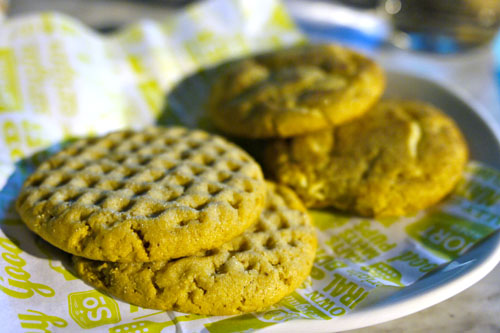 Cookies [$2.50 + $2.50]
| Snickerdoodle, Cashew Butter
Some soft, freshly-baked cookies to close. The snickerdoodles were particularly enjoyable, with a delectable sweet spice that I found rather endearing.
Short Order appears to be getting off to a strong start, and I'm willing to bet that the restaurant will be a smash hit in the coming months. With burgers, booze, and Silverton at the helm, we're talking about a recipe for success, a sort of a no-brainer really. The burgers were promising, probably already among the City's best, and the apps were solid as well. I think the food will only get better, and I wouldn't mind returning some time to take a crack at the rest of the menu.