The Royce (Pasadena, CA) [2]
The Royce at The Langham
1401 S Oak Knoll Ave, Pasadena, CA 91106
626.585.6410
www.roycela.com
Tue 11/15/2011, 07:25p-11:45p
My meal last year at
The Royce
, shortly after it opened, was one of the highlights of 2010. In David Féau, I thought that The Langham had found a worthy successor to
Michael Voltaggio
. His cooking was of undeniably high caliber, and, combined with The Royce's service and ambiance, made for a true fine dining experience, which seems to be getting harder and harder to find these days. To celebrate the restaurant's one year anniversary, Féau and company created a special tasting menu for a week in November, and I was delighted when I was invited to attend, to sample some of the Chef's "greatest hits" over the past year or so.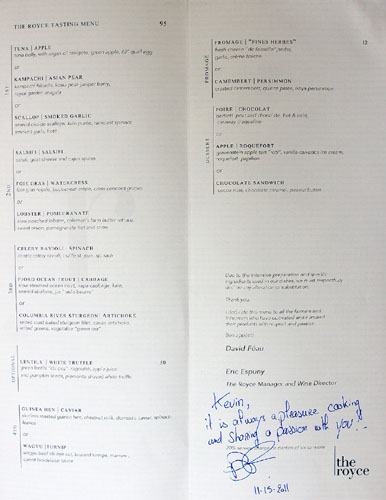 The Anniversary menu was priced at $95 for five courses, though supplements were certainly available. However, for our special tasting, we requested one of each item listed, split between two people. Click for a larger version.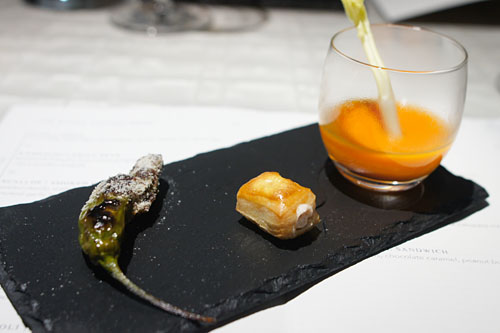 We began with an amuse bouche trio, paired with a delightful sparkling merlot. Starting from the right, we had a hearty tomato soup, lightened by a bit of celery tang. In the middle was my favorite of the threesome, a puff pastry with herring that showed off a beautiful interplay between the fish, cream, and crisp dough. Finishing things off was a shishito pepper, more complex than usual, with a nice mix of smoky and spicy flavors.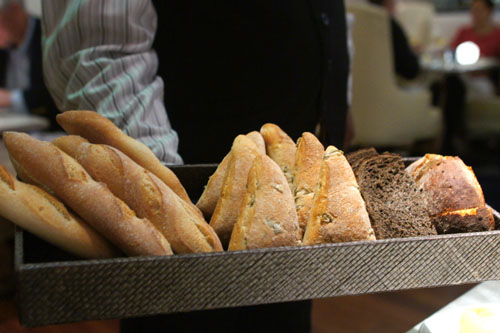 Bread is baked in-house, and included baguette, green olive, toasted flour, and bacon varieties. We found the toasted flour particularly engaging.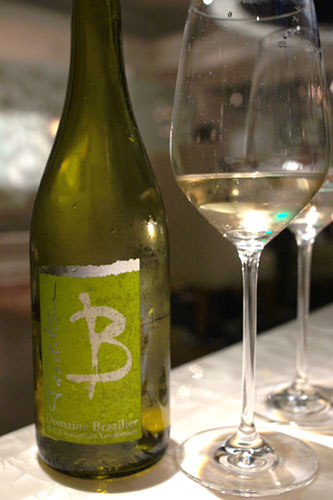 For the meal proper, The Royce's ever-affable GM/Director of Wine Eric Espuny (whom you may remember from
Patina
) started us off with the 2009 Domaine Brazilier Coteaux du Vendômois Tradition. This was a chenin blanc-based wine from the Loire Valley, and was positively delicious--beautifully balanced, light, and easy-drinking, with a great mix of sweetness and minerality, along with a bright acidity that paired well with the food.
1: KAMPACHI | ASIAN PEAR
| kampachi hibachi, kosui pear-juniper berry, royce garden arugula
Things got off to a fantastic start with kampachi, which showed off a wonderful bit of spiciness that went well with the its meaty, toothsome character. The fish was tasty alone, but what made this dish stand out was the interactions between the sweet nashi pear, vegetal yet luscious juniper crème fraiche, tart yuzu, and bitter arugula. Everything just melded together nicely here.
2: TUNA | APPLE
| tuna belly, with argan oil ravigote, green apple, 62° quail egg
The tuna belly, meanwhile, didn't quite reach the lofty heights of the kampachi, but was tasty nonetheless. Here, I found the fish surprisingly mild, with only a subtle fattiness that was kicked up a notch by the luxuriousness of the accompanying quail egg. At the same time, a combination of radish, carrot, and apple, along with the piquancy of the sauce ravigote, served to counteract the richness of the
toro
with a blend of herbaceous and saccharine flavors, and also added some textural variation to the course.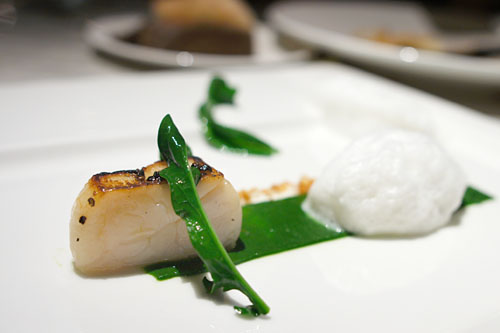 3: SCALLOP | SMOKED GARLIC
| seared okaido scallops, kale purée, rampant spinach, smoked garlic froth
A singular scallop arrived perfectly seared--crisp and caramelized on the outside, yet still slightly cool on the inside. It was delicious alone, but the garlic here really took the bivalve to new heights in flavor, while the astringency of the greens served as a perfect counterweight.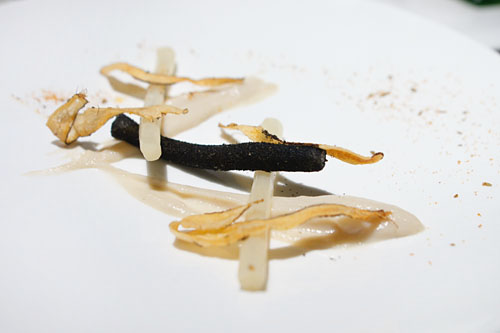 4: SALSIFI | SALSIFI
| salsifi, goat cheese and cajun spices
I remember this dish fondly from my
previous visit
, and it didn't let me down this time around either. Here, Féau presents salsify in four ways: braised, puréed with goat cheese, coated in leek ash, and fried in Cajun spices. It was just a great mélange of savory, spicy tastes and disparate textures that clearly showed off the various facets of the oyster plant, from the mildness of the braised version, to the bitterness of the ash-coated preparation, all the way to the subtle heat of the fried presentation.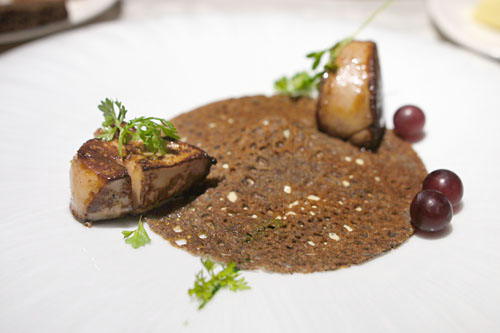 5: FOIE GRAS | WATERCRESS
| foie gras royale, buckwheat crêpe, cress-concord grapes
Eating this, I felt a pang of sorrow knowing that I'll no longer be able to (legally) enjoy foie gras come next year, because this dish was pretty fantastic. Hudson Valley liver was remarkably delicate, with a rich yet refined relish of foie that was finished with just the right amount of saltiness. It was actually very tasty alone, but I also enjoyed the tempering effect provided by the buckwheat, as well as the pricks of astringency from the cress. I even liked the grapes, which added just the right amount of sweetness to things.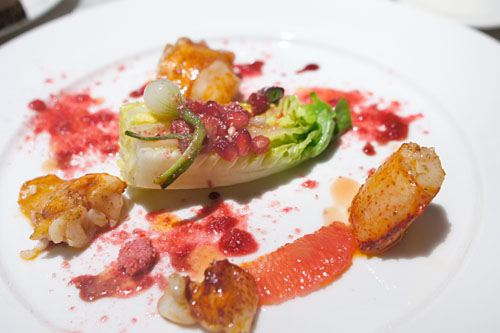 6: LOBSTER | POMEGRANATE
| slow poached lobster, coleman's farm butter lettuce, sweet onion, pomegranate hot and snow
Up next was another repeat from before, and I think the course was even better tonight. Lobster arrived perfectly poached to a fresh, snappy, yet tender consistency, and conveyed a beautiful sweetness that was augmented by the various forms of pomegranate, as well as the suprêmes of citrus. As good as that was, the crux of the dish for me was the lettuce, which provided a refreshingly vegetal crunch that actually emphasized the salinity inherent in the crustacean. And the sweet onion? Icing on the cake.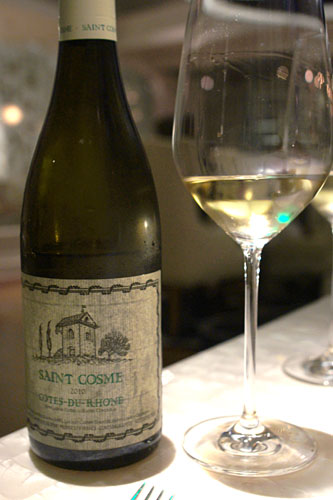 To go along with the heavier fish courses to follow, Espuny picked out for us the 2010 Saint-Cosme Côtes du Rhône Blanc. It was easily a more substantial wine compared to the Brazilier above, but equally as enjoyable--crisp, with marked notes of stonefruit and oak, along with a very interesting palate of fennel!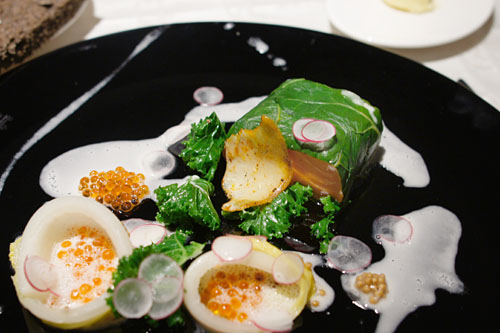 7: FJORD OCEAN TROUT | CABBAGE
| slow steamed ocean trout, napa cabbage, kale, seared abalone, jus "radis beurre"
Our ocean trout was excellent, cooked spot on temperature-wise with a soft, flaky consistency and wonderfully saline relish that was only heightened by the spheres of salmon roe sprinkled throughout the dish. The fish went beautifully with the various veggies at play, which served to balance out things and also add some crunchiness to the course. And the abalone? An extra bonus.
Very
nice.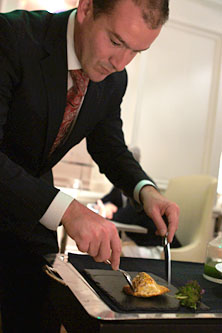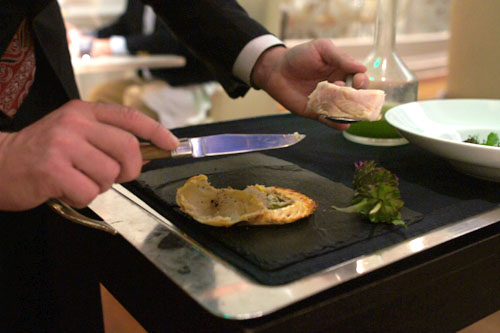 One thing that I miss these days in dining is tableside service, and here Espuny shows us just how adept he is at it, artfully removing the sturgeon from its pastry crust for our next course.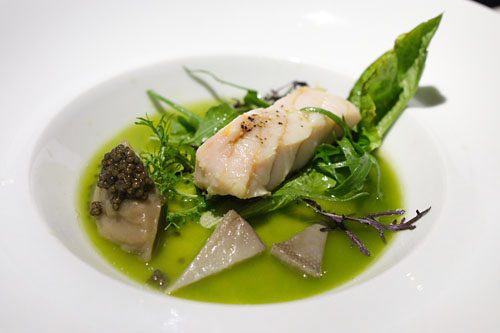 8: COLUMBIA RIVER STURGEON | ARTICHOKE
| salted crust baked sturgeon fillet, caviar-artichoke, wilted greens, vegetable "green tea"
Next up was a clear highlight of the dinner and without a doubt the best sturgeon dish that I've ever tasted (and I'd just had it at
French Laundry
!). Its flesh was firm, yet yielding, with a mature, briny essence and wonderful aromatics, further amplified by the included pearls of caviar. Given the gravity of the fish, I loved how it was so perfectly complemented by the greens and vegetable broth here, which really did a great job in tying everything together and making the dish whole.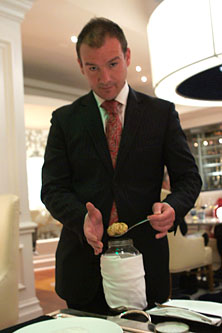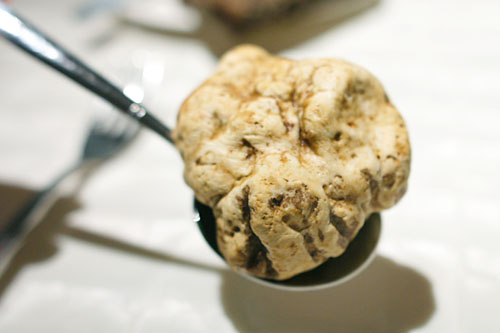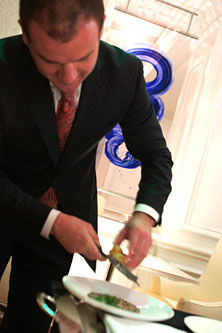 At this point, Espuny brought out a jar containing eggs and quite possibly the most intensely redolent white truffle that I'd ever encountered (in case you're wondering, the eggs were there to get infused with truffle goodness and make for an amazingly fragrant omelet). While I was thinking in my head
shave that bitch
, Espuny proceeded to slice a generous portion on our next course...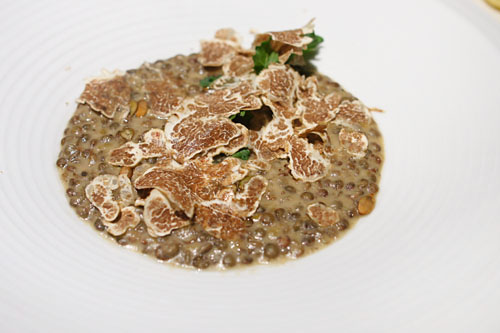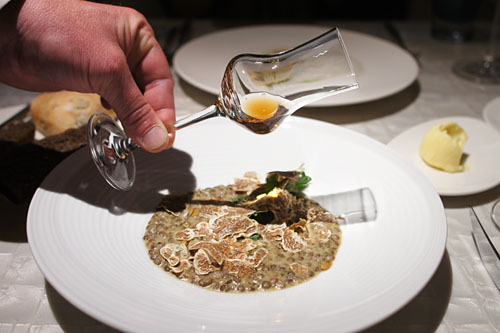 9: LENTILS | WHITE TRUFFLE
| green lentils "du puy", ragoutté, apple juice and pumpkin seeds, piemonte shaved white truffle
...Which was, clearly, the most amazing lentil dish that I've ever had, and one of the best things I've eaten all year. The smell of the truffle was positively intoxicating, a heady punch of earthy aroma that served as the perfect counter to the comparative austerity of the lentils--a beautiful contrast of luxury and economy. Pumpkin seeds, meanwhile, added a touch of smoke, as well as a wonderful textural element to the course. To go along with the lentils, Espuny also provided a small bit of amontillado sherry, meant to pair with the truffle.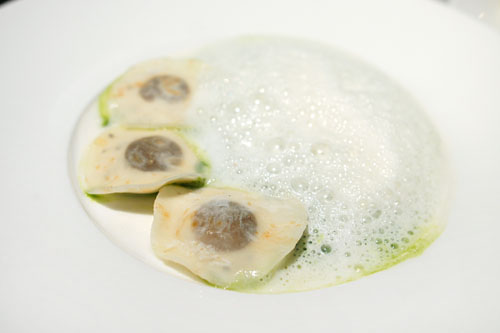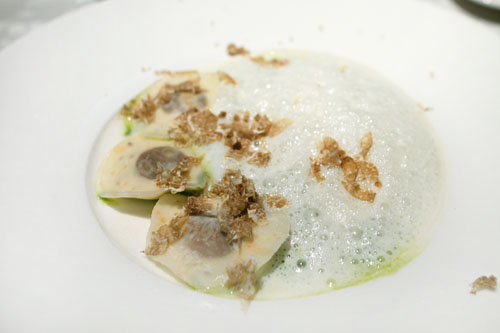 10: CELERY RAVIOLI | SPINACH
| ricotta celery ravioli, truffle st. jean, spinach
Shaved Piedmont white truffle also made its way upon our celery raviolis, where it joined the black truffle St. Jean. The
truffe
did an admirable job in tempering the strong vegetal notes of the celery, though it was still a bit too domineering for me, while the ricotta served to ground and integrate the dish. I appreciated the spinach, too.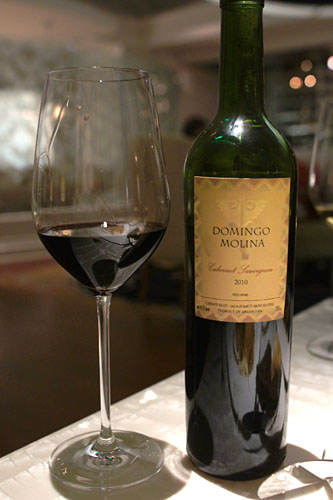 To pair with our final savory courses, Espuny selected the 2010 Domingo Molina Cabernet Sauvignon from Argentina, a fairly powerful wine with a noticeable pepperiness and lots of dark fruit notes.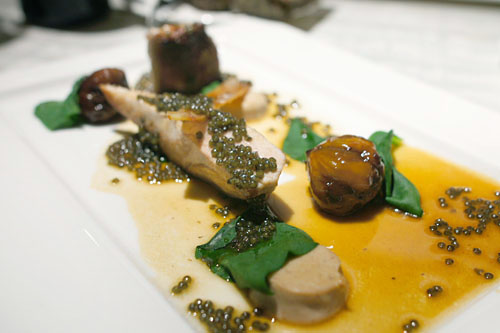 11: GUINEA HEN | CAVIAR
| skinless roasted guinea hen, chestnut milk, domestic caviar, spinach leaves
Guinea hen arrived in two portions: breast and thigh. The dark meat was stupendous, with a wonderfully crisp, savory skin and an immense depth of flavor; by comparison, the breast was drier, and less succulent unfortunately. Both portions, however, possessed a chicken-like relish that was amped up by the salty kick of the caviar, while the jus provided further layers of flavor. The chestnut, meanwhile, served to moderate the bold tastes at play, though wasn't necessary in my eyes. What was, however, was the spinach and its touches of bitterness.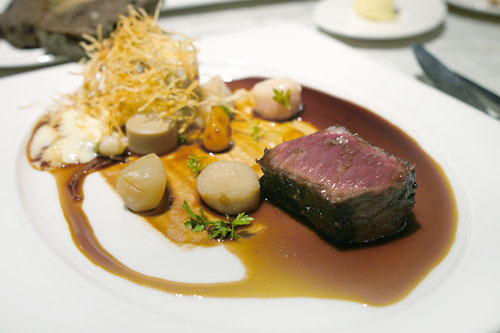 12: WAGYU | TURNIP
| wagyu beef rib eye cut, braised turnips, marrow, carrot bordelaise sauce
Finally, we had Féau's take on "steak and potatoes." The steak portion was pretty much spot on, a nicely fatty, beefy ribeye with a lovely char and sear. It was delicious alone, and excellent when paired with the potatoes prepared three ways: braised, fried to strings, and turned to a smoked foam. The braised turnips and carrots also helped moderate the dish, though I wasn't quite as keen on the carrot bordelaise.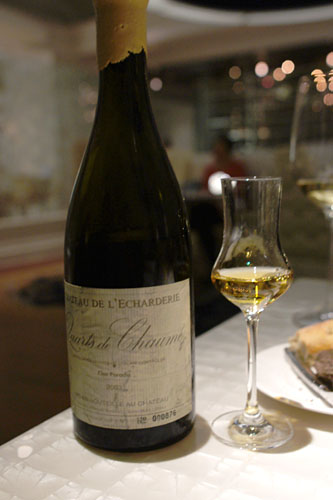 At this point, Espuny brought out some dessert wine: the 2003 L'Echarderie Quarts de Chaume, a chenin blanc from the Loire Valley (and reportedly one of only 10 bottles left in California!). It was tremendous, with an almost Sauternes-esque sweetness that I adored; think honey and tropical fruit, with a balancing acidity.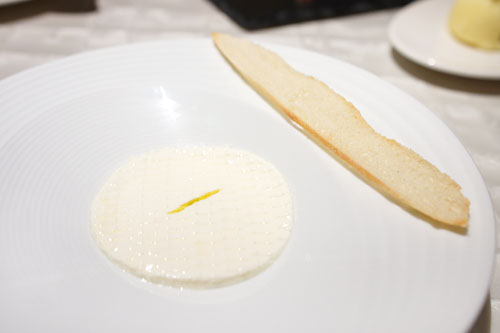 13: FROMAGE | "FINES HERBES"
| fresh cheese "de faisselle", herbs, garlic, crème fraiche
A disk of
fromage blanc
was a real treat. A raw, fresh cheese, it had a fantastically light, yet lactic essence that I loved, especially when paired with the stronger flavors of the herbs, garlic, and smidge of black pepper.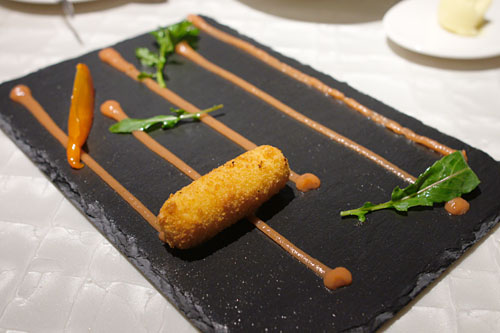 14: CAMEMBERT | PERSIMMON
| crusted camembert, quince paste, ishya persimmon
Camembert, natch, is one of my favorite cheeses, and in this course, I was reminded why. Done up in a croquette fashion, the
fromage
was simply marvelous: crisp and crunchy on the outside, but still wonderfully lush and gooey on the inside, with a rich, luxurious flavor that was perfectly set off by the sugariness of the persimmon and quince.
For a change of pace, petit fours actually came
before
the main desserts: grapefruit tarts with finger lime, citrus madeleines, and ricotta cheesecakes--all delicious.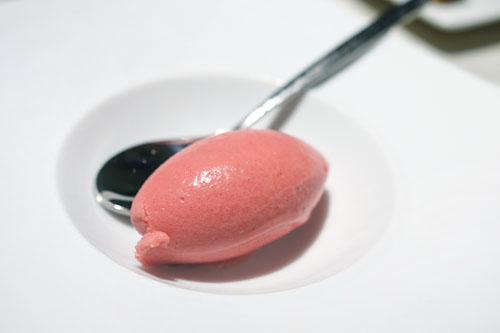 Also commendable was the housemade strawberry-coconut sorbet, with its bracing mix of berry and coco flavors that did a great job perking up my palate.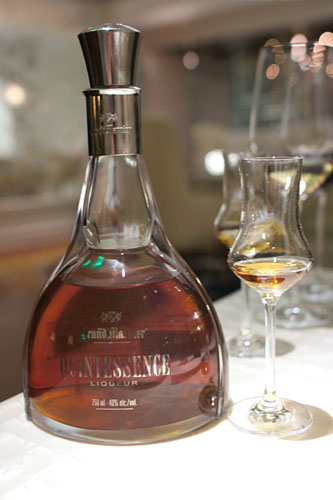 For our final beverage pairing, Espuny went above and beyond the call of duty, pulling out all the stops with the Grand Marnier Quintessence. A new, limited (2,000 bottles) release from Grand Marnier, created just this year, Quintessence is a blend of Grande Champagne cognacs from the private stocks of the Marnier-Lapostolle family, some dating all the way back to 1906. The cognac is then combined with distilled bitter orange essence, and aged in French oak, making for a honeyed, slightly floral drinking experience, one with subtle, yet strong undercurrents of citrus flavors.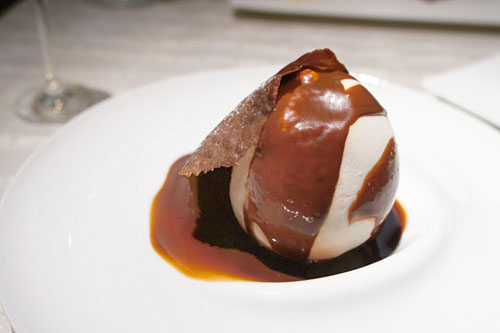 15: POIRE | CHOCOLAT
| bartlett pear and chocolate, hot & cold, caraway craqueline
Next, we were presented with the Chef's reinterpretation of the classic poached pear with chocolate sauce. It was actually quite intriguing. There was no real pear at all, but rather a spheroid of light, almost ethereal pear "snow" that deftly conveyed the spirit of the fruit. This was nicely countervailed by a warm chocolate sauce, with its slight bitterness, as well as the spicy, savory caraway cracker.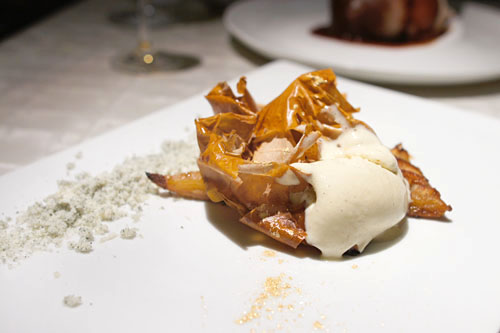 16: APPLE | ROQUEFORT
| gravenstein apple tart "roti", vanilla-calvados ice cream, roquefort papillon
Here, the Chef presents to us his version of an apple tart. Apple was combined with an airy, somewhat smoky, and almost weightless phyllo "paper," making for a fascinating expression in which the apple melded seamlessly with the vanilla-calvados ice cream, while the blue cheese crumbles added a sharp, salty piquancy to the mix. Neat!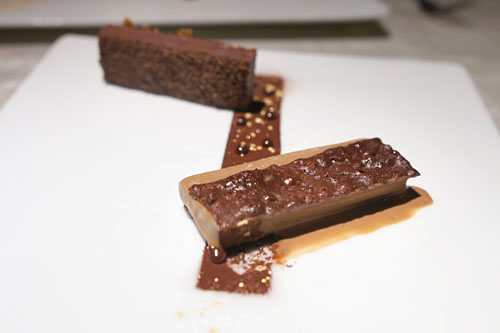 17: CHOCOLATE SANDWICH
| cocoa nibs, chocolate caramel, peanut butter
We closed with the most conventional of the desserts, in which a peanut butter chocolate ganache was paired with a nutty milk chocolate, making for a straightforwardly satisfying eating experience, not unlike that of a uppity Reese's Pieces!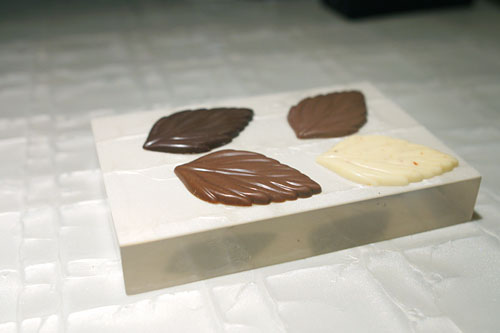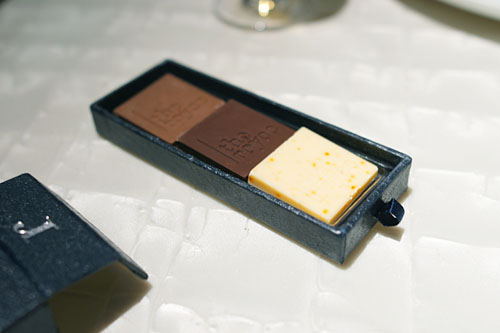 And finally, leaves of dark chocolate with sea salt, white chocolate with espelette, and milk chocolate, along with more chocolates tabs in a take-home box.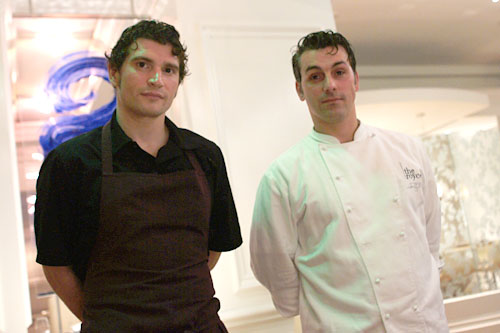 Chef David Féau, along with new Sous Chef Perry Pollaci (whom you may remember from
Plate by Plate
).
I thought my
first meal at The Royce
was good, but this dinner was easily better. Féau and company did a remarkable job in showing us what the kitchen can accomplish here. The food was almost universally delicious--creative, and inventive, but smart and somewhat familiar all at the same time. In fact, the whole experience--with the service, the ambiance, the pomp and circumstance of it all--really reminded me of how great fine dining can be; it's sort of a shame that we're moving away from that paradigm. In any case, this experience just drove home my belief that Féau's cooking is some of the finest in the Southland, and that he really deserves more credit than he gets.