Taste of Beverly Hills 2010: 9.02.10 Beverly Hills Celebration (Beverly Hills, CA)
Taste of Beverly Hills 2010: 9.02.10 Beverly Hills Celebration
9900 Wilshire Blvd, Beverly Hills, CA 90210
www.thetasteofbeverlyhills.com
Thu 09/02/2010, 07:00p-10:00p

Last night,
Food & Wine
magazine kicked off the first annual
Taste of Beverly Hills
in grandiose fashion with the "9.02.10 Beverly Hills Celebration." Set in the shadow of the famed Beverly Hilton Hotel, the evening was headlined by international singing sensation
Natasha Bedingfield
, while the inimitable
Larry King
served as master of ceremonies. What's more, Mayor Jamshid "Jimmy" Delshad presented the proverbial Key to the City to none other than
Kim Kardashian
(and the rest of the Jenner-Kardashian clan; Bedingfield and King, too). Wolfgang Puck, naturally, made a special appearance as well. It was, indeed, a spectacle worthy of the zip code. The food-focused festivities will continue throughout the weekend, culminating with the "BBQ in the Hills" on Sunday evening, which I also plan on attending.
Foodie types in attendance included: Alex of
Roller Pig
, Esther of
e*star LA
, Diana of
Diana Takes a Bite
, Hadley Tomicki from
Grubstreet
(joined by site photographer Tatiana Arbogast), Jennifer Heigl from
Daily Blender
, Josie of
Uncouth Gourmands
,
Lindsay William-Ross
from
LAist
, Lucy of
Ladles and Jellyspoons
, PR maven
Meghan Patke
, Neil of
Food Marathon
, and
Sam Kim
from
LAist
.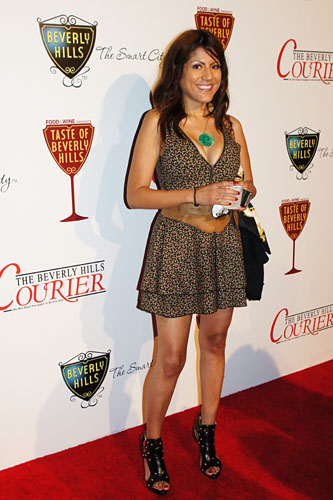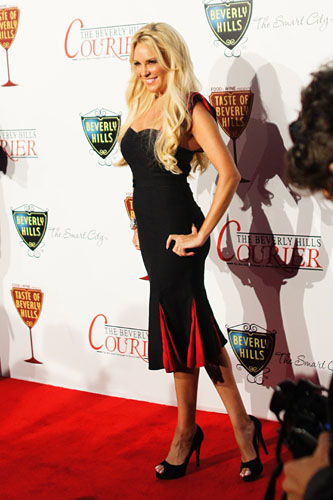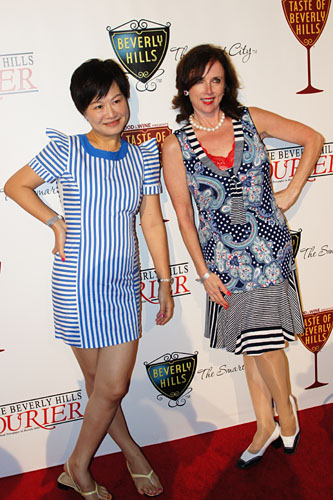 Naturally, they had a rather lengthy red carpet set up at the entrance.
Now on to the food...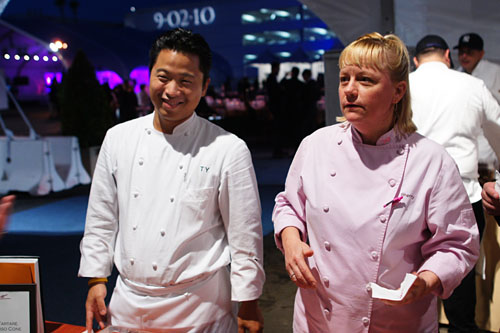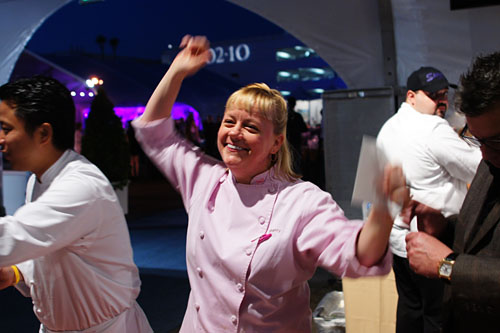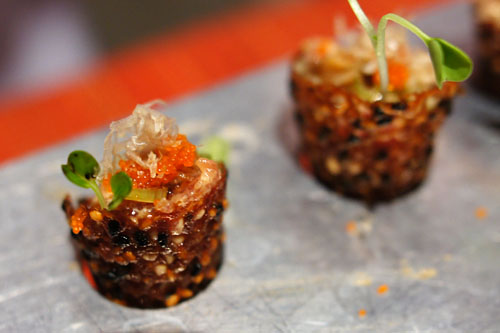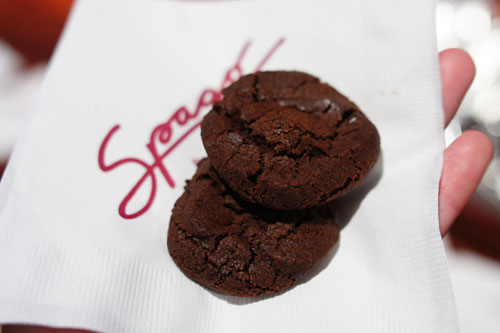 Spicy Tuna Tartare in a Sesame Miso Cone
|
Spago
In terms of Beverly Hills restaurants, what could be more iconic than
Spago
? It was thus fitting that the night began with Wolfgang Puck's seminal eatery. Chef de Cuisine Tetsu Yahagi and Executive Pastry Chef Sherry Yard were on hand to deliver the goods. I was not surprised to see the tuna cones being served, which are sort of a signature canapé at the restaurant. They were slightly sweeter than I recall, but still had a nice bit of heat to them. Chocolate shortbread cookies, meanwhile, were simple but tasty, as expected.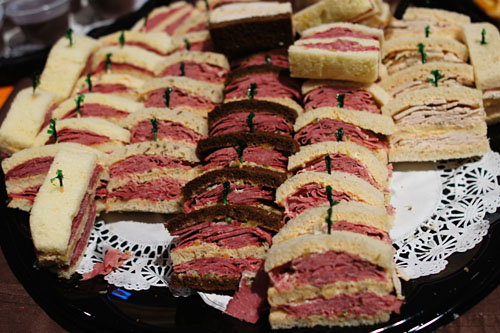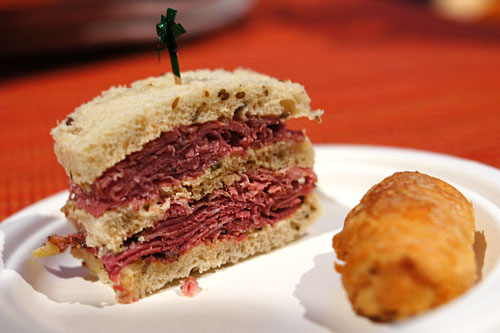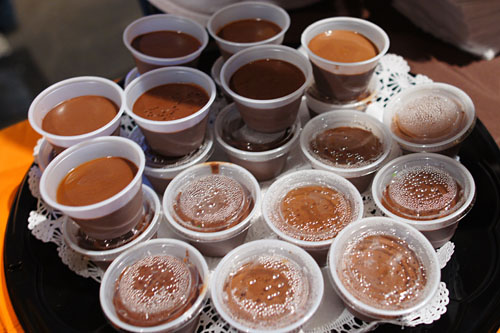 Assorted Finger Sandwiches (turkey, corned beef, pastrami) / Regulach Tray
|
Nate 'n Al
Nate 'n Al offered up three types of sandwiches, but I had to ration stomach space, so I went with the recommended pastrami version. It was fantastic, showing off a superb spicy-savoriness, balanced by a bit of vegetal tartness. I also sampled a chocolate rugelach, which was nice enough.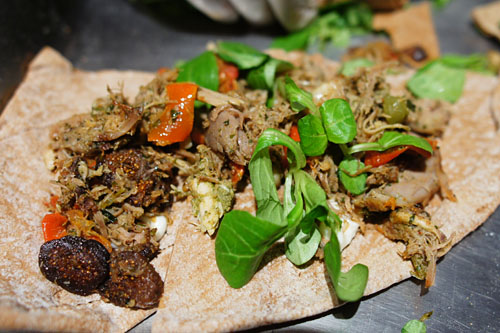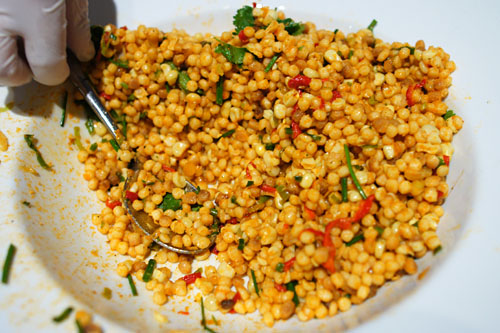 Duck "Shawarma" / Israeli Couscous and Organic Corn Salad
|
Momed
One of my favorite items of the evening was the duck "shawarma" from Momed. I loved the duck's deep, rich, heady flavors, balanced by the cool tang of the garlic spread, as well as the slight astringency of watercress--flawless. Couscous was also quite tasty, serving as a fitting temper to the heft of the duck.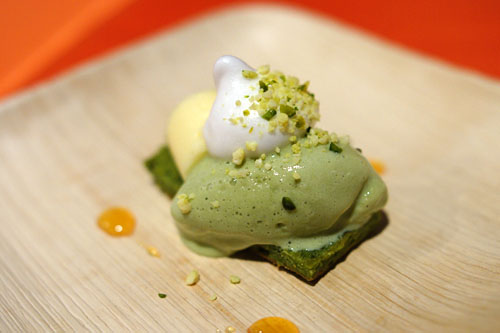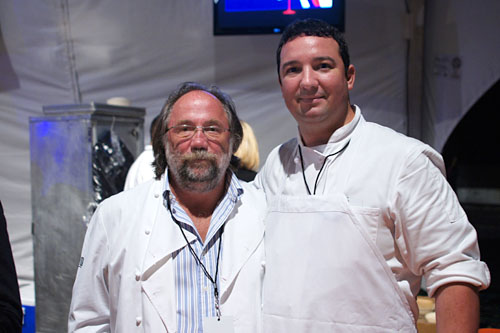 Green Tea and Yuzu Parfait, Candied Pistachio
|
Patina
With the departure of Waylynn Lucas,
Patina
was on the prowl for a new Pastry Chef, and Joachim found him in the form of Joel Reno, formerly of Quince in San Francisco (he also worked at Everest, Le Lan, and Les Nomades in Chicago). Judging by the strength of this dessert, things are looking up for the restaurant. I adored the interaction between the subtle astringency of the green tea and the marked sourness of the yuzu, while the pistachio added just the right amount of nuttiness.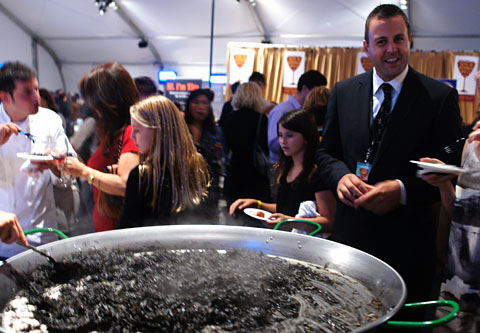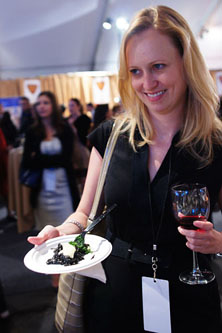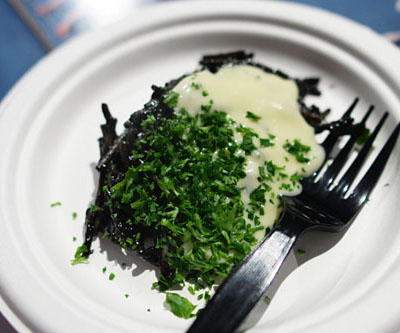 Fideua Spanish Dish with Shrimp
|
The Blvd at Beverly Wilshire Hotel
Fideuà, which originates from Valencia in Spain, is a reworking of paella in which noodles (squid ink-tinted, here) are used in place of rice. It's one of Chef Perfecto Rocher's signature dishes, and was presented with shrimp and a garlicky allioli. I really appreciated the pasta's texture, and how well the brininess of the shrimp was presented and complemented by its tangy accoutrements. In the first photo, we see the giant paella dish used to make the dish, as well as Restaurant Manager Anthony Frunzi (whom I met at
Plate by Plate
). I was also introduced to Jennifer Cooke (middle photo), The Blvd's head of PR.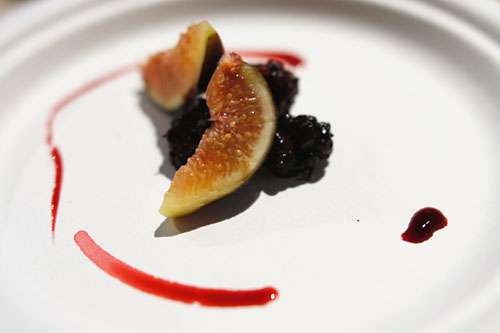 Foie Gras Spiced Rice Krispy Treats / Persian Mulberries with Black Mission Figs
|
Thompson Beverly Hills
Unfortunately, Thompson's Brian Redzikowski had already run out of the foie by the time I swung around, but he did have plenty of mulberries left. They were actually surprisingly delicious, with the berries playing off the figs perfectly. Very nice.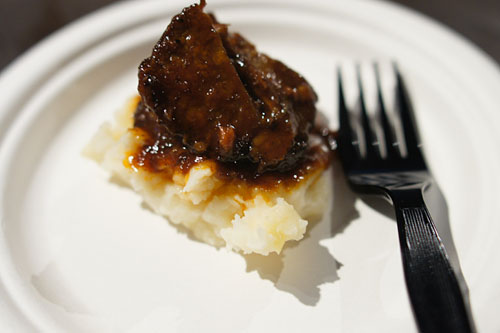 BBQ Beef Short Ribs with Grilled Corn Mashed Potatoes / Famous Farm Brownie Bites
|
The Farm of Beverly Hills
And now for something more substantial, The Farm served up a straightforward preparation of short ribs. The meat was all that you'd expect, with its deep, dark, beef-y savor moderated by the potatoes.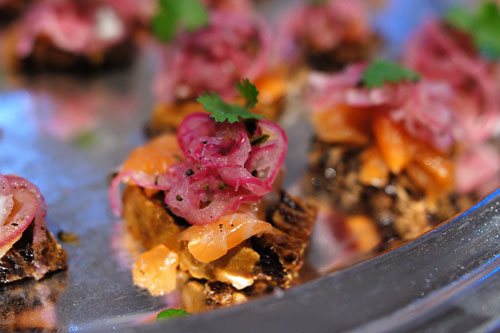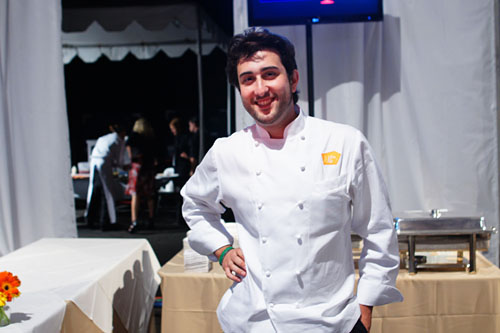 Vodka Cured Salmon on Pumpernickel Crostini with Dill Aioli
|
Nic's Beverly Hills
Nic's provided a nice little bit of salmon-y goodness. The pairing of the fish will dill is a classic, but thoroughly effective one, and I liked the hint of astringency imparted by the vodka. Nice crunch on the crostini, as well.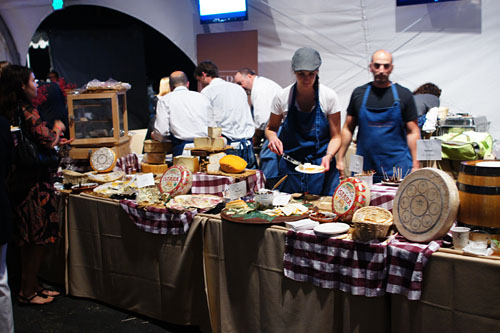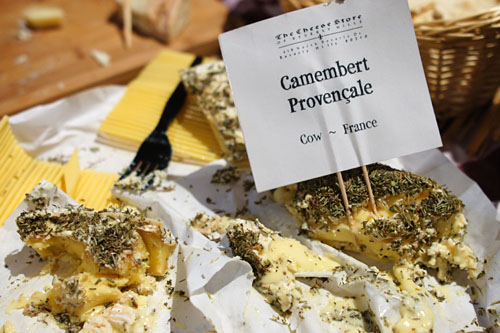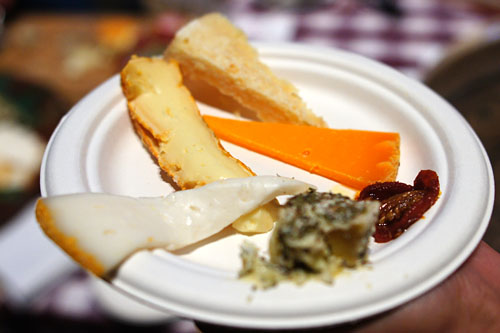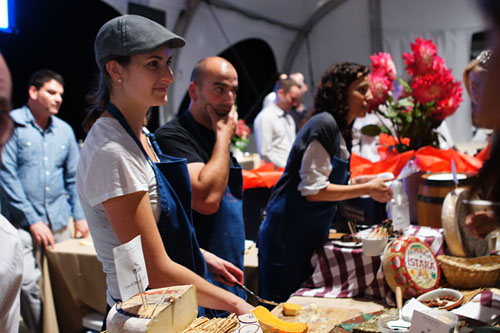 Assorted Cheeses
|
The Cheese Store of Beverly Hills
The Cheese Store had arguably the most impressive display out of all the vendors. I ended up trying a quintet of fromage, with my favorite being the Camembert Provençale with its fantastic interplay of creamy lusciousness and rustic herbaceousness. I also quite liked the Mon Sire from Lyon.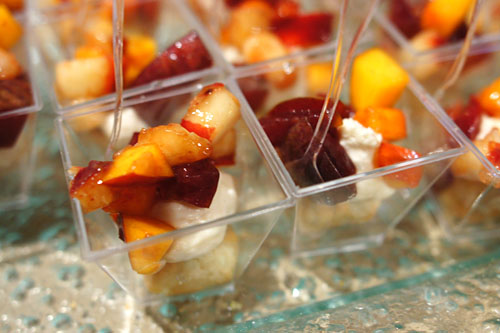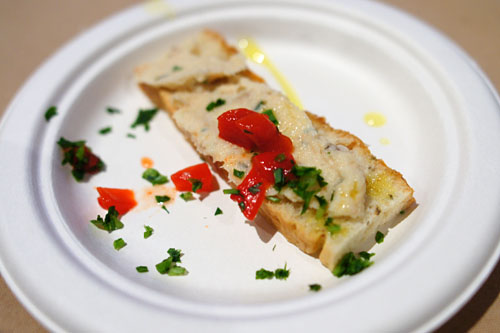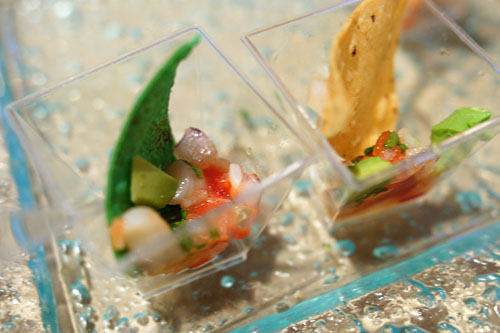 Stone Fruit Trifle / Smoked Trout Brandade / Shrimp Ceviche on Crostini
|
Luxe
Café Rodeo from the Luxe hotel had a trio of goodies to share. The stonefruit trifle was as expected, with the sweetness of the fruit effectively moderated by its accompaniments. Even better was the shrimp ceviche, with its bright, acidic flavors tempered by the use of avocado; I also quite like the tortilla chip element here. The least successful item for me was the brandade, as I felt that the salty brine of the fish could've been more forcefully conveyed.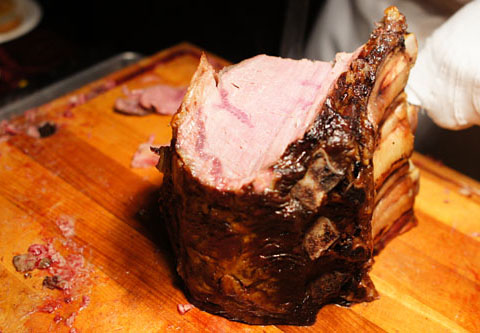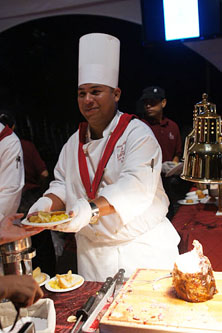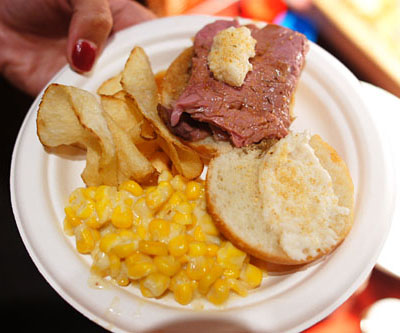 Prime Rib Sliders / Cream Corn / Homemade Potato Chips
|
Lawry's The Prime Rib
Surprisingly, I've never had the prime rib at Lawry's, so this was a great opportunity to try it out for the first time. I'm happy to report that the beef was fantastic, with a perfect savor and succulence, and was beautifully complemented by the sharp zing of its horseradish accoutrement. Corn and chips weren't bad, either.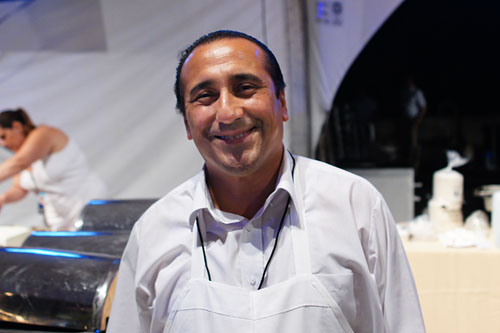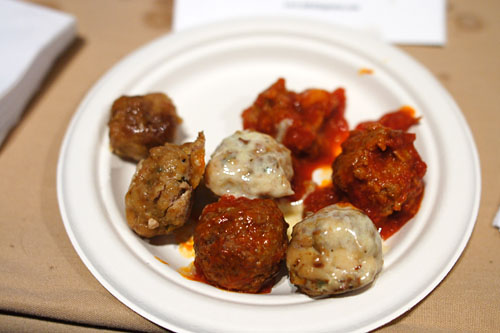 Meatballs
|
La Bottega
La Bottega offered up a trio of balled meat. My favorite was the veal and asiago, with the cheese superbly augmenting the sapor of the beef. A more "traditional" variety was also present, which was quite good, but the chicken meatball was rather dry for me.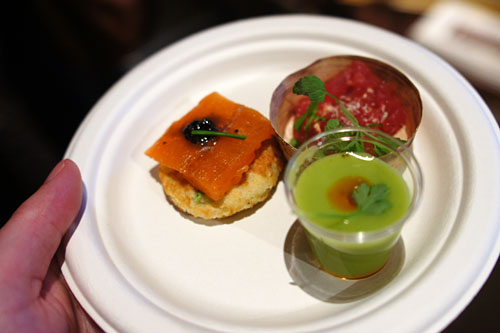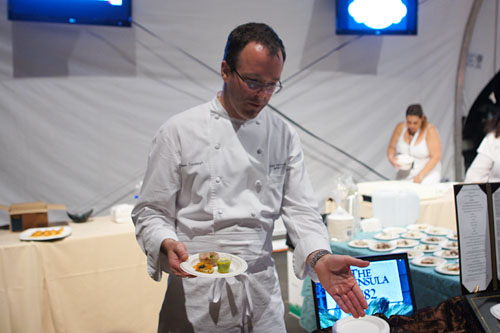 Avocado Tapioca Shooter / Ahi Tuna Chop Chop / Smoked Salmon on Potato Pancakes
|
The Peninsula Beverly Hills
The Peninsula's James Overbaugh (formerly of Château du Sureau), presented three items. My favorite was the avocado shooter, which deftly showed off the character of the fruit, while augmenting it with a slight bit of heat. The smoked salmon atop a "blini" was textbook, though tasty. The tuna, however, didn't quite do it for me.

Moving on to another tent now...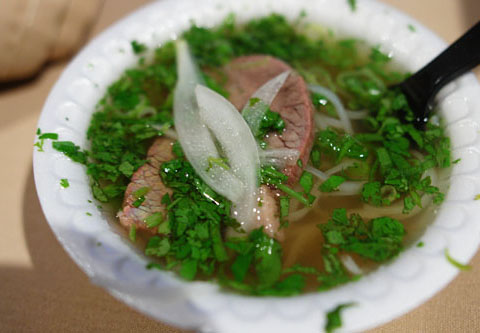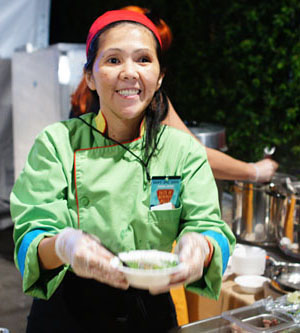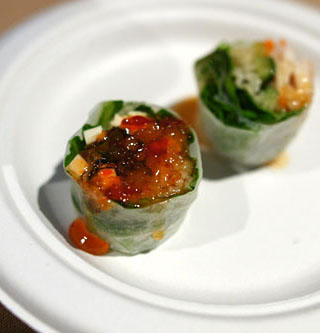 Pho Bo / Crispy Sole with French Spicy Aioli / Saigon Roll / Vietnamese Sandwich
|
9021PHO
I was a bit skeptical about this place, but the pho was actually quite nice, with a hearty, heady, heartwarming broth, tender beef, and a nice bit of zing from the basil and onion. Saigon Rolls were also tasty, nicely highlighting their shrimp stuffing with tasteful applications of ginger, chili, and various other veggies.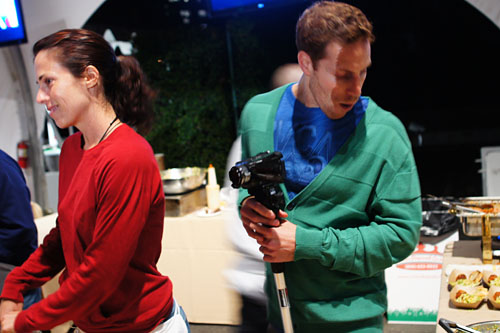 Free Range Turkey Meatballs with Fresh Mozzarella and Plum Tomato Sauce / Cabbage Patch Slaw / Mint Tea
|
Cabbage Patch
Turkey meatballs from Cabbage Patch were delectable--savory, but not too heavy, with a nice bit of cheesiness balanced by the tangy tomato sauce. Strangely, one of the people behind the table (the guy in green) was seemingly videotaping everyone who approached the table--not sure what that was all about...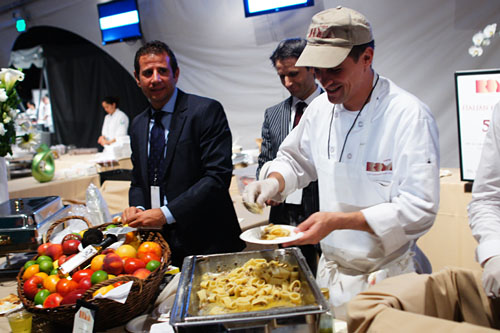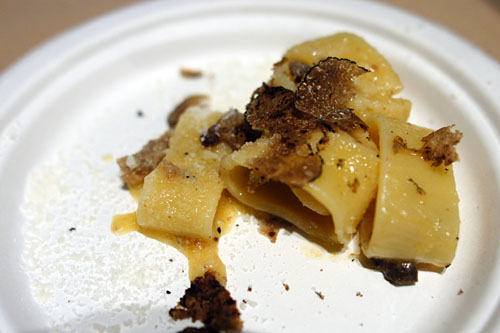 Paccheri alla Norcina e Tartufo (Homemade Pasta with Italian Sausages and Truffles)
|
Caffe Roma Restaurant
Pasta from Caffe Roma was simple, but immensely enjoyable, with the shaved bits of black truffle adding a profound earthiness to the pasta, which was already quite tasty given the use of Italian sausage.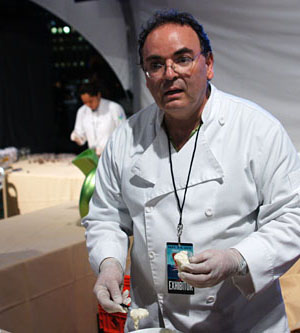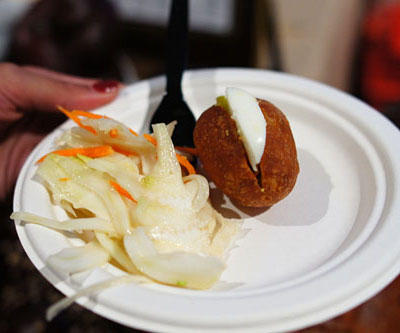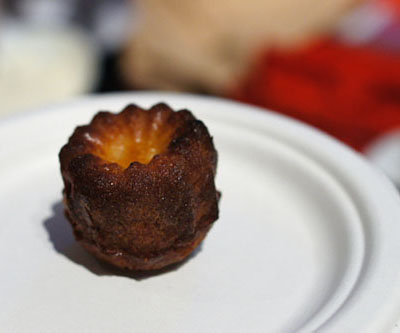 Fennel Slaw / Tunisian Fricasses (fried roll with tomato pepper relish, harissa, potato, egg, tuna, olive, capers and pepperoncini) / Babaganoush / Canneles
|
Got Kosher?
Got Kosher? owner Alain Cohen was on hand to serve his Tunisian-inspired sandwich; I'm actually not sure how I feel about this one--it was definitely interesting though. The fennel slaw was a clear winner however, while the caneles were as they should be.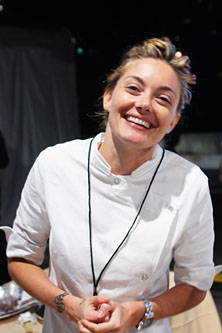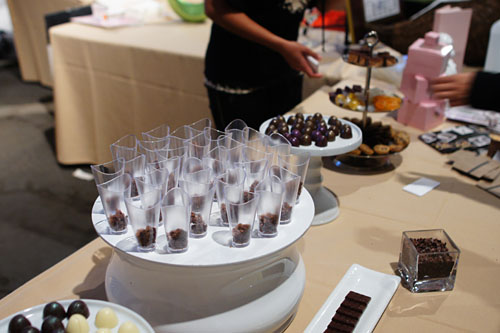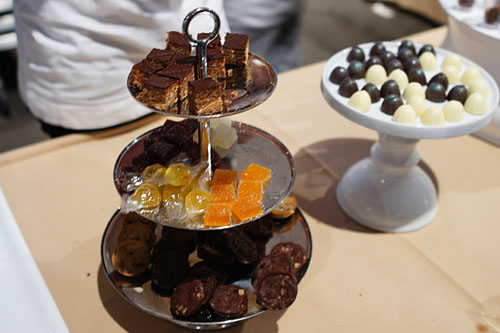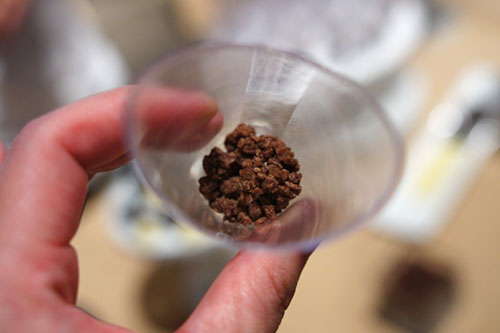 Desserts from Patisserie - Chocolat Bon Bons / Chocolate Tablets / Pâtes de Fruits / Pop Rocks / Fizzy Tablets
|
The Bazaar at SLS Hotel
Waylynn Lucas (recently departed from
Patina
) was looking lovely as ever behind her spread of sweets. My favorite was probably the passion fruit pâte de fruit, though the pop rocks were a treat as well.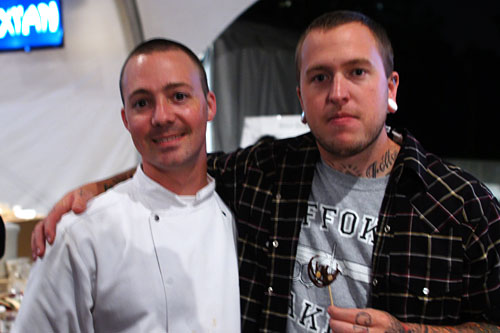 Well look who I ran into--none other than chefs Jon Butler and Cole Dickinson, both of which I'd met not long ago at
Test Kitchen
.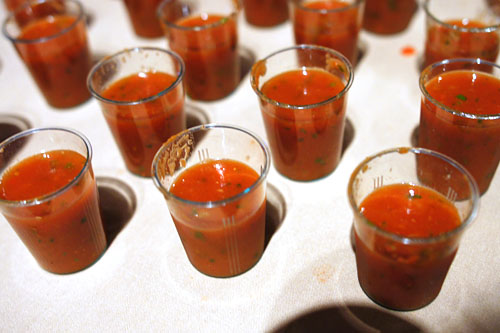 Gazpacho Soup / Hazelnut Biscotti / Arugula Salad
|
Porta Via
Porta Via's gazpacho was brimming with the quintessence of tomato, a nice, cool departure from some of the weightier dishes that I'd been having.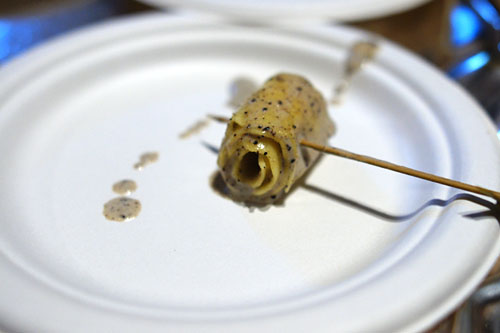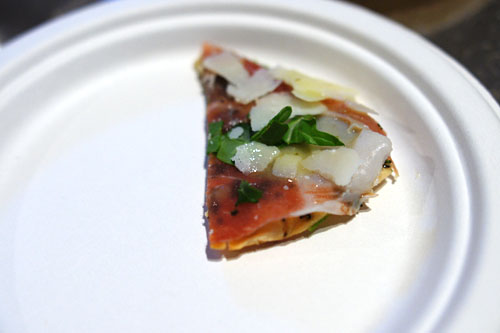 Homemade Pappardelle with White Truffle Sauce
|
Il Cielo
Il Cielo's pappardelle was a masterful bite, with a perfect amount of earthiness from the truffle to offset the weight of the pasta. The
sfogliatina di prosciutto
(Sardinian flatbread), meanwhile, was also quite delish, with a great balance of flavors between the ham, olive oil, Parmigiano Reggiano, and bitter arugula.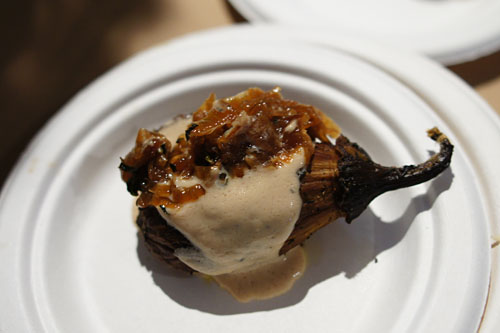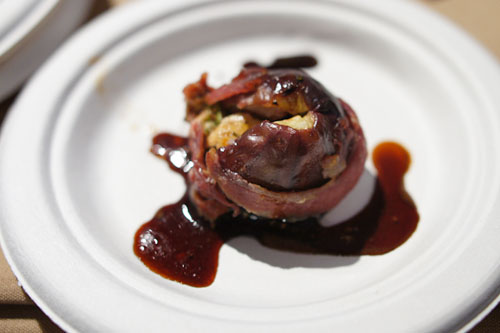 Roasted Persian Aubergine
|
Darioush
Roasted aubergine was done up with caramelized shallots, mint, and whey reduction, while roasted fig was paired with goat cheese, prosciutto, and a pomegranate reduction. The eggplant was nicely presented, but I found the figs overly saccharine, overwhelming the other elements in the dish.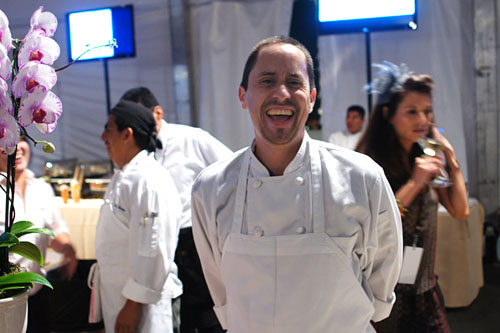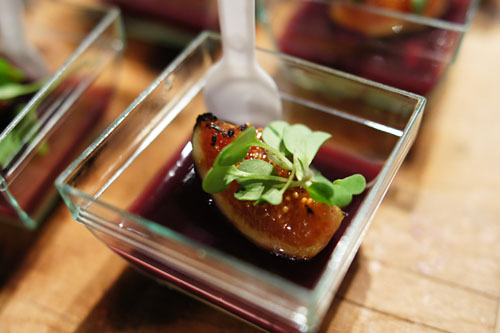 Duck Liver Terrine, Aged Balsamic Jelly and Mission Fig "Timbal" / Baked Spaghetti Wrapped in Eggplant, Tomato, Basil and Baked Ricotta
|
Drago Family of Restaurants
Does this chef look familiar? He should, since he was the one responsible for my first visit to
Marche Moderne
! Small world. In any case, the essence of foie was forcefully presented here, and I liked the use of fig, but the balsamic jelly didn't quite have the sweetness to cut the weight of the liver.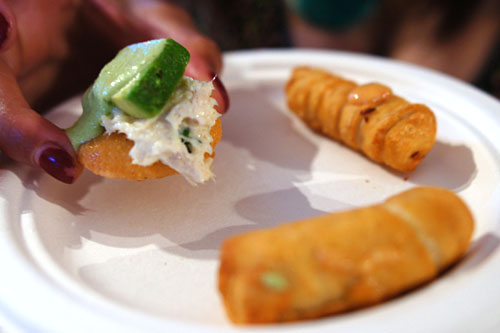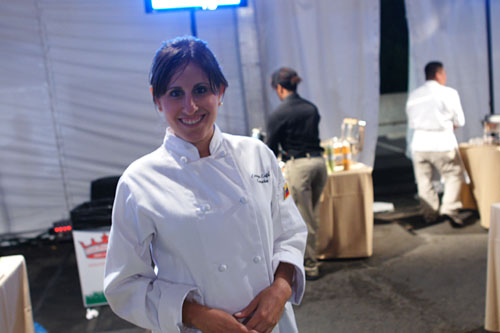 Arepas / Tequenos / Cachapas / Empanaditas
|
Coupa Café
Arepas
were disk of white corn meal, fried and topped with reina pepiada, basically a chicken salad with avocado. This was actually quite tasty, with the tang of the chicken and avocado countering the monolithicity of the corn nicely. I also sampled their
tequenos
, which are sort of like cheese sticks wrapped in flour dough. They reminded me of the mozzarella sticks that you see everywhere, but more refined.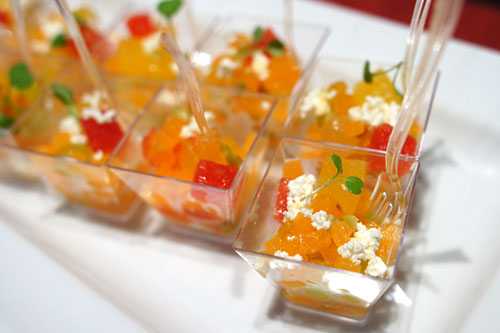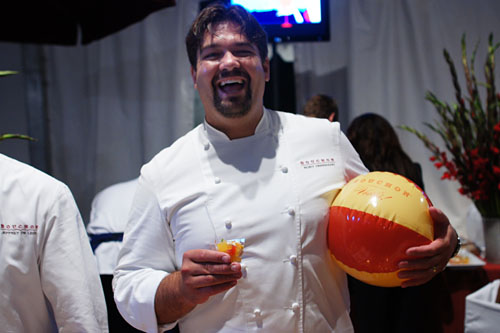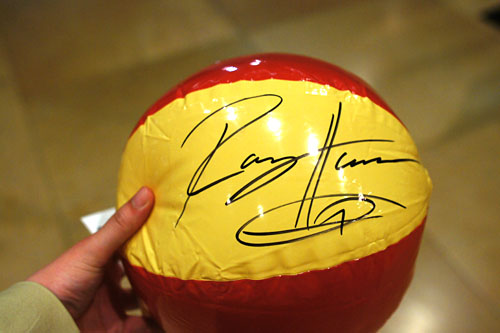 Summer Melon Salad with French Feta, Picholine Olives, Arugula and Citrus Vinaigrette
|
Bouchon
Chef Rory Herrmann from
Bouchon
looked to be in a jolly mood. And why not? His melon salad was a strong contender indeed, with the heft of the feta playing beautifully with the sugary essence of melon, while the olives added just a hint of tanginess to the fray. I even got to take home one of his autographed balls!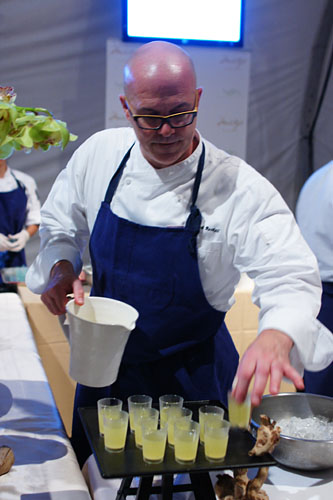 Peanut Brownie with Maldon Sea Salt / White Peach Ceviche with Raspberry Foam / Chocolate Cream Espresso Caviar / Kalamansi Chili Soda
|
Montage Beverly Hills
By this point, I think we were all getting quite full, and decided to end things with a glass of Kalamansi Chili Soda from the Montage hotel. It was just what I needed--a sharp, acerbic, biting, refreshing jolt to the palate, a wonderful shot of citrus-y goodness, backed by a touch of lingering heat. Fantastic.
Unfortunately, given the size and scope of the event, I had neither the time, nor the stomach capacity, to hit up every restaurant. Here are some of the places that were missed:
American Tea Room
,
Carvel 90210
,
Taste of Persia by Farhang Foundation
,
Greenleaf Gourmet Chopshop
,
Hansen Cakes
,
Mariposa
,
McCormick & Schmick's
,
Mickey Fine Pharmacy and Grill
,
Mr. Chow
,
Oliverio at Avalon Hotel
,
Simon LA
,
The Beverly Hilton
,
The Cheesecake Factory
,
The Grill on the Alley
, and
Xi'an
.