L'Espalier (Boston, MA)
L'Espalier Restaurant
774 Boylston St, Boston, MA 02199
617.262.3023
www.lespalier.com
Fri 03/02/2012, 06:40p-10:00p
I can't believe that it's taken me this long to get to Boston. What brought me out here was actually a visit to an old colleague of mine from my Berkeley days, who's currently engaged in some doctoral research over at Harvard's school of economics.
What better way to celebrate my first meal in the City than with a dinner at Boston's most iconic restaurant? L'Espalier was originally the work of Moncef Meddeb, who started the restaurant in 1978 on a stretch of Boylston Street between Arlington and Berkeley. In 1982, Meddeb moved to a historic townhouse at 30 Gloucester Street, but sold the place to current Chef/Owner Frank McClelland in 1988. L'Espalier ended up moving
back
to Boylston in 2008, to a Back Bay spot designed by Martin Vahtra of Projects Design, located right next to the Mandarin Oriental hotel.
About the Chef
: Frank McClelland got an early dose of farm-to-table cooking during his childhood years, living at his grandparents' farm at the foot of New Hampshire's White Mountains. He first made a name for himself at Harvest in Cambridge (which is still around), then worked under Chef Meddeb at L'Espalier. In 1984, McClelland became Executive Chef at The Country Inn in Princeton, MA, where he really started to garner attention, earning a four-star review from
The Boston Globe
and getting a nod from
Food & Wine
as one of the country's top new chefs. L'Espalier beckoned, however, and McClelland returned as Executive Sous Chef in 1986. Two years later, he would purchase the restaurant with his wife Catherine, firmly establishing his style of locally-sourced, New England-inspired French cooking in Boston.
L'Espalier's rise to the top of the City's dining scene continued on almost unabated for over a decade, and in April 2000, McClelland expanded his culinary empire with Sel de la Terre, a casual bistro concept launched with partner Geoff Gardner (Sous Chef at L'Espalier from 1992 to 2000). The initial Long Wharf location was joined by a Natick outpost in 2007, with Sel de la Terre Back Bay (immediately adjacent to L'Espalier) bowing the following year. 2007 also saw the start of McClelland's Au Soleil Bakery & Catering, as well as the his receipt of the "Best Chef: Northeast" award from James Beard. His cookbook,
Wine Mondays
, would come in 2008. In 2009, McClelland took his commitment to local sourcing to the next level, and founded the organic, 14-acre Apple Street Farm in Essex to supply produce to his restaurants.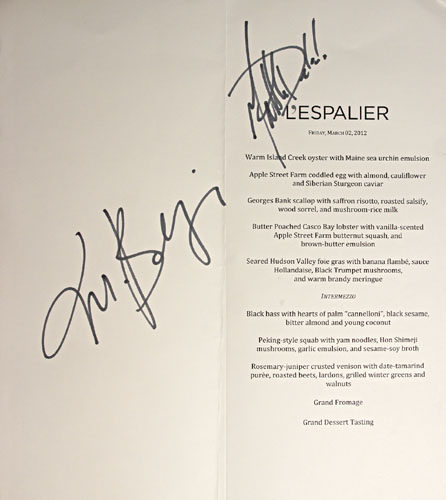 McClelland's modern French-New England cuisine is available in multiple formats. There's a three-course prix fixe at $85, a seven-course degustation at $105, even a lunch option. I opted for the flagship Chef's Tasting Journey, a selection of around a dozen courses, priced at $185. I also added on a beer pairing, as Wine Director Erik Johnson and Sommelier Kate Moore are somewhat known for their affinity for the sudsy stuff. Note signatures of co-Sous Chefs Michael Bergin and Matthew Delisle, who were helming the kitchen in McClelland's absence, as there's currently no Chef de Cuisine (longtime CdC James Hackney left in March 2011, and his replacement Shane O'Neill also decamped). Click for a larger version.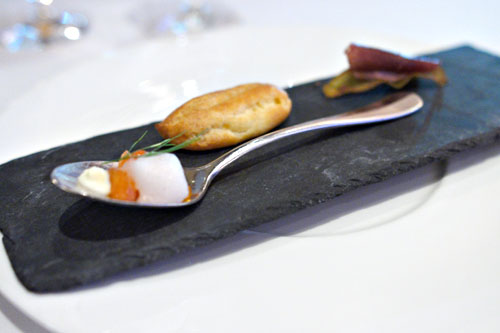 Upon being seated, I was quickly greeted by a trio of canapés. A spoonful of smoked salmon, crème fraîche, and lemon showed off a classic, but effective balance of flavors, along with a lovely, lingering brine. Next up was an elongated gougère of smoked Gouda: soft, cheesy, and with a remarkable smokiness. Finally, we had a sliver of rich, lusty duck liver, sandwiched between paper thin slices of salty, crunchy prosciutto--nice.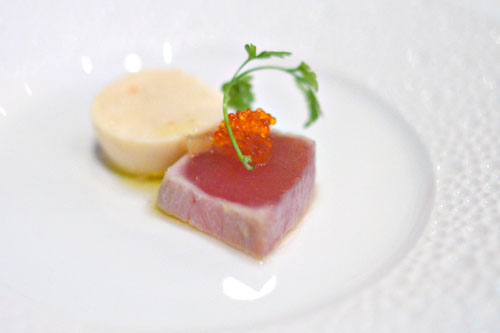 The amuse bouche comprised a block of seared tuna, topped with
tobiko
and accompanied by a disk of shrimp
boudin
. The fish possessed a tasty, but not unexpected Asian-y tinge to it (due to what I believe was sesame oil), but what I really enjoyed was the
boudin
, which showed off a delectable sweet salinity--I wanted an entire sausage of it!
Bread, naturally, is made in-house, and varieties on offer tonight included pretzel, olive, and rosemary focaccia.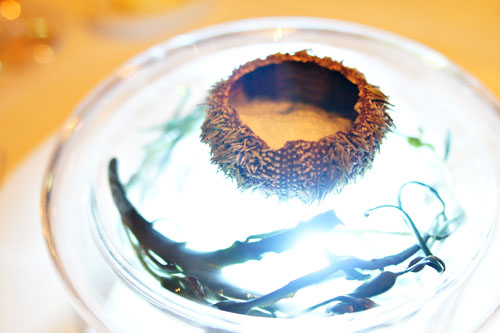 1: Warm Island Creek oyster with Maine sea urchin emulsion
Brouwerij De Ranke Saison De Dottignies
The kitchen is obviously not one to shy away from theatrics, as we can see in our first proper course of the evening. A warm Island Creek oyster arrived doused in uni foam, and sat in a sea urchin shell. This was then placed atop a bowl containing both liquid nitrogen and white LED lights. Pomp and circumstance aside, the oyster conveyed a definite, lingering brine, but this was nicely played off of the inherent sweetness of the uni, making for a rather luxurious eating experience indeed.
2: Apple Street Farm coddled egg with almond, cauliflower and Siberian Sturgeon caviar
Geary's Black Ale
A light, fluffy, aerated mousse deftly showed off the sweet lusciousness of egg yolk here, and the contrast against the sharp, salty roe was spot on perfect. It's hard to go too astray with some egg-on-egg action, and this course did not disappoint. Loved the plate, as well.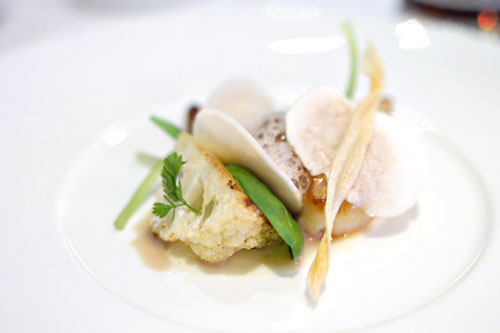 3: Georges Bank scallop with saffron risotto, roasted salsify, wood sorrel, and mushroom-rice milk
Geary's Black Ale
A singular scallop harvested from Georges Bank arrived perfectly cooked, with a wonderful caramelization and loads of sweet, ocean-y goodness. It was delectable alone, but I also appreciated the various veggies at play here and their abundance of savory, earthy flavors, which did an admirable job in balancing out the weight of the scallop.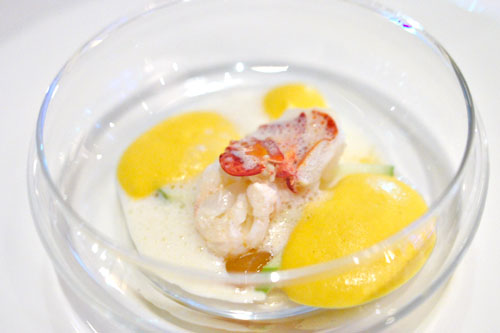 4: Butter Poached Casco Bay lobster with vanilla-scented Apple Street Farm butternut squash, and brown-butter emulsion
Weihenstephaner Hefeweissbier
Butter-poached lobster arrived in superb condition, with a delightful sweetness and fantastically snappy consistency. I was a bit wary of the other components in the dish, but things actually worked out surprisingly well. The course had a heady nose of sugary spice, slightly reminiscent of a Danish butter cookie in fact! However, the saccharine flavors at play--yes, even the loathed butternut squash--ended up melding with the lobster quite nicely, and I enjoyed the stark crunch of apple slices here as well.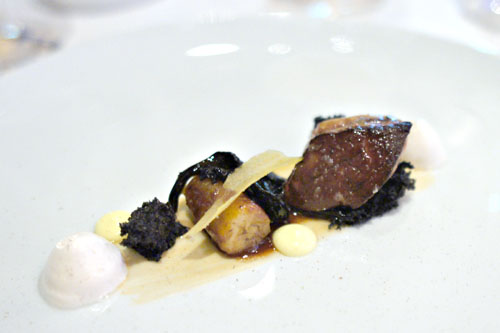 5: Seared Hudson Valley foie gras with banana flambé, sauce Hollandaise, Black Trumpet mushrooms, and warm brandy meringue
Weihenstephaner Hefeweissbier
I had my trepidations about this foie, but it worked out pretty well in the end. The liver itself was on point, with that signature foie richness punctuated by well-placed pricks of salt. The mushrooms lent a deep earthy character to the dish, and at the same time, the sweet spice of the banana and meringue actually formed a fitting counterpoint as well. Not my favorite presentation of seared foie, but still good.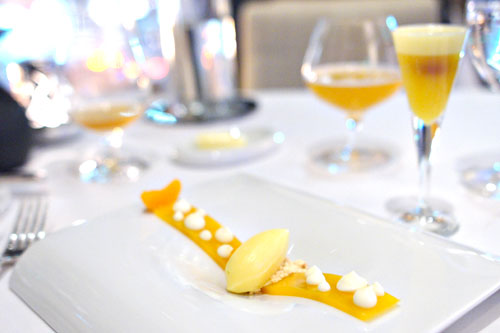 6: Intermezzo
Serving as a sort of palate cleanser, we had here a kalamansi sorbet, over a ribbon of mandarine gel dotted with Bergamot cream, accompanied by an orange-Grand Marnier soda with a juniper spherification. This was a multifaceted celebration of citrus, and I really appreciated the sweet, sour, and
bracing
nature of the dish. Lovely after the heft of the preceding foie gras.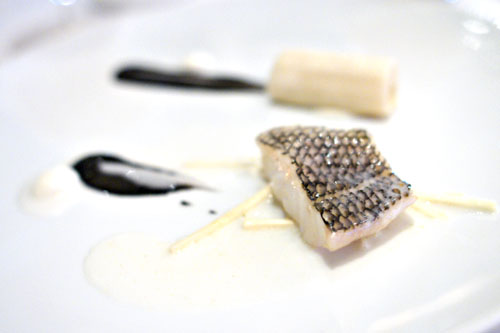 7: Black bass with hearts of palm "cannelloni", black sesame, bitter almond and young coconut
Maine Beer Company Peeper Ale
Spanish bass arrived expertly cooked, with a tender, toothsome bite and a great touch of saline savor. The dish definitely had a sort of Southeast Asian flair going on, with the fish pairing rather nicely with its coconut-ginger broth and smears of black sesame. I wasn't as keen on the "cannelloni" of hearts of palm, however, which distracted from the dish.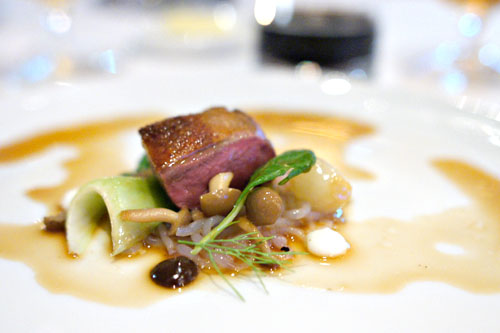 8: Peking-style squab with yam noodles, Hon Shimeji mushrooms, garlic emulsion, and sesame-soy broth
Otter Creek Stovepipe Porter
I'm a sucker for squab, and so it should be no surprise that this was my favorite course of the evening. The bird displayed a fantastic depth, and was teeming with robust bursts of sweet and savory flavor, perfectly accented by the dish's sesame-soy broth. I could've easily enjoyed the squab alone, but its accompaniments were tremendous as well. I especially appreciated the complexity imparted by the black garlic and mushrooms, while the bok choy provided a wonderful touch of levity to the fray, and also mixed things up texturally.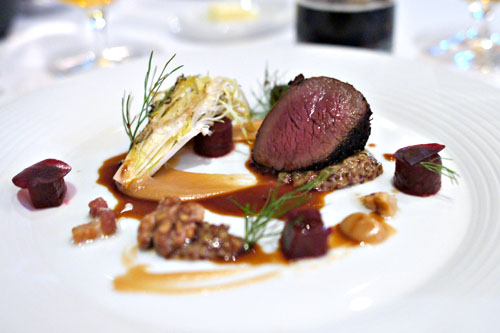 9: Rosemary-juniper crusted venison with date-tamarind purée, roasted beets, lardons, grilled winter greens and walnuts
Otter Creek Stovepipe Porter
The final savory course of the night comprised a delectable cut of Colorado venison. The meat was lean and fine in texture, and conveyed a very apparent, yet refined gaminess that I appreciated. Paired with the mild sweetness of the date-tamarind sauce, it was superbly tempered by the charred frisée, as well as the quinoa. Even the beets were acceptable, though I was not a fan of the walnuts, which served as an annoyance to me.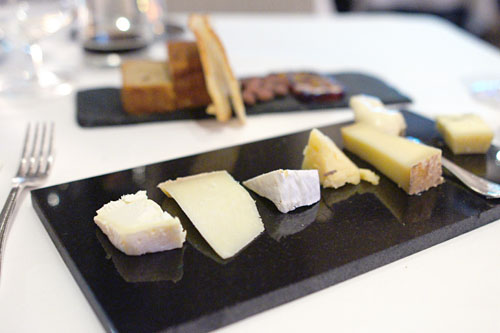 10: Grand Fromage
Otter Creek Stovepipe Porter
L'Espalier's mâitre d' Louis Risoli is well known for his intense interest in cheese, and his passion is reflected here in the restaurant's Grand Fromage tasting, a tradition since Chef McClelland took over in 1988. From the impressive cheese cart came seven selections, served with a dry fruit terrine, bread, and crostini:
Cremont, Vermont Butter and Cheese Creamery, Websterville, Vermont - Short from "Cream of Vermont," this was a cow's and goat's milk cheese with a mild creaminess and just a hint of funk.
Vermont Shepherd, Patch Farm, Putney, Vermont - A goat cheese with a semi-hard, somewhat gritty consistency, and an earthy, nutty flavor.
Oh My Heart, Lazy Lady Farm, Westfield, Vermont - Possibly my favorite of the septet, a delightful cow's-milk double-cream with a certain lusciousness and just the right amount of skunk.
Cabot Cloth-Bound Cheddar, Cabot Creamery/Jasper Hill Farm, Vermont - A classic cheddar in essence, firm and brittle, with plenty of pungent, earthy character.
Tarentaise, Spring Brook Farm, Reading, Vermont - This washed-rind cow's milk cheese was quite nice, with a complex, nutty core.
Winnimere, Jasper Hill Farm, Greensboro, Vermont - Modeled after Swiss försterkäse, or lumberjack's cheese, this was pretty amazing: gooey and luxurious, but with a marked astringency courtesy of the cheese's spruce bark wrapper.
Crater Lake Blue, Rogue Creamery, Central Point, Oregon - Made from unpasteurized cow's milk, this last cheese was wonderfully buttery, and just bursting with big, bold, blue character.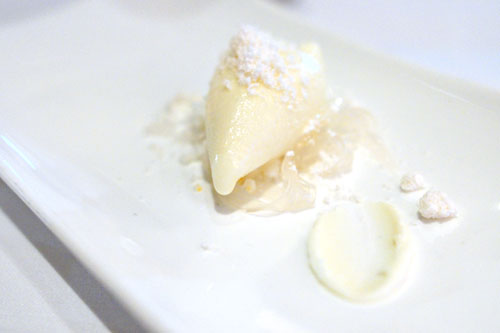 Now it was time for Pastry Chef Jiho Kim to shine. His pre-dessert course consisted of a rosemary-apple sorbet with rosemary-Champagne "fettuccine," topped with ham powder. I quite liked the balance here between sweet and aromatic flavors, but I had to be careful with the ham, which conveyed a rather remarkable savoriness--a little went a long way.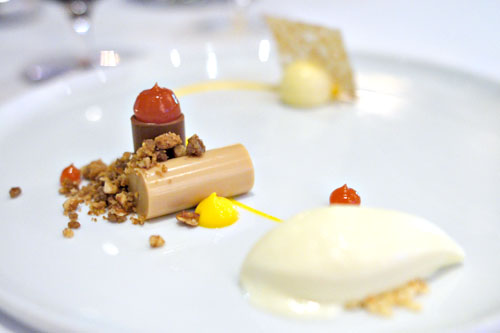 11: Grand Dessert Tasting
Samuel Smith's Oatmeal Stout
Dessert proper combined Manjari chocolate cream, ginger ice cream, saffron-coconut cream, and a vanilla pudding. Now this was a smart dish with a superb complexity to it. The base was all about the sheer sweetness of the chocolate, but I quite enjoyed how the Manjari was attacked on all fronts by the countervailing spicy, herbal flavors in the course.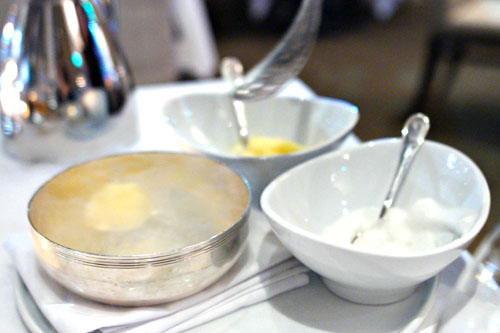 The LN
2
returns: What we had here were lychee and passion fruit foams, flash frozen tableside by a dip into a bath of liquid nitrogen. I loved the character of the resultant "sorbet," with its ethereal, melt-in-your-mouth consistency and balance between sweet and tart flavors.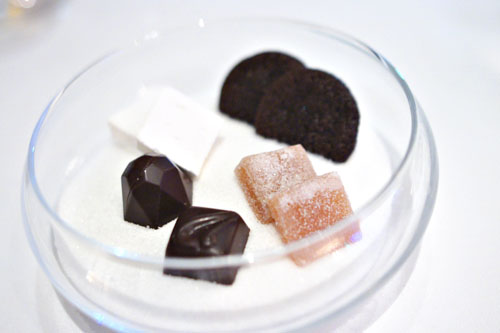 And finally, some petit fours to close out the meal: Kahlua chocolates, vanilla-rosewater marshmallows, soft chocolate cookies, and strawberry jellies.
L'Espalier is an institution in the Boston dining scene, a veritable temple of haute cuisine steeped in the mantra of local, seasonal, "locavore" cooking. In that regard, McClelland and company seem to be upholding the restaurant's longstanding tradition of excellence well. Though the food here isn't the most exciting or cutting edge, dishes were well-conceived and well-executed, save for a couple of quibbles. A lot of people say that this is the best restaurant in Boston, and I can see why. I've yet to visit Menton, however...