Wood & Vine (Los Angeles, CA) [2]
Wood & Vine Restaurant
6280 Hollywood Blvd, Hollywood, CA 90028
323.334.3360
www.woodandvine.com
Tue 02/21/2012, 07:15p-10:35p
After being impressed by my
last visit
here, I figured that it was time to revisit Wood & Vine, probably my favorite Hollywood eatery at the moment. As you might recall, W&V debuted last February, serving market-driven, gastropub-y fare in the landmark 1923 Taft Building, helmed by ex-
Bastide
Sous Chef Gavin Mills.
Mills is still manning the stoves fortunately, but there's been a bit of a shuffle in the front-of-the-house. General Manager Albert Rothman has been replaced by Dario Dell'Anno, whom you may recall as the former Sommelier at Bastide (he worked with Mills during
Joseph Mahon
's tenure there).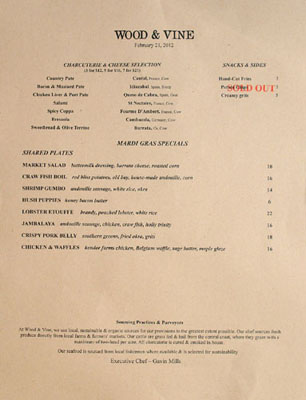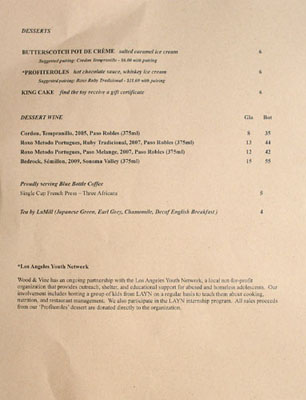 We were in luck: unbeknownst to me, Chef Mills was serving up a special Cajun- and Creole-inspired menu tonight in celebration of Mardi Gras--talk about Fat Tuesday! Click for larger versions.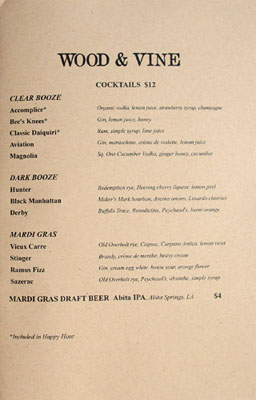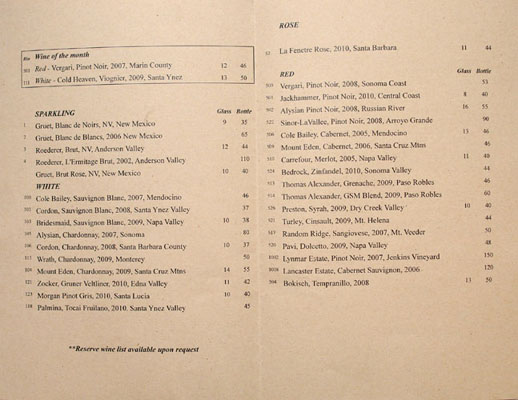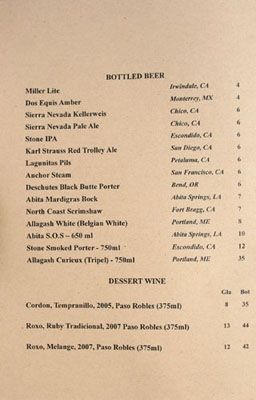 To go along with all the Louisiana cuisine, the bar featured some Mardi Gras-inspired cocktail specials, as well their everyday selection of craft, California-centric beers and wines. Click for larger versions.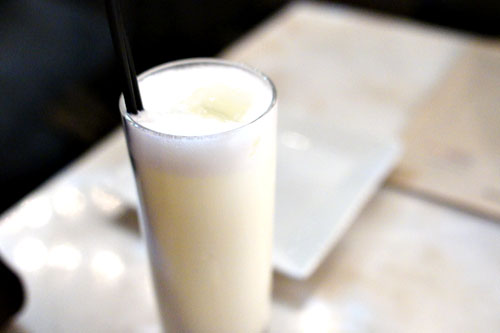 Ramos Fizz [$12.00]
| Gin, cream egg white, house sour, orange flower
The Ramos Gin Fizz is perhaps the quintessential New Orleans cocktail, and came enthusiastically recommended by our server, so I just had to give it a try. It was absolutely lovely, with the gin playing perfectly off of the tart flavors of the drink, while the egg white served as a creamy, lush counterpoint. Great finish on this one too: almost honeyed and floral, with a lingering sweetness.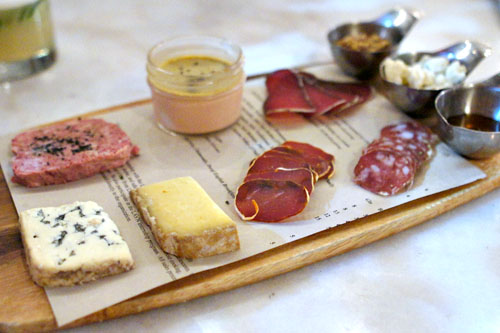 CHARCUTERIE & CHEESE SELECTION [$21.00]
There's no doubt in my mind that Chef Mills produces some of the best charcuterie in the City, all done in-house, and he sent out a selection to kick things off, accompanied by whole-grain mustard, cauliflower pickles, and honey:
Country Pate - We started with a version of the traditional pâté de campagne. It was delightful, robust and rustic, with a wonderfully satisfying consistency and a superb depth of flavor, amped up by the earthy essence of liver as well as a peppery prick.
Chicken Liver & Port Pate - A pâté of chicken liver was also spot on, with its sweet undertones of port to go along with the delicate, yet heady nature of the liver. Great pinpoints of saltiness here, too.
Salami - Salami was classic in character: salty, spicy, and full of porcine goodness, all with a nice bite.
Spicy Coppa - I enjoyed the coppa as well, satisfyingly supple in texture, with a flavor profile that transitioned from subtly sweet to savory and spicy.
Bresaola - Next up was the bresaola, which can almost be thought of as a beef version of the coppa. This was a leaner meat, mild at first, but with a creeping pepperiness and lingering bit of heat.
Cantal, France, Cow - The Chef also included two cheeses into the mix, the first of which was a cow's milk variety from Cantal, France. I rather enjoyed it, finding its salty, somewhat buttery taste rather endearing.
Fourme D'Ambert, France, Cow - Last up was a killer cow's milk blue, probably one of my favorites of its class, with a restrained mix of salty, nutty, and earthy flavors. Delish.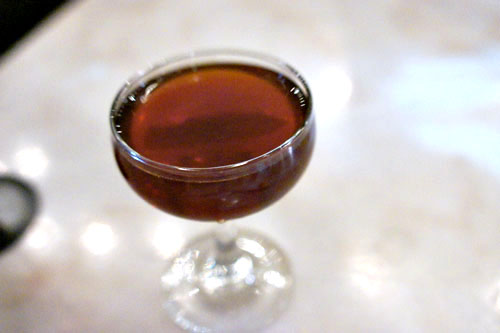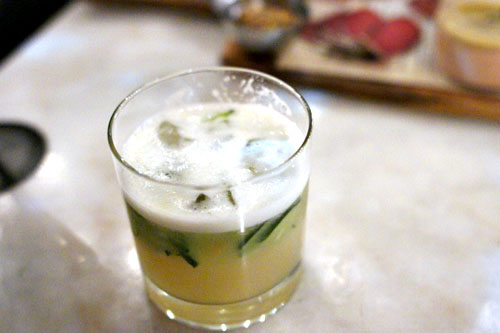 Vieux Carre [$12.00]
| Old Overholt rye, Cognac, Carpano Antica, lemon twist
Magnolia [$12.00]
| Sq. One Cucumber Vodka, ginger honey, cucumber
Time for some more cocktails. I went with the Vieux Carré (literally "old square"), a cocktail named after New Orleans' French Quarter. It was a fairly stiff drink, but with a lot of finesse at the same time, displaying a complex backbone of boozy character to match the sweet, spicy flavors in the drink--very nice. My dining companion, meanwhile, chose the Magnolia, which showed off a wonderful ginger-y heat that balanced out the cool, refreshing notes of cucumber in the cocktail.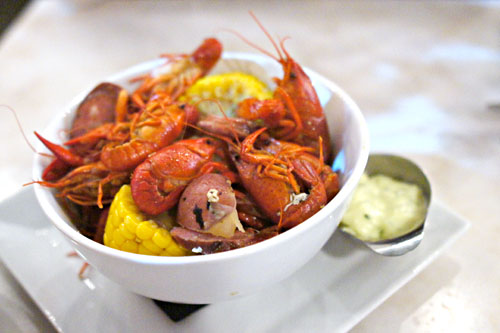 CRAW FISH BOIL [$16.00]
| red bliss potatoes, old bay, house-made andouille, corn
With this course, Mills pays homage to the legendary crawfish boils of southern Louisiana. This was actually my first experience with such a thing, and I gotta say that it was far too much work for so little meat! Nevertheless, the potatoes, corn, and sausage were all superb, and I thoroughly enjoyed the included condiment of what I believe was a remoulade or aioli--excellent with the crawdads.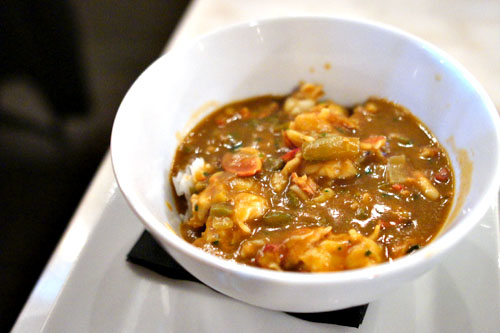 LOBSTER ETOUFFE [$22.00]
| brandy, poached lobster, white rice
Next up was the popular dish of étouffée, traditionally made with crayfish but elevated here with lobster. It was delicious, probably my favorite course of the night in fact. I loved the sizeable, snappy chunks of lobster here, and how the crustacean paired with the all the hearty, salty, savory flavors at play, while the rice did a great job in tempering the dish.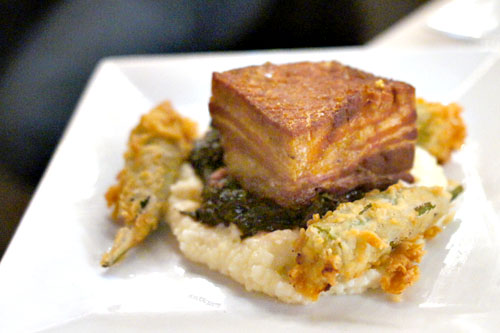 CRISPY PORK BELLY [$18.00]
| southern greens, fried okra, grits
Pork belly was delightfully crunchy on the outside, yet still fatty and flavorful on the inside. Its considerable substance was deftly balanced by the grits, and the okra was some of the best I've had. However, I would've liked some less sweetness on the greens.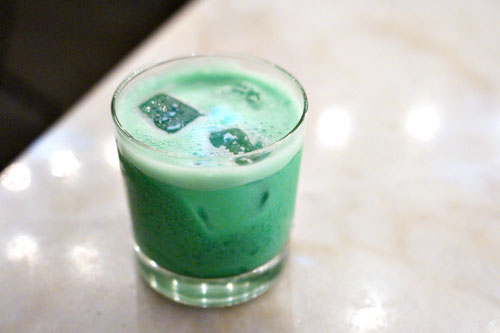 Stinger [$12.00]
| Brandy, crème de menthe, heavy cream
My final cocktail riffed on the classic Stinger, though perhaps it would've been more appropriate to call this a Green Hornet. Nevertheless, I adored it, and found it disturbingly similar in taste to chocolate chip-mint ice cream. This one could be dangerous.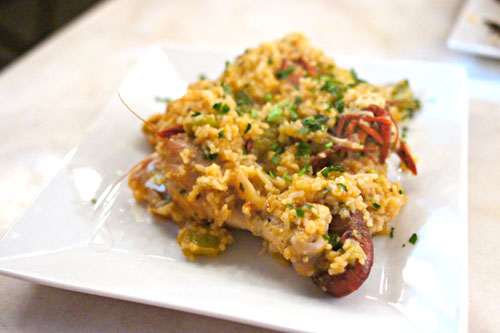 JAMBALAYA [$16.00]
| andouille sausage, chicken, craw fish, holy trinity
Here was Mills' take on jambalaya, perhaps the most famous Louisianan dish of them all. It was a lovely medley of flavors and textures, with the whole chicken drumsticks adding a great depth of flavor to the dish, and I loved the spiciness imparted by the andouille.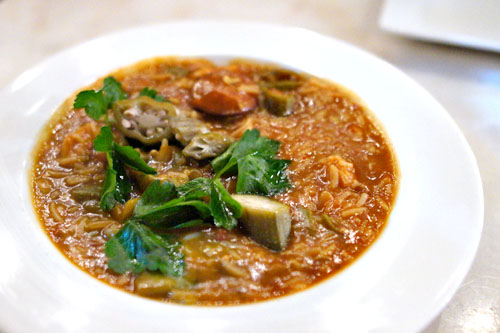 SHRIMP GUMBO [$14.00]
| andouille sausage, white rice, okra
Rounding things out was the shrimp gumbo, which I liked even better than the jambalaya. The star of the show was the shrimp: meaty, supple, and not overcooked. It paired superbly with the spicy flavors in the dish, the andouille especially, and the whole amalgam showed off a great boldness and robustness.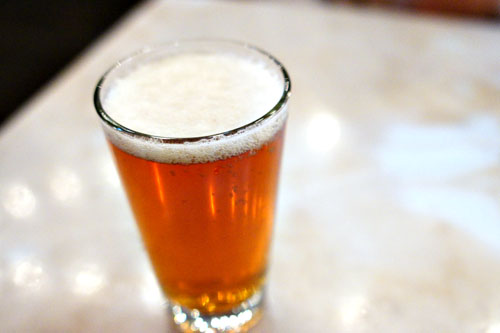 The last drink of the evening was a beer, specifically the Mardi Gras Bock [$7], from Louisiana's very own Abita Brewing Co. It showcased a surprisingly rich, caramel-y maltiness on the palate, but this was nicely balanced by a crisp, refreshing hoppiness that really worked for me.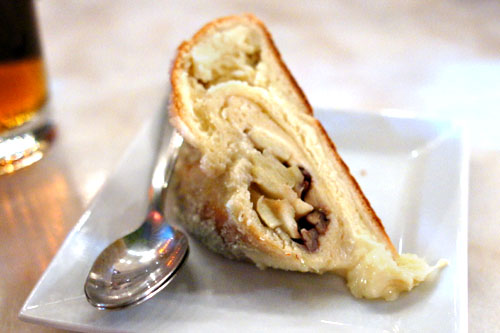 KING CAKE [$6.00]
| find the toy receive a gift certificate
Of course, we had to end with the traditional closer of kingcake. I believe this was my first time actually having the cake, but I found it quite tasty, with a wonderful sweet, cinnamon-y spice and delightful nuttiness. Sadly though, we had no luck finding the toy.
Chef Mills and company reminded me of why Wood & Vine is my top pick in Hollywood, with its robust, hearty, and satisfying cooking and delectable selection of cocktails delivering once again. Actually, this meal got me thinking: where can I find good Cajun/Creole food here in LA?
---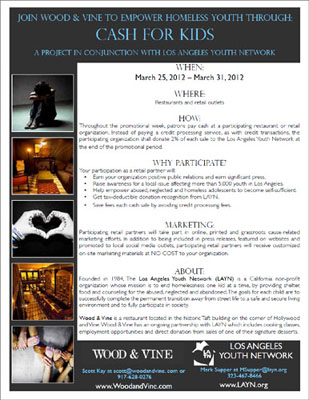 Ever since opening, Wood & Vine has had an ongoing partnership with the
Los Angeles Youth Network
. Founded in 1984, LAYN is a local non-profit organization aimed at ending adolescent homelessness, and provides food, shelter, outreach, counseling, and educational support for abused and abandoned minors. Since its inception, LAYN has helped thousands of youth transition away from a life on the streets and into a safe and secure place in society.
Wood & Vine's relationship with the Los Angeles Youth Network includes hosting kids from LAYN and educating them about food, nutrition, and the restaurant business. It even extends to having participants work as interns at Wood & vine, and furthermore, all revenue from the restaurant's
profiteroles
dessert goes straight to the organization.
Now, Wood & Vine co-owner Scott Kay (whom I met for the first time during this meal) is spearheading a new initiative called
Cash for Kids
, scheduled to run during the last week of March (the 25th through the 31st). During this period, the idea is to have patrons pay with cash/check/debit instead of credit cards at participating restaurants and retail shops. Thus, instead of paying the 2% processing/interchange fee to credit card companies, merchants will instead donate 2% of sales to the LAYN.
I thought that this was a pretty neat idea, as, in theory, a business should see no change in operating income due to Cash for Kids. In fact, businesses may see increased sales due to the initiative,
and
any donations are tax-deductible to boot, so this may in fact
help
the bottom line. Of course, there are always intangibles such as positive press and goodwill, and the benefit of helping children in need.
Click on the photo to the left to bring up the Cash for Kids flyer, and for more information, contact Scott Kay at the email address and phone number shown.