LudoBites 8.0 at Lemon Moon (Los Angeles, CA) [2]
LudoBites 8 at Lemon Moon
12200 W Olympic Blvd, Los Angeles, CA 90064
310.442.9191
www.ludobites.com
Wed 02/22/2012, 08:30p-12:00a
February 22nd marked the conclusion of another chapter in the LudoBites saga, held this time at Josiah Citrin and Rafael Lunetta's Lemon Moon. After attending
opening night
, I deemed v8.0 the strongest yet, so I was curious to see how the menu would hold up all the way to the end.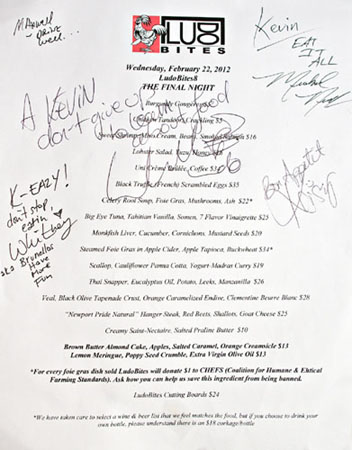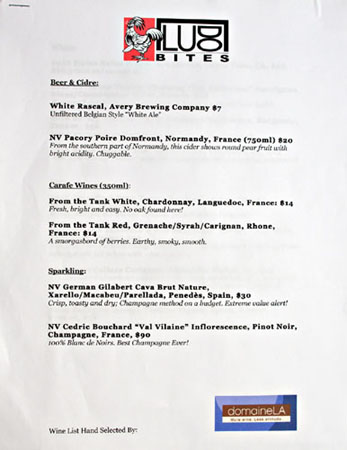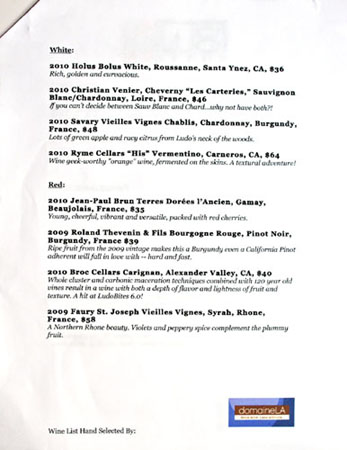 And here we see the menu for the final night of LudoBites 8, a particularly lengthy
carte
featuring a whopping 17 courses. As in the past, a small list of wines was hand-selected by
Domaine LA
to pair with the food. Interestingly enough, Jill Bernheimer and Whitney Adams (
Brunellos Have More Fun
) were actually dining tonight, so sommelier duties were handled by
Maxwell Leer
, whom you may recall from
The Tasting Kitchen in Venice
. Click for larger versions.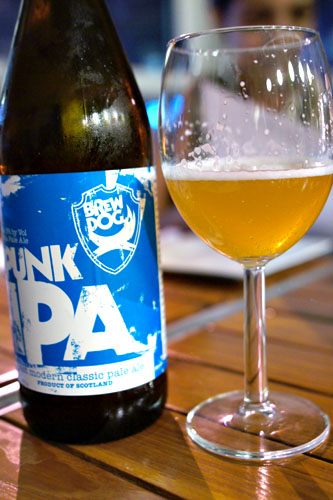 We were in a beer type of mood this evening, so we ended up bringing a four-pack to share. First up was the BrewDog Punk IPA, which I actually really liked. I'm generally not huge on IPAs given their considerable hoppiness, but this was nice, with a very retrained bitterness laced with sweet, floral flavors that definitely worked for me.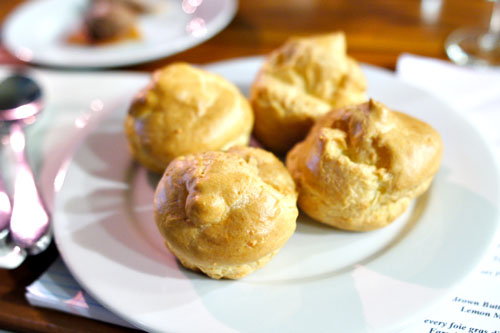 Burgundy Gougères [$5.00]
Kicking things off were some rather large gougères: flaky on the outside, yet slightly creamy and funky on the inside. Rather tasty, though I would've liked a touch more cheesiness here.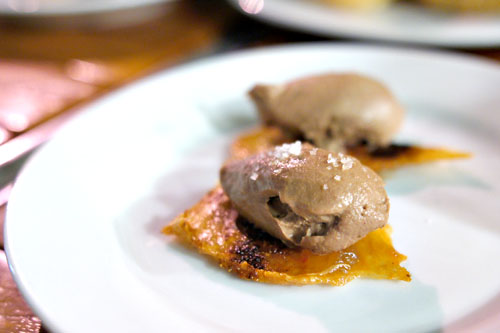 Chicken Tandoori Crackling [$5.00]
I really enjoyed this dish during
my last visit
, and the cracklings were arguably even better this time around. I loved the pure, unmitigated essence of the liver, with its smooth, creamy
tour de force
of chicken-y sapor accented by pricks of salt. What made the bite even better, though, was that crispy skin, with its immense savoriness and crunch that complemented the mousse perfectly. A great show of both power and finesse.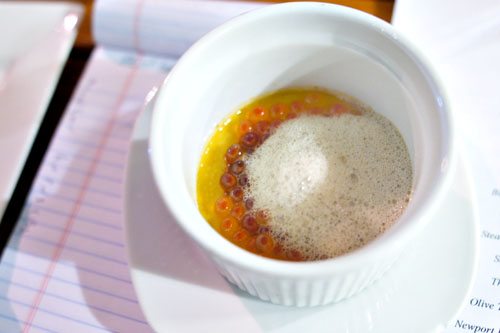 Uni Crème Brûlée, Coffee [$34.00]
Ludo's uni crème brûlée has proven to be one of the most popular items on the menu. In fact, by the time we sat down, the kitchen was down to their last three servings (props to our server for grabbing two orders for us). What really surprised me here was how much the price of the dish had gone up, from
$18 previously
to a lofty $34 now. As I understand it, the reason for this increase was due to the substitution of pricey Japanese uni for Santa Barbara sea urchin. Nonetheless, the crème brûlée still showed off a smart mix of sweet and salty flavors, a deft interplay between the sugary custard, salty ikura, and the simultaneously saccharine, saline uni. I did notice that the dish seemed smokier, perhaps due to more caramelization on the crust or the coffee, with a consistency that was more austere.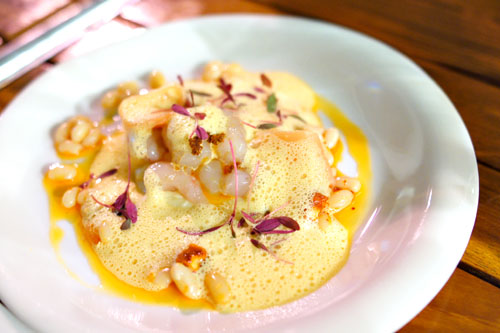 Sweet Shrimp, Miso Cream, Beans, Smoked Salmon [$16.00]
Amaebi
showed off a pleasing texture, along with a subtly sweet, briny essence that was further enhanced by the use of miso. The salmon, meanwhile, contributed a smoky, savory flavor profile to the fray, while the beans served to ground and temper the dish.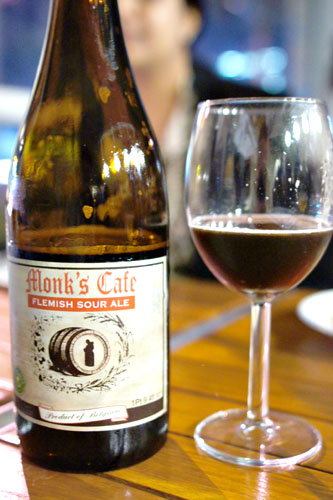 Our next beer was the Monk's Café Flemish Sour Ale, from Belgium's
Brouwerij Van Steenberge
. This was a tasty brew as well, a bit vinous and tannic in nature, with a restrained, fruity sourness balanced by a touch of malty sweetness, finished with a pleasant smidge of funkiness.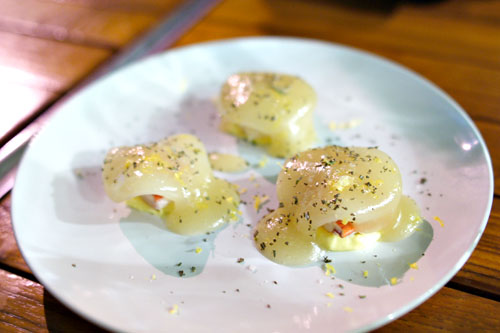 Lobster Salad, Yuzu, Honey [$16.00]
Medallions of lobster claw and tail came topped with a daikon "coin," honey-buckwheat vinaigrette, and lemon zest. The use of honey here augmented the inherent sweetness of the lobster, but went a bit too far in that direction, resulting in a "sweet 'n' sour" sort of character laced with pinpoints of salt. I really wanted to taste more from the crustacean.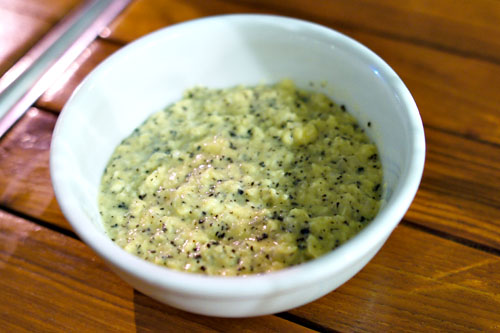 Black Truffle (French) Scrambled Eggs [$35.00]
It's hard to go wrong with eggs and truffle, and indeed, this was pretty fantastic, something that I could just eat a huge bowl of. I loved how the
truffe
added a veil of earthy, aromatic flavors to the lush, creamy eggs, while bits of onion(?) contributed a countervailing tang and textural contrast to the dish. Just a perfect mélange of eggy and truffle flavors that I found immensely satisfying.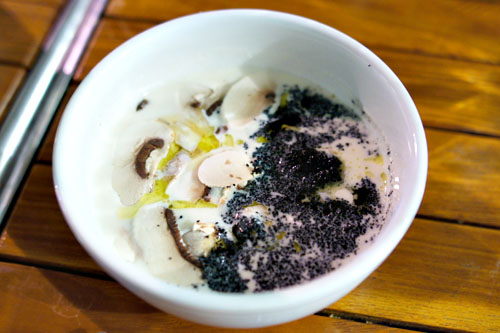 Celery Root Soup, Foie Gras, Mushrooms, Ash [$22.00]
On
opening night
, Ludo served up a lovely soup of
Foie Gras, Tamarind, Turnips, Daikon
, and this was a wonderful follow-up to that dish. I'm not a fan of celery root generally, but here it was put to perfect use, serving as a fitting counterpoint to the rich, heady broth, infused with the earthy relish of mushroom. The foie gras, meanwhile, was flawlessly integrated into the soup, adding a certain gravitas to the dish, while the ash contributed a delicate astringency to top things off.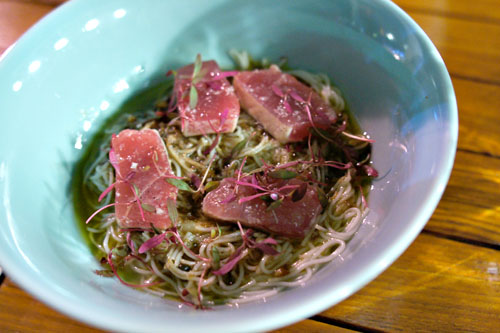 Big Eye Tuna, Tahitian Vanilla, Somen, 7 Flavor Vinaigrette [$25.00]
Visually, this reminded me of the
Raw Wagyu Beef, Somen Noodle, Peanut Vinaigrette, Watermelon
dish from
v5.0
, but taste-wise, this was completely different. The vinaigrette was absolutely fascinating, with its mysterious mix of tart, sweet flavors and creeping hints of spice, all intermingled with whispers of vanilla on the palate. It worked out surprisingly well with the somen, and the tuna, with its satisfyingly supple body, actually served to moderate the dish.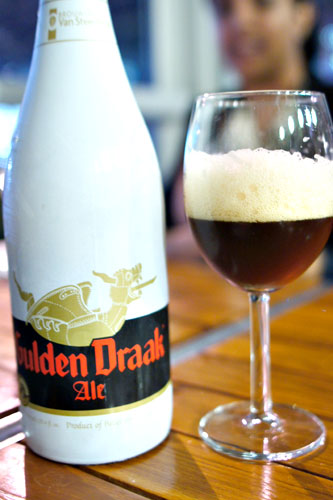 The Gulden Draak ("golden dragon") was another beer from Brouwerij Van Steenberge in East Flanders, and what was interesting about it was that it's a
tripel
that's actually dark (instead of being a pale ale). It was excellent, my favorite beer of the night, conveying a remarkably malty, fruity sweetness balanced by a light spice and marked notes of alcohol. Very cool.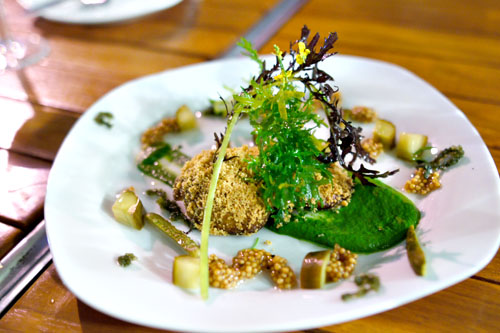 Monkfish Liver, Cucumber, Cornichons, Mustard Seeds [$20.00]
Another
opening night
redux brought us one of the more interesting presentations of monkfish liver that I've encountered. A hefty chunk of
ankimo
showed off a pleasant, slightly gritty consistency along with a rich, heady relish imbued with the essence of the sea. The sheer gravity of the liver paired well with the tart, tangy flavors on the plate, with the pickles of Japanese and hot house cucumbers, mustard, and greenery adding a counterbalancing sourness and crunch to complete the dish.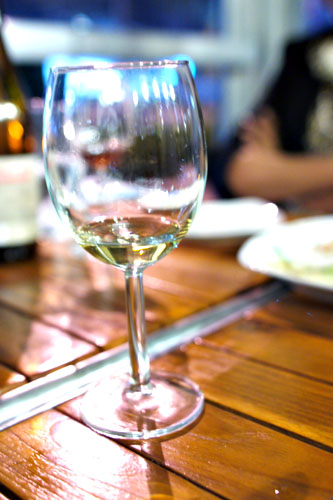 At this point, Maxwell brought over a taste of 2005 Adega Regional de Colares "Arenae" Malvasia from Portugal for us to try (from a bottle provided by Jill of Domaine LA). It was pretty amazing, reminding us a bit of a manzanilla sherry with its refined, refreshing mix of nutty, dry, tart flavors.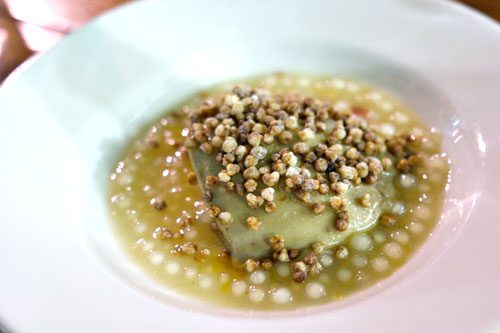 Steamed Foie Gras in Apple Cider, Apple Tapioca, Buckwheat [$34.00]
Once again, Ludo shows off his facility with foie. Here, it came cooked in apple cider and apple vinegar, then accompanied by apple gelée, apple tapioca, and small spheroids of buckwheat. I was afraid that the fruit would render the foie gras overly saccharine, but it was spot on, providing a wonderful amalgam of sweet, yet tart flavors to balance out the liver. The key, though, was the buckwheat, which added a fantastic savoriness to the dish along with a perfect textural component.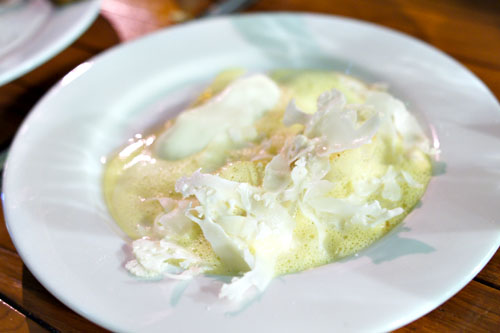 Scallop, Cauliflower Panna Cotta, Yogurt-Madras Curry [$19.00]
Scallops arrived nicely cooked--slightly rare, with a sweet, saline savor. The yogurt-curry foam provided a suitable counterpoint to the natural taste of the scallops, complementing but not overpowering them. However, the cauliflower didn't quite jive with me (and I'm a huge fan of cauliflower). Its light, vegetal essence just didn't seem to fit in with the other, stronger flavors at play.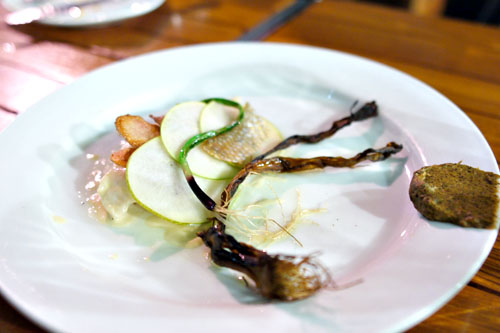 Thai Snapper, Eucalyptus Oil, Potato, Leeks, Manzanilla [$26.00]
Snapper arrived wonderfully tender, with a mild, delicate, eucalyptus-enhanced flavor and delightfully savory skin, all beautifully complemented by the salty slivers of potato and charred leeks. The beet, meanwhile, contributed a bit of smoky-sweet flair, but wasn't absolutely necessary to enjoy the dish.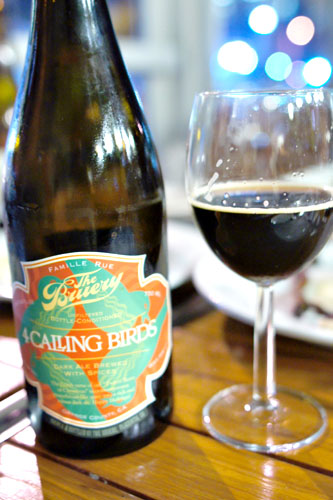 Our final beer of the night was The Bruery's 4 Calling Birds. This was a dark ale done in a winter style, a heavy, viscous brew displaying a marked fruity essence accented by delicious notes of sweet spice. It tasted like Christmas!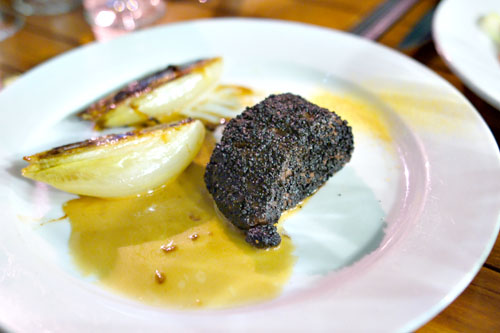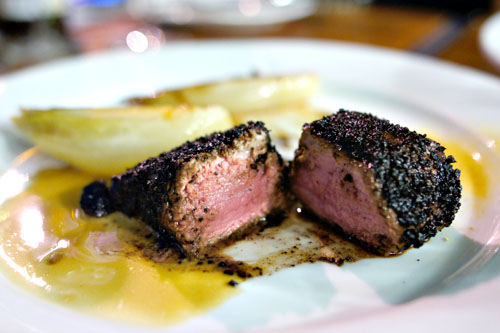 Veal, Black Olive Tapenade Crust, Orange Caramelized Endive, Clementine Beurre Blanc [$28.00]
Cooked in black olive oil and coated with an olive tapenade, veal came out looking somewhat like a lump of coal. Fortunately, it tasted much better, one of the best preparations that I've had in a while in fact: tender, nicely charred, with subtle flavors of olive throughout. At the same time, the orange juice-endive added a marvelous crunch to the dish, along with a great countervailing bitterness.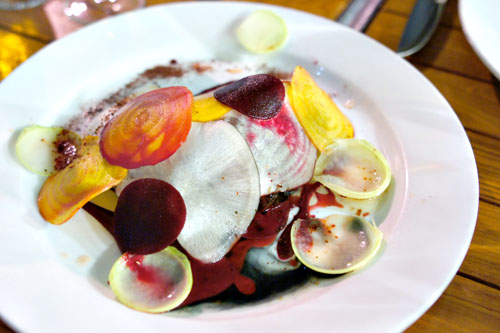 "Newport Pride Natural" Hanger Steak, Red Beets, Shallots, Goat Cheese [$25.00]
Our final savory course of the evening comprised a hanger steak from local purveyor
Newport Pride Natural
. The
onglet
itself was delicious, though not terribly tender, with a great depth of bovine flavor adroitly played against the creamy tang of the accompanying
chèvre
. I also appreciated the tartness of the shallots here, and amazingly enough, the pickled, crunchy beets worked out superbly as well.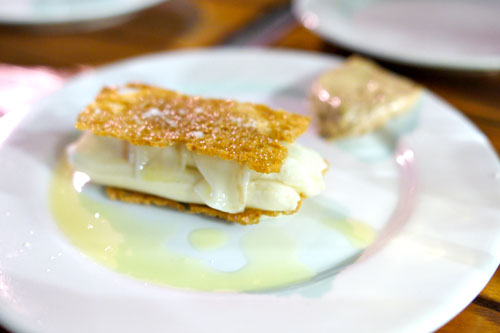 Creamy Saint-Nectaire, Salted Praline Butter [$10.00]
The
fromage
course brought us a dish that was supposedly inspired by the childhood favorite of
Handi-Snacks
. We had Saint-Nectaire, a cow's milk cheese from Auvergne, France, that showed off a delightfully nutty, pungent character that I rather enjoyed. The cheese was joined by lardo, and then sandwiched between sheets of toasty brioche, making for a delectable eating experience. The salted praline butter added some further sweetness into the mix, but was purely optional.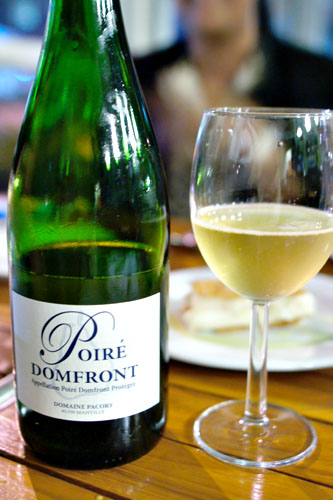 Our final libation of the evening was the
NV Pacory Poire Domfront, Normandy, France [$20]
. This was basically a pear cider, conveying sweet, fruity notes, a touch of spice, along with a lively acidity. Pleasantly gluggable.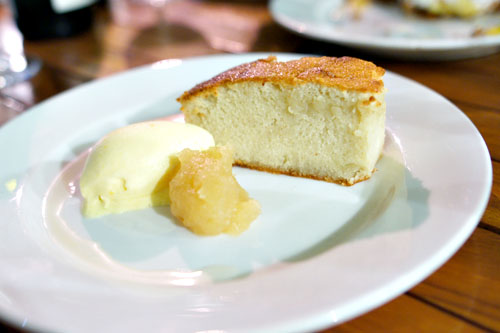 Brown Butter Almond Cake, Apples, Salted Caramel, Orange Creamsicle [$13.00]
Time for dessert. Almond cake came loaded with rich, buttery goodness, finely accented by the mashed apples and finished with a bright, refreshing citric tartness.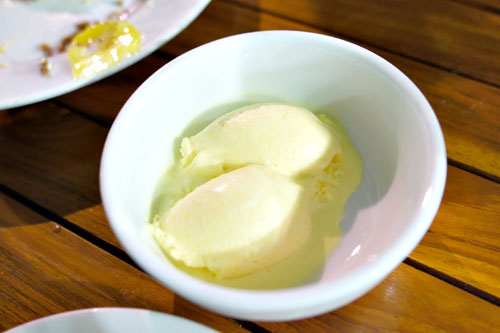 We liked the orange creamsicle ice cream so much that they brought out two extra quenelles of the stuff.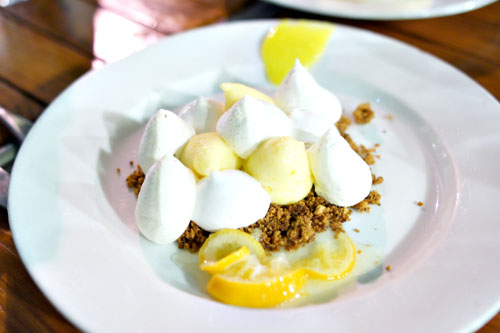 Lemon Meringue, Poppy Seed Crumble, Extra Virgin Olive Oil [$13.00]
We finished with a reworking of the
Lemon Meringue Tart
from
last time
. It tasted fairly similar to the previous version, with a tasty mix of sweet and sour nuances, all tempered by the charming crumbles of poppy seed.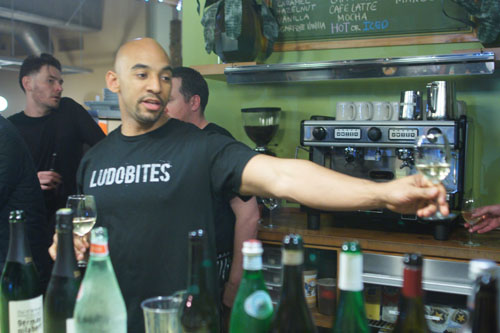 The aftermath--time to drink up.
And there we have it. Another round of LudoBites, arguably the strongest yet, has come and gone. As for what's next for Ludo, Krissy, and company, the ninth iteration of the touring restaurant is coming up surprisingly soon--LudoBites "Nine-0" kicks off on March 6th and runs through the 17th. Here's the kicker though: it'll be in
Hawaii
. And I'm not even talking about the relatively convenient Oahu, but in
Kailua-Kona
, wherever that is. Sadly, I think this is one that I'm going to have to miss out on (though I
will
try to win the getaway package
here
).
Previous LudoBites posts: v8.0 at Lemon Moon, v7.0 at Gram & Papas, LudoBites America, v6.0 at Max [1], v5.0 at Gram & Papas [1], v4.0 at Gram & Papas [1], v3.0 at Royal/T [2] [1], v2.0 at Breadbar [1]
.