Night + Market (West Hollywood, CA) [3]
Night+Market at Talesai
9041 Sunset Blvd, West Hollywood, CA 90069
310.275.9724
www.nightmarketla.com
Thu 03/01/2012, 06:55p-11:40p
Recently, Asian-American social networking site
Privy
launched its Privy Supper Club series in the US with a dinner event at
Night+Market
. The evening featured Chef Kris Yenbamroong's modern northern Thai cuisine, along with food-friendly wines hand-selected by
Jeannie Cho Lee
, the first and only
Master of Wine
of Asian descent and one of the world's foremost authorities on pairing Asian food and wine. Based out of Hong Kong, she was in town for one night only, and came to speak to us about her background and her new book
Mastering Wine for the Asian Palate
.

Some pre-dinner mingling/networking.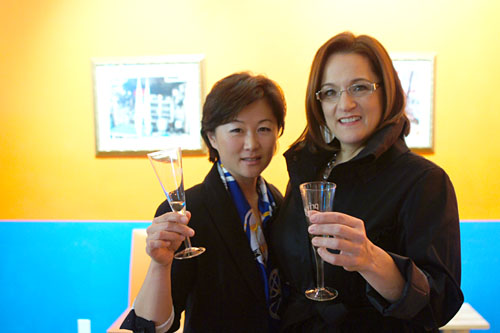 Lorie Kim and Victoria Parr, Founder and Producer, respectively, of
Wine Central Media
, a wine-centric video acquisition, production, and distribution company.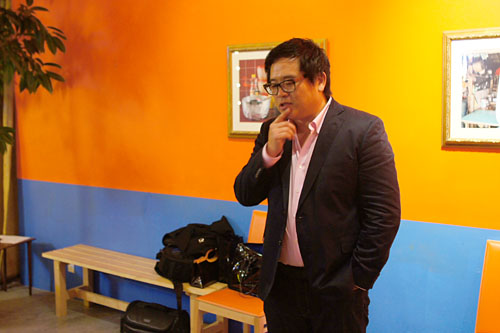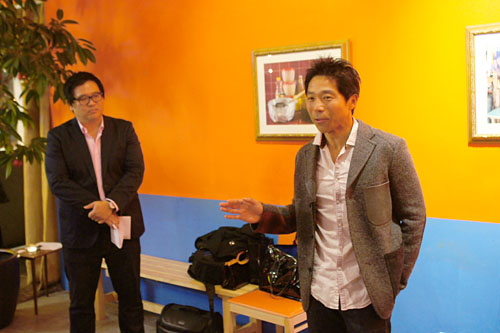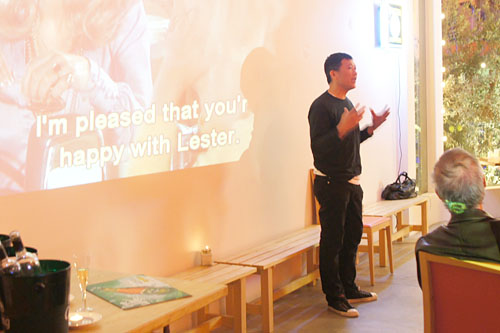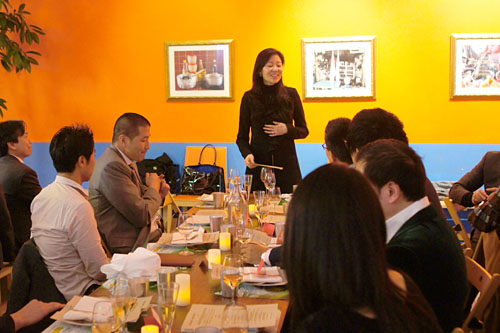 Before dinner, we heard from Privy founder
Stephen Liu
, event co-sponsor and
LegalZoom
co-founder Brian Liu, Chef Kris, longtime Hollywood producer
Teddy Zee
, and of course, Jeannie.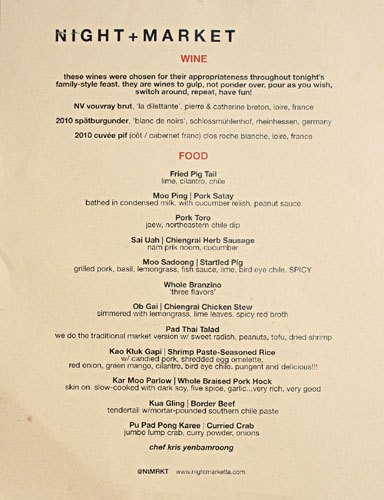 The night's street food-inspired menu featured an 11-course family-style degustation of some of
Night+Market
's most popular dishes, priced at $110 per person, inclusive of the tipple naturally. Click for a larger version.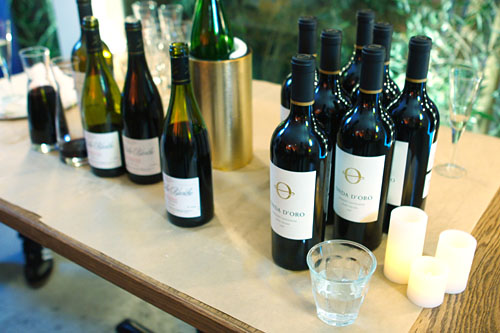 Wines for the evening included:
NV vouvray brut, 'la dilettante', pierre & catherine breton, loire, france
2010 spätburgunder, 'blanc de noirs', schlossmühlenhof, rheinhessen, germany
2010 cuvée pif (côt / cabernet france) clos roche blanche, loire, france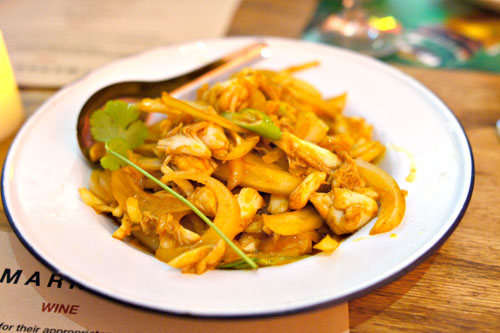 1: Pu Pad Pong Karee / Curried Crab
| jumbo lump crab, curry powder, onions
And so we begin. Generous chunks of sweet, supple crab really did a great job showing off the true essence of the crustacean. Somewhat surprisingly, the curry and onions didn't overwhelm the dish, complementing the crab wonderfully instead. Tasty.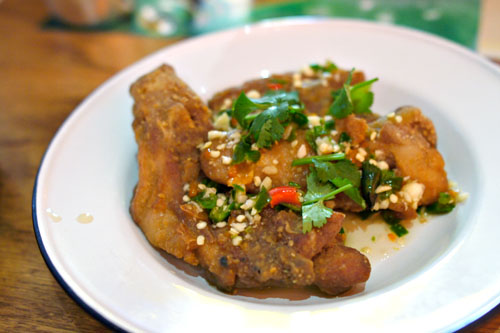 2: Fried Pig Tail
| lime, cilantro, chile
Yenbamroong's pig tail was a bite to behold. I loved its perfect combination of lean and fat, dripping with pig-y sapor, and encased in a crisp, savory shell of fried goodness. The weight of the meat was beautifully moderated by the piquant, spicy combination of lime, cilantro, and chile, making this a table favorite. It compared very favorably with
Spice Table
's epic version.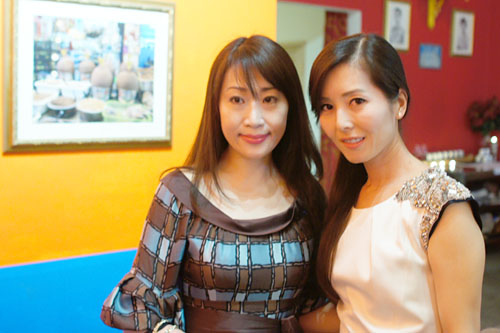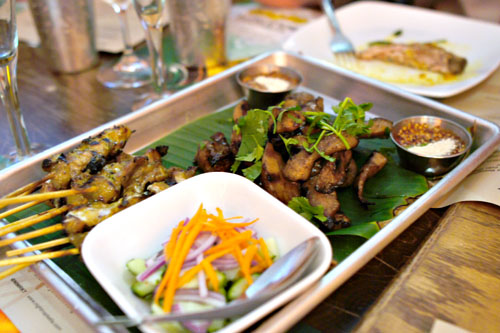 3: Moo Ping / Pork Satay
| bathed in condensed milk, with cucumber relish, peanut sauce
4: Pork Toro
| jaew, northeastern chile dip
At this point, a metal tray containing even more pork was placed before us. First up was the Chef's take on satay. It was definitely a cut above your typical presentation of the ubiquitous dish, with a lovely savoriness from the meat deftly played against the sweetness of the condensed milk, all with an undercurrent of bitter char. Yenbamroong's so-called pork "toro," meanwhile, was even more decadent. Basically what we had was grilled pork collar, fatty and unctuous in character, with a springy bite and loads of flavor. This was pretty intense, so the included condiments did a great job in cutting the heft of the meat.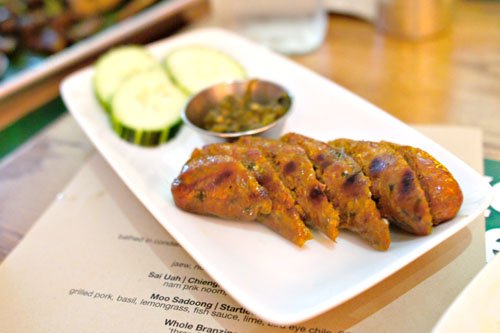 5: Sai Uah / Chiengrai Herb Sausage
| nam prik noom, cucumber
Night+Market's
sai uah
might just be the tastiest tubed meat in town, with its unmitigated, rustic mix of salty and spicy flavors, accented by a delightful herbaceous character. Delicious alone, the sausage also paired swimmingly with the included
nam prik noom
chili condiment.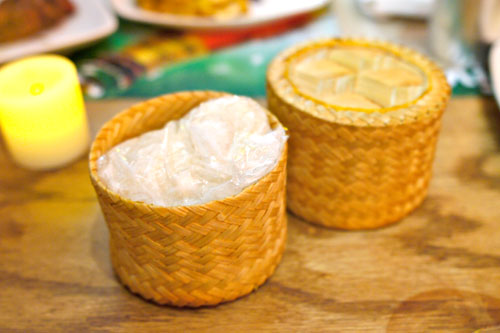 Two types of sticky rice, one sweeter than the other, were brought out to temper the considerable heat of the dishes.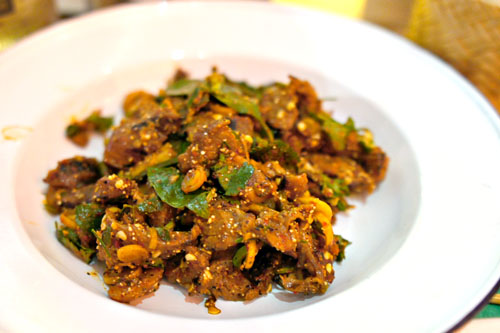 6: Moo Sadoong / Startled Pig
| grilled pork, basil, lemongrass, fish sauce, lime, bird eye chile. SPICY
The "startled pig" easily takes the prize for the spiciest dish of the night--I was sweating after this one! Think loads of heat here, joined by the zestiness of basil and lemongrass and blended with the deep, aromatic qualities of fish sauce. It was an explosion of flavor really, but at the same time, you still were able to taste and enjoy the pork as well. This one was all about
pain and pleasure
.
7: Kua Gling / Border Beef
| tendertail w/ mortar-pounded southern chile paste
Beef makes its first (and only) appearance on the menu. I found the meat tender and tasty, with a certain peppery tang adroitly accented by an apparent, but not over-the-top spiciness.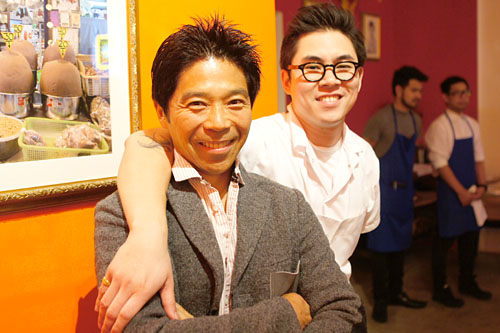 Kris Yenbamroong with Brian Liu, who helped come up with the concept behind Night+Market.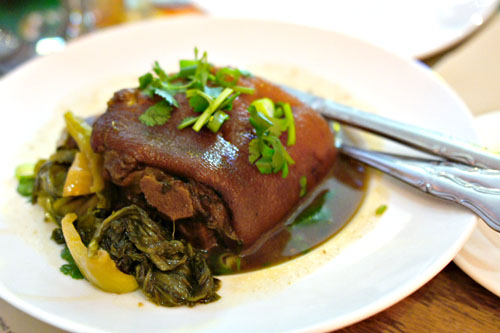 8: Kar Moo Parlow / Whole Braised Pork Hock
| skin on. slow-cooked with dark soy, five spice, garlic...very rich, very good
The most visually impressive course of the night brought us a whole slow-cooked pork knuckle with mustard greens. Not surprisingly, the hock was wonderfully tender and fatty, brimming with profoundly deep, dark, savory flavors and accented by delightful hints of sweetness and spice. It was a dish of near incomparable gravity, so the greenery here was key in providing balance and levity.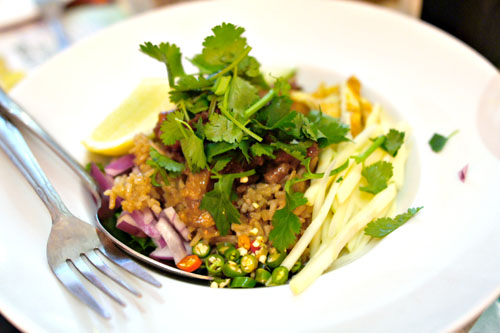 9: Kao Kluk Gapi / Shrimp Paste-Seasoned Rice
| w/ candied pork, shredded egg omelette, red onion, green mango, cilantro, bird eye chile. pungent and delicious!!!
The
kao kluk gapi
, once again, was one of my favorite courses of the meal. The shrimp paste (
kapi
) was the key here, providing a heady, overarching, umami-tinged taste that deftly integrated the dish, while bits of candied pork added a delectable porcine sweetness to the fray. However, all that would be for naught were it not for the myriad of other ingredients at play. The egg, mango, cilantro, onion, and chile were essential as well, providing a combination of light, sweet, and acidic flavors that just made for a wonderful amalgam of disparate tastes and textures.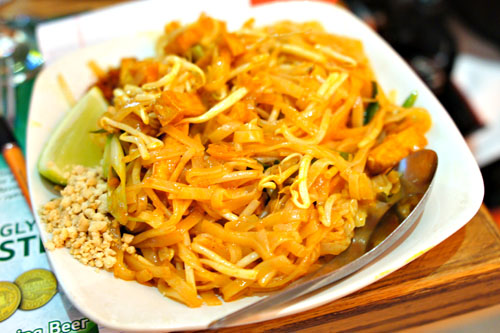 10: Pad Thai Talad
| we do the traditional market version w/ sweet radish, peanuts, tofu, dried shrimp
Here was Yenbamroong's old school version of the most overexposed Thai dish of them all. I'm usually not a huge fan of pad thai, but enjoyed this one quite a bit. It was much more nuanced, with only a restrained sweetness and a great savoriness from the utilization of dried shrimp. I also liked the lightness and crunch of the bean sprouts, while the tofu lent body and substance to the dish.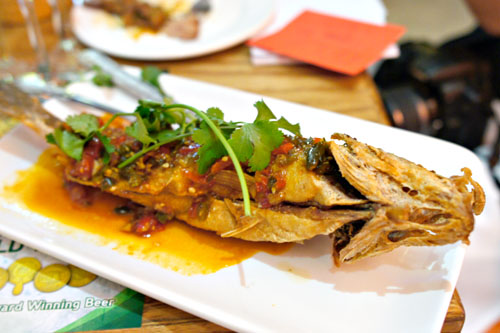 11: Whole Branzino
| 'three flavors'
The Chef's
pièce de résistance
comprised a whole branzino, done up in a
sam ros
style. The fish itself was spot on: tender, juicy, and fragrant, with a delectable savor and delightfully crisp skin. As such, it went perfectly with the "three flavors" (spicy-sweet-sour), making for a wonderful conclusion to the meal.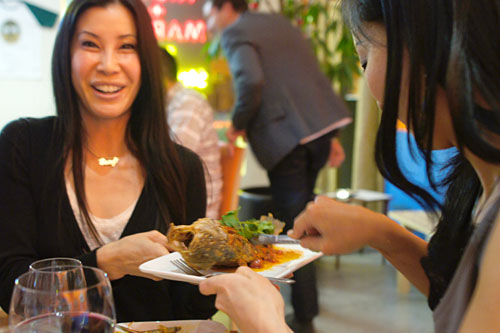 Yes, that's none other than TV personality
Lisa Ling
passing the branzino.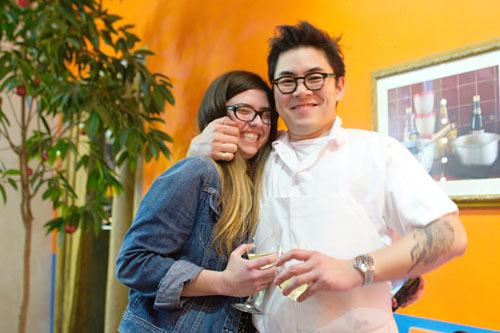 Kris with Huffington Post's
Sarah St. Lifer
.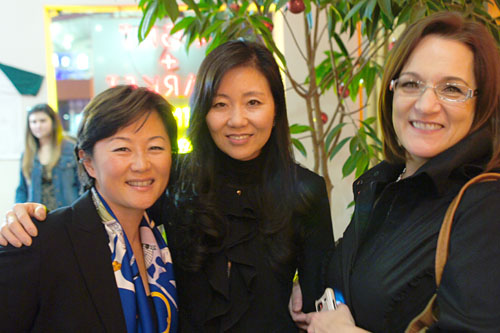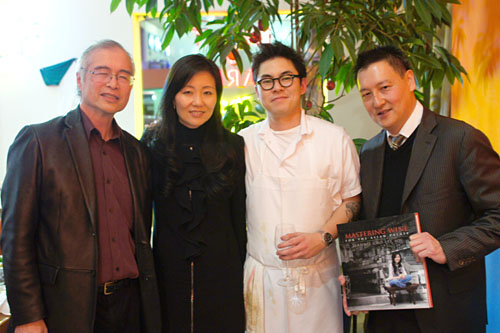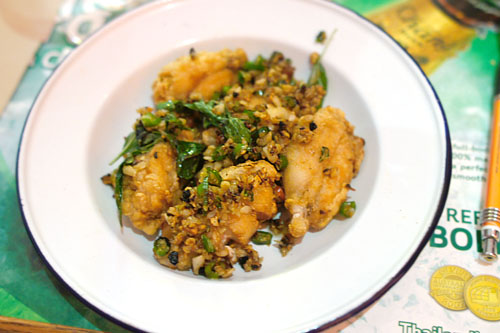 Toward the end of the night, the Chef brought out a special, experimental dish of frog legs that he was working on. It was phenomenal, arguably the best preparation of frog that I've had in fact (the other that comes to mind was at
Joël Robuchon
). The legs were juicy, succulent, tender, and just dripping with chicken-y, fishy goodness. The peppers and other greenery in the dish formed a perfectly pungent, spicy temper to the frog, making for a thoroughly enjoyable, wonderfully balanced eating experience. This needs to go on the menu pronto!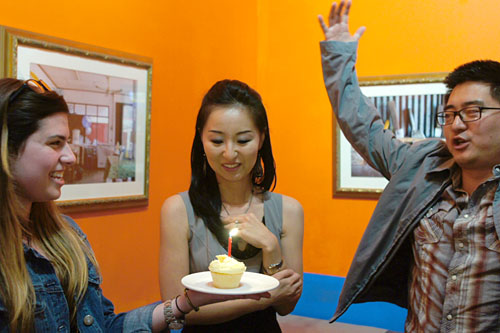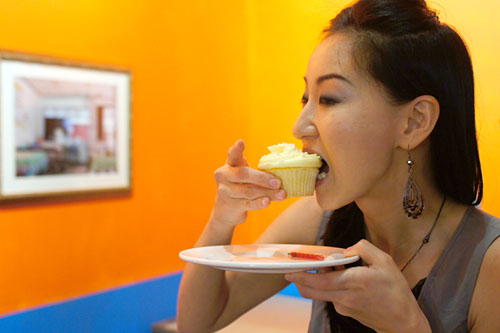 Birthday girl Linda Sun Kim.
The
Privy
folks did a nice job in putting together this event, delivering an evening of great food, drink, and company. Hats off to the Chef as well, who served up a pretty much flawless meal. I first visited
Night+Market
a year ago, when the place was still under the radar. The food blew me away, and I've been a proponent of the restaurant ever since. It's great to see Yenbamroong finally getting some recognition for his work. Hell, he even got a nod from
James Beard
recently, so hopefully that trend continues.