Sushi Nozawa (Studio City, CA)
Sushi Nozawa
11288 Ventura Blvd, Los Angeles, CA 91604
818.508.7017
www.sushinozawa.com
Mon 02/20/2012, 08:50p-10:05p

It's the end of an era in LA sushi. On February 29th, Kazunori Nozawa's eponymous Sushi Nozawa closed for good after 25 years of business. Nozawa made a name for himself as much through his authoritarian demeanor as his "Trust Me"
omakases
, which shunned ridiculous rolls and other such fusion-y things, instead focusing on
edomae
-style
nigiri
served on his signature warm, loose rice. Amazingly, I'd never made it out to Nozawa--partly because of the distance, partly because of the horror stories--but I was determined to give the place a shot before it would be gone forever,
two-hour
wait notwithstanding (there were a whopping
40
people ahead of us in line).
About the Chef
: A native of Tokyo, Kazunori Nozawa loved two things growing up: food, and the game of baseball. Nothing came of the latter, however, and the young Nozawa eventually found himself apprenticing at a top sushi restaurant in the City. He spent years mastering every facet of the sushi-making process, from washing dishes to visiting the Tsukiji fish market to cooking rice to actually forming
nigirizushi
with his own bare hands. He even traveled throughout Japan for five years to learn about the country's vast array of regional specialties. Nozawa returned to Tokyo to work, and soon thereafter, at the age of 30, opened his own successful sushi restaurant. After two years, an opportunity to relocate to the United States popped up, and Nozawa jumped on the chance to move to California.
He started out in Los Angeles at Asuka in Westwood (which is still around), but was appalled at their inauthentic travesty of a menu, par for the course in the 1970's and 1980's. Nozawa aimed to change all that, and began consulting at various restaurants across the country, educating chefs in his Tokyo-style way of sushi. This effort culminated in 1987, when he and his wife Yumiko opened Sushi Nozawa in a tiny strip mall ("Eureka Plaza") in Studio City. The restaurant saw little business in the first few months, but customers began pouring in after a glowing review by Jonathan Gold in the
LA Times
. The place became a fixture on the LA dining scene, and gave rise to the no-frills, traditional,
edomae
-influenced sushi joints that dominate the landscape today. It also served as the training ground for a generation of young sushi chefs, including Nobi Kusuhara of
Sushi Sasabune
fame.
The success of Sushi Nozawa gave the Chef ample opportunity to expand, and in 2006, he partnered with
Sona
's David Myers to open a Japanese eatery called Sokyo. That restaurant, however, eventually fell through, and instead, Myers debuted Comme Ca in the former Noura Cafe space on La Cienega. Nozawa's big break came in the form of sugarFISH, a casual sushi concept formed in partnership with
Sapient
co-founder Jerry Greenberg. The first sugarFISH bowed in June 2008 in Marina del Rey, with a Brentwood outpost appearing a year later. This was followed up by a
sugarFISH Downtown
in October 2010, and a Santa Monica shop in January 2011 (in the old Taka Sushi spot). The restaurants are doing quite well, and there are rumors of locations opening up in West Hollywood and even Corona del Mar. In fact, Sushi Nozawa itself will be transformed into a sugarFISH after the end of February.

Inside, things are cramped and perhaps a touch garish. The
omakase
-only sushi bar seats nine, while twice the number fit into half a dozen tables. Annoyingly, no reservations are taken.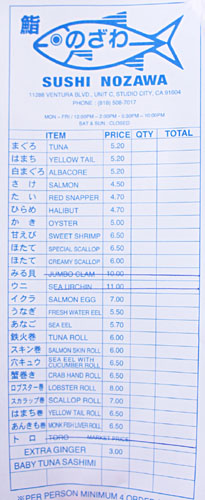 Sushi Nozawa's menu doesn't stray too far from the norm, presenting just your basic
neta
--no
izaki
or
shima aji
here, that's for sure. I
was
surprised at the large number of
temaki
hand rolls offered however. Though most diners opt to get the
omakase
(which runs in the neighborhood of $60pp), we made it a point to order everything on the menu
à la carte
(minus the items that they ran out of). Click for a larger version.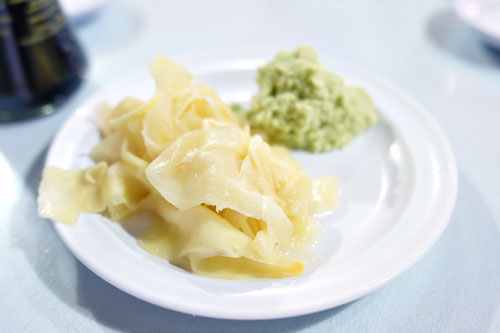 A big plate of
gari
and wasabi (real, I believe) to split amongst the table. Extra ginger? An additional three bucks.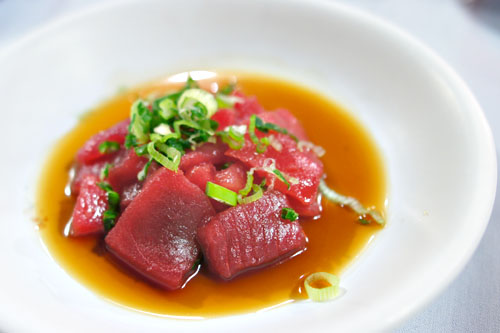 Baby Tuna Sashimi [$16.00]
We began with the restaurant's signature starter, a sashimi of baby tuna. It was a satisfying way to start the meal, with the supple, substantial cuts of
akami
pairing in classic fashion with its accoutrements of tangy, countervailing scallion and ponzu.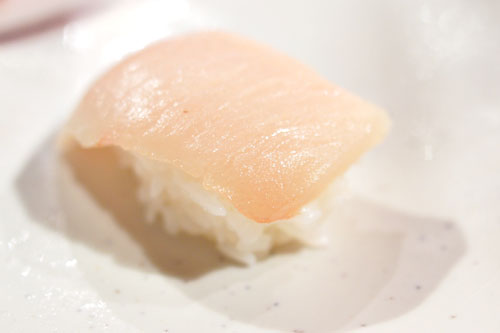 Yellow Tail [$5.20]
Hamachi
was just as expected, soft and somewhat fatty. A pretty prototypical presentation of yellowtail.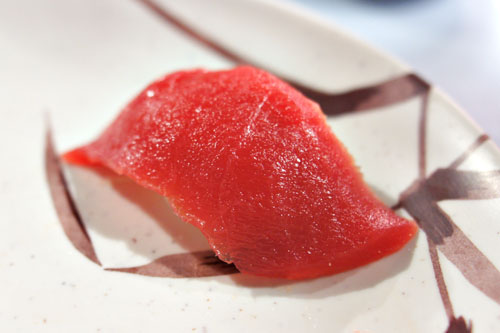 Tuna [$5.20]
Tuna was nice, with a tender bite and a somewhat milder flavor than the sashimi presented earlier.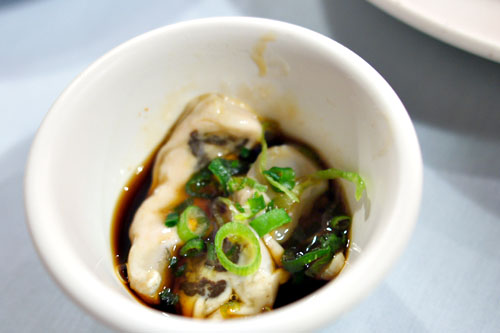 Oyster [$5.00]
Two
kaki
one cup. We weren't told what kind of oysters these were, but they were certainly enjoyable: sweet and saline all at the same time, with a lovely counterpoint from the tangy ponzu and
negi
.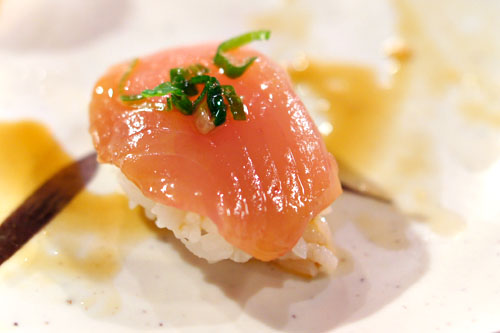 Albacore [$5.20]
It was certainly nice to encounter albacore served completely raw instead of seared. Think soft and slippery, with a artful accent from the topping of scallion.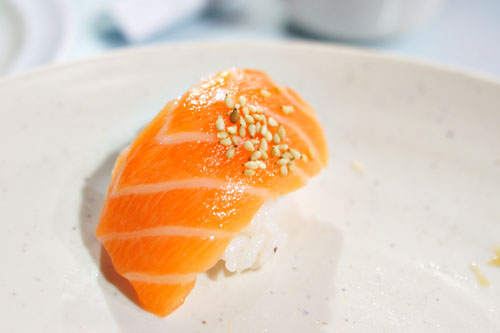 Salmon [$4.50]
Salmon was lovely: lush, creamy, and fresh, with a delightful nuttiness courtesy of a sprinkle of sesame seeds.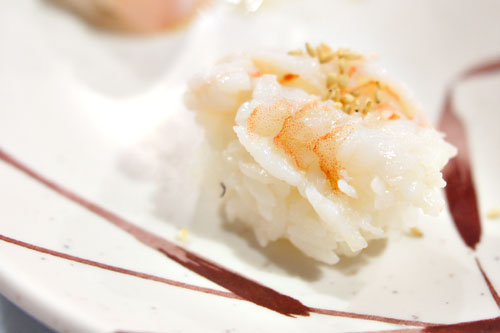 Sweet Shrimp [$6.50]
I'd never had sweet shrimp quite like this before. It seemed almost cooked in consistency, which really threw me off. I wasn't sure
what
to think. And no deep-fried heads?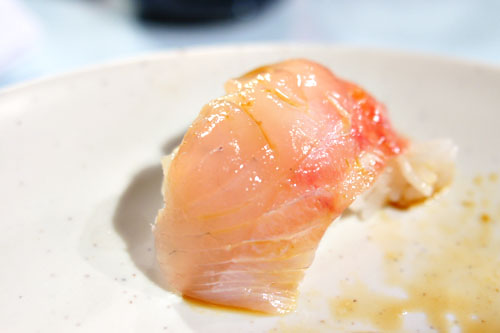 Red Snapper [$4.70]
Snapper was probably one of my favorites of the meal. It was spot on texturally, and I thoroughly enjoyed the citrus-y component here.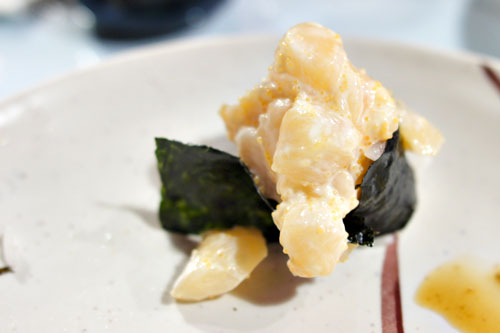 Creamy Scallop [$6.00]
The so-called "creamy" scallop reminded me of my
early days of sushi
. The mayo-like sauce that the
hotate
were bathed in did mask some of their natural flavor, but the dish still worked out just fine, with the creaminess of the scallops playing along well with the seaweed wrapper.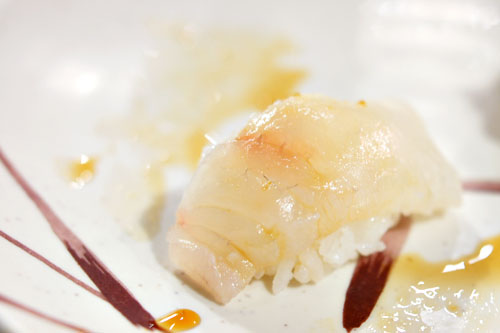 Halibut [$4.70]
Halibut was nice as well, with a medium body and fairly mild flavor, adroitly amped up by the piquant smack of what I believe was
yuzukosho
(a condiment of chili, yuzu, and salt).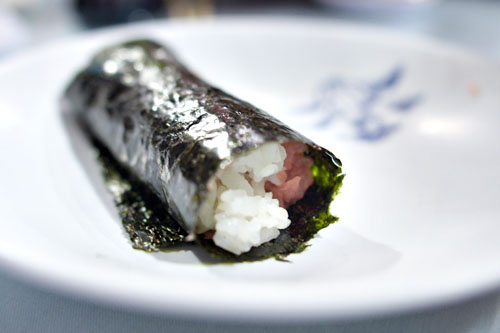 Tuna Roll [$6.00]
Time to kick off our gauntlet of
temaki
. The tuna roll was tasty enough, with a good interplay between the fish and its
nori
wrapper, but I would've liked some scallions in here to mix things up (in effect making it a
negitoromaki
).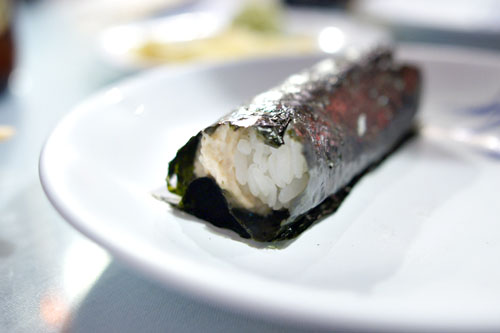 Crab Hand Roll [$6.50]
Next up was Nozawa's signature blue crab hand roll, often imitated, often duplicated. I really enjoyed it, with the sweet, ocean-y relish of the
kani
at the forefront of the dish, joined by a delightful temperature contrast between the warm rice and cool crab.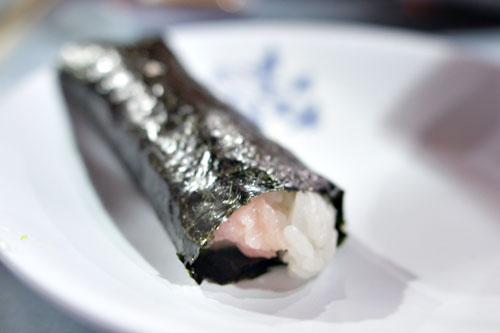 Yellow Tail Roll [$6.50]
The yellowtail roll was surprisingly delicious, with a great combination of flavors between the fatty fish and tangy scallions.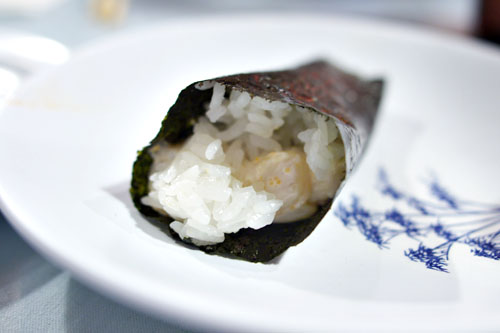 Scallop Roll [$7.00]
I didn't mind this next roll either, with a dab of soy sauce complementing the creamy, warm scallops wonderfully.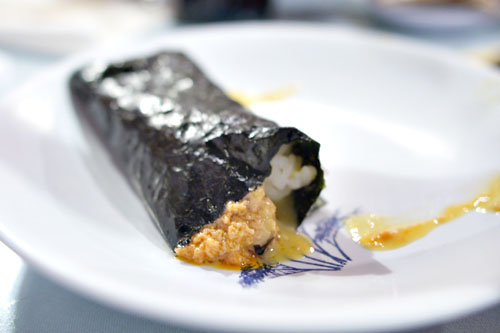 Monk Fish Liver Roll [$6.50]
The
ankimo
temaki
, unfortunately, was probably the weakest of the bunch. The liver itself didn't have much character, and was dominated by the dish's sweet, tart sauce, while its runny, gooey texture wasn't to my liking either.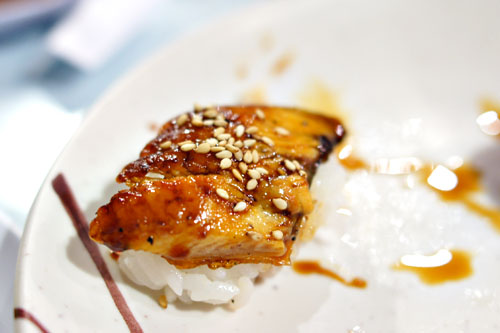 Fresh Water Eel [$5.50]
Moving back to the
nigiri
now,
unagi
was textbook: fatty, soft, and sweet, with a nice topping of
goma
.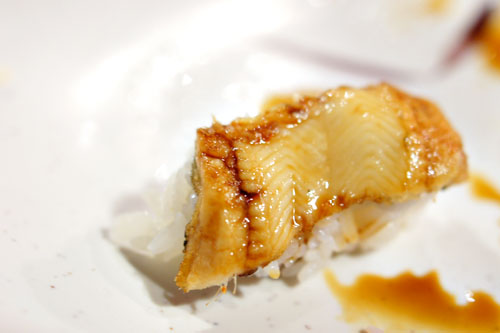 Sea Eel [$5.70]
I think I actually preferred the
anago
, which was leaner in texture with more savory, complex flavors.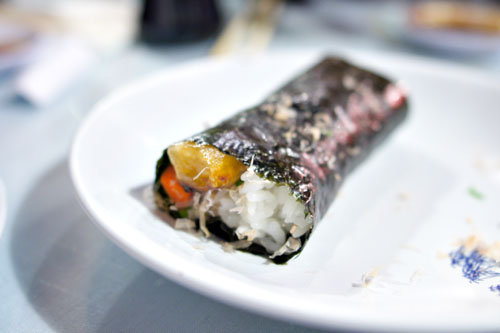 Salmon Skin Roll [$6.00]
The salmon skin roll was pretty awesome, with its crunchy "stick" of fatty, fishy goodness perfectly balanced by the inclusion of pickles, all while the rice and seaweed grounded and tempered the dish.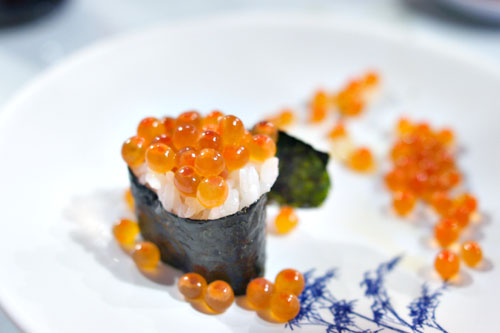 Salmon Egg [$7.00]
Ikura
, meanwhile, was good but not outstanding (and somewhat sloppily constructed), with nice pinpoints of brine from the gamboge globules.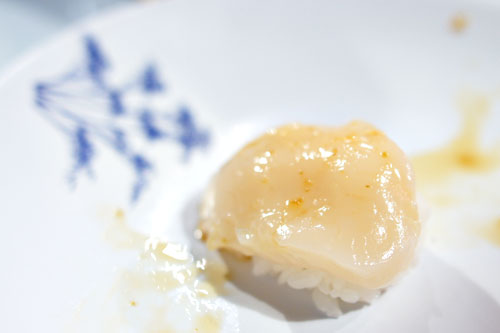 Special Scallop [$6.50]
Now
this
is the type of scallop that I'm talking about: creamy and sweet, with a subtle salinity and a beautiful contrast in the form of a dab of
yuzukosho
.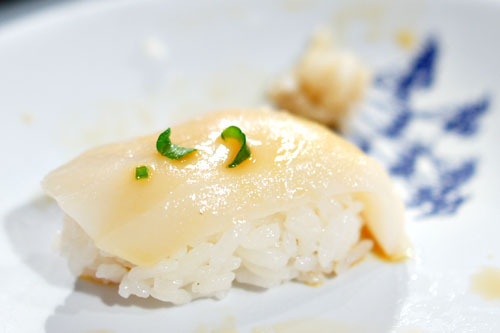 Black Cod [$5.50]
The final
nigirizushi
of the night was actually an off-menu special, usually only offered to those dining
omakase
(thanks to the couple next to us for the tip!).
Gindara
is actually really hard to find in sushi form, so this was a pleasant surprise. I'd had it only once before, at
Ohshima in Orange
, where it was
amazing
. This version wasn't quite as revelatory, though it was still tasty, with a simultaneously lush, yet firm consistency and a delicate flavor, accented by just a touch of tangy ponzu.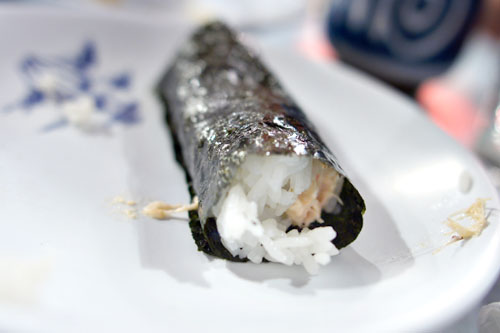 Lobster Roll [$8.00]
Our server managed to forget our lobster hand rolls, so that's why they came out last. They were worth the wait though. I loved the sheer sweet decadence of the meat here (even more so than the crab), and how everything just melded together flawlessly. A fitting conclusion to the meal.
There is no doubt that Nozawa is an icon, a game changer, a fixture on the scene that influenced scores of sushi restaurants that followed. In that regard, we should be thankful. As for the food itself, I had no real complaints. It was some solid sushi to be sure--tasty, fresh, and satisfying, but at the same time, not in the same league as a
Mori
,
Zo
, or even
Nozomi
(and let's not even start on
Urasawa
). I can definitely see why people like the place, but for me, the
experience
could definitely use a bit of work. The pacing was just
far, far
too rushed (22 courses in 1¼ hours), and the whole operation seemed assembly-line. In the end, none of this really matters, since the place is closing, but I'm glad that I finally got to experience the master, the legend, the Sushi Nazi firsthand.