The Charleston (Santa Monica, CA)
The Charleston Restaurant and Gastrolounge
2460 Wilshire Blvd, Santa Monica, CA 90403
310.828.2115
www.charlestonla.com
Thu 05/24/2012, 07:45p-09:55p

When we last caught up with Jet Tila, he and compatriot Alexandre Ageneau were holding another iteration of
Bistronomics over at Breadbar
. Since then, the Chef has finally left his former digs at Las Vegas' Wazuzu for good, done some consulting for BRÜ Haus in West Los Angeles, filmed a
television pilot
, and shot a new series called
Off the Menu
for PBS (in Thailand no less). If that wasn't enough, he also held another
pop-up in Vegas
in February, and another just recently at the
Colburn School
. Oh yeah, and he debuted The Charleston on March 29th.
The Charleston is a bar-lounge-supperclub-nightclub-music venue (just don't call it a gastropub!) opened in concert with partners Trey Martin and brothers/BRÜ Haus owners Mike Lee and Jack M.Y. Lee, and features Tila's take on American comfort food in a "gastrolounge" setting. There's live entertainment (which spans the range from jazz to cover bands to DJs) pretty much every night, and the space even hosts periodic pop-ups. In fact, just a few weeks back Evan Kleiman did a one-off dinner highlighting favorites from her recently departed Angeli Caffe. We'd actually been wanting to try the place out for a while now, and in fact, we were supposed to come at the beginning of May, but a last-minute cancellation by Tila resulted in a detour to the nearby
Milo & Olive
(the Chef did end up comping most of the meal to make up for that inconvenience).

The Charleston commands the building that formerly held
Angel's Piano Bar & Supper Club
(and before that, Holly's West Lounge, Lincoln Steakhouse, and Rooke's Round Table), which shuttered at the end of January. Much of the original 1930's aesthetic still remains, and in fact, the team hasn't done much more than spiffy up the place and add in some new paint, lighting, and electronics. The room is organized around the bar, which can get crowded, and also features a few booths and a smattering of tall tables, all arranged around the smallish stage.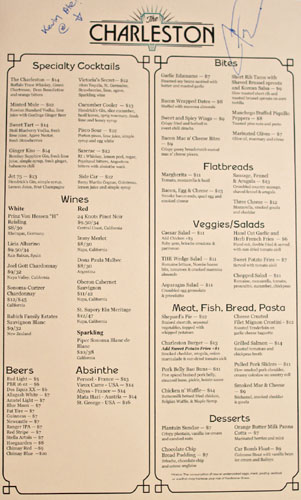 The Charleston's menu features fusion-y American comfort food, all reasonably priced, and there's also a completely separate brunch menu if that's your thing. To drink, think a fairly standard beer selection, a handful of wine, and an old school-ish cocktail list with a modern twist. Click for a larger version.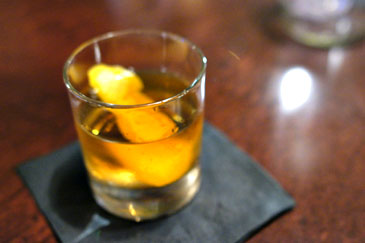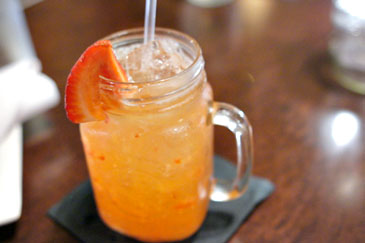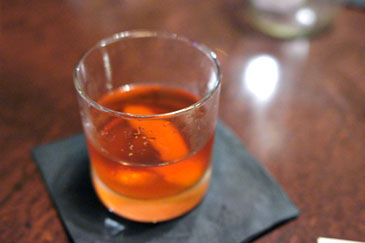 The Charleston [$14.00]
| Buffalo Trace Whiskey, Green Chartreuse, Dom Benedictine and orange bitters
Victoria's Secret [$12.00]
| 1800 Tequila, St. Germaine, Strawberries, lime, agave, Sparkling wine
Sazerac [$12.00]
| RI 1 Whiskey, lemon peel, sugar, Peychaud bitters, Angostura bitters with absinthe wash
Since the cocktails form the main alcoholic draw, we started with a threesome. Up first was The Charleston's signature libation, which showed off a great base of bourbon, all intermixed with the complex herbal characteristics of the Bénédictine and Chartreuse, with just a bit of citrus overtones; it was actually my favorite cocktail of the night. The Victoria's Secret (named after one of the lovely servers) was also quite delicious, with an in-your-face sugariness on the attack leading toward the heaviness of the booze on the finish--a nice summer quaffer. Finally, we had The Charleston's take on the classic Sazerac. It was easily the stiffest of the trio, and played the heftiness of the rye whiskey against the multifaceted bitterness imparted by the combo of Peychaud's and Angostura.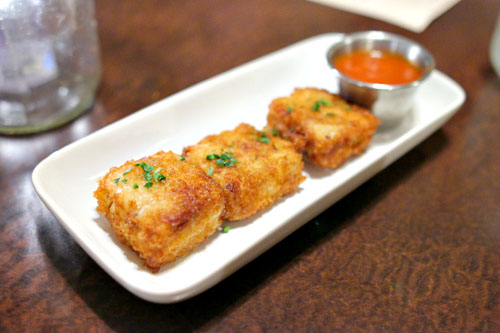 Bacon Mac n' Cheese Bites [$9.00]
| Crispy gooey breadcrumb coated mac n' cheese pieces
We began with crunchy cuboids of macaroni and cheese, which showed off a simple, satisfying savoriness, nicely accented by a tangy dollop of the accompanying marinara sauce.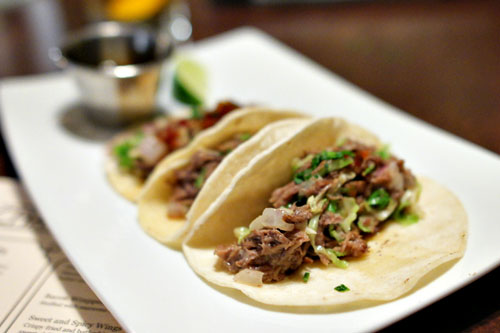 Short Rib Tacos with Shaved Brussel sprouts and Korean Salsa [$9.00]
| Slow roasted short rib and roasted brussel sprouts on corn tortilla
Next up was Tila's take on
Roy Choi
's iconic Kogi tacos. They were actually quite tasty, one of the highlights of the meal in fact. The meat itself I found tender, juicy, and hearty, with a slight sweetness deftly contrasted against the bits of Brussels sprouts. The paired salsa imparted a bit more heat to the course, but wasn't even necessary for me.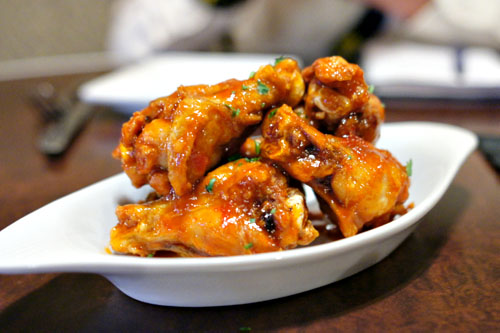 Sweet and Spicy Wings [$9.00]
| Crispy fried and bathed in sweet chili siracha
Chicken wings were on point as well: nicely crisp, yet moist, tender, and succulent on the inside, with a great mix of sweet and spicy flavors.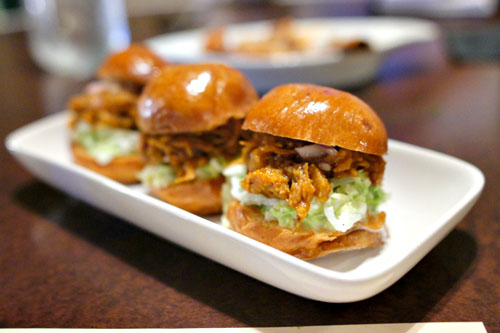 Pulled Pork Sliders [$11.00]
| Slow smoked pork shoulder, creamy coleslaw on country roll
Pork sliders were as tasty as you'd expect, with the sweet, savory pork pairing perfectly with the cool, crisp, refreshing smack of the slaw.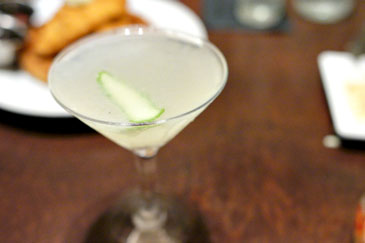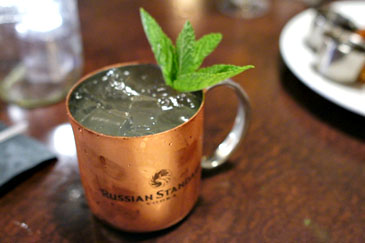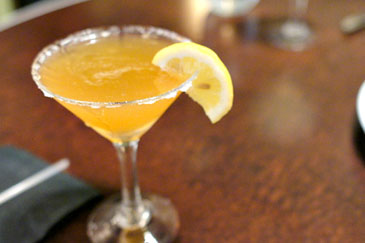 Jet 75 [$13.00]
| Hendrick's Gin, simple syrup, Lemon Juice, Brut Champagne
Minted Mule [$12.00]
| Russian Standard Vodka, lime juice with Goslings Ginger Beer
Side Car [$12.00]
| Remy Martin Cognac, Cointreau, lemon juice and simple syrup
Time for more cocktails. The Jet 75 was a version of the iconic French 75, which conveyed a balanced presentation of gin and citrus flavors, all moderated by the sparkling wine. My favorite of the troika, though, was the riff on the Moscow Mule, and its refreshing interplay of lime and ginger elements. Last up was the Sidecar, very classic in essence with its mix of sweet, sour, and boozy flavors.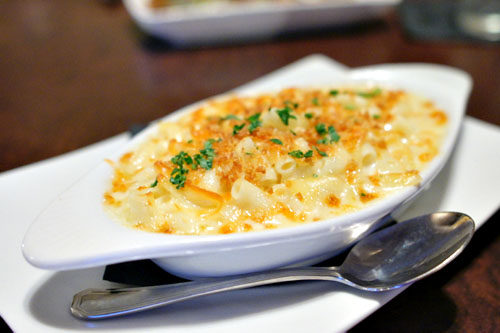 Smoked Mac & Cheese [$9.00]
| Béchamel, smoked cheddar & gouda
A traditional mac 'n' cheese was certainly pleasurable. Here, I enjoyed the sheer cheesy gooeyness of the dish, as well as its crisp crust and smoky tinge. My only concern was that I would've liked the pasta a bit firmer.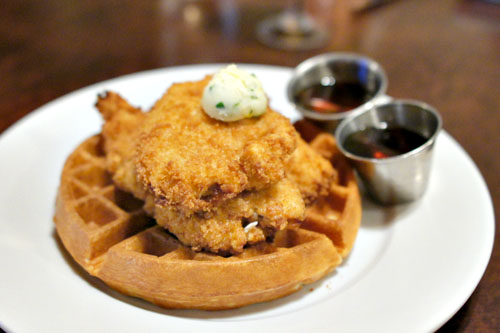 Chicken n' Waffle [$14.00]
| Buttermilk brined fried chicken, Belgian Waffle & Maple Syrup
Here, Tila pays homage to Roscoe's with his version of the famed chicken and waffles dish. The chicken was tender and hearty, with a subtle sweetness and interesting crunch, courtesy of the use of panko in the breading. Meanwhile, the waffle was spot on as well: crisp, yet light, with a satisfying, saccharine, syrup-y smack that paired swimmingly with the bird. A winning combination to be sure.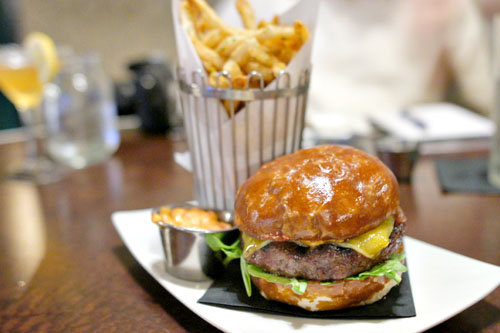 Charleston Burger [$13.00]
| Smoked cheddar, arugula, onion marmalade & sun dried tomato aioli
The eponymous Charleston Burger was certainly worthy of consideration. The meat itself was well-cooked and satisfyingly savory, melding flawlessly with the cheddar cheese. The onion jam added just the right amount of sweetness, while the arugula served to temper the entire dish. Very nicely integrated overall. Accompanying the burger was a side of garlic and herb French fries, which were delectable as well, with a great herby zing that went wonderfully with a dab of sun dried tomato aioli.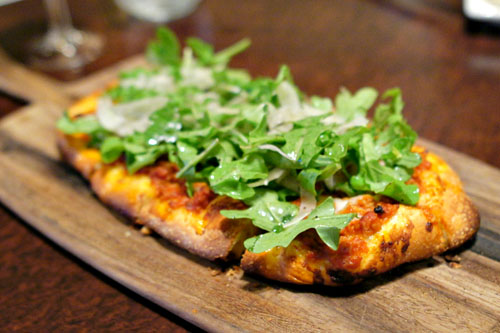 Sausage, Fennel & Arugula [$13.00]
| Crumbled country sausage, shaved fennel & arugula
The combination here of sausage and fennel was certainly enjoyable and robust, with the arugula offering up a well-placed lightness to the flatbread. The most interesting thing here, however, was the crisp, yet quite substantial crust, which actually reminded me of that of Pizza Hut's pan pizzas!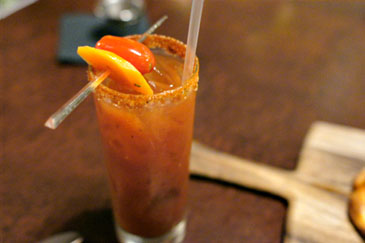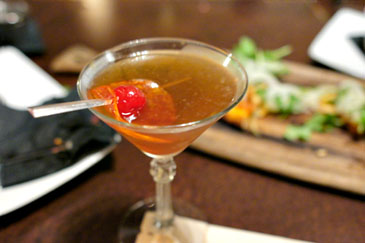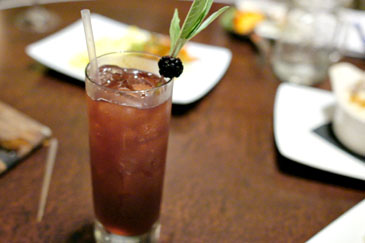 Charlie Sheen Tiger Bloody Mary [$11.00]
| Sambal Chili Sauce, prosciutto, salt, fire roasted tomatoes and capers
Spanish Manhattan
Ally Cat
At this point, we were in the mood for some more "interesting" cocktails, and the bar responded with their Charlie Sheen-inspired Bloody Mary from the brunch menu. It was probably the best version of the drink I've had, with a fantastic, complex blend of savory and spicy flavors, deftly finished by the prosciutto-salt rim and garnish of pickled carrot and fried caper-stuffed tomato. We also tried two more "experimental" concoctions, which should be appearing on the cocktail list shortly. The first was the Spanish Manhattan, which featured chorizo-infused whiskey along with a garnish of Maraschino cherry and sliced chorizo. It was a bit perplexing at first, but it actually worked out, with the savoriness and spice of the sausage going well with the weight of the booze, all while the cherry added a whisper of sweetness to things. Rounding out the triune was the Ally Cat, again named after one of the servers. This one was based on Jameson Gold Reserve Irish whiskey, joined by honey and sage, making for a balanced, delicious drink, with a definite honeyed sweetness and pungency from the sage.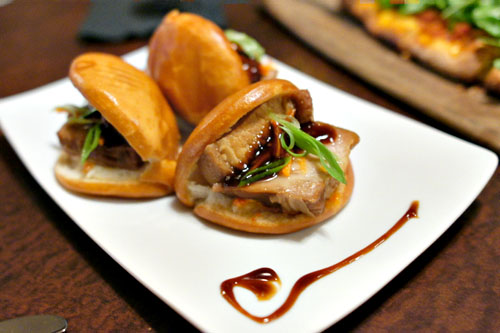 Pork Belly Bao Buns [$11.00]
| Five spiced braised pork belly, steamed buns, pickle, hoisin sauce
It seems like everybody's doing some sort of
bao
these days (I suppose we can thank David Chang for that), but Tila's here are set apart by the fact that the
gwah bao
buns are fried. The result is a crispy, yet pillow-y, and almost doughnut-y consistency that I rather enjoyed, which played perfectly off of the decadent, fatty cuts of pork belly: uncompromisingly porcine, yet with a tinge of sweet spice, keenly set off by the shards of pickled carrot and scallion.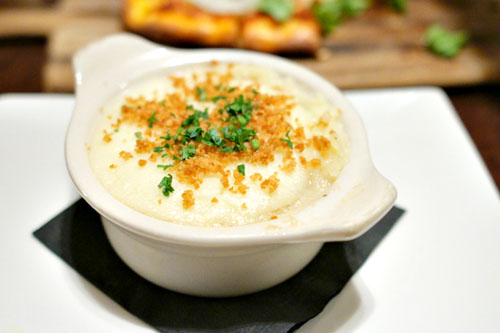 Shepard's Pie [$12.00]
| Braised short rib, seasonal vegetables, topped with whipped potatoes
Tila's shepherd's pie was appetizing as well, with the rich, dark flavors of the short rib pairing with the veggies in classic fashion, all moderated by the smooth, mild mashed potatoes.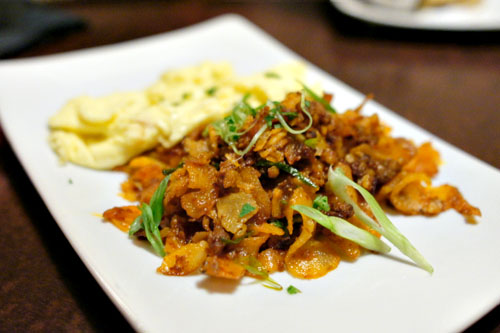 Chorizo Hash and Eggs [$15.00]
| with choice of eggs and toast
To round out the dinner, we requested a couple of items off of the brunch menu. The chorizo hash was the first to arrive, and it was just what I was looking for: spicy, savory bits of chorizo, mixed in with onion and topped with tangy strings of scallion, all balanced by soft, fluffy egg.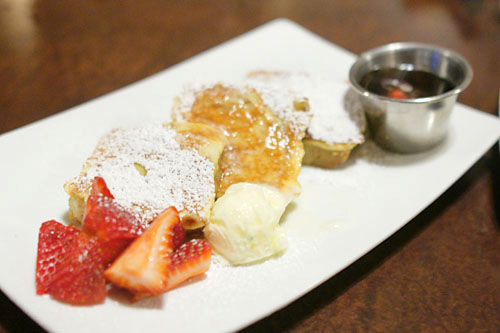 Chocolate Brioche Bread Pudding French Toast [$12.00]
| Chocolate brioche bread pudding with maple syrup
Finishing things off and serving as our dessert course was undoubtedly one of my favorite presentations of French toast. The chocolate was really the key here, providing a rich, satisfying undercurrent of sweetness that just tied everything together.
In discussing The Charleston, Tila once stated that he viewed the place as a "bar with great food." To that effect, he's been largely successful, doling out straightforward, approachable, easy-to-enjoy items that don't get in the way of the booze or the band onstage. The food was tasty for the most part, and well-executed, and I couldn't really find any major fault with it. At the same time though, perhaps the cooking's
too comfortable
. Tila's clearly capable of more, and it'd be nice to see the more ambitious cooking that I know he can deliver at The Charleston. I guess I'll just have to wait for him to do a pop-up there.