L&E Oyster Bar (Los Angeles, CA)
L & E Oyster Bar
1637 Silver Lake Blvd, Los Angeles, CA 90026
323.660.2255
www.leoysterbar.com
Sat 05/12/2012, 07:50p-10:55p

After a memorable experience at the famous
Neptune Oyster
out in Boston, I was on the prowl for a comparable eatery out here in LA. The new L&E Oyster Bar, from Bar Covell owner Dustin Lancaster, just might be the ticket. Lancaster, it turns out, was also inspired by Neptune (as well as Barbara Lynch's B&G Oysters), and for his sophomore effort, he brought on board
Tyler Bell
, a noted oyster fanatic and restaurateur out of Montgomery, Alabama. Joining them are Wine Director
Matthew Kaner
(also of Covell), as well as Executive Chef
Spencer Bezaire
, former top toque at Cafe Stella (where Lancaster once worked as a bartender). L&E Oyster debuted and the end of January, taking over the space across the street from LAMILL that formerly housed Domenico Ristorante (which closed last October), and before that, Michelangelo's Pizzeria.

The old Domenico space has been redone in proper Silver Lake fashion, with its green-and-white paintjob, intriguing light fixtures, vintage-y seating, and old school Gulf Coast-style bait signs that list the day's selection of oysters (they were inspired by signage at Bell's
Leroy Lounge
). There's about 15 tables split between the main dining room and the covered patio, with additional seats available at the bar. Note that no reservations are taken, so expect a wait at peak hours.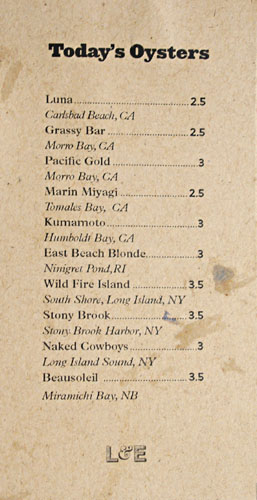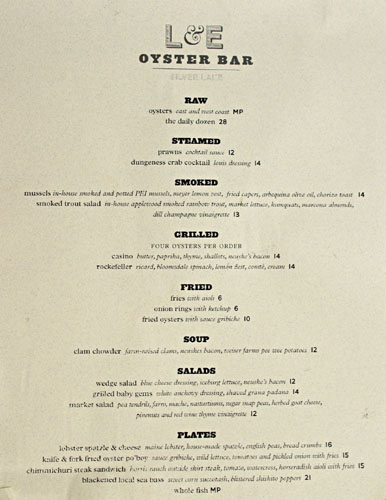 L&E features a daily-changing selection of about ten or so oysters, split between Pacific and Atlantic varieties. Oysters, however, don't constitute a proper meal, so Chef Bezaire offers up a full menu of heartier fare as well. Click for larger versions.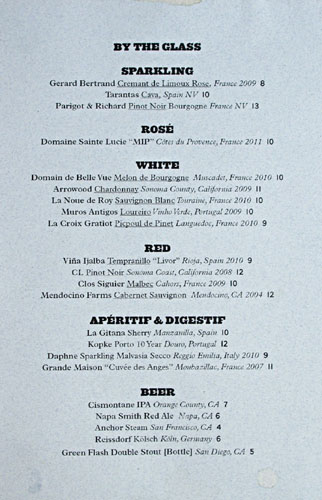 To drink, there's a small, reasonably-priced selection of wines, as well as smattering of beers on tap. Click for larger versions.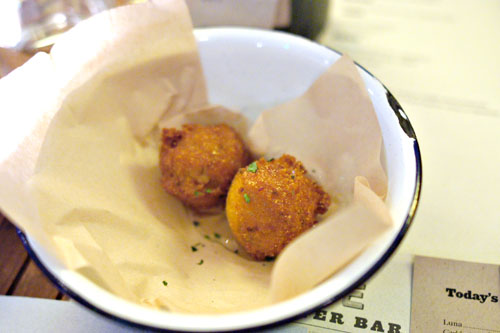 We began with a complementary order of hush puppies, a traditional accompaniment at seafood restaurants. They were heavy and hearty, crisp though a touch dry, with a starchy, slightly vegetal cornmeal flavor accented by overarching notes of honey.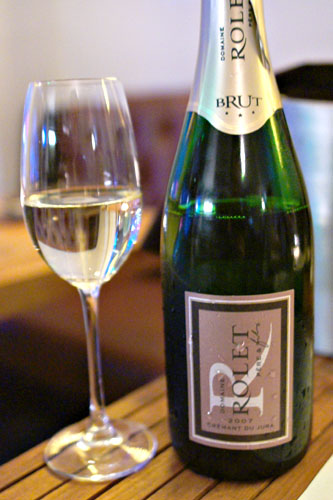 To pair with our oysters, we went with something light and sparkling: the
Domaine Rolet Cremant du Jura Brut, France 2007 [$44]
, an easy-drinking wine with clean, crisp, refreshing notes of citrus and apple, joined by a pleasant minerality.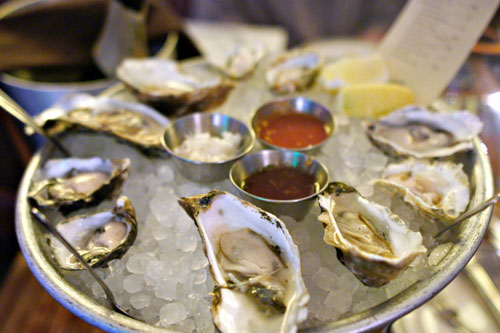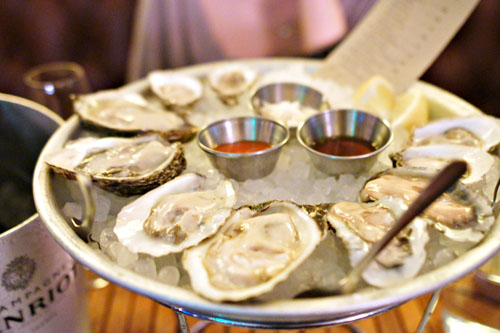 Naturally, we had to try each of the 10 oysters on offer tonight, starting with five West Coast, then moving on to five from back East, all garnished with lemon, horseradish, mignonette, and cocktail sauce:
Luna, Carlsbad Beach, CA [$2.50] - Clean, plump, and mild, with a soft whisper of fruity sweetness. A lovely start to our bevy of bivalves.
Grassy Bar, Morro Bay, CA [$2.50] - The Grassy Bars were much more intense, with a sweet, saline smack that lingered long on the palate.
Pacific Gold, Morro Bay, CA [$3.00] - The tiny Pacific Gold oysters were light and bright, with a seaweed relish and a wonderful melon finish.
Marin Miyagi, Tomales Bay, CA [$2.50] - The Miyagis were the largest of the West Coasters, and displayed a pleasantly meaty consistency, with loads of salinity and a mineral finish.
Kumamoto, Humboldt Bay, CA [$3.00] - Kumamotos were the mildest of the quintet, with their characteristically clean, light brine, though an errant morsel of shell marred the experience slightly.
East Beach Blonde, Ninigret Pond, RI [$3.00] - Ultra creamy with a definite lemon-y tinge and a good amount of salinity.
Wild Fire Island, South Shore, Long Island, NY [$3.50] - I found these to be sweet and snappy, with a very clean finish. Quite nice.
Stony Brook, Stony Brook Harbor, NY [$3.50] - Mild and classic in essence, with a nice balance of brine and minerality.
Naked Cowboys, Long Island Sound, NY [$3.00] - Delightfully meaty, with an initial sweetness leading to a lingering smack of salt on the finish.
Beausoleil, Miramichi Bay, NB [$3.50] - One of my favorites: sweet, refreshing, and complex--a satisfying ending to our litany of oysters.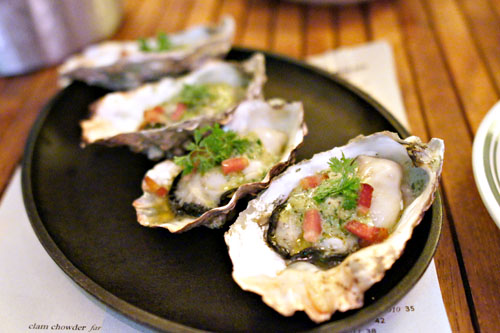 casino [$14.00]
| butter, paprika, thyme, shallots, neuske's bacon
We had here what amounted to an oyster-ized version of the famed dish of clams casino, using Sunset Beach varietals from Washington's Hood Canal. It was one of the tastiest cooked oyster dishes that I'd had in a while, with the saline content of the bivalves working perfectly in unison with the salty relish of the bacon, all while the thyme and shallots provided light, bright counterpoints to the dish.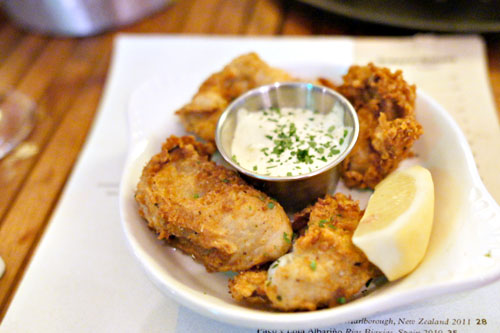 fried oysters [$10.00]
| with sauce gribiche
Our final iteration of oyster was the fried kind, and these were rather nice as well, with the oysters' lush, salty insides playing well against their hard, crispy exteriors. I definitely appreciated the creamy, tangy gribiche as well, which went just swimmingly here.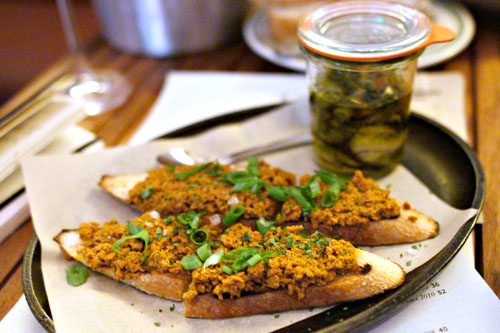 mussels [$14.00]
| in-house smoked and potted PEI mussels, meyer lemon zest, fried capers, arbequina olive oil, chorizo toast
This seemed like sort of an odd combination to me, but it actually worked out in the end. The mussels themselves were firm and meaty in texture, with a hint of smoke that made for a nicely complex taste overall, augmented by the piquant weight of olive oil and capers. The chorizo toast, meanwhile, showed of trademark flavors of spice and savoriness, and remarkably, went beautifully with the mussels, with neither element overwhelming the other.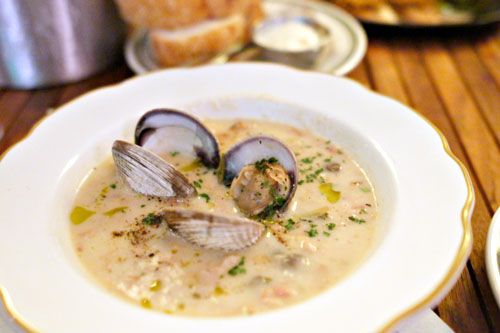 clam chowder [$12.00]
| farm-raised clams, neuskes bacon, weiser farms pee wee potatoes
Clam chowder was surely one of the heartier variations that I've had. The clams were superb here, briny and savory, with a good bite as well. At the same time, I loved the saltiness imparted by the bacon, as well as the moderating effect of potato. Overall, very nicely integrated.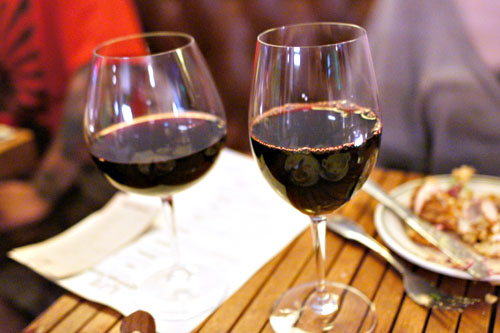 A couple of reds for the heavier courses to follow. First up was the
CL Pinot Noir, Sonoma Coast, California 2008 [$12]
from producer Craven & Lattin, a big, bold, in-your-face pinot with plenty of smoke and pepper to going along with the prototypical dark cherry flavors. Meanwhile, the
Mendocino Farms Cabernet Sauvignon, Mendocino, California 2004 [$12]
was also pretty heady, with a good amount of ripe, dark fruit joined by whispers of spice, all over a good tannic base.
lobster spatzle & cheese [$16.00]
| maine lobster, house-made spatzle, english peas, bread crumbs
And here we see L&E's spin on the lobster mac & cheese, substituting spätzle for macaroni. It was a tasty, straightforward course, with the creamy, supple weight of the noodles pairing well with the crunchy breadcrumb topping, all while English peas served to lighten and brighten the dish. However, I didn't feel that there was enough lobster present, with the crustacean sort of becoming lost in the mix.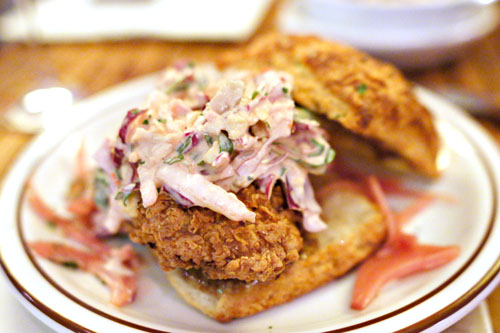 chicken sandwich [$13.00]
We ended with a special of the evening, a fried chicken biscuit sandwich somewhat reminiscent of
Son of a Gun
's. It didn't reach the lofty heights of that version, but was tasty nonetheless. The tender, moist chicken took center stage, where it was deftly countervailed by a liberal application piquant, crunchy coleslaw and red onion, all tarted up with a delicious undercurrent of heat and a touch of honey mustard sweetness.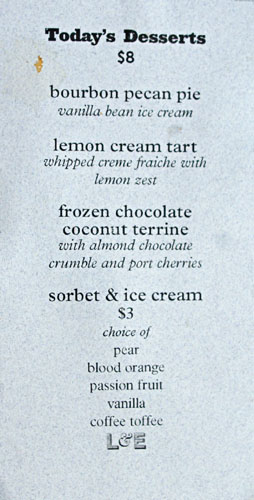 The dessert menu isn't much to write home about, but gets the job done. Click for a larger version.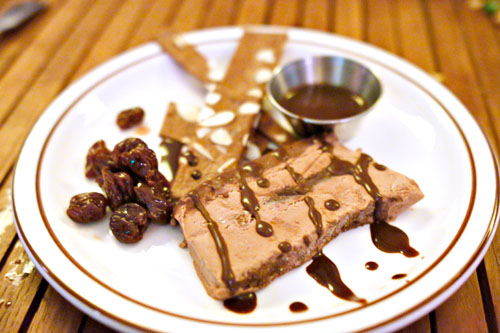 frozen chocolate coconut terrine [$8.00]
| with almond chocolate crumble and port cherries
We opted for the chocolate terrine, and enjoyed the dessert's cool, creamy base of chocolate, beautifully accompanied by the sugary, boozy cherries. Almond crisps, meanwhile, added a delightfully nutty component to the dish, and also provided a well-placed crunch.
I came out of L&E quite satisfied. The oysters themselves were pretty much spot on, and I appreciated the depth and breadth of the selection here. At the same time, they were joined by a commendable menu of heartier, cooked dishes as well, making for a complete dining experience. Lancaster and company have got all the makings of a hit on their hands, and I think LA may finally have an oyster bar to be proud of.