C.H.E.F.S. Foie Gras Dinner at The Royce (Pasadena, CA)
C.H.E.F.S. NorCal vs SoCal Foie Gras Battle "The Whole Duck" at The Royce
1401 S Oak Knoll Ave, Pasadena, CA 91106
626.585.6410
www.chefstandards.com
Mon 05/14/2012, 07:45p-11:40p

With the impending foie gras ban slated to go into effect come July 1st, it's no surprise that we've been seeing a bevy of foie gras-centric dinners pop up in the past few months, and I only expect that number to rise as we get closer to the deadline. Surprisingly, I'd actually resisted the urge to attend any of these events until this particular series of four simultaneous dinners, hosted by the
Coalition for Humane and Ethical Farming Standards
. C.H.E.F.S. is a group of California-based chefs, restaurateurs, and other industry professionals that opposes the ban on foie gras, but instead supports a higher standard for the ethical treatment of animals as well as more humane, sustainable farming practices. The organization sponsored a "NorCal vs SoCal Foie Gras Battle" featuring chefs from both Northern and Southern California, cooking four concurrent meals at
The Royce
,
Animal
, Lemon Moon, and
Melisse
.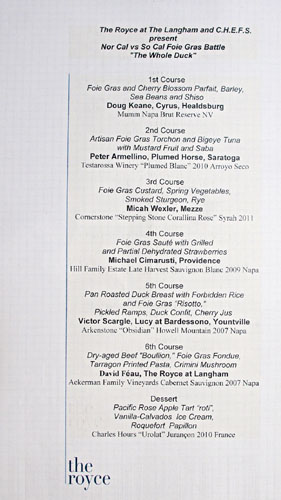 And here we see the evening's menu, which came priced at $200 per head, with half that amount representing a charitable donation to C.H.E.F.S. The cost included wine pairings, with bottles graciously donated by select California wineries. In addition, since we were seated at the Chef's Table, we were able to enjoy two additional bonus courses, prepared by Chefs Féau and Cimarusti. Click for a larger version.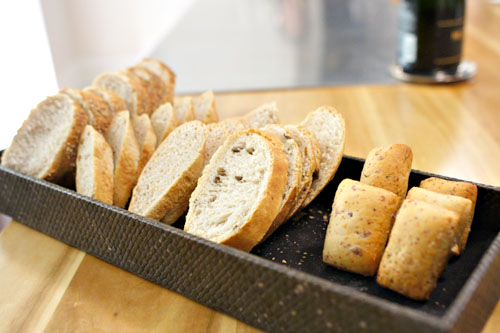 Bread, as always, was baked in-house, and tonight included pumpernickel, baguette, olive, and bacon varieties.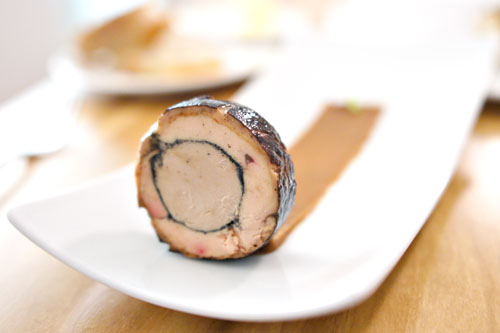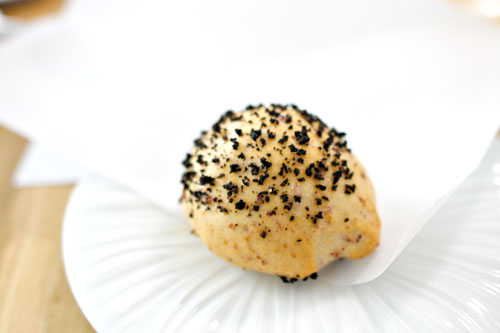 Bonus: Foie Gras Roulade
We commenced with a foie gras torchon, wrapped in pan-seared foie gras, and served with a rhubarb compote and leek ash. Initially, I got a lot of the sugariness from the rhubarb, which then gave way to an intriguing, complex interplay between the disparate preparations of liver, with the two jockeying for position on the palate both in terms of taste and texture. At the same time, the strata of leek ash offered up an overarching bitterness that deftly contrasted the heft of the foie. The course also came accompanied by a smoked black truffle bread, which added a further bit of smoky, savory weight to the dish.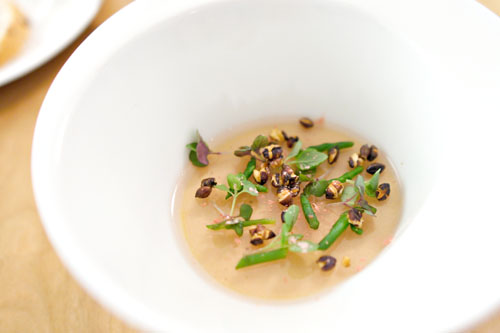 1: Foie Gras and Cherry Blossom Parfait, Barley, Sea Beans and Shiso
[Doug Keane,
Cyrus
, Healdsburg]
Mumm Napa Brut Reserve NV
Next up was a parfait of foie gras, which included in its list of ingredients chicken stock, sake, gelatin,
sakura
stock, seaweed, mirin, and ginger. The pâté itself was smooth and airy, yet powerful, with a delicate, yet heady smack of foie gras flavor that married well with the subtly sweet, floral cherry blossom gelée, which also provided a lovely textural contrast. Poached sea beans, meanwhile, added pinpoints of salt to things, while the microshiso contributed overtones of countervailing mintiness. My favorite element here, though, was that barley, with its fantastic crunch and lingering earthiness.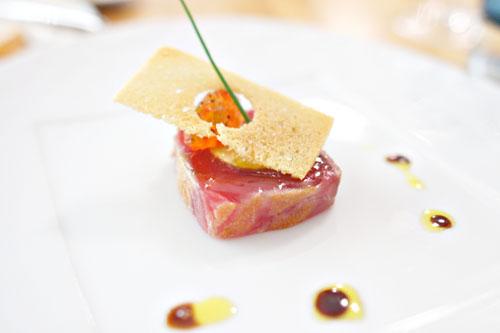 2: Artisan Foie Gras Torchon and Bigeye Tuna with Mustard Fruit and Saba
[Peter Armellino, Plumed Horse, Saratoga]
Testarossa Winery "Plumed Blanc" 2010 Arroyo Seco
A disk foie gras torchon cured in salt came lodged in a block of seared bigeye tuna, with the amalgamation then topped with
mostarda
. The tuna itself was clean and dense, with lovely pricks of salinity from the Maldon salt. You don't see fish with foie all that often, but the combination actually worked here, with the two components seemingly amplifying each other, with neither becoming overpowering. At the same time, the strip of toast provided a pleasant textural element to the dish, and I appreciated the piquancy from the mini-quenelle of mustard fruits as well.
3: Foie Gras Custard, Spring Vegetables, Smoked Sturgeon, Rye
[Micah Wexler,
Mezze
]
Cornerstone "Stepping Stone Corallina Rose" Syrah 2011
A custard of foie gras was lovely, with the light, ethereal gel adroitly imbued with whispers of smoke from the cubes of sturgeon. It went just swimmingly with the earthy tang of the rye crumbles, and the combination was keenly moderated by the myriad of crisp, bright veggies, which included sugar snap peas, English peas, favas, Nantes carrots, and scapes. Very nicely integrated.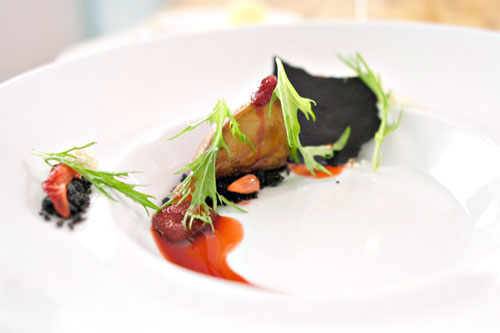 4: Foie Gras Sauté with Grilled and Partially Dehydrated Strawberries
[Michael Cimarusti,
Providence
]
Hill Family Estate Late Harvest Sauvignon Blanc 2009 Napa
Here we had seared Rougié foie from Canada, joined by black sesame streusel, a black sesame tuile, foie gras powder, roasted strawberries, and a strawberry-hibiscus syrup. It was a masterful course, with the liver showing off a delightfully eggy consistency and a mild, delicate, yet forceful foie gras relish. The various forms of strawberry, meanwhile, contributed just the right amount of sweetness to the mix, and I appreciated the countervailing smack and crunchiness of the black sesame as well.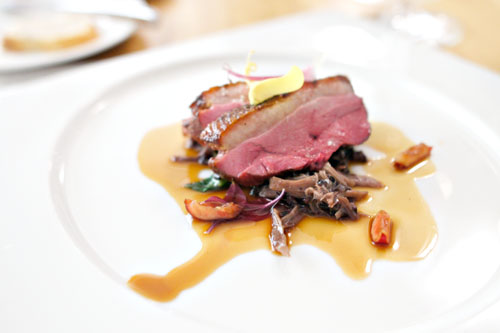 5: Pan Roasted Duck Breast with Forbidden Rice and Foie Gras "Risotto," Pickled Ramps, Duck Confit, Cherry Jus
[Victor Scargle, Lucy at Bardessono, Yountville]
Arkenstone "Obsidian" Howell Mountain 2007 Napa
Here, duck arrived in three very different fashions: confit, breast, and foie gras mousse (fitting as the ban may have implications for other parts of the animal). The breast was nice, but the least interesting of the trio. I much preferred the confit, which showed off delectably dark, savory tones, intertwined with a fascinating touch of sweet spice. The foie gras "risotto" was also a hit, with the liver adding a wonderful gravity to the rice, as well as the dish overall. Bok choy, meanwhile, did an admirable tempering the strong flavors at play here with its much-appreciated vegetal bitterness.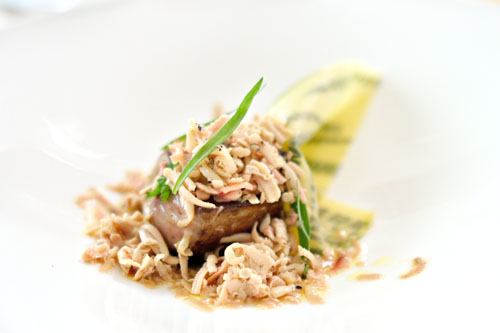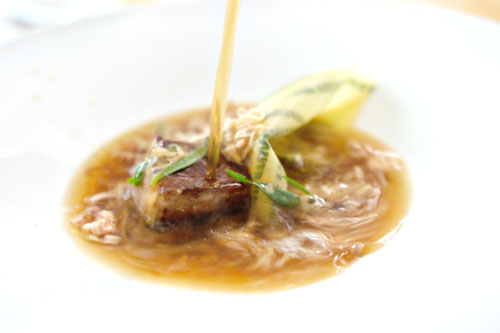 6: Dry-aged Beef "Boullion," Foie Gras Fondue, Tarragon Printed Pasta, Crimini Mushroom
[David Féau,
The Royce at Langham
]
Ackerman Family Vineyards Cabernet Sauvignon 2007 Napa
Our final savory course of the dinner brought us a cube of foie gras, enveloped with shaved foie gras, on top of which a beef bouillon was poured. The liver itself was expertly cooked, and classic in essence, with its heady relish on full display. However, what I liked even better was the broth, which conveyed a profound, refined beefiness, but one laced with delicious foie gras overtones. The pasta, meanwhile, served to moderate the dish, and also provided a point of textural interest as well.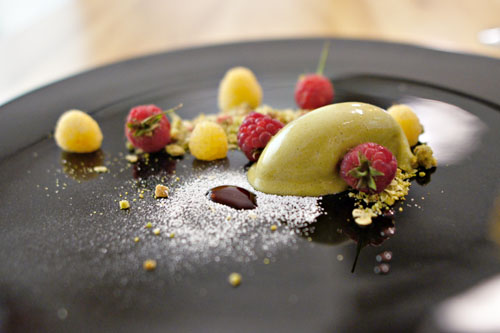 Bonus: Pistachiola
The additional dessert we enjoyed was the so-called "pistachiola," a portmanteau of pistachio and granola. The two components were joined by honey, black sugar, raspberries, and a delightful sorrel sorbet. The course was a resounding success, with a great interplay of flavors between the tangy, sugary fruit and the nutty bits of granola, all while the sorrel added a refreshing, bracing tartness to the dish.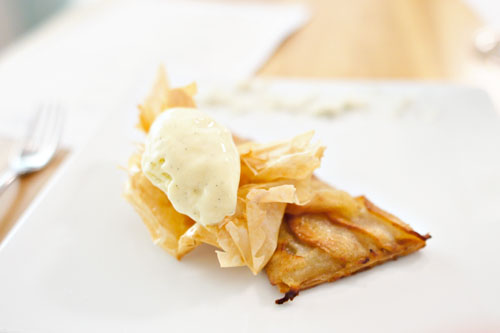 Dessert: Pacific Rose Apple Tart "Roti", Vanilla-Calvados Ice Cream, Roquefort Papillon
Charles Hours "Urolat" Jurançon 2010 France
I was somewhat disappointed that dessert lacked any foie gras, but the course was thoroughly enjoyable nonetheless. In fact, I'd quite liked it during my second visit to
The Royce
. Sweet slices of Pacific Rose apple came attached to a smoky, almost gossamer crumple of paper-thin phyllo, resulting in a fascinating mix of tastes and textures, and combined wonderfully with the sweet, yet slightly boozy vanilla-calvados ice cream. Crumbles of Roquefort, meanwhile, contributed a sharp, salty, counterbalancing component to the fray.
And there we have it: my first foie gras dinner. Part of the reason that I'd been so tentative about these types of events was that I was afraid that I'd be assaulted by huge, overly sweet portions of the stuff, which, given the considerable heft of the liver, would be overwhelming. Rather, tonight, the Chefs here were able to present foie gras in its various forms and facets, keeping things interesting enough, and light enough, to make me want to keep going. As for the "battle" component of the meal, I'd have to give the "W" to the boys down south.