BierBeisl (Beverly Hills, CA)
Bier Beisl Restaurant
9669 S Santa Monica Blvd, Beverly Hills, CA 90210
310.271.7274
www.bierbeisl-la.com
Mon 05/07/2012, 07:10p-09:25p

Somewhat ironically, despite the fact that Los Angeles' most famous chef--
Wolfgang Puck
--hails from Austria, the City has never really had a true Austrian restaurant, at least not in my culinary lifetime. That unfortunate situation changed on February 27th, when BierBeisl officially opened its doors for business. The name is a concatenation of
Bier
, which means beer (duh), along with
Beisl
, a sort of small Viennese pub, and the eatery is the work of a young Austrian chef: the 27-year-old Bernhard Mairinger.
About the Chef
: Chef Mairinger grew in up in a small town near Austria's Lake Attersee, not too far from the major city of Salzburg. Starting at the age of 15, he attended culinary school at the Höhere Bundeslehranstalt für Tourismus in the spa town of Bad Ischl, and during his studies there, served as a commis at the nearby Hotel Aichinger in Nußdorf am Attersee. Upon graduating from the HLT in 2004, he worked his way through a number of places throughout Europe, including Hotel Alex in Zermatt, Switzerland; Ashdown Park Hotel and Country Club in East Sussex, England; Hotel Zürserhof, a top ski resort in Zürs am Arlberg, Austria; and finally, the Michelin-starred Da Gianni in Mannheim, Germany.
From there, Mairinger decided to move to the United States, first landing at Mammoth Mountain Ski Area's Parallax restaurant, where he served as CdC for Executive Chef Andreas Roller. In 2008, he was hired by the Patina Restaurant Group to work as Chef de Cuisine for Patina at the Hollywood Bowl, and from there, he transitioned to roles at Nick & Stef's Steakhouse as well as
Patina
, under Tony Esnault. It was at the PRG flagship where Mairinger would note the lack of Austrian cooking in LA,
and decide to do something about it
.

BierBeisl occupies the building formerly held by La Bottega
Marino
, which has been revamped by Greg Bleier of
Studio Unlimited
. You'll notice new furnishings, paint, and fixtures, resulting in a warmer, homier ambiance, though the basic layout of the place remains the same: a smattering of tables in the middle, counter seating in front of the kitchen and schnaps bar, as well as a couple of tables outside. We opted for a seat facing BierBeisl's lilliputian kitchen, which seems like barely enough space for the towering Chef and his sole assistant.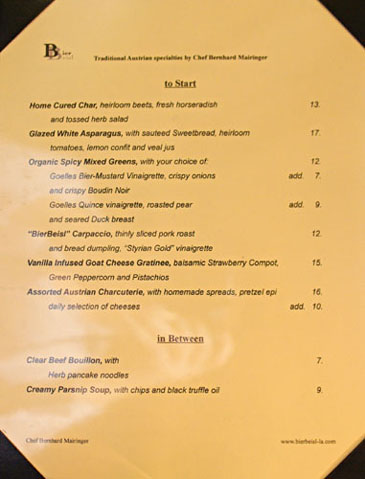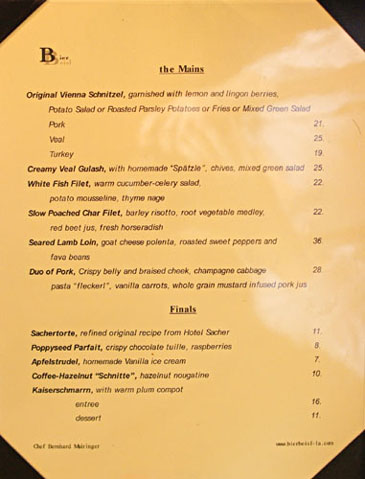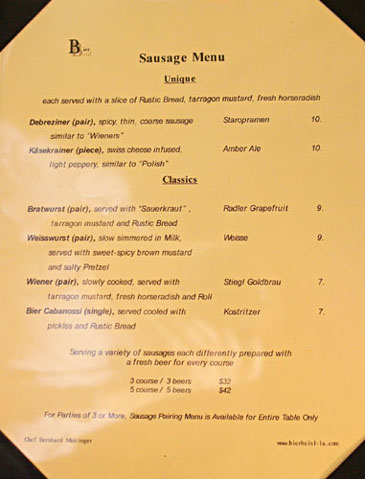 BierBeisl's menu features a seasonally-changing array of Austrian dishes, tarted up with a modern, Californian aesthetic. Of course, there's also a separate sausage menu with about a half-dozen varieties, custom-made for the restaurant by the highly-regarded
Continental Gourmet Sausage
in Glendale. Click for larger versions.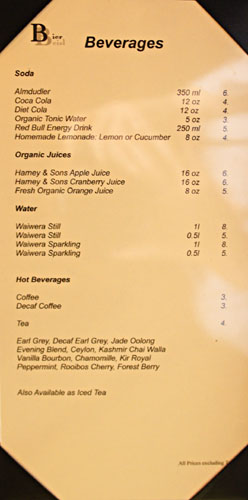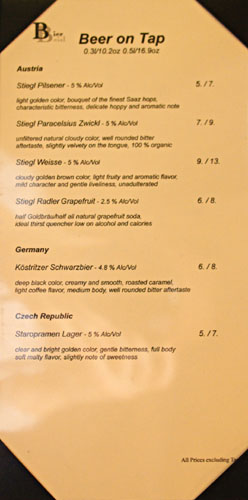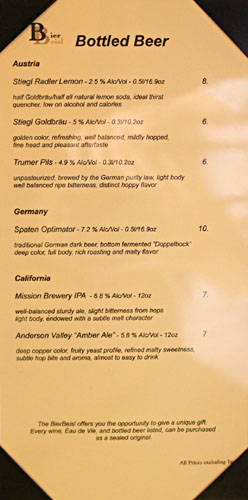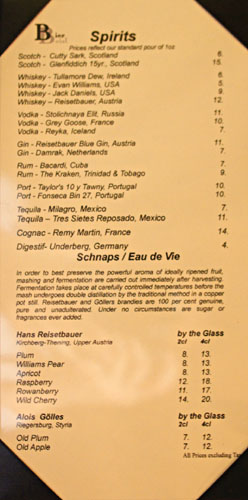 To drink, we're talking about a small but unique selection of beers and spirits (notably the schnaps), joined by a separate list of Austria-focused wines (e.g. Grüner Veltliner, Zweigelt, Blaufränkisch). Click for larger versions.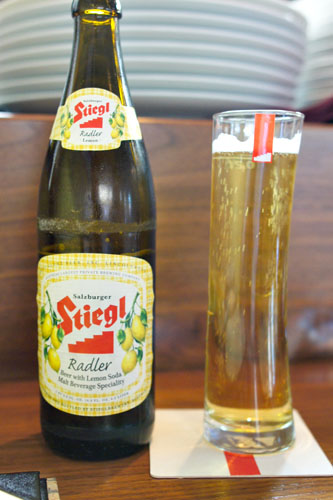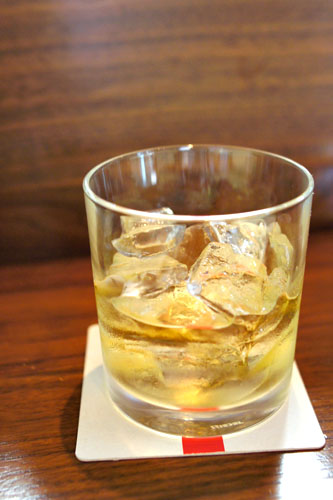 We began with a lemon-flavored Stiegl Gaudi Radler Shandy [$8], which is basically beer mixed with lemon soda. Not surprisingly, we found it crisp and refreshing, with bright notes of lemon over a lager base. Sticking with the Austria theme, we also tried the Hans Reisetbauer whisky [$12], a seven-year-old single-malt from the famed
eau de vie
producer. The whiskey is aged in oak Chardonnay and Trockenbeerenauslese casks (versus the traditional Port or Sherry) from Austrian winemakers Alois Kracher and Heinz Velich, giving the spirit a rather unique character: malty and caramel-y initially, but with a marked spiciness and fruitiness on the finish.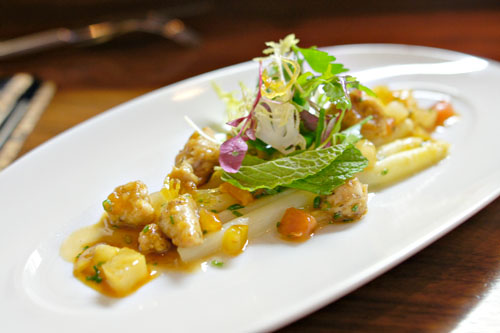 Glazed White Asparagus [$17.00]
| with sauteed Sweetbread, heirloom tomatoes, lemon confit and veal jus
We were in the midst of white asparagus season, so we wisely took advantage of that timing for our first course. The spears here were exceptionally tender, with a mild flavor that was significantly less bitter than that of their green brethren. Of course, the sweetbreads were key as well, with their soft, savory, earthy taste adding weight and depth, while the tomatoes and lemon offered up tart 'n' tangy overtones to balance out the course.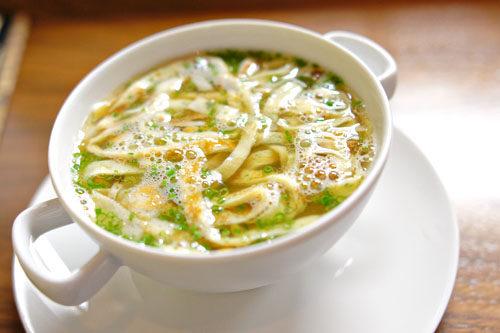 Clear Beef Bouillon [$7.00]
| with Herb pancake noodles
A well-made bouillon (the Chef's version of
Flädlessuppe
) was up next, with its intense, heady aromatics and boatloads of umami-rich flair on the palate, all countervailed by the well-placed bits of herb and the supple, satisfying noodles (the
Frittaten
).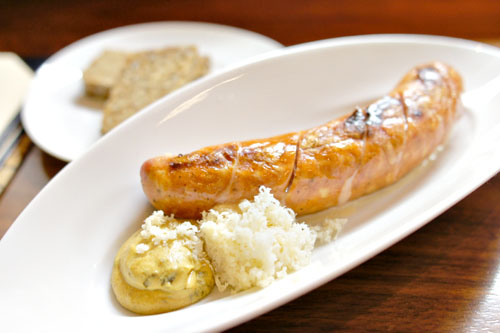 Käsekrainer [$10.00]
| swiss cheese infused, light peppery, similar to "Polish"
Our first sausage can be thought of as a kielbasa stuffed with cubes of Swiss cheese. It was excellent, with the luscious, gooey
Käse
perfectly augmenting the rich, salty, satisfying smack of the sausage. I definitely enjoyed it alone, but really appreciated the tempering tang imparted by the combination of tarragon mustard and fresh horseradish. A must try.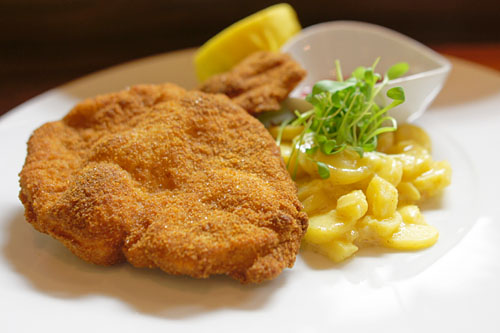 Original Vienna Schnitzel; Pork [$21.00]
| garnished with lemon and lingon berries; Potato Salad
This was actually my first time having an authentic
Wiener Schnitzel
, which has nothing to do with hot dogs, but is instead a traditional Austrian specialty of pounded, breaded, and fried meat. Though the classic version is prepared with veal, we went with
Schwein
at the urging of our server. It was pretty much exactly what I had in mind: thin, tender cutlets of mildly-flavored pork, nicely crisp on the outside, though slightly monolithic. The sugary lingonberry and sour lemon, thus, were key in adding some variety to the dish, as was the accoutrement of warm, tart, vinegar-y potato salad.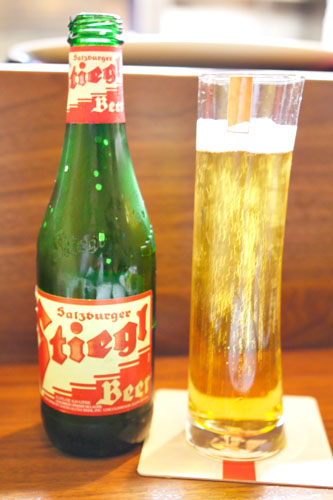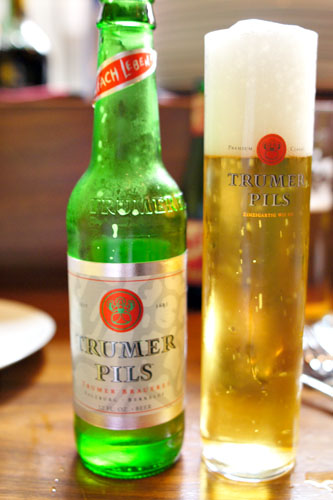 Having enjoyed the Radler above, we opted now for the Stiegl Goldbräu [$6], which actually forms the beer part of the shandy's equation. It was well-balanced and easy-drinking, though not particularly interesting, with a pleasant balance of hop and malt flavor, all with some citrus-y and grassy notes thrown in for good measure. We also had the Trumer Pils [$6], an unpasteurized Austrian pilsner. This one was more fascinating, with a bright, slightly bracing hoppy character, as well as a bready, spicy, lemon-y twist that I couldn't quite put my finger on.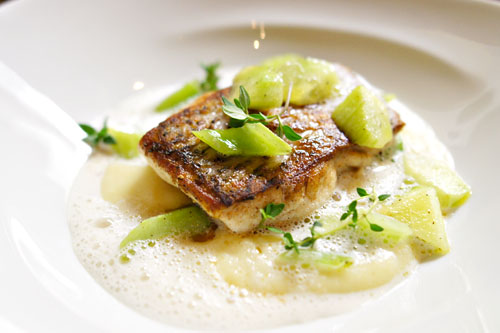 White Fish Filet [$22.00]
| warm cucumber-celery salad, potato mousseline, thyme nage
A filet of white fish was rather lovely--firm and flaky to the bite, with a clean, mild salinity that went swimmingly against the light, vegetal smack of the crunchy veggies. I also appreciated the gravity lent by the potato purée, though I would say that my only complaint was that I wanted the skin to be crispier.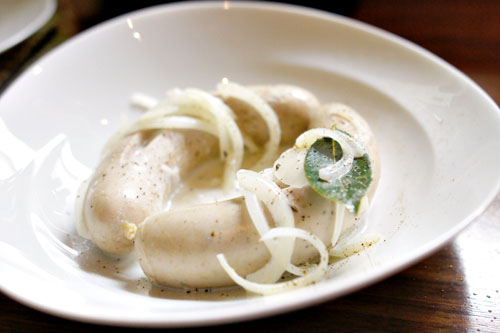 Weisswurst [$9.00]
| slow simmered in Milk, served with sweet-spicy brown mustard and salty Pretzel
The veal-based
Weisswurst
was another first for me, and it did not disappoint. I found the sausage's very fine texture really appealing, along with its hearty, yet refined flavor, laced with just a tinge of spice. Delicious alone, but also great with a dab of the accompanying sweet 'n' sour
Weisswurstsenf
mustard.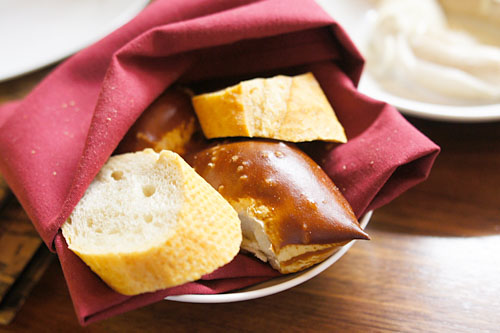 Accompanying the sausages was a basket of both baguette and pretzel breads.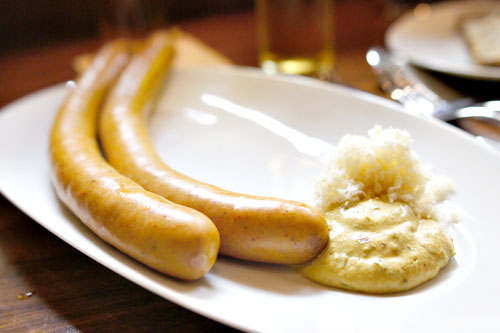 Debreziner [$10.00]
| spicy, thin, coarse sausage, similar to "Wieners"
Our last savory item was a duo of
debrecener
links, probably the least unique of the sausages we had tonight, but still nonetheless quite delectable, showing off a straightforward savoriness and satisfying, semi-fine texture, all with just enough of a kick to make things interesting. Again, tasty either alone, or with the combination of horseradish and mustard.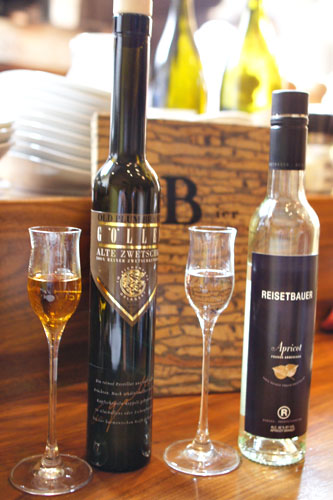 BierBeisl prides itself on its schnaps (one "p") selection, so we just had to give them a go. At the behest of our server, we chose the
Hans Reisetbauer, Kirchberg-Thening, Upper Austria, Apricot [$8]
and the
Alois Gölles, Riegersburg, Styria, Old Plum [$7]
to pair with the apricot and plum flavors in our desserts. These were nothing like what you're accustomed to with American schnapps, which tend toward cheap, boozy sugar bombs not usually fit for serious consumption. Instead, they were much more delicate, basically
eau de vies
in the style of a grappa, with subtle undercurrents of fruit, suitable for contemplative sipping. Definitely a style worth checking out.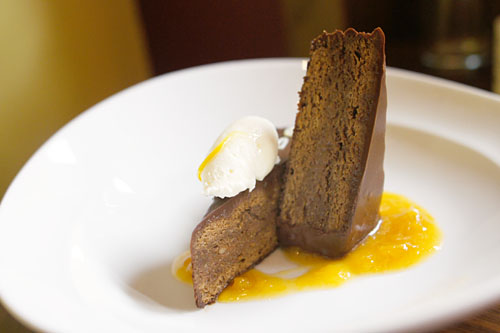 Sachertorte [$11.00]
| refined original recipe from Hotel Sacher
Desserts here are the charge of Pastry Chef Lisette Rodriguez, and our first was her interpretation of the famous
Sachertorte
, originally from Hotel Sacher in Vienna. It is, in essence, a chocolate cake, but a very good one, with a dense, yet light consistency and a sweet, but not too sweet relish. The key here was the apricot jam, which added a wonderful fruity component to offset the chocolate, while the topping of whipped creamed served to lighten the dessert.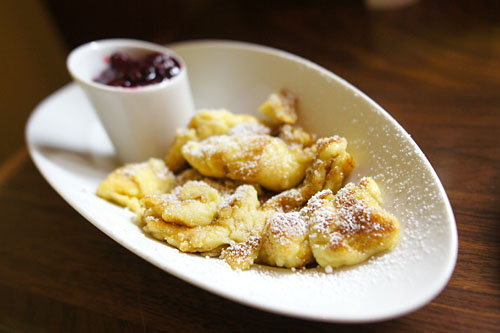 Kaiserschmarrn [$11.00]
| with warm plum compot
We ended with the highly touted
Kaiserschmarrn
, which I'd had actually once before at
Spago
. This was a more traditional version though, with the light, fluffy, eggy, slightly savory shreds of pancake playing beautifully off of the sticky, saccharine smack of the
Zwetschkenröster
plum compote.
Unfortunately, I don't really have a basis for comparison when it comes to Austrian cuisine, but I can say that I enjoyed Mairinger's cooking here. The food was classic in essence, but with a decidedly modern slant that gave it a level of refinement, precision, and finesse that I really appreciated. I think it's great that we finally have a honest-to-goodness Austrian restaurant to enjoy, one that clearly demonstrates the Chef's passion and pride for the culinary traditions of his homeland. A
wunderbar
addition to the neighborhood, and the Los Angeles dining scene in general.
---

Before our meal at BierBeisl, we stopped by the nearby Madame Chocolat, a French-inspired couture chocolaterie helmed by Persian-American Pastry Chef Hasty Torres (née Khoei).

The gilded, green-and-yellow jewel box of a shop recalls the splendor of a Parisian parlor, but most of the 1,800-square-foot room is dedicated to the open kitchen in the back, which churns out hand-made chocolates daily. It's a family business here: Hasty's mother actually designed the space, while her father helps with running the business side of things. Even younger brother Johnny has been known to assist at times; his title is "President of Chocolate Affairs," while Hasty's is "Chocolate Executive Officer."

Speaking of family, Hasty herself was born in 1975 in Iran, and the Khoeis moved to Los Angeles four years later, following the 1979 Revolution. They settled in Woodland Hills, and Hasty grew up in the Valley, eventually graduating from Louisville High, a private, all-girl, Roman Catholic prep school. Afterward, she attended USC and attained a degree in business, then worked for a financial firm in Century City for six years.

However, she grew increasingly dissatisfied with her work, and decided to ditch high finance for haute cuisine, leaving behind the glitz and glamour of the Avenue of the Stars and enrolling at Le Cordon Bleu in Pasadena. Hasty finished after 18 months, and after a job offer at the Ritz Hotel in Paris fell through, she began working for Jacques Torres in New York in 2004, even becoming opening chef of his shop in SoHo. She worked for Torres for a few years, and the two even began dating during the period (eventually marrying in 2007).

Despite the relationship, she moved back to LA to work on Madame Chocolat, finding and completely renovating a former office space on Canon Drive in 11 months. At age 31, she debuted her shop in December 2006 to considerable fanfare, and the place has been a fixture on the Beverly Hills scene since, with Hasty even appearing on The Real Housewives of Beverly Hills (where she made edible Christian Louboutins) and The Girls Next Door (in which she recreated Hugh Hefner's girlfriends' body parts in chocolate!).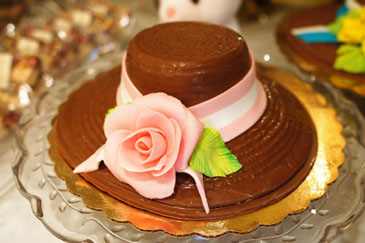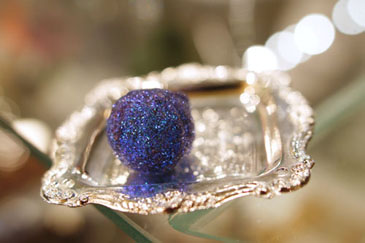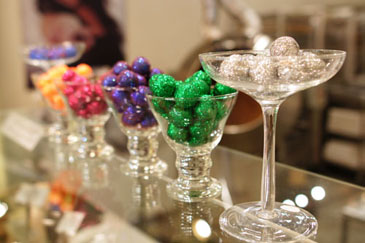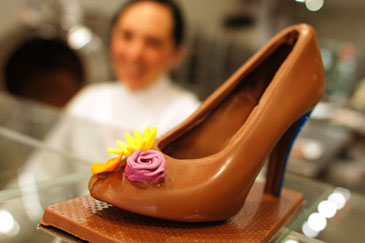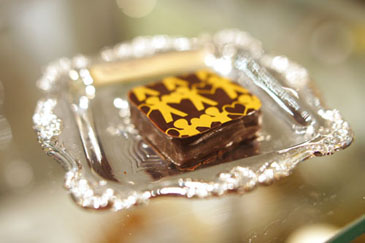 Following several visits to Europe to source chocolate, Hasty decided to go with Belgian producer
Belcolade
, finding their 60% dark chocolate to be a good balance between the sweetness of the Swiss and the bitterness of the French varietals. It's used in nearly everything in the shop, and we were able to sample a number of her (and her husband's) creations, and of course, took some with us to go as well: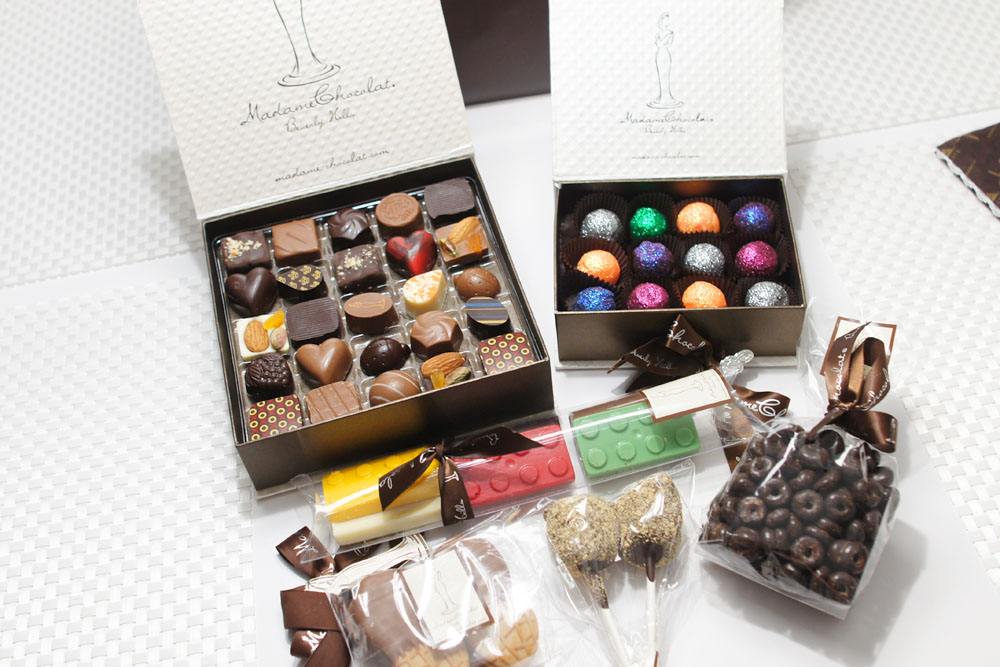 We had Dark Chocolate Coated Nutter Butters, Madame's Chocolate S'mores, Dark Chocolate Coated Cheerios, Chocolate Legos, a box of Hasty's famous "glitter" truffles, and a box of assorted bonbons featuring both hers and Torres' chocolates.