Son of a Gun (Los Angeles, CA)
Son of a Gun Restaurant
8370 W 3rd St, Los Angeles, CA 90048
323.782.9033
www.sonofagunrestaurant.com
Sun 02/27/2011, 06:00p-08:55p

Given the smashing success that the Two Dudes--Vinny Dotolo and Jon Shook--have achieved at their seminal eatery
Animal
, it was almost inevitable that the twosome would have expansion on the mind. Indeed, after my last meal at Animal, I spoke with Shook, and he expressed interest in opening up a breakfast place, a sandwich shop, a BBQ joint, even a seafood restaurant. It's that last point that brings us to Son of a Gun (which, early on, was rumored to be named
Dirty Chicken
), the dynamic duo's seafood-focused second venture, debuting in the 3rd Street space formerly occupied by
Restaurant 3
. That put's Son of a Gun just a stone's throw away from the now-defunct
Ortolan
, and not too far from the likes of
Jar
,
Bistro LQ
, or
AOC
. Helming the kitchens at SoaG is veteran Animal Chef de Cuisine Frank Anderson (a.k.a. the "Third Dude"), while Helen Johannesen resumes her role as Director of Operations-slash-Beverage Director.

Animal is known for its somewhat bare bones decor, a result of the limited funds that the Dudes had while constructing the space. This time around, however, Dotolo and Shook had the financial freedom to be a bit more ambitious in terms of design. They brought on interior designer Ruth De Jong, who put together a decidedly nautical theme for the restaurant, incorporating swaths of tea-stained wood, antique cabinetry and a custom-made 5-person Maker's Mark barrel bar, vintage photos, original artwork by Walton Ford (courtesy of investor Benedikt Taschen, apparently), and various maritime doodads adorning the walls. Of particular note is the special-order 22-seater communal table, which means that roughly one half of the 55-seat space is reserved for walk-in diners.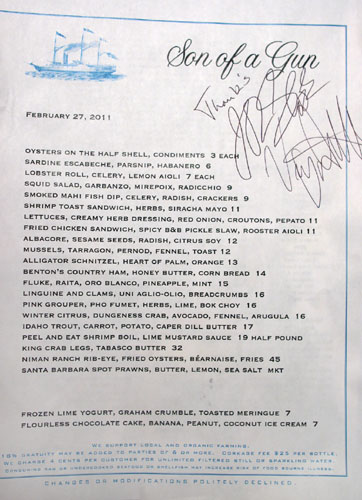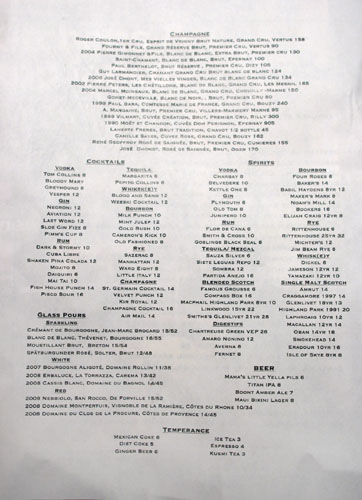 Son of a Gun's menu reads similarly to Animal's, but with a decidedly more seafood-centric twist naturally. Dinner's currently offered, but lunch is planned after a few weeks. As for the booze, expect a focused beer and wine selection, as well as cocktails by resident mixologist and
Food & Wine Cocktails 2011
deputy editor Lindsay Nader (she's also an
actress
, but which bartender isn't right?). Click for larger versions.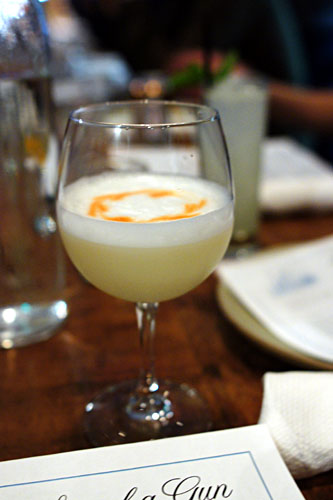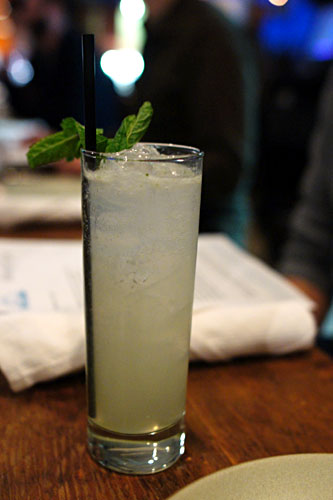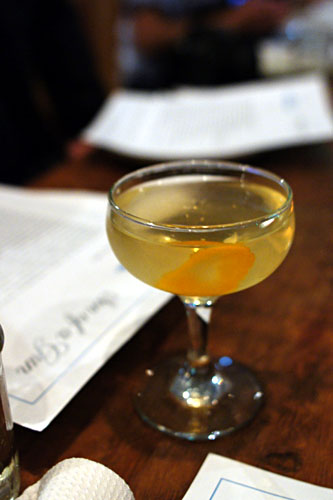 Speaking of those cocktails, we began with a trio. I had a Pisco Sour [$16], a prototypical example of the drink, with gorgeous sweet and sour flavors over a base of pisco. The Mojito [$8], meanwhile, also had a classic bent. The most intriguing of the bunch was the Weeski Cocktail [$12], which showed off a strongly citric nose leading to more tart and slightly bitter flavors on the palate, all with overarching notes of the Dewars White.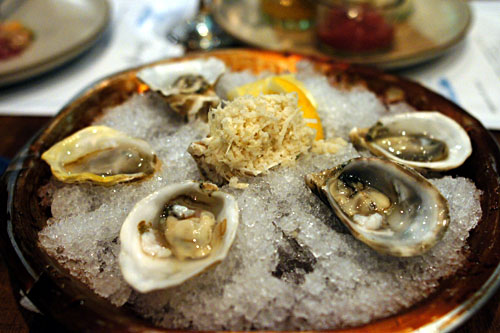 Oysters on the Half Shell, Condiments [$3.00]
Oysters were tasty and went down easy with their nicely briny pop and silky texture. Condiments included horseradish, mignonette, and cocktail sauce, all house-made I believe.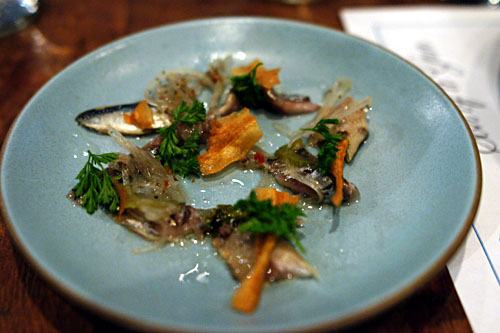 Sardine Escabeche, Parsnip, Habanero [$6.00]
Sardines were expectedly fishy in nature, but at the same time, their brine was deftly countered by the sweetness of the parsnip and the heat of the habanero in particular. Interestingly, this reminded me of a cured sardine dish that I had at
Commis
a while back.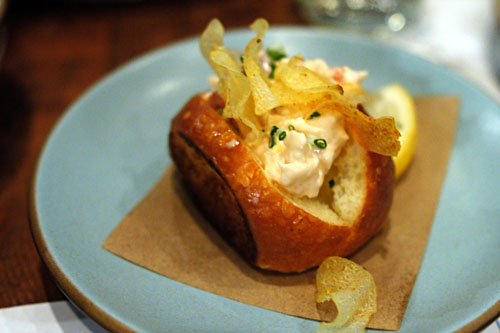 Lobster Roll, Celery, Lemon Aioli [$7.00]
Not surprisingly, the lobsta' roll was one of the table favorites. The lobster was everything that I wanted it to be, a combination of sweet, creamy, buttery, and tangy flavors all beautifully melded together. The bun, meanwhile, served to ground the dish.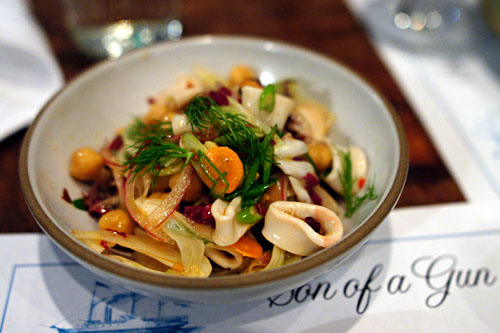 Squid Salad, Garbanzo, Mirepoix, Radicchio [$9.00]
A salad of squid was absolutely lovely, featuring loads of crisp, snappy squid, laced with a tart dressing and perked up by the slight bitterness of radicchio. The best part of the dish, however, may have been the chickpeas, which balanced the salad perfectly.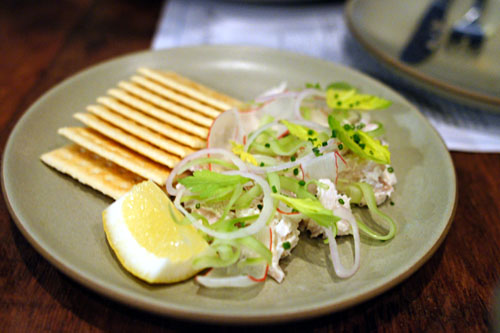 Smoked Mahi Fish Dip, Celery, Radish, Crackers [$9.00]
Really appreciated the texture of the mahi here, as well as the lovely, delicate smokiness conveyed by the fish, while the veggies did a wonderful job in tempering the dip. Very nice spread over the crackers, or even eaten alone. Think of this as a much improved version of the seafood dip you find in grocery stores.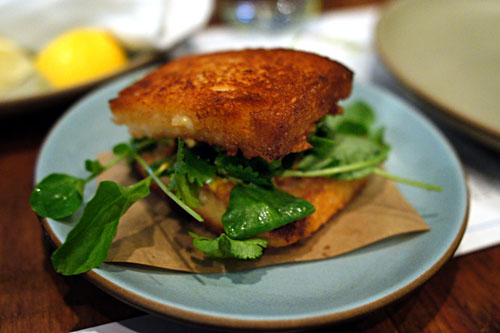 Shrimp Toast Sandwich, Herbs, Sriracha Mayo [$11.00]
Shrimp toast was undoubtedly one of the highlights of the meal for me. The sweet, briny essence of the crustacean was captured so elegantly here, and I loved the slight bit of creamy heat from the Sriracha, while all the greenery gave the sandwich a tremendous herb-y taint.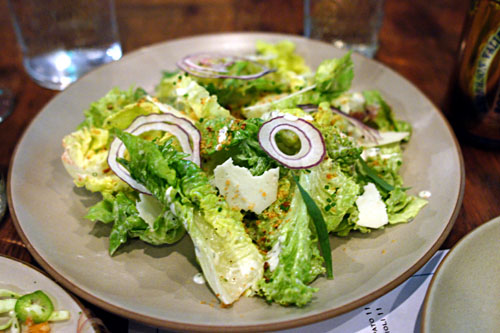 Lettuces, Creamy Herb Dressing, Red Onion, Croutons, Pepato [$11.00]
The requisite salad was certainly competent, with the crisp fronds playing nicely with the crunch croutons, all while the pepato (a type of Italian cheese) added a well-placed bit of gravity and pepperiness to the dish.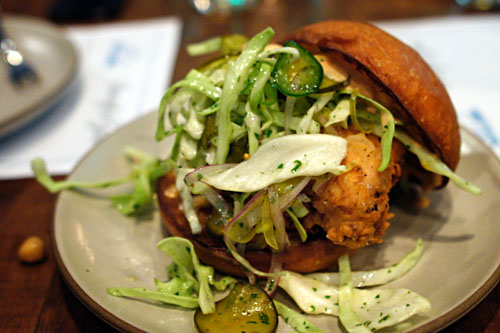 Fried Chicken Sandwich, Spicy B&B Pickle Slaw, Rooster Aioli [$11.00]
This was quite easily the best chicken sandwich that I've ever had. The bird itself was superb--tender, succulent, savory, with a delightfully crunchy skin to boot. It was then perfectly contrasted by the shreds of crisp lettuce and tart pickles, while the tangy aioli tied everything together flawlessly. Think of a Chick-fil-A sandwich, taken to the Nth degree.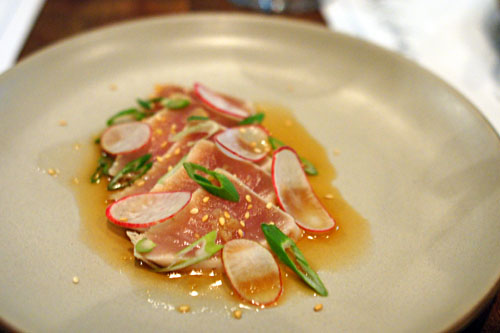 Albacore, Sesame Seeds, Radish, Citrus Soy [$12.00]
Albacore was presented in almost a sashimi fashion, with a definite Japanese-y feel to it thanks to the deft interplay between contrasting sweet and umami flavors.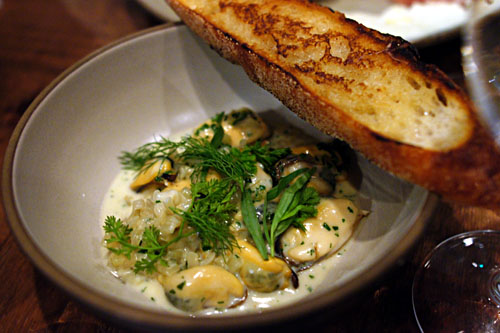 Mussels, Tarragon, Pernod, Fennel, Toast [$12.00]
I really appreciated how the mussels arrived pre-shelled. The bivalves were classic in essence--suitably soft, with a subtle brine balanced by the dish's creamy, Pernod-tinged sauce.
Alligator Schnitzel, Heart of Palm, Orange [$13.00]
I believe this might have been my first time having alligator, and I must say that I was quite impressed with the meat. I hate to sound clichéd, but it did somewhat taste like chicken, albeit a slightly fishy chicken. In any case, I really appreciated the gator's tender-yet-crunchy texture, and how the reptile was paired with crisp bits of heart of palm and a sweetly citric, vanilla-tinted dressing. One of my favorites.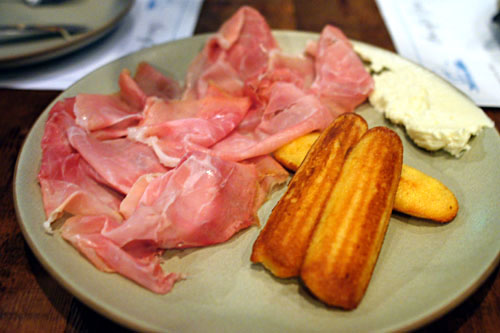 Benton's Country Ham, Honey Butter, Corn Bread [$14.00]
Ham arrived very "hammy" indeed; teeming with porcine savor and smoke, it was a bit too salty for me actually when eaten alone. Thus, I found it helpful to apply the wonderfully sweet corn bread and butter to take the ham down a notch.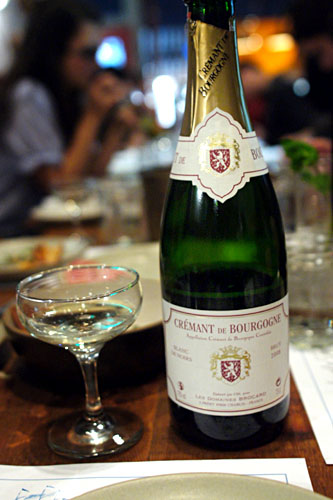 It was time to move on to some wine, and we chose the 2008 Crémant de Bourgogne, Jean-Marc Brocard [$52]. I enjoyed the sparkler, with its good mix of floral and citrus flavors, all paired with a lovely effervescence and pleasing acidity.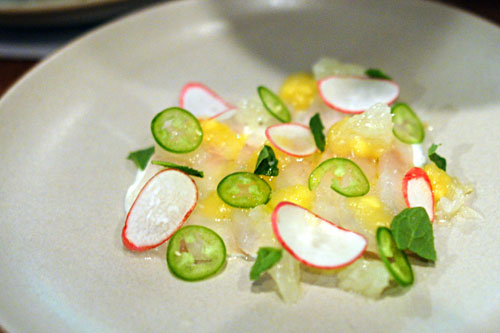 Fluke, Raita, Oro Blanco, Pineapple, Mint [$15.00]
Fluke showed off its characteristically delicate consistency and mild relish, and the fish was adroitly complemented here by the cool creamy yogurt on one hand, and the bracing acidity of the oro blanco on the other. I appreciated the almost ethereal overtones of mint in the dish as well.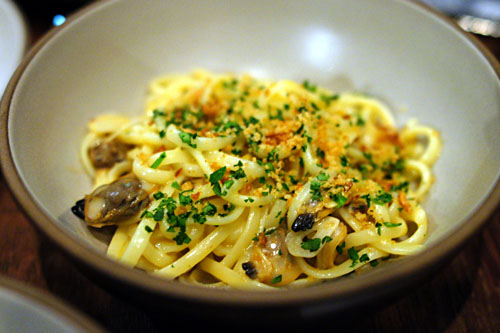 Linguine and Clams, Uni Aglio-Olio, Breadcrumbs [$16.00]
Linguine was nice and garlicky, with the ocean-y relish of the clams providing a briny veil to the entire dish, while the uni contributed just the slightest amount of sweetness to things. I just wish that the pasta were a touch more al dente.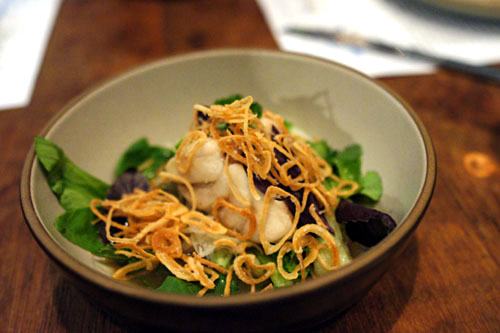 Pink Grouper, Pho Fumet, Herbs, Lime, Bok Choy [$16.00]
You could almost think of this as a grouper
pho
. This fish demonstrated a prototypically meaty, dense, firm flesh, and went beautifully with its immensely aromatic South East Asian accoutrements; I found the remaining broth particularly enjoyable and eagerly supped it up. This almost seems like something from the kitchens of
Red Medicine
!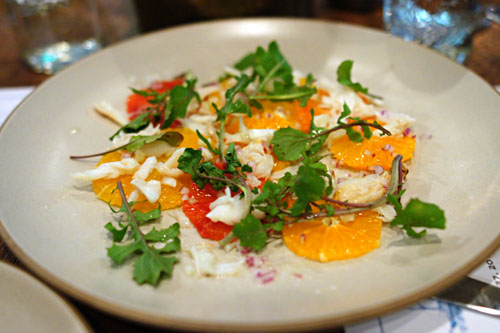 Winter Citrus, Dungeness Crab, Avocado, Fennel, Arugula [$16.00]
Slices of citrus fruit were beautifully presented here, showing off a juicy sugariness that paired well with the inherent sweetness of crab, all while the arugula finished the dish with just the right amount of astringency. I missed the avocado, though.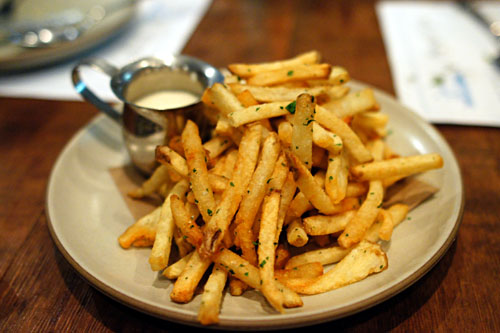 At this point, fries (meant to complement the rib-eye below) were sent out, "complements of the chef." They were pretty damn tasty, with a great crispness and herb-y flavor, though the included malt vinegar aioli was a touch too tart for my tastes.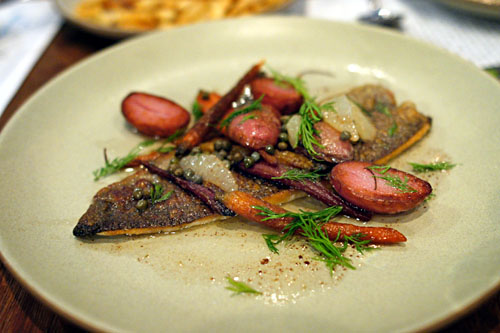 Idaho Trout, Carrot, Potato, Caper Dill Butter [$17.00]
Trout arrived oily, soft, and unabashedly buttery. In fact, it was a bit
too
tender for me; I would've preferred a firmer flesh. Nevertheless, the inclusion of carrot and potato helped to balance the gravity of the fish, and I appreciated the piquancy of the capers as well.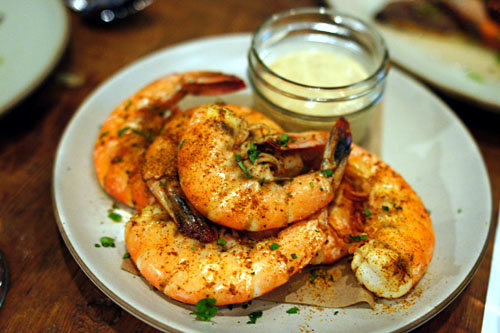 Peel and Eat Shrimp Boil, Lime Mustard Sauce [$19.00]
Shrimp were superb, cooked through but still supple, with a wonderful body and robust flavor artfully paired with what I believe was Old Bay. At the same time, the sharp tang of the accompanying lime-mustard elevated the shrimp without overwhelming it.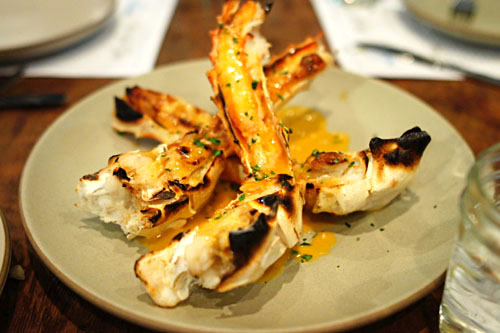 King Crab Legs, Tabasco Butter [$32.00]
King crab was perfect, showing off gorgeous strips of sweet, supple flesh perked up by just the right amount of brine. I enjoyed the crab alone, but its buttery, spicy Tabasco dressing heightened the dish even more. A must order.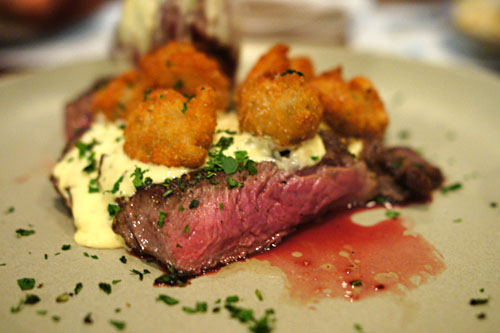 Niman Ranch Rib-Eye, Fried Oysters, Béarnaise, Fries [$45.00]
This is perhaps one of the times where you do in fact want to order steak at a seafood restaurant. The ribeye, cooked medium-rare, was tender, succulent, and brazenly beefy. It was a satisfying eat to be sure, and the fried oysters added even further savoriness to the mix. I would've liked less béarnaise though, as the meat really did stand alone. As for the fries that came with the course, we ended up giving the plate to Jeff Miller, Los Angeles editor for
Thrillist
, who just happened to be sitting next to us.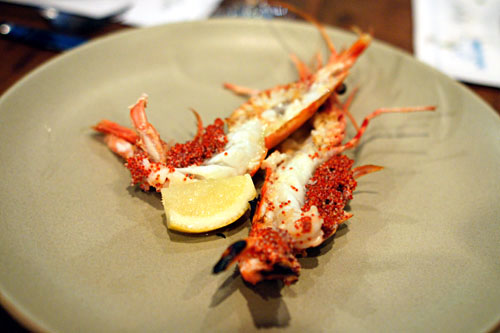 Santa Barbara Spot Prawns, Butter, Lemon, Sea Salt [$21.00]
Spot prawns from Santa Barbara seem to be popping up on menus everywhere, prepared in every which way. However, perhaps a simple version such as this is best. The prawns were cooked to just the right temperature, still a bit raw, with an almost creamy consistency and an unabashedly ocean-y relish kicked up a notch by the inclusion of shrimp roe. And as Paula Deen would say, you "gotta be sucking on that head!"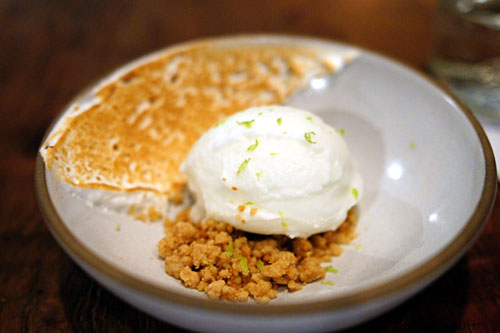 Frozen Lime Yogurt, Graham Crumble, Toasted Meringue [$7.00]
Our first dessert could be construed as a sort of deconstructed key lime pie. The yogurt, expectedly, was quite eye-opening, with a bracing tartness moderated by the sweet meringue and graham cracker crumbles.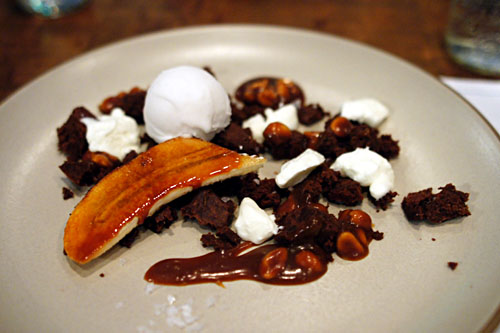 Flourless Chocolate Cake, Banana, Peanut, Coconut Ice Cream [$7.00]
Flourless chocolate cakes are often trite, but I loved what the kitchen did here, both in terms of flavors and presentation. The interaction between the chocolate and banana just worked for me, and I also enjoyed the relative levity of the ice cream, while the peanuts made themselves known on the finish.
All in all, Dotolo and Shook are off to a
very
strong start here at Son of a Gun, dishing up a menu of bold, bright flavors that perfectly translates their signature style of cooking to the realm of seafood. In fact, I think I may prefer it to Animal (and I already like Animal!). Yes, you need to come here. The Dudes have another winner on their hands, now they just need to get working on that BBQ place...