Yank Sing (San Francisco, CA)
Yank Sing Restaurant
49 Stevenson St, San Francisco, CA 94105
415.541.4949
www.yanksing.com
Thu 08/02/2012, 12:55p-02:05p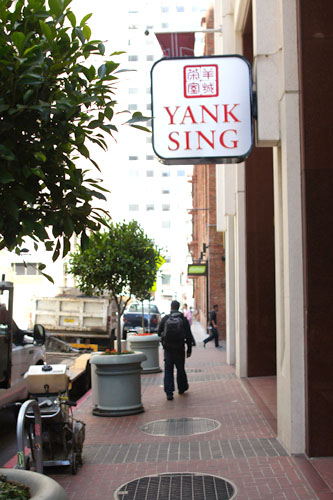 Following a stellar dinner at
Benu
the previous night, we stuck with the Asian theme and headed up to Yank Sing for some dim sum. Named after the "City of the Rams," an ancient name for Guangzhou/Canton, the restaurant is one of the
grande dames
of Chinese dining in San Francisco, and is considered by many to offer the City's premier
yum cha
experience.
Yank Sing is the brainchild of Alice Chan, who, along with her family, immigrated to the US from China in the 1950's following the Communist revolution in their home country. She initially found employment at Lotus Garden, one of San Francisco's few Chinese eateries, and eventually had her son Henry start helping her there (he was nine years old, so child labor laws must've been a bit more lax back then). After working at Lotus Garden for several years, Alice and her husband George launched Yank Sing in a small 40-seat space in Chinatown (at the southwest corner of Broadway and Powell) in 1958. It was the third dim sum restaurant in the City, and was a rousing success; as a result, in 1962, Yank Sing relocated to a larger 120-person space down Broadway.
Son Henry, meanwhile, studied finance at Cal State Los Angeles, and thus came up with the idea of growing the business by turning Yank Sing into a more modern, upscale restaurant that appealed to non-Chinese customers. This was a vision not shared by his father. After getting married to wife Judy in 1970, Henry opened a new outpost of the family business at 53 Stevenson in the Financial District. The year was 1974, and the place was a smash hit. However, Henry and his dad kept butting heads about how things were run, causing a rift in the family. As such, Henry and Judy moved away to pursue their medical careers; Henry enrolled in a medical school in Manila, while Judy studied pharmacy. However, in 1979, family matriarch Alice fell ill, and her son soon returned to keep the business afloat. She passed away in 1981, just months after a third, grander location of Yank Sing opened on Battery Street.
The new restaurant was a handful financially, though. The Chinatown space fell by the wayside the following year, and Henry continued to fight with his father, who, along with his cronies, was eventually forced out of the business. With the familial issues taken care of, Henry focused on running the show at Yank Sing, turning the restaurant into one of the City's premier dining destinations. The Stevenson location, meanwhile, ended up closing from 1986 to 1990, during which time the building it was housed in was demolished and rebuilt; it reopened with a street number of 49. In March of 2001, the Battery restaurant shuttered after the building's owner decided to turn the structure into a hotel. In anticipation of the closure, Henry had scoped out a 248-seat space in Rincon Center, and the restaurant quickly moved into that space, where it remains today.
With Henry edging near retirement, Yank Sing is transitioning to the third-generation of ownership: Vera Chan and her husband Nathan Waller. From an early age, Vera knew that she wanted to take over the family business, even attending Cornell's hotel management school to sharpen her skills. Following graduation, she moved to Hong Kong for four years to work in media sales, during which time she met her future husband. After the two tied the knot, they relocated back to the Bay Area to be closer to the family as well as the restaurants, which they control today. So far, they appear to be doing quite well. Yank Sing has been a mainstay on Michael Bauer's list of "Top 100 Bay Area Restaurants," as well as the Michelin Guide's Bib Gourmand list ever since its inaugural 2008 edition. In 2009, it even got a nod from James Beard in the form of an "America's Classics" award.

Inside, things are bright and clean, though you'd be hard-pressed to spot any Asians dining here--generally not a good sign.


Yank Sing prides itself on offering a large variety of dim sum items, both traditional and modern. You'll find all your favorites, though there are genuinely a few oddballs in here such as chicken satay, lettuce cups, and even crab rangoon(!), all part of the "Creative Collection" I assume. Note that there's no Chinese on the menu--generally not a good sign. Click for larger versions.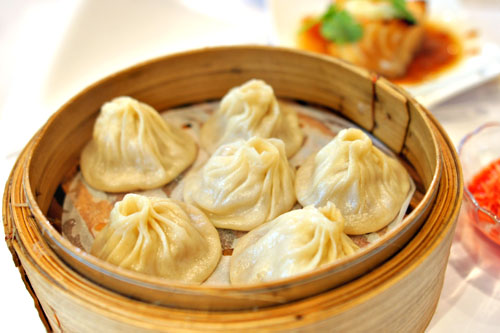 Shanghai Kurobuta Pork Dumpling [$12.25]
Yank Sing's
xiaolongbao
are one of the restaurant's signature items, made here with the upscale ingredient of minced Kurobuta pork, along with scallion and ginger. They were actually quite nice, with a lovely pork-y relish, a delicate wrapper, and a torrent savory soup released upon mastication. I especially enjoyed the dumplings with a dollop of vinegar, but what a price to pay!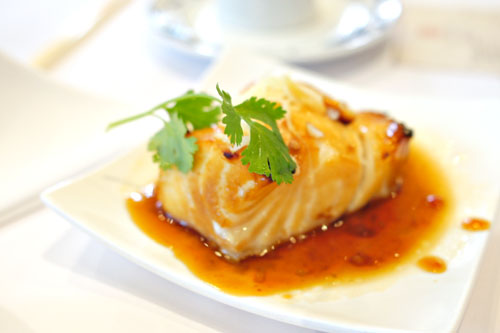 Honey Baked Seabass [$19.00]
Seabass was tender and flaky, with a mild flavor accented by undertones of sweetness from the honey utilized. Sort of an odd dish to find at dim sum.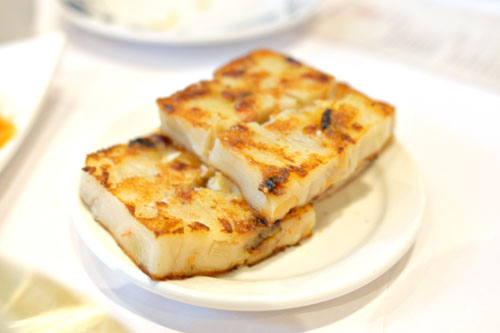 Turnip Cake [$4.95]
The
luobo gao
was a commendable version of the classic dish, made from daikon and rice flour. I appreciated its soft, creamy interior and crisp fried outer layer, and quite enjoyed the contrast between the subtle turnip and the umami-rich smack of the
xia mi
dried shrimp.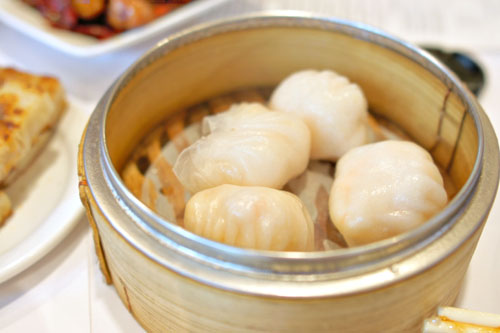 Shrimp Dumpling [$6.10]
Yank Sing's
xia jiao
were spot on, a tasty mix of chopped shrimp and winter bamboo, all encased in a delightfully delicate skin. I was especially fond of the texture of the shrimp: still snappy and with a good bite. A quintessential example of
har gow
; we even ended up ordering another round.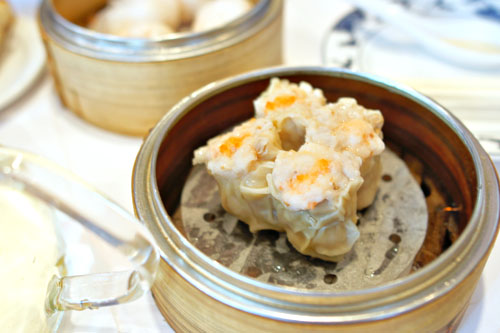 Pork & Shrimp Siu Mye [$6.10]
The
shumai
was also a paradigmatic preparation of the classic dish. I had no complaints about the combination here of shrimp and pork, with its delectable mix of savory flavors.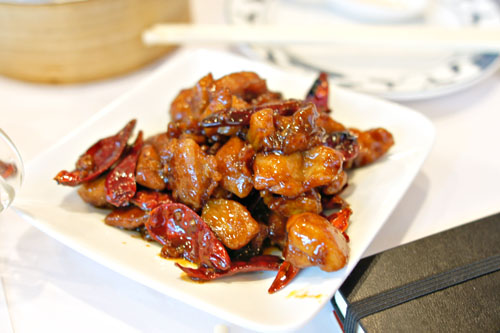 Szechuan Chicken [$8.40]
This
kung pao
chicken-esque dish wasn't anything to write home about. There was a slight sweetness at play here, countervailed by the dish's slightly numbing spice (from Sichuan peppercorns I imagine), but unfortunately, the bird was dry, overcooked even.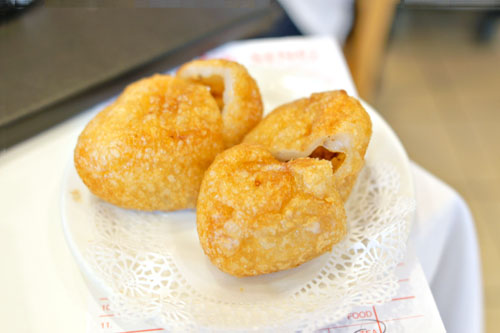 Sweet Rice Dumpling [$9.90]
One of the items that I look forward to the most during
yum cha
is
haam sui gaau
, a.k.a. the saltwater dumpling. It's basically a football-shaped rice flour dumpling, fried and stuffed with a mixture of barbecued pork and veggies. Here, I liked the sweet, sticky, gelatinous exterior of the dumpling, as well as the salty, savory filling, making for a nice contrast in flavors and textures, but the dish was served too cold.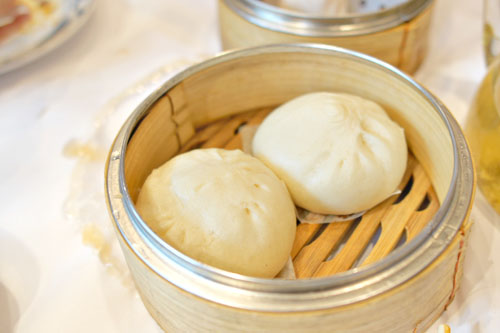 Steamed BBQ Pork Bun [$4.95]
Cha siu bao
comprised a fluffy steamed bun encasing a center of honey-glazed BBQ pork. The flavors here were on point, with a good mix of sweet and savory from the meat (in fact, the dish was even featured on
The Best Thing I Ever Ate
), but unfortunately, there wasn't nearly enough of it--stingy on the filling!
Scallop Siu Mye [$5.25]
The scallop version of
shaomai
was quite tasty actually, and showed off the inherent sweetness, brine, and supple consistency of the
shanbei
rather well. Especially good when taken with a dab of hot mustard.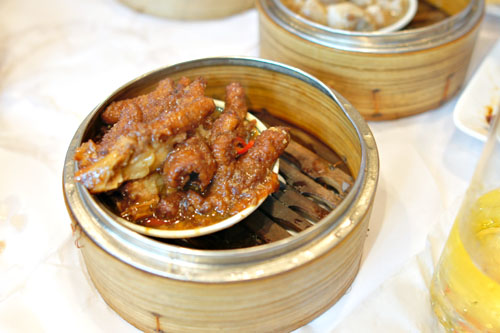 Chicken Feet [$4.95]
I'm not a huge fan of
feng zhao
, but these were about what I expected: gelatinous and crunchy, with an abundance of deep, dark, umami-rich notes.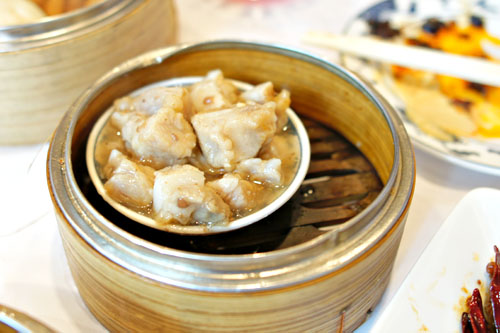 Steamed Spareribs [$4.95]
Paigu
were pretty textbook, with a typical mix of
douchi
and porcine flavors.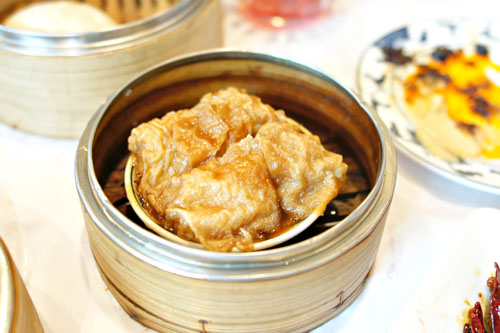 Beancurd Roll [$4.95]
The tofu skin roll was actually a pleasant surprise, with the skin really showing off the soft, supple character of the yuba, its mild savor deftly accompanied by the savoriness of the roll's filling.
Sautéed String Beans [$8.00]
String beans were tasty enough, sautéed to a crisp, crunchy consistency, with their bright, vegetal flavors keenly offset by the substantial umami relish imparted by the use of dried shrimp.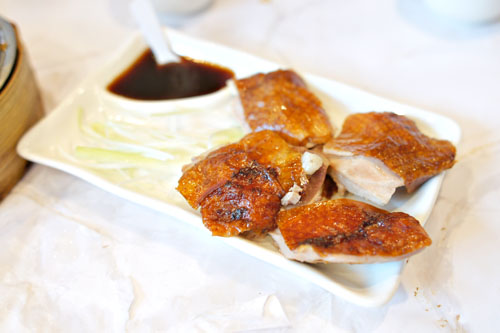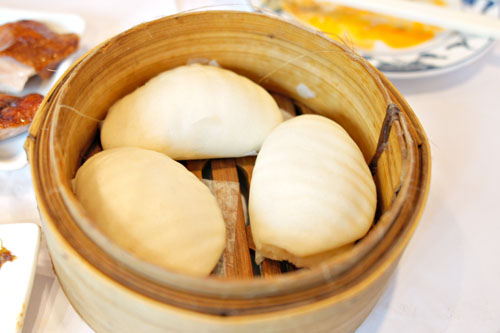 Peking Duck (by the slice) w/ Bun [$5.70]
Our final savory course comprised pricey slices of Peking duck, another one of Yank Sing's most well-known dishes. The skin was delicious, paper-thin and utterly crisp, with a great sweet-and-savory flair. The duck itself was less impressive. The flavor was there, but the meat I found somewhat dry and tough, as well as slightly cool to the touch. Nevertheless, it certainly wasn't bad when taken with some scallions and hoisin.
Sesame Ball [$10.50]
For dessert, we started with some sesame balls, which are glutinous rice flour shells stuffed with yellow bean paste, then rolled in sesame seeds and deep-fried. They were a good example of the dish: sticky and palate-coating in consistency, with a lip-smacking blend of nutty and sugary flavors.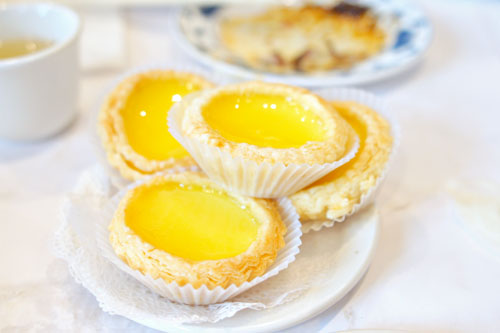 Egg Custard Tart [$10.50]
We closed with Yank Sing's interpretation of the ubiquitous
dan tat
, which are crisp pastry shells filled with egg custard and baked. It was an excellent example of the dish, with a delectably smooth, eggy, sweet custard that was perfectly balanced by the warm, flaky pastry.
I appreciate what they're trying to do here: attempting to elevate and modernize dim sum, all while holding on to tradition. It's an admirable goal, but as it stands, it's not quite happening. As far as the food goes, it's above average overall. Some items were excellent examples of their respective dishes, but others, sadly, were merely passable. More troubling, perhaps, is the restaurant's attempt at modernization. The non-traditional dim sum dishes that we tried were somewhat lackluster, and really not all that modern (unlike the transcendent lobster coral XLBs at
Benu
, for example). And then there's the issue of cost, which came out to about $50 per head, easily four times the damage of a typical dim sum meal. If the cooking were spectacular--the best dim sum I've had (that would be
Koi Palace
)--I'd accept the price, albeit begrudgingly, but it simply wasn't.