Superba Snack Bar (Los Angeles, CA)
Superba Snack Bar
533 Rose Ave, Venice, CA 90291
310.399.6400
www.superbasnackbar.com
Thu 07/19/2012, 08:45p-10:55p

Perhaps the most anticipated debut in Venice so far this year is
Jason Neroni
's
Superba Snack Bar
, which celebrated its grand opening on the 19th. The restaurant is the Chef's first real solo project, and represents a partnership with Pitfire Pizza founder Paul Hibler. Superba is described by the Neroni camp as a "post modern pastaria," a somewhat nebulous but neat-sounding term that I will assume means that the Chef won't be sticking to classic pasta norms all the time.
About the Chef
: Neroni was born in 1977, and raised in the idyllic setting of Orange County, California. Early on, he had an interest in art, and at age 16, started taking art classes at a local college. To pay for the education, he began working at Disneyland, where he spent three years, cooking his way up from Blue Bayou to the exclusive
Club 33
. Neroni decided to forego culinary school, and instead moved to San Francisco, working days at Wolfgang Puck's Postrio and nights (as a
stagiaire
) at the iconic
Chez Panisse
. After a year, he transitioned to
Spago in Beverly Hills
, where he was mentored by Lee Hefter. Hefter, however, encouraged the young chef to move to New York, and Neroni did just that in 1999.
Neroni had initially wanted to work at Lespinasse, but Gray Kunz had already left the restaurant by that point. Instead, he ended up getting his start at the longstanding Le Cirque. That tenure didn't last long, though, and soon he was off to Floyd Caroz's Tabla, then to Dan Barber's Blue Hill. Neroni's next step was to Alain Ducasse at the Essex House in 2001, where he served as a
tournant
for several months. The job also allowed him to work at Ducasse's restaurants in Europe: Louis XV in Monaco, and Alain Ducasse at the Plaza Athénée in Paris. Upon returning to New York in 2004, Neroni found employment at the short-lived Bid in the Sotheby's building, then became Chef de Cuisine at The Tasting Room. This was followed up by the Executive Chef position at 71 Clinton Fresh Food, where he served as the third replacement for
Wylie Dufrense
(who'd left in 2001). The gig lasted until March 2006, when the restaurant lost its lease.
Later that year, Neroni became head chef of the pork-focused Porchetta in Brooklyn, but things would not end well for the Chef here. In April 2007, he had a huge falling out with owner Marco Rivero, was
charged with petit larceny
, and was even held briefly at the 76th Precinct Station House. Following the debacle, Neroni consulted briefly at Cantina in the East Village, then took on the Executive Chef role at 10 Downing Street. The Chef received considerable acclaim for his work here (even snagging the Star Chefs Rising Star award), but would leave the restaurant in September 2009, moving back to Orange County with his wife and 3-month-old son to be closer to family. He took a job at
Blanca in Solana Beach
, but left the place after just seven months (replaced by Gavin Schmidt). After doing a few pop-ups and working on a cookbook, Neroni moved north to Portland to take the reins at Bruce Carey's Asian-influenced Saucebox in November 2010. He left Oregon in February the following year however, returning to LA to helm the stoves at the overhauled Osteria La Buca, where he would stay until just this past January, leaving to consult for Pitfire Pizza and start work on Superba.

Superba Snack Bar occupies a building on the corner of Rose and Dimmick (right next to Venice Beach Wines, but nowhere near Superba Ave) that some might liken to a dark gray corrugated shipping container. The space was overhauled by the whimsically-named
Design, Bitches
, the firm responsible for Coolhaus. Inside, GM Alex Gonzalez (ex-
Alinea
) runs the show, and things are cheerier in the airy, high-ceiling'd, and
loud
dining room, anchored on one end by a gleaming open kitchen and filled with a mix of regular and communal tables. There's also a small patio seating area out front facing the street.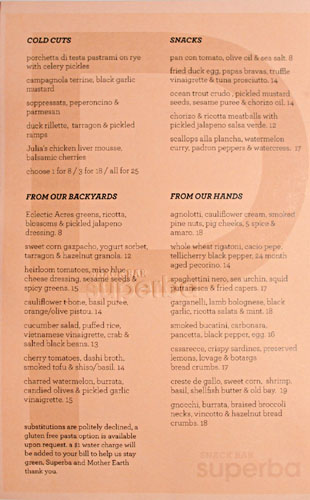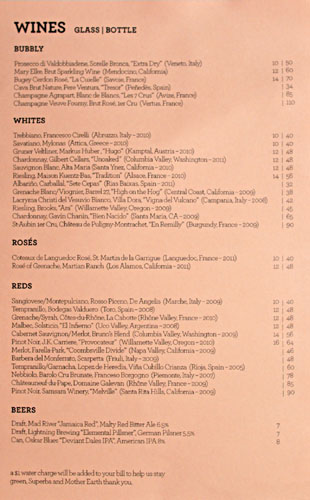 The Superba Snack Bar menu features a healthy selection of housemade "modern" pastas (which means uncommon shapes, alternative flours like buckwheat and rye, and interesting infusions), joined by an array of small plates. To drink, think a small list of locally-procured wines, a smattering of craft beers, and even a couple beer/wine cocktails. Further down the road, look out for lunch and brunch services, too. Click for larger versions.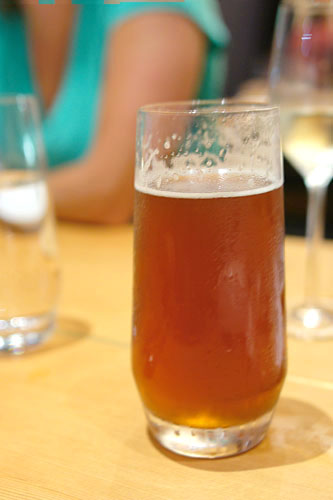 To quench my thirst, I ordered Superba's beer cocktail of the night [$8], which combined beer, ginger beer, and apricot juice. The end result was actually rather delicious, with a lovely effervescence from the beer joined by the sugary smack of apricot, all perked up by the spicy, puckering kick of ginger.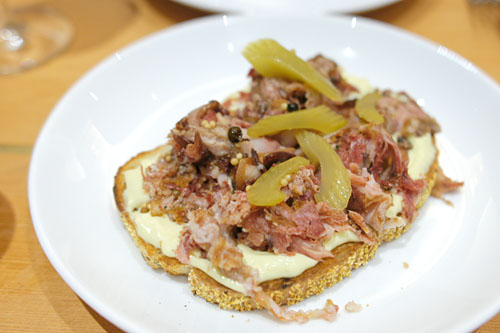 porchetta di testa pastrami on rye with celery pickles [$8.00]
If you're not familiar with
porchetta di testa
, it's basically an entire pig's head, cleaned, deboned, seasoned, rolled up, cooked, and sliced. Neroni takes things one step further though, putting the porchetta through the pastrami process, resulting in a wonderfully rich, savory meat, dutifully taken up a notch by the incorporation of various herbs and spices. The pork was absolutely delectable alone, but I also appreciated the countervailing acidity and crunch provided by the pickles. However, I could've done with less of the accompanying sauce, which had a creamy, piquant character that tended to overwhelm the porchetta at times.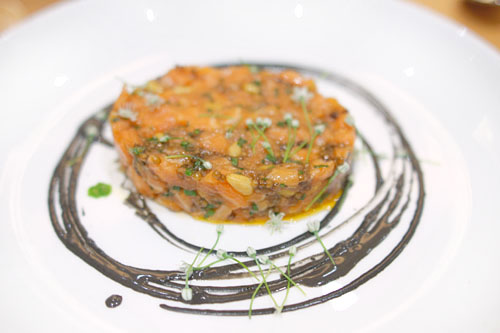 ocean trout crudo, pickled mustard seeds, sesame puree & chorizo oil [$14.00]
A crudo of ocean trout came out looking more like a tartar, which I found a bit peculiar. Nevertheless, the fish was light and mild, with a good bite and a slightly nutty character that paired well with the pine nuts and subtle tang of mustard seeds. The concentric rings of sesame oil, meanwhile, left me a bit conflicted, as they lent an overarching earthiness to the dish that I'm not sure if I liked or not.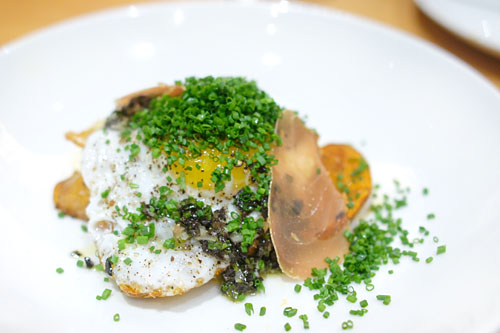 fried duck egg, papas bravas, truffle vinaigrette & tuna prosciutto [$14.00]
Potatoes arrived nicely cooked here, still slightly firm, with a pleasant saltiness and savory flair that was duly enhanced by the lush, runny egg. The use of truffle, meanwhile, offered up a weighty, earthy undercurrent to the dish, while the tuna added a delectable salinity to things.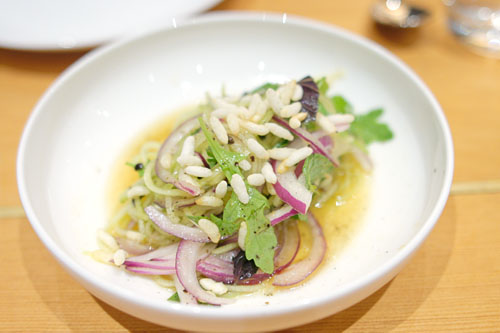 cucumber salad, puffed rice, vietnamese vinaigrette, crab & salted black beans [$13.00]
A salad of cucumber was light and bright, with the refreshing crunch of the vegetable beautifully augmented by the tangy relish of the Vietnamese-inspired dressing, all while the onions added a delightful crunch and astringency to things. The crux of the course, though, was the use of black bean, which served as a great, heady base to the dish, tying everything together admirably. Loved the crisp little bits of puffed rice, too.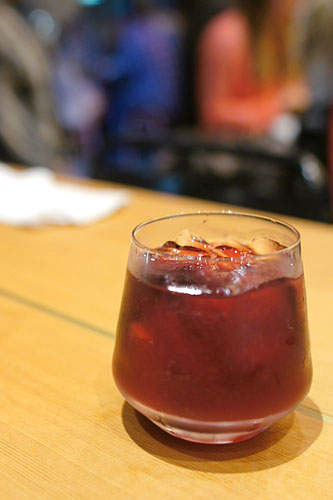 With my beer all drunk up, I moved on to Superba's wine cocktail [$9], a combination of pinot noir, plum, housemade blood orange soda, mint, and what I believe was basil. The end result was basically like a sangria, with a fruity, almost candied sweetness, accented by a well-placed hint of mint.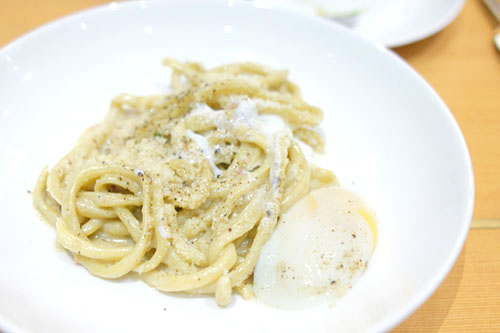 smoked bucatini, carbonara, pancetta, black pepper, egg [$16.00]
Time for some pasta. Neroni's take on the classic carbonara was spot on. The
bucatini
, infused with a touch of smoke, was perfectly
al dente
, and melded in gorgeous fashion with the countervailing notes of pepper, cheese, and pancetta, with the egg adding a luscious component to the mix that enveloped the entire dish. It's hard not to like this one.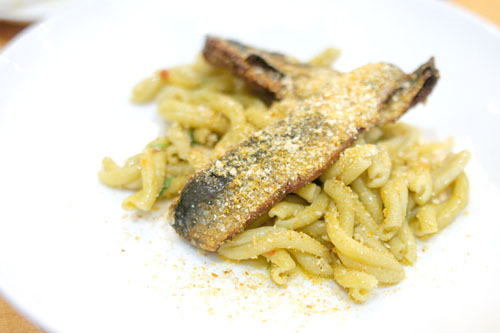 casarecce, crispy sardines, preserved lemons, lovage & botarga bread crumbs [$17.00]
I was quite the fan of the
casarecce
, medium-length curls of pasta that were wonderfully firm, with a very satisfying chew. The star of the show here, though, was the sardine, cooked perfectly crisp and loaded with a mouth-watering brine that was only heightened by the use of bottarga. The fish was certainly tasty alone, but was also nicely moderated by the comparatively mild noodles, as well as notes of lemon that overarched the entire course.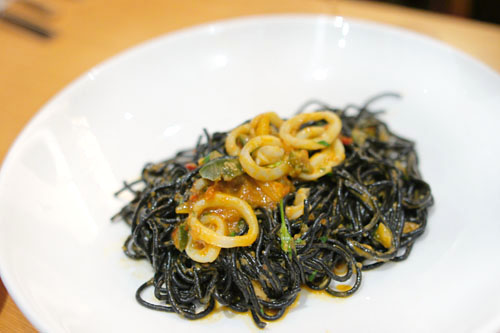 spaghettini nero, sea urchin, squid puttanesca & fried capers [$17.00]
Our final pasta of the evening was Neroni's
spaghettini
, dyed 50 shades of black with squid ink. The noodles were imbued with a marked ocean-y savor courtesy of the
nero di seppia
, a flavor that was only enhanced by the use of sea urchin. The
puttanesca
, meanwhile, provided a tempering tanginess that offered up a modicum of balance to things, though, according to a fellow diner, the course still "tasted like the ocean." It was actually pretty intense; I didn't mind it, but if you're sensitive to that type of thing, I'd perhaps consider thinking twice before ordering this dish.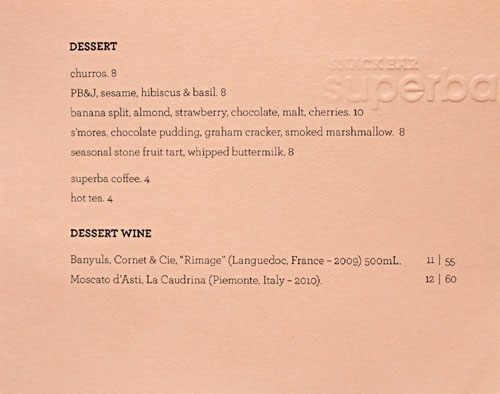 Time for some of the sweet stuff. Click for a larger version.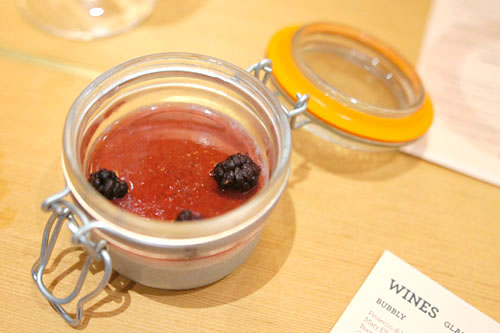 PB&J, sesame, hibiscus & basil [$8.00]
Dessert comprised a small canning jar filled with Neroni's reimagined PB&J. Now, I'm not exactly a fan of peanut butter, so I quite appreciated the use of black sesame in its place here. The sesame conveyed a delectable mix of sweet, nutty, and earthy flavors that I rather enjoyed, and blended beautifully with the fruity hibiscus "jelly," all while the basil added a whisper of herbaceousness to the fray. Nice.
Given the notoriety of Chef Neroni, I was a touch wary going in to Superba, but although there were a few quibbles here and there, I didn't find anything too worrying. I quite appreciated how he's sort of melded his Californian sensibilities into his plates. The pasta alone is worth a trip, but his non-pasta dishes are mostly good too, with clean, robust flavors and a satisfying mix of both refinement and rusticity. It seems like a winning combination, and I look for the restaurant to only get better with time. As for what's next, look out for Superba Food & Bread, a bakery-
cum
-market that's slated to bow at the end of the year, located at the intersection of Lincoln and Superba. Could the notoriously mercurial, transient chef have finally found a home? We can hope.