Marlowe (San Francisco, CA)
Marlowe Restaurant
330 Townsend St, San Francisco, CA 94107
415.974.5599
www.marlowesf.com
Wed 08/01/2012, 11:40a-01:00p
Following dinner the previous night at
Sons & Daughters
, our first lunch in the City would be at Marlowe in SoMa, a modern, market-driven neighborhood bistro recommended to me by
Alma
's
Ari Taymor
(himself a Bay Area chef). Marlowe is the work of restaurateur Anna Weinberg, partner Dave Stanton, plus Executive Chef Jennifer Puccio, and is actually named after Weinberg's great-grandfather's butcher shop back in Boston. It's also, apparently, the home of San Francisco's best burger (says
Bauer
).
About the Chef
: Puccio hails from back East, and got her start with James Beard winner Ana Sortun, chef/owner of Oleana and Sofra out in Cambridge, MA. Following her stint with Sortun, she and her husband Ed moved out to Northern California, and Puccio soon found employment at Daniel Patterson's former restaurant Elisabeth Daniel, the predecessor to
Coi
. From there, she transitioned to Rivoli in Berkeley, then to the well-regarded vegetarian-focused
Ubuntu
in Napa (now shuttered, sadly), and finally to tapas joint Ramblas in San Francisco. In 2008, Puccio took on the Exec Chef role at Cortez. The restaurant received a healthy three stars from the
Chronicle
's Michael Bauer, but closed in the latter half of 2009.
Following that setback, Puccio started work on Marlowe and debuted the restaurant in the former home of Anna Weinberg and Luke Mangan's South Food + Wine Bar in February 2010. Just a few months later, Bauer once again bestowed three stars on the Chef, and Marlowe was quickly recognized as one of the
top 10
best new restaurants of the year, and one of the
top 100
places overall in the Bay Area. Given the acclaim that Marlowe had enjoyed, the trio opened Park Tavern (an "upscale American tavern") in North Beach last year, which has also been a success.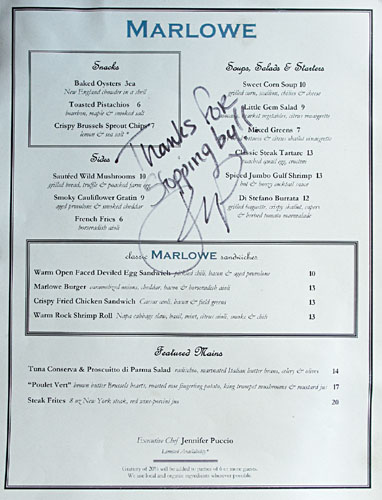 Marlowe's menu slants towards the meat-centric and the market's whims. It's a short but sweet selection of appealing dishes, joined by a commendable selection of wines, some decent beers, and smattering of interesting sodas, all assembled by GM Sarah Varley. Click for larger versions.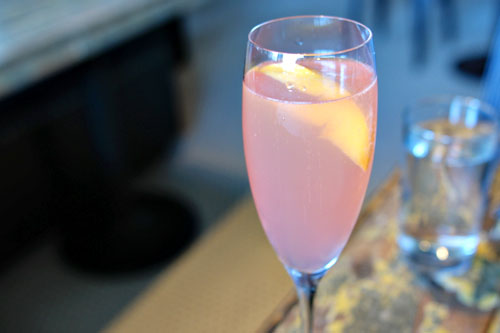 I began with the
Butcher's Mistress [$12]
, Marlowe's oft-changing sparkling wine cocktail, featuring Prosecco, elderflower, and grapefruit on this day. It was a light, refreshing, summer-y libation, with a fruity, almost peach-y sugariness up front, balanced by tangy tones of grapefruit and the booziness of the wine.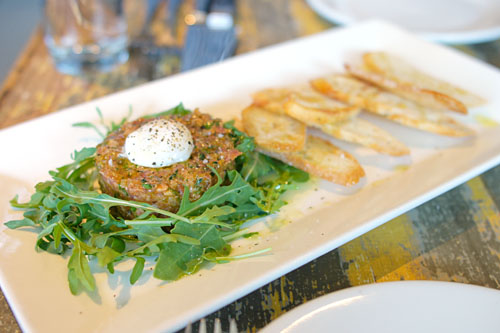 Classic Steak Tartare [$13.00]
| poached quail egg, crostini
As the name implies, Puccio's steak tartar definitely leaned toward the classic side of things. The meat itself was on point--supple yet slightly springy--with a satisfying savor and a great bit of herb-y kick. Egg, meanwhile, offered up an enveloping richness to tie the beef together, and naturally, the crunchy slivers of toast functioned accordingly as well.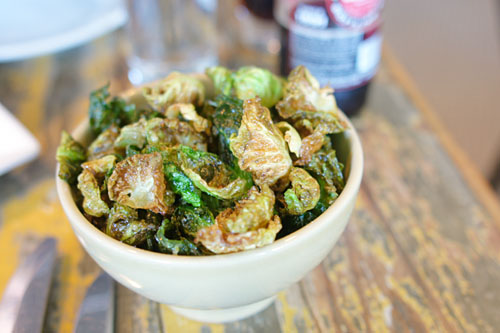 Crispy Brussels Sprout Chips [$7.00]
| lemon & sea salt
Everyone knows that I'm a Brussels sprouts fiend, so this was a must-order item for me. What we have here are the leaves of the vegetable, fried with brown butter and joined by lemon and sea salt. I loved the crisp consistency of the leaves, as well as their bitter touch of char and pinpoints of saltiness, deftly counteracted by an overarching essence of lemon. My only concern was that I would've liked some of the hearts to have been included here, to offer up a more satisfying, substantial bite to the dish.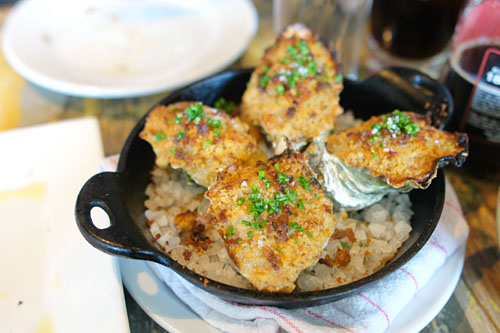 Baked Oysters [$3.00/each]
| New England chowder in a shell
I'm also quite the sucker for baked oysters, and here they did not disappoint. Likened to a "New England chowder" on the menu, they really didn't stray far from that description. I found them delectably hot and hearty, with a lovely savory character at first, and the inherent brine of the bivalve showing through on the finish. I appreciated how the texture of the oyster was so adeptly preserved here as well.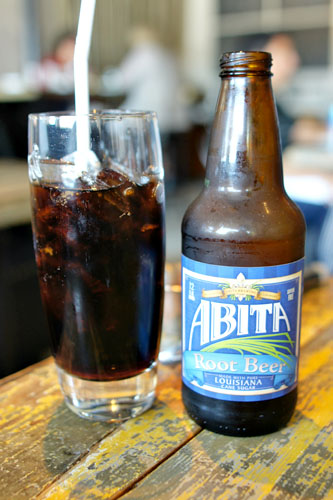 We also made sure to sample some sodas. The
Boylans Regular Cola, New Jersey [$4]
was solid, but nothing to write home about. On the other hand, the
Abita Root Beer, Louisiana [$4]
was fantastic, no question the best root beer that I've tasted. Abita, interestingly enough, is much better known for its beers; I'm particularly fond of their raspberry-laced Purple Haze.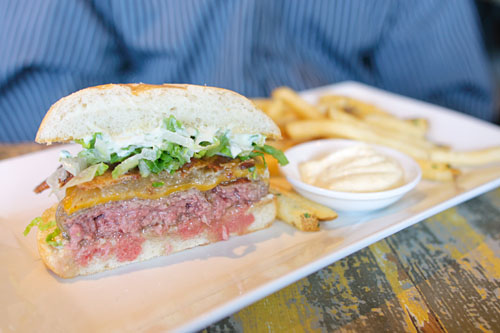 Marlowe Burger [$13.00]
| caramelized onions, cheddar, bacon & horseradish aioli
And now the moment of truth. This was a tasty burger, featuring a patty of Niman Ranch beef, enhanced by the incorporation of lamb, then joined by a tangy horseradish aioli, salty cheddar, caramelized onions, shards of lettuce, and
bacon
, all on an Acme bun. The meat itself, done medium-rare, was on point--utterly tender and juicy, with a great savoriness and weight, keenly augmented by the slight sweetness of the onions. The key, though, was the saltiness and crunchiness imparted by the bacon, as well as the cool, refreshing counter of the lettuce. Overall, very nicely integrated. Of course, we can't forget about the French fries, either. They were delicious as well: crisp on the outside, yet still creamy on the inside, and excellent when taken with a dab of ketchup.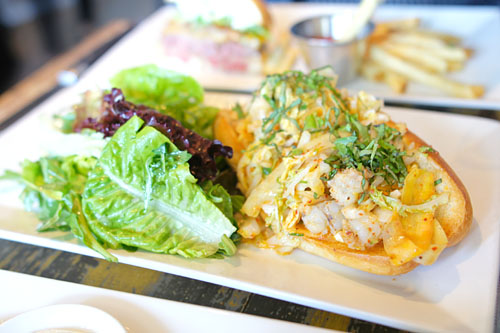 Warm Rock Shrimp Roll [$13.00]
| Napa cabbage slaw, basil, mint, citrus aioli, smoke & chili
Given the heft of the burger, we followed it up with a lighter sandwich that could be thought of as a riff on the traditional lobster roll. Indeed, in place of lobster, we had snappy, springy bits of rock shrimp. I also appreciated the crunch imparted by the cabbage here, as well as the minty, herbaceous notes enveloping the entire dish, all tied together by that tangy aioli. However, overall I wanted more zing, more brightness to the course; it just didn't "pop" for me.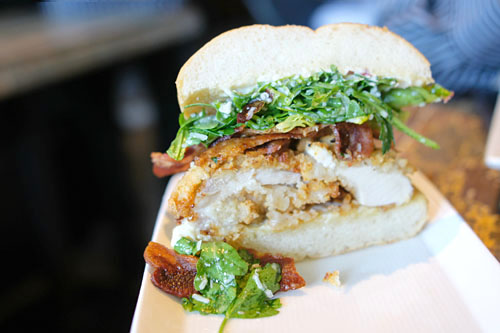 Crispy Fried Chicken Sandwich [$13.00]
| Caesar aioli, bacon & field greens
We thought that was it for the savories, but the kitchen decided to send out Puccio's take on the classic fried chicken sandwich, much to our surprise. We were already pretty full at this point, but still ate it up. I found the bird itself tender and succulent, with a light, yet crisp fried coating and a delicate flavor amped up by the salty, crunchy strips of bacon layered on top. Rounding out the sandwich was a mixture of greens, dressed with a Caesar aioli, its light, piquant character balancing out things nicely.

This was a heavy lunch, and we were quite stuffed already, but made sure to save room for at least one dessert. Click for a larger version.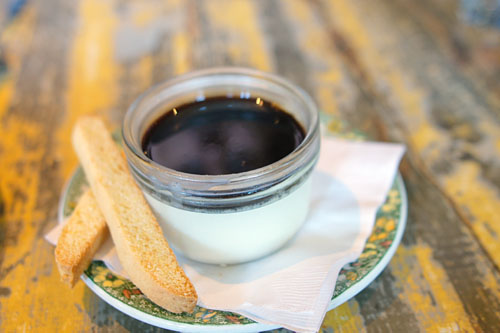 Vanilla Bean Panna Cotta Affogato [$7.00]
| amaretto, lemon biscotti
Interestingly, Marlowe's desserts come exclusively in jar form, so we went with a delightful vanilla panna cotta. It was pretty fabulous, one of the best preparations I've had in fact. The cream itself was dense, yet delicate, with a refined vanilla taste duly accented by the dark, nutty, chocolate-y, coffee-tinged flavors up top.
So is this SF's best burger? It just might be. Unfortunately, I haven't had the opportunity to sample some of the other contenders, but I can say that it was pretty damn tasty. Really though, there's more to Marlowe that just the hamburger. We're talking about "bistro" fare, sure, but there's a certain precision and robustness here that I recognize and appreciate. It's an appealing, approachable mix of rustic yet elegant that points to the talents of the Chef--the quintessential neighborhood type of place perhaps?