The Vagrancy Project (Los Angeles, CA)
Vagrant at the Yacht Club
1320 Echo Park Ave, Echo Park, CA 90026
213.481.0454
thevagrancyproject.tumblr.com
vagrantayc.tumblr.com
Mon 07/23/2012, 08:00p-12:10a

One of the latest pop-ups to, well,
pop up
on the scene is
Vagrancy Project
, the brainchild of former
Son of a Gun
Executive Sous Chef Miles Thompson. He's setting up shop at Bill DiDonna and Charles Kelly's Allston Yacht Club in Echo Park, taking over the joint Mondays and Tuesdays through the end of August. This "residency" is actually the second part of Thompson's grand plan. The first was a series of elaborate underground dinners hosted at the Chef's tiny Hollywood apartment, which kicked off on February 11th. Next comes this pop-up, and then an honest-to-goodness, permanent restaurant if all goes according to plan.
About the Chef
: Chef Miles Thompson, a mere 24 years old, was raised in the small, idyllic town of South Salem, New York. He started his restaurant career locally, taking up a position washing dishes at the age of 13, and started cooking professionally just a couple years later. During this period, he also
dabbled in acting
, and even starred in Miranda July's
Me and You and Everyone We Know
, which won the Caméra d'Or at Cannes in 2005. In 2007, Thompson moved to LA and quickly secured a job at
Nobu
, working as a lead line cook under Alex Becker after BS'ing his way through an interview. Following, he transitioned to Jon Shook and Vinny Dotolo's seminal
Animal
in 2010, then helped open their acclaimed seafooder
Son of a Gun
. He left SoaG late last year, and worked a stint alongside underground dining visionary
Craig "Wolvesmouth" Thornton
. Following, Thompson partnered with Aubrey Huestead (wine director for Son of a Gun) and launched the Vagrancy Project in February. The dinners were a resounding success, and on June 11th, the Chef debuted his cooking at the AYC.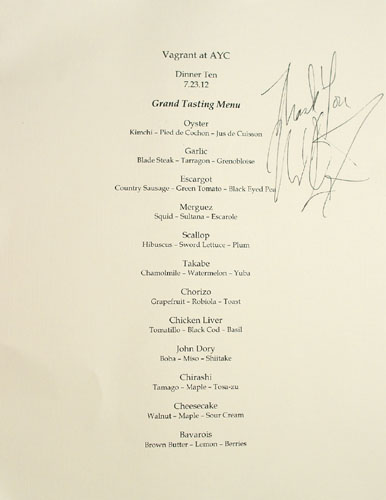 As for the menu, it comprises a five-course prix fixe at $70pp, plus an additional $50 for wine pairings, as well as an à la carte selection of dishes at the bar. We actually requested a combination of the two menus, resulting in a 13-course degustation at $125 per head. In addition, Nathaniel Oliver (
ink
,
Church & State
, Harvard & Stone) tends the bar, offering up a unique cocktail list to pair with the eats. Click for a larger version.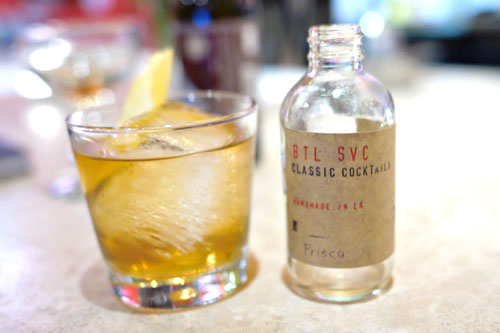 We arrived early and took a seat at the bar, which just so happened to be occupied by none other than Devon Espinosa, the former
ink
and
Tasting Kitchen
barman who's now mixing it up at Pour Vous. He was here to support his fellow bartender Nathan Oliver, and in fact, the two of them are in the process of launching BTL SVC, a line of ready-to-drink, bottled craft cocktails. We were actually able to sample the duo's first creation, called the Frisco (read about Frank Bruni's quest for the drink
here
), which was a combo of Rittenhouse 100 rye whiskey and Bénédictine, perfectly blended and diluted. Patrons are encouraged to pour the drink themselves, over a block of Névé ice and garnished with a twist of lemon zest. I was a bit skeptical, but the end result was pretty fantastic, with the boozy weight of the rye deftly balanced by the sweet, spicy, medicinal relish of the liqueur, all while the lemon added just a whisper of tartness to the fray. Espinosa and Oliver could really be on to something here!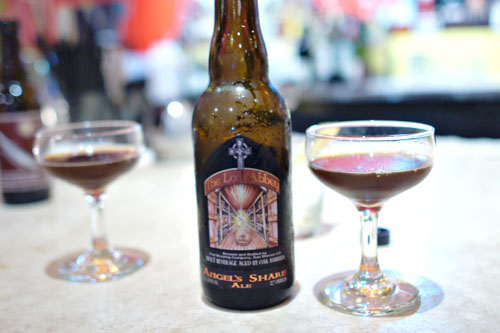 From BTL SVC, we moved on to The Lost Abbey's Angel's Share, a bourbon barrel-aged ale graciously provided by Chef
Jason Quinn
. This was a fairly creamy, almost sticky beer, with low carbonation and tons of vanilla on the nose. Taste-wise, we're talking more vanilla, along with loads of caramel, oaky, and boozy flavors.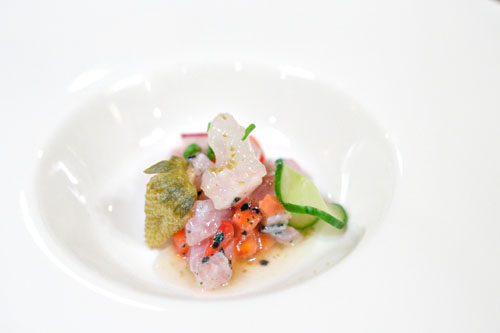 Thompson started us off with an amuse bouche comprising a hamachi and strawberry tartar dressed with
yuzukosho
vinaigrette. The yellowtail itself I found fresh and fatty, with a slight fishy character that paired nicely with the piquant Japanese condiment, all while the strawberry provided an overarching veil of sweet 'n' sour flavors.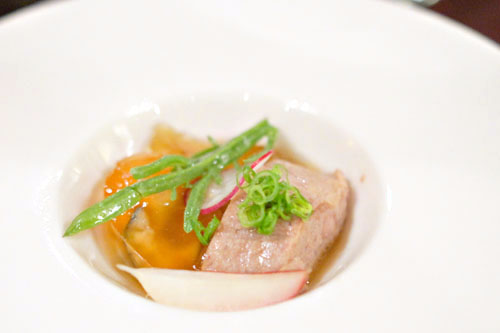 1: Oyster
| Kimchi - Pied de Cochon - Jus de Cuisson
Our first course proper got us going with a singular Luna oyster, enveloped in kimchi gelée, then paired with a block of supple
pied de cochon
. The marriage of pork and oyster is an uncommon one, but it actually worked out rather well here. I appreciated the bracing brine of the bivalve, moderated by its kimchi wrapper, and how that flowed to the pork-y goodness of the
pied
. At the same time, there were some notes of sweet-spice and umami that tied everything together, and I liked the levity imparted by the pickled radish, scallion, and
agretti
as well. Some interesting interplays between texture and temperature going on here, too. Very cool.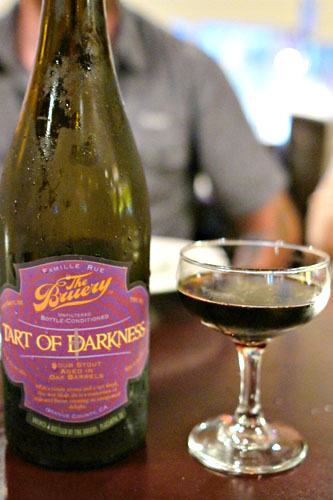 The next beer was The Bruery's whimsically-monikered Tart of Darkness. This was basically a hybrid of a stout and a sour, and as such, showed off a puckering tartness on the front end, which then led gracefully to some lovely chocolate and coffee notes on the close. I'd never had anything quite like it before.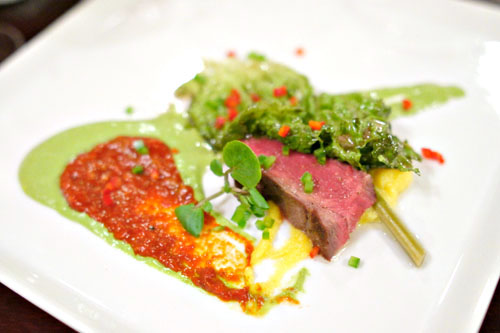 2: Garlic
| Blade Steak - Tarragon - Grenobloise
Given how well the steak was cooked, the question arose at the table of whether or not the meat was done sous vide--turns out that it was not. The beef (described by the Chef as the "garnish") was beautiful, with a wondrously satisfying chew and a delectable bovine sapor that paired swimmingly with the garlic as well as the
Grenobloise
elements of caper and lemon. The chili paste added a lovely touch of lingering, countervailing heat to things (though it was a bit
too
spicy for me), while the green goddess dressing tempered and integrated the entire dish. Loved the crunch of the lettuce here as well. Definitely one of my favorites.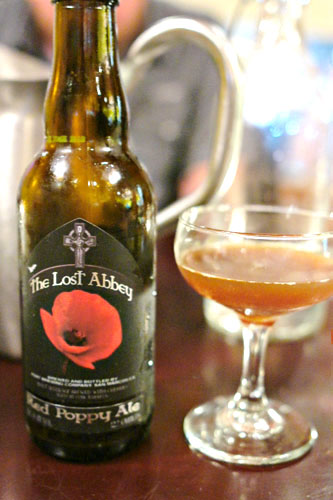 We had here another bottling from The Lost Abbey, their Red Poppy Ale. Done in the Flanders Red style, the beer blended bright bursts of sour cherry flavor against a sharp, almost lactic funk, with a marked sugariness and even a touch of wood-y spice on the finish.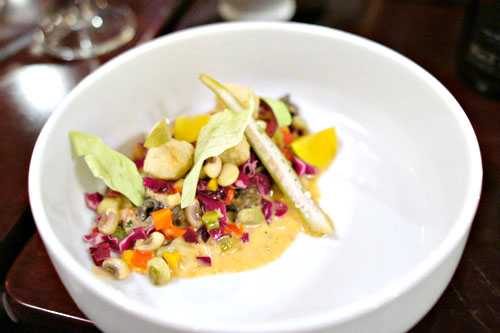 3: Escargot
| Country Sausage - Green Tomato - Black Eyed Pea
The escargot was almost unanimously our favorite course of the night, and just might be the most inventive use of snail that I'd ever witnessed. With the incorporation of country sausage and gravy, fried green tomatoes, okra, and black eyed peas into the dish, the flavors of the South were on proud display. The escargot was spot on and delectably tender, while the tomatoes added a fantastic textural component that balanced out the snail gorgeously. The BEPs, meanwhile, did an admirable job grounding and moderating the course, making for a flawless mélange of flavors overall.
4: Merguez
| Squid - Sultana - Escarole
I'm quite the sausage fiend, so it's no surprise that I was a fan of Thompson's housemade Merguez, made from a blend of lamb and pork and encased here in an outer layer of soft, supple squid. The tubed meat really showed off a lovely savoriness, counterbalanced by just a touch of herbaceousness. My concern here was the escarole salsa verde, which conveyed a certain astringent character that was perhaps a bit too much for the sausage, overpowering the meat at times.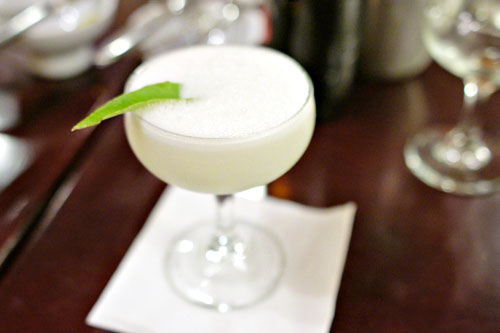 At this point, Oliver delivered to the table this untitled white-tinted cocktail, an admixture of Boyd & Blair potato vodka, lemon juice, St. Vincent orgeat, and lemon verbena, all with a mist of green Chartreuse up top. It was delightful, displaying an almost medicinal sourness up front, but then transitioning to a blend of sugary and herb-y flavors on the midpalate, perked up by hints of lemon-y tartness.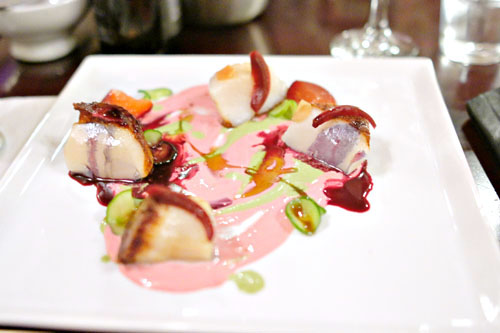 5: Scallop
| Hibiscus - Sword Lettuce - Plum
Next up were some of the biggest scallops that we'd seen in a long while. They were a prototypical example of the mollusk, a tasty mix of sweet and saline relishes, all in a supple, satisfying package. Indeed, it was really the sweetness that was key here, linking up with the saccharine flavors of Santa Rosa plum, rhubarb, hibiscus, and brown sugar molasses to make sense of the dish, all while the yogurt served to add a lush, creamy, and integrating component to the course.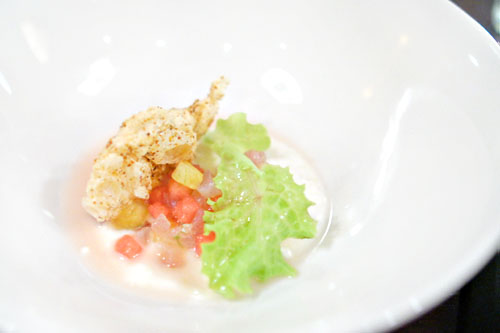 6: Takabe
| Chamomile - Watermelon - Yuba
Thompson presented here a dice of
takabe
, or cured Japanese yellow stripped butterfish, set in watermelon, chile, and salt, with a chamomile-laced yogurt. The fish melded surprisingly well with its accompaniments, the sweet-floral nature of the dish actually working with the
takabe
. However, I would've liked heartier, more substantial pieces of the fish to better appreciate it. My favorite element, actually, was probably the fried yuba curd, with its fantastically crisp consistency and lingering touch of savory spice.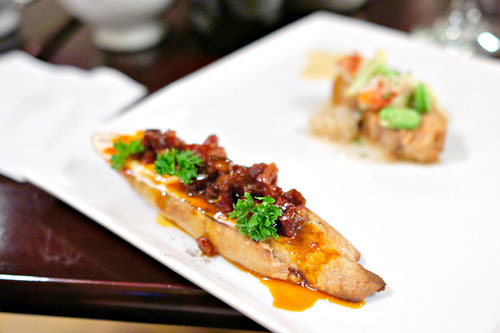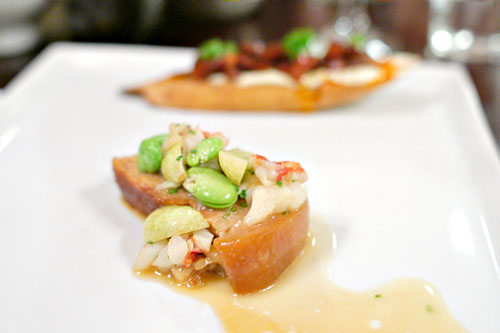 7: Chorizo
| Grapefruit - Robiola - Toast
In her recent piece in the
LA Times
, Jessica Gelt raved about Thompson's chorizo dish, likening it to a "bizarro Welsh rarebit." I wasn't quite as enamored with it, however, finding the sausage somewhat domineering in the dish, overwhelming the Robiola cream somewhat, and I really didn't get much from the grapefruit. The Chef paired the chorizo with a slab of pork tail, topped with lobster cassoulet. The tail was pretty stupendous, tender and conveying a superb porcine savor that was adeptly countered by the included veggies and snappy bits of lobster.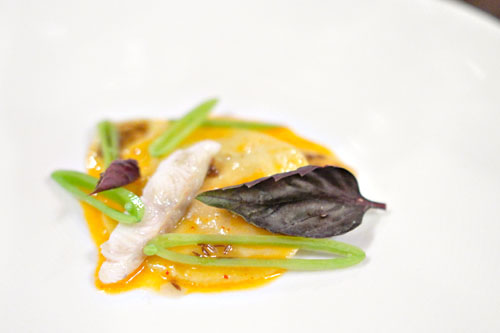 8: Chicken Liver
| Tomatillo - Black Cod - Basil
A lone raviolo arrived stuffed with chicken liver, its earthy, heady relish on proud display, counterbalanced by the enveloping sweet spiciness of what I believe was caraway. The cod, meanwhile, offered up a mild tasting, yet fatty component to the dish, while the snap peas were great with their light, green flavors and satisfying crunch.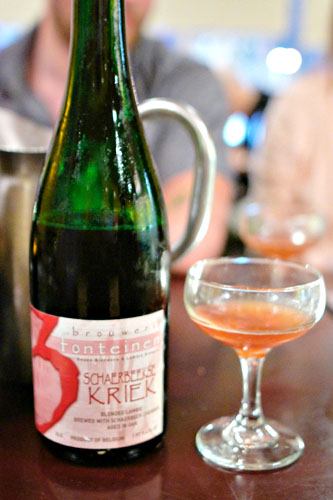 Our next beer, the Drie Fonteinen Schaerbeekse Kriek, came from my personal stash. This was basically a fancier version of the brewery's regular kriek, made with the legendary wild sour cherries of Schaarbeek, Belgium. As you'd imagine, there was tons of tart, tangy cherry on the palate, which played nicely against the dry, funky, oak-y barnyard flavors present. A quintessential kriek, really.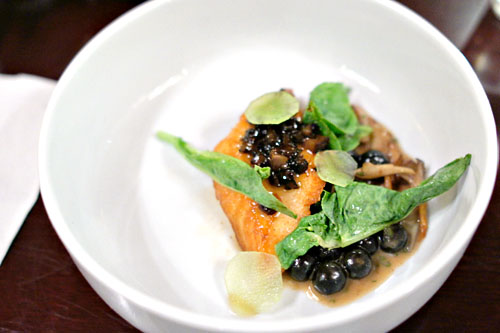 9: John Dory
| Boba - Miso - Shiitake
Thompson's Dory was another highlight of the meal. The fish was well-cooked, firm to the bite, with a savory, buttery character that was smartly paired with the sweet-yet-earthy essence of candied shiitake mushroom, as well as the umami-laden miso tapioca "risotto." The celtuce, meanwhile, added some well-placed brightness to the course. Definitely some fascinating tastes and textures going on here.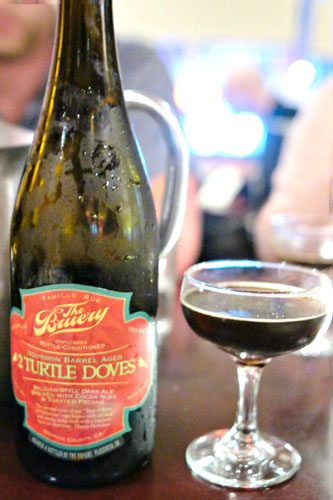 The final beer was The Bruery's 2 Turtle Doves, a Belgian style dark ale made with pecans. It was pretty delicious, with a lot of dark fruity character initially on the nose, even more dark fruit on the tongue, and a good balance of coffee, cocoa, and nutty flavors to round things out.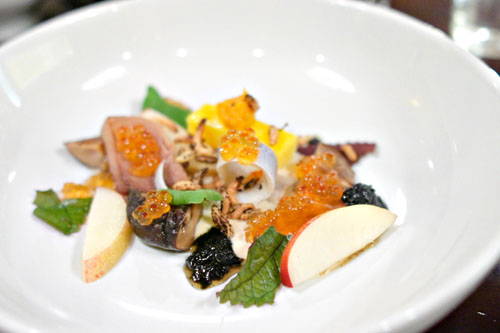 10: Chirashi
| Tamago - Maple - Tosa-zu
Our last savory course of the night brought along a scattering of ingredients, the Chef's play on the
chirashi
bowl. We had in our possession
tamago
egg omelet,
ayu
(sweetfish), beef tongue, salmon roe, nectarines, maple, nori, crème fraîche, and
tosa-zu
vinegar. It was a unique blend of differing constituents, each item being distinct and true-to-form, yet with everything coming together in a seemingly cohesive fashion: a medley of disparate tastes and textures, all underscored by a distinct ocean-y overtone. I was especially fond of the smoky, savory, supple tongue, as well as the sweet-fishy smack of the
ayu
. Loved the crunch of the puffed rice here, too.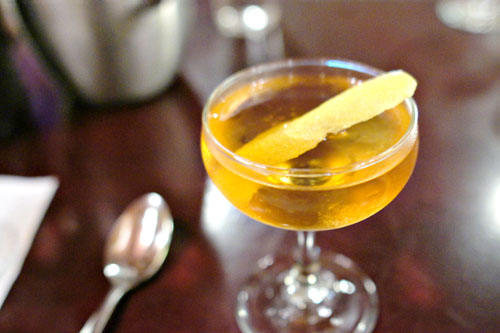 Oliver then sent out a version of the Frisco cocktail served earlier, this one made with Buffalo Trace bourbon instead of rye. Compared to the drink above, it was somewhat lighter in character, with less of a boozy kick and a slightly fruitier taste.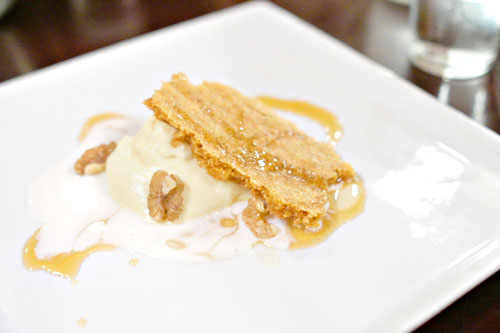 11: Cheesecake
| Walnut - Maple - Sour Cream
Moving on to dessert now, the first comprised a whipped cheese cake paired with a sour cream curd, maple syrup, walnut oil, and a graham cracker sablé. It may not have looked like much on the plate, but the flavors were delicious. The key was the interplay between the sugary maple and tart, lactic tanginess of sour cream and cheese, all moderated by the nuttiness of walnut. I loved the sweetness and crispness of the graham cracker "crust" here, too.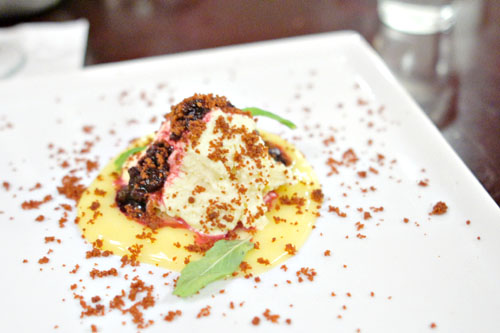 12: Bavarois
| Brown Butter - Lemon - Berries
I'm usually not a huge fan of lemon desserts, oft finding them overly sour, but this Bavarian cream of lemon curd was to my liking. There was definitely a persistent tartness to the dish, but the use of brown butter and a yuzu-mulberry compote definitely balanced things out a bit, all while leaves of Persian mint added a whisper of lightness to the mix.
I came in here not knowing quite what to expect, but this "kid" can definitely cook, and cook in a style that was so different than what he was serving up at Animal or Son of a Gun, which was sort of surprising to me. Thompson's food here is actually more complex, more ambitious, more cerebral than I'd imagined, with unique, unexpected flavor combinations and juxtapositions that mostly work. He's really got a well-defined style going for him, and I have high hopes for his prospects in the future--definitely one to watch for sure. As for the Chef's next move, he envisions Cottage (his permanent spot) debuting late this year, as a small tasting menu-only type of restaurant, seating around two dozen diners. It sounds like just the type of intimate, chef-driven place that I like the most, and you can bet that I'll be showing up there post-haste once it opens.