Saddle Peak Lodge (Calabasas, CA) [2]
Saddle Peak Lodge Restaurant
419 Cold Canyon Rd, Malibu, CA 91302
818.222.3888
www.saddlepeaklodge.com
Thu 07/26/2012, 08:00p-12:20a

My
last visit
to Dr. Ann Ehringer's longstanding Saddle Peak Lodge was almost exactly three years ago to the day. Back in 2009, Chef
Adam Horton
still held the reins here, and it was around then when he really started making a name for himself on the culinary scene in LA. Since that time, Horton's decamped, replaced by his former right-hand-man, Christopher Kufek. Given the change in leadership, I figured that it was time to give the
grand dame
another go.
About the Chef
: Kufek is a Los Angeles native, born in the affluent West Hills district of the San Fernando Valley. The 28-year-old Chef actually started out as a carpenter at age 17, working on private jets, high-end residences, and other such frivolities (in fact, he's in the midst of renovating his own condo at the moment). When Kufek turned 21, he decided to switch to a career in the restaurant industry, initially as a way to meet more women (makes sense--I can't imagine there are too many female carpenters). He moved in with some friends in Santa Barbara, and began his culinary career at the bottom, working as a dishwasher at the now-shuttered Cafe Buenos Aires on State Street. Naturally, he eventually began cooking there, but then moved back to LA a year later to start slanging pasta at Maggiano's (yes,
that
Maggiano's). The gig lasted two years, and at the end of it, Kufek was itching to work at a
real
restaurant.
In pursuit of that goal, he showed up on the back doorsteps of Saddle Peak Lodge, continuously for several weeks, and eventually head chef Steven Rojas (ex-
Patina
) caved and offered him a job. Kufek started at the amuse bouche station, then worked his way up to a Sous Chef position in a year's time. During this period, he also
staged
at a number of restaurants in the San Diego area, including the renowned El Bizcocho at the Rancho Bernardo Inn, under James Beard award winner Gavin Kaysen. Coincidentally, in July 2008, Kaysen would leave El Bizcocho to head up Cafe Boulud in New York, replaced by none other than Steve Rojas. Given the kitchen shuffle, Adam Horton took over as Executive Chef, with Kufek becoming CdC. Horton, however, left SPL at the start of 2011 to relaunch
Raphael
in Studio City, taking Sous Chef
Heather Bogue
and Pastry Chef
Kasra Ajdari
with him.
Given the chef shake-up, Kufek is joined in the kitchen these days by his Sous Chef Jaron Gugliuzza. Gugliuzza hails from Calabasas, California, and is a 2004 graduate of Agoura High School. He began cooking at an early age at his father's catering company, a motion picture caterer called Cafe on Location. The family eventually moved to Texas, where Gugliuzza worked at a few local restaurants, but he would eventually move back to Los Angeles to attend the Academy of Culinary Education. During his tenure there, he worked the line at RH at the Andaz, under Chef Sebastien Archambault. Upon graduating in 2011, he joined the team at Saddle Peak Lodge as a line cook, and was recently promoted to Sous. Interestingly, Gugliuzza's classmate Bree Vivante also took a position at SPL, but in the pastry department.

The interior hasn't changed much from my last visit, and is pretty much what you'd expect from a longstanding, game-focused restaurant situated in the near wilderness. The main dining room, once a bordello, recalls a hunting lodge, replete with mounted animal heads and lots of wood. It's also very, very dark, and one of the most challenging shooting situations that I've ever encountered.

The menu options here at Saddle Peak Lodge comprise both à la carte as well as five- and nine-course tasting menu options. By special arrangement, we were provided a special degustation, priced at $45 per head. To drink, think a sizeable California-centric wine list, a surprisingly decent array of beer, cocktails, and a separate selection of Scotch. Click for a larger version.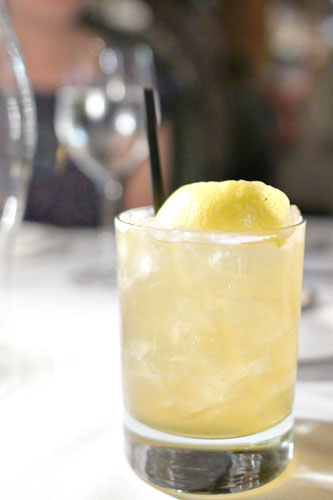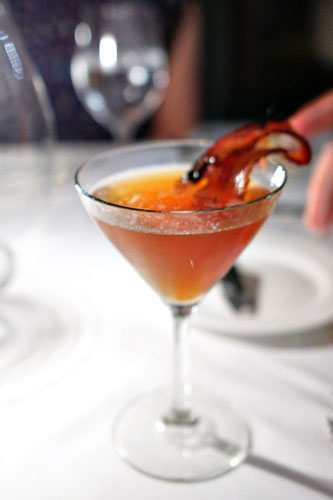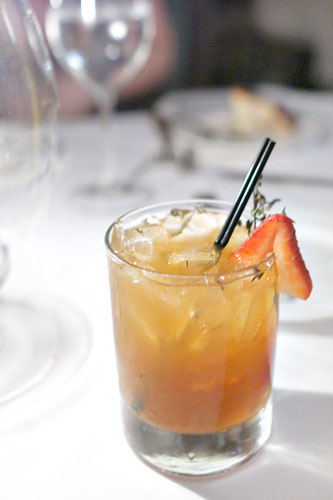 Honey Badger [$15.00]
| Aberlour 12 year scotch, Drambuie liqueur, lemon juice, lavender honey, shaken and served on the rocks
The Pig Apple [$15.00]
| Buffalo Trace bacon-infused bourbon, Carpano Antica vermouth, Paychaud's bitters and candied bacon
About Figgin' Thyme [$15.00]
| Bombay Gin, orange juice, fig balsamic vinegar, strawberries, thyme, muddled and served on the rocks
To wet our whistles, we began with a threesome of cocktails by new Sommelier/Manager Jen Carter, who started here in January. The first was the Honey Badger, my favorite of the trio, which showed off a tasty mix of citrus and honeyed flavors, all with overarching floral and herbal notes and a boozy kick toward the finish. The Pig Apple, meanwhile, was much more in-your-face, with loads of porky goodness up front, leading to a marked bitterness on the midpalate, with the weight of the bourbon coming toward the end. As for the bacon itself, it was wonderful, with a great mix of sweet, smoky, and porcine flavors; one of my dining companions even likened it to "Chinese pork jerky." Last but not least was the About Figgin' Thyme, the lightest drink of the troika, with its bracing gin base deftly augmented by the herb-y tang of thyme, all while the strawberry and fig-balsamic added a lovely sugariness to the fray.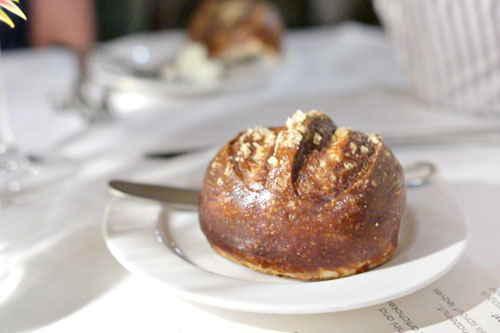 Bread was of the pretzel variety, and quite good, especially when taken with plenty of the soft, sweet, salty butter supplied.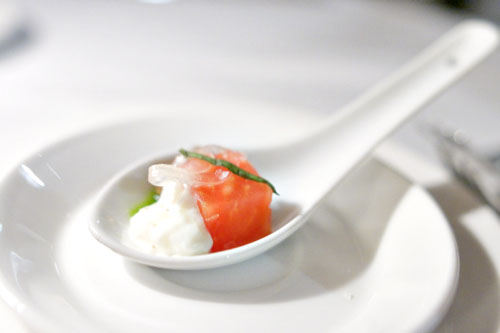 Before the meal proper, we were treated to a series of three canapés. First up was a spoonful of heirloom tomato, burrata, caramelized shallot, and pumpernickel. Naturally, the pairing of mozzarella and tomato made perfect sense, reminiscent of an
insalata Caprese
in essence, and I adored the nutty crunch of the pumpernickel here, which served as a near-perfect counterpoint in the bite.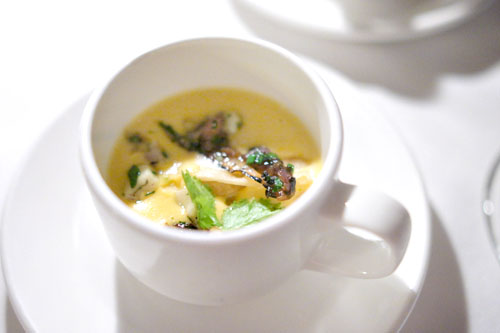 Next up: a demitasse of corn soup, replete with roasted corn, onion, tarragon crème fraîche, cilantro, and lemon zest. It was a tasty little potage, with a definite corn sweetness up front, leading to a slightly herbaceous spiciness. Hearty and heartwarming.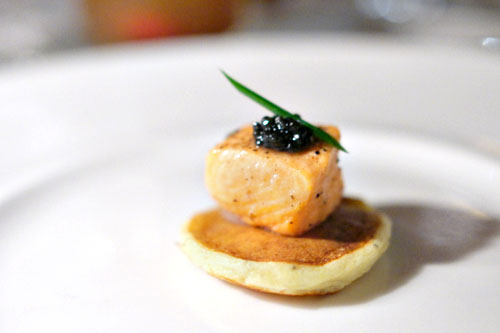 Our final canapé, surprisingly, was actually a reworking of a course from
my last visit here
. It was a very classic combination of poached salmon and caviar, all on a potato blini. The fish itself was creamy and soft to the touch, with a subtle brine that was duly heightened by the dollop of roe on top, while the blini served to moderate the course. Tasty, but I really wanted more textural variation in the bite, which seemed a bit too uniform.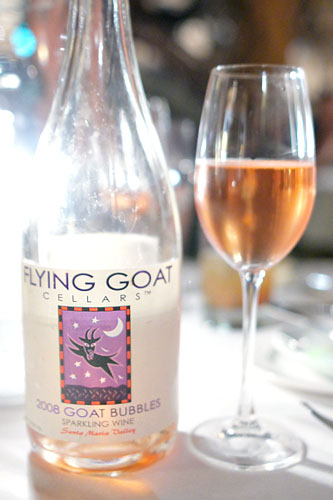 With the meal proper about to get under way, we ordered a bottle of sparkling wine, the whimsically-named 2008 Flying Goat Cellars Goat Bubbles [$45] from the nearby Santa Maria Valley. This was a tart, tannic rosé, unquestionable dry, with some light berry flavors joined by an undercurrent of crisp minerality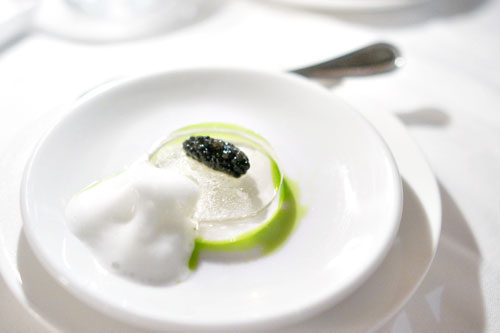 1: Prosecco Gelée
| lemon foam, Osetra caviar, basil oil
Kufek commenced with a fairly avant garde course. Here, the salty zing of the caviar was on proud display, balanced against the boozy base of prosecco jelly, all while the lemon served up overtones of citrus-y tartness. A refreshing course, and one that actually reminded me of a similar "Champagne & Caviar" dish that I'd had a while ago at
AnQi
.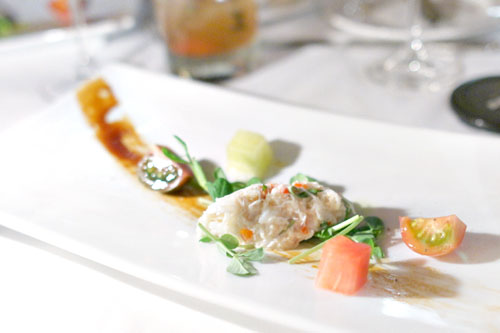 2: Peekytoe "Watermelon Gazpacho"
| garlic, bell pepper, heirloom tomato, basil, pea greens, pickled watermelon, cucumber
Here we see a deconstructed gazpacho of sorts, with many of the traditional dish's ingredients represented. The quenelle of peekytoe was clearly the hero here, conveying a delectably sweet salinity that was further enhanced by the watermelon. The various vegetables at play were on point as well, and I loved the bright finish imparted by the pea tendrils. A light dish, full of summer-y flair.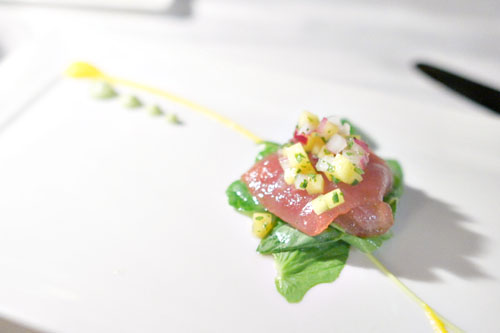 3: Albacore Sashimi
| Hawaiian papaya, red onion, cilantro, avocado, orange-ginger, pea tendrils
Albacore was light and fresh, augmented by the almost bracing acidity of its various accoutrements--a real jolt to the palate. Avocado, meanwhile, added an ascertainable weight to the entire dish that grounded the zingy tastes at play. Nice.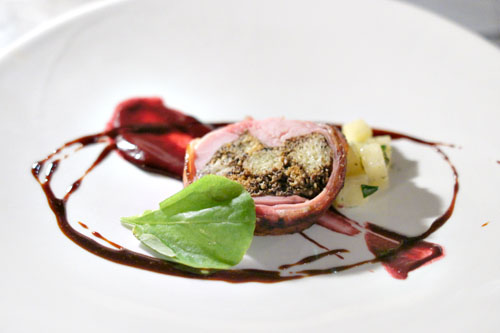 4: Rabbit Roulade
| bacon, mushrooms, Fuji apple, sage, huckleberry
A roulade of rabbit was nicely savory, with some heady flavors present that were only heightened by the umami-rich mushrooms and bacon. Apples, meanwhile, provided an offsetting crunch, but overall, I wanted more kick, more verve to the dish.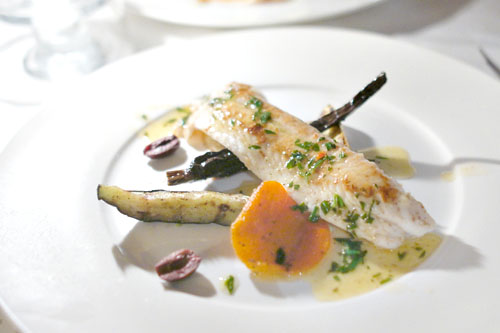 5: Dover Sole
| brown butter sauce, grilled zucchini and Japanese eggplant, bell pepper, artichokes
A Dover sole was presented to us whole, then filleted and served tableside. The fish, accompanied by lemon-caper brown butter, was on point, with a firm-yet-yielding bite and mildly savory relish that was adeptly accented by the citrus-y notes in the sauce. At the same time, the vegetables on the plate were commendable as well, with the carrot and fingerling potato being especially enjoyable.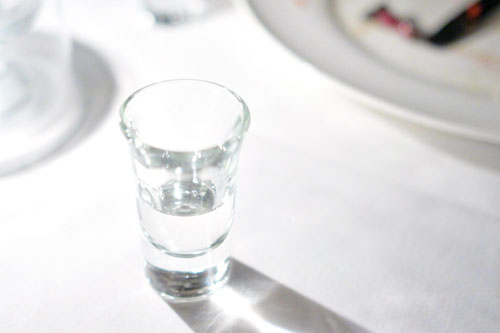 At this point, we enjoyed a shot of
slivovitz
(a sort of Croatian plum brandy) with the Chef. It was my first experience with the liquor, and I rather liked its undertones of fruity sweetness.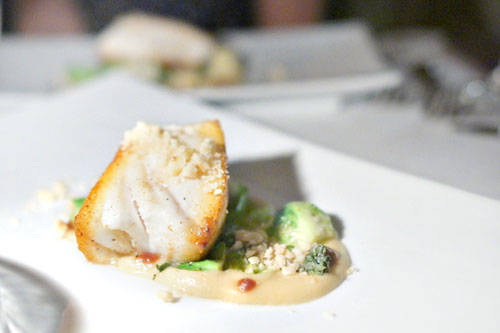 6: Alaskan Halibut
| grapes, tarragon, dates, hazelnut, cauliflower, lemon and Brussels sprout leaves
Halibut was nice, flaky and firm in consistency with a subtle, yet satisfying savoriness that was duly offset by the enveloping lemon-y notes in the dish. However, I wasn't huge into the grapes and dates here, finding them a tad sweet, but did appreciate the use of cauliflower, as well as the astringent taste and crunch of the Brussels sprouts.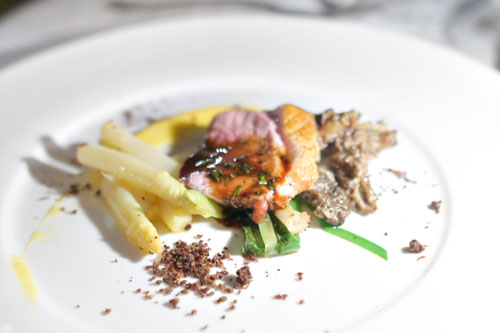 7: Muscovy Duck Breast
| baby leeks, morels, white asparagus, blood orange, coffee dust, pinot noir
Muscovy duck, unfortunately, was a touch dry, though it did show off a good flavor, nicely paired against the earthy morels and subtle bitterness of asparagus. The incorporation of blood orange, meanwhile, added a sweet 'n' sour component to the fray, though I wasn't quite as convinced about the use of coffee, finding its acridity a bit distracting.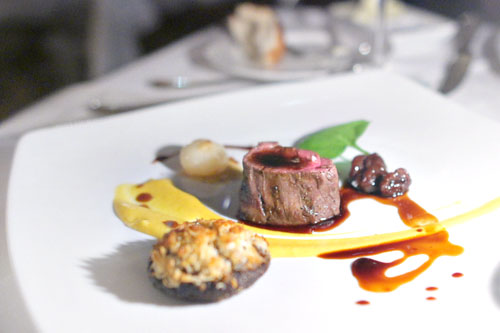 8: Elk Tenderloin
| brandied cherries, cipollini onions, butternut squash, crimini mushrooms
A petite tenderloin of elk was lean, yet tender, with a venison-esque quality to it and a delectable savoriness up front, along with a creeping gamy character toward the close. The meat was certainly tasty alone, but I also appreciated the cherries, which weren't overly saccharine, as well as the earthy flair of the 'shrooms and sweet-tangy cipollinis.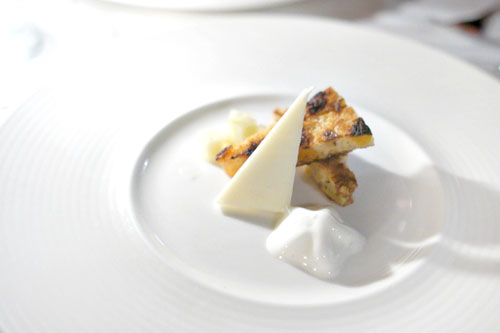 9: Brigante
| pickled green apple, honey foam, fruit and nut bread
Transitioning to the sweet stuff now, our
fromage
course was a triangle of Brigante, a sheep's milk varietal hailing from the island of Sardinia in Italy. It was an easy-eating cheese, with a delicate, creamy essence and soft, smooth consistency. As such, the Brigante paired well with the crisp cuboids of apple, as well as the airy dollop of sugary honey foam. Great with the accompanying bread, too.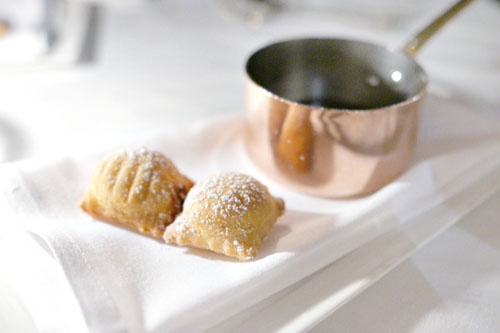 10: Beignets
| sweet peach, bourbon caramel
Beignets were lovely, loaded with a hot, peach-y sweetness and showing off a perfect texture that was a blend of crisp and luscious. They were delicious alone, but what took 'em over the top was the bourbon caramel, with its boozy kick that formed a fitting foil to the fritters.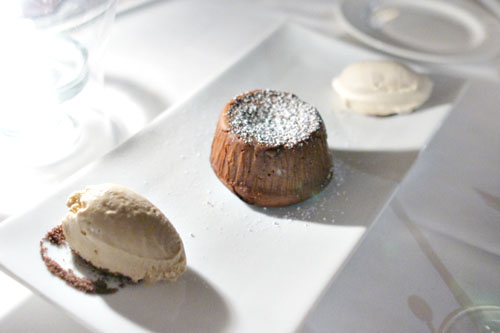 11: Chocolate Molten Whiskey Cake
| Guinness ice cream and Bailey's whipped cream
We concluded with the kitchen's take on the ubiquitous molten lava cake, which I typically don't like seeing on menus. What made this iteration interesting, though, was the use of not one, but
three
types of alcohol. The cake itself was expectedly rich, oozing with dark chocolate-y goodness but taken up a notch by the woody quintessence of whiskey. At the same time, the Guinness ice cream and Bailey's Irish cream added further facets of booziness that did an admirable job in balancing out the heft of the cake.
It seems like Chef Kufek is doing just fine here, continuing in the tradition set forth by his predecessor
Adam Horton
. The cuisine suits the hunting-lodge-turned-restaurant environment, offering up tastes that are rustic and traditional in essence, but with a few twists and modern techniques thrown in for good measure. The food's interesting enough, refined enough, but doesn't stray too far from what diners expect of this romantic, old-world restaurant.