CR8 The Art Of (Culver City, CA)
CR8 The Art Of Underground Dinner
8440 Warner Dr, Culver City, CA 90232
www.robertocortez.com
Tue 07/17/2012, 07:30p-12:10a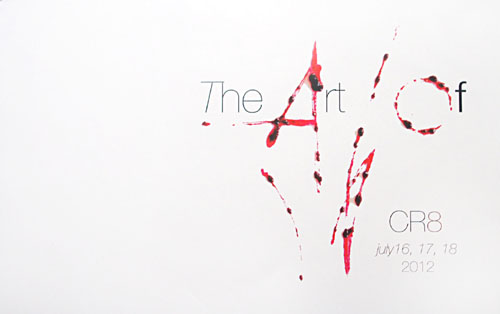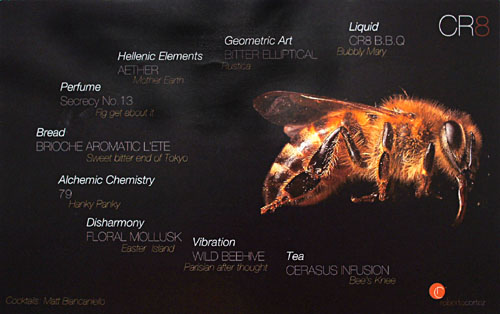 Over the past several months, some of my most memorable meals have been the result of CR8, a series of high-concept "dining installations" choreographed by Chef Roberto Cortez. His latest venture ran from July 16th to 18th, and was entitled
The Art Of
, the name chosen in reference to the process of "searching and expressing artistry with unorthodox elements." For this effort, he designed a nine-course degustation, with each dish representing a topic that the Chef approached and studied in depth, with the goal of understanding its quintessence and expressing it through "visual, conceptual, and edible art." If that wasn't enough, Cortez collaborated with famed LA barman
Matt Biancaniello
, who designed (blind, mind you, without tasting any of the food) a beverage pairing for each course.

CR8 dinners travel from place to place, and tonight's event was held at Michael Carpenter and Todd Ziman's
Redd Collection
, an industrial-chic loft space in Culver City that functions as a wine retailer.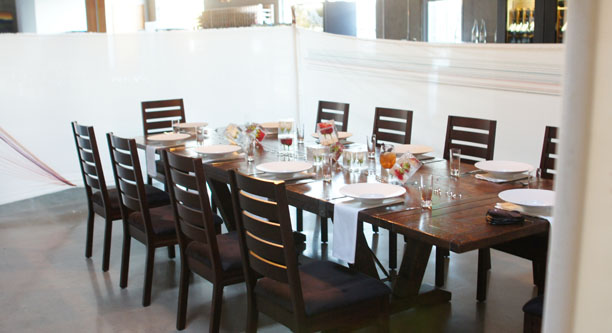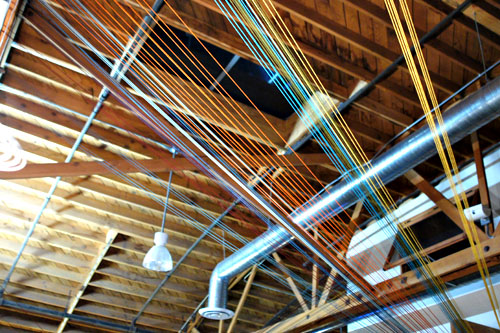 For this event, CR8's resident artist Noah Lee created a dining installation walled off in translucent fabric, attached to vibrant strings that reached for the ceiling in bright bursts of technicolor fancy. Centerpieces, meanwhile, were specially constructed by CR8 team member A.C. Slamet.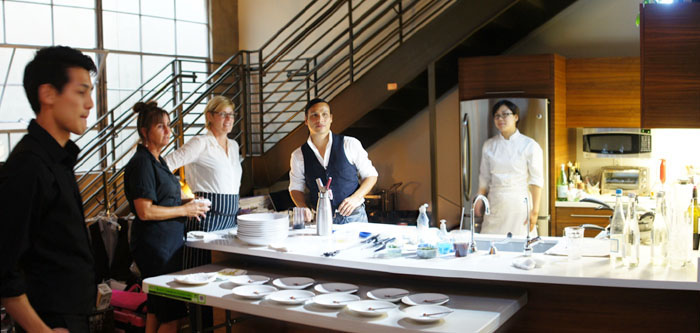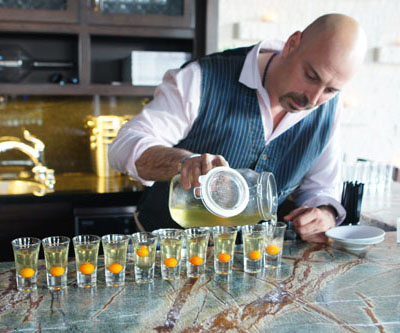 One of the benefits of the space: a respectable kitchen and a full size bar for Biancaniello to do his thing.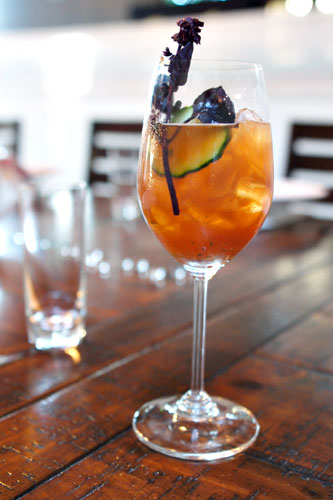 Our bartender extraordinaire started us off with a welcome cocktail called the
Pimms #10
, a housemade Pimm's infused with rhubarb, muddled shiso, radishes, lemon cucumber, and lime agave. Not surprisingly, it was superb, with just the complexity and finesse that you'd expect from a Biancaniello-made libation. The interplay between sweet, spicy, and boozy flavors was spot on, perfectly balanced by the refreshing notes of shiso and cucumber, all while the sprig of lavender added a wonderful floral overtone to the entire drink.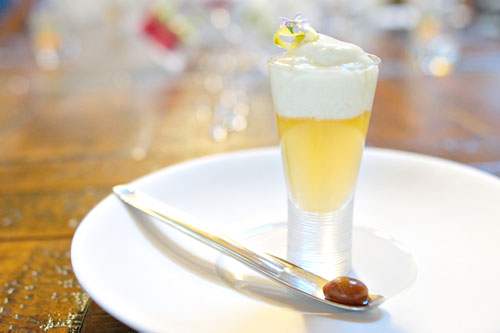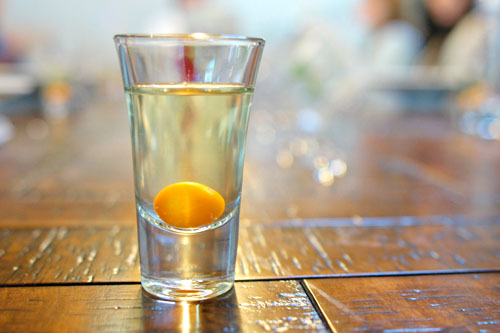 1: Liquid
| CR8 B.B.Q
Bubbly Mary
For our first course, Cortez explored the liquid form of matter and presented an oak-grilled chicken consommé, layered with a Ratte potato salad cremeaux, Persian pickles, and rosemary blossom, all served with a side of spherified B.B.Q. sauce. This was a fun, whimsical amuse, perfect for summer and really capturing the essence of a backyard cookout, with a savory base of chicken contrasted against the potato mousse, perked up by pinpoints of piquancy from the pickles, and all tied together by the tangy relish of barbeque sauce.
Biancaniello brought along a non-alcoholic mocktail here, a blend of Zebra and Lemon Boy heirloom tomatoes, scallion, red bell pepper, dill, and cucumber, all dripped from a Superbag for six hours, then garnished with a single cherry tomato. The end result of all this was a fantastically clear liquid, tinted yellow, with a delightfully pure, focused gazpacho-esque flavor, brimming with tart, vegetal flavors that just danced on the palate. A refreshing counterpoint to the bulk of the BBQ course.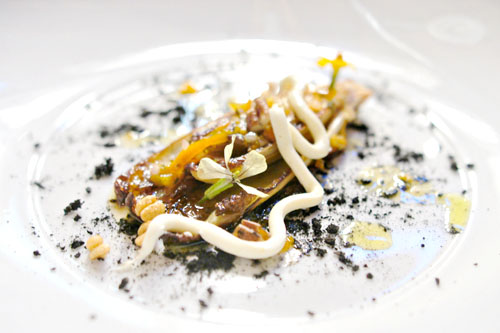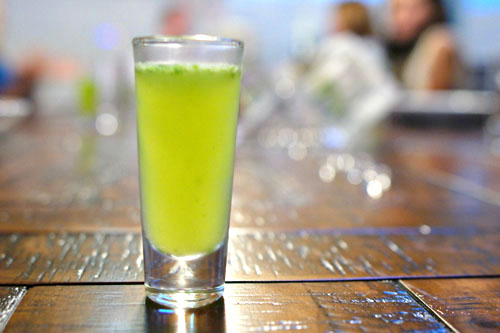 2: Geometric Art
| BITTER ELLIPTICAL
Rustica
The Chef, like myself, is a fan of bitterness, a flavor that perhaps doesn't get utilized as much as it should. That wouldn't be the case here though, as the inherent astringency of the roasted endive was on proud display, augmented by a dusting of black olive ash, yet simultaneously tempered by the lush, creamy Pont-l'Évêque cheese, all while the kumquat-thyme dressing provided sharp, citrus-y, overarching notes to the dish. I greatly appreciated the crunchy, nutty character of the crispy nutmeg-pecans here as well. Just a real showcase of what bitter can do.
Going along with the course was the
Rustica
, a blend of arugula, lime juice, agave, and Hendrick's gin. It was an arugula gimlet basically, one that gleefully put the peppery taste of the plant at the forefront--an intense, yet eminently balanced concoction that most definitely stood up to the preceding dish.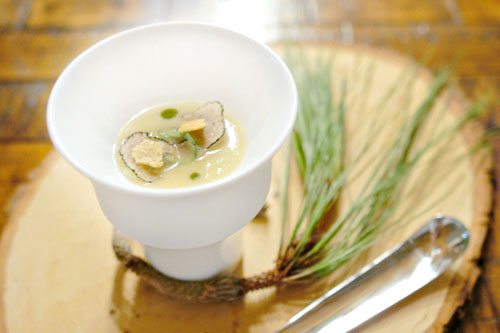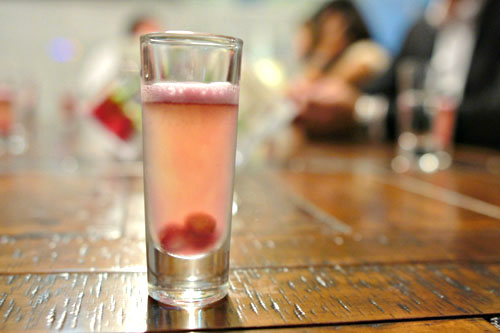 3: Hellenic Elements
| AETHER
Mother Earth
We were then presented with a bowl of clams cooked with seaweed butter, in a consommé made from pine cone-smoked clams, joined by a cremeaux of bergamot, Parmesan, summer truffles, and a homemade forest oil created from pine needles that the Chef personally collected near the edge of highway. The dish was absolutely lovely. What struck me first was the texture of the clams--perfectly spongy and slippery--while their considerable brine was gorgeously countervailed by the bright, green essence of pine, with the truffles adding a mouth-watering earthiness to the fray as well.
The aptly-named
Mother Earth
combined anise hyssop-infused Plymouth gin, grapefruit, lemon, yellow Chartreuse, and agave, with the whole shebang topped with a blueberry air and garnished with pink blueberries. It was a delicious concoction, with a base of berry sweetness flawlessly countered by the otherwise herbal, spicy flavors at play. What was interesting here was that the Chef mentioned that he tasted pine and even oysters in the finish of blueberries. I don't know if psychosomatics were at play or what, but I picked out those notes as well.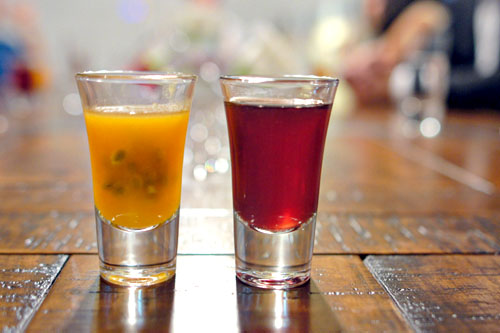 4: Perfume
| SECRECY NO. 13
Fig get about it / Cleanser
The thrust of this course stemmed from the Egyptian notion that a good perfume should have 12 parts, while a 13th would take the scent to another level. Naturally, this meant that we would have 12 components on the plate: maple, chive, ginger, inverted wild mushroom puff pastry, wheat, coriander, PX sour vinegar, corn cinnamon oil sabayon, rose, green apple, floral elements, and yes, even foie gras. Now,
I've had my share of foie
, but I can definitively say that this was one of the most creative uses of the ingredient that I'd ever seen. The liver, shaved thin, carpaccio style, conveyed all the heady intensity that you'd expect from it. But at the same time, it was light, ethereal even, beautifully tempered by the juicy crunch of green apple, while the various sweet, sour, and especially floral notes rounded out the dish in commendable, complex fashion. And the mystical 13th element? A bottle of liquid that some of my fellow diners described as tasting of a pumpkin horchata, with its fantastically sweet spice that truly did a great job in binding all the various parts of the dish together.
Biancaniello delivered two drinks here. The first was actually something that
I'd had before
: a Basil Hayden bourbon, infused for five days with black mission fig. The fig and the whiskey melded particularly well in my eyes, resulting in a fantastically viscous cocktail loaded with deep, dark flavors of sugary fruit and bourbon. The second libation was meant as a sort of palate cleanser: a three week Blenheim apricot-infused fino sherry (using dry farmed fruit from the San Joaquin Valley), joined by fresh passion fruit. I loved its intense, in-your-face blast of apricot flavor here, keenly moderated by the dry savor of sherry, all while the passion fruit seeds provided an interesting textural element to the mix.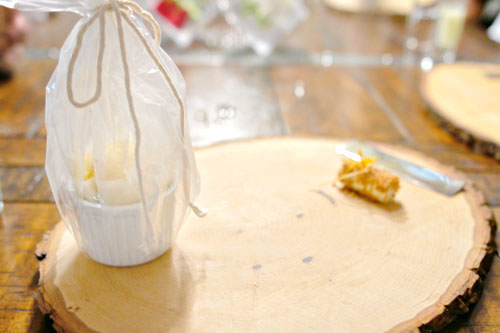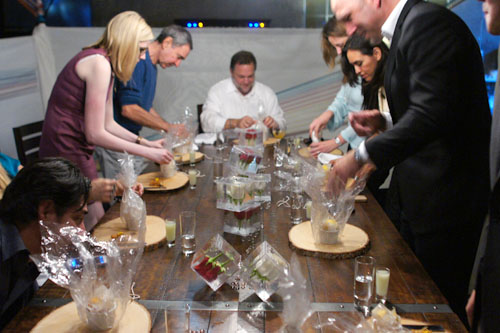 For the following "bread" course, Cortez instructed us to stand up and untie the package in front of us, making sure to inhale the intoxicating aroma of the brioche as it was released from its cellophane keeper.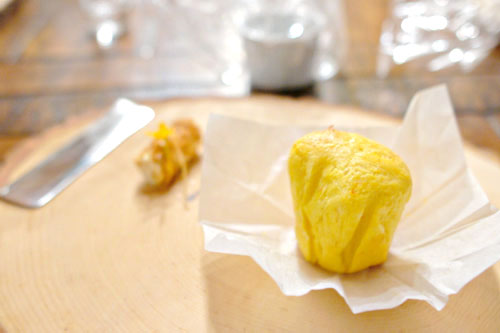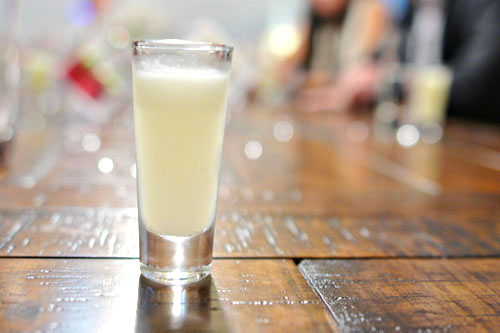 5: Bread
| BRIOCHE AROMATIC L'ETE
Sweet bitter end of Tokyo
Here, Cortez aimed to really highlight what's possible with bread, showcasing it as the star of a dish, not merely an accoutrement. Thus, we had a saffron-honey spiced brioche, accompanied by a cylinder of French
beurre
, coated with cashew, chicken skin, fried leeks, and a cucumber flower. Dyed a vibrant yellow from the saffron, the brioche conveyed a tremendous amount of grassy, spicy, astringent flavor that put my taste buds on attention. As impressive as it was, the paired butter was key, its fantastically savory, crispy complexion forming the perfect complement to the bread. Impressive.
Joining the brioche was Biancaniello's mochi-infused sake, with lime juice and agave. Here, I was quite taken by the interaction between the rice wine and subtle sweetness of the mochi, which just seemed natural. At the same time, the agave provided a palpable gravitas to the drink, and the citrus component worked wonders with the flavor profile of the saffron bread.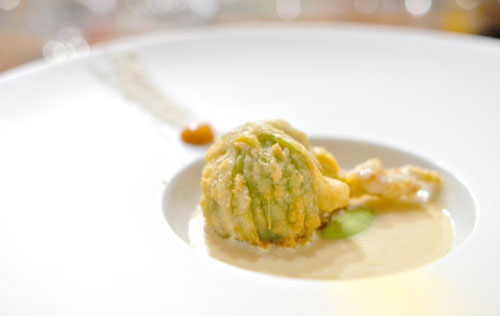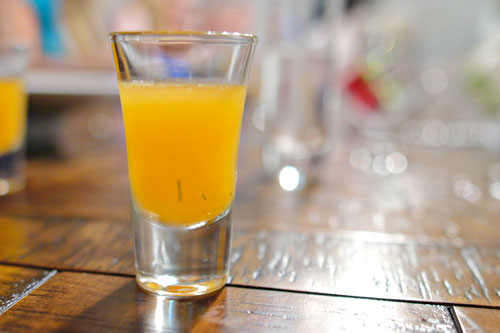 6: Alchemic Chemistry
| 79
Hanky Panky
This next course was all about turning something ordinary into something truly special, base metal into gold for alchemy, or common ingredients to a truly fantastic dish in this case. Indeed, I'm not generally a fan of squash blossom, but here it was stupendous, easily the best preparation of the ingredient that I've had. Joined by a bath of gold toasted rice velouté and courgette purée, the blossom showed off a wondrous crispness and lightness that went in stellar fashion with the sweet, supple stuffing of wild shrimp, all while a soubise of Padrón peppers added a whisper of heat to things. Lovely tanginess from the tomato extract (a single dollop, made from five pounds of tomato), too.
Biancaniello's
Hanky Panky
was perhaps the most polarizing cocktail of the evening. It combined Page mandarins, lovage, Aperol, ghost pepper salt, and genever gin to form an almost curry-like ensemble that concurrently played sweet, salty, and spicy flavors off of a base of jenever.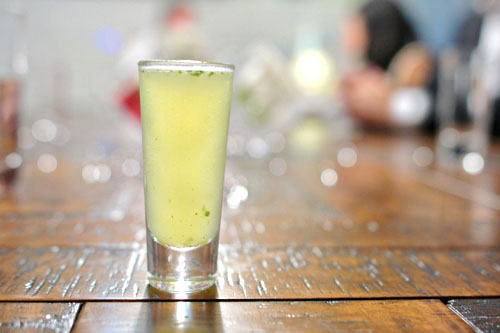 7: Disharmony
| FLORAL MOLLUSK
Easter Island
Disharmony was the theme here, manifested on the plate with a roster of potentially discordant ingredients
inspired by a dream that the Chef recently experienced
. We had a perfectly pan roasted diver scallop, combined with the somewhat unusual pairing of lavender (and honey I believe), along with cauliflower, shallot, and a Japanese sesame risotto. The natural salinity of the scallop was commendable of course, but it was its sweetness that formed the crux of the course, amplified by the other elements on the plate, thus allowing the floral essence of the lavender to make sense.
We were definitely in the mood for some
Hanky Panky
, a commixture of muscat grapes,
huacatay
(black mint, as oft used by
Ricardo Zarate
), lime juice, agave, ginger, and cachaça. Its subtly sweet, tangy flair transitioned beautifully to the herbaceous zing of the
huacatay
, making the cocktail a fitting foil to the floral disposition of the scallops.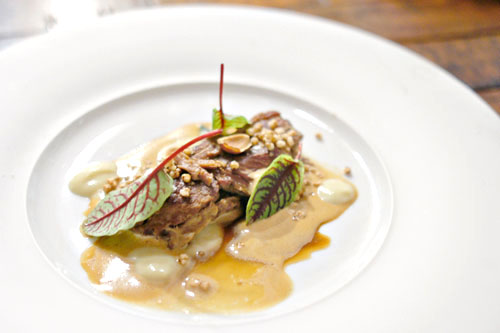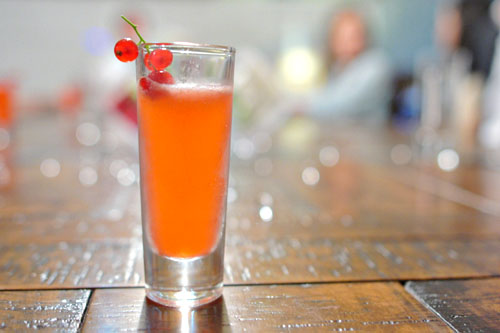 8: Vibration
| WILD BEEHIVE
Parisian after thought
Our "main course" brought us wild boar from Texas, brined and sous vide'd for 18 hours with bee pollen, accompanied by artichoke purée, coffee sabayon with honeycomb, puffed sorghum, and hazelnuts. The boar was delicious, easily the tastiest preparation of the animal that I've had, with a superb depth and body permeated by a certain honeyed sweetness. I loved the nutty crunch of the sorghum and hazelnuts here, too, which offered up an appealing counterpoint to the heft of the meat.
Currants, purple basil, green Chartreuse, cognac, lemon, agave, and Champagne formed Biancaniello's whimsically-named
Parisian After Thought
. The bright, fruity zest of currant was the star of the show here, puckering the palate upon first sip, yet transitioning smoothly to the herbal flavors of the Chartreuse, with the boozy weight of the cognac lending further gravity to the cocktail.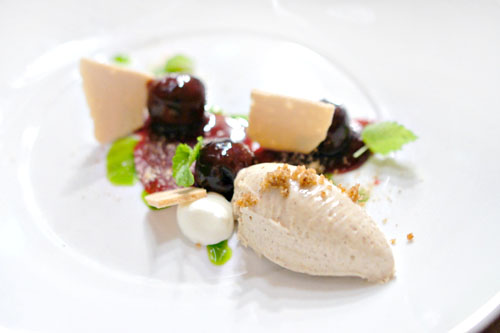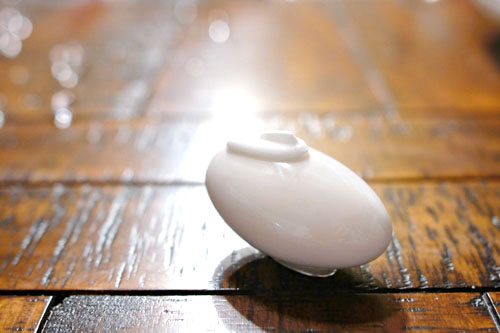 9: Tea
| CERASUS INFUSION
Bee's Knee
Dessert comprised cherries cooked with muscat and infused with rooibos tea, along with a cinnamon toast cake cream, lemon verbena oil, sheep's milk yogurt, and malt meringues. I'm quite the fan of cherry, so it was great to see the fruit's restrained sweetness expressed here, complemented by the herb-y, astringent flavors of the tea, while the yogurt added a lusciously lactic component to the fray. Meanwhile, I adored the cinnamon toast cream, which showed off a fantastic sweet spiciness that bridged all the various ingredients together on the palate admirably. Loved the airy crunchiness of those meringues, too.
An interesting tidbit: Matt's brother Mark Biancaniello holds the Guinness World Record for bee bearding, successfully attaching 87 pounds of the insects to his body. I would assume, thus, that it was Mark who helped his brother create his own bee colony, from which the bartender ostensibly gets his honey (though we're told that the colony was wiped out a while back in a freak pesticide incident). Nonetheless, what we have here is a reworking of the Prohibition-era cocktail the
Bee's Knees
: coconut vanilla chai infused Plymouth, buckwheat honey, and lemon, poured in a peculiar ovoid vessel. Served warm, the drink played the sugariness of the honey against the herbal flavors of tea and the sourness of lemon, all with a finish that lingered long and fruity on the tongue.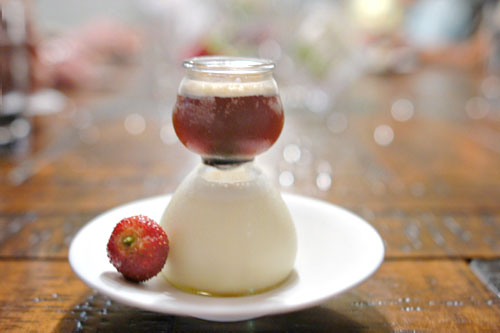 Acting as our "petit four" course was Biancaniello's
Upside Down Umami Milkshake
, which he likened to a "deconstructed beer float." We had a base of candy cap mushroom-infused bourbon with cream, egg, and agave, a mixture not unlike eggnog. Up top was a blend of coffee-infused Cynar, cassis, and a light Belgian ale reduction, separated by a Kirsch-soaked maraschino cherry. The entire amalgam was served in a quaffer glass (great for Jägerbombs) and garnished with a
Harry's Berries
Gaviota strawberry. The cocktail was delicious, and served as a fitting conclusion to the meal with its great sugary, spicy, coffee-laden flavors up front, leading to a "chaser" of sweet, creamy booziness, all punctuated by the sheer fruitiness of that cherry.
Cortez was once again firing on all cylinders tonight, putting together a near-flawless dinner that truly allowed him to show off his inimitable style and culinary artistry. Meanwhile, Biancaniello, as always, delivered masterfully on the cocktail front, crafting an array of libations that faultlessly complemented and augmented the Chef's cooking--I could think of no better barman for the job. Together, these two successfully engendered a sort of "uniformity to the dining environment" that truly allowed their collective vision to be fully realized. Well played.
Previous CR8 dinner events: Purotekuta, Dark Illuminated Forest, Texture Lab