Renu Nakorn (Norwalk, CA)
Renu Nakorn Restaurant
13019 Rosecrans Ave, Norwalk, CA 90650
562.921.2124
www.yelp.com/biz/renu-nakorn-restaurant-norwalk-2 (Yelp, restaurant has no web site)
Sat 10/13/2012, 8:40p-09:50p

Given my recent visit to Las Vegas' famed
Lotus of Siam
, I figured that it would be a good opportunity now to report on Renu Nakorn, Saipin and Bill Chutima's first restaurant (which I've been ordering take-out from for some time). Named after the Renu Nakhon district of northeastern Thailand, the place was originally opened way back in 1985 by one Luxkana Sreewarom. It achieved a modicum of popularity in the early 1990's when it became highly touted by a young Jonathan Gold. In November 1994, the Chutimas took over Renu Nakorn, revising and expanding the menu (even adding an entire Northern section), upping the restaurant's acclaim even further. Four years later, Mr. Gold deemed it the best Thai restaurant in the country.
In October 1999, however, Bill and Saipin sold the business to friends Pharchumporn Shonkeaw and Umpa Sripetwannadee (who are also involved with Taco Joe next door), a husband-and-wife team who'd previously worked at Renu and were intimately familiar with the place (though the Chutimas did stay on board for a while as advisors). Under new management, Renu Nakorn did a commendable job in continuing the legacy that the previous owners had established, but the restaurant shuttered abruptly in the summer of 2006 after the strip mall it was housed in was razed and remodeled. Eventually though, Renu did reopen in the middle of 2008 after a two year hiatus, and has been humming along ever since.

Inside the post-renovation space, things are pretty nice, making Renu one of the tidier Thai places that I've been to.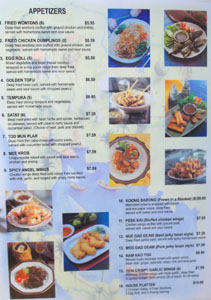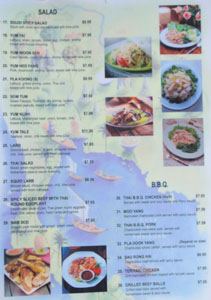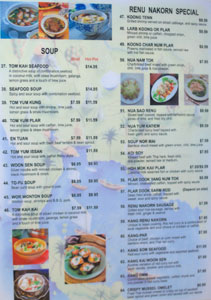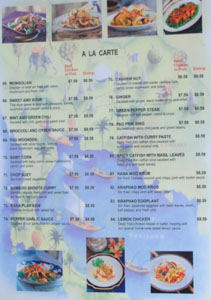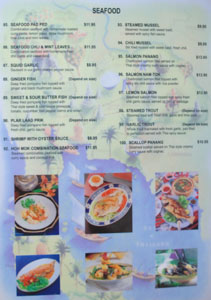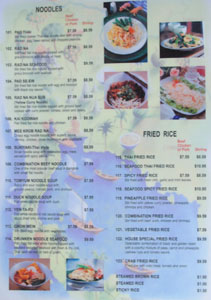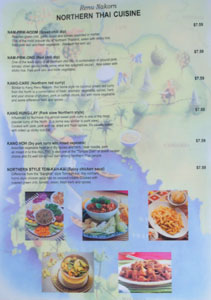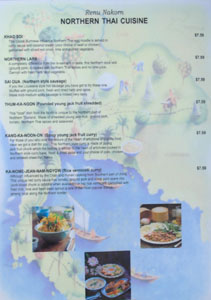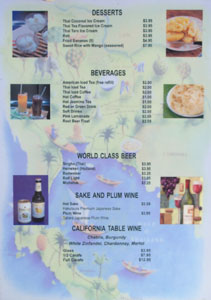 As was the case with
Lotus of Siam
, Renu Nakorn's menu is
vast
, meaning that you really have to know what to order. As such, stay away from the usual stuff and venture into the Northern section and the Issan-oriented "Specials." Unfortunately, there's not much to talk about as far as beverages go, so you'd be wise to bring your own wine (corkage is $10). Click for larger versions.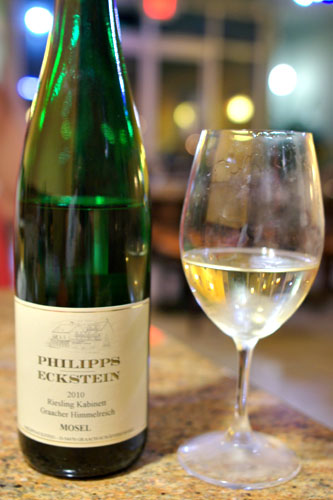 Speaking of wine, we began with the
2010 Philipps Eckstein Graacher Himmelreich Riesling Kabinett
from Germany's Mosel-Saar-Ruwer region. It was a tasty, straightforward example of the style, with an uncomplicated, fruity, honeyed sweetness offset by just a bit of minerality and acidity.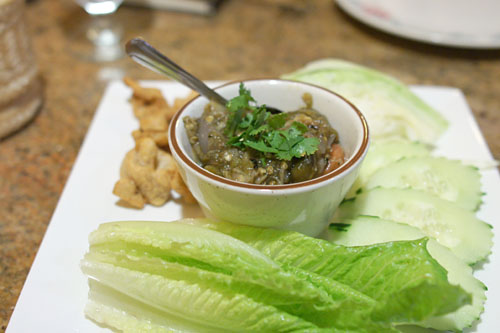 Nam-Prik-Noom (Green chili dip) [$7.59]
| Roasted green chili, garlic, onion and tomato pounded in mortar. One of the most popular dip of Northern Thailand, eaten with sticky rice, fried pork skin and fresh vegetable.
Kicking things off was Renu's take on
nam phrik num
, a type of roasted green chili dip typical of Northern Thailand. It was probably the spiciest dish of the night, with a wonderful, growing, multifaceted heat that was deftly balanced by the application of the various veggies. A bit of pain and pleasure on this one--
hurts so good
.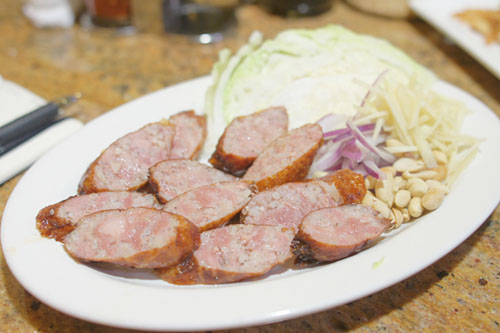 Renu Nakorn Sausage [$7.59]
| Grilled sour rice sausage, served with fresh chili, ginger & peanut.
Sausage was a must given my predilection for the tubed meat. We initially requested
sai uah
, but the kitchen was fresh out, so
sai krok Isan
it was instead. This was a sour fermented pork and rice varietal, conveying a delectable savoriness up front, which then led gracefully to a tingling tartness. At the same time, I appreciated the light snap of the casing, as well as the char character imparted by grilling. The sausage was delicious alone, but even better when combined in one bite with its various accoutrements (ginger, red onion, cabbage, peanut), making for a flawless mix of counterbalancing tastes and textures.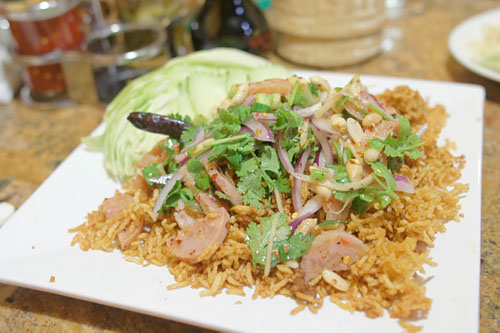 Nam Kao Tod [$8.95]
| Minced Issan sausage mixed with green onion, fresh chili, ginger, peanuts, crispy rice and lime juice.
Next up was a Laotian-inspired course that was one of my favorites at
LoS
. It's a dish of toasted rice topped with a mix of ingredients, and the resulting amalgam of disparate flavors and consistencies was
much
to my liking. I loved its interplay of savory, spicy, and sour flavors, all tempered by the wonderfully crisp bits of rice, tangy onion, and cilantro, while the cucumber and lettuce added a touch of levity to things. This is one of Renu Nakorn's most oft recommended dishes,
and with good reason
.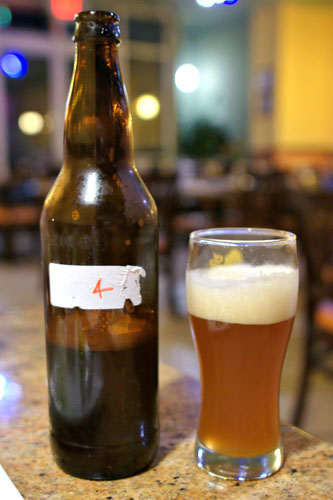 With the wine dispensed with, we moved on to beer, specifically a bottle of homebrew stuff made by none other than former
Providence
pastry chef Adrian Vasquez (gifted to me by Michael Cimarusti at the last
5x5 dinner
). I've had mixed results with homemade beers, but this one was actually pretty delicious: really well-balanced, with a restrained maltiness and slightly citric notes up front, leading to a countervailing bitterness that lingered on. I wish I remembered what this was!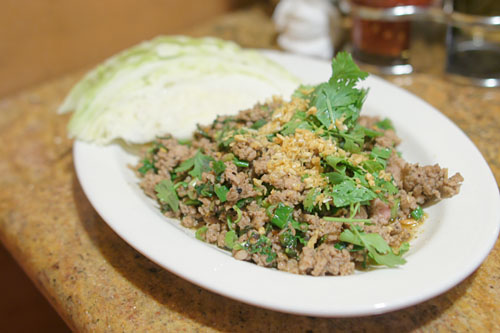 Northern Larb [$7.59]
| A completely difference from the Is-san larb in taste, this Northern style larb (ground pork) is cooked with Northern Thai spices and no lime juice. Garnish with fresh herb and vegetable.
Larb
is one of my staples of the cuisine, something that I tend to order from whichever Thai restaurant I happen upon. What we have here, though, is the Northern example of the dish, which is distinct from the usual Isan/Laotian preparations in that lime juice and fish sauce are replaced by a bevy of spices. The result is a very different dish, one that showed off a great depth, with a wonderful jolt from the spices that grew in intensity and complexity on the palate, all moderated by some lovely herb-y overtones.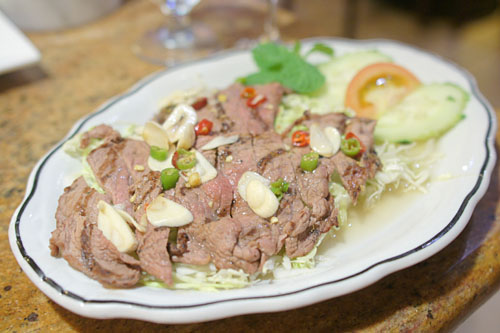 Nua Yum Katiem [$9.59]
| Charbroiled spicy beef topped with fresh garlic and spicy sauce.
Here we had slices of marinated, chargrilled beef on a bed of shredded cabbage, topped with garlic and bird's eye chili. The meat was actually surprisingly tender, showing off a nice beefiness enhanced by the dish's piquant, spicy dressing. The key for me here was the garlic, which added an intense, enveloping pungency to the dish that did an admirably job in tying everything together.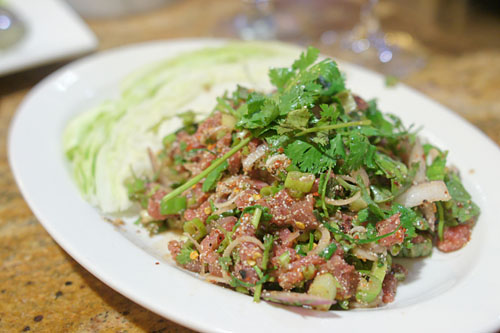 Koi Soy [$7.95]
| Minced beef with Thai herb, fresh chili, rice powder, served raw or medium.
We closed with what basically amounted to a Thai beef tartar. The meat itself was on point, with a satisfying bite and springiness, and formed a great base to the dish. I loved the sheer potency of the course, an in-your-face smack of spicy, herbaceous, and acidic flavors--tempered only slightly by the rice powder--that paired beautifully with the beef. Delish.
Based off my experiences here and at
Lotus of Siam
, it seems to me that the two are fairly comparable, with relatively slight differences between equivalent dishes. In general, I do believe that the food here is perhaps a bit more aggressive, a bit more raw vis-à-vis the Vegas restaurant, quite possibly due to the latter's more "touristy" status. If only Renu had Lotus' impeccable wine list! In the end, I think you'll be fine at either place, assuming you know what to order (hint: it's not the pad Thai).