Spago (Beverly Hills, CA) [3]
Spago Restaurant
176 N Canon Dr, Beverly Hills, CA 90210
310.385.0880
www.wolfgangpuck.com/restaurants/fine-dining/3635
Fri 10/04/2012, 07:45p-12:30a

Yes, that's right, the most iconic of LA restaurants has gotten a makeover. Wolfgang Puck's seminal
Spago
has been around, in some form or another, longer than I have, since the beginning of 1982. The current Beverly Hills location was penned by Barbara Lazaroff, Wolf's ex-wife, and though it debuted in 1997, has always had a distinctly 1980's vibe to it. Thus, for the restaurant's 30th anniversary, the interior was revamped by designer Waldo Fernandez, who also did
Mezze
and Soho House. That's not all, though. To go along with the refreshed space, the entire menu has been reinvented by Puck, Executive Chef Lee Hefter, Chef de Cuisine Tetsu Yahagi, and Pastry Chef Sherry Yard. After being soft opened for a while, this new, leaner, meaner Spago bowed on October 1st.

We arrived a bit early for our reservation, and thus took a seat at the remodeled bar/lounge area and ordered up a troika of drinks from the new cocktail list, reportedly created with input from the culinary team. Click for a larger version.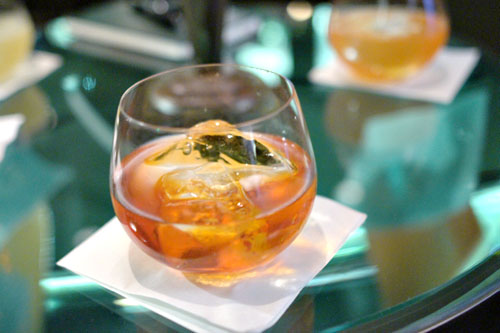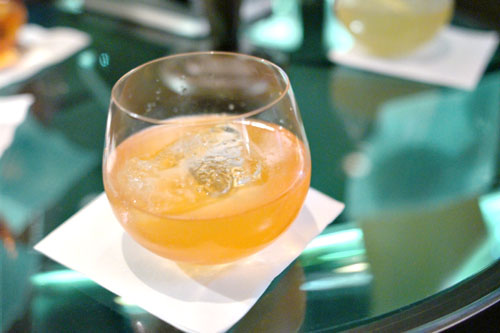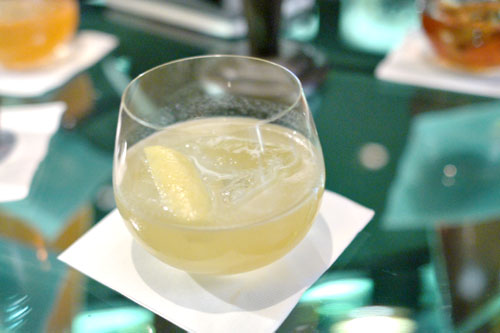 Adios Nonino
| Buffalo Trace Bourbon, Luxardo Amaretto, Aperol, Nonino Amaro
Aleeto's Way
| Patron Anejo Tequila, Aperol, Lemon Juice
Samurai Sword
| Yamazaki 12 Year Single Malt, Honey Syrup, Ginger, Lemon Juice
The Adios Nonino was my selection, and it showed off a lot of bittersweetness on the attack, fading to distinct notes of cherry, spice, and a heady base of booze; the overall effect was somewhat medicinal, almost Tussin-y in nature. Aleeto's Way was our favorite of the trio, with a surprisingly complex, fruity sweetness that paired beautifully with the tequila. Last up was the Samurai Sword, the most bracing of the group, with a marked citrus-y nose leading to a deft interplay between the lemon and the honey, all tempered by the astringency of the Yamazaki.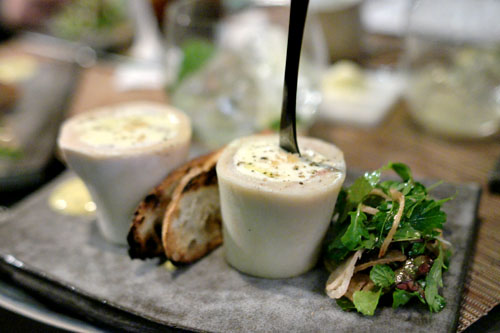 Veal Filet Mignon Tartar, Smoked Mascarpone [$16.00]
The restaurant was running late with reservations by this time, so Spago GM Tracey Spillane brought out some food and a complementary round of drinks, a very nice gesture on her part. We each received our own veal tartar, a welcomed sight as the dish was one of the ones that we'd planned on ordering anyway. It was lovely, with a refined, delicate weightiness from the ground veal that was beautifully contrasted against the smokiness of the mascarpone. The herb and crispy shallot salad, meanwhile, served as a fitting counterpoint to the meat, and I appreciated the tangy side of mustard as well.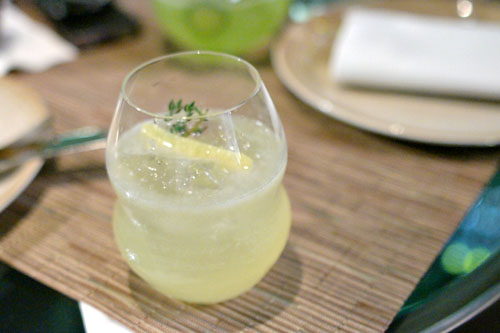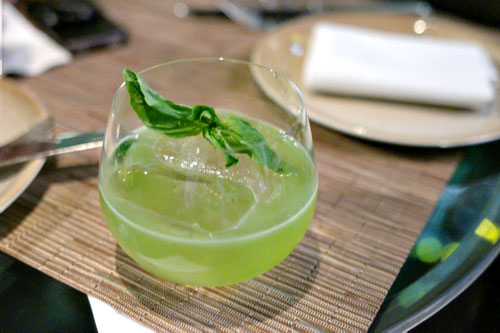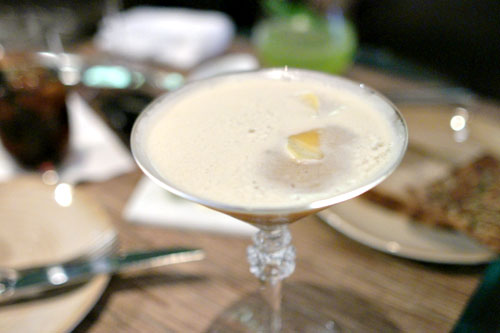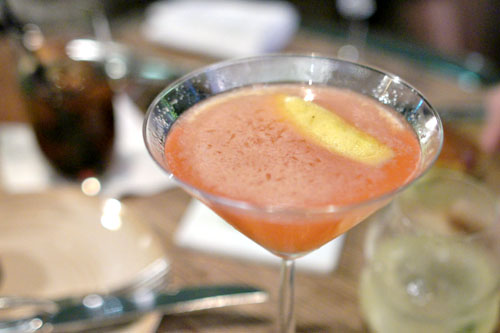 Help! Save The Bees
| Ketel One Citroen Vodka, Luxardo Limoncello, Thyme & Lavender Honey, Lemon Juice
Pepino's Revenge
| Patron Silver Tequila, Japanese Cucumber, Basil, Lime Juice
Duke Of Earl
| Earl Grey Tea Infused Gin, Lemon Juice
Tainted Love
| Tanqueray No. 10 Gin, Campari, St-Germain, Lemon Juice
Our second round of cocktails brought out a foursome. The Help! Save The Bees was one of my favorites: eminently balanced, with a great interplay between the citrus and honey aspects of the drink. Pepino's Revenge, meanwhile, was surprisingly sweet, with a slightly herbaceous tang that worked well enough with the Patrón. I quite enjoyed the Duke Of Earl as well, which display a deliciously floral, tea-like essence that one of my dining companions likened to a frothy, "adult" Lipton. Last up was the Tainted Love, which I found competent but forgettable, the least interesting of the set.

At this point, our table became ready and we moved into the main dining room. Compared to what occupied the space previously, the new Spago is
quite
a change. The dining room's much lighter, sleeker, distinctly more contemporary, set in subtle shades of gray and white, anchored now by a gleaming 7,000-bottle wine cellar (stocked by Sommelier Christopher Miller). The restaurant's legendary patio, meanwhile, has gotten a bit more lounge-y, and now sports a retractable roof for all-weather dining. In addition, there's also new artwork, two new fireplaces, and a reworked private dining room.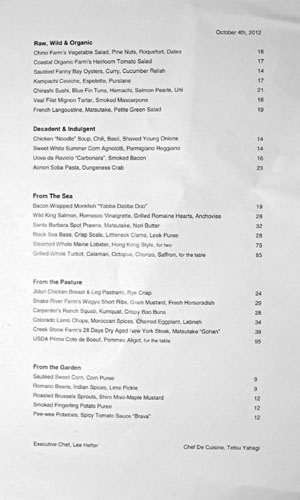 As far as Spago's new menu goes, there's a definite emphasis on smaller courses meant for sharing (though there are several large format plates, too), and diners are encouraged to create a "progressive tasting menu" of sorts. Click for a larger version.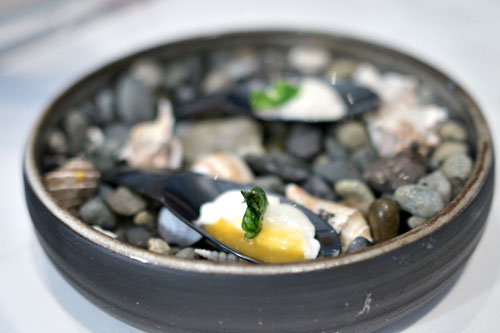 Serving as an amuse bouche were spoons of brandade, paired with a tomato coulis and topped with a bit of fried parsley. Here, the saltiness of the cod was nicely conveyed, set off against the tart, tangy tomato purée.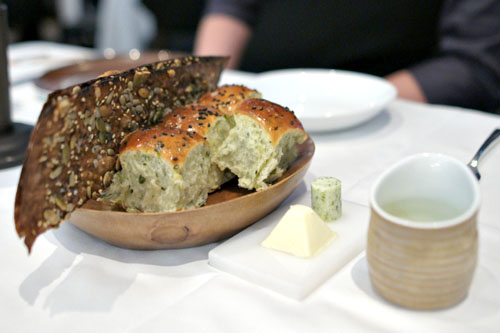 Sherry Yard has put together a new bread basket, and it's quite something, some of the tastiest bread I'd had in a while in fact. We had here a
pain de campagne
-style sourdough
miche
bread with rye and spelt, lavash crackers (replete with caraway, poppy, and pumpkin seeds), and Chinese-style buns laced with chives, scallions, and sesame oil (my favorite). Olive oil was provided, and butter arrived in two forms: Wisconsin and an amazing
nori
seaweed infused version.
Upon being seated, we quickly requested a bottle of white Burg, specifically the
2008 Domaine Bernard Moreau & Fils Chassagne-Montrachet 1er Cru Les Chenevottes [$135]
(which I forgot to snap a photo of unfortunately). This one was fairly prototypical for the style, with a lemon-y, subtly nutty essence intermixed with a slightly funky woodiness and tight minerality.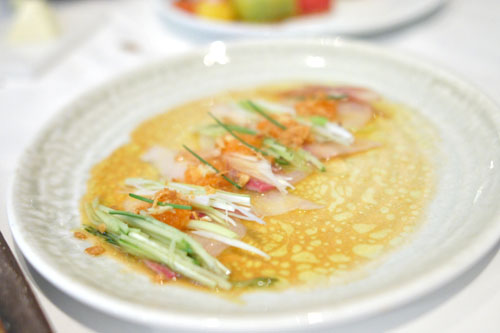 Kampachi Ceviche, Espelette, Purslane [$17.00]
A ceviche came out looking more like a
tiradito
, but was delicious nonetheless. The fish itself was on point, fresh and supple, with a good bite. I loved the ginger-y kick of the dish, and how that led to the tanginess of the purslane and a bit of creeping heat on the finish. Very nice.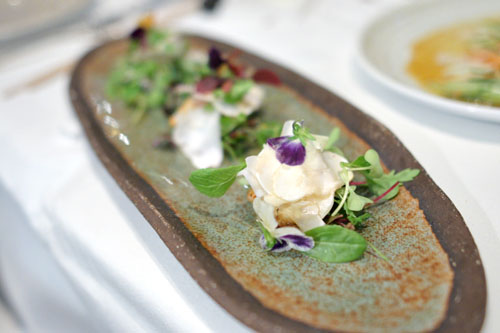 French Langoustine, Matsutake, Petite Green Salad [$19.00]
Langoustine was snappy and briny, with the earthiness of the paired matsutakes working surprisingly well here. However, the dish lacked a bit of cohesiveness, and needed an integrating element to better tie all the flavors together.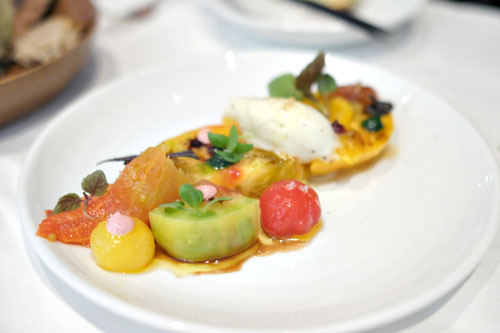 Coastal Organic Farm's Heirloom Tomato Salad [$17.00]
The kitchen actually sent out their version of the ubiquitous heirloom tomato salad by mistake, but we had no issue consuming it. The tomatoes themselves were sweet and juicy, but the crux of the dish was clearly the included sorbet of olive oil, which lent an overarching richness and complexity to the dish that took it up a notch.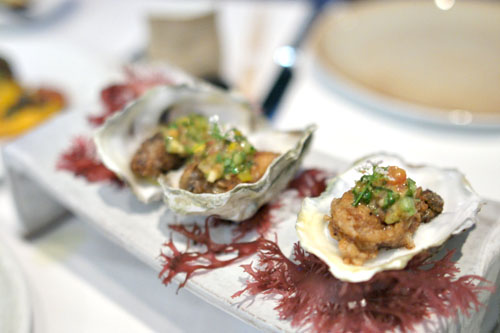 Sautéed Fanny Bay Oysters, Curry, Cucumber Relish [$14.00]
These Fanny Bays were some of the tastiest cooked oysters I've had, showing off a distinctly Indian flair, with the curry working flawlessly with the natural salinity of the bivalves, all while the cucumber served as a light, bright counterpoint. You could almost think of these as oyster
pakoras
.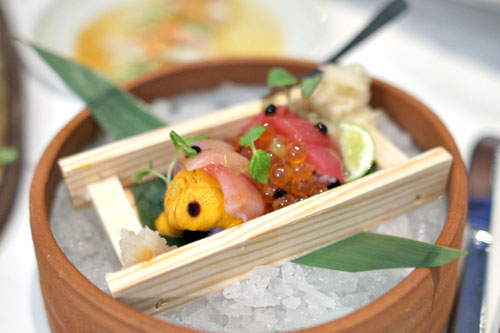 Chirashi Sushi, Blue Fin Tuna, Hamachi, Salmon Pearls, Uni [$21.00]
Spago's reimagined
chirashizushi
brought together three of the most iconic cuts of sashimi. The yellowtail and tuna were both spot on, and went superbly with the dabs of tangy dressing included and a squirt of
sudachi
, but the sea urchin was somewhat bitter, and lacking in the lush, sweet creaminess that I was hoping for. Fortunately though, the dish's base of rice formed a fitting complement to the seafood, and I appreciated the bright bursts of salinity from the
ikura
as well.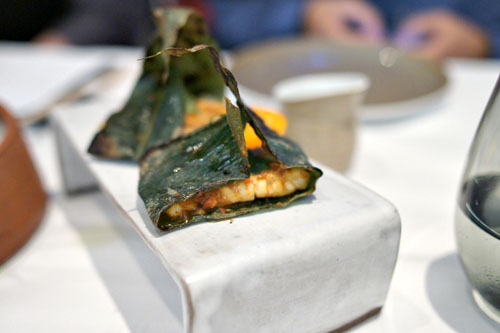 The kitchen now sent out a complementary off-menu special of skate--dressed in homemade
sambal
and wrapped in bamboo leaf--which might've been the tastiest preparation of the fish that I've ever had. I loved its tender, mild disposition, deftly amped up a notch by the spicy chili condiment and fragrant herbs--a beautiful expression of Southeast Asian flavors.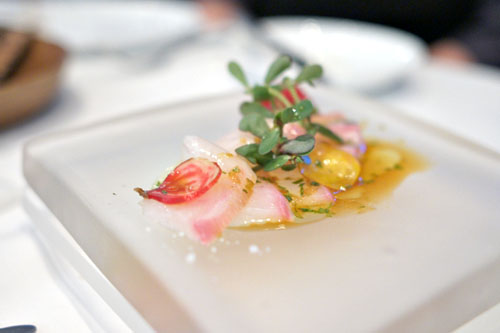 A plate of
shima aji
was yet another special treat. Served with a ceviche-inspired sauce, the gorgeously-textured amberjack was just what I wanted, and went swimmingly with its piquant dressing.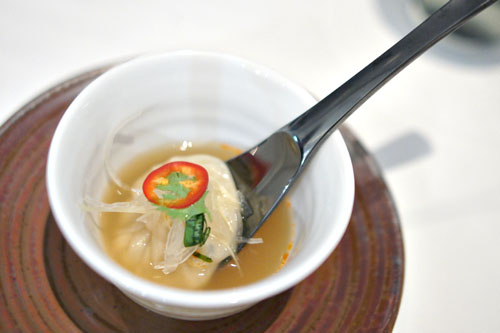 Chicken "Noodle" Soup, Chili, Basil, Shaved Young Onions [$14.00]
The chicken "noodle" soup was not what I expected. Instead of the classic dish, we were instead brought
xiaolongbao
, the tastiest presentation of the soup dumpling I'd had since
Benu
. The dumplings were filled with a chicken broth gel, then set in a steaming chicken broth laced with cilantro and ginger. The end result was marvelous, with the bird conveying a rather profound depth of flavor that was beautifully played against the spicy, herb-y notes in the dish. I wanted a bigger bowl of the stuff!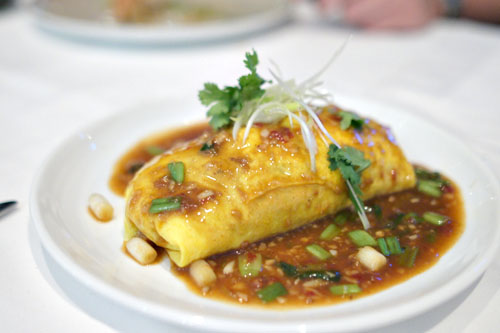 Up next was another gift: a Fujian style fried rice with crab and lobster, all wrapped up in an egg blanket. The use of what I believe was
lap cheong
imparted a fantastic sweet, savory spice to the hearty dish, while the topping of cilantro provided a great lightness to things. The seafood was also nicely presented here, and I even appreciated the fluffy layer of egg, which served to moderate the dish. Yum.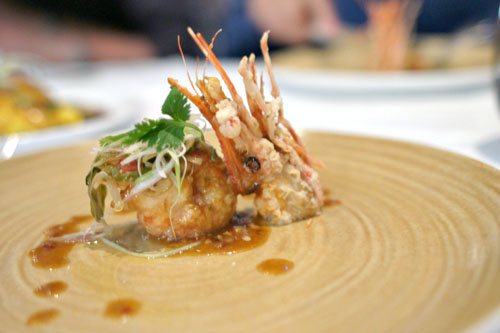 The kitchen then sent out a Hong Kong-style preparation of spot prawn (they also have a whole lobster done in similar fashion on the menu). I loved the crispness of the shrimp here, as well as how its natural sweetness and salinity were paired against the very Chinese-y flavors of its various accoutrements. Utterly tasty, and a great expression of familiar nuances.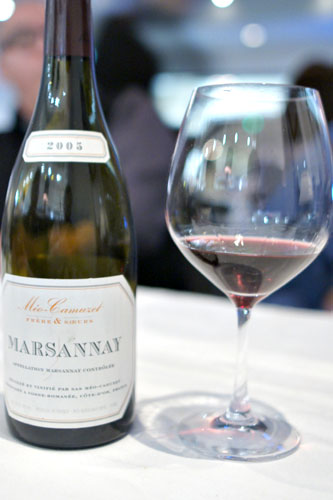 At this point we ordered up a bottle of red Burgundy: the
2005 Méo-Camuzet Frère et Sœurs Marsannay [$120]
. It was quite lovely, with a blend of cherry-laced and spicy flavors, all with a focused acidity and considerable weight to it.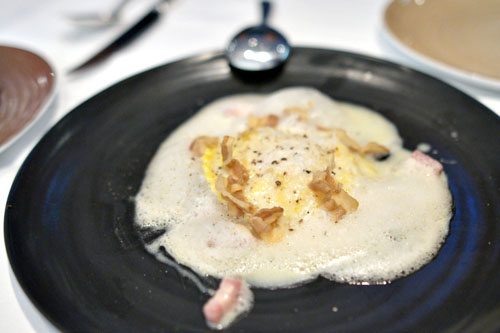 Uova da Raviolo "Carbonara", Smoked Bacon [$16.00]
A carbonara inspired raviolo was hearty and heavy, with the lushness of the egg and cheese combo melding well with the crisp, salty bits of bacon. We're talking about traditional flavors here, presented in a slightly modified form.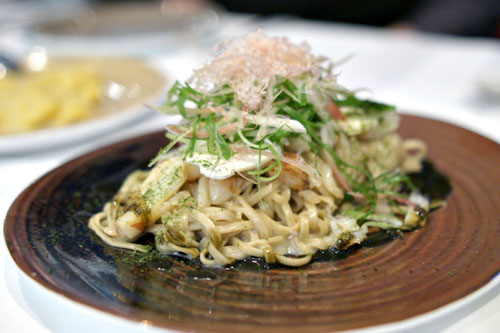 Aonori Soba Pasta, Dungeness Crab [$23.00]
A definite high point of the meal consisted of the house-made buckwheat noodles. The soba was spot on in terms of consistency, and I loved how it paired with the ocean-y, umami-laden
aonori
seaweed and
katsuobushi
. The sweetness of the crab was also deftly conveyed here, while the scallions provided a perfect touch of zestiness to things. Overall, a flawless mélange of disparate flavors that's probably the best soba dish that I've ever eaten.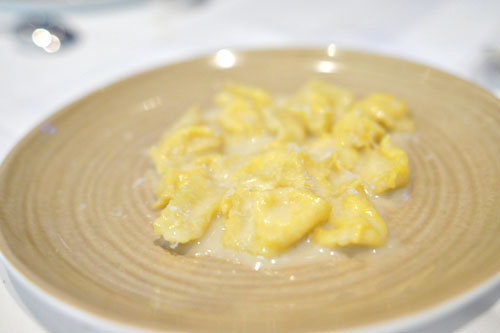 Sweet White Summer Corn Agnolotti, Parmigiano Reggiano [$14.00]
Spago is well-known for its seasonally-changing preparations of agnolotti, so we weren't surprised to see the pasta on the menu tonight. The dish was classic, with the soft, pillow-y pouches putting forth a very apparent sweetness from the corn, all moderated by the salty sauce of Reggiano.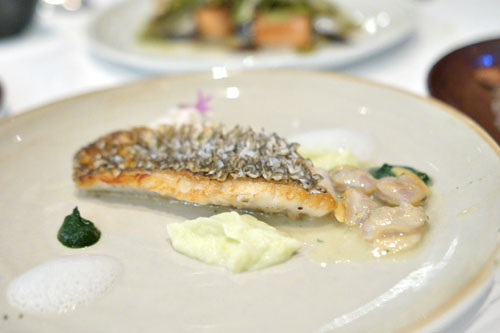 Black Sea Bass, Crisp Scale, Littleneck Clams, Leek Puree [$28.00]
Spago's black sea bass was an enviable rendition of the fish. Tender and supple, the bass had a really satisfying salinity to it that was keenly highlighted by its crisp, salty skin, and I quite appreciated the further brine imparted by the clams. Lovely contrast from the leeks, too.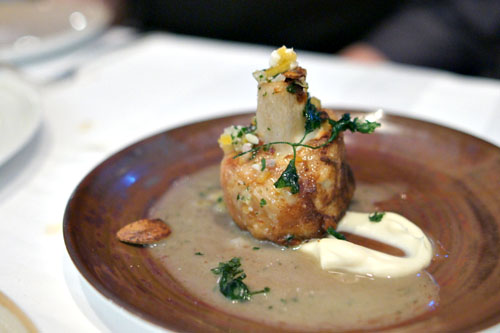 Bacon Wrapped Monkfish "Yabba Dabba Doo" [$19.00]
Texturally, the monkfish wasn't quite what we were hoping for, but the flavor was there: hearty and satisfying, and adeptly enhanced by the fish's savory wrapper of bacon. The veggie-based "bone" was an interesting addition, providing a certain lightness and crunch to the dish.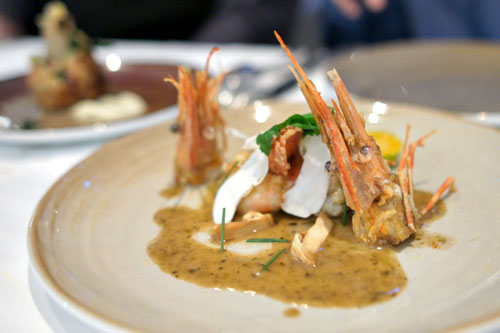 Santa Barbara Spot Prawns, Matsutake, Nori Butter [$32.00]
The spot prawns made a second appearance in this dish, though here the ingredient didn't reach the levels of the Hong Kong-inspired preparation. They were actually overly cooked for my tastes, so texturally, things were a bit off, though I did appreciate the enveloping richness of the nori butter.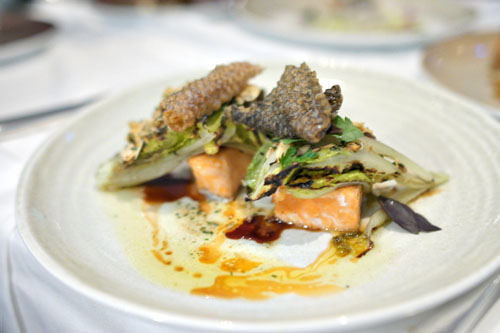 Wild King Salmon, Romesco Vinaigrette, Grilled Romaine Hearts, Anchovies [$28.00]
The salmon, also, was one of the weaker courses of the night. The fish conveyed a healthy brine, one augmented by the use of anchovies, but veered toward the dry side. I did appreciate the crisp, salty shards of skin here though, and positively adored the lively, crunchy hearts of romaine lettuce.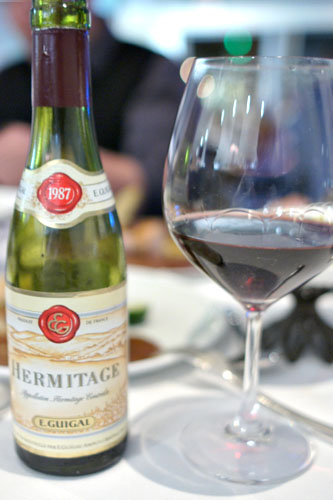 To pair with our final run of savory courses was a half bottle of Rhône wine with a bit more age: the
1987 E. Guigal Hermitage [$82]
. This one tasted very mature, but still pretty fresh, with an amalgam of smoky, spicy, earthy flavors intermingled with flashes of dark fruit.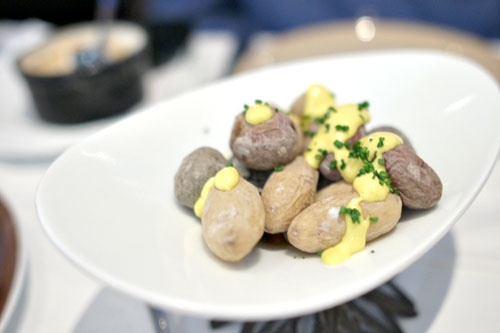 Pee-wee Potatoes, Spicy Tomato Sauce "Brava" [$12.00]
We ordered a couple of sides to pair with our heartier courses. First was a bowl of wrinkly, subtly salty potatoes that reminded me of
papas arrugadas
. Instead of
mojo
though, these were paired with a rich, creamy dressing and a tangy sauce ostensibly inspired by the one used in
patatas bravas
.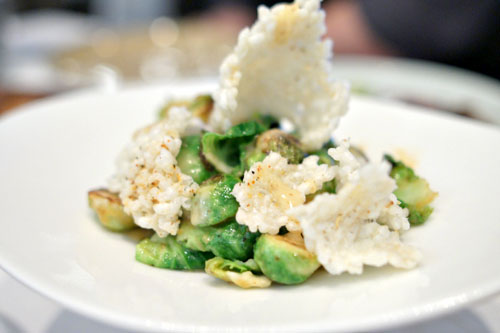 Roasted Brussels Sprouts, Shiro Miso-Maple Mustard [$12.00]
Brussels sprouts are one of my favorite veggies, and the preparation here was quite to my liking. The sprouts were wonderfully crisp, as well as beautifully bitter, with a bright astringency that was deftly accompanied by a hint of char. Smart move on incorporating chips of puffed rice, too.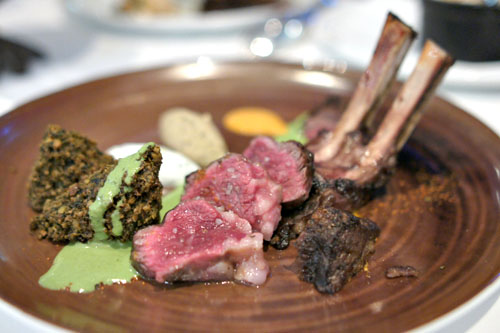 Colorado Lamb Chops, Moroccan Spices, Charred Eggplant, Labneh [$34.00]
Lamb, meanwhile, was very nice. Its flavor was spot on: intense and with a great depth, uniquely ovine but not overtly gamy, with a lovely char bitterness to boot. The meat was delicious alone, but I also appreciated the levity provided by the drizzle of mint, as well as the slightly lactic tartness of the
labneh
.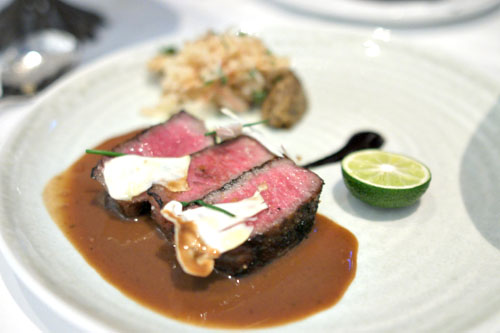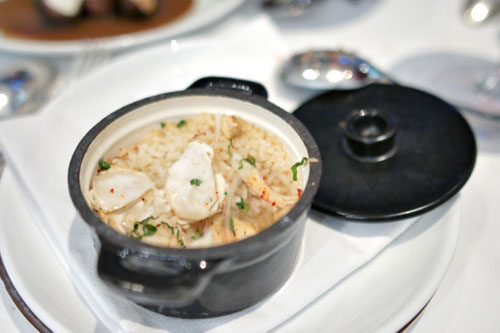 Creek Stone Farm's 28 Days Dry Aged New York Steak, Matsutake "Gohan" [$39.00]
The strip steak was certainly on point, and wouldn't be out of place at a top-notch steakhouse. The New York conveyed a mouth-watering beefiness and satisfying bite, with a fantastic smokiness and hint of pepper as well. Interestingly, I liked it even better with a squeeze of the paired
sudachi
, which added a very sharp, very focused sourness to the mix that really worked. In addition, I also loved the accompanying
gohan
rice, which showed off some great nuances from the matsutake and did a wonderful job balancing out the heft of the meat.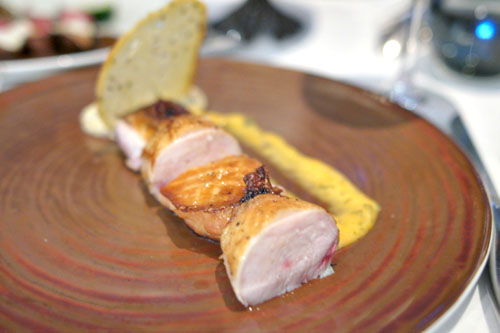 Jidori Chicken Breast & Leg Pastrami, Rye Crisp [$24.00]
We concluded the savory section of our meal with some gorgeous jidori chicken, which comes to Spago courtesy of famed bird man Dennis Mao. I started with the breast meat, and it was pretty stupendous: moist, tender, and uncompromisingly flavorful, with a great salty accent from the skin. The leg, meanwhile, was even more in-your-face when it came to taste, and conveyed a delectable touch of pastrami-inspired spice. A mustard-based sauce accompanied the bird, but one had to be careful with it, lest it overwhelm the delicateness of the chicken.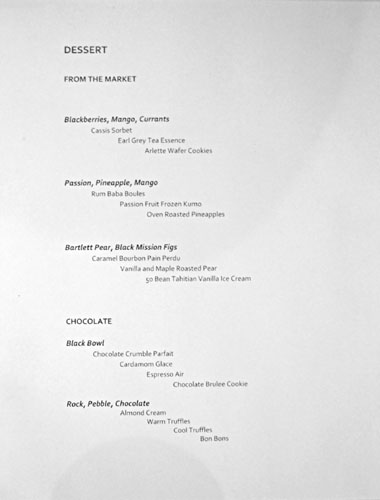 Spago's dessert menu has been totally revamped by longtime pastry chef Sherry Yard, and now features a distinctly more modern aesthetic to it. Click for a larger version.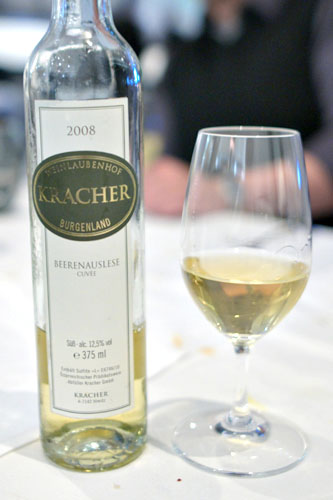 Taking on dessert wine duties this evening was the
2008 Alois Kracher Weinlaubenhof Beerenauslese [$72]
. I found it pretty delectable, with a botrytized character redolent of sweet fruit and honey, accented by a touch of spiciness and good acidity.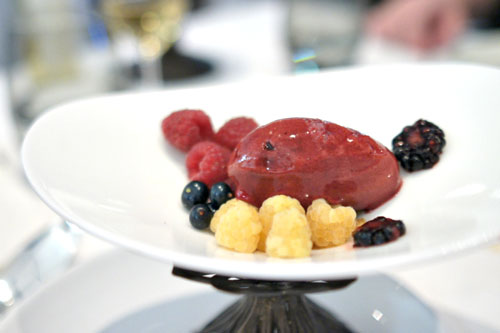 Blackberries, Mango, Currants [$14.00]
| Cassis Sorbet, Earl Grey Tea Essence, Arlette Wafer Cookies
Our first dessert was relatively simple in presentation, with the tart berry fruits on the forefront, augmented by the considerable intensity of the blackcurrant sorbet. At the same time, the earl grey added a great whisper of aromatics to the dish, and I appreciated the counterbalancing effect of the arlette cookies as well.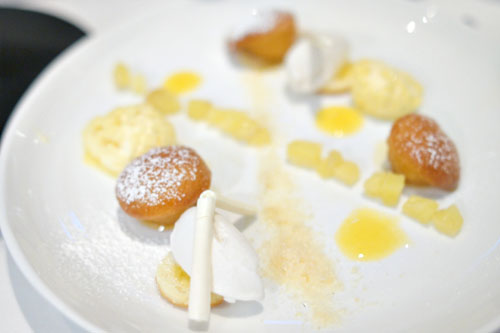 Passion, Pineapple, Mango [$14.00]
| Rum Baba Boules, Passion Fruit Frozen Kumo, Oven Roasted Pineapples
Up next was a sort of reworked
baba au rhum
, one that expertly blended the tangy sweetness of the various fruits against the hefty, sugary baba boules, all while the use of "pop rocks" lent a whimsical touch to the dish.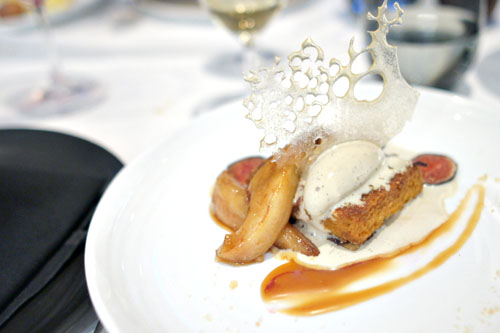 Bartlett Pear, Black Mission Figs [$14.00]
| Caramel Bourbon Pain Perdu, Vanilla and Maple Roasted Pear, 50 Bean Tahitian Vanilla Ice Cream
Yard's
pain perdu
dessert was enjoyable as well, with the hefty, caramel- and bourbon-enhanced French toast serving as a lovely base to the dish, playing off of the vanilla ice cream perfectly, all while the pears and figs added a ripe, weighty sugariness to things.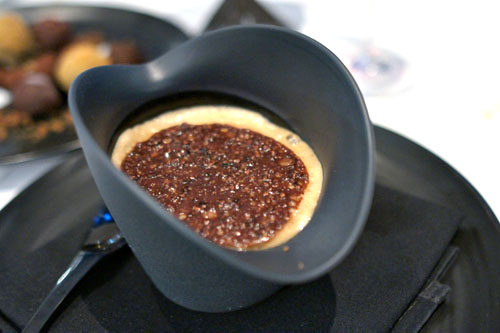 Black Bowl [$14.00]
| Chocolate Crumble Parfait, Cardamom Glace, Espresso Air, Chocolate Brulee Cookie
The interestingly-named Black Bowl was my favorite of Spago's new desserts. I adored the various textures incorporated into the course, and the flavors were simultaneously complex, yet straightforward and flawlessly integrated, the sweetness of the chocolate bound by the slightly astringent espresso and spiciness of the cardamom. In terms of desserts, this is the one to get.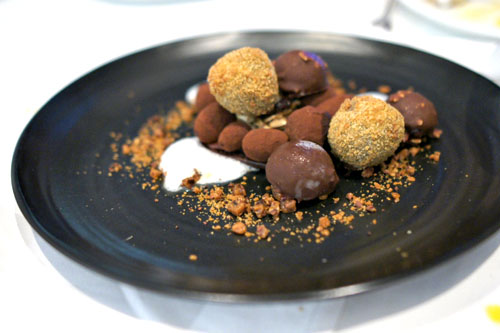 Rock, Pebble, Chocolate [$14.00]
| Almond Cream, Warm Truffles, Cool Truffles, Bon Bons
Our final dessert, meanwhile, wins when it comes to plating and presentation, as I loved the abstraction of truffles and bonbons as pebbles and rocks. Taste-wise, things were more direct, with the sweet-but-bitter quality of the chocolate counterbalancing the marked fruity character in the dish. Lovely textures, too.
It wasn't a perfect meal--forgivable given the newness of it all--but I think we were all pleasantly surprised by the new Spago. Previously, I never had the chance to venture into the restaurant's à la carte selections, and as such, I can't field any direct comparisons with Spago's old menu, but from what I've seen and heard of it, what the kitchen's sending out currently seems like an improvement. The cooking was certainly more modern, but at the same time, not
all
that modern, and mostly quite delicious. There's still that sort of old-school Spago essence imbued in the food, a blending of Californian and Asian aesthetics that just seems
right
for the restaurant. Puck and company have taught an old dog new tricks, so to speak, seemingly succeeding in revamping both the environs and the menu, and I really do look forward to coming back for a proper tasting menu sometime.