Seoul Sausage Company (Los Angeles, CA)
Seoul Sausage Co.
11313 Mississippi Ave, Los Angeles, CA 90025
310.477.7739
www.seoulsausage.com
Tue 10/02/2012, 07:15p-08:10p

One of the more inspiring restaurant success stories over the past couple of years has been that of Seoul Sausage, quite simply the hottest thing to ride the
Korean Wave
since
Gangnam Style
. We first ran into them at Project by Project's annual
Plate by Plate
tasting benefit, where their encased meat proved to be one of the event's more popular attractions. Bolstered by the catchy tagline of "Make Sausage Not War," what started as a gleam in Chef Chris Oh's eye has blossomed into an actual brick & mortar eatery set in the enclave of Little Osaka.
A bit of history
: The story of Seoul Sausage began in 2010 with NorCal native and University of Arizona alumnus Chris Oh, who created the idea after watching the Food Network and witnessing the incredible popularity of
Roy Choi
's Kogi concept. He loved the idea of Korean-inspired tacos, and after stewing a while, came up with another method of reinventing KBBQ in a familiar form: sausages. Oh had never made sausage before, but invested in the proper machinery and taught himself, incorporating and modifying the
kalbi
recipes that he had gleaned from his mother growing up. After moving down to LA that summer, he was introduced to brothers
Ted Kim
and
Yong Kim
, who were involved with the Koreatown Barbecue Cookoff (since rechristened
A Taste of Koreatown
) and the
LA Street Food Fest
. With his perfected sausage in hand and at the Kims' urging, Oh debuted his tube meat to SoCal's foodie populace at the SFF.
It was a massive hit, and within no time, a partnership between the three was formed, with Seoul Sausage firmly establishing itself as one of the hottest up-and-comers on the LA culinary scene. With this momentum, the trio began turning up at various food festivals, catering gigs, and special events all over the Southland, all without a retail location or even a food truck. The truck, though, eventually came in a big way, when the team was invited to participate on Season 3 of Food Network's
The Great Food Truck Race
. Seoul Sausage was a favorite to win the contest from the beginning, and indeed, in the end, they dominated the competition, taking five of the seven challenges, and reigned supreme, winning $50,000 and getting to keep their specially commissioned food truck. Though they remained mum about the victory, rumors were abound that they'd come out on top, further heightening the already fervent excitement surrounding their new location.

Seoul Sausage is situated in a small-ish spot at the intersection of Sawtelle and Mississippi, next door to shave ice slanger Blockheads, Coffee Tomo, and famed noodlery Tsujita LA. Inside, things are pretty cozy; the kitchen takes up most of the space, and is lined with a wooden counter meant for simultaneous standing and eating. If you want to sit, look for one of the few tables outside. The centerpiece of the restaurant, however, is the mural adorning one wall. Entitled, unsurprisingly,
Make Sausage Not War
, the piece was created by local artist
John Park
over the course of 13 hours
.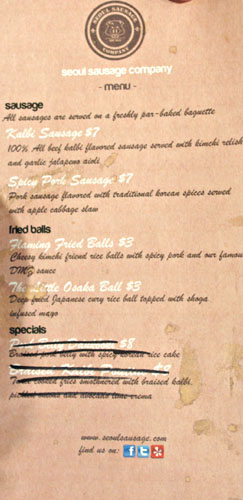 The Seoul Sausage menu is short but sweet. In addition to the restaurant's core selection of sausage and balls, you'll find a couple specials, which tonight included a pork belly
ddukboki
and
galbi
poutine (both of which ran out quickly). Hopefully we'll see some desserts (and booze) on there in the future, too. Click for a larger version.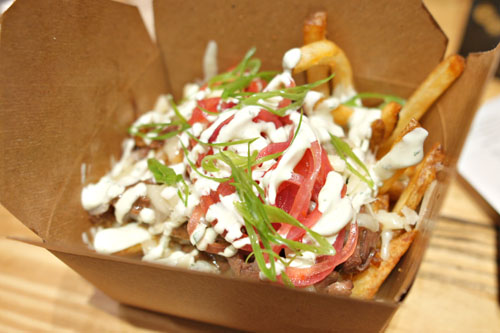 Braised Kalbi Poutine [$8.00]
| Twice cooked fries smothered with braised kalbi, pickled onions and avocado lime crema
The Canadian staple of poutine has certainly come into vogue in the past few years (helped, no doubt, by the iconic version at
Animal
), and Seoul Sausage's preparation was a well-crafted reinterpretation of the dish. Everything just came together gorgeously here--the slightly sweet ribs, hearty potatoes, tangy onions, and enveloping crema--making for a deftly integrated mélange of tastes and textures that I found immensely satisfying. A must try if available.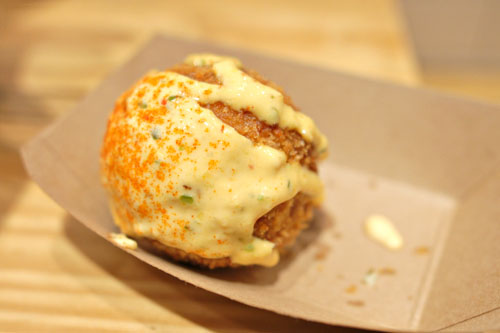 Flaming Fried Balls [$3.00]
| Cheesy kimchi fried rice balls with spicy pork and our famous DMZ sauce
Perhaps taking a cue from the
Starry Kitchen
playbook, Seoul Sausage is now dealing heavily in balls, and here we enjoyed their signature presentation, first encountered at the last
Plate by Plate
benefit. It's a Korean
arancino
, basically, and very, very good. The spicy bits of pork within played perfectly with the tangy kimchi here, making for a hefty, but delicious bite, one fittingly tempered by the dish's topping of DMZ sauce (an aioli of kimchi, Sriracha, garlic, and jalapeño). One of my dining companions even likened it to a complete dish captured in spherical form.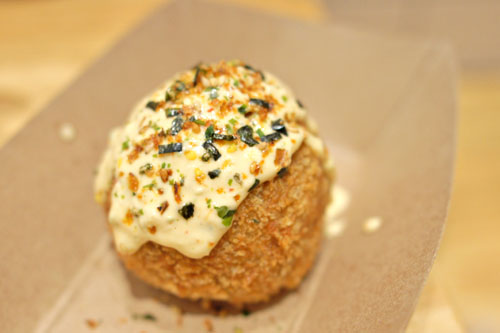 The Little Osaka Ball [$3.00]
| Deep fried Japanese curry rice ball topped with shoga infused mayo
The Little Osaka Ball, meanwhile, gives a nod to the restaurant's location in Little Osaka, and really did a wonderful job in expressing the essence of Japanese curry. I really appreciated the dark, meaty flavors conveyed by the
kare
, as well as the ball's incorporation of what I believe was potato. Wrapping things up was a drizzle of ginger-laced mayo, which served as a lovely exclamation point to the dish.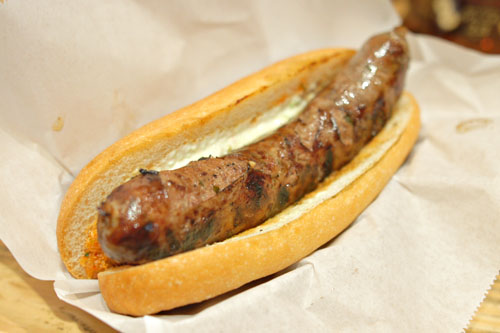 Kalbi Sausage [$7.00]
| 100% All beef kalbi flavored sausage served with kimchi relish and garlic jalapeno aioli
Moving now into the sausages, we began with the one that started it all. It was tasty to be sure, with the rich, slightly sweet essence of
kalbi
conveyed well enough, and vividly accented by the incorporation of various greenery incorporated into the grind. As appealing as the sausage was, its accoutrements were on point as well, with the kimchi relish adding a piquant counterpoint to the meat, while the garlic and jalapeño (both traditional accompaniments to the BBQ) provided further complexity to things. The choice of bun worked here, too, the par-baked baguette not imparting too much character of its own, but instead serving as a soft, yielding vessel for the meat.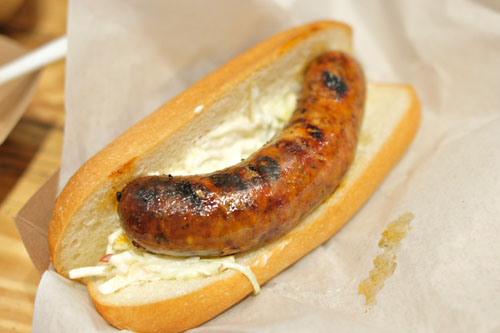 Spicy Pork Sausage [$7.00]
| Pork sausage flavored with traditional Korean spices served with apple cabbage slaw
Our next sausage--a shorter, curvier variant--was ostensibly inspired by
daeji bulgogi
, a spicy marinated pork KBBQ dish. Compared to the preceding
galbi
version, this one was more intensely flavored, with a delightfully tinge of heat and a somewhat snappier bite as well. Meanwhile, the paired apple slaw was spot on, giving the dish a cool, crunchy counterpoint that contrasted the pork beautifully.
Despite all the hype surrounding the place, Seoul Sausage managed to deliver as expected. The sausages themselves did an admirable job in paying homage to Korean BBQ, but more importantly, were just plain good eatin'. At the same time, all the trimmings, various condiments, and non-sausage dishes were on point as well, rounding out the experience commendably. The end result was a blend of the familiar and the modern--a case of uniquely LA fusion gone right. Next up, I'd love to see the guys tackle
soondae
(perhaps in a
morcilla
mash-up).