Il Grano (Los Angeles, CA)
Il Grano Restaurant
11359 Santa Monica Blvd, Los Angeles, CA 90025
310.477.7886
www.ilgrano.com
Sat 03/31/2012, 07:15p-11:35p

Quick: What's the best Italian restaurant in LA?
Angelini Osteria
?
Scarpetta
?
Sotto
? It's a tough question, given the breadth of Italian cuisine, but according to the newly released
Opinionated About Dining
survey, it's none other than Il Grano, which also happens to be the 86th best restaurant
in the country
. Though the name translates to "wheat," Il Grano is best known for Chef Salvatore "Sal" Marino's contemporary presentations of seafood and his reverence for light, bright, ingredient-centric cooking. The place had been on my dining bucket list for a long while, and the arrival of new Chef de Cuisine Walter el Nagar presented a great opportunity for me to finally dine here.
Marino Family History
: The story of Il Grano stretches way back in time, beginning with Sal's father Ciro Marino. Ciro had moved to Los Angeles in 1952, finding employment at Chianti and Villa Capri, two old-school Italian joints popular with the Hollywood set. With that experience under his belt, he opened Via Veneto in 1957, Martoni's in 1960, and Martoni Marquis on the Sunset Strip in 1970, all of which were hits with the City's diners. Salvatore was born in 1966 and raised in LA for several years, but Ciro didn't want Sal and his siblings Mario and Rosanna growing up in the midst of the many vices of Southern California. As such, he sold his restaurants and moved the kids and wife Maria back to Napoli in 1976. Their stint in Italy didn't last long, however, as Ciro soon relocated the family back to the US in 1980.
He opened the eponymous Marino Ristorante on Melrose Avenue in 1983 (which is still around), with Maria and Rosanna working the front-of-the-house and the men working the line. Sal eventually attended USC, where he studied business. An academic project on the restaurant industry reignited his love of cooking, and he soon decided that he wanted to follow in his father's footsteps. In pursuit of that goal, Sal moved back to Italy, working at a number of eateries through the years, including the Michelin three-star Ristorante Gualtiero Marchesi and the two-star La Ciau del Tornavento. He discovered what "true" Italian cooking was, and how it was different from the red sauce fare that was being served up at Marino. With that knowledge, Salvatore launched La Bottega Marino in 1993 with brother Mario at the intersection of Santa Monica and Sweetzer in West Hollywood. The success of La Bottega allowed the debut of the flagship Il Grano at the old Gianfranco's space in 1997, again with family members in tow. Mario, who inherited Ciro's enviable social graces, was actually in charge of the FOH for a period before returning to run Marino.
The modern, seafood-centric menu was quite a change from the typical pasta dishes that people of the era typically associated with Italian food, and wasn't an immediate hit. Sal was perhaps ahead of his time, as the crudo trend really caught on starting with the debut of Mario Batali's Esca three years later. Nevertheless, Il Grano soon found its footing, as did the adjacent outpost of La Bottega, which opened around the same time as the restaurant. The original Bottega in WeHo shuttered soon thereafter, but another location popped up in Larchmont Village in 2000, also opened in concert with brother Mario. Sister Rosanna, meanwhile, married Il Grano's maître d' Stefano Ongaro and the two opened All' Angelo in January of 2007 with Chef Mirko Paderno from
Valentino
, and later Chef Roberto Franzoni. 2009, unfortunately, saw the passing of patriarch Ciro, who had died of lung cancer at the age of 76, as well as the closing of All' Angelo in August. The third La Bottega Marino, however, bowed in November that year on a busy stretch of Santa Monica Blvd in Beverly Hills, helmed by Chef Enzio Puccini. It would only last until the end of 2011.
These days, with Sal busy running the various businesses and tending to his family, the man largely in charge of day-to-day operations in the kitchens at Il Grano is the 31-year-old Walter el Nagar. A native of Italy who was raised in Roccamonfina and Milano, he grew up surrounded by food. His father was a chef, and he spent considerable time cooking with his grandmother Rosa as well. When it came time for college, el Nagar majored in classical studies, but the allure of cooking quickly beckoned. He started out working in kitchens in Italy, then moved to France, England, Norway, and then all the way to California in 2008, where he cooked at Giacomino and Tanino
Drago
's Via Alloro, as well as Piccolo Paradiso.
El Nagar then relocated out to San Miguel de Allende, Mexico in late 2009, where he opened Nonna Rosa Pasta Factory, and also worked at Jackie's San Antonio. Following, the Chef took up residence in Dallas, where he worked for the Lombardi group for a bit, then served as Sous for Sardinian eatery Arcodoro & Pomodoro. Texas lasted for about a year, and el Nagar soon moved back out to LA, landing at Locanda del Lago in Santa Monica in 2010. The following year, he would become Executive Chef, replacing Roberto Maggioni, who had left to open Il Covo. Due to concerns about the direction of the restaurant, he left Locanda and became a consulting chef for
La Botte
(along with
Angelini Osteria
's Ori Menashe) before teaming up with Sal Marino at Il Grano.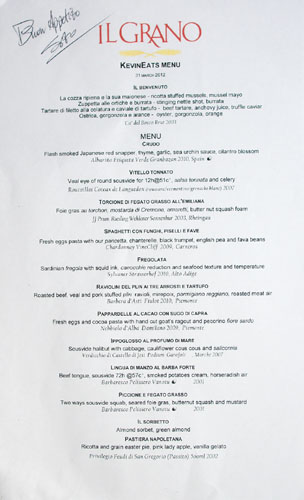 Diners can chose form both à la carte and tasting menu options at Il Grano, but for tonight, the kitchen prepared a special menu for us priced at $100 per head. Click for a larger version.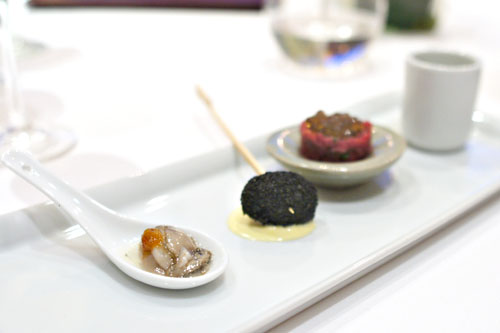 Ostrica, gorgonzola e arance
| oyster, gorgonzola, orange
La cozza ripiena e la sua maionese
| ricotta stuffed mussels, mussel mayo
Tartare di filetto alla colatura e caviale di tartufo
| beef tartare, anchovy juice, truffle caviar
Zuppetta alle ortiche e burrata
| stinging nettle shot, burrata
Ca' del Bosco Brut 2003
"Il Benvenuto" comprised four little bites to kick off the meal with. Working my way from left to right, I began with a shigoku oyster paired with Gorgonzola, which showed off a deft interplay between the brine of the oyster and the pungency of the cheese. I was afraid that the Gorgonzola would totally overwhelm the shigoku, but it really held its own; I didn't get much from the orange, however. The cheese and bivalve pairing didn't end there. A mussel-ricotta combo came out looking like a black truffle, and was pretty fantastic, with a great balance of flavors from the salty mussel and light, subtly sweet curds. Moving on, a beef tartar arrived teeming with anchovy jus and topped with truffle spherifications. It was wonderful, with the salinity of the anchovy and earthy, lingering zing of the "caviar" playing off the heft of the meat beautifully. We concluded with a shot of nettle soup: hot and hearty with a marked astringency, and an almost green tea-like character thanks to the soup's bitterness.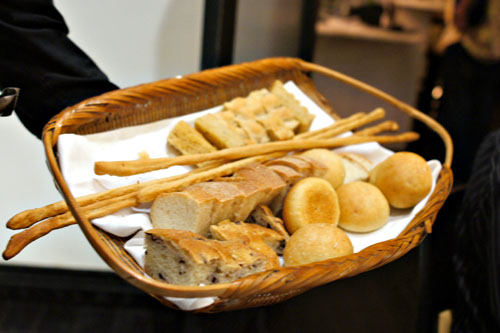 Bread on offer tonight included olive, dinner roll, focaccia, lengthy
grissini
, and baguette varieties.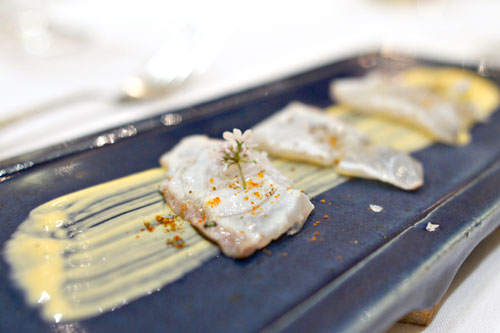 1: Crudo
| Flash smoked Japanese red snapper, thyme, garlic, sea urchin sauce, cilantro blossom
Albariño Etiqueta Verde Granbazan 2010, Spain
Not surprisingly, our first course proper brought us a sampling of Il Grano's famed crudo. It was excellent, one of the tastiest presentations of raw fish that I'd had in a while. The snapper itself was the hero in the dish: delicate, mild, and snappy in bite, with lovely tinges of smoke interjected by pricks of saltiness and the creamy, subtle weight of the uni sauce. My favorite element here, though, was the cilantro, which added a wonderful zestiness to the course that just tied everything together and lingered long on the palate.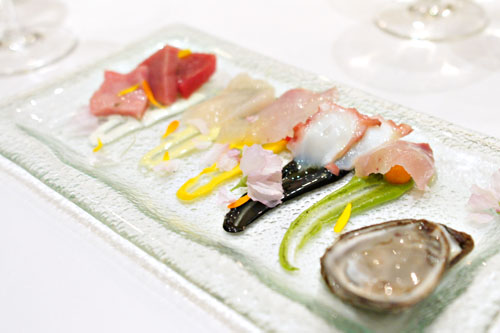 With the first course gone, the kitchen brought out an extra plate of "house" crudo for us to sample. Going from right to left, we had shigoku oyster, yellowtail, octopus, snapper, Hokkaido scallop and three types of tuna (akami, toro, and o-toro). Everything that I tried was clean, fresh, and on point, tasty alone and even better with the brush strokes of accompanying condiments. Il Grano made a name for itself with its crudo, and for good reason it seems.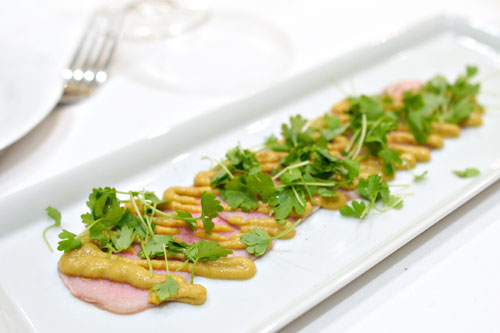 2: Vitello tonnato
| Veal eye of round sousvide for 12h@51°c,
salsa tonnata
and celery
Roucaillat Coteaux de Languedoc (roussanne/vermentino/grenache blanc) 2007
Here, we see Il Grano's version of
vitello tonnato
, a traditional cold course of veal dressed in a tuna-based sauce. It was simply superb, with a base of elegant, tender, perfectly cooked veal augmented by the tangy, mouth-watering
salsa tonnata
, all while the cilantro and celery provided enough light, bright flavors to balance out the course. Easily the best preparation of the dish that I've had.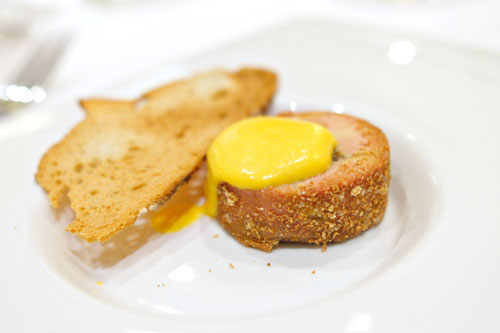 3: Torcione di fegato grasso all'emiliana
| Foie gras
au torchon
,
mostarda di Cremona
, amaretti, butter nut squash foam
JJ Prum Riesling Wehlener Sonnenuhr 2003, Rheingau
A stout cylinder of foie gras torchon was up next. It showed off the classic, earthy essence of the liver that I was expecting, deftly set off by the fruity, sweet 'n' sour tang of the
mostarda
and punctuated by pinpoints of salt. However, I wanted the foie to be creamier, richer, and silkier in consistency. The biscotti, meanwhile, provided a superb complement to the course, with its delightful, in-your-face crunch.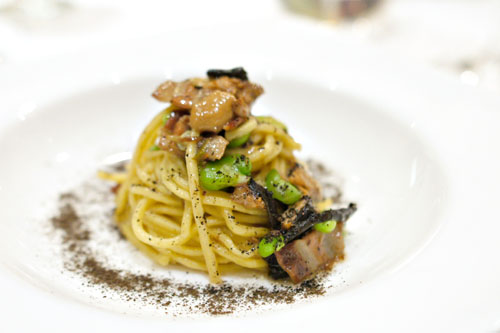 4: Spaghetti con funghi, piselli e fave
| Fresh egg pasta with our
pancetta
, chanterelle, black trumpet, English pea and fava beans
Chardonnay Vine Cliff 2009, Carneros
The pasta section of the meal began with a housemade spaghetti, cooked to a delightfully firm,
al dente
consistency. The noodles served as fitting base for the dark, heady, umami-laden flavors of the pancetta and mushrooms, while the peas and favas (from Sal's own garden) provided a bright touch of levity to the mix. Very nice.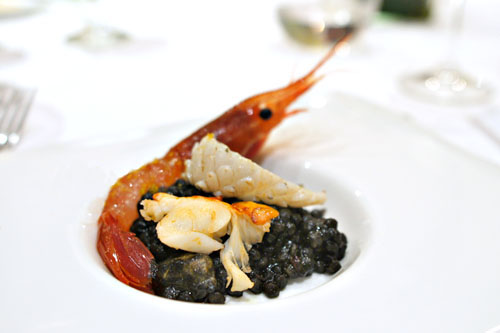 5: Fregolata
| Sardinian
fregola
with squid ink, canocchie reduction and seafood texture and temperature
Sylvaner Strasserhof 2010, Alto Adige
Up next was a real celebration of
frutti di mare
. We were greeted with lobster, squid, and Santa Barbara prawn, all topped with bottarga. Everything was cooked separately and combined on the plate, so it was great to experience the unique identity of each item: the sweet, snappy lobster; the supple calamari; and of course, the beautifully prepared
amaebi
, which wouldn't look out of place at the top sushi bars in the City. The seafood was placed atop a bed of
fregula
, a type of semolina-based pasta similar to cous cous, and it worked well to moderate the dish.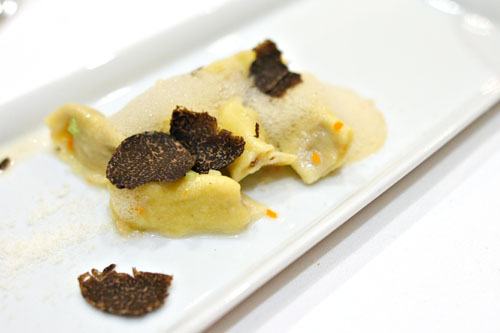 6: Raviolini del plin ai tre arrosti e tartufo
| Roasted beef, veal and pork stuffed
plin
ravioli, mirepoix,
parmigiano reggiano
, roasted meat air
Barbera d'Asti Fiulot 2010, Piemonte
Miniature "pinched" ravioli came stuffed with a meat threesome, and showed off a classic, savory flair countervailed by the veggie-laden essence of the mirepoix. At the same time, I appreciated the additional heft imparted by the foam here, as well as the overarching earthiness offered by the truffle. Tasty and comforting, though lacking in the panache of the other pastas.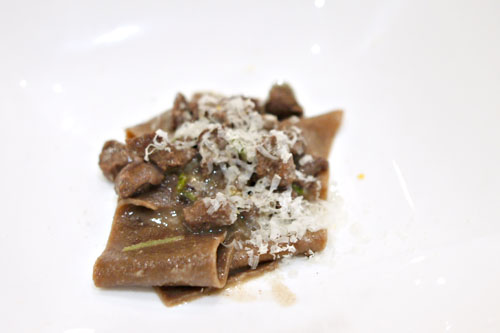 7: Pappardelle al cacao con sugo di capra
| Fresh egg and cocoa pasta with hand cut goat ragout and pecorino
fiore sardo
Nebbiolo d'Alba Damilano 2009, Piemonte
The last pasta course was something you don't see all that often: a cocoa-based pasta, which happens to be a traditional food from the Tuscany region. It was lovely, especially when paired with the deep, dark, caprine flavors of the
Jimenez Family Farm
goat and the salty overtones of the pecorino.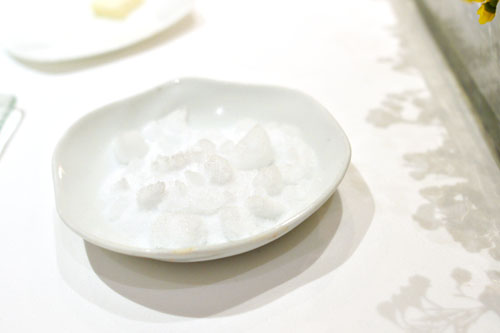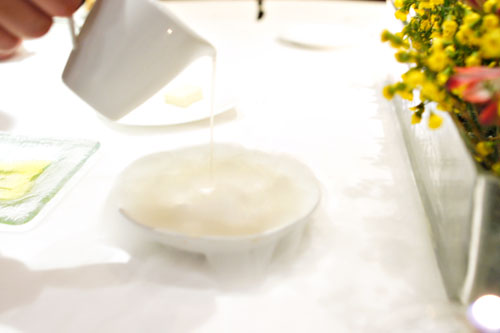 At this point in the meal, plates of dry ice were brought out to the table, then doused with a briny seafood broth, resulting in the release of a "perfume of the sea" to go along with the next course. A nod to
Alinea
, surely.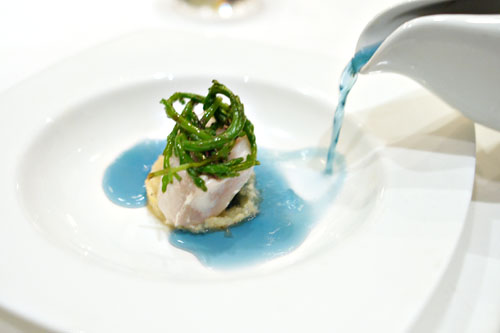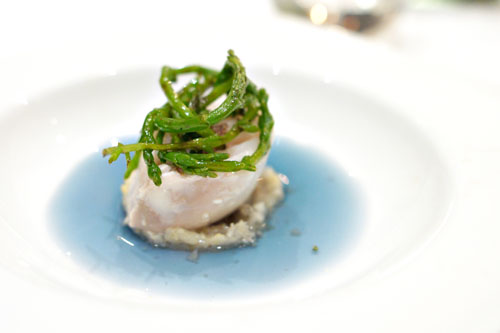 8: Ippoglosso al profumo di mare
| Sousvide halibut with cabbage, cauliflower cous cous and
salicornia
Verdicchio di Castello di Jesi Podium Garofoli, Marche 2007
Halibut came sous vide'd to a moist, tender consistency, with a subtle brine that was duly augmented by the salt and crunch of the glasswort. Meanwhile, the cauliflower "grits" did a great job mixing things up texturally, and also served to ground the strong saline flavors at play. I also loved the blue color in the dish (I mean, how often do you see blue food?), courtesy of the anthocyanins from boiled red cabbage.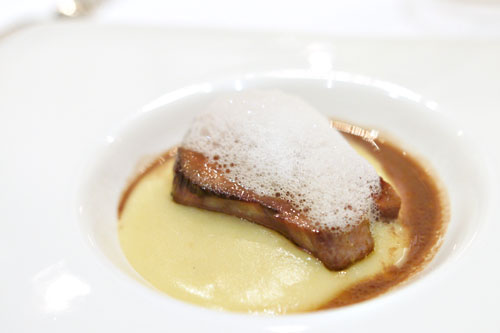 9: Lingua di manzo al barbaforte
| Beef tongue, sousvide 72h@57°c, smoked potato cream, horseradish air
Barbaresco Pelissero Vanotu 2001
Beef tongue was also treated to a sous vide bath, and as a result, arrived at the table gloriously supple, fatty, and gelatinous, just teeming with bovine sapor. Given the weight of the meat, the sting of heat from the horseradish foam was well-placed, and the potato formed a suitable temper as well.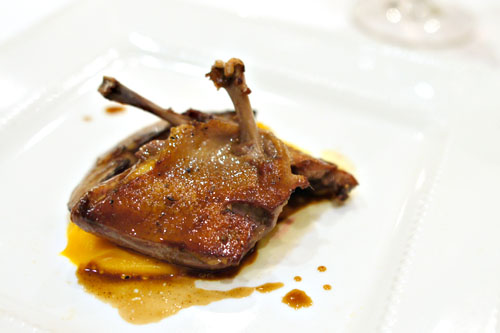 10: Piccione e fegato grasso
| Two way sousvide squab, seared foie gras, butternut squash and mustard
Barbaresco Pelissero Vanotu 2001
Squab was done sous vide as well, then seared, and the result was delicious: savory and succulent, with a great depth and body, and a nicely crisp skin to boot. I also appreciated the mustard here, though the butternut squash was a touch sweet. The foie was also consummately cooked, but wasn't even necessary given the already considerable gravity of the bird.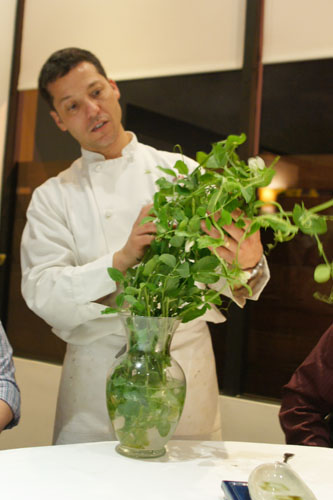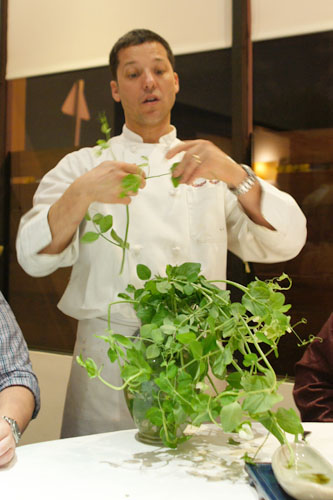 With the savories all taken care of, Chef Marino came out to chat with us and show off a pea plant from his home garden (he personally grows a portion of the produce used by the restaurant).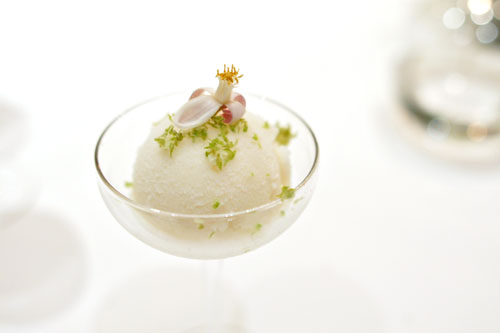 11: Il sorbetto
| almond sorbet, green almond
Pre-dessert comprised a scoop of almond sorbet, with green almond and lemon blossoms. This was a perfect palate cleanser after the sheer gravity of the preceding course: light, bright, and refreshing, with a delectable mix of sweet, nutty, and aromatic flavors. Yum.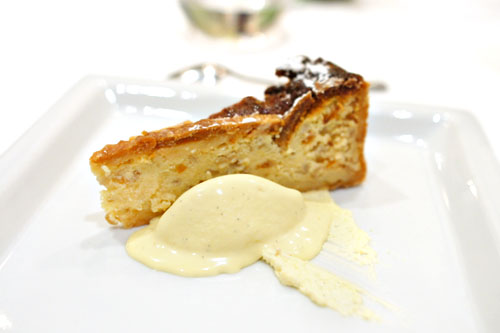 12: Pastiera napoletana
| Ricotta and grain easter pie, pink lady apple, vanilla gelato
Privilegio Feudi di San Gregorio (Passito) 500ml 2002
We ended with
pastiera napoletana
, a traditional Easter cake from Marino's ancestral home of Naples. Though relatively simple in appearance, its flavors were outstanding and beautifully integrated: a flawless blend of moist, creamy ricotta and sugary, candied fruit, all under an overarching floral component courtesy of orange blossom water. At the same time, the vanilla gelato added a wonderfully sweet counterpoint to the dish that paired with the cake in stellar fashion.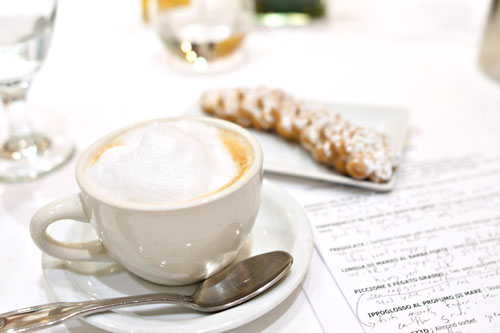 To close out the meal: cappuccino and cookies.
Without a doubt, this was one of the strongest Italian meals that I've had. Marino's commitment to top-notch ingredients is obvious, the flavors and presentations are interesting, and I love how the food strikes a balance between the traditional and the modern. Especially with the advent of Chef el Nagar, the kitchen's clearly adept with using techniques such as sous vide, and they're not afraid to bust out some foam either, in moderation and when called for, of course. It's definitely not your typical, everyday Italian, and for that we should be thankful.