Bouchon (Beverly Hills, CA) [2]
Bouchon Restaurant
235 N Canon Dr, Beverly Hills, CA 90210
310.271.9910
www.bouchonbistro.com
Thu 06/28/2012, 08:50p-12:15a
In the final days leading up to the foie gras ban, thousands of antsy Angelenos packed into restaurants, trying to get their fill of the gloriously engorged, soon-to-be-illicit liver. I myself indulged in a number of
foie-centric
dinners
, but also made it a point to stop by
Bouchon
, sort of the bastion of French bistro cooking here in LA. I wanted to get one last taste of their famed foie, but was also curious to see how the place was progressing (seeing as how I hadn't been here since opening night). I was especially interested in Bouchon given the last
5x5 Chefs Collaborative dinner
, where I was able to see Chef Rory Herrmann's cooking outside the limitations of a brasserie setting.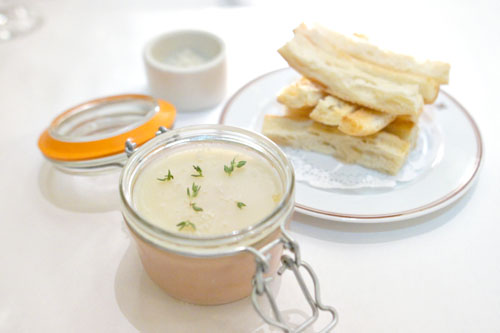 Terrine de Foie de Volaille [$16.00]
| chicken liver mousse served with toasted baguette
Though foie gras may be going the way of the dodo, the kitchen quickly sent out what may be the next best thing: chicken liver mousse. The terrine was delicious, and compared with foie, it showed off a more robust, though less luxurious character, with a firmer, grittier texture and a somewhat similar, but still very unique flavor profile. The liver was great over toast, and especially tasty when taken with a sprig of the accompanying thyme.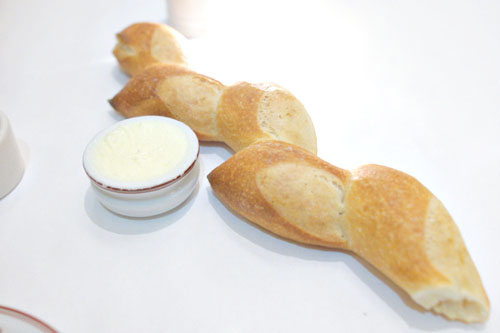 We were then provided a textbook
pain d'epi
(modeled after stalks of wheat), paired with a fabulously soft, sweet, salty butter.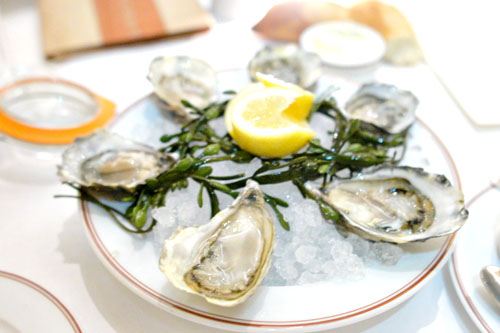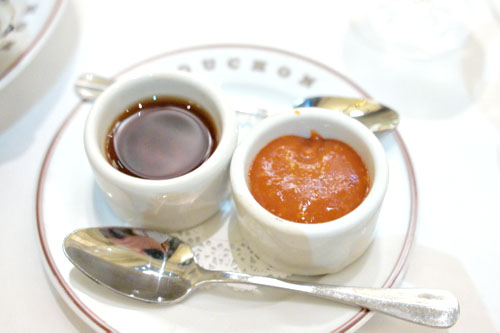 Huîtres Shigoku [$24.00]
| shigoku oysters
I first tasted shigokus during a meal at
Ohshima
(arguably OC's best sushi spot), and ever since then, they've become easily one of my favorite varietals. A relatively new type of Pacific oyster, they displayed a wonderfully crisp, snappy texture and a really focused, marked brininess that lingered long on the finish. Delish alone, and also great with a dash of mignonette or cocktail sauce.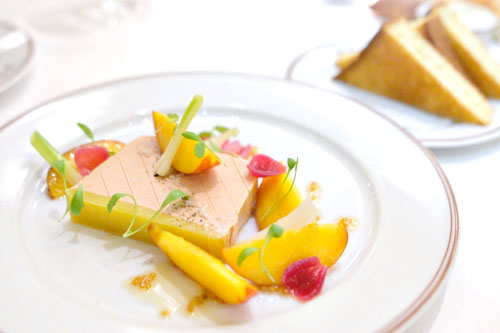 Foie Gras Terrine [$28.00]
And now, the
foie de résistance
. This was the real deal, a perfectly executed foie gras terrine. Vis-à-vis the preceding chicken liver, it was considerably more lush, feminine, sensual even, silky in consistency and palate-coating. It was exactly what you want in a terrine, a quintessential expression of the fatty liver, one that reminded me of just how special the ingredient is. I thoroughly enjoyed it spread simply over toast (which was continually replenished, just like at
Laundry
), but it also paired superbly with the sweetness of the accompanying fruit, as well as the tangy greenery.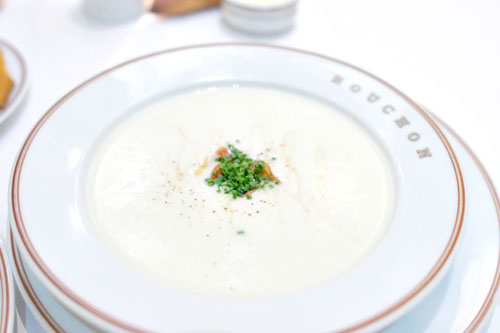 Vichyssoise [$9.00]
The
soupe du jour
this evening was a vichyssoise, a sort of old-school potage that you don't see on menus all that often any more. It was just what I expected, with a deft balance between potato and leek flavors, over a heavy, creamy base and tarted up by a topping of crisp potato bits and chive.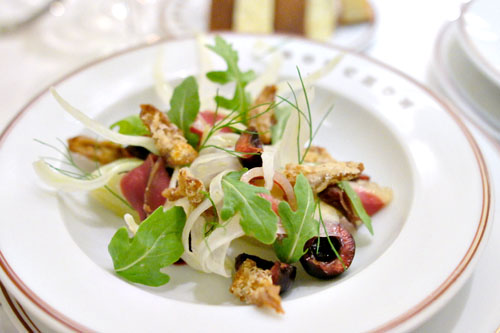 Salade de Fenouil et Fruits de Saison au Canard [$16.00]
| fennel bulb, seasonal stone fruit with house cured Pekin duck breast & crispy duck tongues
A salad of fennel was a surprisingly beautiful sight to behold. I don't see duck tongue too often, so I appreciated its inclusion here, with its salty, savory kick. As far as duck goes, though, the house-cured breast was even better, imparting a palpable depth and weight to the salad, nicely balanced by the sweet, sugary fruit and tangy, anise-laced tinge of fennel.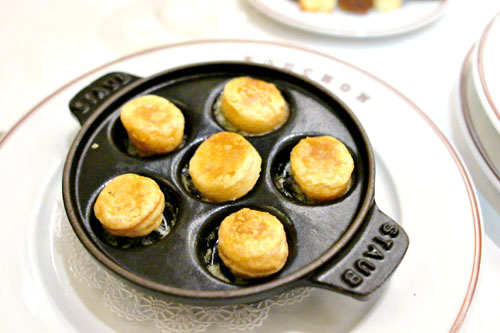 Escargot à la Bourguignonne [$18.00]
| red wine braised Burgundy snails with garlic butter & Bouchon Bakery puff pastry
Escargots, naturally, were totally on point as well: hot, garlicky, and oh-so buttery bites, beautifully contrasted against the relative levity of puff pastry. Can't go wrong with these.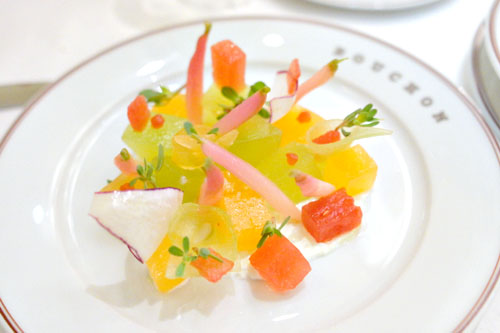 Salade de Melon [$13.50]
| summer melon salad, cucumbers & heirloom radish with preserved meyer lemon yogurt
Compressed cuboids of melon formed the basis for this light, bright, beautifully-plated, summer-y salad. Here, the juicy sweetness of the fruit was on proud display, joined by the piquant crunch of cucumber and radish, with all the elements grounded by the creamy, tangy base of yogurt.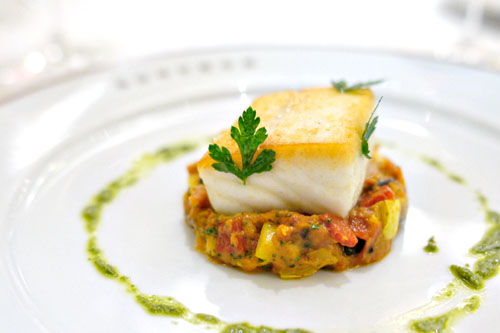 Flétan Poêlé [$37.50]
| herb roasted fillet of halibut with ratatouille & sauce pistou
Moving on to some heartier courses now, the halibut was a prototypical example of the fish: firm and flaky in body, with a golden-brown crust and a delightfully savory, yet restrained relish. I really enjoyed the fish all by itself, but the slightly sweet, slightly sour zest of the
salpicon
-inspired ratatouille, in concert with the aromatic
pistou
, was an adept accoutrement as well, counterbalancing the gravity of the
flétan
in commendable fashion.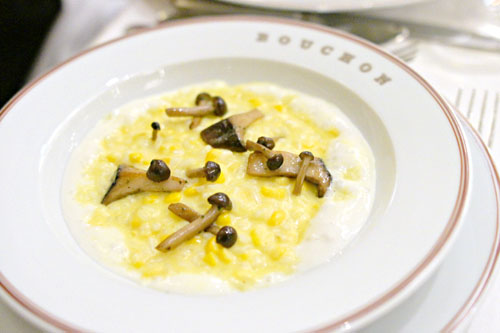 Sweet Corn Risotto [$16.00]
Though I'm quite the risotto fiend, I was a bit concerned with this one given the presence of corn. Fortunately though, the dish was restrained in its sweetness, with the corn actually melding well with the Parmesan and perfectly cooked grains of rice. The finishing touch, though, was the use of trumpet and
honshimeji
mushrooms, which lent an earthy, umami-soaked flavor to the dish.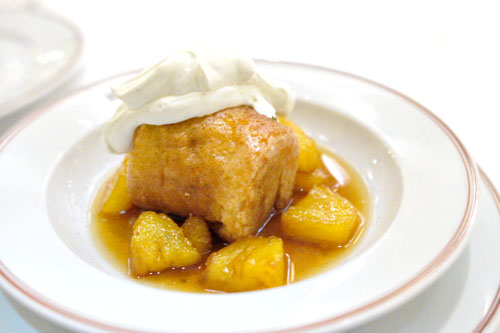 Baba au Rhum [$9.00]
| rum soaked cake with seasonal fruit & vanilla cream
For dessert, Chef Herrmann sent out a traditional rum baba, a dish that seems to be becoming harder and harder to find these days. What I really appreciated here was how the cake was just absolutely soaked in the liquor, the booziness of the rum playing perfectly off of the otherwise fruity, saccharine flavors present.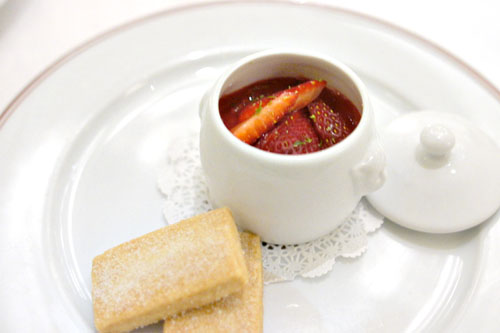 The baba was joined by a much lighter dessert featuring a small pot strawberries and cream, accompanied by shortbread cookies.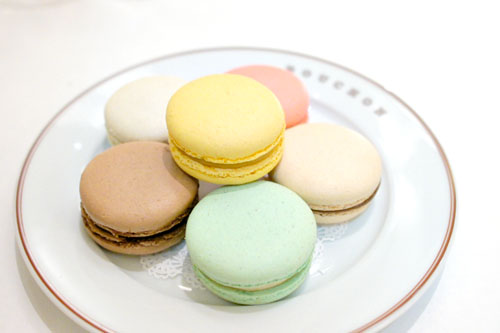 And finally, to wrap things up, we were provided an assortment of macarons in various flavors: raspberry, caramel, pistachio, chocolate, vanilla, passion fruit. They were spot on, some of the best I've had in fact, conveying a fantastic interplay between their rich, sticky fillings and the ethereal, fragile, yet moist meringue shells. Yum.
It'd been a while since
my last visit here
, and I can say that the restaurant has gotten better since then. I was expecting some very classic, very by-the-book French food here, and in that regard, Herrmann delivered, putting forth some pretty much perfectly executed dishes. At the same time though, it's clear that the Chef is stepping a bit outside the bounds of strict bistro cooking, elevating the cuisine in the process, yet still making it fit within the confines that make Bouchon
Bouchon
.