Picca (Los Angeles, CA)
Picca Peru Restaurant
9575 W Pico Blvd, Los Angeles, CA 90035
310.277.0133
www.piccaperu.com
Sat 06/25/2011, 07:00p-11:45p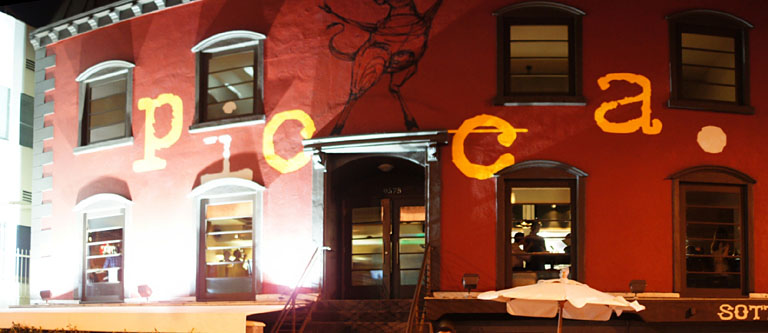 There's little doubt that
Ricardo Zarate
, through his efforts at the seminal
Mo-Chica
and later at
Test
Kitchen
, helped open my eyes to the joys of Peruvian cookery. Apparently, I haven't been the one only to recognize his talents, and over the past year, the Chef has gone from locally respected to achieving a taste of nation-wide stardom, being named one of
Food & Wine
's Best New Chefs for 2011 this past March. Indeed, after garnering such acclaim, it's not surprising that Zarate would want to expand his burgeoning culinary empire. His newest creation, officially deemed a Peruvian "cantina," goes by the name Picca, and serves up the Chef's signature fare in a tapas-slash-izakaya-style format. Picca soft-opened on the 21st (and also hosted an abbreviated Test Kitchen tasting), but we waited until Saturday to sample the restaurant's entire menu,
all 50 dishes
.
About the Chef
:
Ricardo M. Zarate
hails from the Rímac district of Lima, Peru. Born in 1973, he was the 11th of 13 children--four sisters, eight brothers--and took on an interest in gastronomy early in life. He and his siblings were expected to help prepare family dinners, and by the age of 12, Zarate was able to turn out an entire meal by himself. He dove headfirst into cooking, experimenting with the various influences--Chinese, Japanese, African, European--that have shaped the state of modern Peruvian cuisine. When he was 16, Zarate underwent his first professional food service experience when he successfully catered a banquet for over 600 people, cementing his commitment toward cooking. After graduating from the Leoncio Prado Military Academy, he enrolled at the Instituto de las Américas in Lima, where he received his certificate in culinary arts.

At age 19, Zarate moved to London to jump-start his career, first landing a job at the King's Road Benihana in Chelsea of all places. He started at the bottom, as a dishwasher, but his tenacity allowed him to become a teppanyaki chef after only six months. From here, he moved on to Aykoku Kaku, one of the City's first Japanese restaurants, then to a sushi joint by the name of Roka. Next up was Axis at One Aldwych Hotel, where Zarate combined his zeal for Japanese cookery with the Continental stylings of New Zealand-born head chef Mark Gregory. At the Millennium Hotel London Knightsbridge, he worked at Mju restaurant with Tetsuya Wakuda, from the legendary Tetsuya's in Sydney. He ended his 12-year run in London at Zuma, a well-regard izakaya, and also completed a degree at Westminster Kingsway College's School of Hospitality and Culinary Arts during his time in the country.
Los Angeles was next. In 2003, the Millennium Biltmore wanted Zarate to help open a restaurant with his old boss Tetsuya Wakuda, but the project never materialized. Instead, the Chef stuck around, and headed up the kitchens at the Biltmore's
Sai Sai
restaurant for 18 months. In 2005, Zarate returned to London to consult for Gordon Ramsay on a new venture called Pengelly's, an ill-fated pan-Asian eatery. After six months, he rejoined Zuma as the Executive Chef of their Events group. At this point, he was approached by a restaurateur interested in opening a Peruvian tapas-style robata grill concept in LA, so back to the City of Angels it was. The concept eventually turned into Zu Robata, and debuted in June 2007. However, Zu Robata was far more Japanese and far less Peruvian than Zarate had originally envisioned, forcing the Chef to jump ship in early 2009. He was replaced by Kee Chan out of Chicago, but the business shuttered soon after in March; the space is now home to
Bar Food
gastropub. Zarate then became Executive Chef at
Wabi-Sabi
in Venice, and while working there, launched pet project
Mo-Chica
in spring 2009.

A tiny, pygmy of a restaurant tucked into a stall at
Mercado La Paloma
near USC, Mo-Chica struggled at first, but business quickly picked up after a glowing review from
Jonathan Gold
. Now firmly established as the vanguard of Peruvian cooking in LA, Zarate left his job at Wabi-Sabi in May 2010 to focus his efforts on Mo-Chica's follow-on restaurant. Originally, there were plans for a place called
Moche
, a high-end eatery that would be akin to a Peru-centric version of
Nobu
. That idea was shelved, replaced by
Anticucho
, a more casual, small plates concept that was supposed to bow in fall 2010. A little project called
Test Kitchen
, however, got in the way. With Zarate at the helm, TK turned out to be the surprise hit of the year, bringing together many of the best chefs in LA and revitalizing the notion of the pop-up restaurant. When Test Kitchen closed, the space was handed over to the duo of Steve Samson and Zach Pollack, who transformed it into the well-received Southern Italian
Sotto
. The upper portion of the building, however, was reserved for Zarate and
Anticucho
, which had now been rechristened
Picca
.
Zarate's Managing Partner in Picca is one
Stephane Bombet
. A native of France, Bombet once headed up one of the most successful hospitality PR firms in Paris, SB Communications, and also served as a restaurant-owner and partner in
VIP Room
nightclubs. He moved to the US in 2001, taking on a VP position at Right Bank Music before leaving in 2008 to form VO Entertainment, a PR and marketing firm. Bombet has managed the likes of
Villa Lounge
in WeHo, consulted for
Ortolan
and Tiger Sushi, and also developed his own
sports bar
(seems out of character for him) concept called
Locals Sports Bar & Grill
. He sold Locals in March last year so that he could fully commit to Moche Restaurant Group, his partnership with Zarate.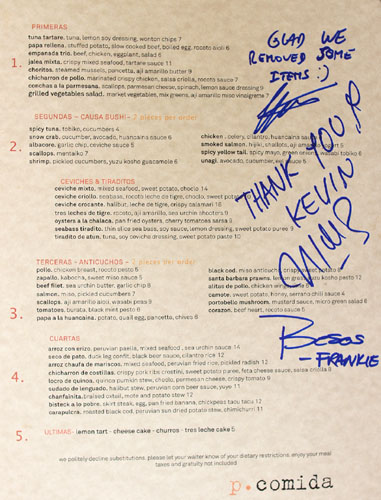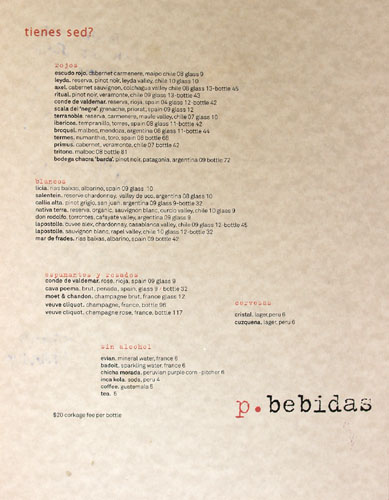 Picca's menu is divided into six sections--starters, causas, ceviches, anticuchos, mains, and desserts--and we were told by our server that five plates per person was recommended. That, however, wasn't nearly enough for us, and in true
kevinEats
fashion, we ended up running the gamut here: ordering every single item on the menu, split amongst four people. All of Julian Cox's cocktails were sampled as well, natch. Click for larger versions.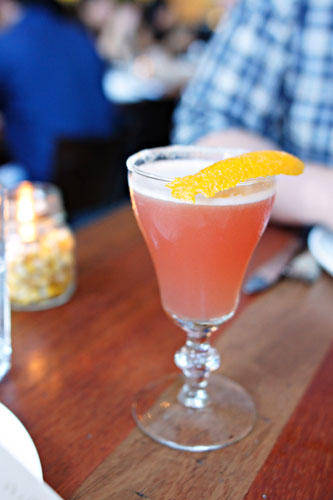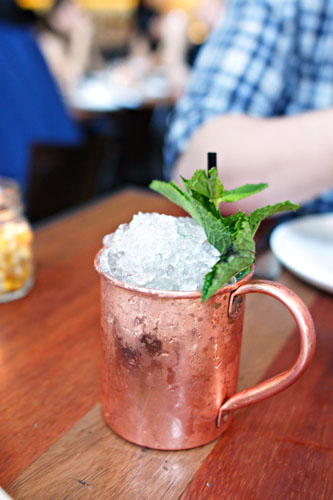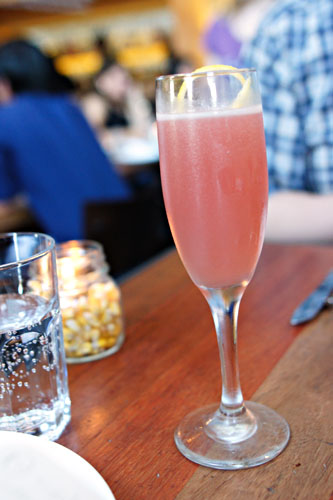 rhubarb sidecar [$11.00]
| cognac, pisco, fresh lemon juice, rhubarb gastrique, spiced sugar
chilcano de anis [$11.00]
| lime juice, ginger syrup, anise syrup, pisco, soda, mint sprig, pernod
maracuya [$11.00]
| fresh passion fruit, lemon juice, grenadine, scant absinthe, pisco, cava, lemon twist
As for those cocktails, we started off with a threesome. First up was the Rhubarb Sidecar, which showed off the character of the cognac intertwined with the distinct flavor of pisco, while the tart nature of the rhubarb-lemon served as a great counterpoint--nice. I loved the copper mug used in the next cocktail, and its contents weren't bad either. The Chilcano de Anis is a classic Peruvian cocktail, a refreshing concoction that played the pisco, ginger, and mint off each other perfectly; the finishing touch was that hint of anise that wrapped everything together.
Maracuyá
is the Peruvian term for passionfruit, and indeed, its tangy smack was the star of the show here, joining forces with the grenadine to form a juicy front to balance out the power of the alcohol. Interestingly, one of my dining companions likened the cocktail's flavor to that of a tasty cough syrup!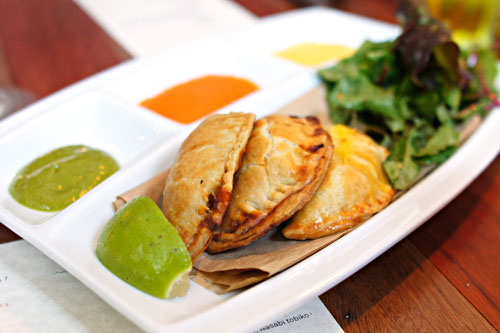 empanada trio [$6.00]
| beef, chicken, eggplant, salad
We kicked things off with Zarate's trio of empanadas. I tried the eggplant version first, which nicely intertwined the flavor of the vegetable with a marked sweetness. The beef empanada, the most common type in Peru, was similarly sweet, yet still conveyed the deep, dark flavor of the tender beef. My favorite of the trio was the
pollo
, as it almost had a curry-like essence to it, reminded me of Chinese style curry chicken! A troika of delectable dipping sauces--huancaína, rocoto, huacatay--rounded out the course, while the salad added some lightness to the fray.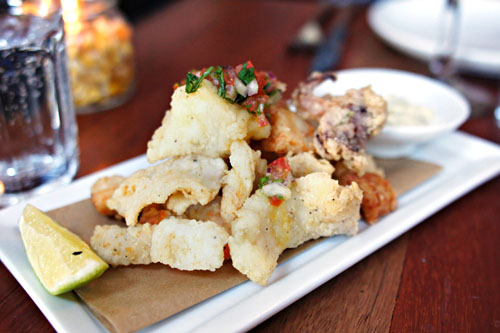 jalea mixta [$11.00]
| crispy mixed seafood, tartar sauce
Picca's dish of lightly-fried seafood was just about perfect. Think of the best fried calamari you've ever had; the squid, supple and sweet, is still the hero, but the crispy layer of batter adds another dimension of deliciousness. Loved the accompanying tartar sauce as well, with its creamy, piquant zestiness.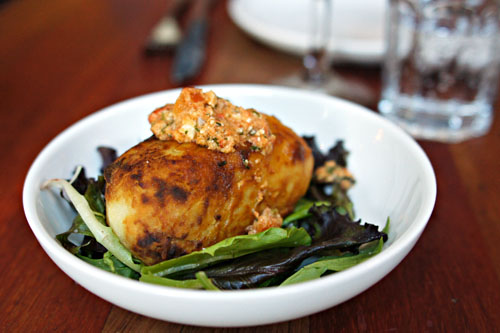 papa rellena [$6.00]
| stuffed potato, slow cooked beef, boiled egg, rocoto aioli
A hearty slug of mashed potato was deftly complemented by its stuffing of beef and egg, making for a thoroughly enjoyable eating experience, all perked up by the inclusion of the spicy rocoto aioli. Yum.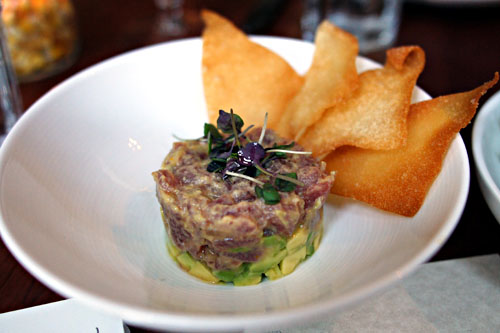 tuna tartare [$7.00]
| tuna, lemon soy dressing, wonton chips
Tuna tartar was a textbook preparation with a twist--the fresh cubes of tuna imparted with additional complexity from the soy and lemon, while the avocado added a measure of creaminess. I appreciated the use of the wonton, which added a somewhat Chinese-y flair to the dish, as well as a fitting crunch.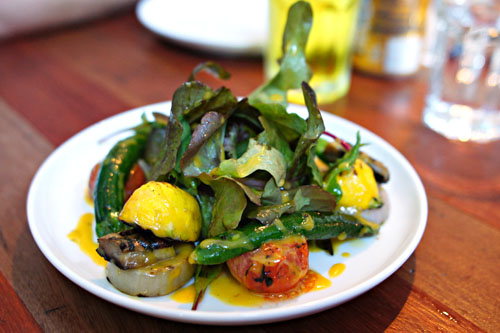 grilled vegetables salad [$7.00]
| market vegetables, mix greens, aji amarillo miso vinaigrette
The requisite salad, which was actually surprisingly interesting. I liked how each of the vegetables were crisp and distinct, each with their own unique character, and how the aji amarillo-miso combination worked to tie everything together.
conchas a la parmesana [$9.00]
| scallops, parmesan cheese, spinach, lemon sauce dressing
This next dish sort of reminded me of a scallop version of Oysters Rockefeller. I was concerned that the Parmesan would overwhelm the
conchas
, but the scallops actually stayed true to form, and weren't overcooked. The key was the lemon dressing, which offset the weight of the bivalves' baked on crust.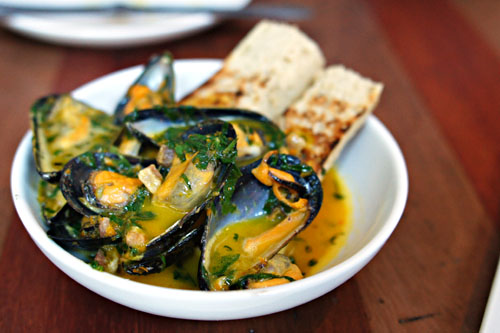 choritos [$9.00]
| steamed mussels, pancetta, aji amarillo butter
Mussels were definitely one of the better preparations that I'd had in a while. I really appreciated how the
choritos
were succulent and plump, and positively imbued with loads of clean, saline, mussel-y savor. The aji amarillo butter was a lovely complement, and the greenery served as a perfect accent in the dish.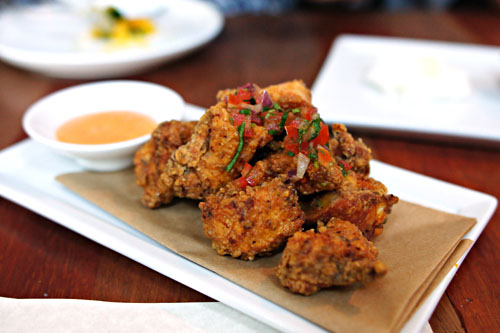 chicharron de pollo [$7.00]
| marinated crispy chicken, salsa criolla, rocoto sauce
You can't go wrong with fried chicken, and this certainly was no exception. The bird itself was tender, flavorful, and had a beautifully crisp crust. Its topping of tangy salsa was a fitting accoutrement, but the crux was that wonderful rocoto pepper sauce, which had a fantastically sharp spice that completed the dish for me.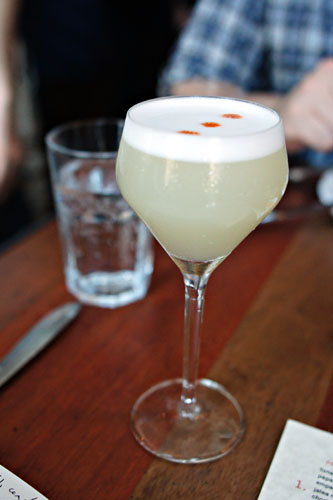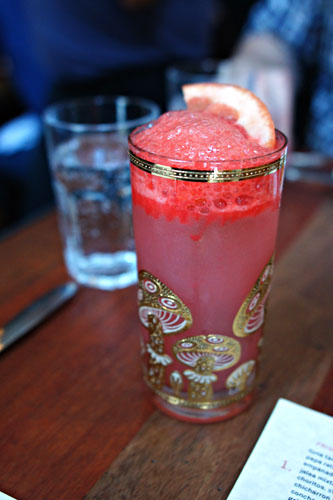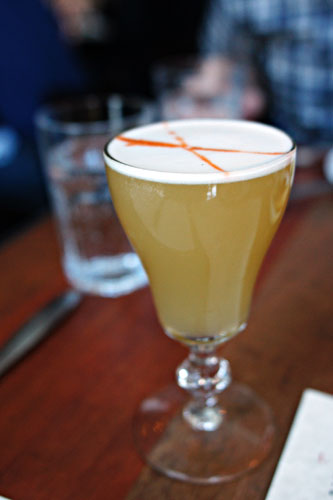 pisco sour [$11.00]
| pisco, fresh lemon and lime juice, sugar, cassia scented egg white, angostura bitters
martin ricky [$11.00]
| lime juice, grapefruit juice, simple syrup, peychaud bitters, pisco, soda, strawberry air
all saints fizz [$11.00]
| venezuelan rum, pisco, fresh lemon juice, evaporated cane sugar, frankincense tincture, soda
Round #2. The Pisco Sour is pretty much the national drink of Peru, and Picca's version certainly did the cocktail justice. The interaction between the citrus, pisco, and sugar was spot on, while the bitters added a fantastic touch of astringency to things. And the egg white? Superb. The Martin Ricky, on the other hand, conveyed an absolutely intoxicating nose of strawberry, which became only a little less intense on the palate, where the fruit was joined by undertones of citrus and pisco--a perfect cocktail for summer quaffing. We ended with the All Saints Fizz, which was somewhat similar to the Sour, but more austere, with the power of the rum forming an intriguing combination with the frankincense--quite lovely actually.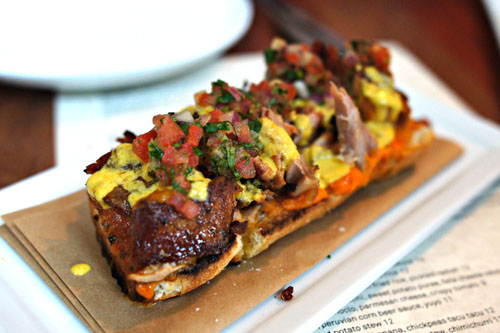 chicharron de costillas [$8.00]
| crispy pork ribs crostini, sweet potato puree, feta cheese sauce, salsa criolla
Interestingly, I'd had a similar dish of Zarate's at one of his
Test Kitchen
appearances. I enjoyed it then, and also enjoyed it now. I liked the crunch of the ribs here, as well as their delectably porcine sapor. The pork actually paired well with the sweet potato, which I had feared would be overly saccharine, while the feta added additional heft to the dish. At the same time, the piquant salsa helped temper the strong flavors at play here.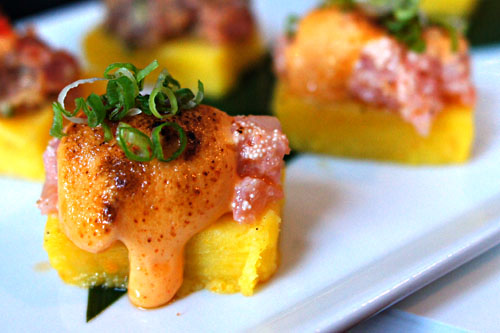 albacore [$5.00]
| garlic chip, ceviche sauce
A staple of Peruvian cuisine, a causa is basically a mass of mashed yellow potato, mixed with various spices and proteins. At Picca, Zarate is espousing his "causa sushi," which comprises a block of the potato paired with a number of sushi-inspired toppings. First up was the albacore, which was actually one of my favorites. The ceviche sauce added a fantastic bite that beautifully augmented the tuna's inherent flavor, while the garlic added a light accent to things.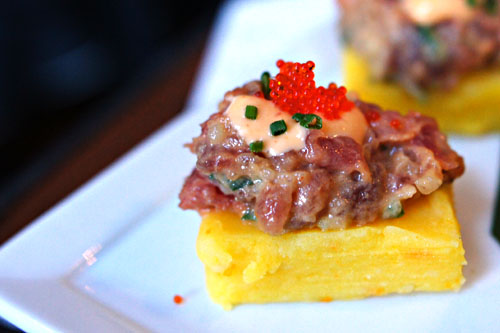 spicy tuna [$4.00]
| tobiko, cucumbers
Tuna was done up in a classic tartar form, with a subtle spiciness tempered by the cool bits of cucumber.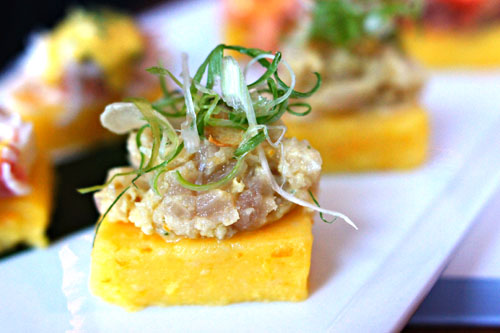 scallops [$7.00]
| mentaiko
Scallops were enhanced by the inclusion of
mentaiko
, a Japanese preparation of marinated pollock roe. Nice bit of creeping spice on this one.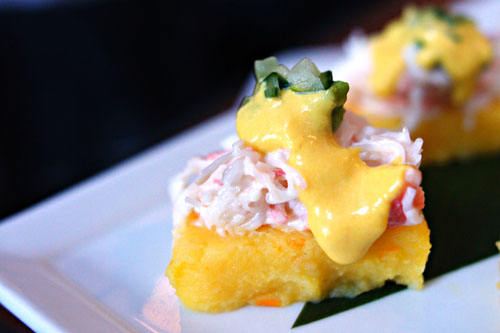 snow crab [$6.00]
| cucumber, avocado, huancaina sauce
Here, the natural sweetness of the crab was deftly paired with the luscious yet light huancaina sauce, while the avocado added further gravity to the dish.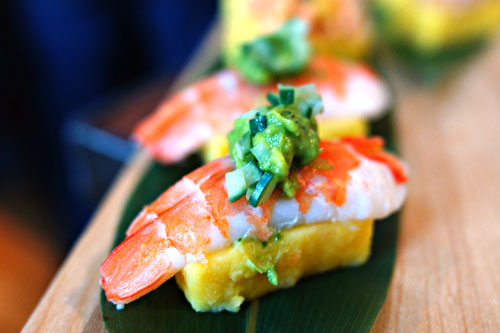 shrimp [$6.00]
| pickled cucumbers, yuzu kosho guacamole
I usually disdain cooked shrimp on sushi, but the version here wasn't bad. Though it was cooked through, the shrimp still retained a pleasing texture, and the use of
yuzukosho
(a blend of yuzu, chili, and salt) worked here.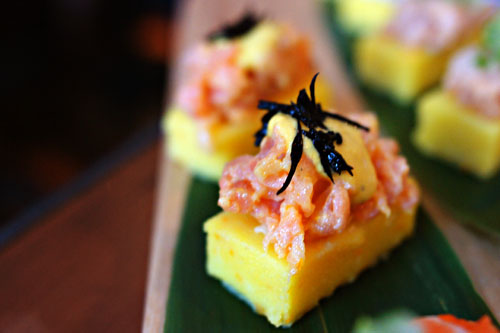 smoked salmon [$5.00]
| hijiki, shallots, aji amarillo yogurt
Smoked salmon was quite smoky indeed! It had an almost "hammy" savor to it, and while the aji amarillo did help in moderating things, I would've liked more shallots. I did like the inclusion of
hijiki
(a sort of Japanese sea grass) though.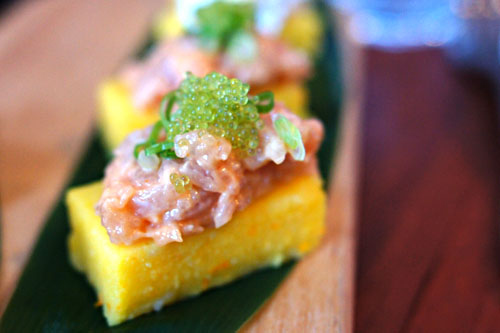 spicy yellow tail [$6.00]
| spicy mayo, green onions, wasabi tobiko
Yellowtail went very well with its accompaniment of spicy mayo, but the green onions were a touch strong for me, hiding some of the fish's natural flavor.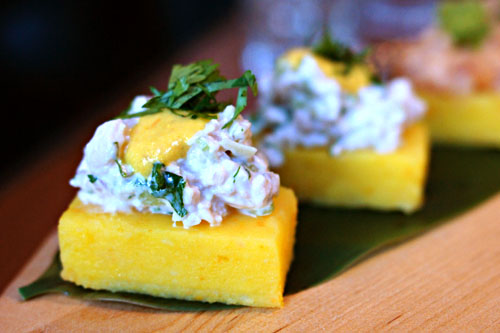 chicken [$4.00]
| celery, cilantro, huancaina sauce
Think of this as the best chicken salad you've ever had: rich, yet unabashedly tangy, with an additional bit of luxuriousness from the huancaina sauce. Delish!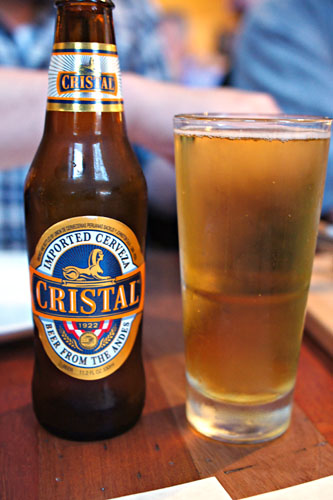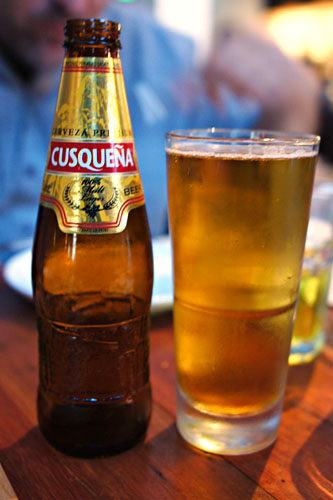 With the cocktails done with, we ordered a round of beers. Picca only has two on offer: Cristal and Cusqueña, both lagers, both from Peru, and both priced at $6. Both were also fairly light and easy-drinking, and went well with Zarate's food. I would've liked to have seen a wider selection of beers, though.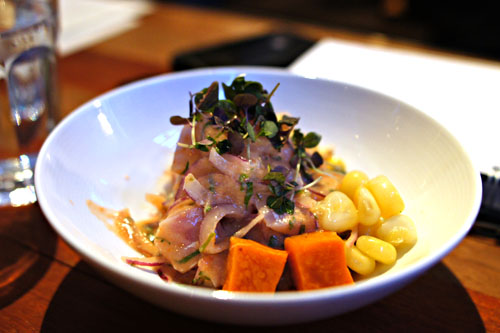 ceviche criollo [$10.00]
| seabass, rocoto leche de tigre, choclo, sweet potato
Ceviche is perhaps the quintessential Peruvian dish, so it's fitting that there are three types available at Picca. The first was a classic presentation incorporating seabass. The fish's mild, delicate flavor was amped up by the brazen tanginess of the onion and leche de tigre marinade, while the corn and sweet potato served to temper things. Nicely balanced, and I appreciated how the seabass remained the focal point in the dish despite all the other strong flavors at play.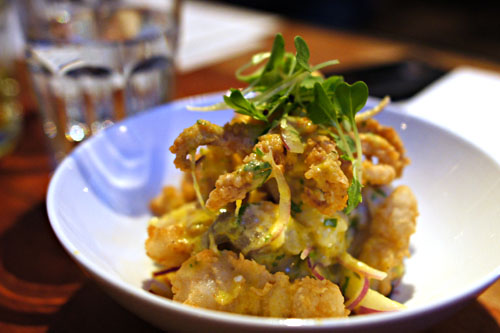 ceviche crocante [$16.00]
| halibut, leche de tigre, crispy calamari
Crocante
means "crispy," and indeed, the fried calamari gave the dish a wonderful textural component that paired perfectly with the supple halibut. At the same time, the fish's mild flavor was heightened by the more in-your-face savoriness of the squid, and I loved the ocean-y flavor imparted by the seaweed here. My favorite of the ceviches.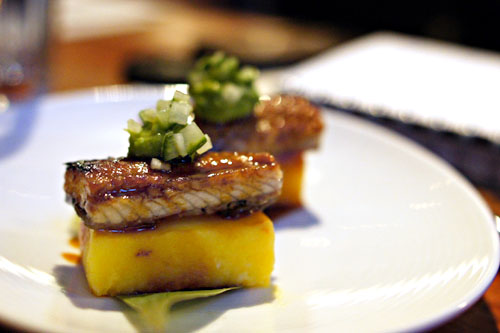 unagi [$5.00]
| avocado, cucumber, eel sauce
The straggler of the causa sushi was eel, which really did recall the essence of a Japanese-style preparation of unagi. The eel sauce was sweet but not overly so, and was tempered by the use of cucumber, while the potato grounded the dish.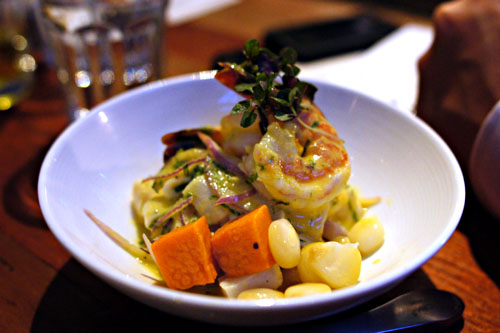 ceviche mixto [$14.00]
| mixed seafood, sweet potato, choclo
A mixed ceviche was delectable as well. It was great to experience the various types of seafood here, and I adored how each item was unique and distinct, and yet, how everything worked together faultlessly. The snappy, supple consistency of the shrimp was particularly engaging.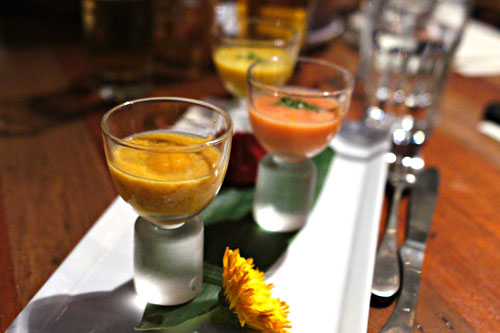 tres leches de tigre [$9.00]
| rocoto, aji amarillo, sea urchin shooters
Traditionally,
leche de tigre
refers to the ceviche marinade of lime juice, pepper, and various seasonings. Here, the "milk" was made to stand alone in three distinct presentations. The uni version was teeming with the flavor of the roe, but was a bit too heavy-handed for me; I didn't feel that the uni really melded well with the tartness of the
leche
. My favorite was the preparation made with rocoto pepper, which had a sharp bit of heat balanced by a tinge of herb-y goodness. The aji amarillo version, finally, had a touch of astringency to it, which I found intriguing.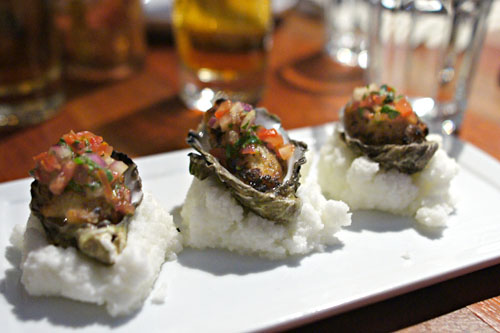 oysters a la chalaca [$9.00]
| pan fried oysters, cherry tomatoes sarsa
Oysters arrived cooked, yet still rare, with their delectably saline flavor heightened even further by the application of heat. I would've enjoyed them alone, but the tartish topping of tomato salsa did a nice job in countervailing the robust flavors present.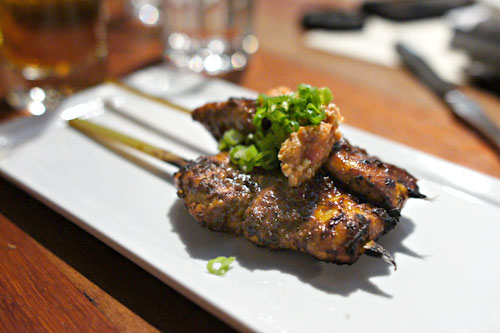 pollo [$5.00]
| chicken breast, rocoto pesto
Given that Picca was originally going to be called
Anticucho
, it's no surprise that the skewers, cooked over
binchotan
charcoal, form a major part on the menu here. Our first anticucho was chicken breast, which I usually find boring. Zarate's version, though, was anything but. In fact, it was perhaps the tastiest piece of breast that I'd ever had, with deep, juicy, robust flavors perfectly paired with a great bit of bitter char. Loved the rocoto pesto, too.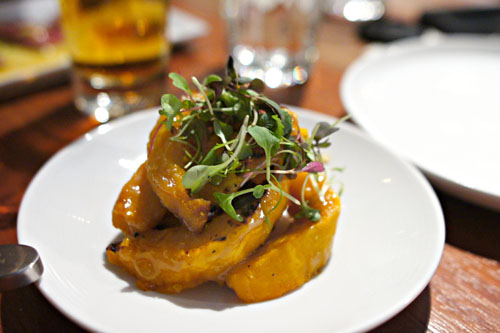 zapallo [$5.00]
| kabocha, sweet miso sauce
Next up was kabocha, a type of Japanese winter squash. As expected, it was too sweet for me, and its sugariness was augmented even further by the application of sweet miso. The char and the greens helped tame things a bit, but weren't enough.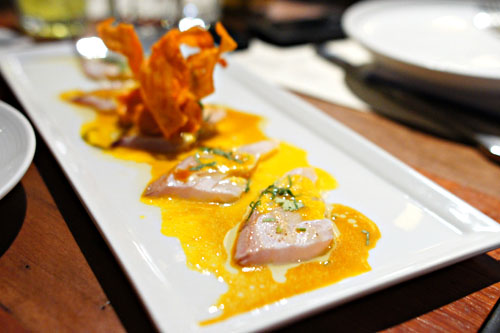 seabass tiradito [$9.00]
| thin slice sea bass, soy sauce, lemon dressing, sweet potato puree
I'd actually had this same dish only a few days prior at the
OAD dinner at Providence
. Compared to that version, the one tonight was actually more subdued, with the sweet potato playing less of a part here, thus allowing the sea bass to really sing. Nice bit of zestiness from the lemon, too.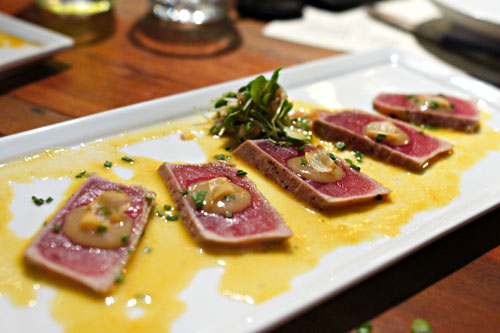 tiradito de atun [$10.00]
| tuna, soy ceviche dressing, sweet potato paste
Tuna came lightly seared, giving the fish an extra boost in flavor, while the soy sauce-based dressing amped up the Asian influences in the dish. I was a bit concerned about the sweet potato paste, but it was pretty restrained, and actually gave the tuna a nice bit of sweetness.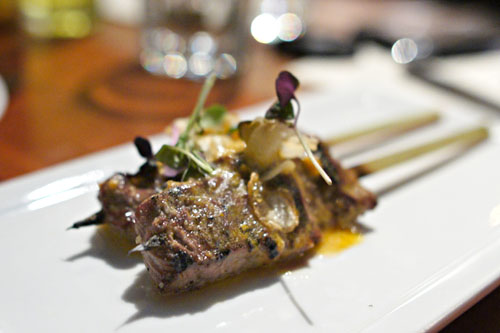 beef filet [$8.00]
| sea urchin butter, garlic chip
Filet of beef, unsurprisingly, was suitably tender, with a superb smidge of char that deftly offset the meat. I also enjoyed the sea urchin, which contributed a lovely butteriness to the skewer that completed the dish for me.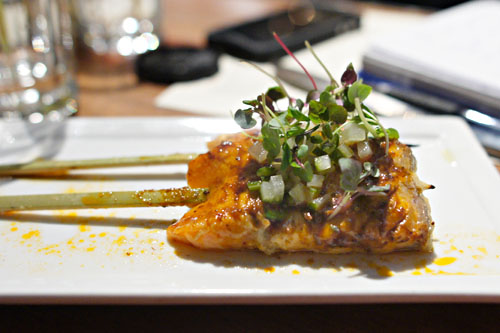 salmon [$7.00]
| miso, pickled cucumbers
Salmon arrived expertly cooked, but the miso was too strong for me, masking the flavor of the fish to some extent. The cucumbers helped, but even they were outmatched.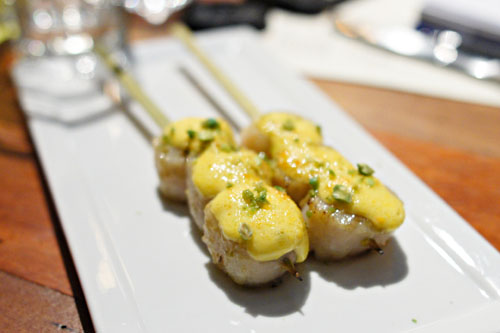 scallops [$9.00]
| aji amarillo aioli, wasabi peas
Scallops were a pleasant surprise, with the aji amarillo adding a gorgeous hint of spice to the mollusks, while the wasabi peas contributed a lovely crunch to things. I was afraid that the scallops would be lost here, but tender and pleasantly rare in temperature, they were still the star of the show.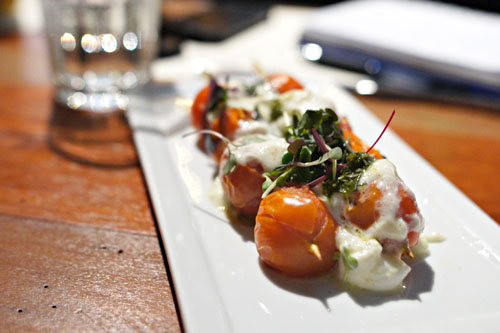 tomatoes [$6.00]
| burrata, black mint pesto
Tomato came paired with burrata cheese and mint pesto, making for a flavor combination that recalled the essence of a Caprese salad.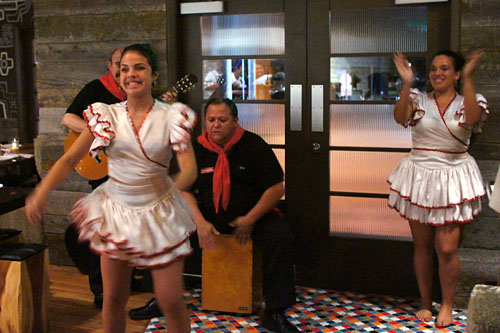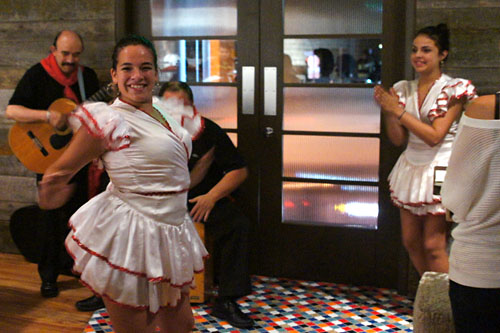 Midway through our meal, people spontaneously broke out into song and dance.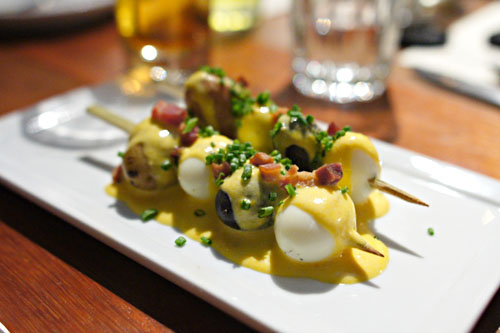 papa a la huancaina [$6.00]
| potato, quail egg, pancetta, chives
Papa a la Huancaína
is a traditional cold Peruvian salad of potato and hard-boiled egg, served with a creamy cheese sauce. Here, we had Zarate's reimagined version of the dish, served in skewered form. It deftly recreated the essence of the original, with the potato and egg playing off each other brilliantly, while the pancetta added further salt to the mix. Nice.
santa barbara prawns [$12.00]
| lemon grass yuzu kosho pesto
Another dish that I'd had not long ago at the
Opinionated About Dining dinner
. The beauty in this dish is that the flavor of the prawn is presented in such a pure, unadulterated form, accented only by a squeeze of lime and a touch of
yuzukosho
, making for a thoroughly enjoyable experience indeed. One of our favorites.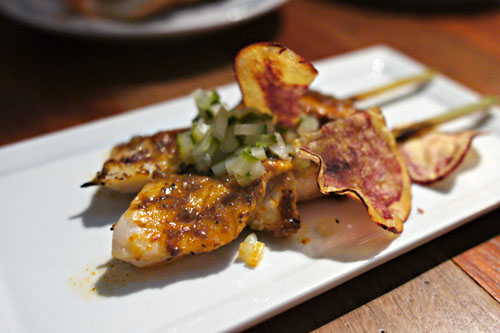 black cod [$8.00]
| miso anticucho, crispy sweet potato
An anticucho of black cod could be likened to Nobu's famed version, but presented on a stick. The fish was falling-apart tender and unabashedly oily, with a classic sweetish miso flavor to offset the richness of the cod. Lovely crunch from the potato, too.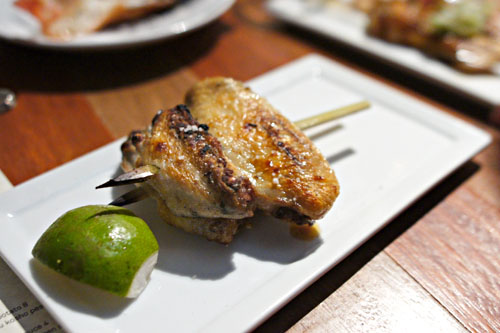 alitas de pollo [$6.00]
| chicken wings, lime
Chicken wings were some of the best that I'd ever had--straightforward, but wonderfully juicy and succulent, with a particularly lusty flavor that I delighted in.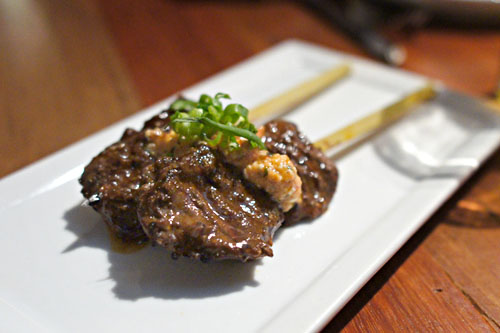 corazon [$5.00]
| beef heart, rocoto sauce
Zarate's beef heart was the anticucho that I was looking forward to the most (it is, after all, the most traditional meat used), and it did not disappoint. The
corazon
possessed a somewhat chewy consistency that was a joy to eat, and conveyed a profound depth of flavor that was perfectly matched by the bitterness of char. The paired rocoto sauce provided a stupendous touch of spice that served as a perfect exclamation mark to the dish.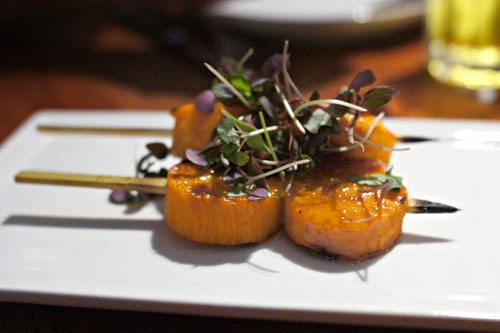 camote [$4.00]
| sweet potato, honey, serrano chili sauce
I'm not a fan of sweet potato, so it's no surprise that I found this dish overly sweet, almost cloyingly so in fact. Certainly, the honey didn't help things out.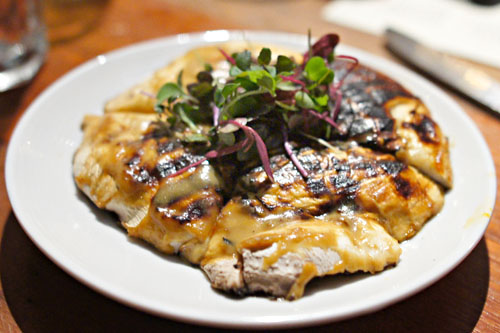 portobello mushroom [$8.00]
| mustard sauce, micro green salad
Our final anticucho brought us perhaps the largest mushroom cap that I'd ever seen. I appreciated the mushroom's tender, supple, yet meaty consistency, and the tangy mustard used here actually paired well with the portobello's earthy, umami-rich flavor.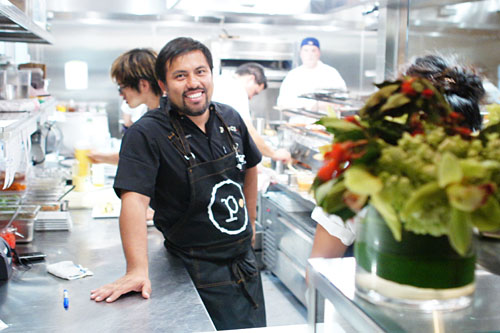 Chef Zarate looks happy in the kitchen.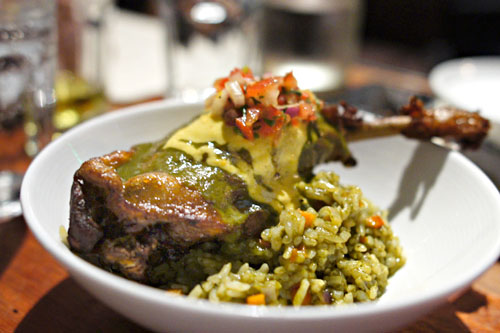 seco de pato [$12.00]
| duck leg confit, black beer sauce, cilantro rice
Moving on to the larger plates now, we began with Zarate's duck confit, cooked in black beer. I loved the bird's tender, luscious flesh, as well as its rich, earthy relish, and crunchy, flavorful skin. As good as the
pato
was, the rice was similarly fantastic, with a wonderfully light cilantro flavor that adroitly balanced the duck. Very nice.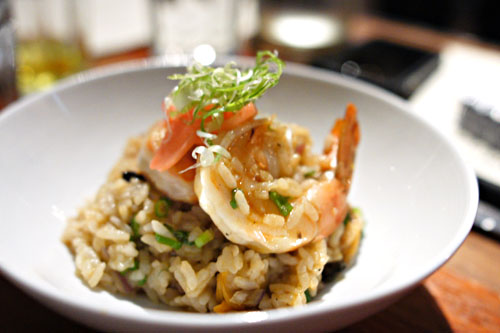 arroz chaufa de mariscos [$12.00]
| mixed seafood, peruvian fried rice, pickled radish
Next was Picca's Chinese-inspired Peruvian fried rice. It was a marvelous, hearty course, with the essence of each item of seafood wonderfully captured and presented. I could've used a bigger bowl!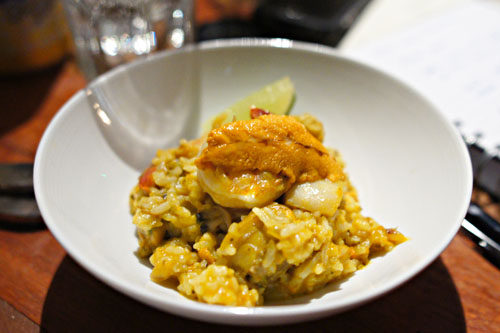 arroz con erizo [$14.00]
| peruvian paella, mixed seafood, sea urchin sauce
The chaufa was followed up by another very strong rice dish. Again, the seafood was the hero here, always remaining in clear focus. The ocean-y essence of the rice was further enhanced by overarching notes of uni, while the heat in the dish helped balance things out. Delicious.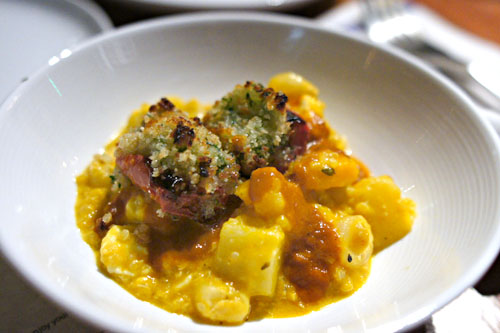 locro de quinoa [$9.00]
| quinoa pumpkin stew, choclo, parmesan cheese, crispy tomato
I wasn't a huge fan of this, which isn't shocking given that I don't care for pumpkin. The sweetness in the stew was countervailed by the
choclo
(corn), which was my favorite element in the dish, but the whole amalgam struck me as a touch curious, especially with the Parmesan.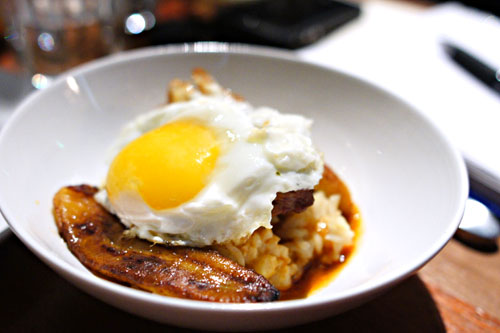 bisteck a lo pobre [$12.00]
| skirt steak, egg, pan fried banana, chickpeas tacu tacu
Skirt steak was certainly tasty, and of course, the addition of a fried egg pretty much makes
anything
better. I liked the chickpeas as well, which helped to ground the dish, but the most interesting thing here was the banana, which actually worked surprisingly well in the dish--it wasn't too sweet at all.
chanfainita [$12.00]
| braised oxtail, mote and potato stew
As you'd expected, oxtail was super soft in consistency, barely requiring mastication. Its flavor was hearty and deep, but surprisingly restrained at the same time. The meat was lightened by the included topping of salsa, and the potatoes definitely helped moderate things as well. One of my dining companions even likened this to a more decadent version of
lomo saltado
!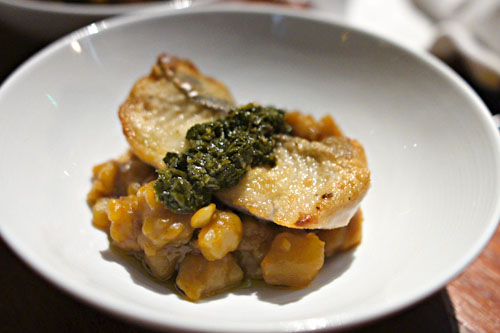 carapulcra [$11.00]
| roasted black cod, peruvian sun dried potato stew, chimichurri
The black cod here was just about the butteriest fish that I'd ever eaten! The word
unctuous
is oft overused in food writing, but here the term really does apply. As heavy and rich as the fish was, it did have a delightfully crisp skin, and the potato stew and chimichurri certainly aided in tempering the dish.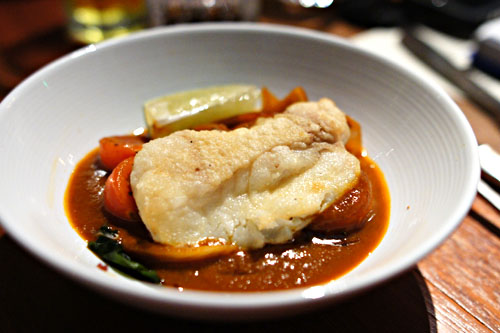 sudado de lenguado [$11.00]
| halibut stew, peruvian corn beer sauce, yuyo
Our final savory course of the evening brought us a halibut stew. The fish itself was mild and meaty, but perhaps overwhelmed by its accompanying sauce, which was a touch too tart for me. I did appreciate the use of
yuyo
(seaweed) though, which helped augment the halibut's inherent taste.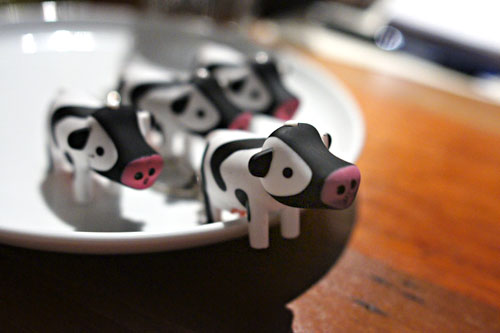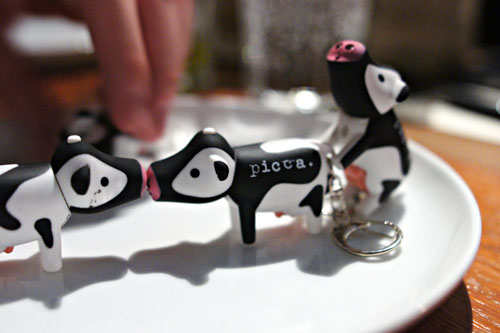 At this point, we were each given Picca-branded
cow keychains
, replete with nose-mounted LED lights and moo-ing sounds.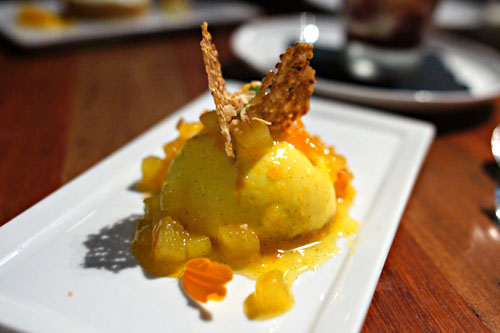 cheese cake [$5.00]
Our first dessert was an intriguing hemisphere of cheesecake. The cake was sweet at first, but its flavor on the finish inexplicably recalled that of
nacho cheese
! Despite that, the dessert still managed to be quite delicious.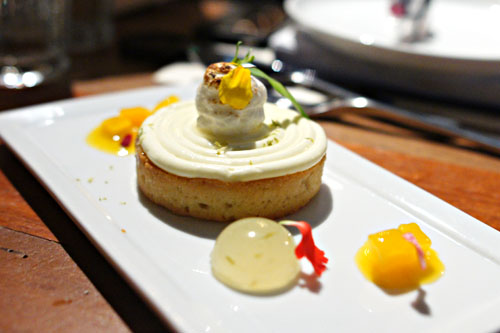 lemon tart [$5.00]
A lemon tart was light, airy, with a subtle sourness that paired nicely with the crumbly pastry used here. I particularly appreciated the various sweet gelées dotting the plate. One of my dining companions even deemed this the second best tart that he'd ever had.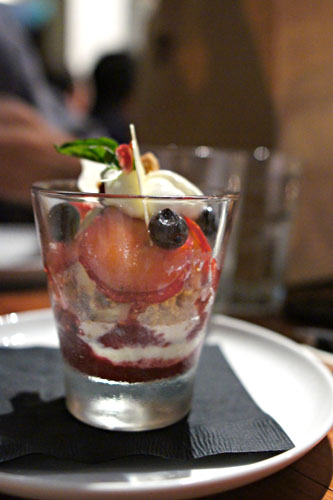 tres leches cake [$5.00]
A fascinating presentation of tres leches, one that resembled a parfait more so than a cake. Sure enough, the tres leches itself was moist and tasty, but it was a bit lost amongst all that fruit.
churros [$5.00]
We concluded the meal with churros, which rarely disappoint. These certainly didn't, with their rich, sugary, irresistible filling of
dulce de leche
. Dipping sauces, meanwhile, included carob, marmalade, and chocolate.

A brief tour of the kitchen following the meal. The hot line's on the left; the anticucho grill is in the middle; and the cold station is on the far right.
Despite a few misfires, the food was pretty much spot on throughout the entire evening, no easy feat given that this was Picca's first real night of service. The cooking is certainly a notch up in terms of refinement and poise vis-à-vis what Zarate was turning out at
Mo-Chica
. It remains firmly rooted in the body of Peruvian cuisine, but at the same time conveys undertones of the Chef's Japanese sensibilities. Indeed, you won't necessarily find in-your-face incorporation of Japanese ingredients here; rather, the focus and clarity of the aesthetic simply pervades the food. Have no doubt, the bar for Peruvian in the Southland has been raised. As for what's next for Zarate and company, look out for another outpost of Mo-Chica in Downtown near 7th and Grand, and let's not forget about Moche, which hopefully will see the light of day in the coming year.