Nobu (West Hollywood, CA)
Nobu Los Angeles
903 N La Cienega Blvd, West Hollywood, CA 90069
310.657.5711
www.noburestaurants.com
Sat 04/16/2011, 06:00p-10:10p
Nobu Malibu was actually one of my first fine dining experiences, way back in my pre-blogging days. Certainly, I had a great time there, and when the Los Angeles outpost opened in the spring of 2008 (taking over the space of the legendary L'Orangerie, where
Ludo
first made a name for himself), I was itching to go. Things kept getting in the way, however, and I never made it out until now.
Regular readers may recall the epic
1995 Champagne horizontal dinner at Urasawa
from a while back--you know, the one that I (thankfully) didn't have to pay for. Well, my two friends who put on that meal (who just happened to be at my first Nobu dinner as well) wanted to host another, and so how could I resist a chance to revisit this bastion of Japanese-Peruvian fusion?
Would it be as good as before?
Given how much my palate has (hopefully) evolved since then, my guess was an unequivocal "no."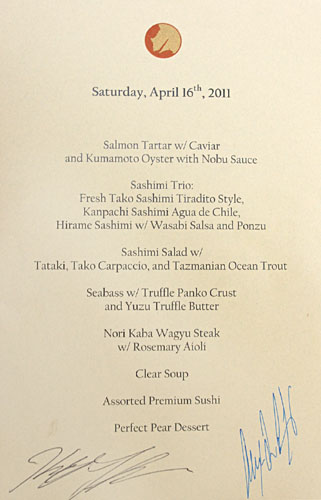 Two omakase options are available at Nobu, $100 and $150, and of course, we went for the latter. At only eight courses though, the menu was a bit short, so we went ahead and added on several more supplements (as we often do). Click for a larger version.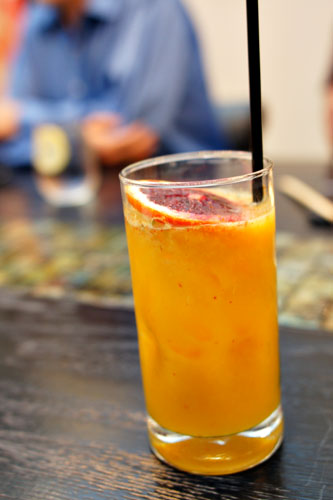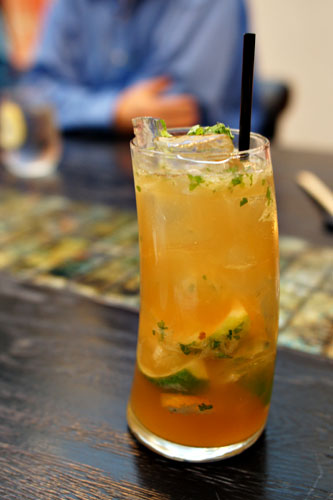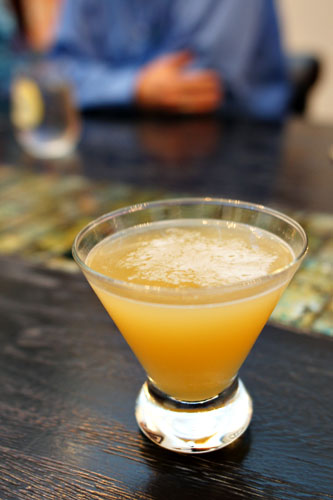 Mia Margarita [$14.00]
| Corralejo Anejo, Passion Fruit, Shichimi & Fresh Lime Juice
Japanese Caipirinha [$14.00]
| Leblon Cachaca, Fresh Lime, Shiso & Ginger Beer
Yamazaki Sidecar [$14.00]
| Yamazaki 12 Yr Single Malt, Yuzu Juice & Gran Torres Orange Liquor
Some cocktails to begin (all orange-colored, coincidentally enough). I ordered the Mia Margarita, which showed off loads of fruity sweetness, bound by the weight of the tequila and accented by a gorgeous touch of spice from the
shichimi togarashi
. The Japanese Caipirinha, meanwhile, was a fitting take on the original, demonstrating a smart application of the ginger beer and shiso. Finally, we had the Yamazaki Sidecar, which substituted Japanese whisky for brandy, Gran Torres Orange for Cointreau, and yuzu for lemon. It was easily the stiffest of the bunch, with a heady booziness from the whisky tempered by the inclusion of citrus. Overall, a solid trio.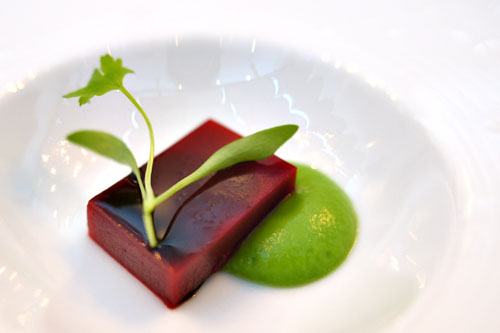 Amuse Bouche: Raspberry Gelee w/ Pea Puree and Micro Cilantro
Our meal got off to an intriguing start with a
zensai
of raspberry gelée, English pea purée, micro cilantro, and spicy mustard. I got a lot of berry sweetness initially, but that was nicely balanced by the herbaceousness of the peas and cilantro. Quite honestly, this was a more complex, more novel mélange of flavors than I'd expected from Nobu.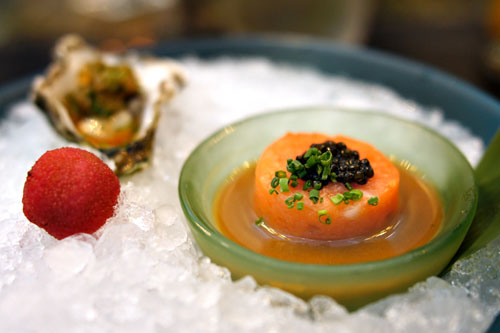 1: Salmon Tartar w/ Caviar and Kumamoto Oyster with Nobu Sauce
The pairing of salmon with caviar resulted in a fairly traditional flavor profile, with the salty tang of the roe playing off the comparatively mild fish nicely. The wasabi soy added an interesting wrinkle to things, but was a bit too hot for my tastes, easily overwhelming the subtle taste of the salmon (though the use of the
yamamomo
mountain peach as a chaser did help in that regard). My favorite item here was actually the oyster, with its lovely salinity beautifully balanced by the tart-ish "Nobu sauce."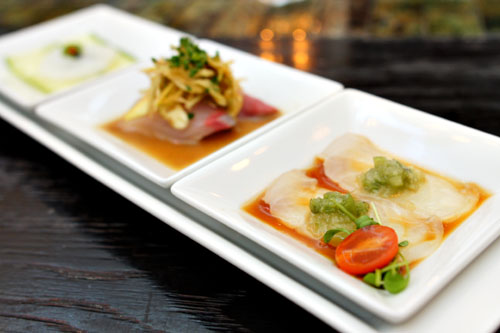 2: Sashimi Trio: Fresh Tako Sashimi Tiradito Style, Kanpachi Sashimi Agua de Chile, Hirame Sashimi w/ Wasabi Salsa and Ponzu
Next up, a troika of sashimi. I first attacked the live octopus, paired here with cilantro, chile paste, black sea salt, and lemon juice. I appreciated the cephalopod's fresh, slick, satisfying texture, and how its subtle flavor was accented by the citrus. The kanpachi, accompanied by shaved baby artichoke and miso-yuzu dressing, was also quite delectable, with a wonderful tinge of savoriness from the fried vegetable. We closed with the fluke, a classic pairing with a deft interplay between the comparatively restrained wasabi and tangy ponzu.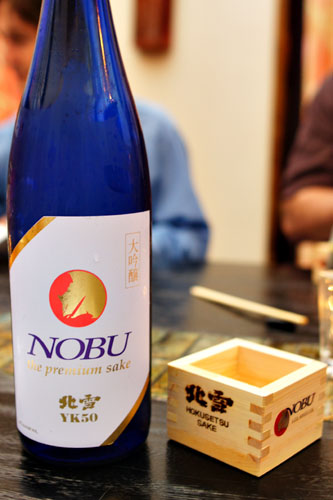 With our cocktails drunk up, we ordered a 1.5L bottle of Hokusetsu Nobu YK50 Daiginjo sake [$225]. It was an easy-drinking libation, light in body with a marked lychee character, all leading to a touch of alcoholic bite on the finish.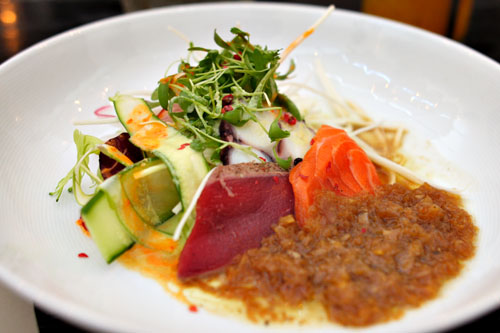 3: Sashimi Salad w/ Tataki, Tako Carpaccio, and Tasmanian Ocean Trout
Our sashimi salad paired bluefin tuna tataki, ocean trout, and octopus with hearts of palm, ginger soy sauce, and a jalapeño dressing. My favorite element here was that silky soft tuna, which had a lovely sear and savoriness to it. The rest of the dish was certainly enjoyable and of high quality, though fairly pedestrian in terms of taste.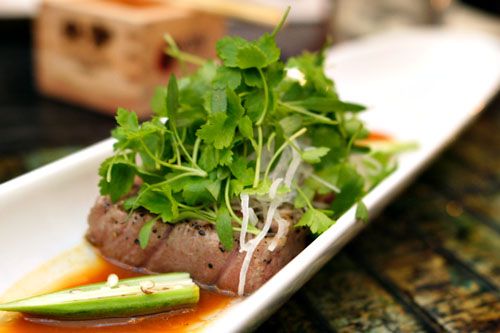 O-Toro Tataki [$24.00/each]
Our first supplemental course, toro sashimi arrived beautifully seared and accompanied by spicy miso and shaved daikon. Not surprisingly, the fish was melt-in-your-mouth tender and unabashedly fatty, with an amazingly rich depth of flavor--
it doesn't get much more decadent than this
. As such, the veggies were absolutely crucial in balancing out the sheer gravity of the tuna.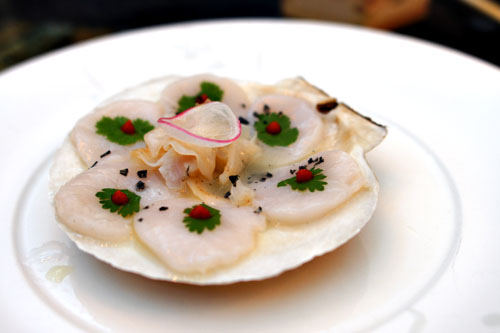 Scallop Tiradito [$20.00]
Live
hotategai
was served tiradito style with cilantro, black pepper, sea salt, and ginger. The scallop showed off a delectably tender consistency, with its slight sweetness deftly heightened by the combination of peppery and ginger-y flavors. Very nice.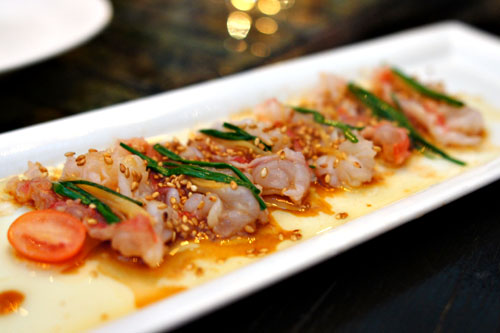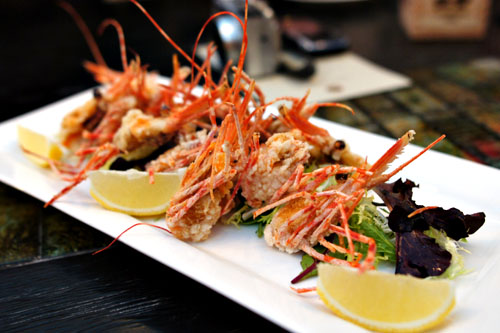 Live Botan Ebi, New Style [$30.00]
Live
amaebi
was prepared "New Style," meaning lightly seared by hot ginger-chive oil and topped with sesame seeds. The shrimp was superb, with a delightfully snappy consistency and a wonderful bit of almost Chinese-y flair, courtesy of the ginger and chive. I could've easily eaten an entire plate or two! The deep-fried heads, as usual, were a joy to eat as well.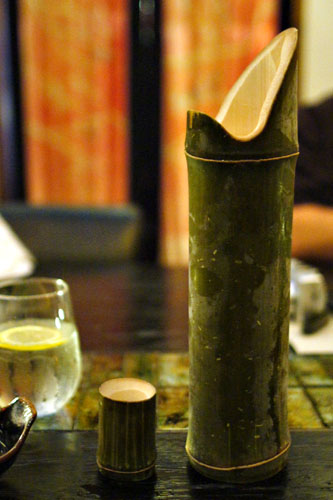 At this point, we requested a bamboo
tokkuri
of Hokusetsu Jyunmai [$27], a lighter, mellower sake compared to the previous one, with a sweeter, more floral character.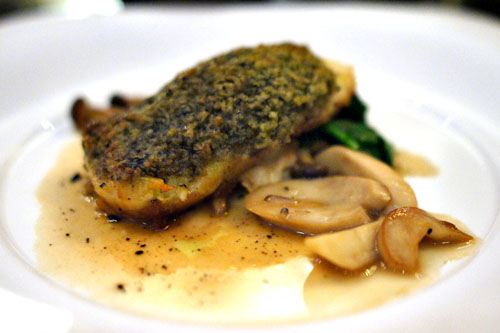 4: Seabass w/ Truffle Panko Crust and Yuzu Truffle Butter
Sea bass was tender, rich, and positively buttery, with a heady savor elevated even further by the use of truffle, while the mushrooms added even further substantialness to the mix. Given the tremendous heft of the fish, the mizuna greens were absolutely key in balancing the dish.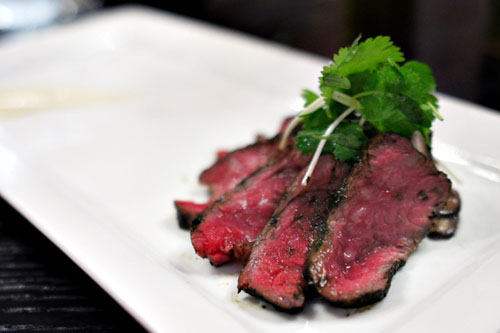 5: Nori Kaba Wagyu Steak w/ Rosemary Aioli
Our "main course," so to speak, brought us a fabulous cut of Australian wagyu, spice rubbed, grilled, and served with mushrooms and a rosemary aioli. It was a fairly straightforward presentation, but thoroughly delicious at the same time. Indeed, the meat was fatty, but not overwhelmingly so, with a very focused bovine relish deftly paired with a lovely bit of char. Great alone, but even better when eaten with the included veggies.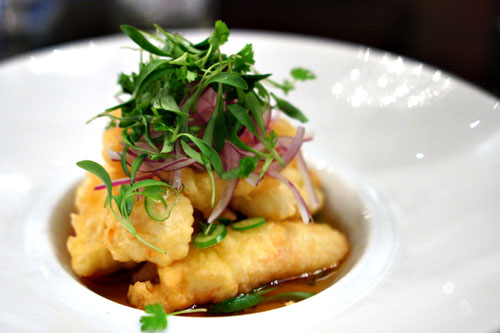 King Crab Tempura with Amazu Ponzu Sauce [$26.00]
It's hard to go too wrong with Alaskan king crab tempura, and indeed, this was no exception. The crustacean's flesh was sweet, supple, and
oh-so
satisfying, tasty alone but especially divine when taken with its accoutrements of red onion, cilantro, cucumber, jalapeño, and sweet ponzu.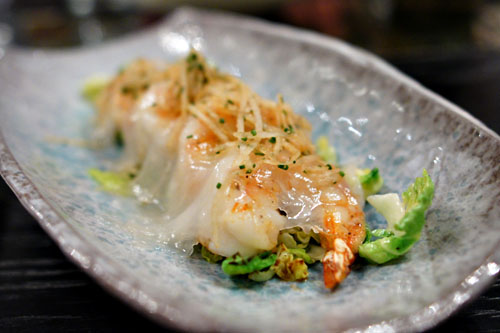 White Shrimp, Lardo Veil, Tosazu Brussel Sprouts [$5.00/piece]
This next dish sounded good on the menu, but didn't quite live up to expectations. Taken in isolation, the Mexican white shrimp were certainly serviceable, albeit a touch overdone for me. However, the lardo was far too blunt of an instrument to use here, completely dominating the dish and stealing attention away from the shrimp. Fortunately though, the Brussels sprouts, in their tart
tosazu
vinegar dressing, helped to temper the flavors at play.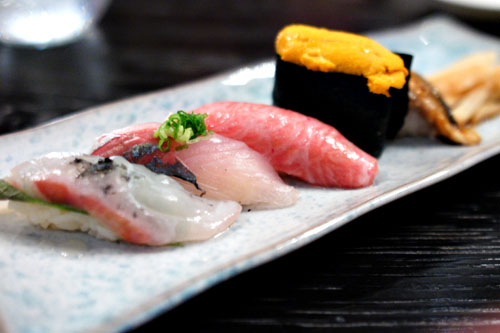 6: Assorted Premium Sushi
A quintet of sushi appeared before us next. Moving from left to right: tai adeptly showed off the essence of shiso, and finished with a surprisingly salty kick. The use of ginger with the aji, meanwhile, worked wonders in offsetting the mackerel's inherent fishiness. Toro was oily, luscious, and brazenly fatty, everything that you'd expect from the tuna, while Santa Barbara uni was characteristically sugary, with a lovely nori counter. We ended on eel, anago to be specific, with its sweet, tender flesh tinged with just a touch of smoke. Overall, a very solid, though not mind-blowing selection.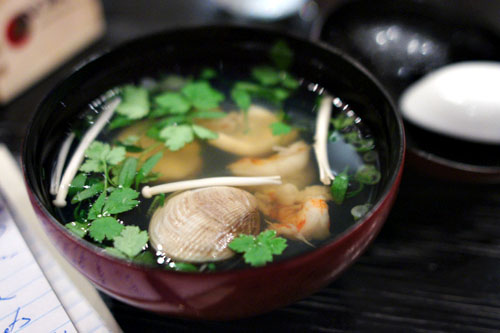 7: Clear Soup
Soup arrived teeming with clam, mushroom, scallop, and squid. I loved inhaling its heady, briny aroma, and thoroughly enjoyed the potage's hearty, clean, focused flavors. A breath of fresh air.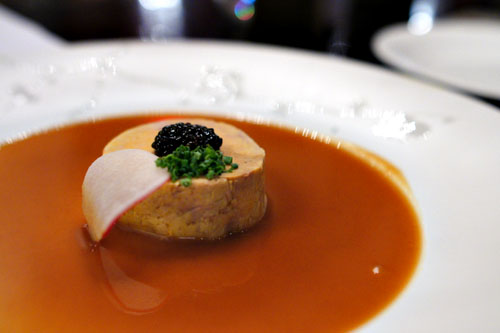 Monkfish Pate with Caviar [$22.00]
At this point, we decided to toss in an order of ankimo, but unfortunately the liver proved to be rather lackluster. I found it far too sweet and one-note, and lacking in finesse in general.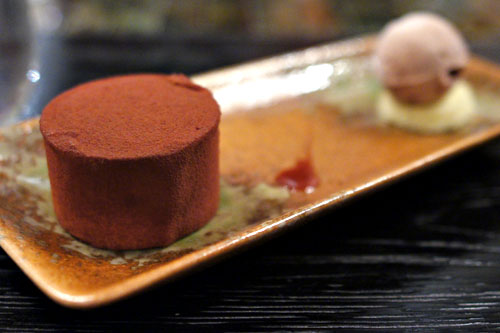 8: Perfect Pear Dessert
For our dessert, pear was poached in merlot and chocolate, then encased in a crispy brandy-soaked sponge, which provided a nice bitter contrast to the fruit. The star of the show, though, was the heavenly chocolate-amaretto ice cream, with its lush sugariness from the liqueur that I just couldn't resist--I wanted a whole pint of the stuff!
In the end, this revisit to Nobu resulted in a satisfying, mostly delicious supper. But at the same time, a couple of the dishes fell flat, and the meal in general seemed a touch trite--or maybe I'm just jaded. For my money, I'd recommend driving a mile south down La Cienega and hitting up
Matsuhisa
, Nobu's progenitor, instead. You'll get more interesting food, a more intimate setting, and less of a "scene" to boot.