Test Kitchen 2012 (Los Angeles, CA)
Test Kitchen at Bestia
2121 E 7th Pl, Los Angeles, CA 90021
213.514.5724
www.testkitchenla.com
Thu 11/08/2012, 8:15p-11:20p

One of the more interesting culinary concepts to hit Los Angeles in recent years has been
Test Kitchen
. Founded in 2010 by restaurateur extraordinaire
Bill Chait
and the man with the conspicuous coiffure
Brian Saltsburg
(who was later forced out of the partnership), Test Kitchen was a restaurant-within-a-restaurant, housed inside Chait's defunct Spark Woodfire Grill (the current site of
Sotto
). The idea was to provide a venue in which chefs could experiment and test out their new ideas in a low-risk setting, and allow for a place to show LA diners the work of chefs which they would otherwise not have access to. In addition, Test Kitchen also served as a setting where some of the City's finest mixologists were able to display their craft.
When it originally debuted in August 2010 (with
Red Medicine
's
Jordan Kahn
at the helm), Test Kitchen was only expected to run for a month, but due to the overwhelming popularity of the place, the series was extended all the way to December. Thus, I suppose we can't be surprised that TK is back, this time situated inside Bestia, Chef
Ori Menashe
's new Italian eatery set in Downtown's Arts District (and another Bill Chait-backed project). Back in 2010, I went a little overboard with Test Kitchen, showing up a somewhat ridiculous 23 times, so I made sure to temper things down this time around. As such, I chose to attend judiciously, starting with a dinner presented by none other than
Walter Manzke
, who just happened to be the chef responsible for one of my
favorite meals of the last run
.

I like what they've done with the space, and I can't imagine much changing between now and Bestia's debut in the coming weeks.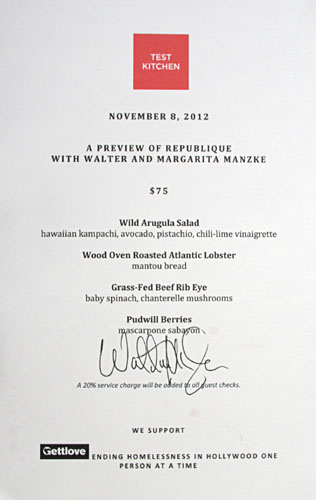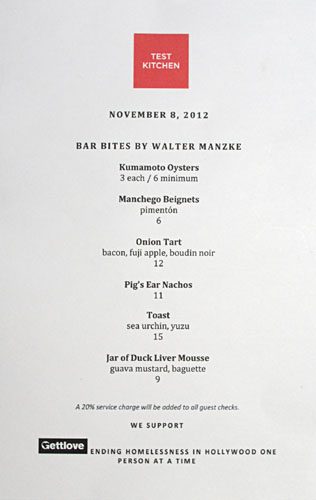 Manzke presented a four-course menu at $75, and also offered up a selection of "bar bites," which we, of course, made sure to sample as well. Click for larger versions.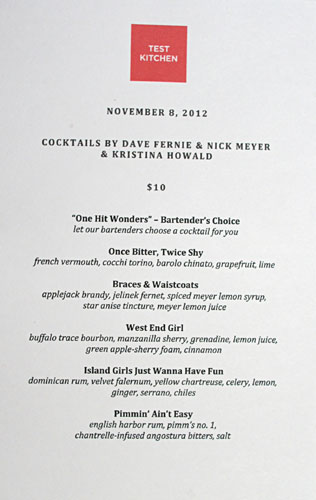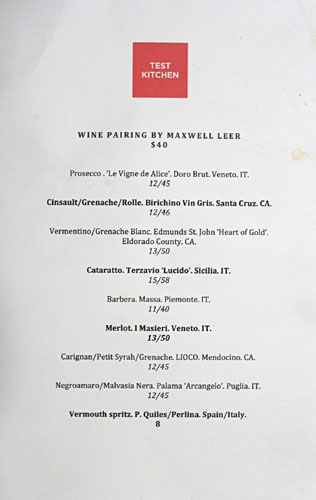 On the beverage side of things, cocktails tonight were the task of Dave Fernie, Nick Meyer, and Kristina Howald, while Maxwell Leer (whom you may remember from
The Tasting Kitchen
and the last
LudoBites
) took charge of the wine list. Click for larger versions.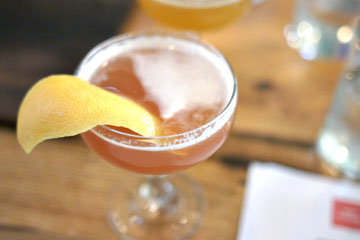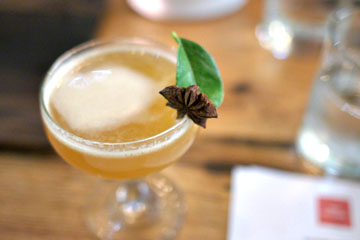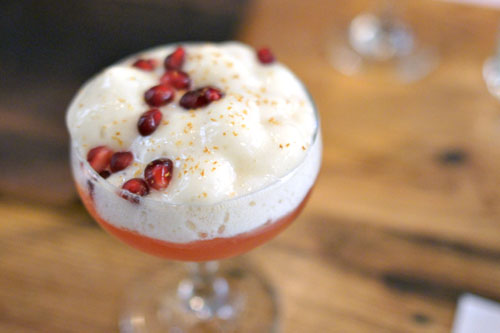 Once Bitter, Twice Shy [$10.00]
| french vermouth, cocchi torino, barolo chinato, grapefruit, lime
Braces & Waistcoats [$10.00]
| applejack brandy, jelinek fernet, spiced meyer lemon syrup, star anise tincture, meyer lemon juice
West End Girl [$10.00]
| buffalo trace bourbon, manzanilla sherry, grenadine, lemon juice, green apple-sherry foam, cinnamon
Our first cocktail was the
Once Bitter, Twice Shy
, which I found eminently well-balanced and easy-drinking, with a great mix of sweet and sour flavors, all over a base of complex bitterness backed by a tinge of herbaceous essence. The
Braces & Waistcoats
was also rather tasty, with a superb aniseed-tinged spice up front, leading to a piquant, almost medicinal character on the midpalate. Last up was the
West End Girl
, probably my favorite of the bunch. I loved its sugary, cinnamon-laced nose as well as its blend of bourbon and sherry flavors, all tempered by a subtly sweet, citrus-y tang. Great textural component from the foam, too.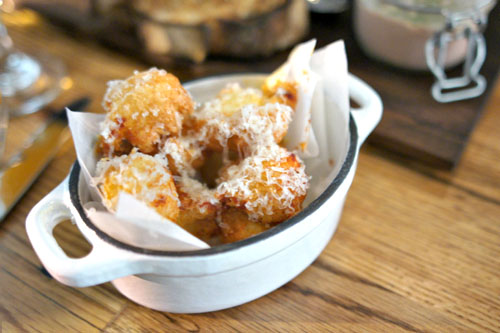 Manchego Beignets [$6.00]
| pimentón
Beignets made with Manchego were a nice start to the meal--tasty, crisp,
gougère
-esque nuggets of cheesy goodness perked up by a hit of pepper.
Jar of Duck Liver Mousse [$9.00]
| guava mustard, baguette
With the odious foie gras ban upon us, we have to make do with mere duck liver now, though Manzke's preparation here certainly did not leave me wanting. It was a quintessential presentation of the dish: undoubtedly hefty, with a slightly saccharine relish and a restrained, subdued, yet focused and unmistakable liver-y smack, all set off with a peppery kick. The mousse went great with the crusty cuts of baguette included, but the star of the show here was that guava mustard, which perfectly blended the sweetness of the fruit with a hot, bracing, horseradish-esque zing--genius.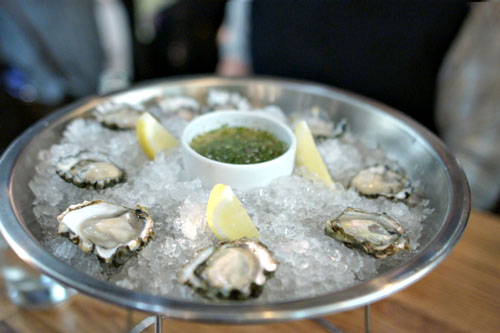 Kumamoto Oysters [$3.00/each]
Kumamotos were prototypical examples of the varietal: plump and crisp, with a deft blend of sweet and saline flavors. Tasty alone, and just as good with a dash of the included mignonette. My only complaint: we were only given nine oysters, one short from the ten we ordered.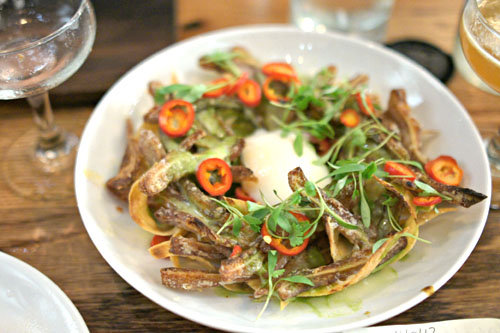 Pig's Ear Nachos [$11.00]
The Chef's take on nachos managed to be my favorite course of the night,
as well as the best version of the dish that I'd ever had
. It all started with the pig ears, which managed to come out simultaneously crispy and chewy, with a delightful piggy goodness that kept me coming back for more. The ear would've been delish all alone, but the brightness of the salsa verde and cilantro, along with the pricks of heat from the chilies easily took the pork to another level. Rounding things out was the gooey cheese and runny egg, both of which enveloped and integrated all the various elements at play.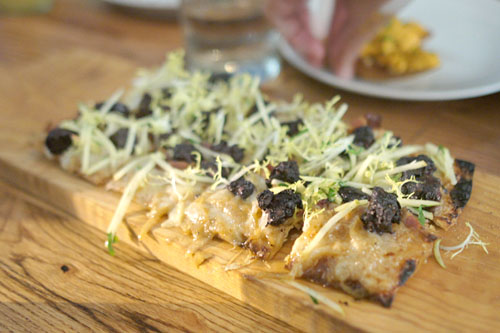 Onion Tart [$12.00]
| bacon, fuji apple, boudin noir
Manzke's onion tart immediately reminded me of the
Flammkuchen
that he prepared during his days at
Church & State
. I really appreciated the thin, crisp, fragile crust of the
tarte flambée
, as well as its sweet, weighty base of caramelized onion, augmented by the smoky/savory bits of bacon on top. The most interesting thing here, though, was the boudin noir, which added a delightful funkiness that overarched the entire dish.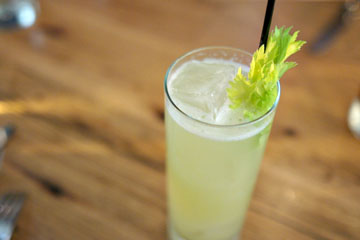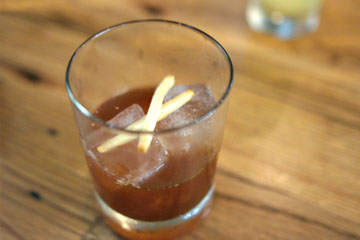 Island Girls Just Wanna Have Fun [$10.00]
| dominican rum, velvet falernum, yellow chartreuse, celery, lemon, ginger, serrano, chiles
Pimmin' Ain't Easy [$10.00]
| english harbor rum, pimm's no. 1, chanterelle-infused angostura bitters, salt
A couple more cocktails: The
Island Girls Just Wanna Have Fun
was akin to a tropical Bloody Mary, redolent of celery, with an intense spiciness and herb-y character, all counteracted by the sweetness of the falernum. I preferred the
Pimmin' Ain't Easy
, which showed off a savory, medicinal flair bound by a focused sweetness that I found rather fetching.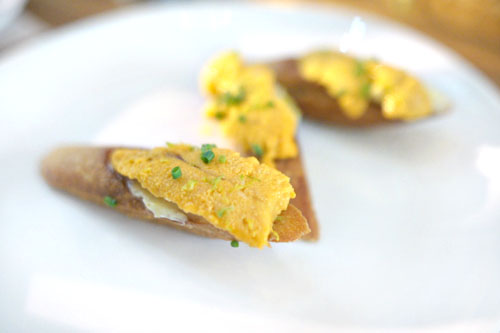 Toast [$15.00]
| sea urchin, yuzu
I'm a sucker for sea urchin, so it wasn't surprising that this was one of my favorite dishes of the night. The sweet, briny goodness of the uni was on proud display here, dutifully accented by the sourness of the yuzu, while the toast did a nice job grounding the dish. We actually requested another round, but the kitchen ran out early. The course reminded me of the "Uni Toast, Scallion Vinaigrette" that I'd had at Eric Park's
Black Hogg
(which I should probably revisit given that they finally have their liquor license).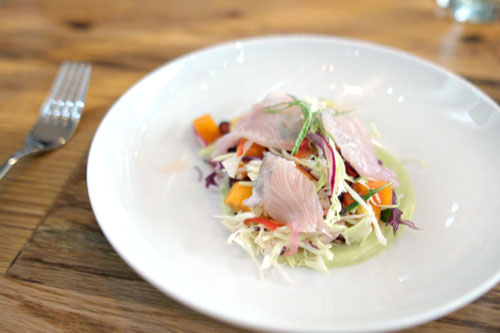 1: Wild Arugula Salad
| hawaiian kampachi, avocado, pistachio, chili-lime vinaigrette
With the "bar bites" dispensed with, we began the meal proper with a rather fantastic salad, one of the best I've had in recent times in fact. It was sort of a homage to Southeast Asian flavors, a perfectly balanced commixture of savory, sour, spicy, and sweet over a base of fresh, supple kampachi, all with a great, refreshing acidity.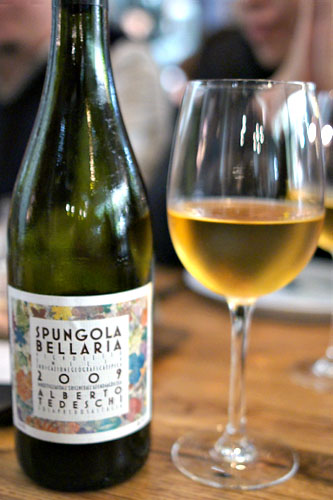 To pair with the courses to follow, Bestia's sommelier Maxwell Leer guided us toward an off-wine list bottle: the
2009 Alberto Tedeschi Spungola Bellaria [$58]
, an intriguing wine to be sure--a white with a lot of weight behind it. I quite liked it though, with its oxidative, savory, nutty quality that recalled the essence of sherry or whiskey, all with a bit of levity courtesy of some delectable floral and fruity notes. One of my dining companions even likened the wine to "ham and apples."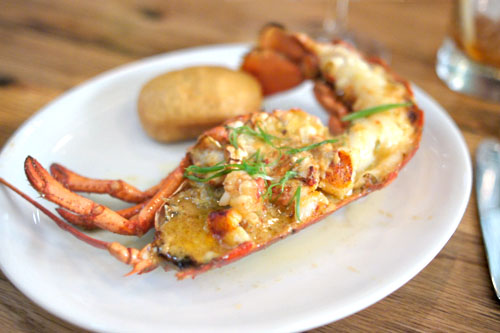 2: Wood Oven Roasted Atlantic Lobster
| mantou bread
This was another strong dish, really showing off the inherent goodness of the lobster, but also augmenting it with a mouth-watering lime-chili sauce that enhanced the crustacean without overwhelming it. At the end, I was searching for a way to drink up the remaining liquid in the shell, and I think this would be
even better
served rarer. We can't forget about the fantastic, Chinese-inspired
mantou
either, which conveyed a perfect blend of crisp, yet fluffy textures that I adored.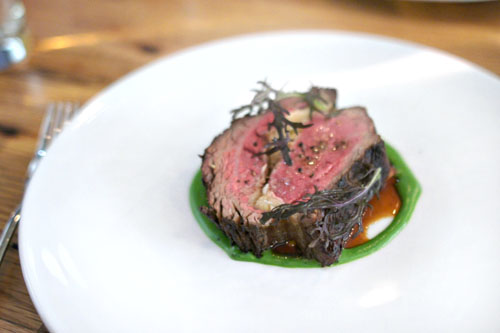 3: Grass-Fed Beef Rib Eye
| baby spinach, chanterelle mushrooms
Our final savory course of the evening was a grass-fed ribeye, butchered by none other than
Short Order
's Christian Page. I'm not so sure grass-fed was the way to go here, though, as I found the cut leaner and tougher than I'd prefer, with a very focused, almost "gamey" beefiness to it. It was
very
different than your typical grain-fed steak. Nevertheless, I did appreciate the excellent crust on the beef, as well as its peppery kick, bolstered by the earthy chanterelles and a smidge of red wine reduction.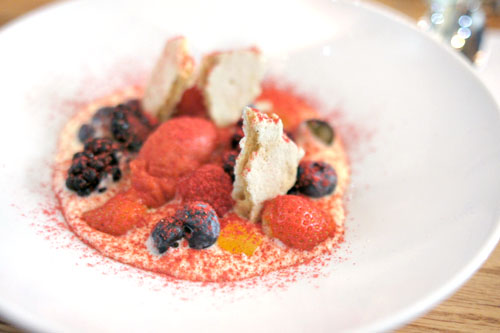 4: Pudwill Berries
| mascarpone sabayon
We ended with Margarita Manzke's refined take on the classic dessert of berries 'n' cream. I really liked the multifaceted tartness of the fruit here, augmented by a bracing berry sorbet and gorgeously tempered by the sweet, creamy mascarpone sabayon. It was sort of like a match made in heaven, made even better by the textural play of the meringues. Yum.
It was great to be back at Test Kitchen, and given the strength of this meal, I sorta wish that I'd gone to more of the dinners. It's too bad that the run this time around was so much shorter. The bright side, though, is that TK's end means that Bestia's debut is right around the corner, and I really am looking forward to what Ori Menashe and his team are going to bring to Downtown. As for Walter Manzke, I was really heartened to taste his food finally after a long hiatus. The cooking was satisfying, interesting, yet approachable, and if this dinner was any indication, things should be looking up for Republique. I can't wait for the Chef to take over the
Campanile
space next June--it'll definitely be one of the openings to watch out for in 2013.